Make Seoul Itinerary by Yourself!
Over 40 things to do in and near Seoul you can choose for fun.
Seoul has so much to offer that one can never get tired of it. While you stay in Seoul, you will be amazed to explore a new thing every time. Let's see what kind of things to do there are for your Seoul itinerary.
[ Contents ]
Seoul Itinerary: Day One
Seoul Itinerary: Day Two, Three and Four Day
Seoul Itinerary: Day Five, Six and Seven Day
Seoul Itinerary: Day 1
If you are allowed to stay only one day in Seoul, Discover Seoul Pass will definitely worth to see the highlights of Seoul. It will dramatically reduce your effort and cost. Besides, the Discover Seoul Pass provides free admission to 35 Seoul attractions and discounts to 29 attractions in Seoul. Furthermore, it's possible to use the railroad to Incheon International Airport and City Tour Bus.
So I would like to share the top-rated tourist spots in Seoul where you can visit by the hop-on-hop-off city tour bus. Let's start the Seoul journey!
Gyeongbokgung Palace
You can't miss Gyeongbokgung in Seoul itinerary. This Palace is one of the most popular Seoul attractions. It is the main royal palace of the Joseon Dynasty, built in 1395. In the palace, many visitors experience Korean traditional costume, Hanbok and take a beautiful picture with friends or family members. For more information like open hours, admissions, and free guide tour please check this post.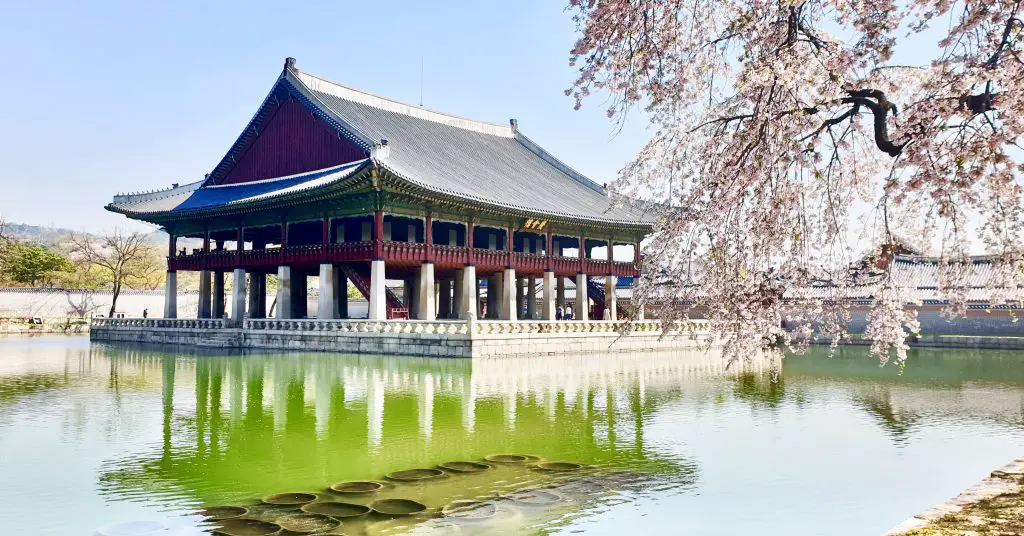 Gwanghwamun
Gwanghwamun is the main southern gate of Gyeongbokgung Palace. Therefore you could see Gwanghwamun square stretched out from Gwanghwamun gate after Gyeongbokgung tour. This large landmark national square is 555m long and 34m wide. At the center of Sejong-daero which is the widest in Korea the statue of King Sejong, the Great and Admiral Yi Sunshin stands.

Near Gwanghwamun Station Exit 6, you can get the Seoul City Tour Bus (Downtown Palace Course). It's a departure point.
Namdaemun Market
Namdaemun Market is the oldest and largest Korean traditional market in Seoul. Countless shops and street stalls line its alleys selling clothes, household items, and food at a low price. In addition, you can try various Korean street foods along the street in Namdaemun market like Hotteock, Korean Hot-dog, Dumpling, Boongeobbang, etc.
Myeongdong
Myeongdong is Korea's best-known shopping district. The streets are lined with many flagship department stores including Lotte and Shinsegae and shopping malls that sell brand-name cosmetics, accessories, clothes and shoes. Plus, you can visit Myeongdong Cathedral which is the most iconic cathedral in Korea. It has symbolized Korean Catholicism for 119 years and this majestic wonder is also the first Gothic cathedral in Korea.
DDP
DDP, Dongdaemun Design Plaza, a new landmark in Dongdaemun has been recently constructed by the world-renowned architect, Zaha Hadid. Surely it's the best place to go to if you're interested in the arts! Every now and then, this place hosts wonderful exhibitions that are both, inspiring and stunning. The art exhibited here is more related to the designing industry, which is why the Plaza is so called. Even if you don't have a specific interest in art, you should still visit this place because the exhibitions are truly mesmerizing! Moreover, you can enjoy Dongdaemun shopping malls that offer a wide variety of fashion apparel and night market as well.
Daehangno
Daehangno is the center of performance culture where over 150 small theaters can be found. Also, there are various art galleries, movie theater, and restaurants making this an excellent place to visit, both day and night. Besides, Naksan Park offers a spectacular view of Daehangno from its peak. This park is famous as the filming location of popular Korean TV dramas and is a great spot to enjoy a beautiful sunset or night view of the city.
Insadong
Insa-dong is where you can see old Seoul. The alleys and main street of Insa-dong are lined with craft workshops, galleries, and traditional tea houses. It's a good place to get beautiful souvenirs for everyone back home from here. One of the hot spots in Insa-dong is Ssamzigil. This is a multi-cultural space for traditional arts and crafts and exhibitions and performances are available as well.
Bukchon Hanok Village
This district is located between Gyeongbokgung and Changdeokgung and there are over 900 Hanok, Korean traditional houses in Bukchon Hanok Village. Members of royal family and aristocrats lived here during the Joseon dynasty. Still, it retains the city's old appearance. Don't miss out Bukchon's eight beautiful sights in which you will have an aerial view of Changdeokgung Palace. Also, "Seoul City Walking Tours" is a FREE program offered by the city of Seoul. It's designed for tourists who want to see Seoul's top tourist attractions on foot under the expert guidance of multilingual tour guides. For reservation, please check the website (Korean, English, Japanese, Chinese).
N Seoul Tower
Namsan Seoul Tower, standing at 236.7 meters tall is the main tourist attraction where you can enjoy a complete view of Seoul. Enjoy the fantastic laser show and beautiful night scenery of Seoul from the observatory on the second and third floor or in the revolving restaurant. If you are planning to visit at day time, I would recommend you to come up to the tower via Namsan Park, a beautiful walking path harmonized with nature.
Seoul Itinerary: Day 2, 3, and 4
Gangnam Area
Gangnam represents the latest trends in Seoul. This district is a favorite spot among tourists because of its trendy designer shops, cafes, and galleries stretching from the business and commercial zone around Samseong Station and Gangnam Station.
Shopping in Gangnam
Apgujeong Rodeo Street and Cheongdam-dong Fashion Area are packed with luxury brand stores from mega shopping malls that sell luxury goods and showrooms to studios and beauty shops.
If you want to go shopping in Gangnam area on an affordable price, Gangnam Station Underground Shopping Center is just for you. It offers a convenient shopping experience with hundreds of trendy fashion and accessory stores all in one place.
Lotte World
Lotte World is a huge indoor amusement park. In fact, it's one of the biggest indoor parks in the world! It consists of Adventure and Magic Island, a folk museum, an ice rink, a department store, etc. Let your kids have the time of their lives in this park while you shop in the nearby shopping complex! It's a win-win for everyone, isn't it?
Sky Tower
The Seoul-sky observatory provides thrilling and outstanding views of Seoul. The observatory deck has two-story-high glass windows for the 360-degree view. It's on the 117 to 123rd floors of the Lotte World Tower, the tallest building in Korea, and the 5th in the world. Get a full panoramic view of Seoul here, the highest point in Seoul. It's amazing at night!
Coex
Coex is a multi-purpose venue that includes shopping malls with more than 180 stores, an attractive aquarium and movie theater. As it's located near CALT City Airport Terminal, this is the best place for last-minute shopping before your departure. Also, COEX Aquarium is highly recommended to see diverse aquatic creatures.
Bongeunsa Temple
Bongeunsa Temple is located very close to Coex. This temple was built in 794 in Shilla dynasty and it was the largest temple in Seoul during the Joseon Dynasty. You can experience Buddhist culture by trying a temple stay right in the heart of downtown Seoul.
There is various kind of restaurants and bars in Gangnam, especially Nonhyeon-dong Gourmet Alley. They serve Korean barbeque, seafood, fried chicken, pig's trotters, kind of spicy soups and more. If you want to feel a lively Seoul's night, visit here!
Clubs around Gangnam Station
Seoul's nightlife begins and ends with the clubs near Gangnam Station. Here you can listen to music all night long. They offer a diverse genre ranging from hip-hop to electronic music. Especially on weekends, the clubs are very crowded with people enjoying the lively atmosphere.
Samsung d'light
You can test and use all the latest products made by Samsung Electronics within the Samsung Electronics headquarters building in Gangnam. Besides, visitors can experience a wide variety of digital media and exhibition space.
Garosugil Shopping+Cafe+Restaurant
Garosu-gil is a charming street filled with various attractions. There are many cafés and restaurants that you can explore! You will find romantic outdoor cafes, boutique shops run by designers. If you're looking for coffee, dessert, or just a light snack, this is where you should head over to! You can have brunch at one of the exotic cafes and delightful restaurants along these streets and enjoy a relaxing afternoon.
Hangang Park
As Jam-won Hangang Park is located near Garogu-gil, about 750m far away, It's such a good way to enjoy the night view of Hangang and Seoul skyline. Moreover, you can see an amazing light and water show at night while you walk down to Banpodaegyo Bridge. The Banpodaegyo Bridge Moonlight Rainbow Fountain is listed as the world's longest bridge fountain in the Guinness Book of World Records.
If you are a big fan of K-pop, why don't you try K-pop Dance Class in Gangnam? You'll learn the hottest K-pop dance from a professional instructor. It's gonna be fun, energetic and exciting!
Hongdae Area
Hongdae Shopping Street
The area near Hongik University, often called Hongdae, is well known as the hub of indie art culture. I highly recommend you to visit here on Seoul itinerary. The streets around Hongdae evolved naturally with the tastes of the trendy youths. It is filled with clothing shops, accessory shops, cosmetic shops, theaters, clubs, so you can enjoy shopping, entertainment, and culture here! Don't miss the flea market hosted by young artists at Hongik Children's Park every Saturday.
Local Food
You can easily find looking-good restaurants and bars in Hongdae. There are lots of menus you can choose such as Korean bbq, traditional Korean dishes, fried chicken, seafood, Western-style food, and East-Asia menu and more. Tasting local foods while traveling abroad is always a wonderful experience. Korea is definitely foodie's paradise. Don't forget to try Korean Street Food as well!
Gyeonui Line Forest Park

Busking and Enjoying at Night
Gyeongui Line Forest Park
In 10-minutes walking distance from Hongdae mainstream, you could get to Gyeongui Line Forest Park where stretches from Hongik University Station Exit 3. It's a wonderful place for a family outing, to hang out with friends or go on a date. Besides, many restaurants, cafes, and shops lined along the park where you can grab some snacks and beer to enjoy a picnic as local do!
Cafe
Yeonnamdong is a perfect place for cafe-hopping in Seoul as the entire streets in this area are filled with fascinating little cafes which are well decorated and serve a beautiful dessert. A lot of instagrammable cafes here! Furthermore, you can try to visit Animal Cafe in which there are animals like raccoon, meerkat, and cat.
Yeonnamdong Cafe

Korean Restaurants and Bar in Dongjin Market, Yeonnamdong
Club
Hongdae is known as the main hub for nightlife. So the clubs in this area are popular with international tourists that the New York Times once picked the area as one of the top ten sites to visit in Seoul. It offers music and dances of different genres such as electronic, hip-hop, K-pop, house, deep-house and jazz. If you are looking for clubs to be unforgettable, visit live bars where indie brands perform.
Karaoke
Noraebang(Karaoke) is popular as a night-time activity in Korea. Just walk into a Noraebang and pay for hours to sing and dance with friends. Be a pop star tonight!
Nanta Show
In Hongdae, you could enjoy Nanta Show which is the most popular show for visitors from all around the world. Nanta combines the rhythms from Korean folk songs with modern music, creating a non-verbal performance that's accessible to an international audience.
Trickeye AR Museum
Trickeye Museum is located in the center of the Hongdae main shopping street. Why don't you take funny pictures through the use of optical illusions?
Yeouido Area
63 Building
63 Building is one of the tallest buildings in Seoul. It has a variety of attractions such as observatory, museum and aquarium. The night view of Seoul from 63 Art, the highest gallery in the world, is outstanding.
Hangang Moonlight Cruise
Hangang cruise is a unique way to discover Seoul and enjoy the city's beautiful scenery. You can see Seoul's landmarks along the river like Bamseom Oslet, 63 Square, Nansan Seoul Tower, and others. Also, you can choose a variety of activities such as Music performance, Feeding seagulls, Banpo Bridge Moonlight Rainbow Fountain, and Fireworks!
Seafood cooky by local restaurant

Fresh Seafood in Noryangjin Market
Noryangjin Fish Market
Just one stop away from Yeouido Station is Noryangjin Fisheries Wholesale Market where is the best place to go if you're a seafood enthusiast! The market opens in the morning, so go early and get the best catch of the day! Then you can get the seafood cooked by any local restaurant that provides this service. Just take an escalator to the 2nd floor and choose one of the restaurants which will cook your purchased seafood as your preference.
Hangang Yeouido Park_ Riding Seoul Bike
Enjoy biking through the streets of Seoul, while stopping at places to explore Seoul! I would say the best place to visit with a Seoul Bike is Yeouido Hangang Park where is popular as a stage for various urban festivals as well. After riding you could enjoy a picnic there. Give it a try, delivery food like fried chicken and beer outside in Hangang which is one of the awesome parts in Seoul travel! Plus, during Summer, July, and August, Outdoor swimming pool opens so that you can swim while enjoying a great view of Hangang in the center of the city.
Seoul Itinerary: Visit Hangang

Enjoy a Picnic
Hangang Kayaking and Paddle Boarding Experience
Hangang is the ideal place for water sports like kayaking and paddleboarding in Seoul. Easily you could find people enjoying summer activities at Hangang. The sweet breeze and the beautiful view of the Hangang are available while sailing by Seoul's landmarks and historic sites. Furthermore, don't miss out on having Korean food by food trucks in the park and have fun with your friends and family!
Jongno Area
Ikseon-dong Cafe
Ikseon-dong is Seoul's hippest area becoming immensely popular among young locals. Almost all places including dessert cafes, restaurants, and shops are renovated from Hanok, Korean traditional houses here at the 100- year-old Hanok. Take the subway line 1 or 3 or 5 to Jongno 3-ga Station Exit 4 and walk down any backstreets. It might be hard to find this area due to very small narrow alleys but it's still worthy to enjoy the combination of Seoul's old neighborhood and new trendy culture.
Ikseondong Streets

Hanok Cafe in Ikseondong
Korean Cooking Class
There are many culinary institutions available in Seoul that will teach you how to prepare authentic Korean food. In addition, they'll also take you to the local markets near the cooking studio to get the fresh ingredients. It's a fun way to explore the local market while learning how to make Korean dishes so that you can try making it back home as well. Best of all, nothing better than your own cooking as you celebrate your self-made dishes after the class.
Dongmyo Flea Market
If you like vintage and old-school stuff, Dongmyo flea market would be an interesting spot. Unlike any other shopping streets in Seoul, you could easily get a variety of exceptional items made several decades ago. Let's check the largest flea market in Seoul that is full of unusual antique pieces and affordable second-hand items.
Gwangjang Market
Gwangjang Market is a traditional Korean market in Jongno. You can enjoy a variety of Korean street foods here. Bindae-tteok(mung bean pancake), Tteokbokki(sweet-spicy rice cake), Mayak-gimbap(kind of sushi), Dongtae-tang(pollock fish stew), raw octopus and fish, etc. Having a raw octopus will be one of the unforgettable moment of your life. If you are not a seafood person, we highly recommend you to try Bbindae-tteok with Makgeolli(rice wine), it's my favorites!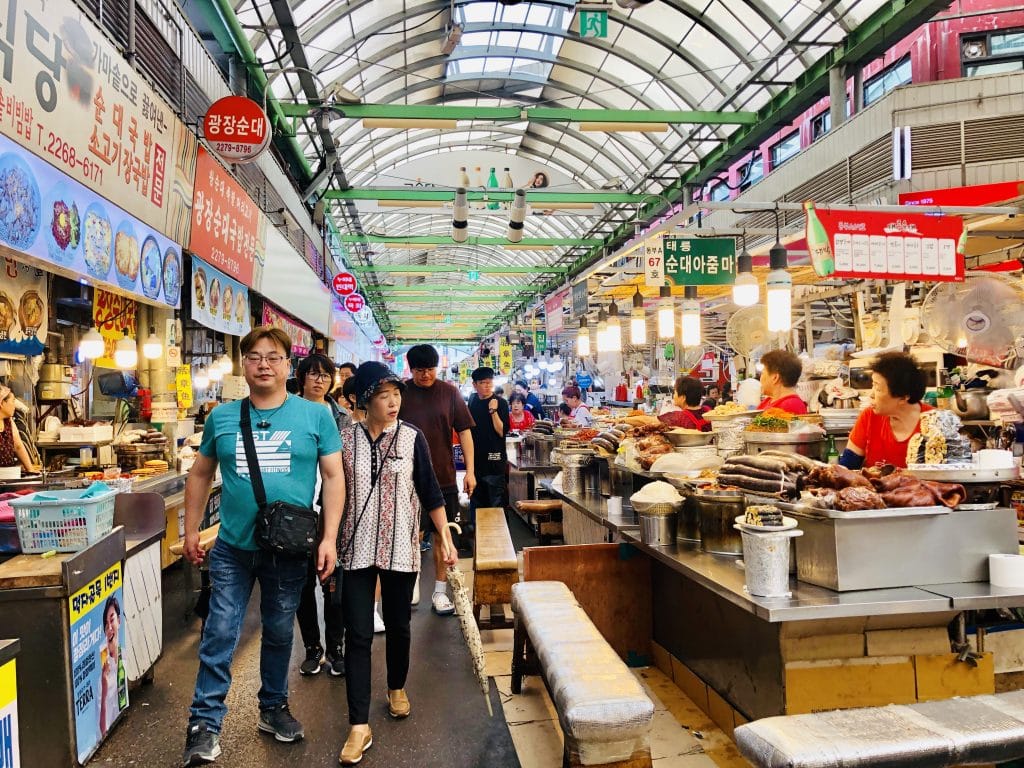 Itaewon Area
Itaewon Street
This area is like a small world in Seoul. In Itaewon, you could see everything from Islamic mosque to exotic dishes whose names you may never have heard of. Take the opportunity to feel a unique atmosphere from fashion and foods to music and culture. You can also experience the real Itaewon by exploring side streets like Usadan-gil, Gyeongnidan-gil, and Itaewon Antique Furniture Street. Enjoy brunch menus and a party culture that only Itaewon can offer!
The War Memorial of Korea
Korea's only museum that exhibits the entire history of the Korean War, it houses 9,000 items related to the war across eight exhibition rooms. If you are interested in the Korea war, it would be good to put it on your Seoul itinerary. The admission is free and makes a call ahead to reserve free English, Japanese, and Chinese guides.
Tel. 02-709-3139
Web. www.warmemo.or.kr
Jjimjilbang
A Jjimjilbang is a traditional bathhouse which forms a vital part of Korean culture – these heated rooms are also known as Korean Spa's where it is common for locals to hang out, soak and engage in various beauty-related rituals and services. A basic Jjimjilbang offers a traditional experience with various types of baths and saunas while the newer ones offer a variety of services including nail bars, restaurants, and swimming pools! See the best 5 Jjimjilban, Korean Spa's in Seoul here.
Seoul Itinerary: Day 5, 6, and 7
Nami Island
Nami Island is one of the best romantic places near Seoul. It's famous for its forest road, a pine tree path, a metasequoia path, and amusement facilities with various Korea restaurants. Plus, there are so many attractions near Nami Island, such as Chuncheon city, Soyang lake, Petit France, and Garden of Moning calm.
Gangchon Rail Bike
The Gangchon Rail Bike is a popular activity on Nami Island. You will pedal along the old Gangchon Rail Park track while taking in the scenery of the beautiful 318km Bukhangang River. Let's see the beauty of Korea's nature enjoying this fantastic activity with family and friends!
DMZ
If you are willing to learn more about the Korean War and the Cold war, DMZ tour would be very interesting. Only foreign tourists are allowed to visit the Demilitarized Zone (DMZ), just a few miles from North Korea and see stunning panoramic views of North Korea from the top of the Dora Observatory. For more information, please check our post of One Day DMZ Tour.
Everland
This is the largest theme park in South Korea with fantastic rides and a zoo. So, if you are visiting Seoul with kids, we definitely recommend you visiting the Everland theme park. Enjoy 5 zones of amazing attractions and thrills and have fun for all ages with different zones, including safari, petting zoos, and live performances!
Over 40 things to do in and near Seoul we shared. Hope it would help you to plan your Seoul itinerary by choosing what you want to do 😉
Written by DY & Jay
You may also like