Last Updated on August 29, 2023
Hanok means a house built in traditional Korean style. And 'Bukchon Hanok Village' is the most famous place in Seoul.
It is a perfect type of residence in Korea to solve the hot and cold weather of the Korean Peninsula. First, they used a floor heating system called Ondol to make it warm during the winter season. Secondly, Maru(living room) has an open structure to the yard, kitchen and other rooms so that people can easily communicate. Lastly, in my personal opinion, the most beautiful part of Hanok is Giwa(Roofing tiles) and Dancheong(Painting to protects woods from rain and pests). It's architecturally beautiful and practical.
Before we go further, if you have to carry your luggage or bags during the sightseeing, take a look at our post, "Luggage Storage Services in Seoul" to travel light. And you can check all the detailed information about the subway storage near you HERE.
Then let's go to the Bukchon Hanok Village together!
What does 'Bukchon' means?
Bukchon literally means 'Northern Village' of Cheonggyecheon and Jongno. Originally, it was a high-class residential area for Yangban(traditional ruling class back in the old days). So, there is the Bukchon Yangbang Life Culture Exhibition Hall and the Bukchon Hanok Village symbolic artifact where the Gahoe-dong Traditional Village Festival is held so you can see the life of the old ancestors of Korea.
How to get to Bukchon Hanok Village?
Subway is the best way to Bukchon Hanok Village. You can easily access the village through Anguk subway station exit no.2 of Seoul subway line 3(Orange line).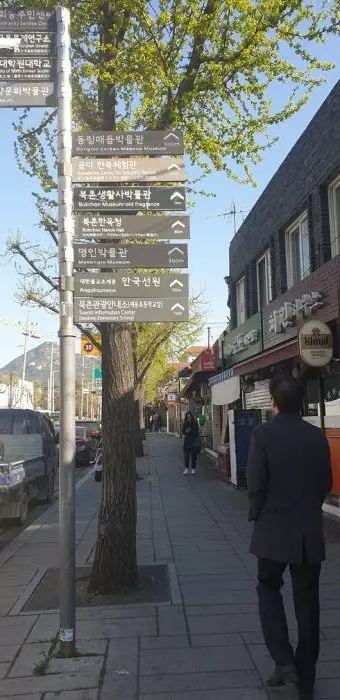 This is the village sign(북촌) just before you go out from exit 2 of Anguk station.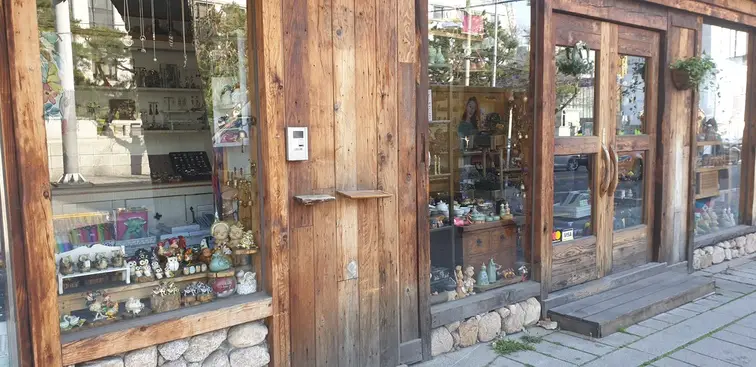 When you walk down the street you can see several souvenir shops and cafes like this. And after a few minutes, you can start your journey to the Bukchon Hanok Village. I recommend getting a map from the visitor information center or taking a picture of the walking route map before you start your journey because there are so many small alleys in the village.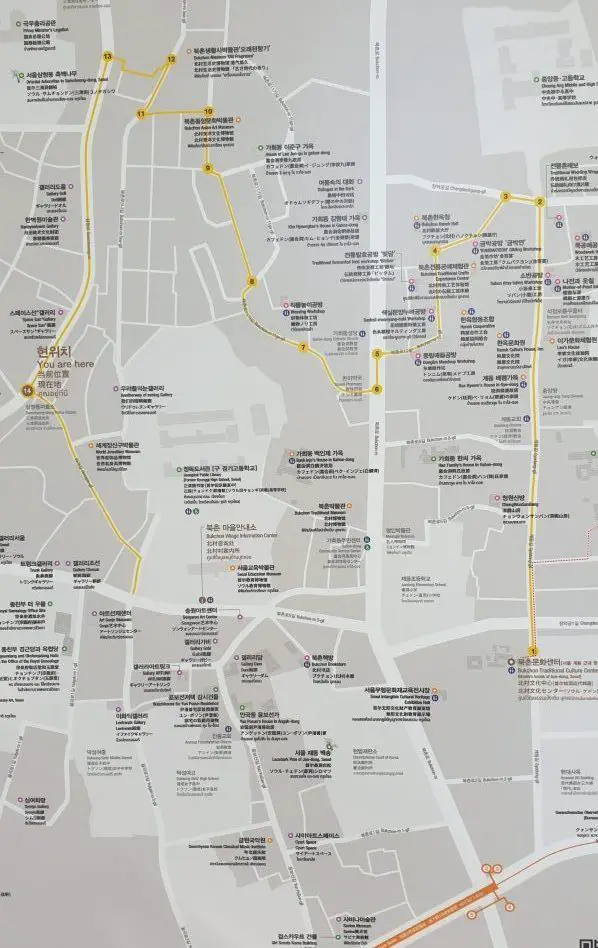 Bukchon Hanok Village Hanbok Rental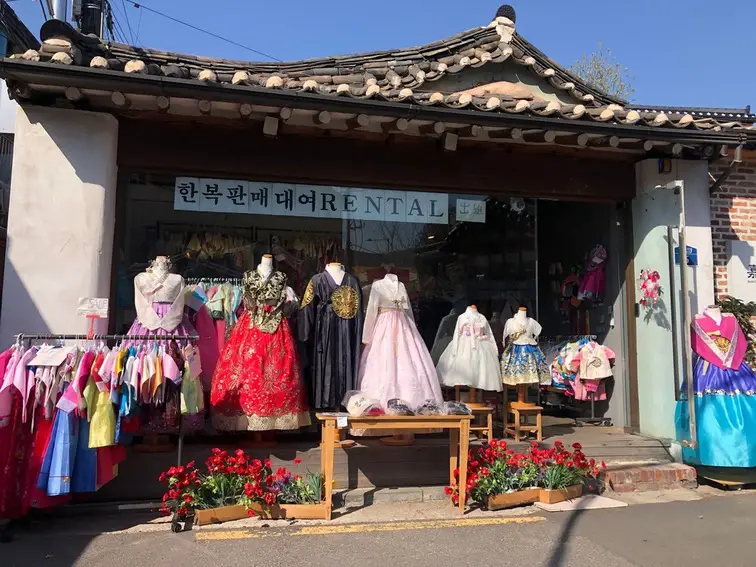 There are tons of Instagrammable photo spots in Bukchon Hanok Village and that's why it is loved by many people. Photos wearing a beautiful Hanbok can be one of the best pictures you've ever been in. You can easily find many Hanbok rental shops when you walk along the street. Normal Hanbok rentals with small accessories cost 13,000~20,000 KRW and usually run for 4 hours.
It would be convenient if you can purchase a rental voucher at a discounted price before you get there.
Go to see a Hanbok Rental Voucher
Gahoe dong alley and the 8 views of Bukchon
① Panoramic view of Changdeokgung Palace
② Wonseo-dong Gongbang-gil
③ 11 Gahoe-dong (Gahoe-dong Museum Alley)
④ 31 Gahoe-dong – Hillside
⑤ Gahoe-dong Alley – Downhill
⑥ Gahoe-dong Alley – Uphill
⑦ 31 Gahoe-dong
⑧ Stone steps in Samcheong-dong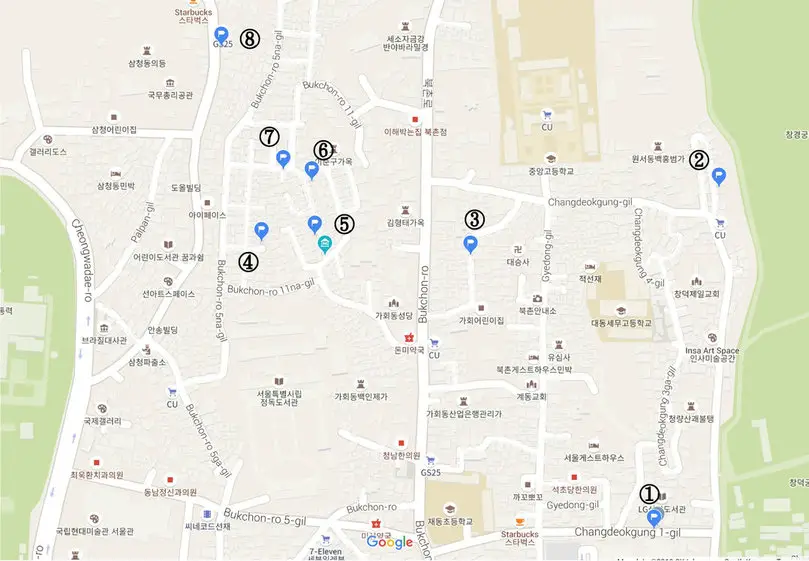 1. Panoramic view of Changdeokgung Palace
This is the first photo spot that we recommend taking a picture from because it has a background view of Changdeok Palace behind the stone walls.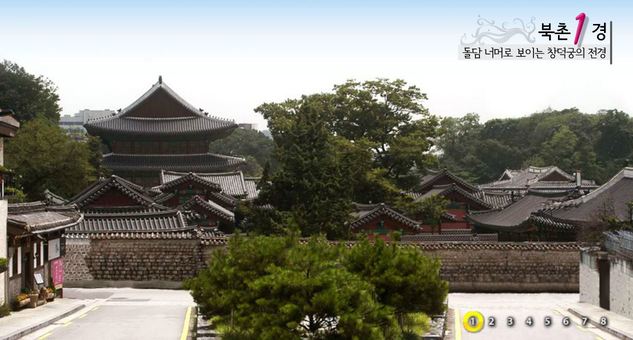 2. Wonseo-dong Gongbang-gil
Walking along the stone wall of Changdeok Palace in Wonseo-dong, there is a second photo spot at the end of the alley, after passing by the Buddhist Museum and Yeon Gongbang.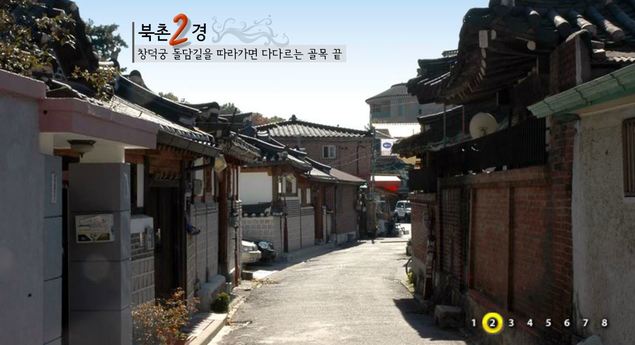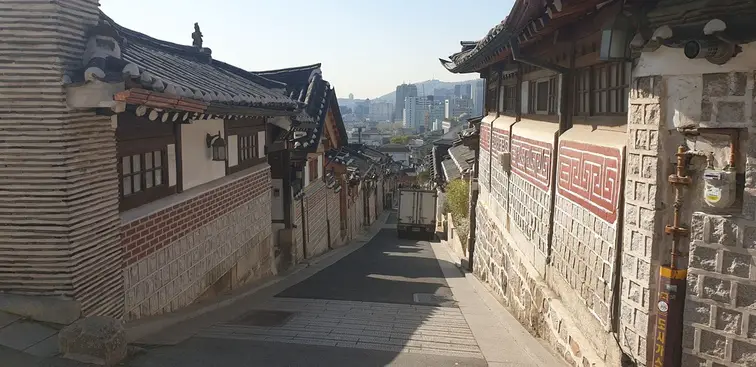 3. 11 Gahoe-dong (Gahoe-dong Museum Alley)
There is a third photo spot in Gahoe-dong 11, where visitors can enjoy the inside of the Hanok on the way down the embroidery museum.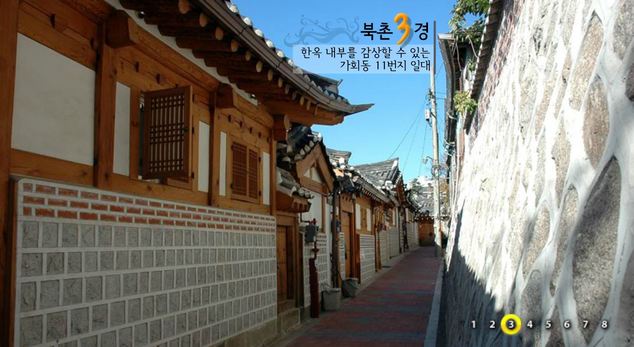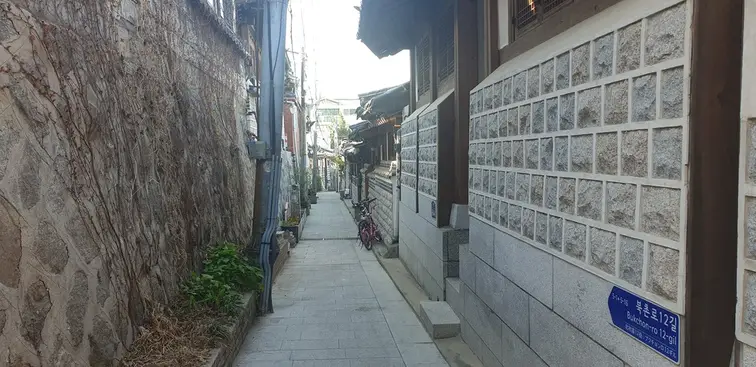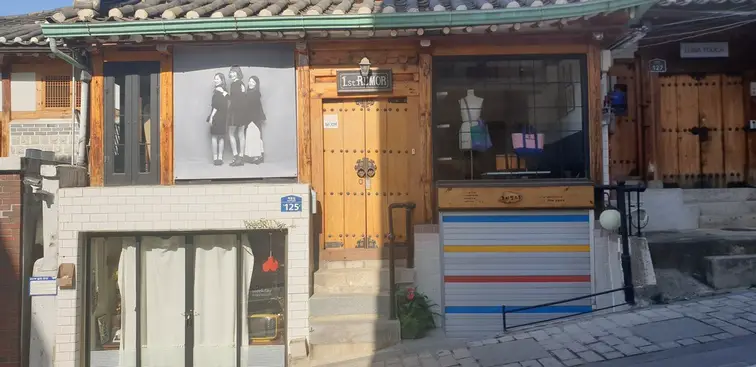 It would be good to visit gongbangs(workshops) of artists during your exploration.
4. 31 Gahoe-dong – Hillside
Personally this is one of my favorite photo spot of Bukchon because you can see the surrounding areas at one glance ontop of a hill.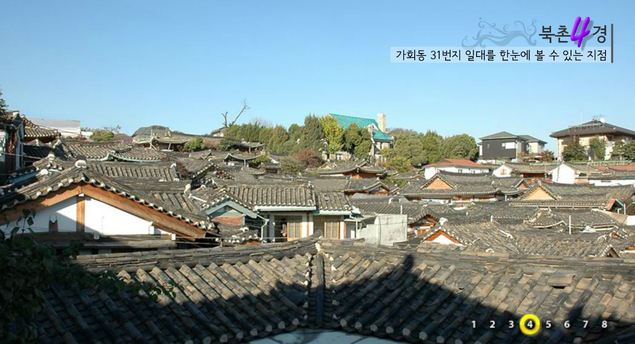 5. Gahoe-dong Alley – Downhill
This is the fifth photo spot at 31 Gahoe-dong alley, the most well preserved Hanok area in Bukchon.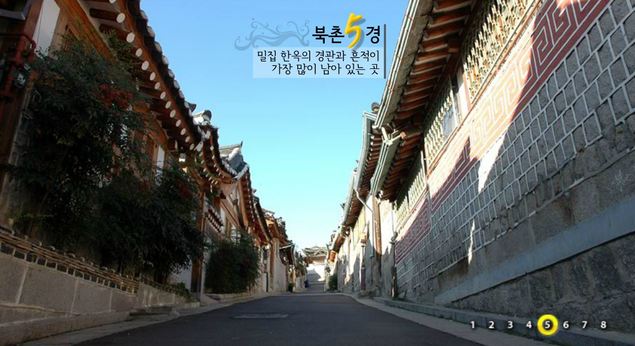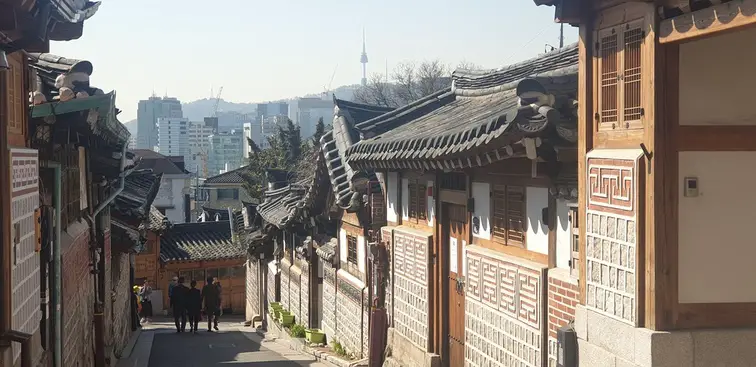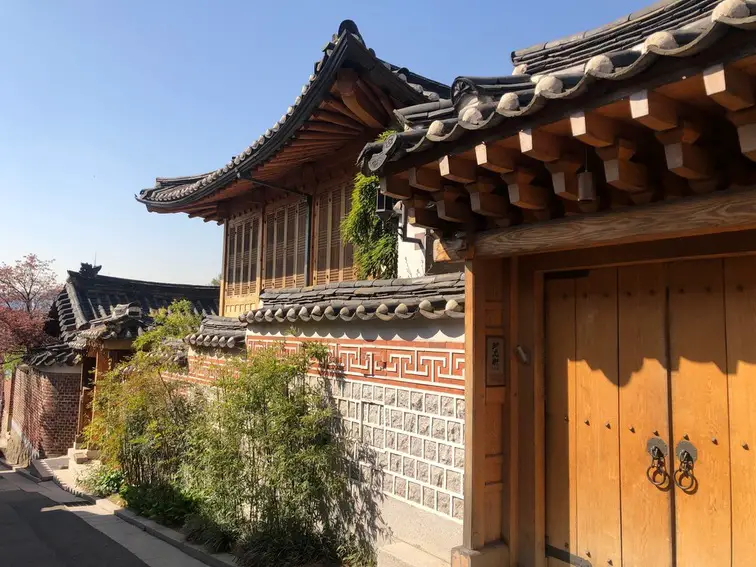 6. Gahoe-dong Alley – Uphill
Go up the 31 Gahoe-dong lane, and you can see the sixth photo spot at the end of the hill.
The scenery of Seoul city, which is visible through the roofs of Hanoks, is breathtaking.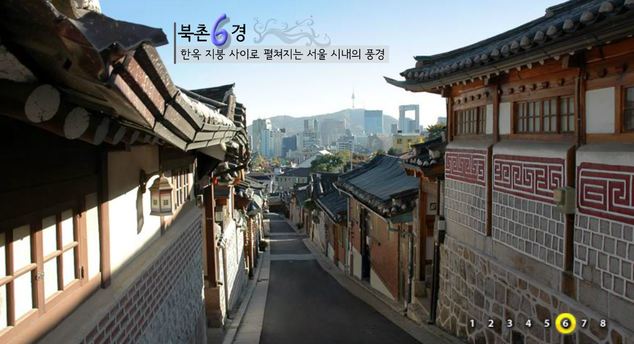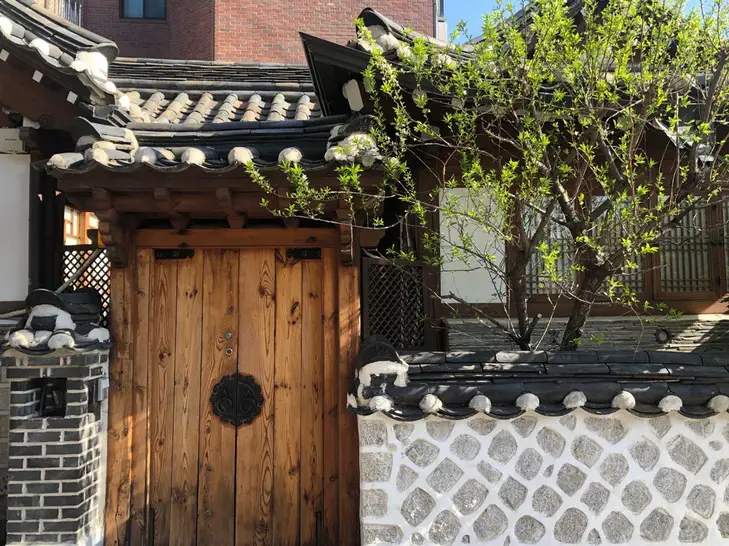 7. 31 Gahoe-dong
You can enjoy the simple and calm atmosphere of Hanok from the 7th view point of Bukchon.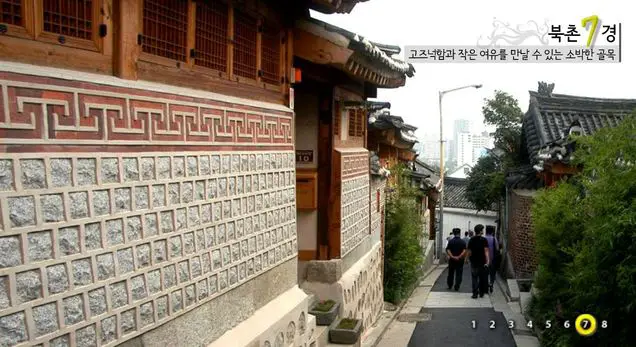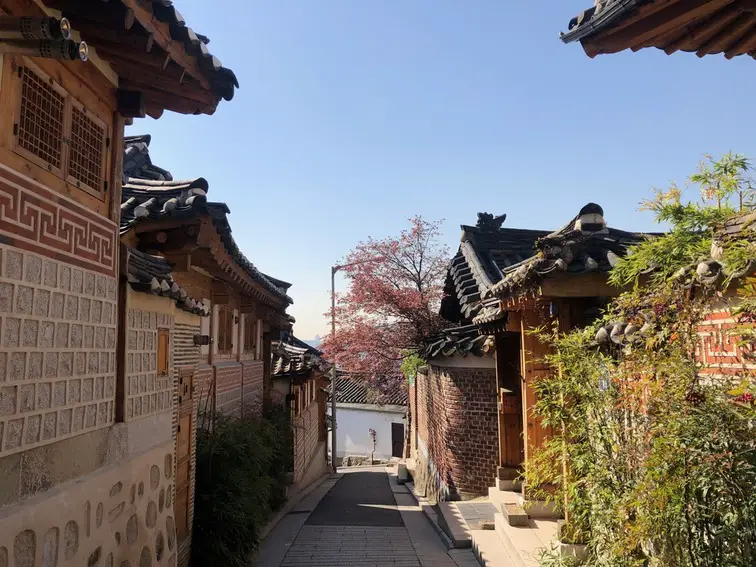 8. Stone steps in Samcheong-dong
You may think why did they designate these stone steps as the 8th view of Bukcho? But it shows an unique alleyway view of a staircase made entirely of a large rock.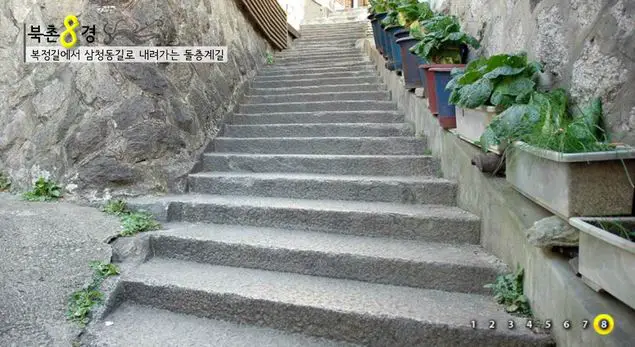 Restaurants and Cafes
After a long walk, you may want to eat traditional Korean foods. There are many nice restaurants and cafes in Bukchon.
Kkangtong Mandu(Dumpling)

Mandu-guk(Dumpling soup), Nokdu Jijim( Mung Bean Pancake): 9,500 – 15,000 KRW

Address: 84-22 Jae-dong Jongno-gu
Caution: People always wait outside in line.
Bukchon Sonmandu(Handmade Dumpling)

Mandu-guk(Dumpling soup), Kalguksu(Noodle soup), Naengmyeon(Cold noogle): 6,000 – 8,000KRW
Address: 45-8 Jae-dong Jongno-gu
Bukchon Dodam

Various Korean foods with Makgeolli(Rice wine): 8,000 – 15,000 KRW
Address: 133 Anguk-dong Jongno-gu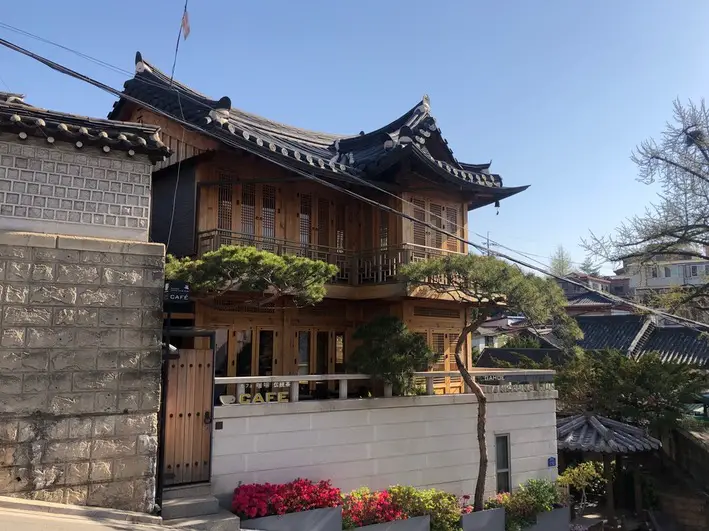 Cafe

Yeon

Hanok cafe
Address: 63-20 Samcheong-dong Jongno-gu

Chamasineun Tteul(A yard where people drink a cup of tea)

Hanok cafe
35-169 Samcheong-dong Jongno-gu

Cafegolmok Soup(A forest at the cafe alley)

Rooftop cafe
63-14 Samcheong-dong Jongno-gu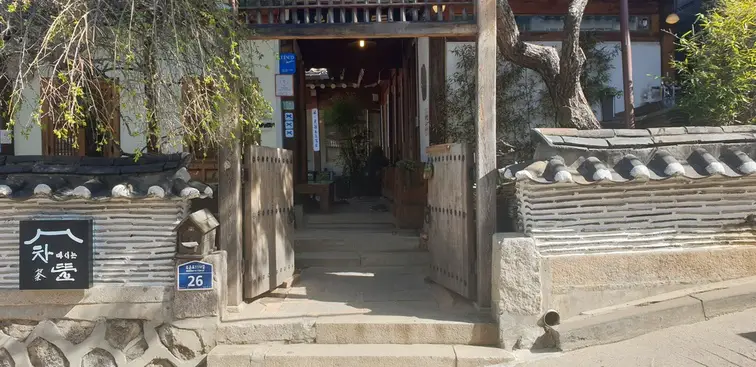 Free Guided Walking Tour
Here is a good tip for you! "The Seoul Guided Walking Tour" is an absolutely FREE program offered by the city of Seoul designed for tourists. The knowledgeable tour guides will be with you during walking tours and they are all volunteers. you also have a chance to meet some great fellow travelers here too! This free tour is packed with information and covered the entire site from Korean history. 
If you had a great time, then you can easily move on to the other sightseeing spots near the village.
Gyeongbokgung Palace, Changdeokgung Palace, Deoksugung, Samcheong Park, and other tourist spots are quite close.
Written by Dy & Jay
IVK's Top Picks – Day Tours, Tickets, and Travel Activities
Seasonal Picks!😍