Last Updated on January 18, 2022
Are you looking forward to Muslim-friendly restaurants in Korea? We know that food can be a challenge when coming to another country. But not to worry when traveling to Seoul because the Seoul Metropolitan Government has compiled a list of restaurants that use halal ingredients only. Let's check the best Halal restaurants in Seoul.
Best Muslim Friendly Halal Restaurants in Seoul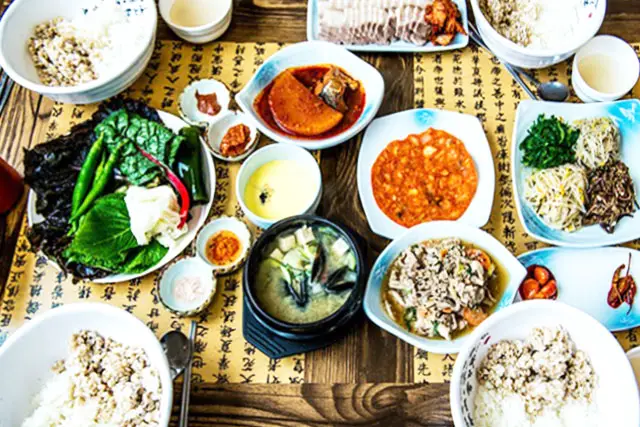 Official Halal-Certified Restaurants
Makan Restaurants – Yongsan
First, you can taste real Korean food with traditional menu items such as Bulgogi and grilled fish at Makan Restaurant in Yongsan, Seoul.
Address: 52, Usadan-ro 10-gil, Yongsan-gu, Seoul

Web: https://www.facebook.com/MakanKorea 
Eid – Yongsan
Secondly, try eating Korean dishes like Bibimbap and Samgyetang, as well as other popular soups and side dishes at Eid.
Address: 67, Usadan-ro 10-gil, Yongsan-gu, Seoul

Web: https://www.facebook.com/eid.halal.korean.food
Mr. KEBAB – Itaewon, Yongsan
Thirdly, lamb, chicken, and mackerel kebabs come in various forms at Mr. Kebab in Yongsan.
Address: 192, Itaewon-ro, Yongsan-gu, Seoul

Open: 24 hours
Salam – Yongsan
Fourthly, come and try single-servings of kebabs and course dishes, as well as, Turkish coffee and various teas. There is also a Salam bakery nearby where they sell Turkish cookies.
Address: 39, Usadan-ro 10-gil, Yongsan-gu, Seoul
Istanbul Delight – Yongsan
Fifthly, Istanbul Delight serves ten different halal-certified desserts including strawberry cookies, ice cream, traditional Turkish desserts such as Revani, and more.Address: 40, Usadan-ro 10-gil, Yongsan-gu, Seoul
Web: https://www.facebook.com/Istanbul-delight-1619138815026099/
Kervan Express GFC – Gangnam
Sixthly, if you are looking for something luxurious, try Kervan Express restaurant. They have shish kebabs, kusupizola, pide served with sides such as lavash and hummus.
Address: 152, Thehran-ro, Gangnam-gu, Seoul

Web: https://www.kervan.co.kr/
Itaewon Kervan Express – Yongsan
Seventhly, various types of kebabs and pide, as well as, sides such as Turkish rice and bread are served at Kervan Express in Itaewon. They also operate a dessert store nearby.
Address: 190, Itaewon-ro, Yongsan-gu, Seoul
Kervan Turkish Restaurant Starfield Coex Mall Branch – Gangnam
Lastly, everything in this restaurant is Turkish, including the chef, staff and even the music! The luxurious restaurant serves many dishes including curries, pide, and Kofte.
Address: COEX mall B1 h105, 524, Bongeunsa-ro, Gangnam-gu, Seoul
Muslim Friendly Restaurants in Seoul
Luna Asia – Gangnam
Luna Asia is a Muslim-friendly Indian restaurant with a Muslim owner and chef. Dal Tadka and Tandoori Chicken are recommended here at an affordable price. As it's located near COEX and Bongeunsa Temple it's a good place for lunch or dinner after exploring Gangnam. Click here to see the best things to do in Gangnam.
Address: 15, Samseong-ro 100-gil, Gangnam-gu, Seoul
Phone: 02-562-7992
Open: Weekdays 10:30 – 22:00 | Weekends 12:00 – 21:30
Price: 3,000 – 19,000 KRW
Insarang – Insa-dong, Jongno
Try Korean dishes in the Muslim-friendly restaurant in Insadong where is one of the popular Seoul attractions! I would like to recommend you to have Our Home-made Meal or Aster Bibimbap here.
Address: 24 Insadong-gil, Jongno-gu, Seoul
Phone: 070-4162-2533
Open: 10:00 – 22:00
Price: 10,000 – 16,000 KRW
Ilji Hanbang Samgyetang – Myeong-dong, Jung-gu
Have you heard about Samgyetang? It's one of the best Korean foods people from all around the world love. Try a ginseng chicken soup with medicinal herbs. After having this meal, you could feel you got much healthier! Before you go, note that a reservation is required for the Halal menu.
Address: 48, Myeongdong 8ga-gil, Jung-gu, Seoul
Phone: 02-754-1358
Open: 10:00 – 22:00
Price: 13,000 – 15,000 KRW
Cous Cous – Jongno-gu
Here you can enjoy Tunisian food by choosing Couscous Set and Brick which is the restaurant's signature menu. Finding the place is also very easy. Just go to exit 2 of Gyeongbokgung station and it's a 5-min walking distance.
Address: 16-2 Jajamun-ro 5-gil, Jongno-gu, Seoul
Phone: 02-6357-5762
Open: 11:30 – 23:00
Price: 8,000 – 18,000 KRW
Osegyehyang – Jongno-gu
Osegyehyang is a famous vegetarian restaurant in Seoul. Moreover, they have Halal menu as well like Rice Wrapped in Greens with Grilled Soy Meat and Noodles with Black Bean Sauce called Jjajangmyeon. Furthermore, various Korean dishes are available in Osegyhyang. I highly recommend it and you can check more menu and atmosphere here.
Address: 14-5 Insadong 12-gil, Jongno-gu, Seoul
Phone: 02-735-7171
Open: 11:30 – 21:00
Price: 6,000 – 16,000 KRW
It's very exciting experiencing your countries food while you are traveling in another country. Therefore we recommend you to visit a halal-certified restaurant. The halal restaurants here will taste better than home 🙂 
---
You may also like
IVK's Top Picks – Day Tours, Tickets, and Travel Activities
Seasonal Picks!😍