'Gangnam-style' by the world-famous singer, Psy, was named after the district in Seoul, Gangnam, which literally means the south of the Hangang (river) in Korean. Gangnam refers to the streets near the Gangnam station, in a narrow sense, but sometimes it means a big area that includes Jamsil, Samseong, Chungdam, and Sinsa-dong.
It's now a world-famous hot spot for the latest trends. Here are the top best places to visit in Gangnam.
After you read this post, you will be able to plan a one or two-day Gangnam itinerary. Here are example plans:
One day plan: COEX – Lotte World Theme Park – Seoul Sky
Two-day plan: Gangnam Station – COEX – Bongeunsa Temple – Seven Luck Casino
Three-day plan: Apgujeong Rodeo Street – Sinsadong Garosugil – Hangang Riverside Park (Jamwon)
---
How to get to Gangnam
Gangnam is a very crowded area and famous for its traffic jam, especially on Friday and Saturday nights. You might be surprised by the floods of people in the subway station. Though there are so many people on the bus and subway, it is the best way to hang out with your family and friends in this area.

Gangnam Tourist Information Center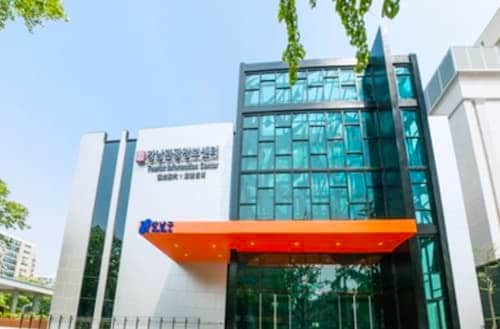 Let's start the Gangnam tour at Gangnam Tourist Information Center Where you can receive one-stop service. Various tourism guides, Interpretation services, consultation on medical tourism, currency exchange, Internet lounge, and Hallyu (Korean Wave) services are provided. Moreover, here you can get assistance with reservations and coin lockers to reduce the hassle associated with traveling. 😉
Open hours: 10:00 ~ 19:00 (Always open)
Address: 161 Apgujeong-ro Gangnam-gu Seoul
Tel.: 02-3445-0111
Website: http://gangnam.go.kr
Direction: Apgujeong Station Exit No. 6 on Seoul Subway Line No. 3
Best Things to do in Gangnam
Lotte World & Seoul Sky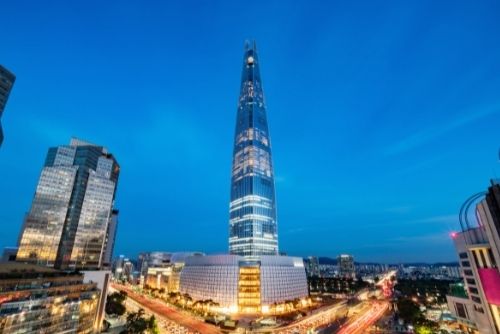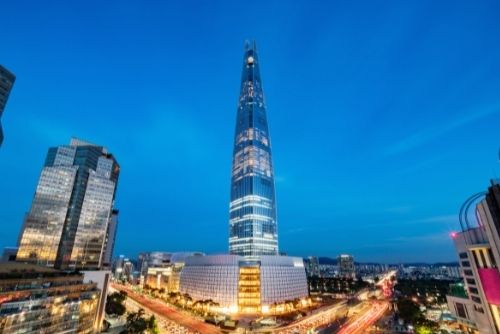 Lotte World Theme Park
If you are visiting Seoul with your kids or want to see the breathtaking night scenery of Seoul, Lotte World is the best place. You can enjoy the Lotte world's amusement park, an aquarium, shopping malls, restaurants, movie theaters, and an ice rink all in one place.
If you want to see the history of Korea, we recommend visiting a Korean folk museum. And If you want to see Seoul's landscapes check out the Seoul Sky observatory, it's the best place to view all of Seoul in one spot. We also recommend seeing the night view of Seoul.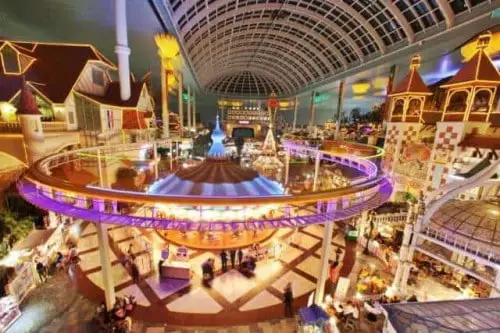 The Lotte amusement park is not as big as Disney World Orlando, but it consists of the world's largest indoor theme park. It is also one of the great places to visit on a rainy day.  🙂
It's located in Jamsil and you can directly access the building from Jamsil station via subway line no.2, green-line. Don't miss out on almost a 40% discount ticket here!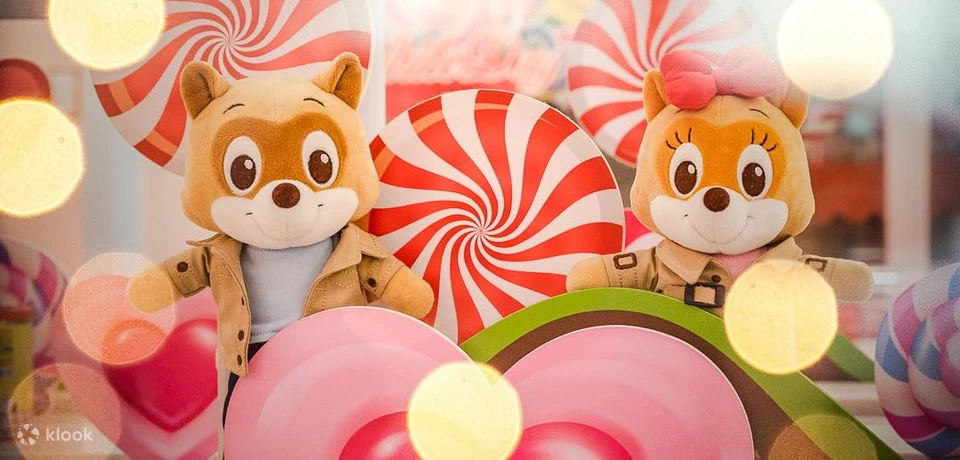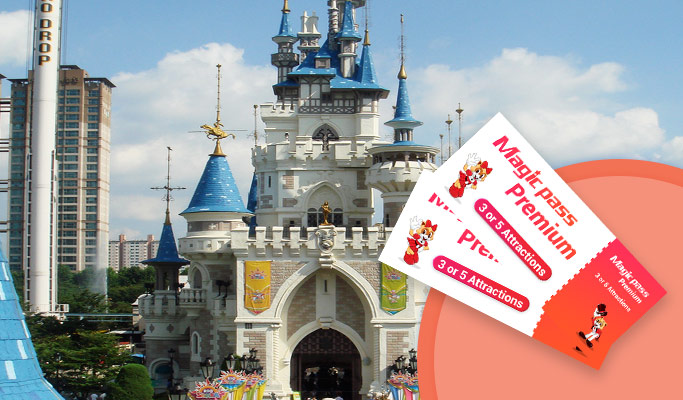 Experiences.travel.rakuten.com
Open: 9:30 ~ 22:00
Price: One-day pass KRW 57,000 / After 4pm pass KRW 44,000
Seoul Sky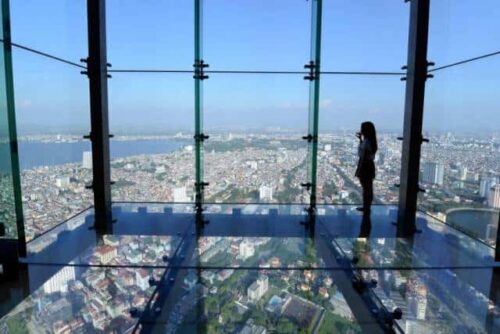 The thrilling Seoul-sky observatory shows the outstanding views of Seoul.  The observatory deck has two-story-high glass windows for a 360-degree view. It's on the 117 to 123rd floors of the Lotte World Tower, the tallest building in Korea, and 5th in the world.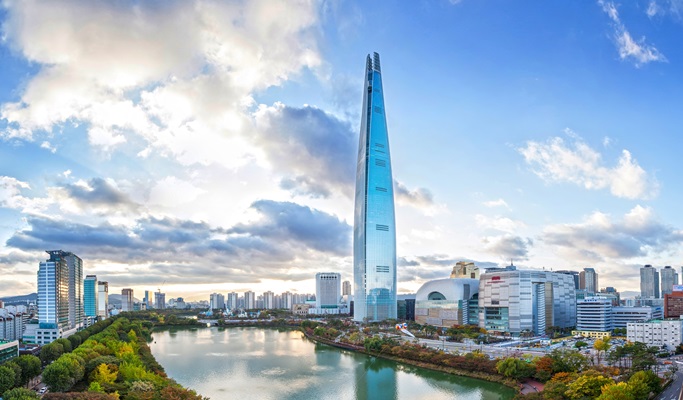 Open: 10:00 ~ 22:00 (23:00 on Friday & Saturday)
Price: KRW 25,500
Travel Tip
Purchase an online ticket before you visit to get over 50% off.
Download the Lotte World Magicpass app to reduce waiting time in line. 
COEX Mall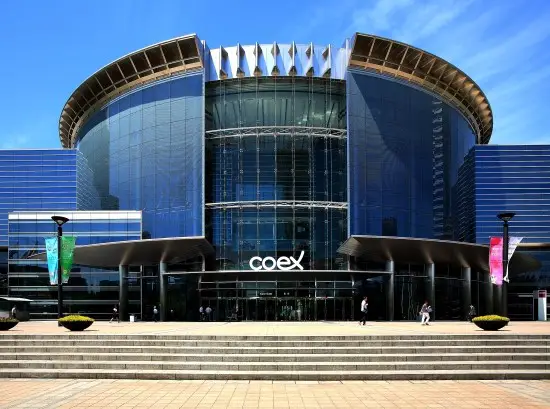 COEX is a huge complex of convention centers, exhibition halls, an aquarium, movie theaters, hotels, restaurants, and a lot of shopping malls including the Starfield Coex Mall. You can look up the events you are interested in here.
COEX is located between Samseong subway station(line no.2) and the Bongeunsa temple station(line no.9).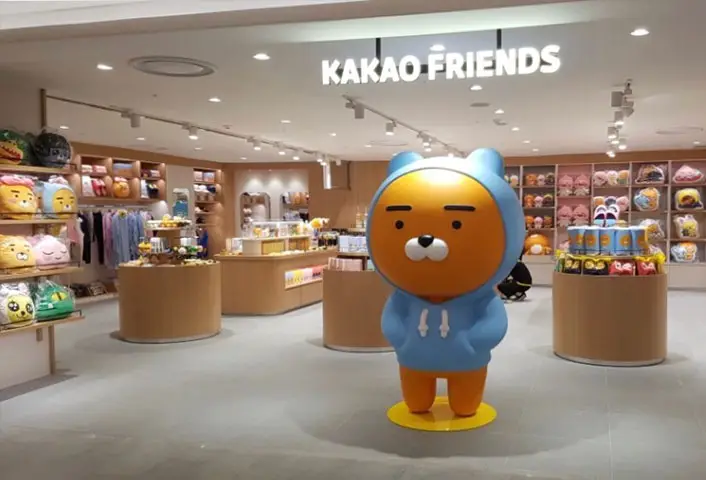 There is a Kakao store in the COEX mall, and it's a good place to purchase souvenirs for your friends and kids. Another Kakao store is located at the Gangnam station.
Starfield Library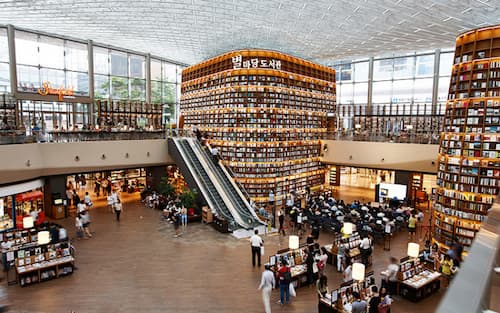 If you've been looking for a Gangnam tour, you've probably seen this pretty Byeolmadang Library (별마당 도서관) on Instagram at least once. In the COEX Mall, there is a beautiful attraction for book lovers. It is the Starfield Library situated in the center of the main area. Home to 40,000 plus books, what better treat an avid reader wants?
You will find books of almost all genres here from fiction to nonfiction, arts, science, humanities, and whatnot. The Starfield Library organizes many book-related events like meet and greets, concerts, talks, poetry, and reading contests.
COEX Aquarium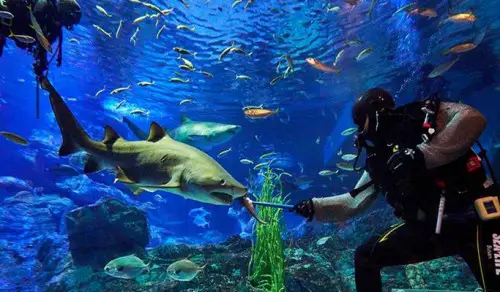 The last place you can enjoy at COEX is the Aquarium. It is the largest shark habitat in Korea, which not only children but also adults can enjoy. With more than 650 speices, In addition to fish, other local animals are included in the exhibit such as birds, otters, turtles, etc., there are many things to see at various aqua shows. Definitely, it is a great place for families or couples to visit.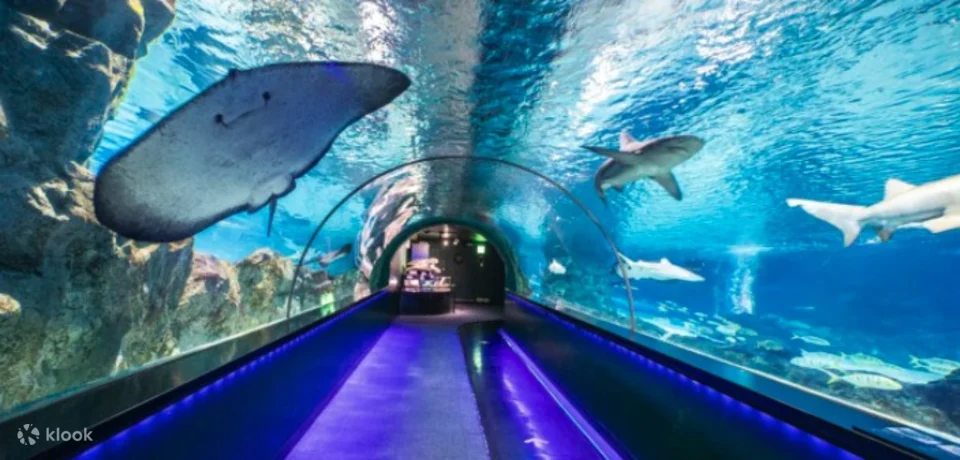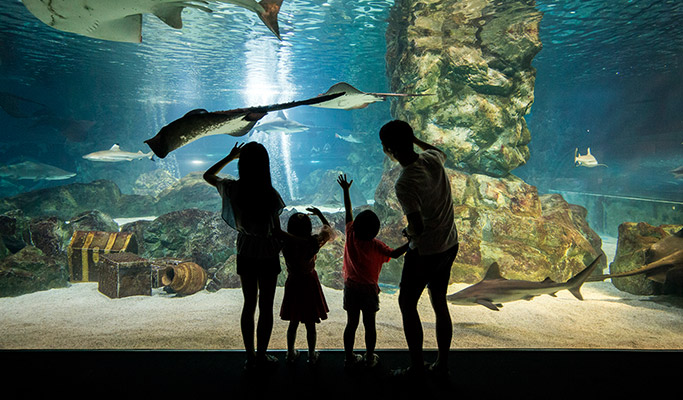 Bongeunsa Temple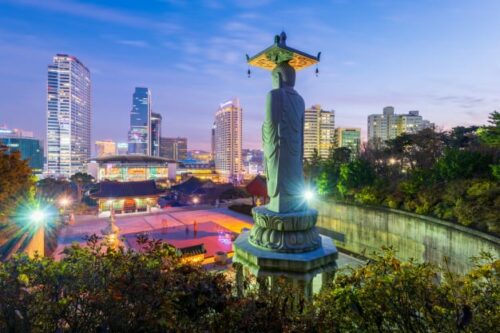 Bongeunsa temple was built in the year 794 in the Shilla dynasty under the name of Gyeonseongsa temple.  Usually, Buddhist temples are in the mountains because of the political problem in the early stage of the Chosun dynasty.
Unlike other temples, the Bongeunsa is located on the north side of COEX. It was also the largest temple during the Joseon dynasty. You can enjoy a temple stay program here to experience the daily life and culture of a monk. For more details about Templastay in Bongeunsa, head here.
Apgujeong Rodeo Street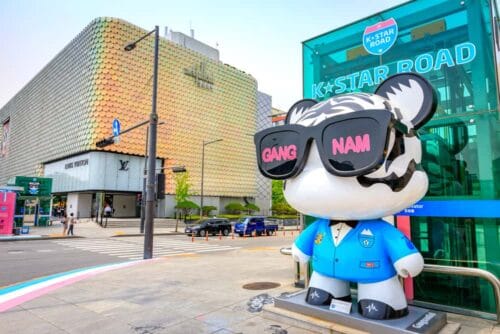 Apgujeong Rodeo Street is one of the popular fashion streets in Seoul, with many high-end brands and goods stores. In addition, there are many shops, cultural spaces, cute dessert cafes, and restaurants here at 50 Apgujeongro, Gangnam-gu, Seoul. If you are looking for Fun & Instagrammable spots, this is the must-visit place!
SIMMONS Grocery Store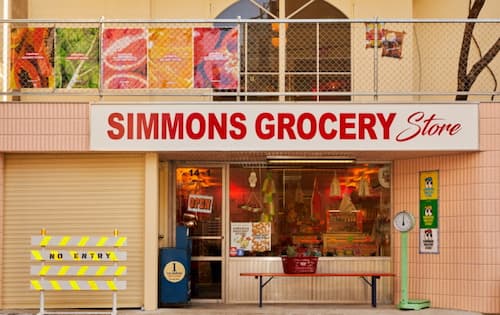 Simmons Grocery Store on Apgujeong Rodeo Street is the hottest place among young people in Seoul these days that opened in February 2022. It is a concept store inspired by European meat-grocery stores. The first floor sells fun toys and goods, and there is a handmade burger restaurant called "burger shop" on the second floor. This is a very tasty, high-quality hamburger, so if you'd like to have it, we recommend that you go first, make a reservation, and then go down to the first floor to look around.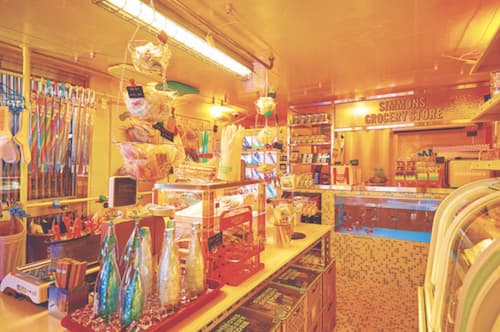 Open hours: 11:30 – 20:30
Address: 14-1 Seolleung-ro 158-gil, Gangnam-gu, Seoul
Tel.:02-541-6574
Direction: 4 minutes walking from Apgujeong Rodeo Station Exit 4 (Suinbundang line).
Cheongdam Fashion Street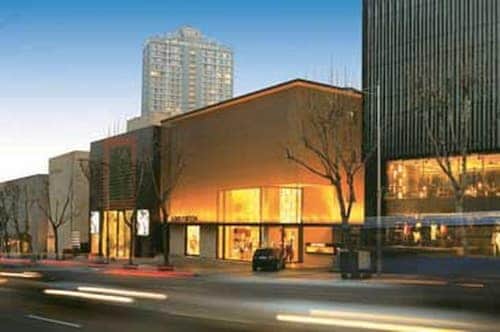 Right next to Apgujeong Rodeo Street, Cheongdam-dong Fashion Area is packed with luxury brand stores from mega shopping malls that sell luxury goods and showrooms to studios and beauty shops where Korean actors/actresses and K-pop idol stars come by for hairstyling and makeup. So, if you're lucky, you might come across your favorite Korean actor while passing by!
Korean Makeup & Hairstyling Experience at Cheongdam-dong Shop
If you have always been interested in Korean beauty, how about trying out the Korean Makeup & Hair Styling Half Day Experience? At the shop in Cheongdam-dong, where Korean celebrities go, you can get hairstyling with makeup and make memories with K-pop photo shoots.
More, you could get K-Star Road in front of the Galleria Department Store in Apgujeong Rodeo Station, exit 2.
If you want to go shopping in Gangnam at an affordable price, Gangnam Station Underground Shopping Center is just for you. It offers a convenient shopping experience with hundreds of trendy fashion and accessory stores all in one place. 
Garosugil (Sinsa-dong)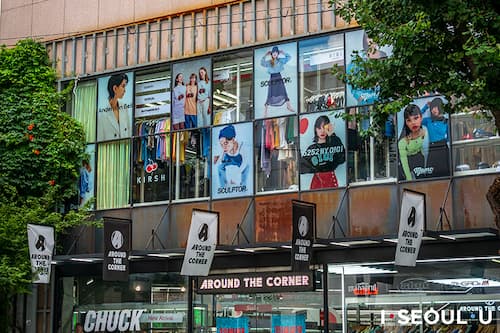 Garosu-gil is a charming street filled with various attractions. Here you can find pop-up stores of various fashion brands and independent designer shops. What's more, there are many cafés and restaurants that you can explore from romantic outdoor brunch to trendy bistro bars. If you're looking for coffee, dessert, or just a light snack, this is where you should head over to!
You can have brunch at one of the exotic cafes or enjoy a relaxing afternoon at a delightful restaurant along these streets. If you are seeking the best Cafes in the trendiest area in Seoul like here, Garosugil, Hongdae, and Jongno area, please check this page.
Tamburins Flagship Store in Garosu-gil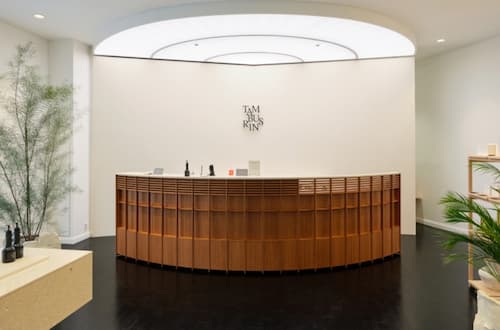 Tamburins is a Korean cosmetic brand that has become well known and loved by Korean beauty YouTubers. It has a modern and artistic mood that perfectly fits my taste from the product's scent to the packaging design. The product line is not as wide as hand wash, hand cream, body emulsion, diffuser, and candle, but that's why I like it better. It is great to be able to test the product before purchasing, and a Tamburins item is also very good for a gift.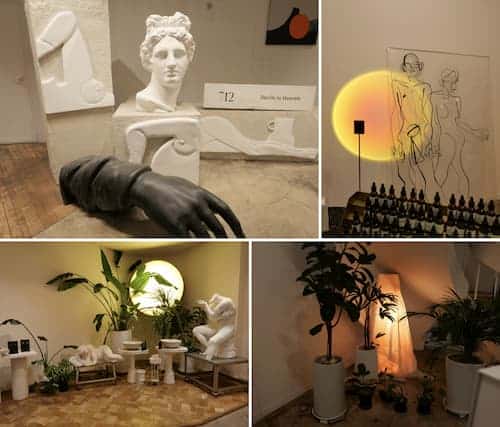 I couldn't take my eyes off this nicely decorated interior and it was full of satisfaction with an elegant scent. I highly recommend it if you love this kind of atmosphere like what I love. 😉
Samsung d'light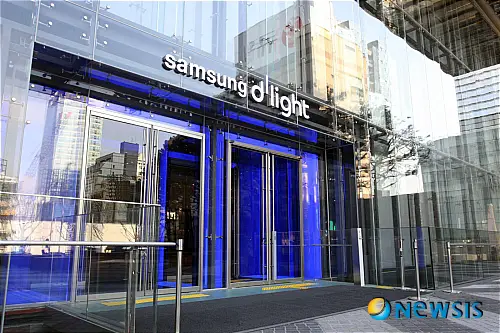 Are you crazy about the latest tech devices? Then you will love the Samsung d'light exhibition center.  You can try all of Samsung's newest devices and technology.
It's located in the Samsung headquarters building connected to the Gangnam station consisting of three floors. On the second floor, they show the future of technology and what they are doing, and on the first floor, they provide an exhibition place for people to try the devices, and the lower floor(B1) is for people who want to purchase the products.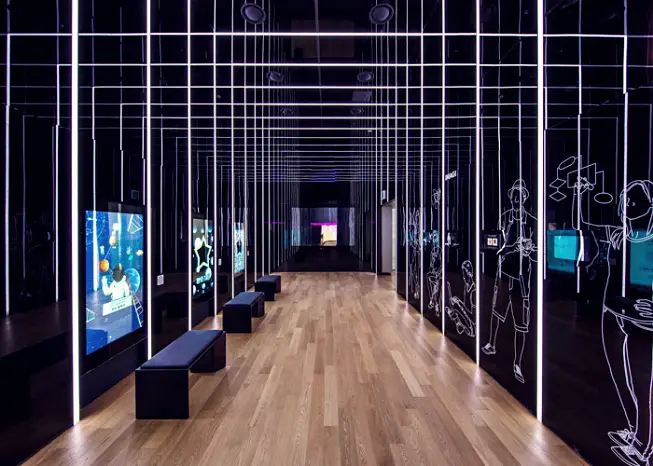 Open hours: 10:00 – 19:00 | Weekends closed
Address: 11 Seocho-daero 74-gil, Gangnam-gu, Seoul
Tel.:02-2255-2272
Direction: A minute walking from Gangnam Station Exit 8 (line 2).
Gangnam Gourmet Food Alley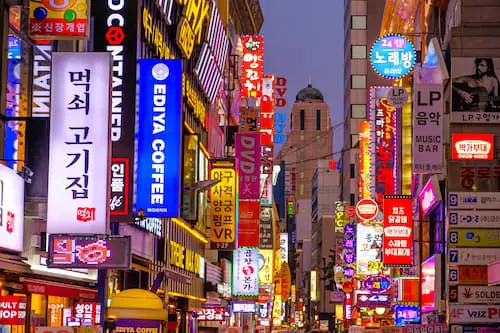 Gangnam is the center of Seoul culture, including fashion, foods, and desserts. This food alley has many restaurants, dessert cafes, Korean bbq restaurants, and bars that will fill our stomachs on the road from Gangnam Station to Sinnonhyeon Station. Furthermore, there are many other entertainment options such as VR games, Karaoke, and movie theaters, so if you want to feel the Seoul vibe, visit here!
Sevit Floating Island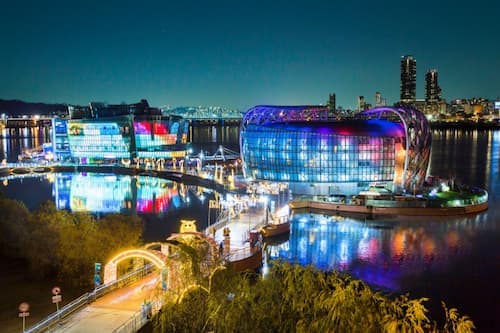 Sevit Floating Island is a cultural space on the Hangang River located to the south of Banpo Bridge. There are outdoor wedding spaces, event halls, restaurants, cafes, etc., and there are also Yaght and Tubester where you can enjoy water leisure. Also, Sevit floating island is considered a nightspot in Seoul. In addition to the colorful LED lights and the media art gallery, you can enjoy a fantastic night view with the lighting of Banpo Bridge.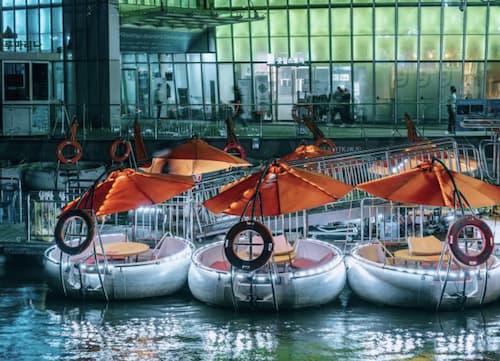 Open hours: 11:00 – 22:00
Address: 2085-14, Olympic-daero, Seocho-gu, Seoul
Tel.: 1566-3433
Direction: 15 minutes walk towards 'Hangang Park, Banpo Area' from Express Bus Terminal Station Exit 8-1 (lines 3, 7, 9).
Banpo Bridge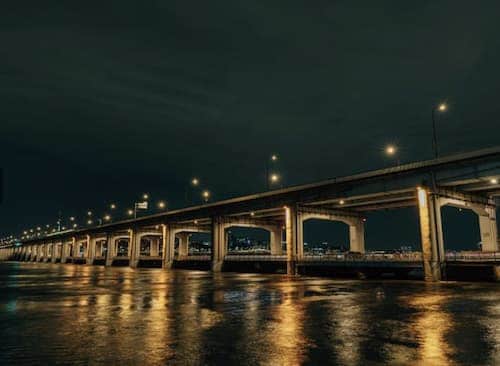 Another famous night view spot in Seoul is Banpo Bridge which is right next to Sevit Floating Island. Here you can watch the rainbow fountain show in the evening and enjoy the beautiful fireworks during the period of the Yeouido Fireworks Festival in October. It is often used as a date course because the night view of Banpo Bridge is awesome! Not only a couple many Korean visit here with friends or family to enjoy the fresh air with the night view and a late-night snack. If you want to take in the romantic night view of Seoul, I recommend Banpo Bridge, which is refreshing and beautiful just looking at it.
Open hours: 11:00 – 22:00
Address: 2085-14, Olympic-daero, Seocho-gu, Seoul
Tel.: 02-3780-0578
Direction: 15 minutes walk towards 'Hangang Park, Banpo Area' from Express Bus Terminal Station Exit 8-1 (lines 3, 7, 9).
Dosan Park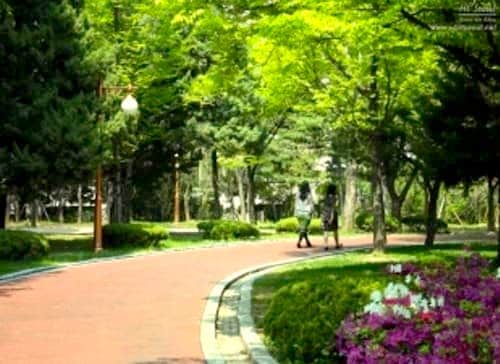 Dosan Park is a park that was originally inaugurated in 1973 to celebrate patriotism and a devotion to education. It is located in the neighborhood of Sinsa-dong, Gangnam. It is an 8-minute walk from Apgujeong Rodeo Street. Dosan was the pen name of independence activist An Chang-ho.
This park is to proclaim his accomplishment and legacy. He was a fighter of Korea's National Independence at the time of Japanese occupation. You will definitely enjoy your time. There are no water bodies in this park. It is still very lush with wilderness and plants. There are benches and housed pagodas, and a workout site. Dosan Park is a wonderful community park that does not charge an entrance fee.
Dosan Park is not only a park where you can enjoy nature in the city center, but there are many hot places in Seoul such as various select shops, designer brand stores, cafes, and restaurants around Dosan Park. I'll introduce those places below!
Open hours: 24hours
Address: 20, Dosan-daero 45-gil, Gangnam-gu, Seoul
Admission: Free
Direction: 15 minutes walk from Apgujeong Rodeo Station Exit 5 (Suinbundang line)
Sulwhasoo Dosan Flagship Store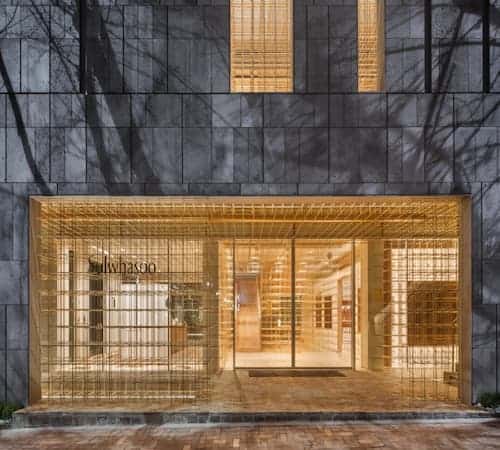 If you're interested in Korean Beauty, you've probably heard of Sulwhasoo. Sulwhasoo is a premium cosmetic brand in Korea that introduces skincare products made from oriental medicine. In this five-story space, you can test and purchase various Sulwhasoo products. Besides, there is an anti-aging spa room and a rooftop terrace where you can enjoy the beautiful Seoul scenery.
Open hours: 10:00 – 20:00
Address: 18, Dosan-daero 45-gil, Gangnam-gu, Seoul
Tel.: 02-541-9270
Direction: 15 minutes walk from Apgujeong Rodeo Station Exit 5 (Suinbundang line)
K Museum of Contemporary Art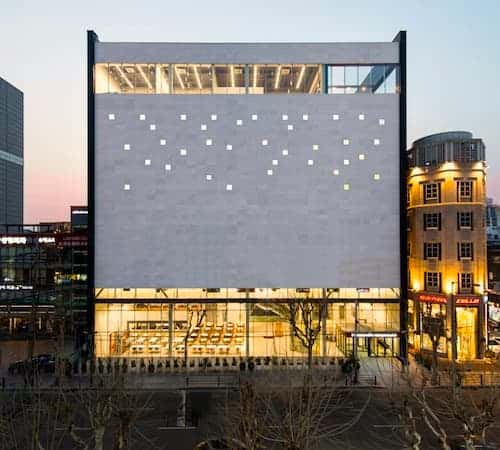 The K Museum of Contemporary Art is the largest private art museum in Korea. As the scale is large, the exhibition room is also magnificent, so it is popular with young Koreans. Unfortunately, it is not possible to take photos inside the exhibition room, but there is a unique photo zone, which is enough to post on Instagram. 😉 If you are curious about the current exhibitions, check their website or Instagram.
Open hours: Tue. – Sun. 10:00 – 19:00 | Monday closed
Address: 807, Seolleung-ro, Gangnam-gu, Seoul
Admission: Adult 20,000 KRW | Student 15,000 KRW | Kids 13,000 KRW
Tel.: 0507-1405-0952
Instagram: https://www.instagram.com/kmcaseoul/
Direction: 3 minutes walk from Apgujeong Rodeo Station Exit 5 (Suinbundang line)
HYUNDAI MOTORSTUDIO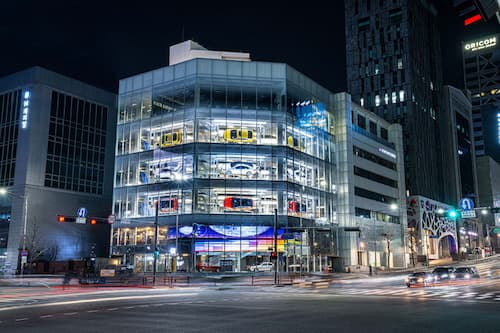 Are you interested in cars? Then Hyundai Motorstudio is your wonde-place! Not only exhibition and experience vehicles, but you can also test drive new cars. What's more, there is a workshop for children, so it is good for families to visit. All of these are free! Thus, don't forget to make a reservation through their website before visiting.
Open hours: Tue. – Sun. 09:00 – 21:00 (Closed on the first Monday of every month, January 1, and for two days from Lunar New Year and Chuseok)
Address: 738, Eonju-ro, Gangnam-gu, Seoul
Tel.: 1899-6611
Admission: Free of charge
Direction: 15 minutes walk from Apgujeong Rodeo Station Exit 5 (Suinbundang line)
Gangnam Station Underground Shopping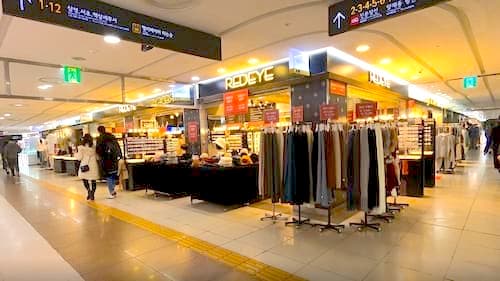 In the basement of Gangnam Station on Subway Line 2, there is a new world contrary to Gangnam-daero on the ground. In this Gangnam station underground shopping center, you can find many small shops including clothes, shoes, fashion accessories, and famous Korean beauty brands like Missha, Innisfree, Tonymoly, and more. Since it was targeted at female college students and young office workers, you can have a chance to buy products at very reasonable prices! Don't miss out. 😉
Open hours: 11:00 – 20:00
Tel.: 02-553-1898
Direction: Gangnam Station (line 2)
Seven Luck Casino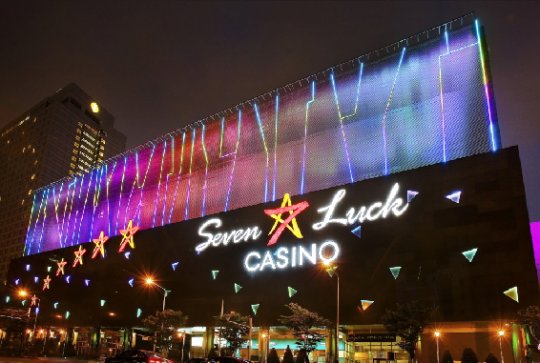 Only foreigners can enter the casino in Seoul because of the local law. And there's only one casino that national habitats can enter which is in Gangwon province. Seven Luck Casino has almost 200 kinds of table games and slot machines with a unique Korean atmosphere. (http://www.7luck.com) I'm not a gambler but sometimes I'm not like myself when I go abroad. BEST OF LUCK! 🙂 
Open hours: 24-hour a day, 365-day a year, the Seven Luck Casino is open to foreigners only.
Address: 58, Teheran-ro 87-gil, Gangnam-gu, Seoul
Tel.: 02-3466-6000
Direction: 3 minutes walk from Samsung Station Exit 5 (line 2)
Jamsil Baseball Stadium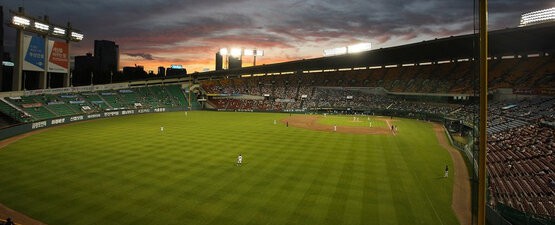 One of the most popular sports around the globe and also in Korea is Baseball. Jamsil Baseball Stadium was built in 1982 and was the first-ever baseball stadium in Korea. Doosan Bears and LG Twins teams are from this stadium.
In the season of games, the matches are scheduled each day of the week except Mondays. Book your tickets in time if you want to enjoy a good game. Jamsil Baseball Stadium is so simple to get to on the subway. The public is just incredible – you spend half your time attending the game, the other half eyeing the devotees.
Open hours: 11:00 – 21:00
Address: 25, Olympic-ro, Songpa-gu, Seoul
Tel.: 02-2240-8800
Direction: A minute walk from Sports Complex Station Exit 5 (line 3, 9)
Seoul Arts Center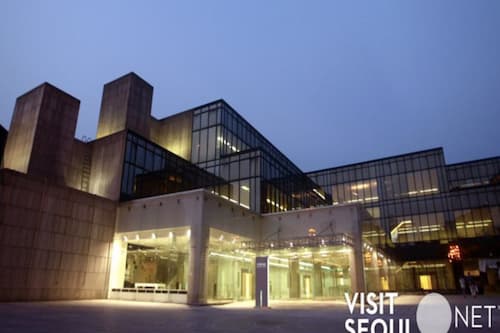 This is the largest Art center in Korea and holds exhibitions and concerts having various places such as the Opera House, Music Hall, Hangaram art museum, and outdoor music plaza. If you are interested in art and music concerts, check out the current exhibitions on the website.
Open hours: 12:00 – 22:00 | Monday closed
Address: 2406 Nambusunhwan-ro, Seocho-gu, Seoul
Tel.: 02-580-1300
Instagram: http://www.sac.or.kr/
Direction: 10 minutes walk from Nambu Bus Terminal Station Exit 5 (line 3)
CColabo House Dosan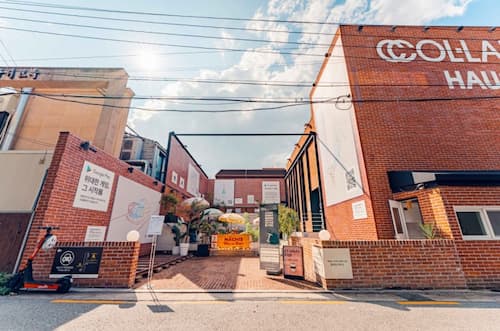 Ccolabo House is a trendy cultural complex where you can enjoy both art exhibitions and cafes. The red brick building located near Dosan Park is very attractive, and the exhibition on the 2nd floor is also available for free! Have a good chill time with sweet desserts and a cup of coffee or beer on the outdoor terrace.
Open hours: 10:00 – 22:00
Address: 21-3, Eonju-ro 164-gil, Gangnam-gu, Seoul
Tel.: 02-511-2220
Direction: 10 minutes walk from Apgujeong Roder Station Exit 5 (Suinbundang line)
Seolleung and Jeongneung Royal Tomb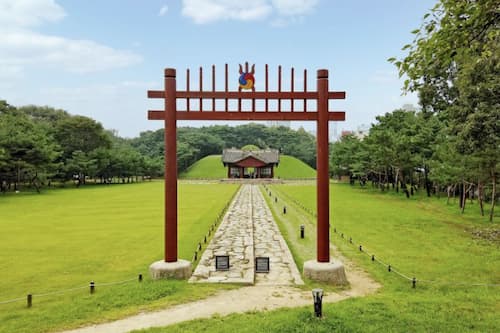 Seolleung and Jeongneung are located between Seolleung and Seonjeongneung Stations in Seoul.
It is the burial grounds of two of the Joseon Dynasty kings and one of the Joseon queens.
 If you are finding a place to hide from the city's heat then this is the right place. There is a single entrance to the tombs. If you don't like the history part, still this place is good to go because of its green surroundings. The entry fee is only 1,000 Won.
Open hours: Mar. – Oct. 06:00 – 21:00 | Nov. – Jan. 06:00 – 17:30 | Feb. 06:00 – 18:00
Address: 137 Samseong-dong, Gangnam-gu, Seoul
Admission: 1,000KRW
Tel.: 02-568-1291
Direction: 5 minutes walk from Seolleung Station Exit 10 (line 2, Suinbundang line)
Gangnam Style Landmark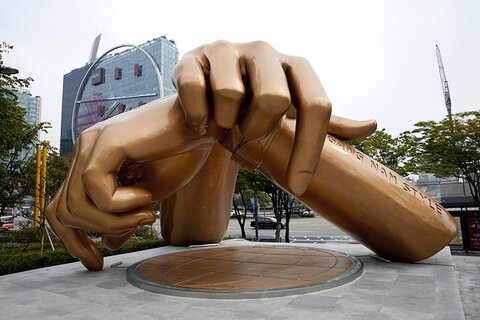 At the East gate of COEX, Gangnam Style Landmark is there to remind you about the Gangnam Style. You can easily get there if you take exit 6 of Samsung Station or exit 7 of Bongeunsa Station.
It is a bronze statue dedicated to the South Korean music hit Gangnam Style. It's an incredible area to wander to relish the area's art and architecture.
Rare Market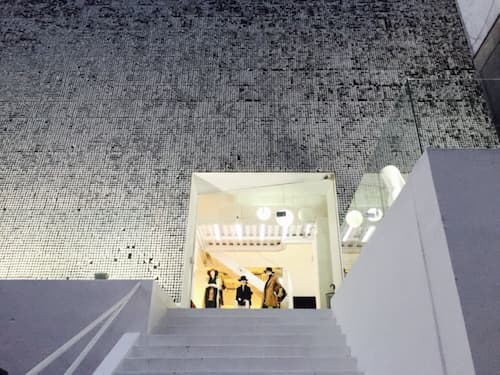 Rare Market is a select shop that comprise various brands and is well known for being run by the older sister of GD, a K-pop star, Big Bang's member. If you are curious about a selection made with unique taste and discernment, from well-known high-end brands to new designer brand items, visit here. There are many trendy and experimental styles, so it is fun to look around. However, be aware that the price is super high. 😉
Open hours: 11:00 – 21:00
Address: 24, Apgujeong-ro 80-gil, Gangnam-gu, Seoul
Tel.: 02-512-3433
Direction: 10 minutes walk from Apgujeong Rodeo Station Exit 3 (Suinbundang line)
Seoul Theme Hiking Road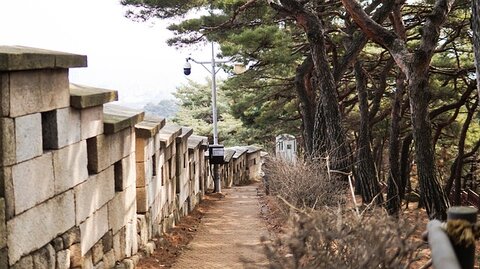 Seoul Theme Hiking Road is one of the 3 easy hiking trails in Gangnam-gu. Discover the kid-friendly routes for your next family trip. Seoul offers its visitors four themed walking trails. If you are an enthusiast hiker, then the Seoul Theme Hiking Road is a great option.
The themed walking trails in Seoul are divided into Trails through Forests, through Valleys, and Walking with Beautiful Views. Enjoy your walk at the forest walkway where the vivid city panorama and nature are in symmetry. This walking path is prominent with walkers because you feel like you are contemplating the city in the woodland.
Coreana Museum of Art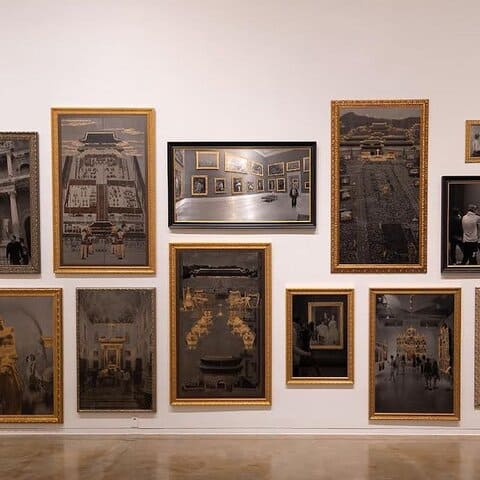 Related to the Korean Coreana cosmetics, the Coreana Cosmetic Museum is another place worth seeing in Gangnam. This museum has a collection of 53,000 items. It is the largest art museum and it is equipped with a modern art hall, a skincare system, and a restroom.
The Coreana Museum of Art organized various cultural exhibitions. It embraces and supports experimental art. The exhibition room on the 5th floor is specified for women's living culture while the 6th-floor exhibition room is for ceramic and pottery. Moreover, you will witness permanent Buddhist exhibitions at the museum.
Hannam Bridge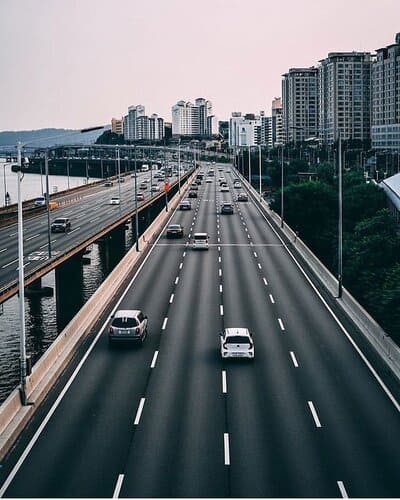 Hannam Bridge is one of the numerous bridges that connect Gangbuk and Gangnam. This bridge connects the hot places section Itaewon~Sinsa, Apgujeong, etc. directly. If you arrive from Gangnam, you can discern the Hankwang Church, one of the characteristic symbols of Hannam-dong, and the buildings that are stuck under it when you stroll on the left bridge and right one in case you are coming from Itaewon.
It is a perfect place to watch the sunset. You can get off at the Hannam Bridge Observation Café, then go down to Hangang Park. You then go up to the other viewpoint of the bridge and walk as there is no bus on the bridge from Itaewon to Gangnam.
Figure Museum
The Figure museum is located in Cheongdam-dong, Gangnam-gu, Seoul. This museum is for all types of visitors, however, if you have kids then this place is kids' paradise. For all the anime lovers who love collecting their favorite cartoon figures, this place is heaven. Stop by the coffee shop or shop from the figurine stores.
We recommend you start on the 5th floor and then work your way down. It is because the top floor has an incredible collection of Star Wars figures. There is a wall displaying DC, Marvel, and movie superheroes. You can take as many pictures with your favorite anime figures as you want.
Cheongdam Fashion Street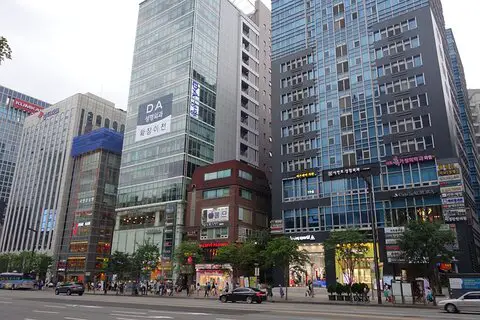 If you are a fashion enthusiast, then Cheongdam Fashion Street, most commonly known as Celebrity Street is the best pick for you. You will find almost all the global luxury brands here.
 The street offers you the best of hair and beauty salons along with many restaurants. Wanna feel like a celebrity, have a walkthrough of Cheongdam Fashion Street.
I hope you enjoy Gangnam-Style and have fun in Gangnam!  😀
Please, contact me or leave a comment if you have any questions on this blog post.
---
You may also like: