Last Updated on September 22, 2023
Nestled deep within the heart of South Korea, Hwadam Forest stands as a testament to the beauty and wonder of the natural world. Often referred to as the "Forest of Life," this beautiful forest is a favorite place among hikers, nature lovers, and people looking for a peaceful haven from the rush and noise of city life. In this comprehensive guide, we'll take you on a tour of the enchanted Hwadam Forest and explore why it deserves to be on your travel itinerary. Let's begin!
Read also:
General information
Introduction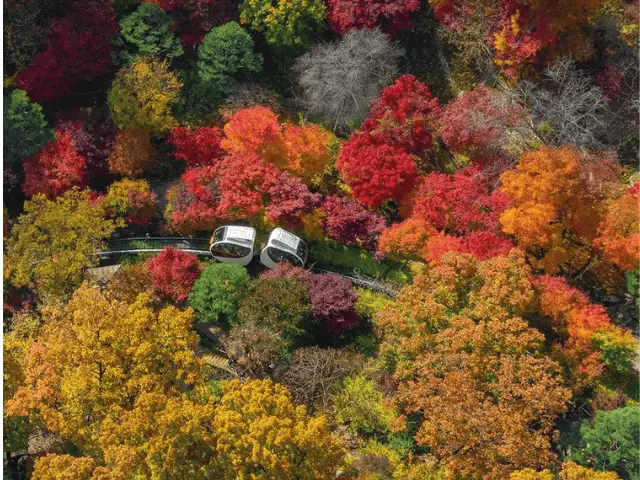 Hwadam Botanic Garden, nestled within Konjiam Resort in Gwangju, Gyeonggi-do, is an eco-conscious arboretum. To breathe new life into South Korea's forest ecosystem, the LG Evergreen Foundation brought in approximately 4,300 exquisite native plants. These plants were thoughtfully organized to create a forest park featuring 17 unique themes. "Hwadam," meaning "friendly communication," was chosen to signify the garden's aspiration to foster a harmonious connection between people and nature. While the primary goal is to provide an environmentally pleasant environment, the forest's ecosystem and habitats are scrupulously preserved, acting as a home for many living creatures.
Location 
With its handy location inside Konjiam Resort, Hwadam Botanic Garden offers an easy and comfortable escape from Seoul's hectic city life. It is located in Gwangju, Gyeonggi-do, South Korea, about 40 minutes by car from Seoul.
Opening Hours
Open from Tuesday to Sunday, closed on Mondays. 
Daily operational hours: 9:00 AM to 6:00 PM
Last entry accepted: 5:00 PM
Note: the operating hours of Hwadam Botanic Garden may change based on the season and weather conditions. To ensure you have the most up-to-date information for your visit, we recommend checking their website for announcements or updates before planning your trip.
Admission Fees
Hwadam Botanic Garden offers different admission fees depending on the season:
Spring/Summer/Autumn (Tickets for the monorail are offered separately)
Adults: ₩11,000 (8.31 USD)
Senior/Teen: ₩9,000 (6.8 USD)
Child: ₩7,000 (5.29 USD)
Free admission for babies and toddlers under 24 months old.
Winter (Includes monorail ticket; designated sections open to on-foot viewing)
Senior/Teen: ₩11,000 (8.31 USD)
Child: ₩7,000 (5.29 USD)
Free admission for babies and toddlers under 24 months old.
Note: Hwadam Botanic Garden also offers many discount programs. We recommend visiting their official website for the most accurate and up-to-date information on discounts and pricing. You can find detailed information tailored to your specific needs and circumstances there.
Contact Information
For the latest information, booking inquiries, and any other questions, you can contact Hwadam Forest through the following:
Getting There from Seoul
By Bus
You can take a suitable Seoul/Gyeonggi red bus and alight at Konjiam Terminal. You can take a taxi or opt for Gwangju bus no. 9 to reach the garden.
Red Bus Options and Approximate Travel Times:
1113-1: About 1 hour and 30 minutes from Gangbyeon Station.
500-1: Approximately 1 hour and 30 minutes from Jamsil Station.
500-2: Roughly 1 hour and 40 minutes from Gangbyeon Station.
Gwangju 9: Approximately 30 minutes from Konjiam Station Subway.
By Subway
If you prefer the subway, take the Gyeonggang Line and disembark at Konjiam Station. From there, you can take a taxi or choose Gwangju bus no. 9 to continue your journey to Hwadam Botanic Garden.
By Car
For those driving, you can easily locate Hwadam Botanic Garden or Konjiam Resort by using a navigation system. Once you arrive, follow the guidance of the parking attendants to park your vehicle in the designated area. There are several parking lots with no fee.
What to See and Do in Hwadam Forest
Taking an unforgettable ride on the monorail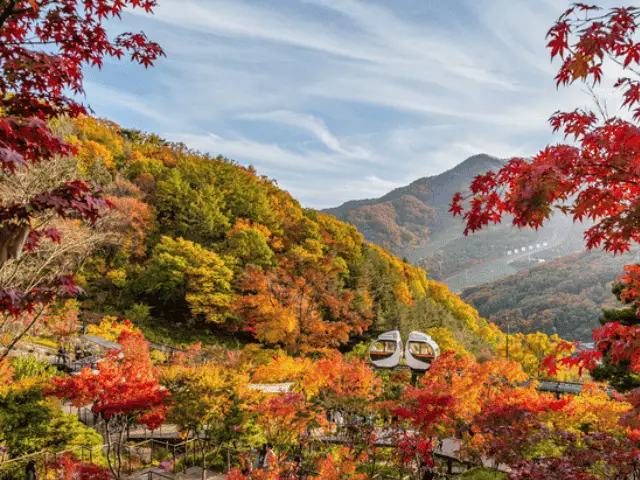 The monorail is undoubtedly one of the most captivating features of Hwadam Botanic Garden. It covers a loop of approximately 1,213 meters, offering a scenic journey encompassing several key areas within the garden. This includes the entrance to the Moss Garden, located to the west of Hwadam Botanic Garden, the summit, and the enchanting Bonsai Garden.
For those with limited time to explore the expansive garden, the monorail is probably the most efficient way to cover key areas. It offers a relaxed and elevated perspective of the garden's lush landscapes so that you can enjoy the diverse plant life and natural beauty below. The twin monorail cars themselves are photogenic. You can take a lot of stunning photos here.
Hwadam Forest's monorail system consists of three stations, numbered 1, 2, and 3. Station number 1 is strategically located right next to the park's entrance, ensuring easy access for all visitors. With convenient ticket machines at each station, buying monorail tickets is hassle-free.
Here are the available choices: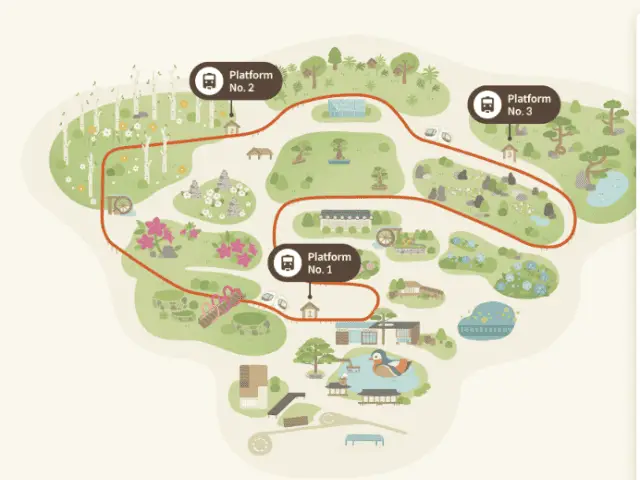 Sector 1
Route: From Platform-1 to Platform-2
Duration: 5 minutes
Fees: Adults/Seniors/Youths: 5,000 KRW (3.78 USD), Kids: 4,000 KRW (3.2 USD)
Sector 2
Route: From Platform-1 to Platform-3
Duration: 10 minutes
Fees: Adults/Seniors/Youths: 7,000 KRW (5.29 USD), Kids: 6,000 KRW (4.53 USD)
Full loop 
Route: From Platform-1 to Platform-1
Duration: 20 minutes
Fees: Adults/Seniors/Youths: 9,000 KRW (6.74), Kids: 7,000 KRW (5.24)
Explore the Botanical Gardens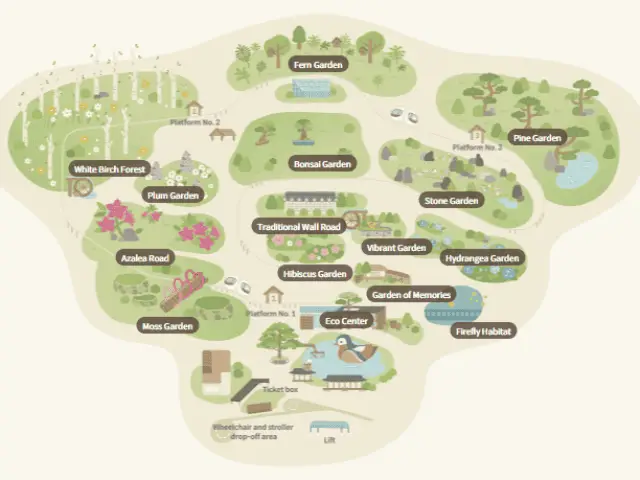 Hwadam Forest is vast and thoughtfully divided into 17 distinct areas, each offering its botanical wonders and immersive experiences. Near the entrance, at the base of this natural sanctuary, you'll find convenient amenities such as a restaurant, café, and souvenir shop. It's important to note that no other cafés or restaurants are scattered throughout the expansive park. Therefore, you better bring along some water and snacks to energize and hydrate as you explore the various gardens and natural landscapes. 
Here are some popular gardens that you should pay a visit to:
Moss Garden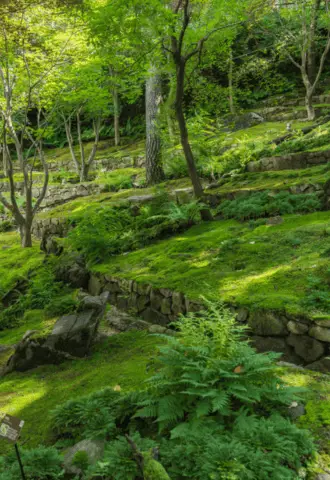 The Moss Garden at Hwadam Forest, situated near the entrance and en route to monorail station 2, presents a distinctive and captivating experience. This exceptional natural wonder is unlike any other in Korea, like a fairy-tale forest. 
Inside the Hwadam Forest's Moss Garden, you'll encounter a rich tapestry of over 30 moss species, including haircap and hoary fringe moss. It's a serene and magical place, particularly in the early morning, where you can connect with nature and appreciate the ancient world of mosses. It's a must-see for everyone looking for a peaceful and enchanting interaction with nature's treasures.
White Birch Forest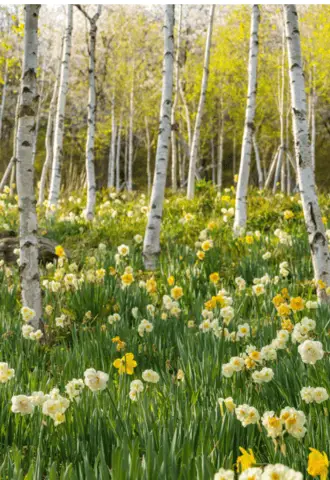 Coming to Hwadam Forest, you cannot miss the enchanting White Birch Forest, home to over 2,000 tall and elegant white birch trees. Every season, this forest provides a unique display. Spring brings a brilliant display of vibrant yellow daffodils, while summer creates a lovely landscape with lush green leaves against the backdrop of pure blue skies. As autumn arrives, the forest is adorned with the rich blue hues of big blue lilyturfs. 
For nature enthusiasts and photographers alike, the White Birch Forest offers a quiet atmosphere and a lovely setting. It's a great area to take a stroll, listen to the quiet rustling of leaves in the breeze, and become lost in the enchantment of these renowned trees.
Pine Garden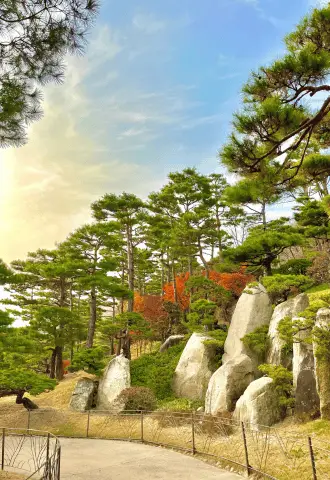 The Pine Garden at Hwadam Forest is a well-known refuge boasting the greatest collection of pine trees in South Korea. It is home to over 1,300 of these stalwart evergreens. While this garden is captivating in all seasons, it especially shines in the winter. When the landscape is blanketed in thick snow, the Pine Forest undergoes a stunning transformation. The contrast of the brilliant green pine needles against the clean white snow is breathtaking, calm, and almost otherworldly. It's a setting that captures the tranquillity of winter and adds to the Pine Garden's already fascinating attractiveness. Such an enchanted picture!
Stone Garden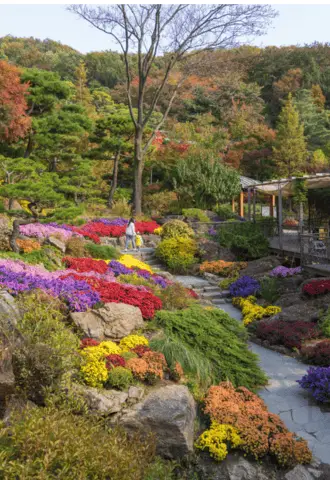 Here, the garden's foundation comprises captivating natural stone formations, creating a visually stunning landscape that can be admired from an elevated vantage point.
The Stone Garden changes as the seasons change, giving a wide variety of plant species that are unique in their appearance and color. Bright blooms emerge in the spring, while summer brings calm shade and abundant greenery. The garden displays warm, earthy tones as autumn approaches, and in winter, a fresh layer of snow covers the stones, giving a tranquil and alluring scene.
Take a hike at the Hwadam Forest's walking Trails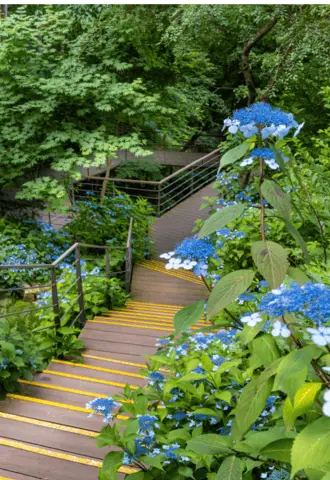 Nature lovers and hikers will surely enjoy the forest's large network of walking pathways. The trails vary in difficulty, from easy walks for families to tough ones for skilled hikers. These well-kept trails weave through the garden's lush and diverse landscapes so that you can be close and exposed to nature's beauty.
You'll see a varied tapestry of plant life as you walk along these routes, from brilliant blossoms to calm groves of trees. The chirping of birds and the rustling of leaves give a calming soundtrack to your journey. What an ideal respite from the hurry and bustle of everyday life!
Picnicking
A picnic in Hwadam Botanic Garden is ideal for spending time with your loved one. The garden offers spacious and picturesque areas through the garden, ideal for laying out a picnic blanket and sharing a delightful meal with loved ones.
As you dine in this natural refuge, you'll be surrounded by the garden's lush greenery and fresh air. It's like a calm hideaway. Picnicking at Hwadam Botanic Garden, whether for a leisurely meal, a cozy snack, or a joyous gathering, will undoubtedly bring you cherished moments with your friends and family.
Join some educational Programs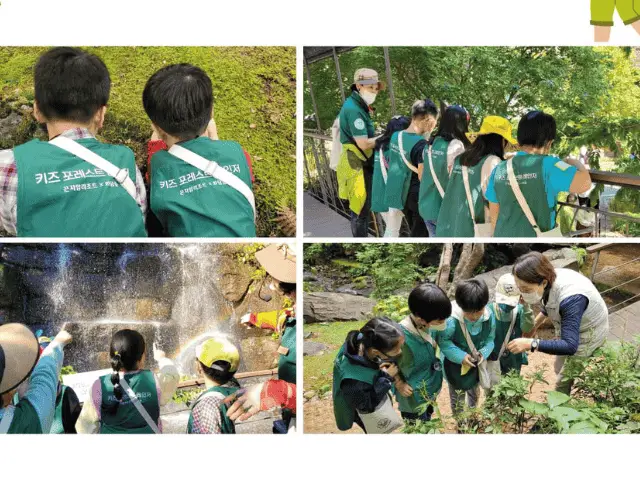 You will find various educational programs if you visit Hwadam Botanic Garden with your child, a school group, or other nature lovers. Participating in these instructional activities can teach you a lot about botany, horticulture, and environmental conservation.
These educational adventures often incorporate interactive elements, such as hands-on activities, guided tours, and immersive workshops, allowing participants to connect with nature actively. By joining these programs, you'll deepen your appreciation for the abundant biodiversity within Hwadam Forest and gain a profound understanding of our interconnectedness with the natural world. 
Check the schedule on their website to participate in these engaging experiences.
Best photo zones in Hwadam Forest
Hwadam Forest is a photographer's dream, with many enthralling spots for capturing the garden's enchanting beauty. Here are some of the most picturesque zones that provide ideal settings for stunning photographs: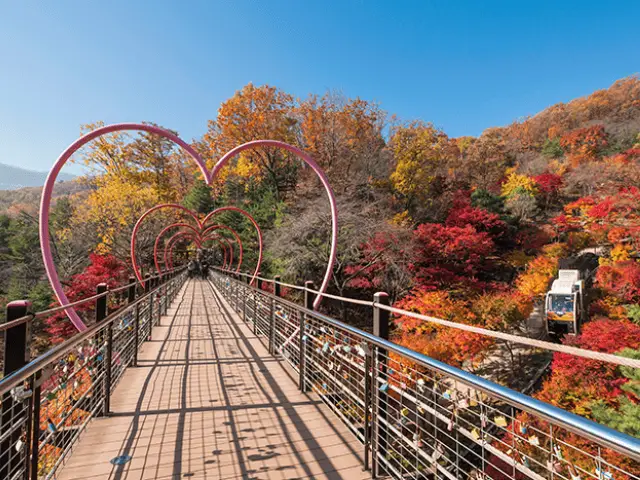 The Love Bridge that overlooks the monorail station: This charming bridge offers a perfect vantage point for capturing the monorail station below. From the bridge, you can capture a picturesque scene with the monorail cars against the lush backdrop of the garden.
The small path that runs along the top of the bonsai garden: From here, you can observe the park's scenic views and monorail.
The Moss Garden: The Garden's tranquil and otherworldly atmosphere is perfect for capturing mystical shots, especially during the early morning when the light adds a magical touch.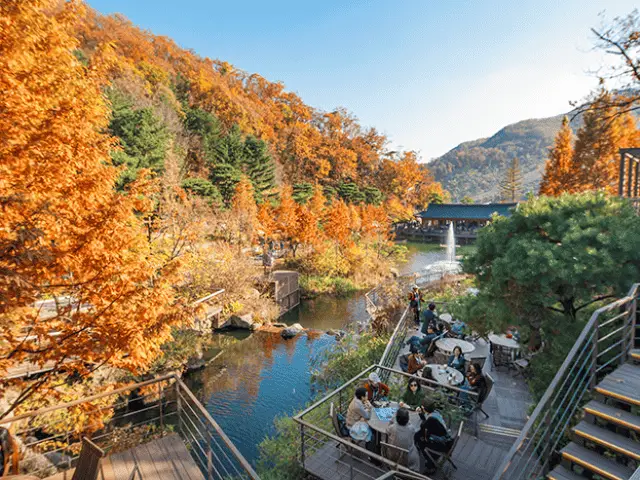 The Hanok-style tea house offers an incredibly charming and gorgeous setting as it is situated beside a lake and embraced by autumnal maple trees that turn a stunning shade of orange.
The Pine Garden: The Pine Garden showcases the timeless beauty of pine trees. Whether it's the lush greenery in spring or the snow-covered landscape in winter, this area offers a range of seasonal photography opportunities.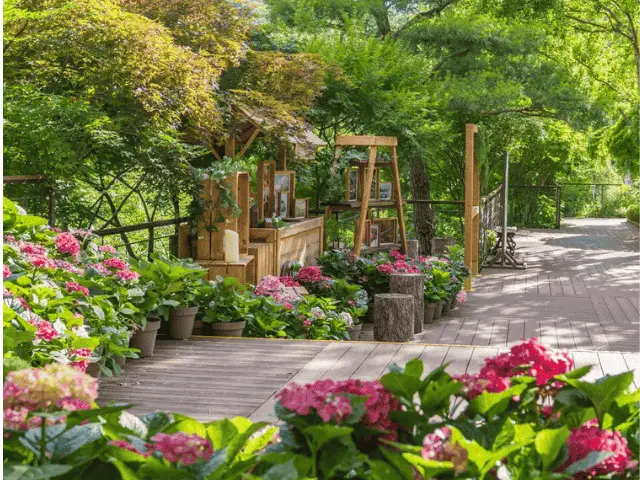 The Hydrangea Garden: When in full bloom, the Hydrangea Garden is a burst of color. With a small waterfall and picturesque background, it's an excellent location for capturing vibrant and captivating images.
Best season to visit Hwadam Forest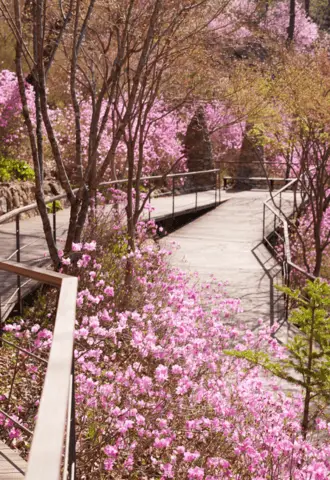 Spring (April to June): Spring is a delightful season when the garden awakens with vibrant blooms and lush greenery. Cherry blossoms, azaleas, and various spring flowers paint the landscape in bright colors. It's an excellent time for those who appreciate the vibrancy of nature and the sweet fragrances of blooming flowers.
Summer (July to August): Summer brings warmth and abundance to Hwadam Forest. While the garden is in full bloom and bursting with greenery, it can also be hot and humid. To maximize your visit during this season, consider exploring early or late afternoon to avoid the midday heat.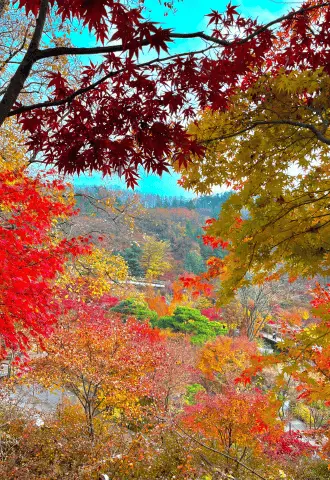 Autumn (September to November): Autumn is an extremely popular season to visit due to the magnificent foliage change. The garden's trees change vivid shades of red, orange, and yellow, making a hypnotic tapestry of colors. This season is a paradise for photographers and nature enthusiasts who relish the beauty of changing leaves.
Winter (December to February): Winter brings a serene and enchanting ambiance to Hwadam Forest. The garden becomes a peaceful wonderland when covered in a pristine blanket of snow. The tranquility of this season is ideal for those seeking a quiet and contemplative visit. The contrast of the evergreen trees against the white snow creates a magical, almost fairy-tale atmosphere.
Ultimately, the best time to visit Hwadam Forest hinges on your interests. Whether you're captivated by vibrant blossoms, breathtaking autumn foliage, or the tranquil allure of a snow-covered landscape, Hwadam Forest offers captivating experiences year-round, each season telling its own unique story of natural beauty.
Tips for Visitors When visiting Hwadam Forest
Dress appropriately for the weather and wear comfortable walking shoes, as you'll be exploring the garden on foot.
Sunscreen, a hat, and insect repellent are essential, especially during summer.
Show respect for the environment by refraining from picking plants or disturbing wildlife.
Follow any rules and guidelines provided by the garden staff to ensure the preservation of this natural gem.
Check the weather forecast before your visit, as some trails and outdoor activities may be affected by weather conditions.
In conclusion, if you are a nature enthusiast or a photographer, Hwadam Forest is a destination that will undoubtedly exceed your expectations. Its ever-changing beauty, rich biodiversity, and cultural significance make it a destination that should be on every traveler's bucket list. So, don your hiking boots, charge your camera, and immerse yourself in the enchantment of Hwadam Forest, the "Forest of Life."
IVK's Top Picks – Day Tours, Tickets, and Travel Activities
Seasonal Picks!😍