Enjoy The Hot Summer in Caribbean Bay!
Caribbean Bay is by far the best water park in Korea. Visitors enjoy hours of fun on every type of water ride imaginable. There are multiple dining options as well as places where you can relax and unwind.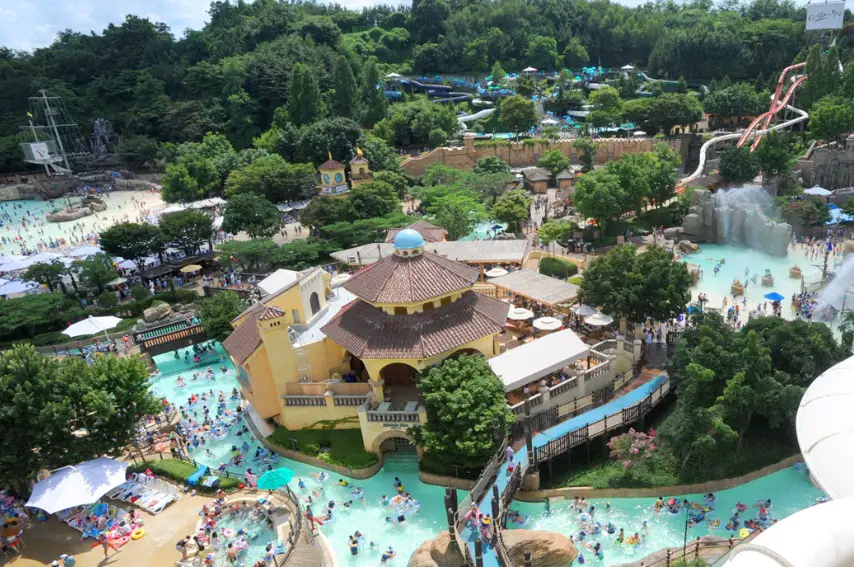 Check Out The Caribbean Bay Discount Ticket

How to get to Caribbean Bay
You can reach the Caribbean bay easily from major cities in Korea. There are ample transport options, including public and private ones, so you can choose according to your convenience. From private van transfer to shuttle bus services, it's all your decision. If you choose to arrive in your own car, parking is smooth and hassle-free.
Address: 199, Everland-ro Pogok-eup Cheoin-gu Yongin-si, Gyeonggi-do
By Shuttle Bus
If you want to visit Everland from Seoul, the shuttle bus is the best way to get there. Because the theme park is in Gyeonggi-do it will be a bit complicated to take public transportation. The round-trip fare for the shuttle bus from Seoul to Everland is KRW 10,000 from Gangnam, and KRW 12,000 from Hongdae, Myeongdong, and other places in Seoul.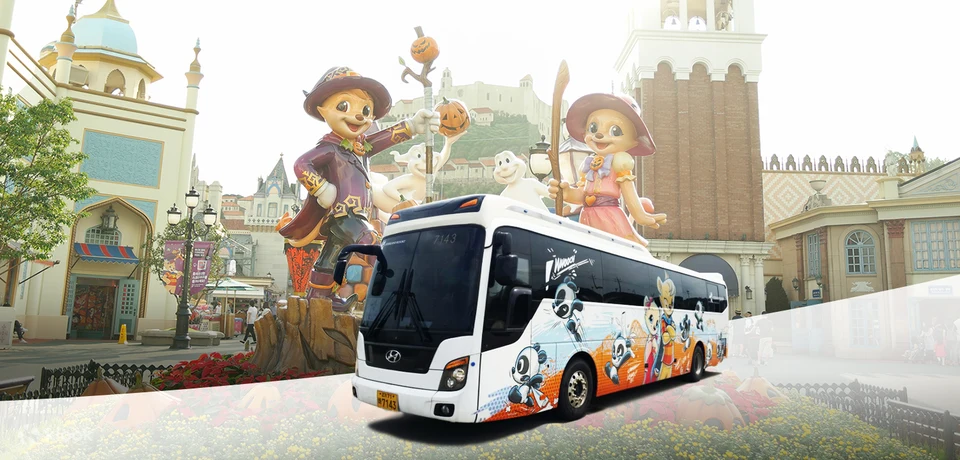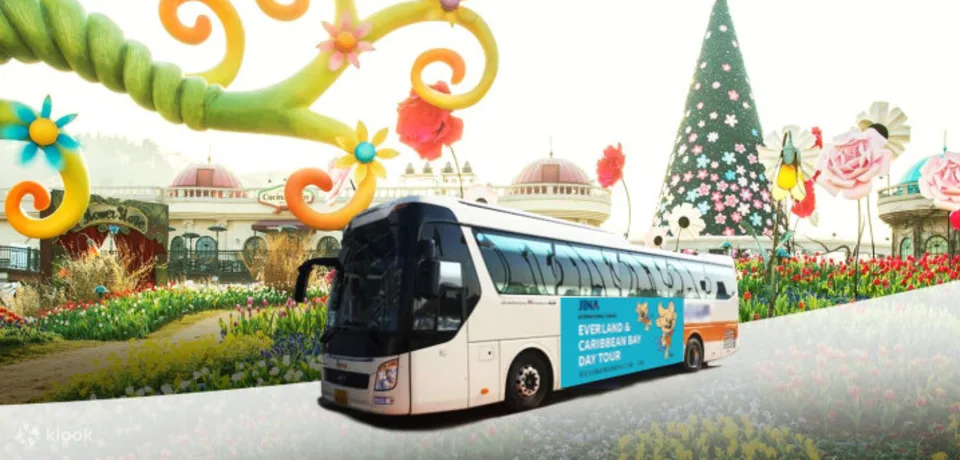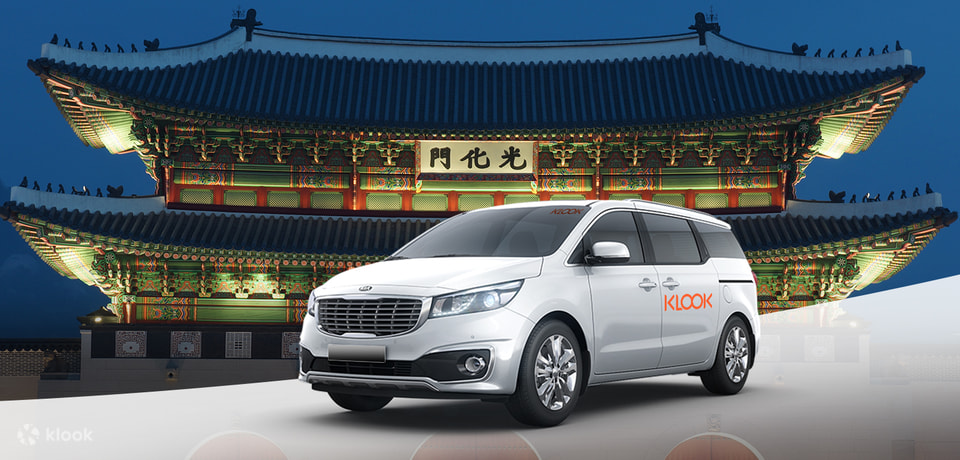 Or you can take a private van for your friends and family.
By Car
Address: 199 Everland-ro, Pogog-eup, Cheoin-gu, Yongin-si, Gyeonggi-do
There is a parking guide on the road.
Free shuttle buses irregularly operate between parking lots and the main gate.
Public Transportation
We don't recommend taking a bus or subway to get to the park because you might be exhausted even before you arrive. However, there are many ways to take public transportation.
By Bus (Bus number and Main Stops before Everland)
5002: Sinnonhyeon Station – Gangnam Station – Yangjae Station
5700: Gangbyeon Station – Jamsil Station – Songpa Station – Suseo Station
1500-2: Sadang Station – Nambu Terminal – Pangyo Station – Bundang (Seohyeon Station)
By Subway
Transfer to Everline at Giheung Station from the Bundang Line and get off at the Jeondae/Everland station
Take the free shuttle bus to Everland and Caribbean Bay
※ It takes about 2 hours to get to the Everland station from Hongdae including three transfers
Important Information To Enjoy Caribbean Bay
Open hours

Outdoor: 09:00~18:00
Indoor: 09:00~19:00
Hours of operation may vary from day to day, so please check here.

Seasons

High Season: Jun 25 ~ Jul 3, Aug 22 ~ Aug 28
Gold Season: Jul 4 ~ Aug 21

Pro Tips

Prepare discount tickets for the transport and entrance to the park.
Prepare beach towels and life jackets if you have them. Or you can rent them at the following prices.

Towel: Large (4,000 won+deposit 3,000 won), Medium (2,000 won+deposit 2,000 won)
Life jacket: 7,000 won (You can't enter the wave pool with a life jacket.)

There are a discount on admission for seniors 65 and over and children 12 and under. And infants under 36 months can enter for free.
Download the guide map and select rides before you visit
The ticket counter is an excellent source of information for the daily events at Caribbean Bay.

Beach Chair Prices

Mini: 21,000 won
Luxury: 25,000 won
Couple: 70,000 won

Locker Fee: 4,000 won
Parking Fee
Restricted items

Food, mats, chairs, snorkel equipment, diver's mask, flippers, and large water play equipment must be stored in the designated locker before entering.
Drinking water and beverages (excluding glass bottles), peeled fruits, baby food, and special meals for patients are allowed.
Everland & Caribbean Bay Tickets
Attractions in Caribbean Bay
Caribbean Bay Korea offers unforgettable rides for the whole family, including a variety of slides, wave pools, kids' rides, and indoor rides. (※ The height should be higher than 120 cm for the most exciting attractions in Caribbean Bay.)
It consists of 5 areas; Sea Wave, Bay Slide, Wild River, Fortress, and Aquatic Center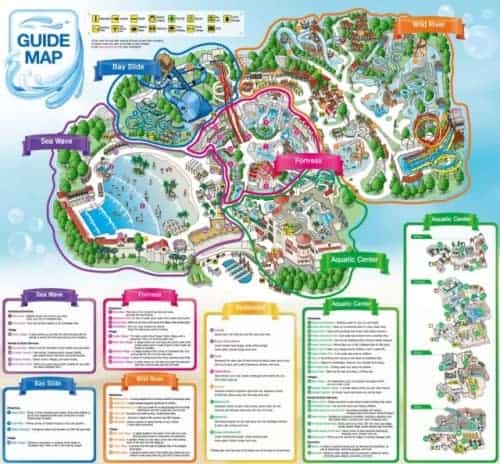 Download the guide map of Caribbean Bay
Attractions By Zones
Sea Wave: Wave Pool, Diving Pool
Bay Slide: Mega Storm, Tube Ride, Water Bobsleigh
Wild River: Wild River Pool, Kiddie Pool, Tower Raft, Aqua Loop, Wild Blaster
Fortress: River Way, Adventure Pool, Miracle Spa, SurfingRide
Aquatic Center: Bade Pool, Indoor River Way, Sandy Pool, Indoor Adventure Pool, Indoor Wave Pool, Baby Pool, Indoor Kiddie Pool, Spa, Sauna, Pool Side Slide, Quick Ride
The Best Rides in Caribbean Bay
Mega Storm (Bay Side Zone)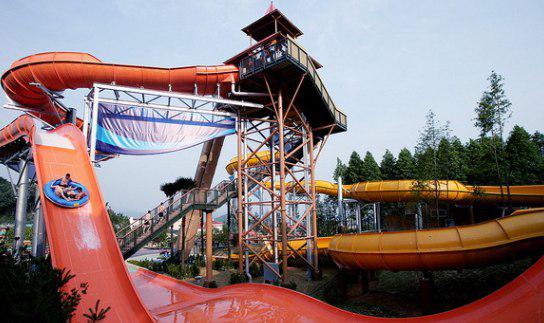 Mega Storm is a large-sized water slide that starts at a height of 37 meters. Visitors seat in a round tube and experience steep drops and rises, rotating in all directions while sliding along 33 meters before splashing into a huge tornado. For a total of about 60 seconds, you can enjoy the complex thrill of experiencing zero gravity at the end of a large funnel-shaped tornado with a diameter of 18 meters.
Tower Boomerang Go (Wild River Zone)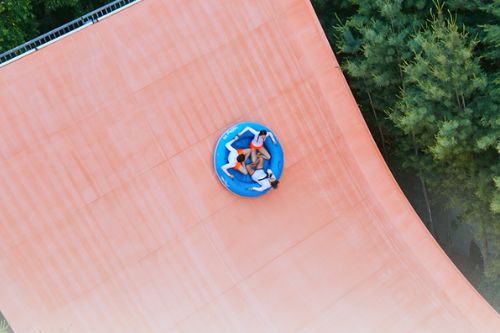 The course takes place in the Pirate Watchtower. Enjoy the thrill of being pushed by powerful waves along 19-meters at a perpendicular angle.
Aqualoop (Wild River Zone)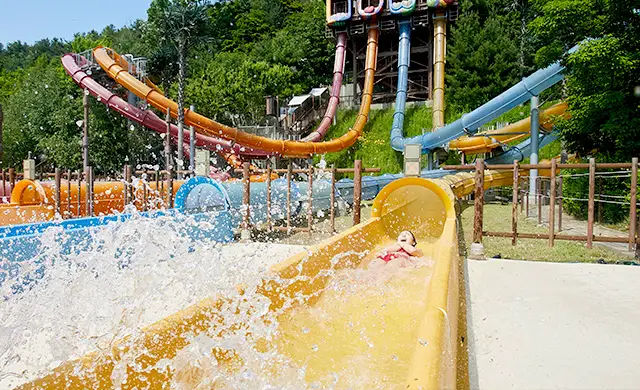 When the bottom of the ride you were standing on disappears, it will drop 18 meters down at 90 km/h, giving you a 360-degree rotation and reverse ascent experience. Could it be more thrilling than this?
Tower Raft (Wild River Zone)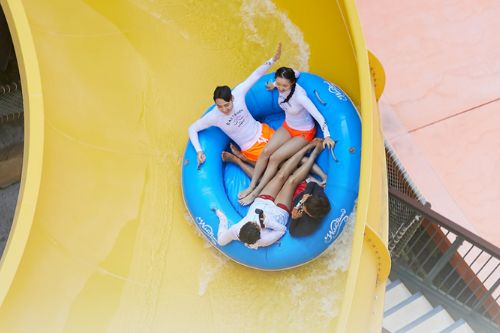 For an exciting rafting course for the entire family, opt for the Tower Raft which begins from a 5-story high tower and offers a thrilling course.
Surfing Ride (Fortress Zone)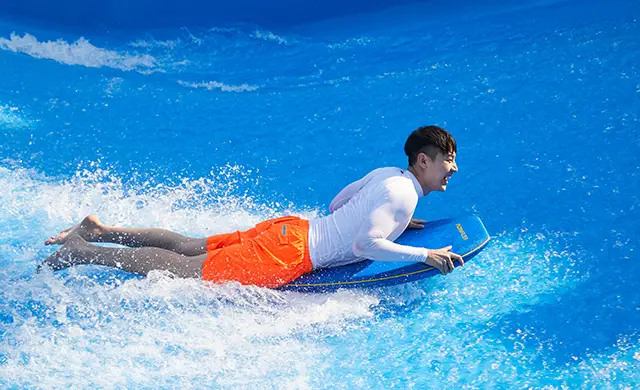 You can experience surfing the waves yourself using a board at Surfing Ride. Become a great surfer and get cheers from people!
Wave Pool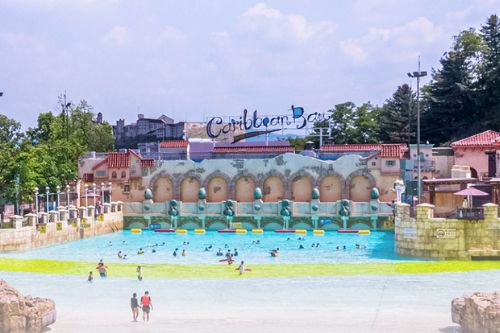 The wave pool is a 130-meter long pool that produces 2.4-meter high waves in 4 different directions, offering unforgettable surfing experiences.
Wild Blaster offers 24 exciting courses offering intense waves and slides along 1092 meters of fun and excitement.
The Adventure Pool features a giant skull that unleashes 2.4 tons of water offering hours of fun and excitement.
Surfing Ride gives you exciting surfing experiences.
River Rides
River Way offers the joy of coursing leisurely in a 550-meter-long river, you will forget all your worries here.
Wild River Pool lets you enjoy a cool waterfall in picturesque scenery featuring a realistic windmill.
Kids' Rides
A water haven where your kids can enjoy hours of fun in the water, the indoor kids' pool is the first choice for kids 3 and above.
Younger kids below 3 years can have fun in the shallow infant pool which is safe and monitored round the clock.
The Kiddie Pool is for children aged 7 or below with a variety of rides in a supervised environment. 
The Pool Side Slide is the perfect attraction for kids to slide through an exciting pipeline.
Spa and Relaxation
To relax and rest your muscles, stopover at the Bade Pool fitness club where you can experience hot baths and hydraulic pressure muscle relief.
The Spa is another hot spot for relaxing and enjoying soothing baths, foot treatments, and a variety of teas.
Caribbean Bay also offers a sauna complete with 5 sauna methods to refresh tired muscles and the mind.
Enter the relaxing room to enjoy massages or rejuvenate your mind in a relaxation capsule.
Indoor Rides
The Sandy Pool offers amazing scenery in a safe indoor environment.
If you want to enjoy temperature-controlled wave splashing around the year, the Indoor Wave Pool is the place to go.
The Indoor River Way is the best way to relax while floating in an indoor river on your round tube.
Looking for an exciting game and lots of action? Head to the indoor adventure pool to battle pirates on a shipwreck.
Enjoy indoor diving experiences in Caribbean Bay's amazing indoor pool.
What to eat
At Caribbean Bay, you will find something to suit your taste for the entire family. Here are the restaurants that you will find at Hotel Caribbean Bay.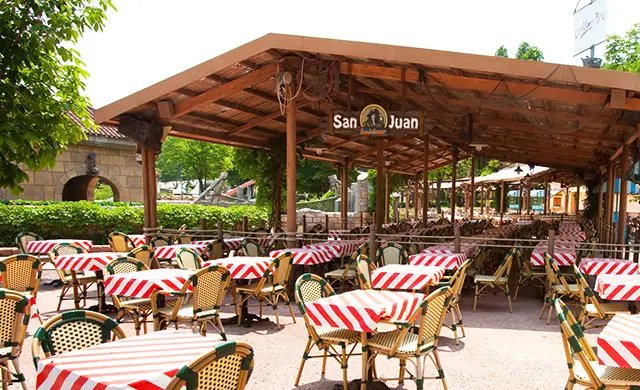 Madrid offers delicious cuisine and offers views overlooking a gorgeous terrace.
Burger Café offers a variety of fast food, served in minutes so you can return to the thrilling water rides.
Burger Café Caribbean is the go-to place for mouth-watering burgers.
Enjoy hearty Korean sit-down cuisine at Fiesta.
Tantalize your taste buds with Caribbean cuisine at Bahama.
Exotic Caribbean treats await you at the San Juan restaurant.
La Costa is the place for fried rice and other simple food on the go.
Caribbean Bay offers numerous opportunities to have fun with the family enjoying different types of exciting rides. The place is accessible from across the country and offers different eateries and transport options.
Written by Dy & Jay.
You may also like,
IVK's Top Picks – Day Tours, Tickets, and Travel Activities
Seasonal Picks!😍