Last Updated on October 13, 2023
The months of autumn in Korea are September, October, and November. Winter starts late in November, but before that, the country is all about the rusty changing colors of leaves and chilly air blowing outside. So, if you're in the mood to enjoy this fall season in Korea, let us guide you through everything you can do to make your autumn in Korea more memorable and enjoyable.
Upon reading this blog, you will know exactly where and when to go if you want to see the perfect changing of leaf colors in Korea.
Some traveling experts say visiting Korea in autumn is one of the best times because the weather is very pleasant. Crispy leaves fall, and skies change into beautiful colors during the sunset, making it all a wonderful sight to witness.
Another fact that should get you packing for Korea quickly is that this breathtaking season only lasts less than two weeks. So if you want to be there when it happens, you'll want to book your tickets as early as possible.
You may also like:
Korea's Autumn Foliage Map 2023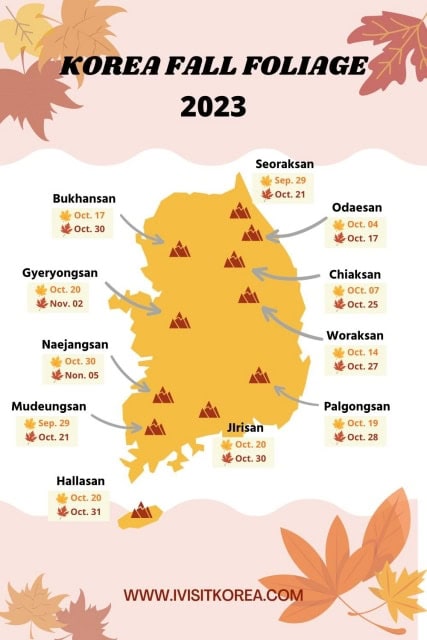 Autumn Weather in Korea
Some even say coming to Korea in Autumn is better than visiting in spring. Autumn weather is a perfect blend of the seasons. It's not too cold to stroll around the park and visit the natural areas and neither too hot that you get exhausted from all the traveling. You can wear just a few layers of clothing and ankle boots while sipping coffee, breathing in the beautiful atmosphere, and living the moment. Spending autumn in Korea means seeing a lot of orange and yellow with red and golden around you. That will guarantee you some aesthetic photography for sure.
What to do in Autumn in Korea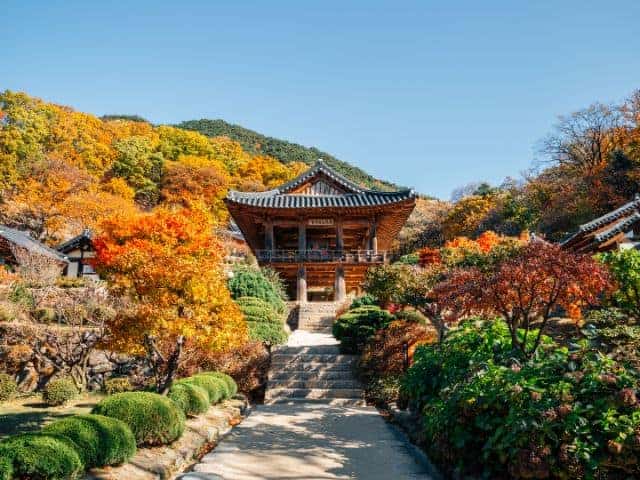 The beautiful sceneries offered to people who visit Korea around this time of the year are all open to them as long as they know where to go. If you want to visit Korea when it's less crowded and you have enough time to explore the place alone, you might want to visit sometime during mid-October. It's the peak of the season when autumn is catching on in the city, giving you mesmerizing glimpses of nature.
Another great thing about autumn in Korea is the Korean food! Korean food has many soupy dishes and hot meals prepared just in the right autumn weather. It would increase the appetite and the taste of the dishes. Normally, the hot food you would avoid during the summer or spring season becomes tastier during the cool breeze of autumn in Korea.
Places to enjoy Autumn in Korea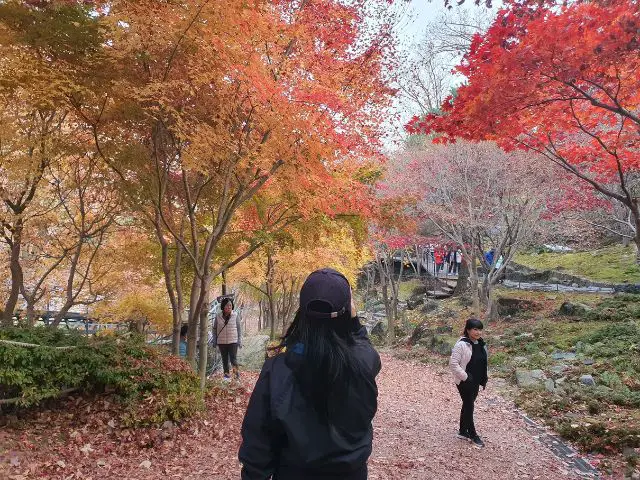 The autumn foliage experience gets a little more interesting when you go to visit Bukhansan National Park. It's a national park in Seoul with mountain tops suitable for hiking and other scenic views. Walking along the lake or taking deep breaths in the park makes you feel fresh. You can also go hiking in Bukhansan National Park. However, wear comfortable and non-tight clothes if you plan to hike in the park. Also, carry your snacks and a big bottle of water because you don't want to feel too fatigued during your hike.
Koreans like hiking in the park this season, so you'll be in luck in making friends with the locals. Many Buddhist temples can also be visited in the Bukhansan National Park. Check the best hiking course here on the official website.
Seoraksan Mountain National Park
Seoraksan is one of Korea's most beautiful national parks, three hours away from Seoul. Even though the distance is a lot from Seoul, it remains a popular site for tourists and locals, especially during the autumn foliage in Korea. It is quite famous for its natural surroundings, mountain views, and streams, filling the area with a peaceful atmosphere.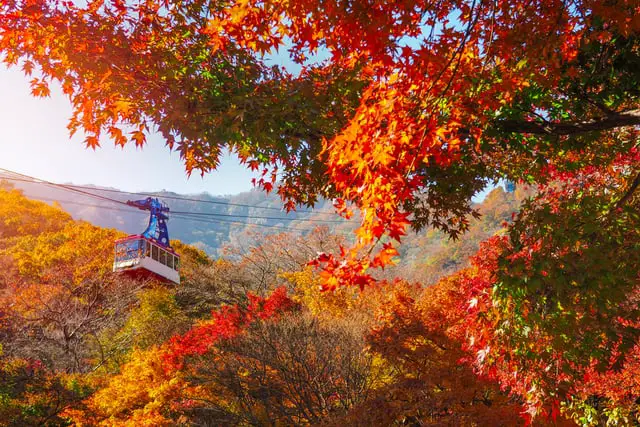 Korea's third-largest mountain for hiking trails is founded in Seoraksan National Park. For those who don't know, here's a fun fact about the word Seoraksan, which roughly translates into "Snowy peaks mountains." Also, the park has mountains that are smaller in size and over 25 peaks for hiking. A famous site for visitors is the Ulsanbawi Rock, which has six granite peaks.
Moreover, the park also offers cable car rides for the young and old ones who come along. Head here for more of the Seoraksan Mountain Autumn Day tour.
Naejangsan Mountain National Park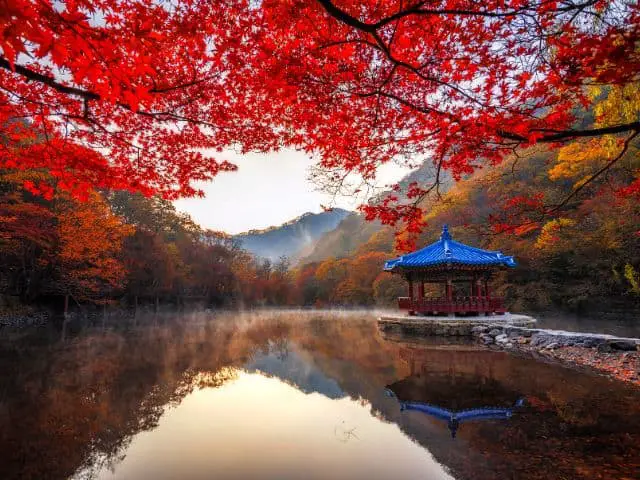 Another one of Korea's famous destinations to visit during the autumn is Naejangsan National Park. The park has a range of pretty mountains of Korea, nutmeg trees that can be as old as 600 years old, and waterfalls. 
Furthermore, the park is also home to two of Korea's oldest Buddhist temples, Baekyangsa Temple and Naejangsa Temple. These temples get covered under white snow in the winter, which is a different sight. During autumn, people who go up for a hike love to stop by these temples and enjoy the breathtaking view. 
The location of the park is in the southwest of Korea near Jeongeup-si. So it would take around 4 hours by express bus and 1.5 hours by KTX train. If you are going by KTX, get a discount KTX ticket only available to visitors.  Otherwise, there's a Naejangsan autumn day tour from Seoul you could also enjoy! Are you staying in Busan? Then, look at the Naejangsan National Park Autumn Day Tour from Busan.
Nami Island in Autumn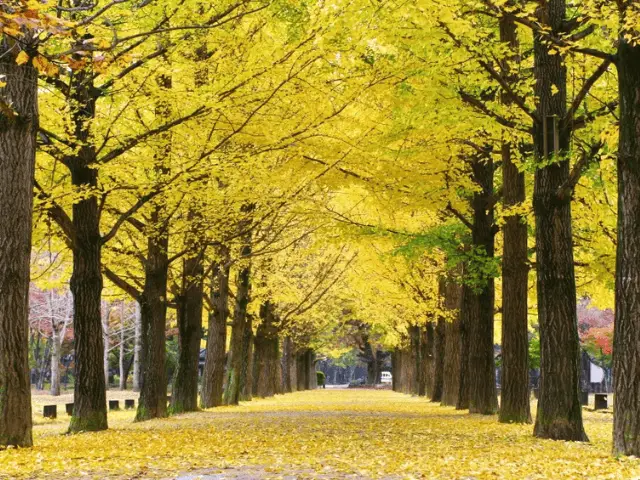 Situated in Gapyeong and 1.5 hours from Seoul, Nami Island is a beautiful place to visit during autumn in Korea. The island has a trail of beautiful trees, riversides, and some of the best views offered by nature to the people who visit this place.
Going to Nami Island during the daytime gives you the perfect opportunity to take good-looking photographs of yourself standing in front of the trees of different colored leaves. You will not be surprised if you stumble upon a location on the island that looks familiar because many romantic scenes from Korean dramas have been shot on this island.
Remember to wear a light jacket when you visit because it can get a little chilly among the trees and riversides. Check out this page for Nami Island Tour.
Baekyangsa Temple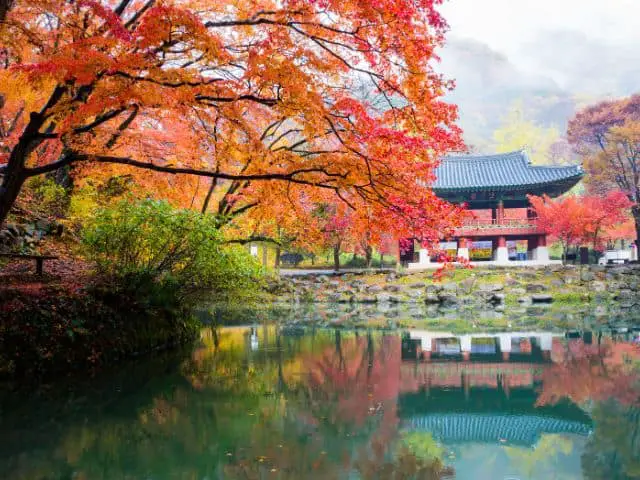 Baekyangsa Temple and Baekamsan Mountains, located in Jangseong, Jeollanamdo, is also one of Autumn's best places to visit. They are dressed beautifully by the autumn leaves. Also, the annual foliage festival here magnificently displays the fullness of autumn and leaves you at peace with yourself. Moreover, the Jangseong region is famous for apples, sweet persimmons, grapes, and pine needles. This autumn will be the best time to experience this harvest. Come to experience autumn in Korea truly.
Daegwallyyeong Sky Ranch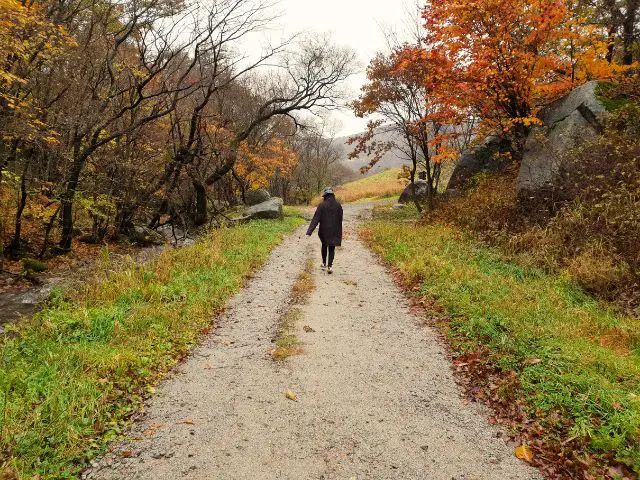 Visiting Daegwallyyeong Sky Ranch will be a different experience than other national parks in Korea. That is because you will enjoy your autumn not alone but with cute and friendly animals kept here. You can spend your day with more than 400 majestic-looking cows, 100 sheep, and 40 horses and goats.
Moreover, you can walk on clean roads and take in the magical greenery around you, or you can take the tractor ride services provided in the park. Autumn foliage, fresh grass on the ground, and a bright blue but cloudy sky with animals grazing in the autumn look exactly like a scene from a beautiful oil painting.
Apart from being available for the general public, the park is also home to one of Korea's largest dairy farms.
Yangju Nari Park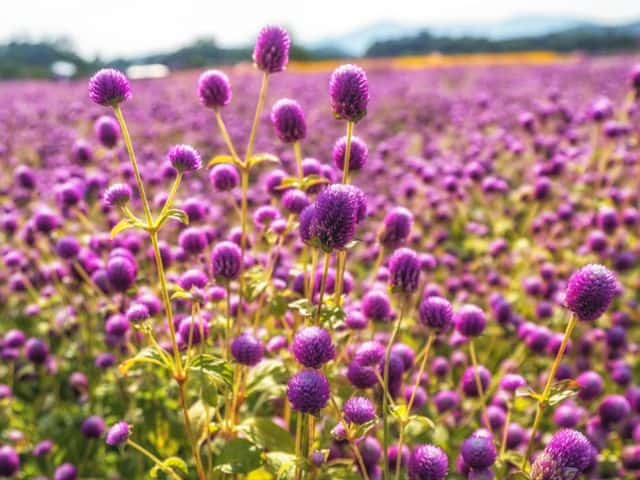 Famously known for pink grass fields, Yangju Nari Park has a different but equally magical view to offer the tourists visiting it in the fall. If you're visiting the park from Seoul, it will take 1.5 hours to reach there.
People who spend their autumn in these pink fields have a lot of great things to say about it. Where every national park has something different for its visitors, Yangju Nari Park tops them all. The pink and purplish grass fields under the clouded sky of autumn create a breathtaking scene for those who can experience it.
Even though there is no spot for dining or hanging out, you can visit the park for its beauty and nature.
Dumulmeori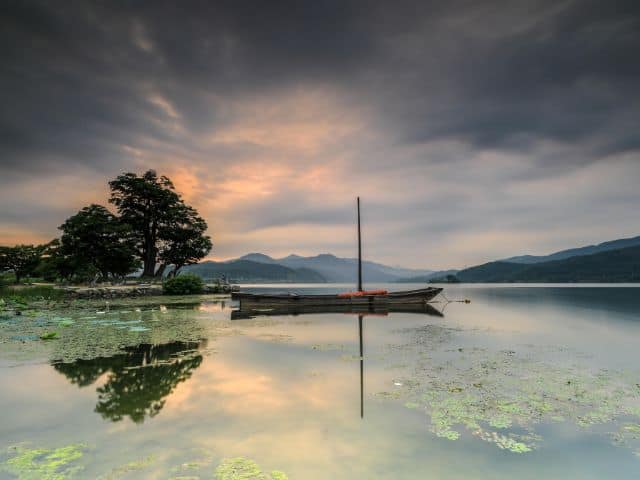 Visit this attractive site from Seoul in only 1.5 hours in Yangpyeong. The local Koreans also drive up to this location when the hustle-bustle of city life drains them out, and want to freshen up a bit.
The park is a popular tourist attraction because it is surrounded by water and 400-year-old trees. The summer and spring seasons always bring in a lot of people, but it's during the autumn season that you should be paying a visit to Dumulmeori.
Many scenes from Korean drama serials have been shot in this location. If you like photography, you will like this place even more because of all the photographic backgrounds easily found here. Discover the best Autumn day tour in and near Seoul here. 
Ueumdo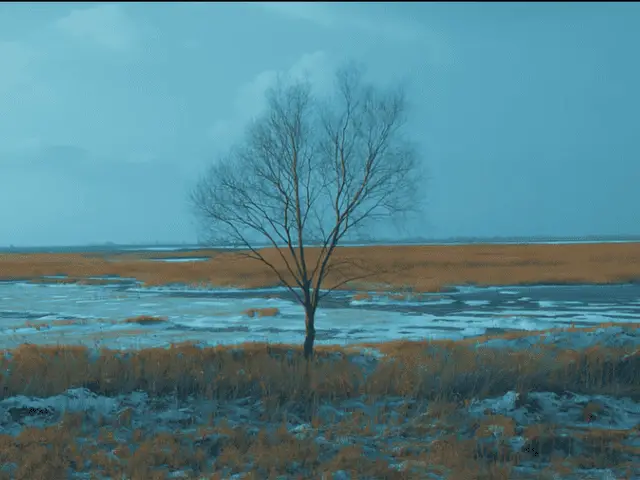 Ueumdo stands as one of the iconic geosites within the Hwaseong Geopark. It's renowned for its dinosaur egg fossils, picturesque reed, and sedge fields. During the autumn season, the atmosphere becomes refreshingly crisp. You can leisurely wander through the thriving reed fields, soak in the tranquil ambiance, and explore the distinctive geological fossil sites. While you're here, don't forget to visit the nearby Hwaseong Songsan Green City Observatory. From there, you can enjoy panoramic views of the beautiful landscape. 
Additionally, BTS filmed their music video for "Spring Day" here, which is famous for its music and stunning visuals. If you're a fan of BTS, you should visit this place at least once.
Suncheon Bay Wetland Reserve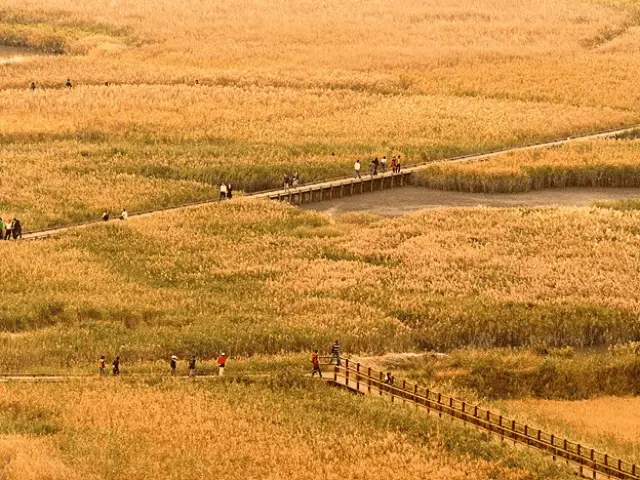 The Suncheon Bay Wetland Reserve is a popular autumn destination. It is Korea's largest reed colony, spanning 495,867 square meters. The reed fields at Suncheon Bay turn a gorgeous shade of yellow and blossom in the fall. Watching the entire field sway in the wind is like watching waves on the sea.
Furthermore, the Suncheon Bay Wetland Reserve is a natural habitat for more than 140 bird species, including migratory and endangered species. When you take a stroll here, you can enjoy the fresh air and have the chance to spot unique bird species such as the hooded crane, white-naped crane, Oriental White Stork, and black-faced spoonbill.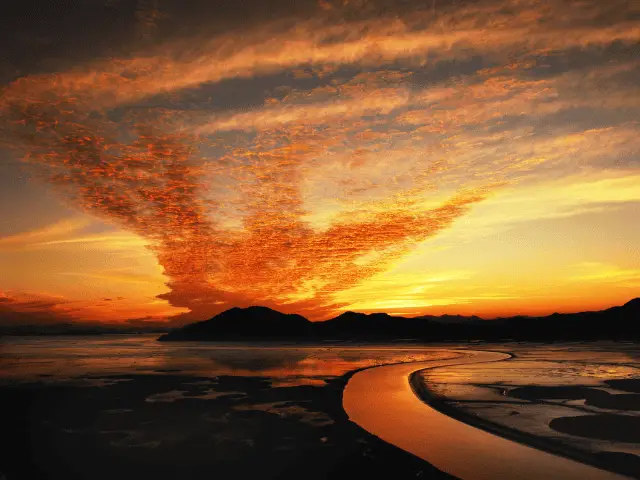 Also, the sunset views here are especially stunning, so don't miss them when you visit. Head to the observation deck to admire the sunset scenery at its finest.
Check this handpicked activity:
Gyeongju Cheomseongdae, Pink Muhly
Gyeongju Cheomseongdae, located in Gyeongju, South Korea, is a historic astronomical observatory with a rich heritage. It's one of the world's oldest observatories that has withstood the test of time, holding immense cultural and historical significance. Seasonal flowers surround the observatory, and when autumn arrives, it transforms into a captivating landscape adorned with vibrant pink muhly grass.
Pink muhly grass is known for its striking pink color, which gradually softens to a lighter tone as its flowers fully bloom. The contrast between the time-honored Cheomseongdae observatory and the backdrop of billowing pink muhly grass clouds undoubtedly creates an ideal setting for your Instagram photos.
IVK's Top Picks – Day Tours, Tickets, and Travel Activities
Seasonal Picks!😍