Last Updated on September 19, 2023
There are many reasons to visit South Korea during the entire year. One of these reasons is one simple word: Busan. Busan is South Korea's second-largest city in terms of population. The fact that it comes in second place doesn't mean it is not good enough or doesn't have many activities. It is the complete opposite! Busan has many great things to do, one of which is to visit the cafes there.
In addition to having great cafes, Busan has cafes with a sea view. What else could you need? Because we know that there are many cafes there, we picked for you the best 16 cafes to visit in Busan at least once!
Read Also:
Waveon Coffee 웨이브온 커피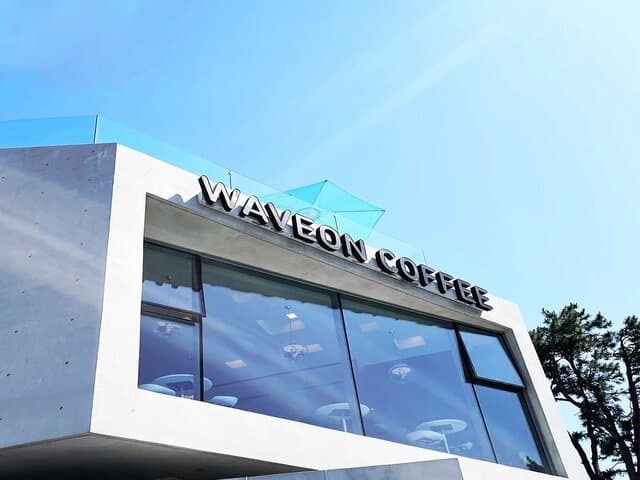 Our first suggestion is an amazing café called Waveon Coffee. Waveon Coffee is known for having a great sea view. Who wouldn't love enjoying a drink while looking at the East Sea? I know that I will! The café has more than one story, and its building is jaw-dropping; it is a masterpiece. The place was designed by professional architect Heesoo Kwak so that you will enjoy its looks. It even won the Korea Architecture Awards in 2018; it looks good.
The design of Waveon Coffee allows you to choose to sit indoors or outdoors. Of course, sitting in the outdoor area has its benefits: you get to enjoy the view while sitting on wooden benches or bean bags. However, you can also see the view if you decide to stay inside, but there will certainly be a difference in how much you will enjoy the view. So if you want to take pictures in Busan, this is the perfect café.
Other than the design, you will love their menu. They even have their own roastery, meaning their coffee must be amazing. Along with coffee, you can order their dessert, which they make in-house. All of these details make us love Waveon Coffee even more. Remember that we aren't the only ones who love it so it can get busy quickly. So make sure to go early to enjoy your coffee and view!
Best Busan Tours:
Doco City Farmhouse Café 도시농가코페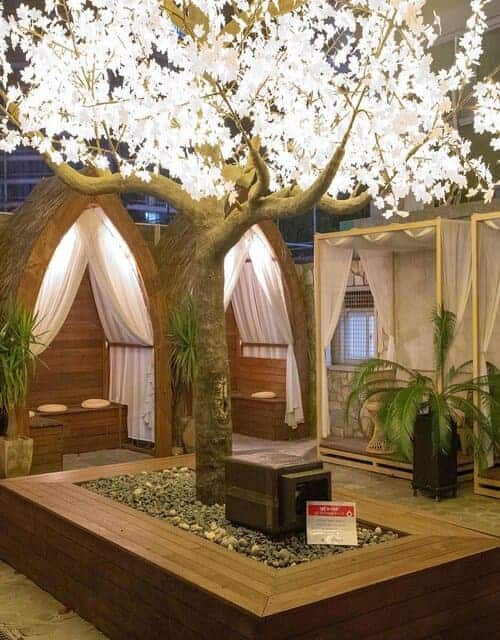 This upcoming café feels exactly like home. I'm talking about Doco City Farmhouse Cafe, more known as Doco. First of all, the café has a perfect location, Seomyeon, that makes it easy for everyone to find it. Their menu offers a variety of choices as they serve both vegan and non-vegan items; you must try their soy cream bun and tiramisu cake. They also serve delicious homemade bakery, and their coffee is fresh-roasted. One thing that makes us love Doco is their love for cats. We can easily trust anyone who loves cats and treats them well!
The design of Doco is also very special, just like their food. You will find a nice-looking garden with four wooden tents or huts inside. I would probably go to get the chance to sit in one of these tents. Of course, there is an indoor area, too, so you can pick whatever place you like. But if you were looking for a romantic spot, we recommend the tents. They have sheer white curtains, so imagine sitting there while watching the sunset. The inside area has two large floors accompanied by a vintage décor. We also must advise you to try and visit Doco when it's not busy because, just like Waveon Coffee, it is popular. You won't regret trying Doco out!
Opening hours: Monday to Friday from 10 am to 10 pm, with the last order at 9:30 pm. Saturday and Sunday from 11 am to 10 pm.
Location: 17 Jungang-daero 666beon-gil, Bujeon 2(i)-dong, Busanjin-gu, Busan, South Korea.
Social media: Official Instagram.
IVisitKorea's Pick – Best Things To Do In Busan:
Café in Busan 카페 인 부산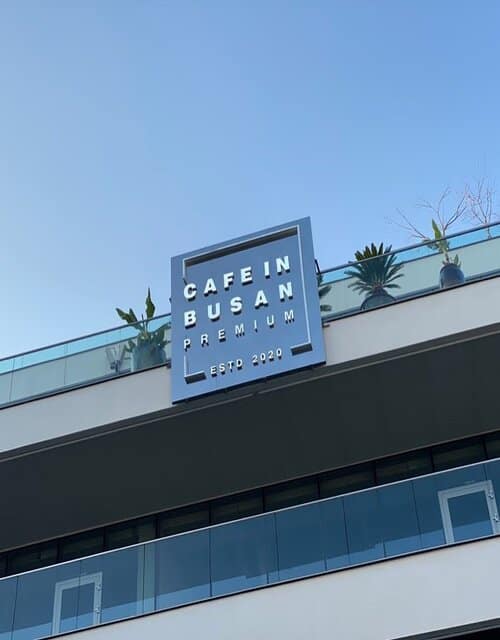 Another café that you should also visit is the Café in Busan, especially if you love the beach; it is next to Haeundae Beach. You would feel like you are in heaven when you step inside it. The décor there is super stylish, making it perfect for taking pictures for Instagram. By super stylish, I mean that you feel like you are inside an art museum. Trust me. The café looks like art.
Café in Busan also has diversity regarding where you will sit. For example, you can sit inside and enjoy the décor. Or you can sit outside on the terrace and fully enjoy the view. Due to its large size, you will feel like each new spot inside looks different. We must tell you it is on the fourth floor to ensure you won't get lost. So you will only need to take the elevator to get there. With everything we have said, you will love Café in Busan. You will love it more if you like visiting unique and artistic spots to take pictures.
Opening hours: Open daily from 11 a.m. to 10 p.m., with the last order taken at 9:30 p.m.
Location: 4F, 175 Dalmaji-gil 117-beongil, Haeundae, Busan, South Korea.
Social media: Official Instagram.
Café Bugok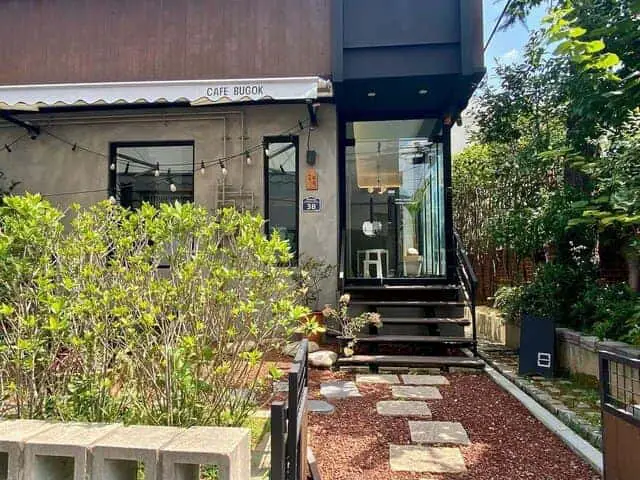 Our next suggestion for a good café in Busan is Café Bugok. One thing that might surprise you about this café is that despite being near Pusan National University, you won't find it as crowded as other places. So, if you ever find yourself near Pusan National University and seek a quiet place, you should head to Café Bugok. A fun fact about Café Bugok is that it used to be a house before it was remodeled and turned into a café; we are lucky that this happened.
When it comes to their menu, they have different drinks, including coffee and tea. They also serve desserts, like cookies and cakes, if you like eating. Their desserts have different ingredients depending on what season we are in. Pictures of what Café Bugok offers will make your mouth water. I mean, did you see the fruits they decorate their cakes with? Delicious! Some of their desserts include Black Sesame Cream cheese and Double Chocolate Buttermilk Marshmellow. Therefore, Café Bugok is the perfect place to enjoy desserts and a nice atmosphere.
Opening hours: Open every day from 12 pm till 9 pm. They are closed on Tuesday.
Location: 38, Dongbugok-ro 15beon-gil, Geumjeong-gu, Busan, South Korea.
Social media: Official Instagram.
Café Cheek To Cheek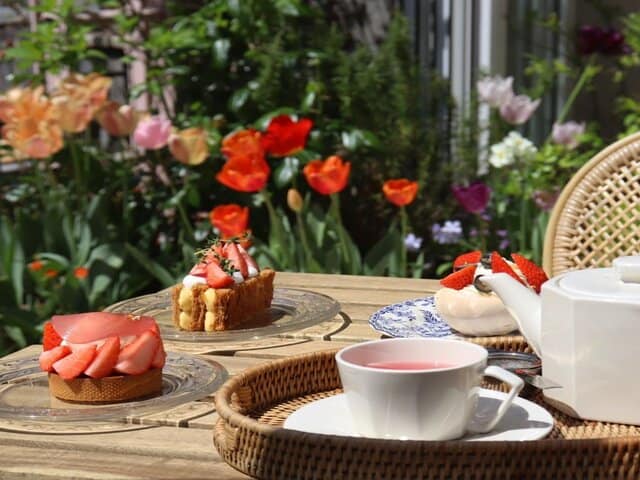 This next café is a must-visit for anyone who loves natural scenery like parks. It would be even more satisfying for those who love Oncheoncheon Park since the café is near it. I'm talking about café Cheek To Cheek, unlike any other you have ever seen. One of the things that makes café Cheek To Cheek unique is the fact that it sells both flowers and desserts. It is also perfect for flower lovers; I'm one of them! A florist and a patissier run the café, so don't worry about the quality. They know what they are doing.
Another thing that makes us love Cheek To Cheek is their white décor. The whiteness of the décor offers a calm atmosphere fitting for reading a book and drinking something. Since it sells flowers, it is only reasonable that it has flowers decorating it. Café Cheek To Cheek will surprise you with the heavenly smells and the calmness you will feel inside it. It is also perfect for romantic dates since you can invite your partner for Cheek To Cheek's creative desserts and give them flowers. Maybe you have now found your destination for Valentine's Day!
Opening hours: Open every day from 12 pm till 7 pm. Closed on Thursday.
Location: 17, Oncheoncheon-ro 441 beon-gil Dongnae-gu, Busan, South Korea.
Social media: Official Instagram.
Café Rooftop 카페 루프탑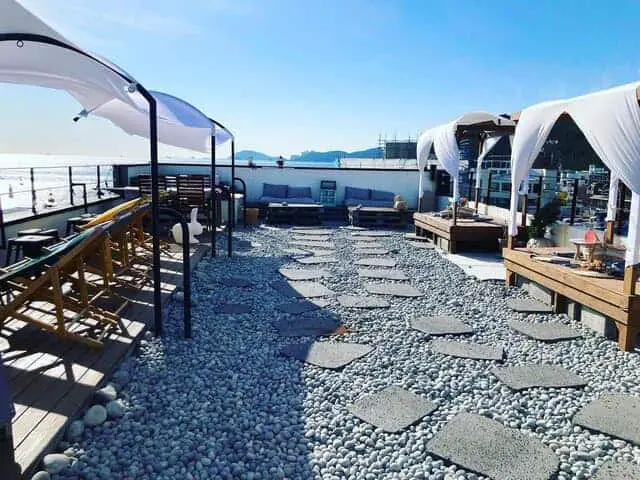 Our next recommendation is Café Rooftop, which is quite different than the previous ones we recommended. While previous cafes had a calm décor, Café Rooftop is full of colors, and their furniture could only be described as cool. It is so cool that they even have neon lights! Regarding how the café is divided, Café Rooftop has an indoor and outdoor area plus a rooftop, hence its name. The most attractive place to sit is the one that overlooks the sea, the rooftop area. Imagine drinking your favorite beverage while you enjoy watching Haeundae Beach.
Just by looking at Café Rooftop and where it is, you will understand why it is considered one of the best cafes in Busan. The view is simply breathtaking, especially if you sit on the rooftop. Their rooftop has several places to sit, including sofas, bean bags, and benches; you can pick your favorite! We recommend that you try their hot chocolate. However, no matter what drink you order, you will be surprised that they serve their drinks in cute baskets. When it comes to the food, you should try their croffles, a mix between croissants and waffles. Another dish you should try is their marlenka cake, which is a cake that has several layers and is made of honey and milk; sounds delicious!
Opening hours: Open every day from 11 am till 9 pm.
Location: 139-4 Cheonsapo-ro, Haeundae-gu, Busan, South Korea.
Social media: Official Instagram.
Edge 993 엣지993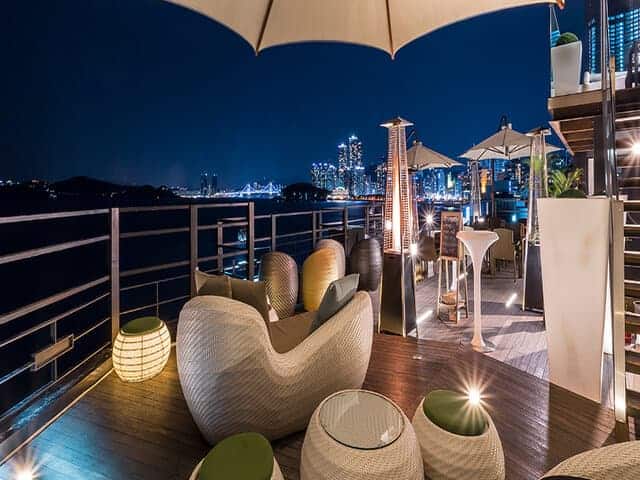 Our next café is Edge 993, and despite its small space, it is a great café to try out. Whether it has a huge space or not, Edge 993 offers a wide and delicious range of drinks. It is considered a seaside café since it overlooks Haeundae Beach. One thing that makes Edge 993 different from the other cafes we mentioned is that it is also part of a hotel with the same name. So it would be like winning the jackpot if you were searching for a hotel to stay in and wanted to try a good café.
We now know Edge 993 can give you both the hotel and the café! They also have a bar area to enjoy some of your favorite drinks. Or you can get your drinks and desserts from the first floor and then head to the rooftop if you prefer to sit there. I know I will always choose the rooftop. Yet, whatever place you choose to sit, you will find it comfortable. Even if you didn't like anything on Edge 993's menu, which wouldn't happen, you would still want to go there because of the view. So, if you want to smell quality air and enjoy breathtaking views, try Edge 993.
Opening hours: Every day from 11 am to 10 pm. The rooftop is open every day from 11 a.m. to 12 a.m.
Location: 78 Dalmaji-gil 62-beongil, Haeundae-gu, Busan, South Korea.
Social media: Official website.
Gemstone Café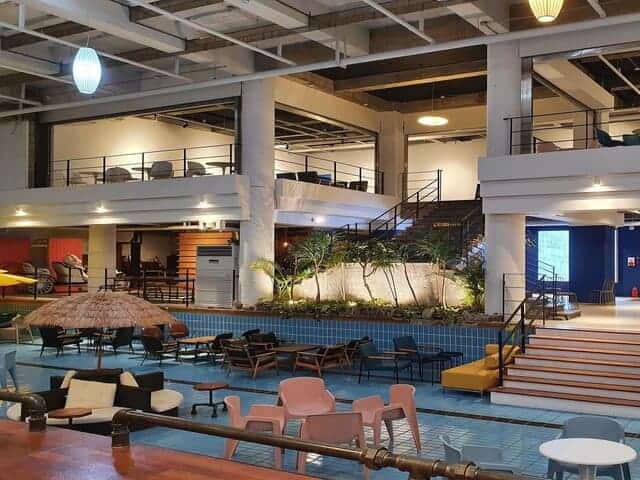 Gemstone Café is a hidden gem in Busan. You will know why once you know more about it! For starters, Gemstone Café doesn't exist in a normal building like any other café. How is that? Well, it exists inside an old swimming complex. So, if you ever wanted to see what a swimming pool would look like empty, Gemstone Café made your dream come true.
They transferred the place into a café but kept the swimming pool floor. This means that when you enter Gemstone Café, you will be met with the bright blue color everyone knows from childhood when they used to swim. In addition, you will find the usual chairs and tables that most cafes have. The fact that you will be eating inside an old swimming complex will make your experience a very interesting one!
It doesn't hurt that Gemstone Café's food also tastes amazing. We recommend you try their injeolmi bread and the squid ink butter bread. Their food is delicious because their bread is baked fresh, so they sell it the same day they make it. They are also famous for their Peanut Cream Latte. So make sure to try their famous bread along with your favorite drink!
Opening hours: Every day from 11:30 am to 10 pm.
Location: 33 Daegyo-ro 6beon-gil, Yeongdo-gu, Busan, South Korea.
Social media: Official Instagram.
H.US Coffee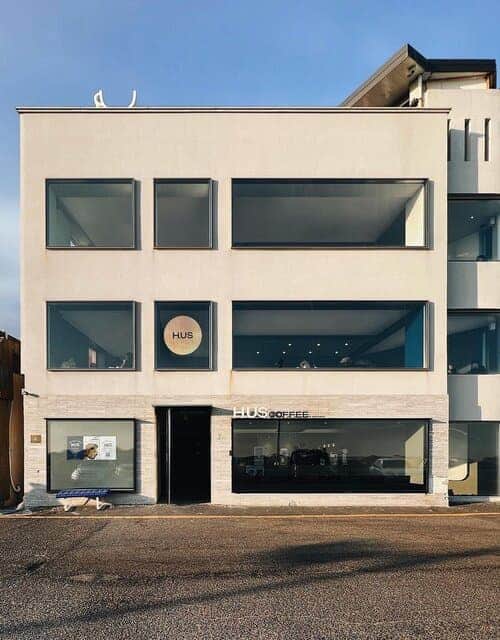 If you ask us about the best seaside cafes in Busan, we will surely include H.US Coffee in our recommendations. H.US Coffee is one of these beautiful cafes you wish to keep secret because of how much you love them. But sharing is caring, so we must tell you about it! You will find H.US Coffee near Cheongsapo, with three floors inside and a rooftop. This means it is quite large, making finding a place you like to sit even easier. Let's not forget that H.US Coffee has a beautiful décor that is a mix of blue and white.
If you aren't convinced yet, wait until you know you will find large windows to watch the sea. This makes H.US Coffee the perfect place to enjoy a drink and take Instagram-worthy pictures. It is also near Cheongsapo Daritdol Skywalk and Cheongsapo Twin Lighthouse; amazing, right? Our favorite part about H.US Coffee is that it is not overcrowded. So you will always find a place there. It can't get any more perfect than this, so try them out!
Opening hours: Every day from 10:30 am to 6:30 pm.
Location: 135 Cheongsapo-ro, Haeundae, Busan, South Korea.
Port 1902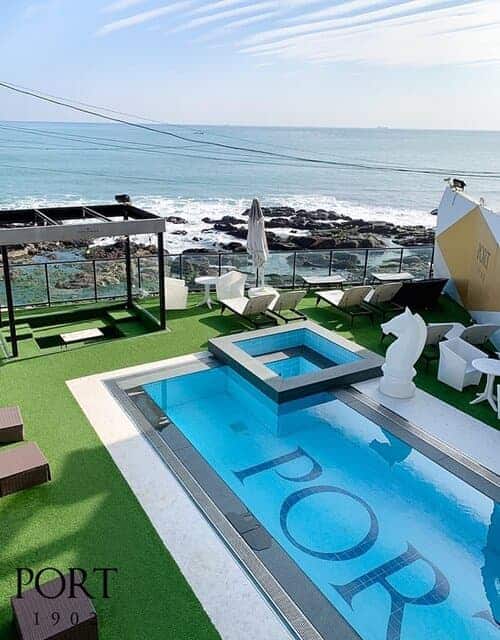 Our next café suggestion would be Port 1902 café. First, Port 1902 has an amazing location since it is very close to Songjeong Beach. But that's not the only reason that makes us love Port 1902. Another reason would be its uniqueness since it mixes a café and a private club; both have a sea view. Another lovely thing about it is that it has a swimming pool on the top floor. It's not an empty one like the one at Gemstone café. This time, it is a fully functional swimming pool that will feel like heaven in summer!
Port 1902 offers you a lot of things that are rare to find in one place. They have drinks, a bakery, and a sea view to die for. Plus we have never found a café that has a swimming pool you can use. So, what could you possibly want more? Port 1902 will surely give you a new experience you will never get tired of talking about.
Coralani 코랄라니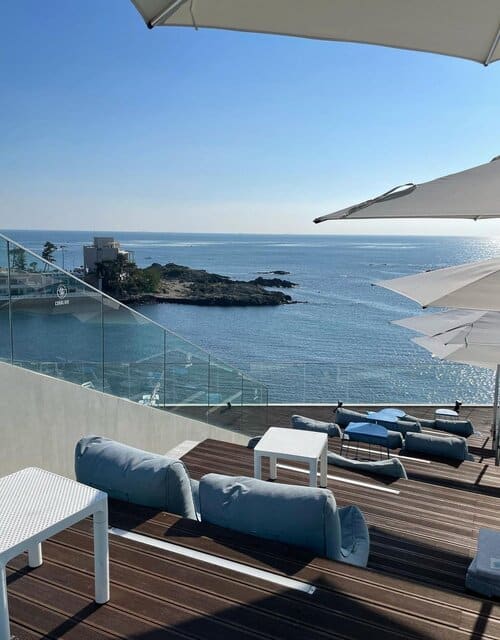 Our next café is one of my favorites, and it would probably be your favorite, too, once you see how it looks. I'm talking about Coralani, which comes in first place when it comes to having a great view. What makes its view even better is how close it is to Songjeong Beach. Another thing that adds to Coralani's view would be their amazing building. Their building even won the 2022 Busan International Architecture Festival; it is breathtaking! Also, if your favorite color is blue, then you are lucky. This is because Coralani has a mix between white and blue.
They have three levels plus a rooftop, and this time, we can't choose a favorite because both are great. In addition, no matter where you choose to sit, you will have an undisturbed view of the sea. So you can't lost when it comes to picking where to sit. But looks aren't everything. We must also consider their menu and what they offer, and Coralani didn't disappoint us! They serve both coffee and pastries; both of them are delicious. We recommend that you try their strawberry pie since it is a best-seller.
Opening hours: Every day from 10 am to 10 pm.
Location: 32, Gijanghaean-ro, Gijang-eup, Gijang-gun, Busan, South Korea.
Social media: Official Instagram.
Chilam Sagye 칠암사계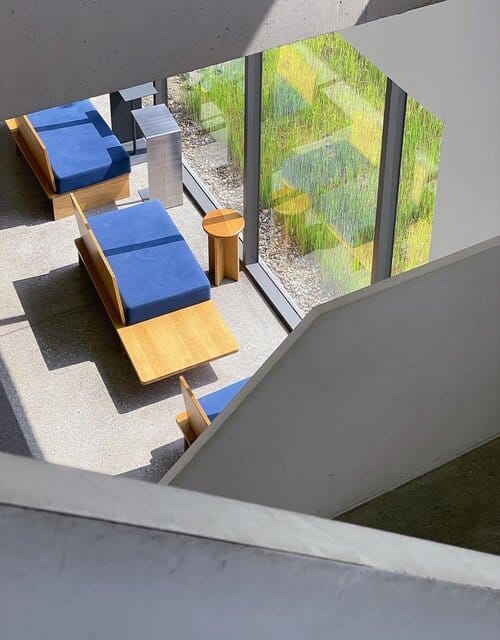 For all pastry lovers out there, our next suggestion will mesmerize you. Imagine eating pastries in a café owned by a master pastries chef. Chilam Sagye makes this possible! Lee Heung-yong, an official confectionery master, opened the café. This means that you won't be disappointed by the food quality there. How often would you taste high-quality pastries made with a chef's excellence? Probably only in Chilam Sagye.
Some of the pastries they offer include Sogeumppang, salt bread, and Dolmanju, red bean paste with black bread. But the most popular item would be the Sogeumppang. Regarding seating, Chilam Sagye has a large space like most of the café we already mentioned. They also have two views to offer depending on where you sit. One of them is the sea, and the other is their garden. You can also sit in the garden to smell some fresh air. There is also an option to sit on the rooftop. The possibilities are endless!
The reasons that would make anyone love Chilam Sagye don't end here. Another reason to love the café would be the art they have there. So yes, even art lovers will get to enjoy Chilam Sagye. Some art there include jaw-dropping polar bear sculptures created by artist Byeon Dae-yong. Dae-yong's art has a message to remind people we should protect polar bears. But the art at Chilam Sagye doesn't stop at the sculptures! Another art-related thing is that the café owns an art shop beside it. Some of the stuff they sell there are mugs, art creations, home décor, coffee beans, and more! No one can argue that Chilam Sagye is a masterpiece, especially with how their food tastes.
Opening hours: Open daily from 10 am to 9 pm, with the last order at 8:30 pm.
Location: 7-10, Chiram 1-gil, Ilgwang-eup, Gijang-gun, Busan, South Korea.
Social media: Official Instagram.
Hayden 헤이든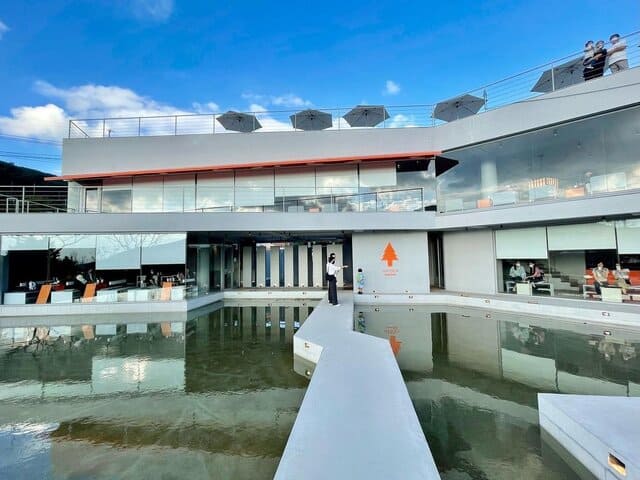 Our next suggestion for cafes you must visit while in Busan is Hayden café. You can already tell that we love cafes that offer good food and a good view. It is just like that! Its name even means a place with beautiful views that you will find fitting when you get there. Not only does it have amazing views, but it is also considered one of the biggest cafes in Busan since it is divided into two large buildings; unique, right? They even have a seating area resembling huge stairs, perfect for your Instagram pictures!
Like most of the cafes we mentioned, Hayden café offers different kinds of coffee, tea, and pastries. They even have some signature drinks that you must try. Some baked goods Hayden café has are bread, waffles, cakes, and many more. So you can enjoy any item on their menu while watching the beach in front of you through the large windows. The only downside is that Hayden café is somewhat far from other tourist attractions, but other than that, it is perfect!
Opening hours: Open every day from 10:30 a.m. to 10 p.m.
Location: 22, Munoseong-gil, Ilgwang-eup, Gijang-gun, Busan, South Korea.
Café de 220 Volt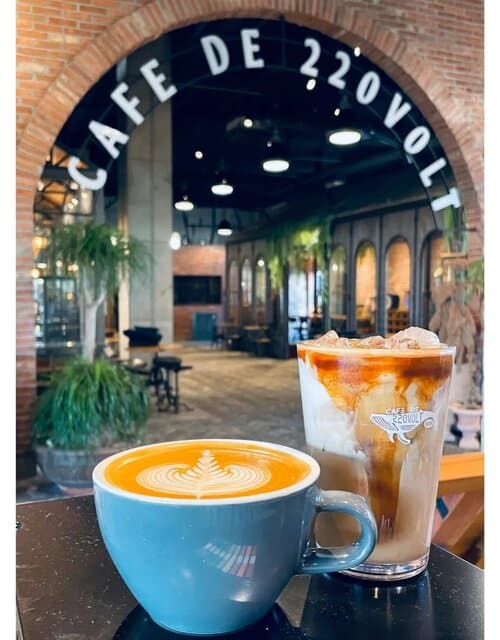 Don't you love it when cafes have several purposes? Why be a café when they could simultaneously be a café and a library? One café that wasn't satisfied with being just a café and has other functions is Café de 220 Volt. The décor inside the café is quite diverse since they have a large space filled with different seating areas. It looks like a foreign café, one you would find in England, rather than a café in Busan.
The décor there also feels antique with their leather chairs, but it gives you a good feeling. Regarding what Café de 220 Volt offers, they serve coffee they roast. They also offer many baked goods that are fresh and made there as well. If you want to visit a café that looks foreign but still is in Busan, then Café de 220 Volt is our recommendation!
Opening hours: Open every day from 10 am till 10 pm.
Location: 98, Gijanghaean-ro, Gijang-eup, Gijang-gun, Busan, South Korea.
Social media: Official Instagram.
Coffee Mandalay 커피만달레이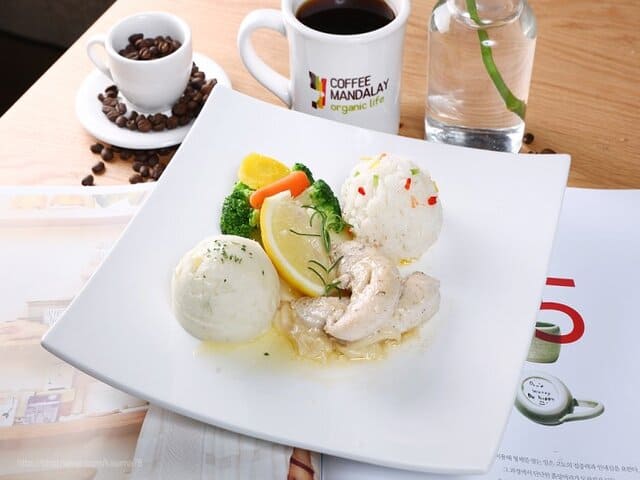 Our next café is called Coffee Mandalay. You would like to go there because they serve vegetarian and healthy food. So you won't have to worry about finding out they only serve meat dishes. They are also considered an international café since they can take your order in Korean, Japanese, or English. It is a perfect destination for tourists. If you love observing people walking, you can do that there since the café overlooks Haeundae's main street.
Coffee Mandalay café is also excellent when it comes to its customer service. Not only that, but the café's design itself offers a calm atmosphere that will go well with reading your favorite book. If we were to recommend one item on their menu, we would recommend their Shrimp Panini. But many more items will satisfy your needs for reasonable prices!
Opening hours: Open Friday to Tuesday from 7 am to 5 pm. They are closed on Wednesday and Thursday.
Location: 46, Gunam-ro, Haeundae-gu 3F, Sunset Business Hotel, Busan 48094 South Korea.
Social media: Official website. Official menu.
Greetvi Coffee 그릿비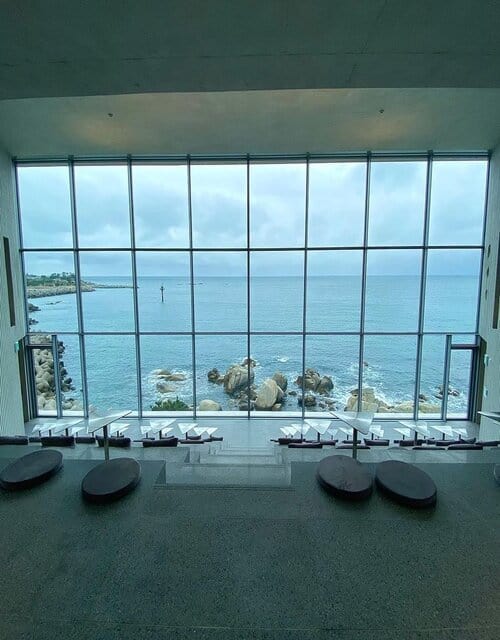 I know, I know, we mentioned many cafes with a sea view, but you can never have too many cafes with a sea view. Greetvi Coffee is our last café, and it is also known for the sea view. Their menu includes brunch, baked goods that they bake there, and of course, coffee. You won't have to worry about not finding a place to park since Greetvi Coffee has two parking spots. This is reasonable since Greetvi Coffee has a large building with great design. There is also a seating area with a large window in front of it where you can sit on soft cushions and watch the sea with your loved ones.
Opening hours: Open daily from 10:30 am till 9 pm, with the last order at 8:30 pm.
Location: 1-8 Icheon-ri, Ilgwang-myeon, Gijang-gun, Busan, South Korea.
Social media: Official Instagram.
We have told you everything we know about our picks for the 16 best cafes in Busan that you must visit at least once. Whether they have a sea view or overlook the street, the cafes we picked will be perfect and satisfying!
IVK's Top Picks – Day Tours, Tickets, and Travel Activities
Seasonal Picks!😍