Planning for a trip can be difficult, and it's even harder if it's for more than one day. There are so many places to go and so many things to see that it's overwhelming and stressful. If you are planning your Busan itinerary for 3 or more days and are feeling stressed, you don't have to worry anymore! We have gathered all the tourist attractions in Busan that are perfect for a trip or one, two, or more days! We will guide you towards making your perfect Busan itinerary.
Other related articles you might be interested in are The Best Seoul Itinerary for 2 to 4 days and Things To Do in Busan.
3 days in Busan Itinerary
Busan Itinerary for 1 Day
Sometimes all you have for a trip somewhere is one day. If you are only planning to stay in Busan for one day, the best area to check out is Haeundae, otherwise known as Busan's beach and nightlife neighborhood! There are so many things to see, eat, and do without going too far from this little seaside paradise!
Haedong Yonggungsa Temple
First on our list is a Buddhist temple, Haedong Yonggungsa Temple, famous among Buddhists and non-Buddhists alike. The great Buddhist temple Noang was built this particular temple in 1376; it is one of the oldest temples in Korea with its roots stemming all the way back to the Goryeo dynasty period. While most of Korea's other Buddhist temples are hidden away in the mountains, Haedong Yonggungsa Temple is a rarity and stands on the Haeundae shoreline; this serves as a reason enough to go and explore the temple.
While the temple is open to the public, it is still an active place to worship; many Buddhists visit Haedong Yonggunsa Temple and pay their respects to Haesu Gwaneum Daebul. (Seawater Great Goddess Budha.) Other facilities include Daeungjeon Main Sanctuary, Yongwangdang Shrine, Gulbeop Buddhist Sanctum, and a three-story pagoda. Four lion statues stand guard, looking over the sea and the temple grounds.
Address: 86, Yonggung-gil, Gijang-gun, Busan 
Phone: +82 051-722-7744
Beautiful Taejondae Park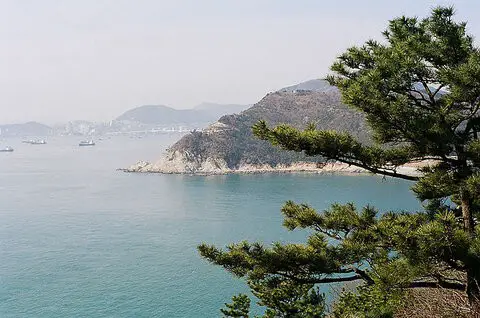 Situated near Haeundae Beach are Taejondae Lighthouse and Taejondae Park. Although it is a climb to get up to the actual lighthouse, from here, you'll be able to look out to the sea and observe what ships would see kilometers away from land.
Haeundae Beach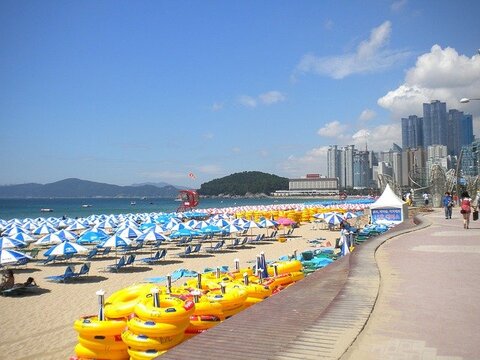 Ah yes, the most famous beach in Busan, Haeundae Beach! With its pristine waters and soft white sand, Haeundae Beach is the ideal day to spend the whole day. Its proximity to Haeundae's top tourist attractions, pubs, clubs, and restaurants doesn't hurt either! You'll find that it's no wonder that many people flock to Haeundae each and every year.
Songjeong Beach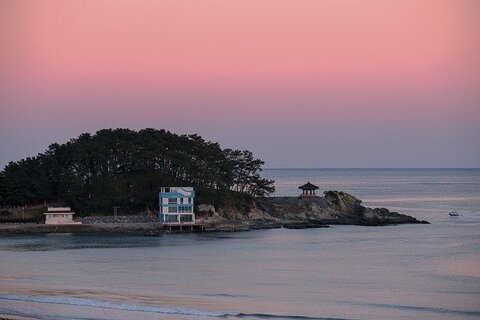 While Haeundae Beach is the perfect beach to sit and relax with friends or loved ones, Songjeong Beach is known for its surfing. The waves at Songjeong Beach are bigger than the ones at Haeundae, making for a great beach to surf and show off your skills on the board!
Sealife Busan Aquarium
From the sand trails of the beach, you only see the ocean. From Sealife Busan Aquarium, however, you see many different sea creatures including but not limited to sharks, jellyfish, fish, and stingrays. Sealife Busan Aquarium has a myriad of different species of each kind of under the sea living creatures, each one making its mark on visitors old and young. You can even catch your favorite sea creature putting on a performance for you!
The entrance fees are on the heftier side, but the size and thoroughness of the aquarium make it all worth it!
Adult (13 and older): ₩29,000
Child (ages 2 to 13): ₩23,000
Disabled: ₩17,000
Children under the age of two get in free of charge.
Address: 266, Haeundaehaeebyeon-ro, Haeundae-gu, Busan
Phone: +82 051-740-1700
Group Inquiries: +82 051-740-1711 or +82 051-740-1811
The Bay 101 Yacht Club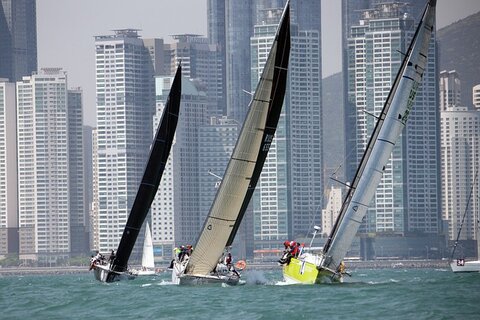 As you may or may know, Haeundae is by the sea, and therefore, some of the city's biggest activities are activities you can do on the water. Even if you don't sail, Haeundae's Bay 101 Yacht Club is a location that is worth seeing at least once, as the architecture is wonderful and captures the beauty of Busan. Blending nature and modernity, the building stands as one of Busan's well-built buildings.
Haeundae Traditional Market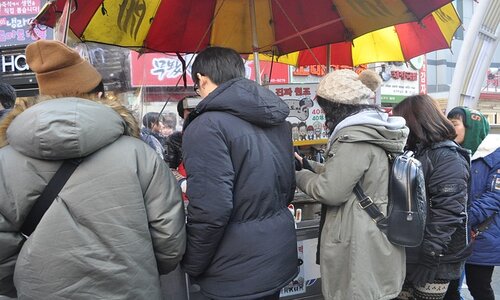 In all of Haeundae, the second most-visited place is probably Haeundae Market after the one and only Haeundae Beach. Since they're located close to each other, many tourists like to maneuver between the two and the peak season is during holidays and vacation, since those times are when people are traveling from Seoul to Busan. Find the popular snack hotteok or spicy Korean rice cakes and fresh fish stores at the traditional market.
Operating Hours
Daily 9:00–22:00
Address: 22-1 Gunam-ro 41beon-gil, Jung-dong, Haeundae-gu, Busan
Busan International Film Festival (BIFF)
Did you know that Busan is Korea's film city? That is, Busan is where a lot of Korean filmmakers and directors film scenes from various film projects. As you would expect, Busan residents are proud of this; so proud, in fact, that they erected a whole building dedicated to specifically Korean film and filmmakers. Here, they hold an annual film festival as well as inspire and foster a creative community of filmmakers, scriptwriters, directors, and actors.
For more information, check out their Instagram and Facebook.
Address: 3rd Floor, BIFF HILL, Busan Cinema Center, 120, Suyeonggangbyeon-daero, Haeundae-gu, Busan
Phone: +82 051-1688-3010
Radium Art Center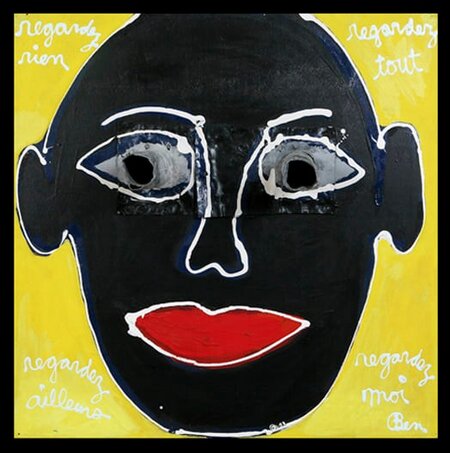 If you're into the contemporary art scene, you might enjoy a visit to Busan's Radium Art Center, located right by Haeundae Beach. From music, digital art, acrylics, and oil paintings that range from modern and avant-garde to conventional and traditional painting styles, you will never run out of things to look at.
If you do for one reason or another, Radium Art Center has a coffee shop, an art shop, and a souvenir shop all in one building. You can also peruse their official Facebook page.
Information:
Wednesday–Saturday 14:00–17:00
Sunday 12:00–16:00
Radium Art Center closes its doors on Mondays and Tuesdays.
Address: 24 Haeundaehaebyeon-ro 298beon-gi, Jung-dong, Haeundae-gu, Busan
Phone: +82 051-744-1160
Paradise Hotel Spa at Paradise Hotel
After a full day of sightseeing, a nice relaxing time at the spa might be what you need. Fortunately for you, Paradise Hotel Spa lies inside Busan's Paradise Hotel. As the spa is run by excellent staff, you and your friends or loved ones are sure to be pampered and made to feel like royalty at Paradise Hotel Spa.
Address: 296 Haeundaehaebyeon-ro, Jung-dong, Haeundae-gu, Busan
Phone: +82 051-742-2121
Busan Itinerary For 2 Days
If you're staying in Busan for two days, here are our suggested additions to your itinerary. Please note that these locations are both in and out of Busan's Haeundae neighborhood.
Gamcheon Culture Village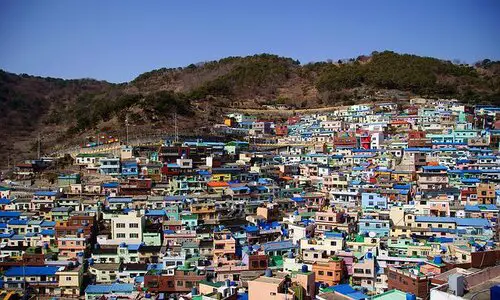 Walking through this bright and colorful village, you'll get only a glimpse of Busan's beauty. With paths and houses built and nestled into the foothills of a coastal mountain, Gamcheon Culture Village is comparable to Peru's Machu Pichu—in fact, a nickname that people have given Busan's Gamcheon Culture Village is "the Machu Pichu of Busan."
Address: 203, Gamnae 2-ro, Saha-gu, Busan (부산광역시 사하구 감내2로 203)
Phone: +82 051-204-1444
Oryukdo Skywalk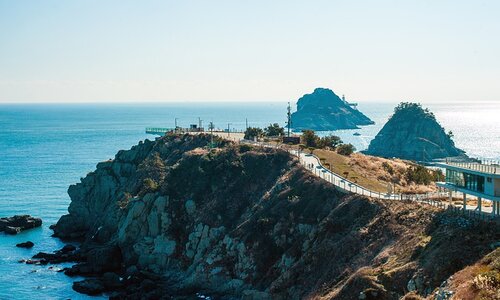 Off the southern coast of Busan's Nam-gu province is the Oryukdo Skywalk, mere minutes away from Oryukdo Island. Visitors can walk out over the lapping waves and experience a view from right above the sea. A must for all those photographers out there! Plus, on a clear day, you might even spot Oryukdo Island many kilometers away
Operating Hours
Daily 9:00–17:50
Address: 137 Oryuk-doro, Yongho-dong, Nam-gu, Busan
Jalgalchi Seafood Market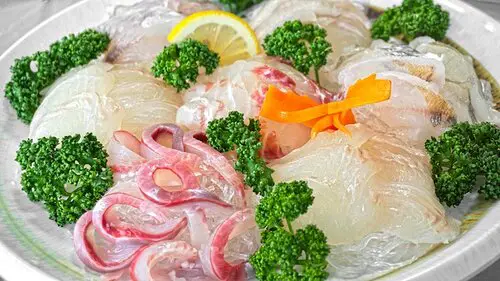 A world-famous fish market, Busan's Jalgalchi Market isn't only a good place to grab some food, but also a marvel to see, with an endless stream of open-air stalls and restaurants selling all kinds of seafood.
Address:  52, Jagalchihaean-ro, Jung-gu, Busan
Busan Museum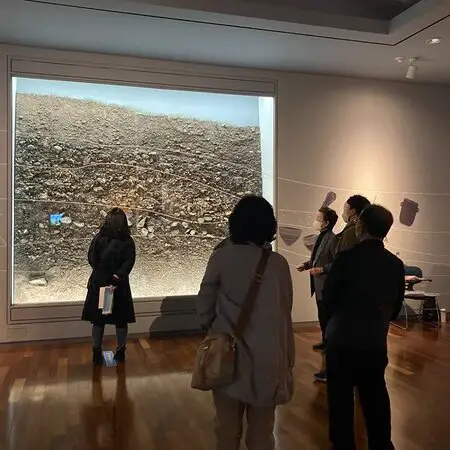 For a glimpse of Busan's past and traditional culture, plan a visit to the Busan Museum. Founded in 1978, Busan Museum (formerly Busan Metropolitan Museum) aims to provide an accurate picture of the city's traditional culture past, and present, through its number of relics and historical art pieces, made during different points of Busan's history.
Operating Hours
Sunday–Thursday 9:00–18:00
Friday–Saturday 9:00–21:00
Address:  63 UN pyeonghwa-ro, Daeyeon 4(sa)-dong, Nam-gu, Busan
Phone: +82 051-610-7150
Busan Museum of Art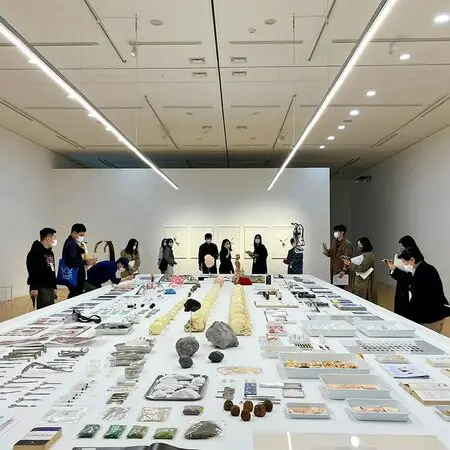 Like Busan Museum, Busan Museum of Art aims to uphold and display all facets of Busan's culture, history, and tradition through means of visual art; here, you will find different kinds of art exhibitions and pieces, all flaunting Busan's social and cultural community from the past and present. As BMOA stands on the Haeundae boardwalk, it's easy to visit the museum before or after a dip in the ocean!
Operating Hours
Address: 58 Apec-ro, Haeundae-gu, Busan
Phone: +82 051-744-2602; +82 051-740-4264 (for group admission inquiries)
Trick Eye Museum
Every major city in Korea has a Trick Eye Museum and Busan is no exception! For all those people who enjoy unique, whacky, and sometimes unsettling experiences, Trick Eye Museum is a must-visit! Here, you and your friends or loved ones will see illusion after illusion and by the end of it, you will be questioning reality and/or your sanity!
Operating Hours
Tuesday–Friday 10:00–18:00
The Trick Eye Museum closes on Mondays.
Address: Busan, Jung-gu, Donggwangdong 3(sam)-ga, Daecheong-ro 126beon-gil, 12 2층
Phone: +82 051-557-1577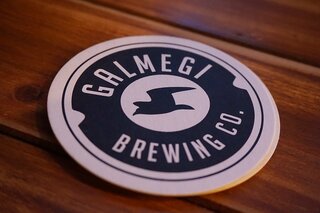 If you want to relax at the end of the day with a chilling glass of beer, head on down to Galmaegi Brewing Company. This American-style brewery and pub have been growing in popularity over the years, with its delicious drinks, food, and cozy atmosphere. Some of the house specialties are of course, Galmaegi Brewery's beers, spicy hot wings, and its own take on the famous dish fish and chips.
Operating Hours
Sunday–Thursday 17:00–1:00
Friday–Saturday 16:00–2:00
Address: Busan, Suyeong-gu, Namcheon-dong, Gwangnam-ro, 58 2층o
Phone: +82 051-627-4328
Busan Itinerary for 3+ Days
From our experience, most people who are visiting Busan stay for around three days. If you're planning to stay in Busan for 3 or more days, you might want to add these locations to your itinerary.
Dongbaekseom Island (동백섬)
Perhaps the most mesmerizing location in Busan, Dongbaekseom lies in between Gwangalli and the sea; it's easy to spot from both Haeundae and Gwangalli Beaches. From the island itself, you can spot both beaches as well as the beautiful Gwangan Diamond Bridge. 
Covered in flowers—noticeably the dongbaekggot or the camelia—the island is the perfect place for a photo shoot or a relaxing afternoon with friends and family. If you're a fan of the Korean drama When The Camelias Bloom, visiting Dongbaekseom Island is a must!
What Must I Eat In Busan?
Along with the tourist attractions, something else that makes up a city and a culture is the food! When you think of Busan, the first thing you might think of is seafood, but Busan is well-known for more than that! Here, we list all the food that you must add to your Busan itinerary.
Jogaegu-i (조개구이 Grilled Clams)
If you ask anyone—Busan local or not—what the most famous food is in Haeundae, they'll mention Jogaegu-i, which literally means "clams grill" in Korean. As you can imagine, jogaegu-i is clams of different sizes and shapes grilled on top of a charcoal-fueled fire. Because Haeundae is right by the coast and the ocean, you can almost always be assured that the clams and other seafood are freshly caught. However, be careful of the seasons! For example, it is not wise to consume any seafood during the warmer months.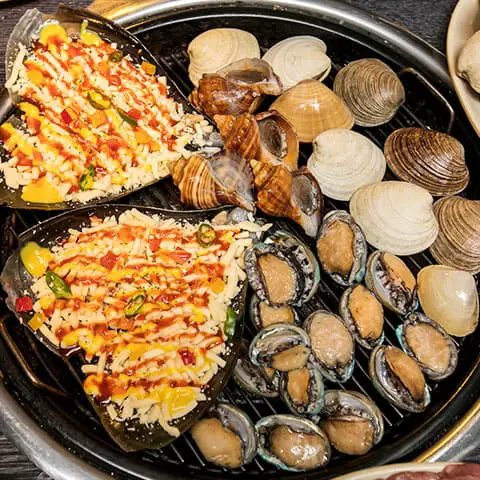 Dwaejigukbap (돼지국밥 Pork Soup And Rice)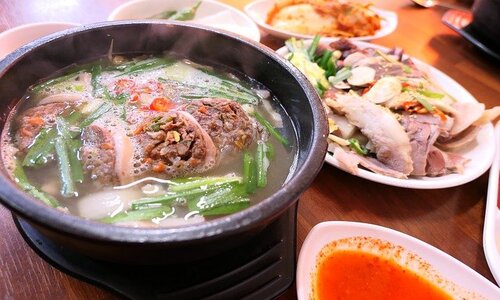 In Korean, dwaeji means pig, guk means soup, and bap means rice. Put them all together and you get a delicious amalgation of a pork soup with rice and clear white soup! In Korea, it's a common sight to see some kind of soup paired with rice, soup, and meat. Busan's dwaejigukbap is just one of the many variations, and especially in Busan, you'll be able to taste some of the best ones.
Soo-yook (수육 Steamed Pork)
In gukbap (soup and rice) restaurants, they usually have a plate of soo-yook or steamed pork. When eaten alongside your gukbap, the tastes of both the gukbap and the soo-yook compliment each other so well that it's impossible to imagine one without the other. If you're feeling adventures, eat a spoon of gukbap with a piece of soo-yook on top. You'll amaze everyone with how Korean you are!
Ssiat Hotteok (씨앗호떡 Cinnamon-filled Pancakes)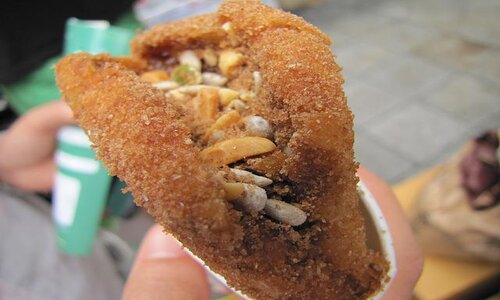 A favorite among Koreans and non-Koreans, the street food hotteok is a must-try! What is hotteok? Imagine a Korean-style pancake made with dough and cinnamon, with a sweet, slightly liquid filling inside. Now imagine the inside and the outside dusted with seeds. That's when specifically ssiat hotteok is; in Korean, the way to say seed is ssi. Thanks to Korean actors such as Lee Seung-Ki (star of 태양의 후예 or Descendants of the Sun), this particular piece of street food gained popularity in recent times. Now, everyone would cite ssiat hotteok as their favorite snack.
Planning your Busan itinerary doesn't need to be hard or stressful! Although there is an endless supply of tourist attractions to see, if you go through all of them slowly, you will be able to fit a lot of them if not all of them into your trip!
You may also like: