Busan is a must-visit place as there are many things to do while enjoying the culturally rich flavors of the heritage of South Korea. Catching the fancy of every globetrotter with its spectacular beaches, pristine mountains, hot springs, glorious temples, and glamorous nightlife. Busan, the second-largest city in South Korea after Seoul, offers tourists plenty of opportunities to explore and enjoy. Now let's dive into the things to do in Busan.
How To Get To Busan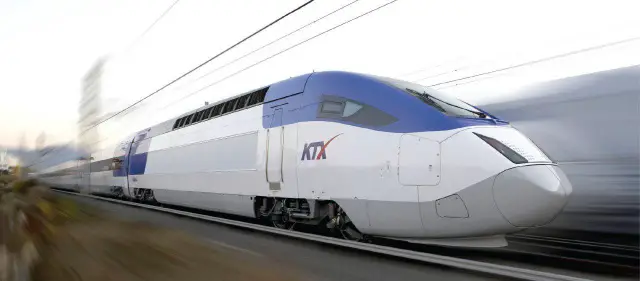 Train (KTX)
The train(KTX) might be the best way to get to Busan from other places in Korea. Most of all, it's fast and comfortable. It takes only about 2.5 hours from Seoul to Busan station with a speed of 300 km/h (190 mph). Moreover, you don't need to spend extra time looking for the stations because the train stations are at the heart of two big cities. Check this special discount pass for international tourists or foreign residents. These special passes allow unlimited travel on KORAIL-managed trains for a designated period.
Bus
The best part of taking a bus to Busan is the price. It takes about 4 hours to get to Busan and the lowest price is 24,200 KRW or you can even take the premium bus service which costs 46,800 KRW. You can take the bus at Seoul Express Bus Terminal in Seocho-gu and buses depart almost every 30 minutes.
Airplane
You can get to Busan in many ways, for instance, the airway, express bus, and KTX(Korea Train Express) train from Seoul and other cities in Korea. An interesting thing is that the official name of the airport is not Busan Airport, it's Gimhae International Airport. Moreover, it takes about 1.5 hours to get to Haeundae from the airport by public transportation. If you are a big group or have a lot of luggage, you can consider the minibus pick-up service to have a comfortable trip.
[ Seoul (Gimpo Airport, GMP) to Busan (Gimhae Airport, PUS) ]
※ Luggage Delivery Service at Gimhae International Airport
SRT
You can also go to Busan by taking the Super Rapid Train (SRT) starting from Suseo station. The newly developed train is the fastest way to Busan and the fee is a little less than the KTX. The convenience of the SRT is unlike others as the facilities are new and the ride to Busan is quick. Check out their site to reserve tickets. 
What To Do in Busan
This port city offers tourists plenty of activities to keep themselves entertained. With hustling marketplaces, busy villages, and an exotic array of seafood worth boasting about, you can find many things to do in Busan. Here are our recommendations:
Beaches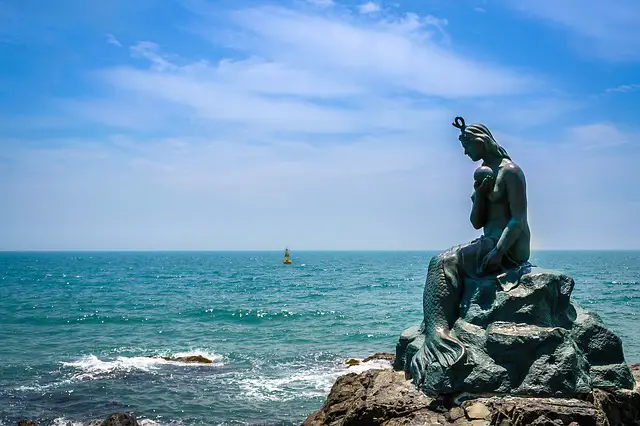 Relax at Haeundae Beach
A visit to the Haeundae beach gives you a great chance to catch up on your tanning. Known to be one of the most famous beaches in Busan, Haeundae beach is the ultimate place for tourists to unwind and relax.
A pleasing view of the seaside under the balmy sun, the gentle breeze blowing in your face, and smooth foamy waves kissing your feet, this visit can be an excellent opportunity to reconnect with nature.
Also, for the adventurous type, there are plenty of options available. You can enjoy all kinds of water activities such as kayaking, wakeboarding, paddle boarding, riding a jet boat, or a banana boat. Moreover, you can even visit the Busan Aquarium, which is located nearby.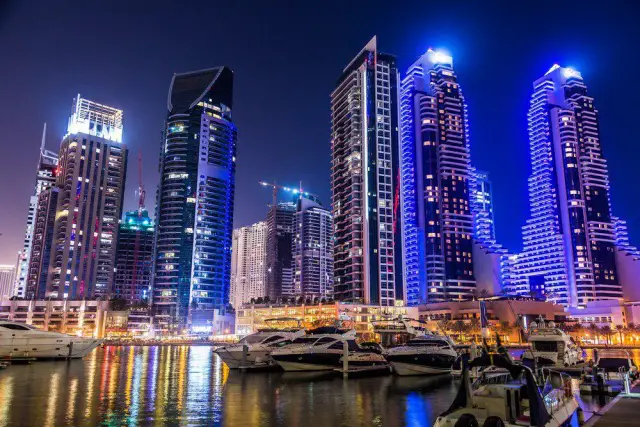 Visit the Gwangalli Beach
Gwangalli beach is a must for beach lovers! Famous for its fine sand and nighttime views, this beach is popular with the locals and is located on the western side of Haeundae beach.
It is also dotted with romantic restaurants, fancy coffee shops, and nightclubs, the Gwangalli beach has succeeded in attracting young tourists over the years.
The beach also houses several stores of high-end fashion brands, definitely a soothing sight for shopaholics. However, the most significant tourist attraction is the breathtaking view of the Gwangandaegyo Bridge.
Lastly, one of the must-do things for all tourists visiting Busan is to witness the dramatic view of the bridge in the evening with the bridge lights on. It would make some of the most memorable selfie moments.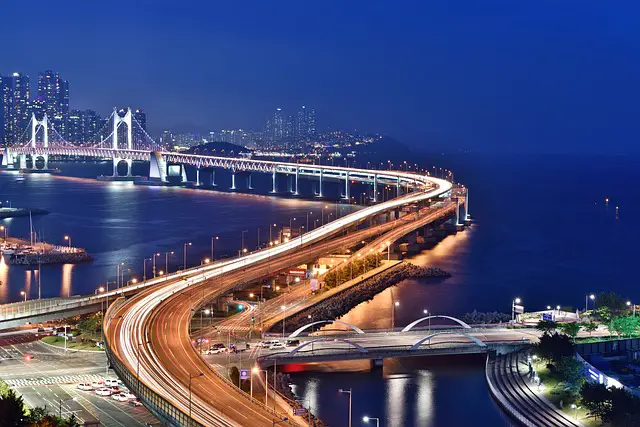 Enjoy the Night View of Busan
See the famous twinkling bright lights of the port city, Busan. I promise you will be mesmerized by the fantastic and spectacular night views and you will be able to take the best photos with you and your friends there.
Attractions
Haedong Yonggung Temple
A trip to Busan can not be considered complete without visiting the Haedong Yonggung Temple. Located by the coastline, this ancient temple was built during the historic Goryeo dynasty.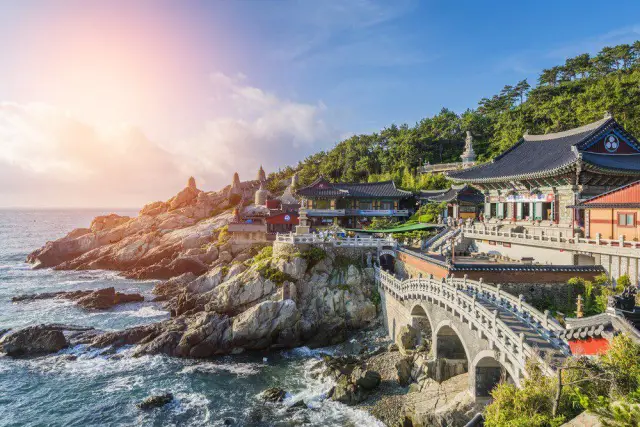 This travel site gives you a chance to feel and experience the traditional religious beliefs and practices of Koreans. You'll also be mesmerized by the breathtaking view of the ocean by the temple.
The ideal time to witness and feel the local authentic vibrancy of religious fervor and warmth is on Buddha's Birthday. At that time, you will be able to find countless lanterns lit up filling the environment with zest and excitement.
The aura fills tourists with a sense of reveries as they climb the staircases of the sacred temple. Not only that, but the tourists also get to savor authentic and filling local street foods such as sausages and hotteok (Korean-style pancakes) to enjoy their trip even more.
Check well-designed day tour programs to explore the real beauty of Busan.
Beautiful Taejongdae Park
Taejongdae is famous for its breathtaking landscapes. The Park of Taejongdae comprises more than two hundred types of trees and thrilling coastal cliffs facing crystal clear ocean waters. It is a must-see attraction for any traveler visiting Busan, as it looks breathtaking and mesmerizing all year long.
Gamcheon Culture Village
The Gamcheon village is a visually stunning and colorful village area in Busan. There is no way that you could resist admiring the beauty of this holistic village. Do not forget to take tons of pictures for your Instagram when you visit this village. Once a slum area, it is now known as the 'Machu Picchu of Busan'. Each and every house in this village is painted in different colors and the entire place is decorated with graffiti and street art.
Oryukdo Skywalk
Busan offers numerous tourist attractions to its visitors. One of the highlights of your travelogues will be experiencing the exhilarating Oryukdu Skywalk. Located in Seungdumal, this transparent bridge allows visitors to cross it, and enjoy the tossing waves beneath their feet.
Jagalchi Fish Market
The Jagalchi Fishmarket offers locals as well as tourists varieties of fish and seafood. It's more than you can imagine. It has hundreds of fish stalls scattered all over the place with a wide variety of raw as well as cooked seafood. If you have cravings for juicy prawns or fresh crabs this place will be able to satiate your cravings.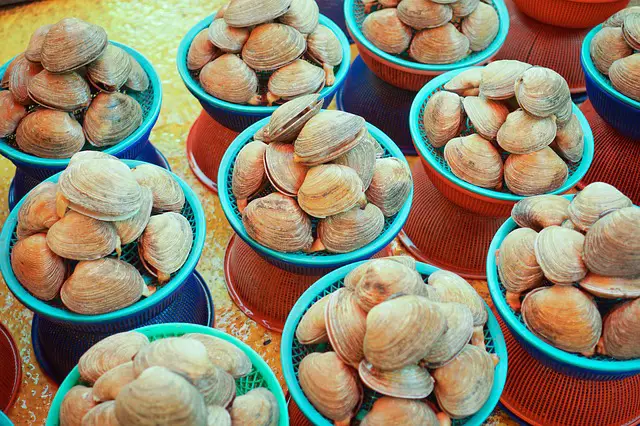 If you are visiting Busan, then you simply can't afford to miss visiting this exotic and vibrant fish market. Visually amazing with a colorful display of a wide range of seafood, the Jagalchi fish market is probably one of the biggest fish markets in Asia. If you are a true seafood lover, then you need to visit this place asap!
There are a number of seafood restaurants where you can try different kinds of seafood dishes. From spicy grilled fish to crispy prawn tempura, there is something for everyone at the Jagalchi Fish Market. The market opens quite early from 5 am in the morning and is perfect for seafood lovers visiting Busan. Additionally, we recommend experiencing the Jagalchi market and Korean cooking class. This experience will leave an unforgettable memory of Busan for you.
Explore Dongbaekseom Island (동백섬)
After a pleasant walk down the Haeundae beach, you can also go to the surreal Dongbaekseom Island. Situated between Gwangalli Beach and the sea, this heavenly island can present some of the most mesmerizing sights of the city.
The view of the ocean waves with the spray of ocean air accompanied by the stunning sight of the famous Gwangan Bridge can truly be a sight to behold.
Not only does the romantic view of the cityscape attract tourists from all over the world, but tourists also find it soothing as they experience being close to nature.
The lush green trees and shrubbery along with the environment perfumed with heavily scented flowers can help you detox the mind and purify your soul. You'll find serenity and tranquility on this island.
Make a stop at the Busan Museum
Exploring the cultural life of Koreans can leave you wanting to learn more about the beautiful people of Korea and their history. In that case, the best idea would be to make a quick stop at the Busan Museum. Refurbished and upgraded in the year 2002, the Busan museum holds ancient statues of Korean warriors and historical figures along with other irreplaceable artifacts.
Furthermore, detailed and vivid pictures are displayed for tourists to have a deeper understanding of the prehistoric events of the nation's rich history. The scenes are not limited to prehistoric times only. They also inform you about the history from the post-WW-II era up to the current times.
Above all, you can also get the chance to dress up in traditional dresses of Korea (Hanboks) and be part of the well-loved Korean tea ceremonies at the Busan Museum. These moments can be the highlight of your Facebook timeline!
Busan SEA LIFE Aquarium
SEA LIFE Busan Aquarium is located in Haeundae Beach and there are 250 species of marine life with the world's most advanced digital technologies. Various exhibition zones of Busan Sea Life Aquarium will help help you see the sea creatures that live in the ocean here. You'll have an amazing experience and children especially love this place.
Galmaegi Brewing Co.
The Galmaegi Brewing Co. is located near Gwangalli Beach. It is an all-American-style brewery and pub that has artwork by local painters and artists. In recent times, Galmaegi Brewing Co. has become quite popular in the craft of beer in Busan. While you pay a visit to this popular brewery, do not forget to try out their American fish and chips and spicy hot wings. Your trip will not be complete without munching on these savory delights!
Visit the Paradise Hotel Spa (Cimer)
Situated inside the Paradise Hotel, the Cimer Spa is a unique hot spring destination for tourists to unwind and pamper their bodies after traveling nonstop. After spending a long day walking and exploring the amazing city of Busan, you can enjoy a relaxing bath in the mineral-rich waters, while sipping your favorite drink from the spa's onsite bar. From massages to mineral-rich baths; the Cimer Spa offers a variety of full-body healing therapies and a relaxing spa to its clients. You can spend some time in tranquility to heal your body as trained professionals provide you with comforting massages as per your requirements. The entry of kids is not allowed, however, teens between the ages of ten to nineteen are allowed to enter.
Radium Art Center
Radium Art Center consists of all kinds of art. From digital art to music and conventional oil paintings, there's something for every type of art lover. Radium Art Center, formerly known as Dong Baek Art Center is located near Haeundae Beach. The art center also has its own coffee bar named 'Curie' and an art and gift shop named 'Dolly'. It also has the famous 'Boutique de Radium'.
Pay a visit to the United Nations Memorial Cemetery
Situated at Tanggok, the United Nations Memorial Cemetery is the only cemetery in the world that's dedicated to the soldiers of the UN. This cemetery has more than 2000 graves of brave martyrs of the Korean War which took place from 1950 to 1953. Covering an area of more than 30 acres, this cemetery has 22 different sites dedicated to the UN soldiers. Some of the sites include the Greek monument and the Turkish and British Commonwealth monuments.
What to eat in Busan
Busan is famous for its own foods like dwaeji-gukbap or pork and rice soup, milmyeon or wheat noodles in meat broth, and ssiat hotteok or Korean-style pancakes with seeds. 
Dwaeji-guk-bap or pork and rice soup
We recommend Ssang-dong-i Dwaegi-gukbap (쌍둥이 돼지국밥) or simply Twins Pork and Rice Soup restaurant.
Address: 35-1 UN pyeonghwa-ro, Daeyeon-dong, Nam-gu, Busan
Located near Daeyeon station exit 3
Price:  7,500 KRW- 21,000KRW
Phone: 051-628-7020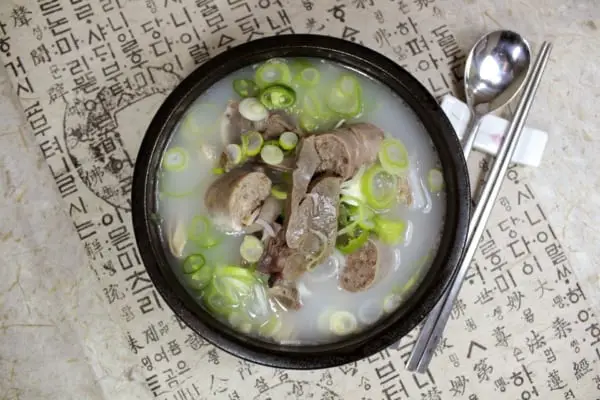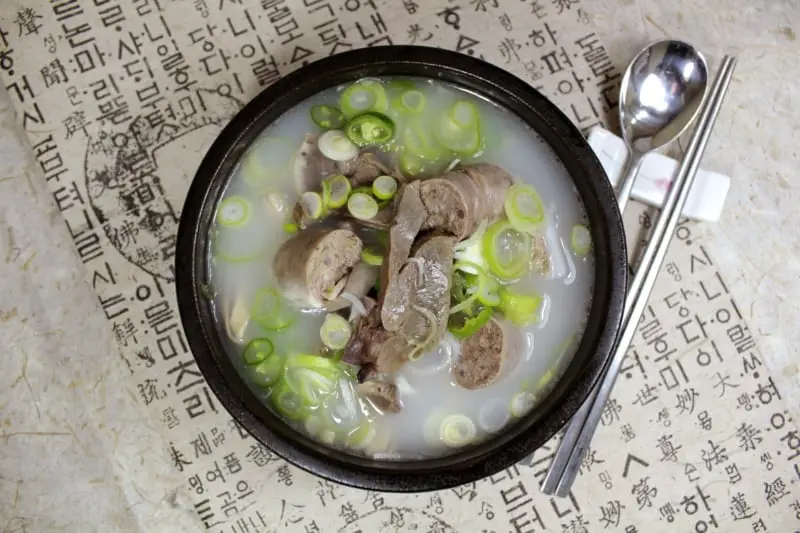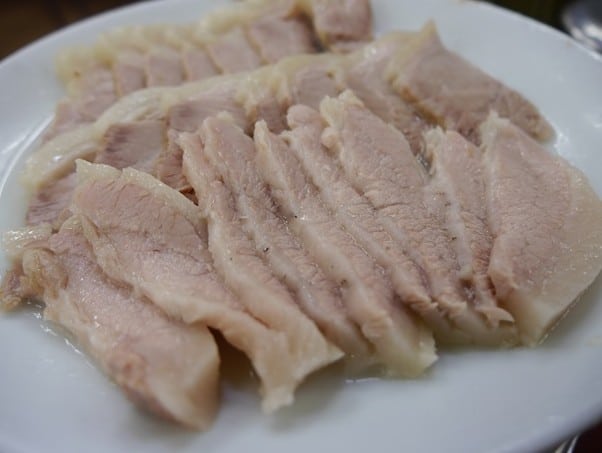 Steamed Pork (수육) is also delicious!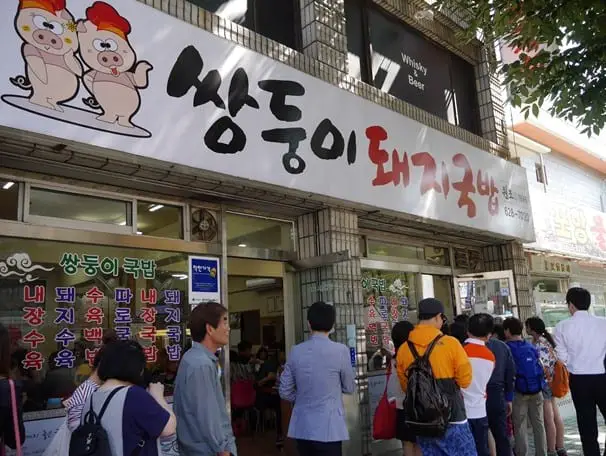 Choryang Milmyeon (초량밀면)-wheat noodles in meat broth
We recommend Choryang Milmyeon for the best-tasting cold noodles. If you are not used to eating cold noodles, don't worry as they have warm soup complementing your meal. 
Address:

225, Jungang-daero, Dong-gu

, 

Busan, South Korea

Located near Busan station
Price: 4,000 KRW- 5,000 KRW
Phone: 82 51-462-1575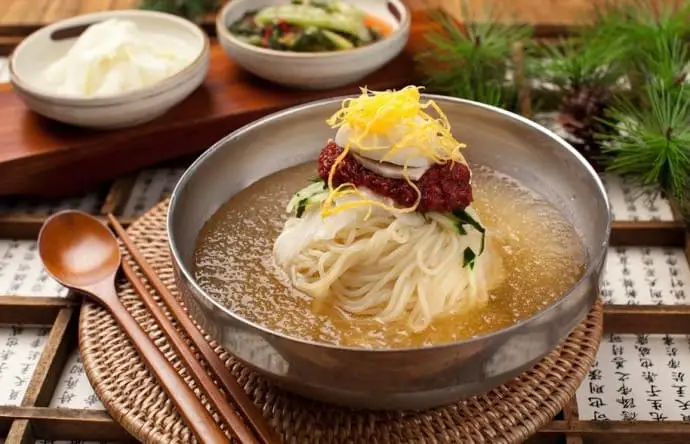 Ssiat Hotteok at Jagalchi market
Ssiat hotteok is Korean-style pancakes stuffed with seeds in a cinnamon brown sugar filling. It is a popular street food made more famous by the actor Lee Seung Gi. The seed-stuffed pancake can be tried at the Jagalchi market opposite the Busan International Film Festival.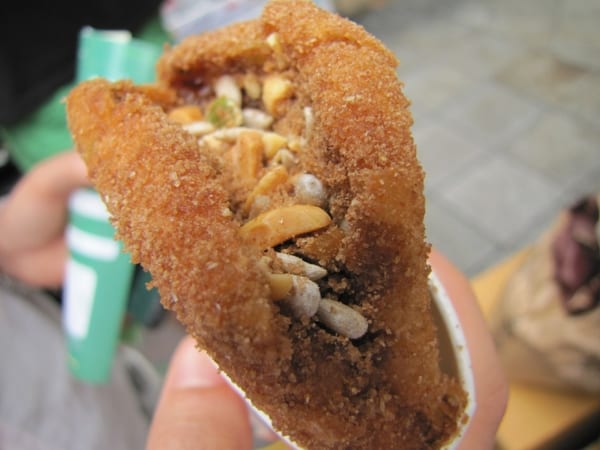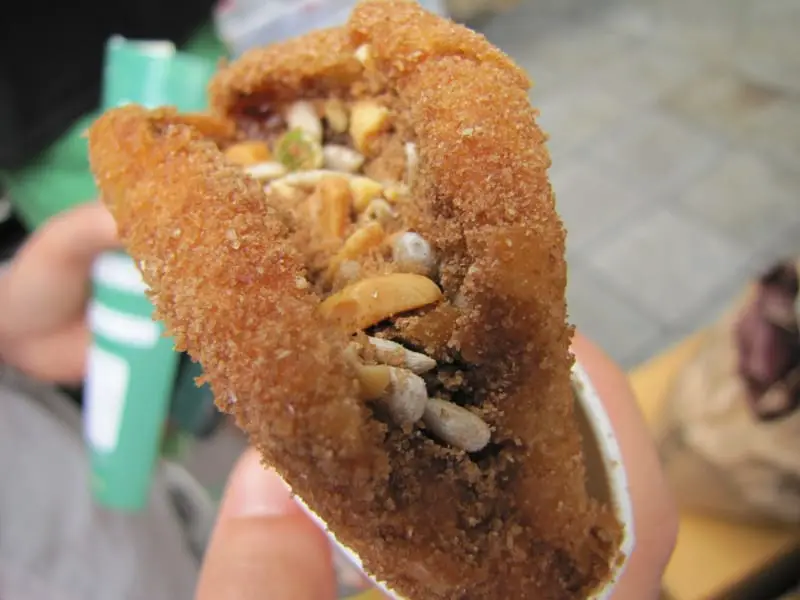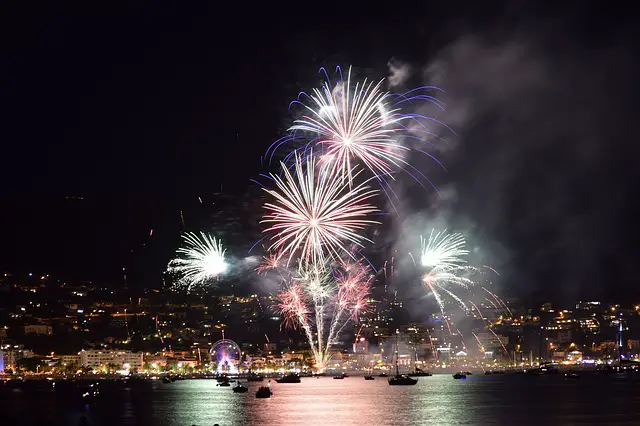 Festivals in Busan
Accommodations
An early bird catches the worm. 🙂 Explorer deals for your cozy accommodations.
Nearby Attractions
Conclusion
Busan is a vibrant and diverse city in South Korea, boasting of golden beaches and villages. You can find countless things to do in Busan from kayaking to enjoying fresh seafood and walking on a glass bridge!
Written by Dy & Jay.
You may also like,
IVK's Top Picks – Day Tours, Tickets, and Travel Activities
Seasonal Picks!😍