Korea is a country where you can find some of the most outstanding beaches in the world. If you are planning to visit Korean beach, you should have a basic understanding of what the best options available for you to consider are. To make life easy for you, we prepared a list of the 10 best Korean beaches in South Korea. You can go through the list and figure out what the best Korean beach available out of them.
10 Best Korean beaches in each province of Korea
[ contents ]

Eurwangni Beach in Incheon
Eurwangni beach is located in Incheon City. In fact, the beach can easily be accessed from Incheon International Airport. Therefore, a large number of international tourists tend to come to Eurwangni beach and enjoy their time. It would take just 15 minutes by taxi from ICN to the beach and the fare is around $10-$15(12,000KRW – 15,000KRW) and 3o minutes by bus ($1.5, 1750KRW). You can get a bus No. 111 on the 3rd-floor board and get off at Eurwangni beach. You might need to get a map application, Naver map which works better than Google Map in Korea. Please check our another post for useful apps for Korea travel. When you arrive at the beach, you will also be impressed by the natural sceneries and shallow water available on the beach provides an excellent environment for the kids.
How about the grilled shellfish for lunch or dinner? It's a popular local food in Eurwangni, Korean beach.
Sokcho Beach in Sokcho, Gangwon-do
Sokcho beach has earned an excellent reputation for the clear water offered to the guests. Besides, accessibility is one of the biggest reasons, which has contributed to the popularity of Sokcho beach. You can easily reach this beach from the nearby bus terminal. Just 440m far away, 5minutes walking distance. If you are looking for a Korean beach, which can be accessed with public transport, Sokcho beach is a great place to visit. Also, it is complemented with the nearby pine forest and white sand. Moreover, you can enjoy water sports and riding a bike along the beach.

Gyeongpo Beach in Gangneung, Gangwon-do
Gyeongpo beach is a 6km long beach. The strip of beach contains fine sand and it is located in between the ocean and Gyeongpo Lake. This beach has received outstanding reviews for the sunrise and sunset views offered to the visitors. Another great aspect of Gyeongpo beach is that it is surrounded by a pine forest, which provides a greenish view. As Gangneung is well known for its coffee culture, I would like to recommend you to visit one of the cafes lined by the sea. Enjoy your relaxing time having a cup of coffee and a dessert cake!
Plus, for lunch in Gangneung I would like to share the Korean restaurants in Chodang Soondubu (Soft Tofu) Village. There're tons of restaurants where serve Soondubu-jeongol and Jjamppong Soondubu.

Chodang Soondubu is particularly silky and savory, as it is made by coagulating soy milk with mineral-rich seawater. In Soondufu-jeongol there are boiling bean curd, seafood and different kinds of vegetables together. It's artfully arranged and cooked in a hot pot. And Jjamppong Soondubu is a combination of Jjamppong which is Korean-Chinese spicy noodles with seafood and Soondubu.
Best menu, Sundubu in Chodang Sundubu Village

Sundubu jeongol in Gangneung
Naksan Beach in Yangyang, Gangwon-do
Naksan beach is a 4km long beach, which you can discover on the east coast of Korea. The natural beauty of Naksan beach attracts a large number of tourists throughout the year. You will also be able to go for a short hike in the nearby park. It can provide you with fascinating views of the surroundings you will love.
Hajodae Pavilion Observatory is also one of the best places to visit in Yangyang, Gangwondo. Don't miss out to take in the view of the endless horizon and rock formations from Hajodae Observatory.

Address: 29, Hajodaehaean-gil, Hyeonbuk-myeon, Yangyang-gun, Gangwon-do
Operating Hours: 7:30 am – 7:30 pm.
Mallipo Beach in Taean, Chungcheong-do
Mallipo beach is one of the most popular Korean beaches. It is located relatively close to Seoul. Even though the beach experienced an oil spill back in 2007 unfortunately, tons of people including government personnel, local residents and volunteers worked hard to remove the crude oil spilled over the beach in Taean. Through efforts of all people who participated to help throughout the past few years, the beach got back to its original condition.
Therefore, you are encouraged to think about coming to Mallipo beach. One of the best parts spending a day here on the beach is a wonderful taste of fresh raw fish at an affordable price as well.
Seafood restaurant in Korean beach

Seafood restaurant in Korean beach
Daecheon Beach in Boryeong, Chungcheong-do
Daecheon beach can be considered as the largest beach on the west coast of South Korea. This beach has shallow and calm waters and the sand is extremely soft. Hence, an ideal environment is created for you to go enjoy your time with loved family or friends.
Additionally, the Boryeong Mud Festival is held on Daecheon beach. As it is well known for its nutrient-rich mud, thousands of international visitors come to the beach to enjoy a variety of fun-packed activities along with lively performance.
It's an annual festival during the summer, this year's festival takes place from July 19 to July 28.
For more information about the Boryeong Mud Festival, please check the official website.
Haeundae Beach in Busan, Gyeongsang-do
Haeundae beach is one of the most popular tourist attractions in Busan, South Korea. If you are a novice swimmer, you can go for a swim in Haeundae beach without thinking twice. You can even go for a swim with your kids because of the calm and shallow waters. This beach has also earned a lot of positive reputation for the amazing views of sunrise, which you can see over the horizon. Moreover, there are a few hot springs located closer to the Haeundae beach and people believe that water given out by them have excellent healing properties.
Plus, Haeundae is an awesome spot to enjoy the night view with dynamic buildings and yachts. Why don't you grab a beer and Korean fried chicken? 😉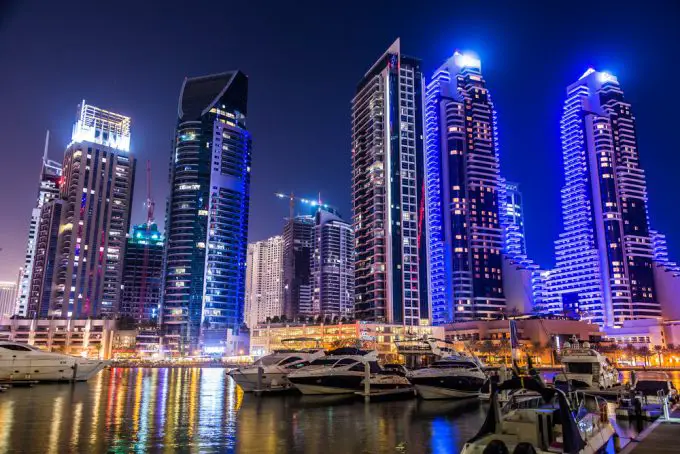 Gwanganlli Beach in Busan, Gyeongsang-do
Gwanganlli beach is a 1.4km long beach, which has earned a lot of positive reputation for the availability of whitish sand. This beach has recently gone through a water cleaning program. So, you can discover water in its pristine condition. Due to the same reason, a large number of young tourists come and enjoy their time here. Also, you will be able to find many romantic restaurants near the beach. They serve many kinds of fresh seafood. Highly recommend!
Furthermore, Don't miss on Gwangand Bridge at night which is a representative visit spot in Busan.
In terms of foods in Busan, there're so many places to try authentic Korean food such as Jagalchi Market, Gukbap Alley, Haeundae Market, Noodle restaurants and more. On this blog by Mynn, you can get more information about food in Busan.
Hyeopjae Beach in Jeju
Hyeopjae beach is a sandy beach in Jeju island, the southern part of South Korea. This is a 600m long beach in which you would experience outstanding sunset views. Along with Haeundae beach, It is one of the best beaches available to go on swimming because of the gentle slope of the coast and shallow waters. You can find plenty of beautiful silvered colored sand on the beach, which gives you a perfect memory when combined with crystal clear water.
Specially, you can try Korean BBQ with black pork that is a breed of domestic pig found on the Korean island of Jeju. Don't forget to get this rere food item!
Jungmu Beach in Jeju
In fact, Jungmun beach is located on the southernmost beach in South Korea. It extends for an area of 560 meters and it's a popular hotspot among both locals as well as international tourists. A variety of watersports, including jet skiing and windsurfing, are done here in Jungmun Saekdal beach. In addition to that, one of the highlighting facts is that you can find sand in many different colors. White, brown, red and black are some of the sand color types that you can notice.
Written by DY & Jay
You may also like