Traveling to a foreign country can be daunting if you can't speak the language. But in this tech-friendly age, all you need is a smartphone to have an exciting experience. You will see that using apps for traveling in Korea can make your trip easy and convenient. There are tons of apps to choose from, so we selected the top Best Apps for Korea travel. Grab your smartphone first before you read this.
Top Best Apps for Korea Travel
Visit Korea
The first recommendation on our list is 'Visit Korea.' It is made by the Korea Tourism Organization. It's an app so you can get tons of information about Korea right in the palm of your hand. The app includes beautiful attractions, exciting festivals, delicious foods, transportation, comfortable accommodations, vibrant shopping centers, and more. 
The best thing about this app is that an official organization of the Korean government runs it.  This means that it's more reliable when compared to other sites that mainly want to sell their products and services. This app covers almost everything you need to know when traveling in Korea.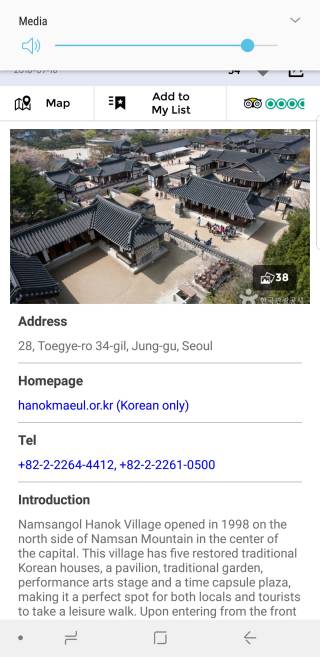 Web   |   Google Play    |    App Store
Find & Compare Things To Do in Korea!
Klook
Here you can find discounted tickets and tours with a unique experience. Not only the day trip to Nami Island or the coast side with a beautiful beach is available, but the popular attractions tickets are also a great deal. Don't miss out while you travel to Korea.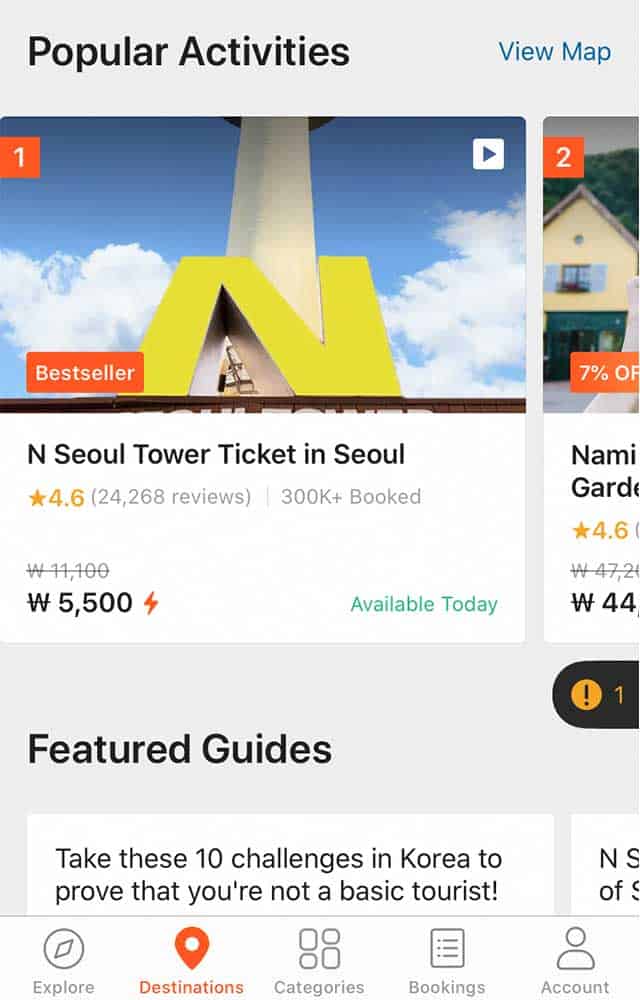 Web   |   Google Play    |    App Store
Seasonal Picks by IVisitKorea!
Naver Map
The second must-download app is 'Naver.' If you are planning to travel to Korea, it may be good to set aside the Google suite of your smartphone. Google Maps can't show the way to your destination because of the law in Korea.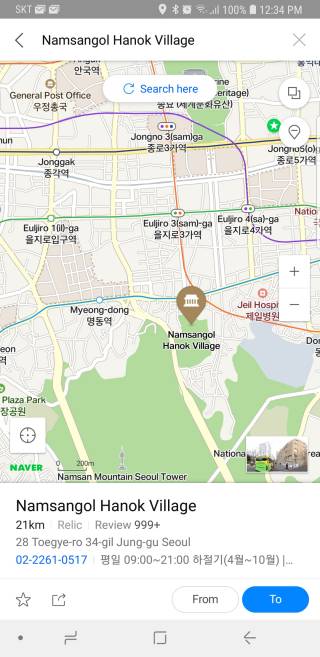 'Naver' is a Google in Korea, providing an English map service called Naver Map.  Because public transportation is well organized and convenient in Korea, you can find your destination while you're walking, taking a bus, or a subway, and even while you're driving. Naver Map is one of the best apps for traveling in Korea.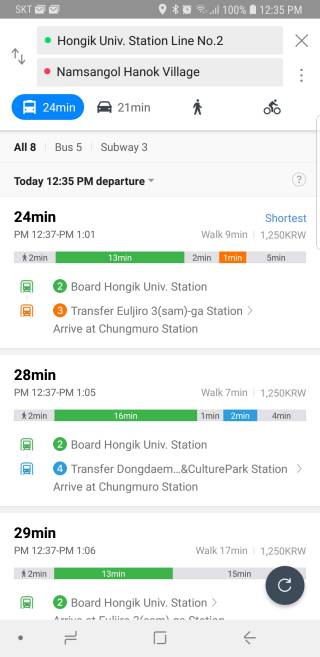 They only support English on the mobile app.
Web   |   Google Play    |    App Store
Yogiyo
Korea is the heaven of delivery foods. In other words, you can order almost all kinds of food by phone call and app, and it will be delivered to your place in 30 minutes. What sets Korean delivery apart from others is that you can order food and have it delivered when you are outside, like Hangang-river park. You can have a fresh draft beer with fried chicken by the river just by touching a few buttons on your phone.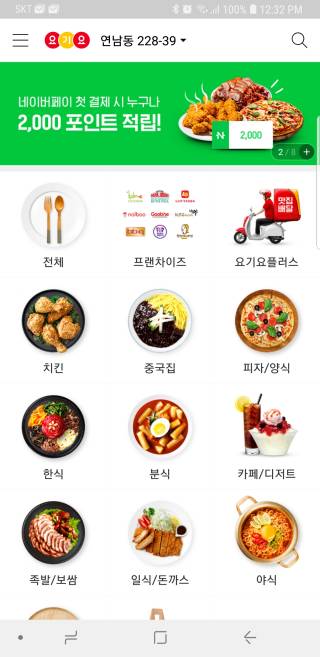 The most famous delivery foods in Korea are ChiMac(Fried chicken with beer), Ttuk-bok-gi(Spicy rice cake with pepper sauce), and Jajangmyeon(Chinese-style noodles with soybean sauce). Definitely, the delivery-food app is one of the best apps for Korea travel. And because it doesn't support English, we explain here, 'How to order delivery foods in Korea' in detail.
How To Order Food Delivery without Korean Mobile Number
If you don't have a Korean mobile number, you can't use Baemin or Yogiyo app. There are a few alternatives to the main food delivery apps. Then you can use the Shuttle Delivery service.
Shuttle Delivery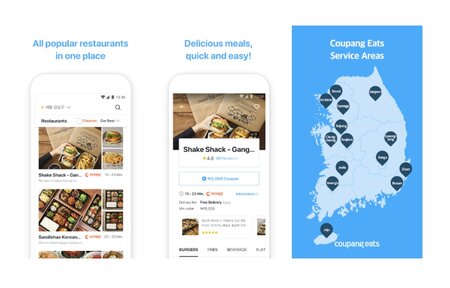 Your favorite restaurants are only a phone call away, thanks to Shuttle Delivery, a delivery service that brings the most incredible cuisine right to your door! You'll be eligible for free delivery or delivery savings from local restaurants when you purchase. Order ahead, pay online and bypass the wait when you pick up your items using Shuttle's on-demand pickup service.
Shuttle Delivery users are not obliged to have a local phone number; however, it is strongly encouraged. Customers should know how to use Shuttle credit and redeem promotions and offers. After that, it's a simple process to pay for your order. All major international and domestic credit cards, Paypal, KakaoPay, and Bitcoin, are accepted.
Shuttle Delivery provides excellent food delivery service between restaurants and customers. You can order various dishes from famous restaurants near you. Moreover, the delivery guys speak both Korean and English. The problem is their coverage. Currently, they provide the service in Seoul (Itaewon, Gangnam, Hongdae, Jung-gu, Jongno-gu, etc.), Pyeongtaek, Busan, Osan, Daegu, regional hubs delivering around Osan Air Base, Camp Humphreys, Camp Walker, and Camp Henry.
MangoPlate
Those are the apps we recommend to help you see and get to the fabulous scenery and attractions of Korean culture. Now it's time to introduce my favorite apps for tasting delicious foods! The first one is MangoPlate. It is an app for discovering the best Korean restaurants and foods. They have an extensive database of over 200,000 restaurants in South Korea with reviews and ratings. Best of all, they support English. 🙂
Papago
Papago is one of the fastest translation applications used worldwide by Naver Corporation. We recommend downloading this app anytime you need help in translations. They have translations in Chinese, Japanese, Vietnamese, Russian, etc. It'll be a lifesaver when you are traveling in Korea. Sometimes a little help will go a long way.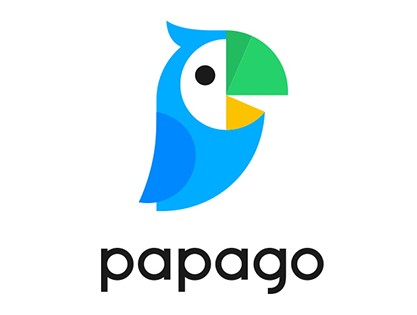 Kakao Metro
Not only is the Seoul Subway the most convenient and fastest way to get around the city. It's also very clean, efficient, and safe. It's the favored public transportation for locals as well.
If you have no idea how to get to your destination by using the Seoul subway, Kakao Metro would definitely help you. On the App, you can search the station and it'll direct you to the best route, how many minutes it takes, and also show you a timetable of each station.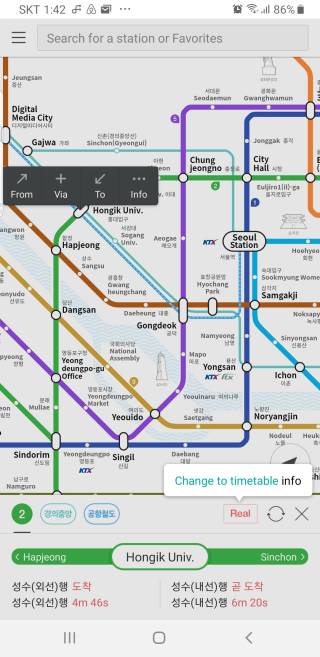 Kakao Taxi- Best taxi app
The best taxi app in Korea is Kakao taxi. In most cases, public transportation is the most convenient and affordable way in Seoul.  When you want to take a taxi after midnight or if your hands are full of luggage, we recommend the Kakao taxi app. It works just like Uber. Enter the destination, pick your current location, and click the 'Request Taxi' button.  After that, boom! As soon as the taxi driver answers your call, you can check your taxi's plate number and see where it is on the app. The best part of this app is that you don't have to worry about getting a rip-off. 🙂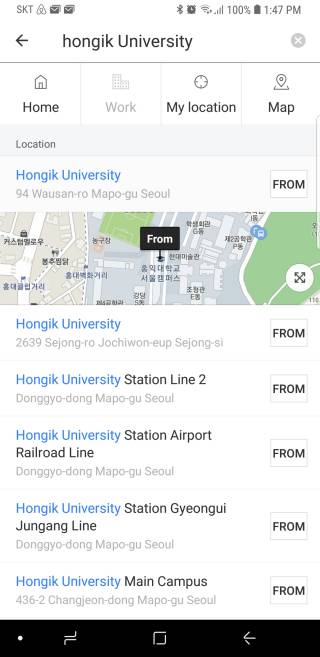 ---
Naver Dictionary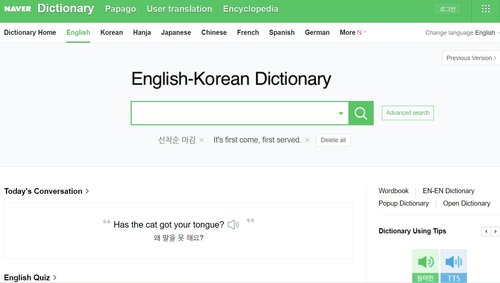 You can't go wrong with good communication! While Google Translate is the world's most popular translator, it may not be the ideal option for translating Korean — indeed, you've seen a few strange translations before.
Naver Dictionary & Translate provides a far more accurate and comprehensive translation experience by giving several phrase samples for translation. The program also supports other languages, like French, Hindi, Thai, and Vietnamese. This is one of the Best Apps for Korea Travel if you want to converse while on vacation in Korea!
Kakao Talk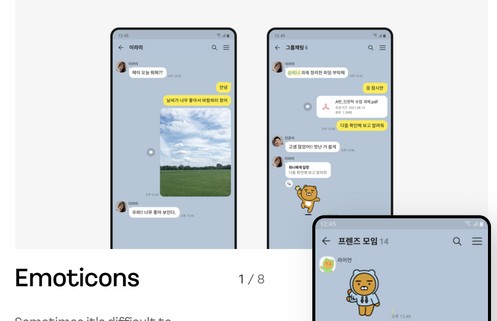 KakaoTalk is a messaging service that connects people across the globe with more than 150 million active users. It is compatible with smartphones, tablets, and wearable devices. KakaoTalk may be used at any time, from any location, in real-time! No matter where you stand on the globe, you may use KakaoTalk for free with an internet connection. KakaoTalk's group and one-on-one conversations allow you to have a vibrant conversation with your pals.
Kakao Talk is Korea's most popular messaging program, used by almost everyone with a smartphone. The essential functionalities of messaging software, such as texting, calling, and exchanging images and videos, are included, but this program can do much more. As long as you have an internet connection, you may transfer money, post your location, and even give presents to your pals! If you're visiting Korea and need to stay in contact with your tour guides or even people you meet along the road, this app will be a lifesaver.
Korail Talk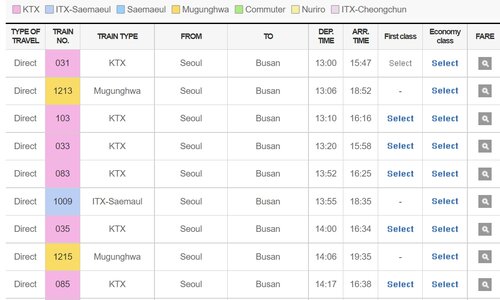 People have depended on this site for travel information for a long time. Even though bus and rail schedules are a little archaic, they remain a famous search phrase. Also, adding steps does not need to make the procedure more challenging. This is a relatively straightforward procedure, yet it has several benefits. Information regarding train schedules and which ones have been sold out is provided via the app.
It's also a terrific method to guarantee that the train seat you desire is yours. It was common for me to dash into Seoul Station on a Sunday night, hoping without hope that they would have a train going to Busan.
Compare KORAIL Rail Pass Discount Tickets!




Emergency Ready App

An app developed by Clever Coding LLC is called Emergency Ready App. Since 2008, Clever Coding has been developing mobile and online applications for customers across the globe. "Emergency Ready App" was introduced on March 5 in English on Google's Play Store and Apple's AppStore and gave helpful information in times of crisis.
An emergency phone number is included in the app, and instructions on doing CPR. Foreign citizens, multicultural homes, and visitors, in particular, who may not speak fluent Korean, necessitated the creation of the app by the National Emergency Management Agency (NEMA). In addition, foreign embassies and the Ministry of Foreign Affairs have requested such an app.
Coupang
Coupang is a Korean e-commerce corporation with headquarters in Seoul, South Korea. Founded in 2010, and grown to become South Korea's biggest online marketplace. Coupang is one of the Best Apps for Korea Travel as it has everything from groceries to school supplies.
After the debut of Coupang Play, the company's growth led it to video streaming distribution. Coupang is sometimes referred to as the "Amazon of South Korea" in the South Korean internet market because of its position and scale. Technology and operations at Coupang are based on cutting-edge concepts. It provides the best rates and product options for its consumers. The functions on the app are simple and customized.
Baemin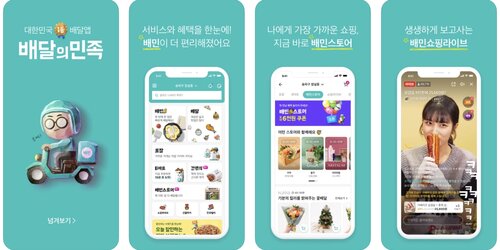 In less than two years, Korea's No.1 meal delivery service swiftly created a trusted connection with local consumers thanks to innovative advertising, inventive initiatives, and undivided attention to service quality.
All four Baemin services are presently available to customers:
Food and grocery delivery
Food delivery
A grocery delivery service
A kitchen featuring Korean trademark meals
It is definitely one of the favorite apps for locals and one of the Best Apps for Korea Travel. You can order anything from fast food to coffee and cake. It shows the delivery cost and approximate delivery expectation.
Coupang Eats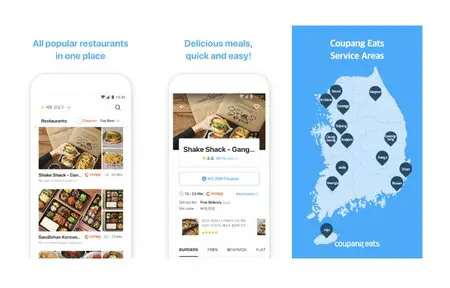 Coupang Eats delivers meals from your favorite restaurants to your doorstep, no matter where you are. Regardless of where you order from, you can count on Coupang Eats to deliver! Food delivery services in Korea are noted for their speed and efficiency. In the comfort of your bed, a steaming bowl of jjajangmyeon is only a few clicks away.
There are so many delivery applications in Korea that the whole delivery game has been elevated to a new degree of sophistication. That is why you should have Coupang Eats on your phone. You should use Baemin or Yogiyo if you are familiar with Korean culture or if you're looking for a fun delivery experience. Using these applications to order meals is easy because of the abundance of English-language tutorials.
Alternatively, Coupang Eats is an excellent option. It is now accessible in English, making it much simpler to place an order, and there is no longer a shipping fee for purchases totaling more than 12,000 Won.
Mise Mise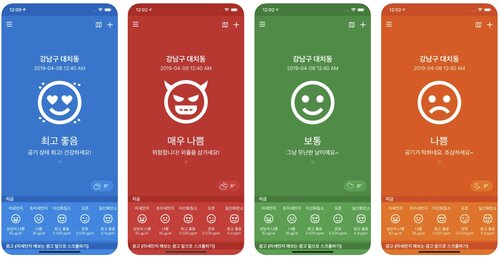 'Mise,' pronounced me-sae me-sae, means fine, as in small. This app had a significant rise in users during March, April, and May. By now, you've figured out what type of software it is. You may get real-time information on acceptable dust levels in your neighborhood with the Mise Mise weather app.
As a result of adhering to WHO guidelines, this software is highly regarded by users who want accurate data. As a result, this software is accessible even to non-Koreans because of its color and facial expressions to convey the state of the air.
Download the Best Apps for Korea Travel and enjoy a safe and convenient trip!
Feel free to contact us or leave comments if you have any questions.

You may also like:
IVK's Top Picks – Day Tours, Tickets, and Travel Activities
Seasonal Picks!😍