Last Updated on April 22, 2023
Near Gangnam station, there is a wide variety of Korean restaurants and bars. We selected the best restaurants in Gangnam that visitors will fall in love with. They serve bulgogi, Korean-style barbecue, noodles, seafood, chicken, and a million other delicious things. If you are planning to hang around the Gangnam area, why don't you try these traditional Korean dishes? 🙂
Before we go further, if you have to carry your luggage or bags while you are sightseeing, take a look at our post, "Luggage Storage Services in Seoul" to travel light. And you can check all the detailed information about Gangnam storage subway and other subway storage near you HERE.
Best Korean Restaurants in Gangnam
Jangseoneun-nal (장서는 날) 
Jangseoneunnal is the best place to visit if you want to taste traditional and regional Korean cuisines. In Korea, there are traditional markets that only open once every five days called "Five-day-market".
To take advantage of their unique schedule, Jangseoneunnal selected famous cuisines of these regional Five-day-markets. For example seafood stew, jeon (Korean style pizza), spicy chicken stew, raw beef, soju, and makgeolli (Korean rice wine).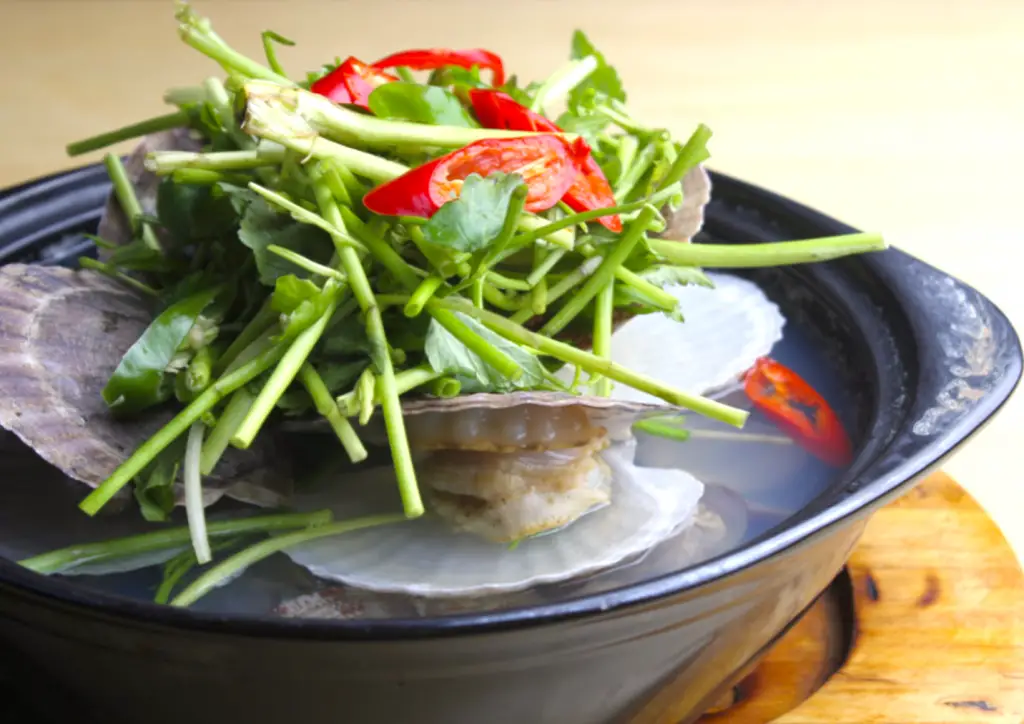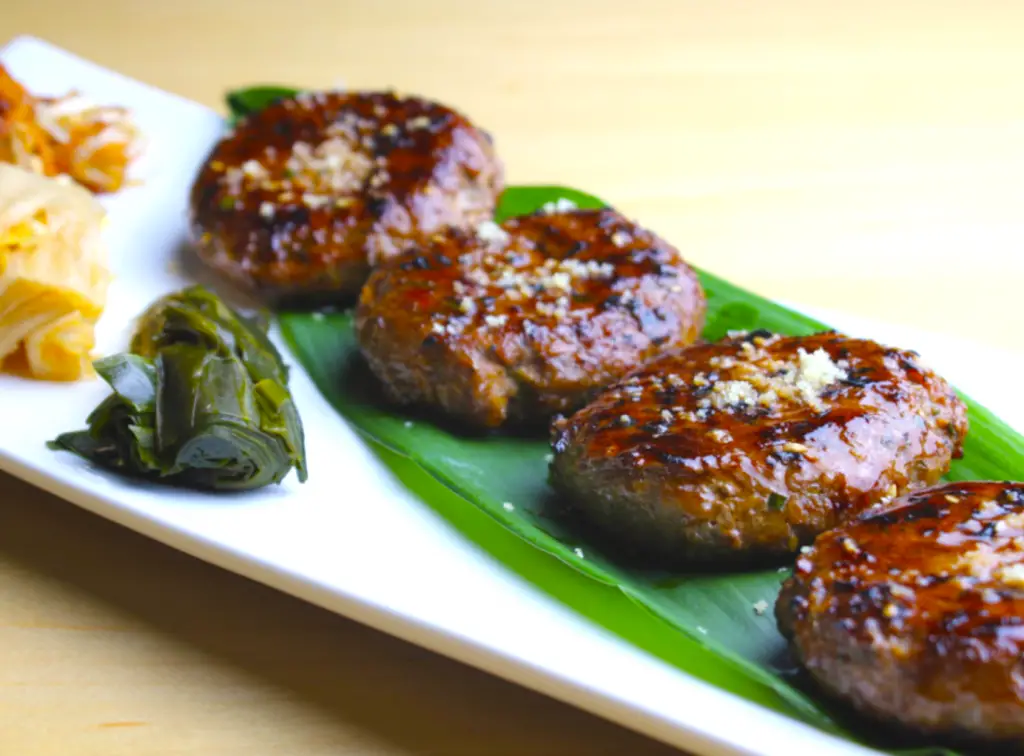 If you are overwhelmed by having so many delicious options available, you can choose the Hansang series. Hansang literally means "One table with a lot of dishes", so it will make sure you try all the highlights!
Tip: Parking is available.
Address : 35 Gangnamdaero 78-gil, Seoul
Open:  11:30 – 24:00 (Break time 15:00~17:00)
Saturday 11:30 – 24:00 / Sunday 11:30 – 22:00
Heukdonga (흑돈가)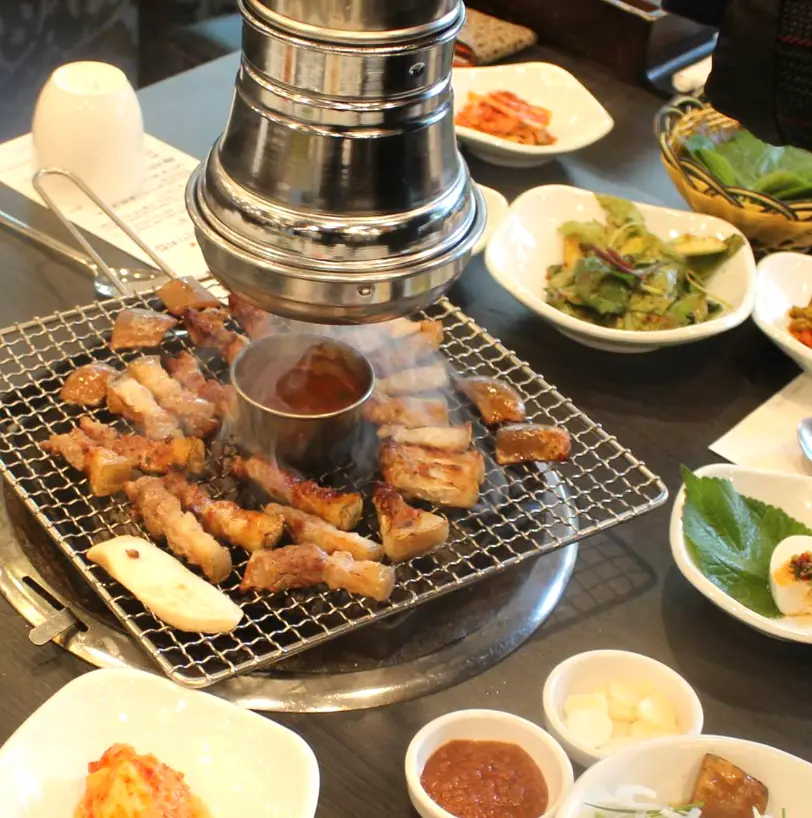 If you want to try Korean barbecue, Heukdonga is the best place in Gangnam. Koreans love Samgyeopsal (pork belly) and they serve tasty black pork belly and blade shoulder meat, marinated pork, pork rinds, and bulgogi.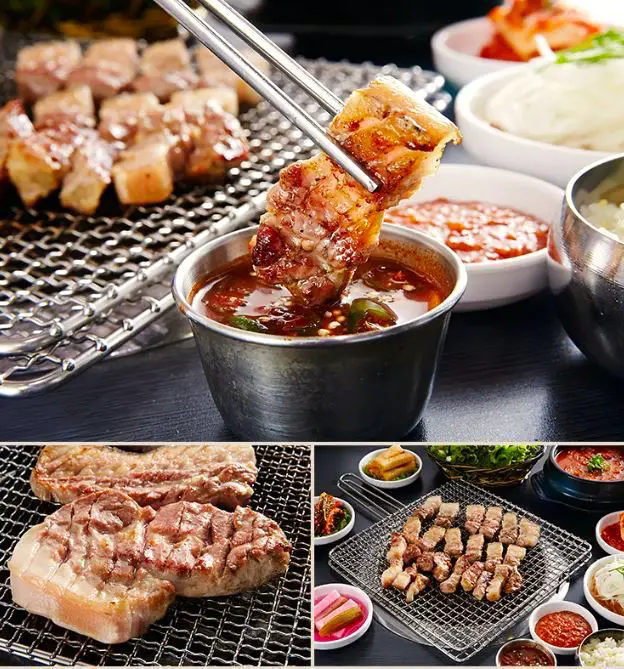 An interesting thing about Korean barbecue is that you cook the meat at your table by yourself. 🙂 There is space on the table to put the lighted charcoal, and when the raw meat is served with various side dishes, you grill it right there.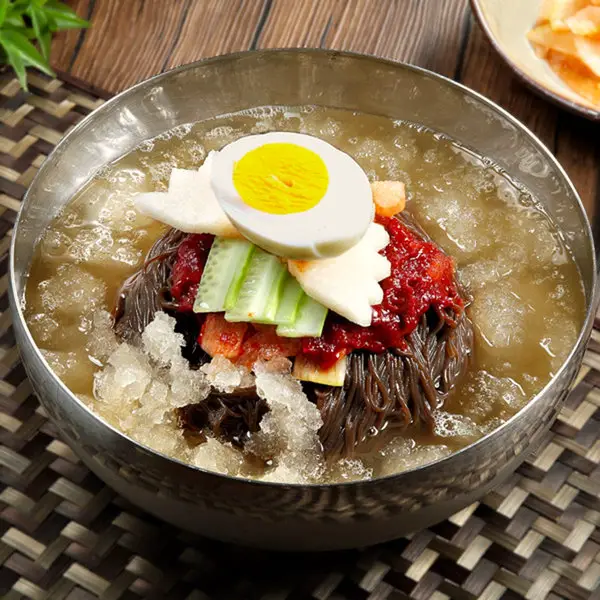 To eat meat like Koreans, take a leaf of lettuce, put a piece of meat with sauce, garlic, and other side dishes, roll it into a ball, and eat it all in one mouthful. 🙂 Many Koreans also eat Naengmyeon (cold noodles) after they have Korean BBQ.
Address : 452 Gangnamdae-ro 78-gil, Seoul
Open : 11:00 – 23:30 (Saturday/Sunday 11:00 – 23:00)
Kim-seonsaeng-jogaejjim (김선생 조개찜)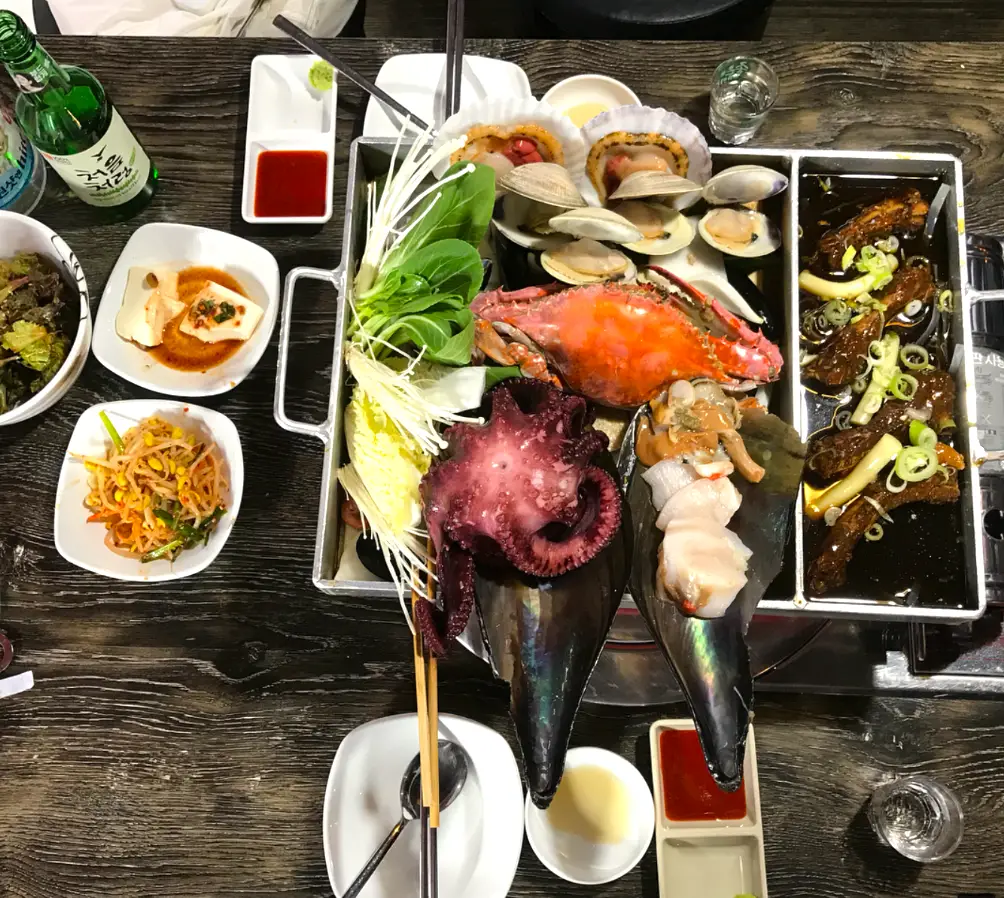 Jogaezzim is a kind of stew with various clams, shrimp, octopus, and vegetables. When you order it, they will bring a big pot with all those ingredients and cook it fresh at your table. After tasting the seafood, you can order noodles and rice as well.  If you think only seafood is a bit boring, order Jogaljjim, as it is served with seafood and marinated ribs together.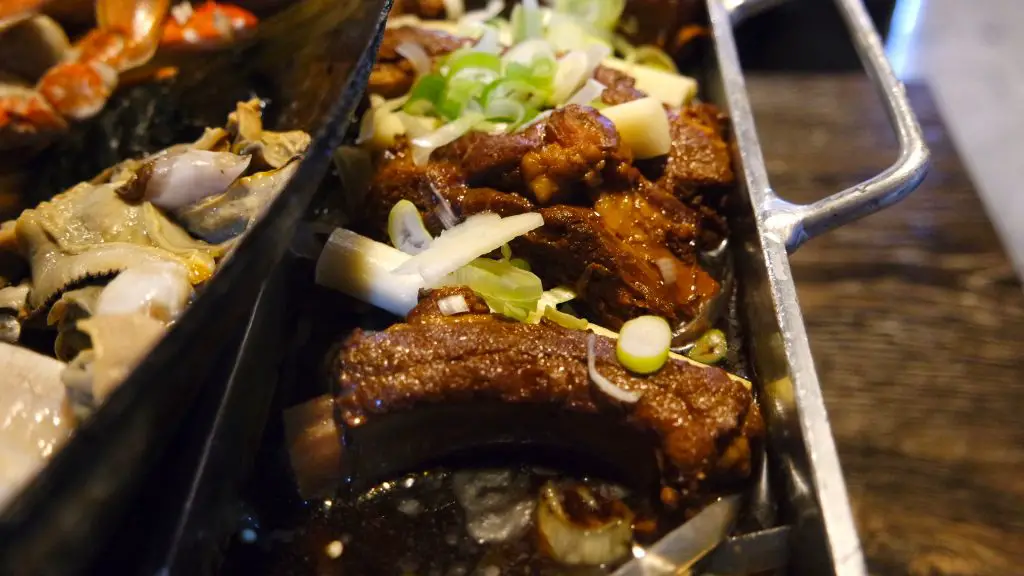 Address: 14 Gangnamdae-ro 114-gil Gangnam-gu, Seoul
Open: Everyday 11:00 – 24:00 (Closed on Sunday)
Maple Tree Restaurant (단풍나무 집)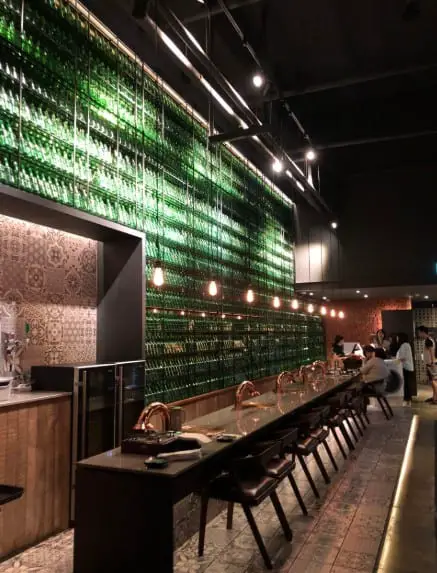 If you are looking for a little bit more luxurious Korean restaurant without going over the budget, we recommend Maple Tree Restaurant. The high service and quality of the Hanu, Korean beef, and pork has caught the attention of CNN, Tripadvisor, and Top Choice Awards.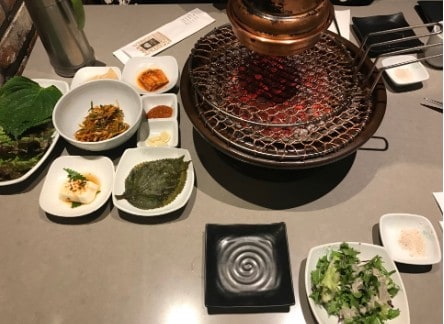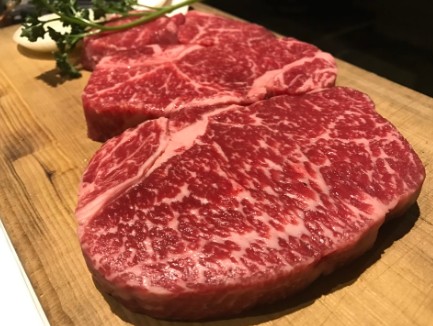 One staff will be in charge of cooking the meat for you so you don't have to worry if you will burn it or not. Also, the modern interior and cool ambiance topped with the fresh side dishes will make you see why we recommend Maple Tree Restaurant.
We recommend getting the Lunch special as well. The traditional beef stew, galbi-tang, is delicious! 
Address: BF1 Mokwha Milart, 113 Teheran-ro, Gang nam gu, Seoul, Gangnam station exit 1 or 12 is the closest
Open: 11:30 a.m.- 10:30 p.m., Lunch special 11:30 a.m.- 3:00 p.m.
Baek Jong Won's Wonjo Ssambabjib (백종원의 원조 쌈밥집)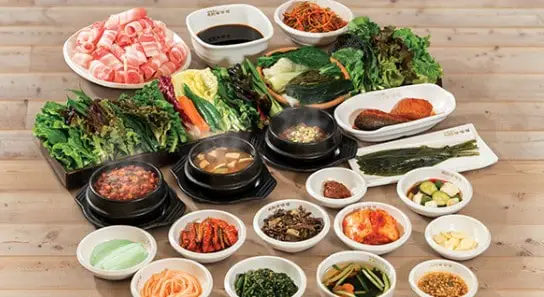 Koreans love to eat Ssam. Ssam is meat wrapped around vegetables. This healthy way of eating meat while consuming lots of vegetables has become a staple food in Korea. To get the best experience, we recommend the famous entrepreneur and chef Baek Jong Won's Wonjo Ssam-bab-jib. I love how the restaurant displays what type of vegetables we are eating. There are 20 kinds to choose from!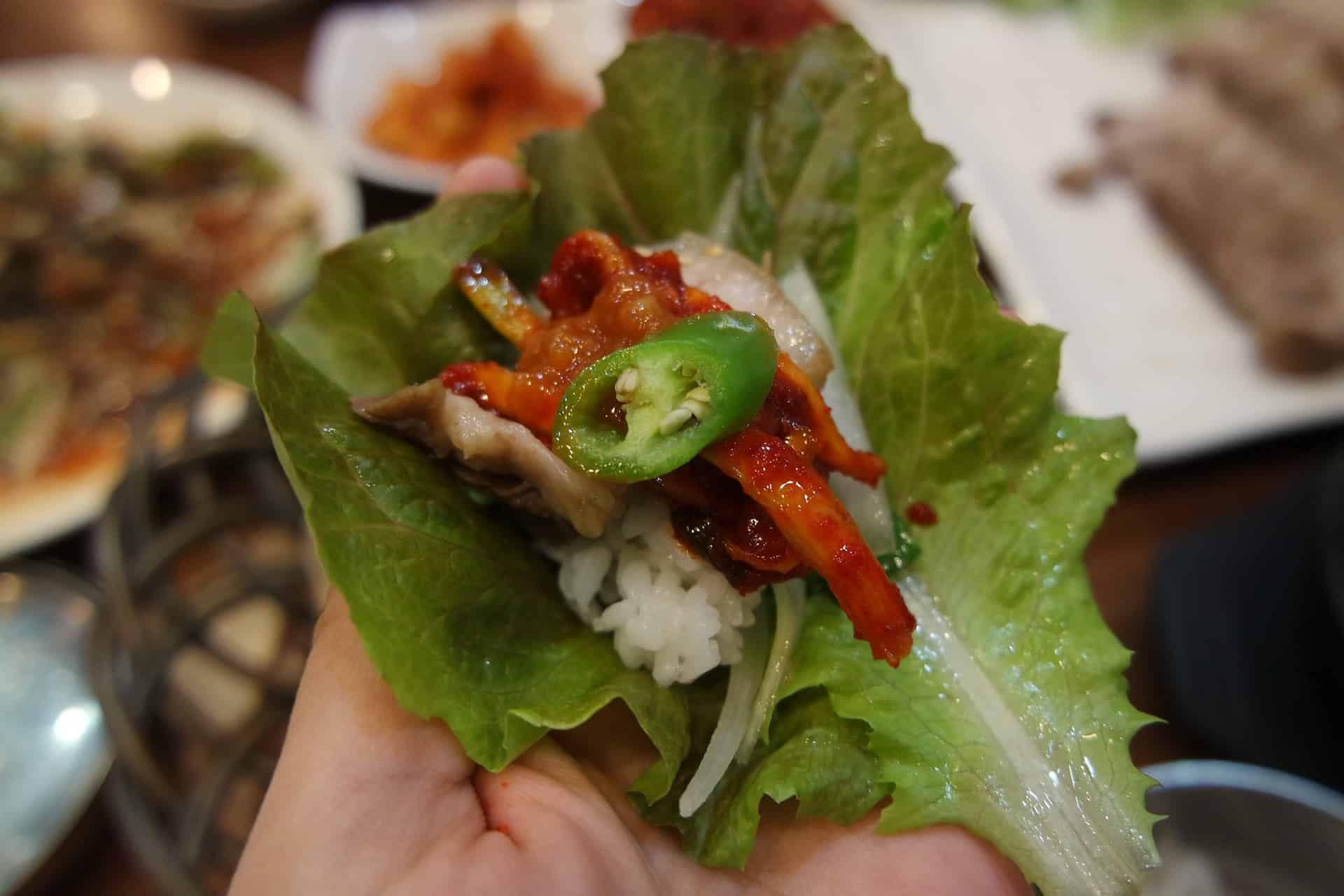 Address: Shin Banpo, Seocho-gu, Seoul 194 Gyeongbu Bus Terminal No. 8-6 (underground 1)
Open: 11:00 a.m. – 10:30 p.m.
Doore Noodles (두레국수)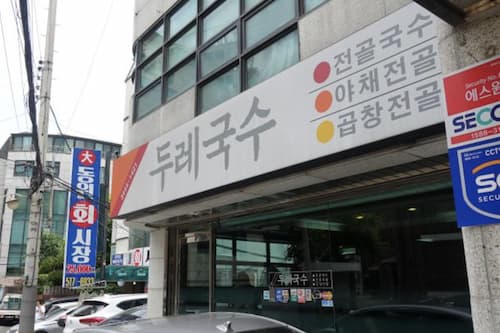 Located in Apgujeong and Yeoksam, Doore Noodles is a very popular restaurant among Korean locals. The best menu here is noodles and hotpot. Their signature dishes are "doore noodles" and savory "bibim-noodles", and the spicy hotpot is also a bestseller. The rich taste of doore-guksu has already been introduced several times on TV show!
The noodles and bibimbap that come out generously for the price are enough for a hearty meal. By the way, are you tolerant of the line at the restaurant for delicious food? Because, if you go during lunch and dinner time, you will have to endure long queues.
Address:

 28, Dosan-daero 37-gil, Gangnam-gu, Seoul

Open hours: 11:00 – 21:00 | Weekends closed
Tel.: 02-3444-1421
Gosoo Dak-Galbi (고수 닭갈비)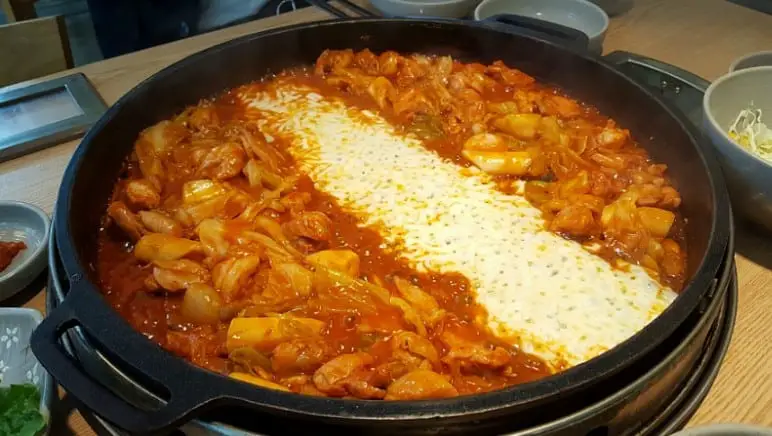 Gosoo Dak-Galbi is spicy chicken and cheese. Yes, cheese! Gosoo means 'master' in Korean and this place specializes in this Korean chicken specialty.
The chicken is complimented with gooey cheese to mild out the spiciness. You can also add toppings like sausage and noodles to the spicy chicken. If you want to try something new, we recommend Gosoo Dak-Galbi. The sweet and spicy red sauce is hot but a good tasting hot because you can't stop eating it. (My mouth is watering just writing this!)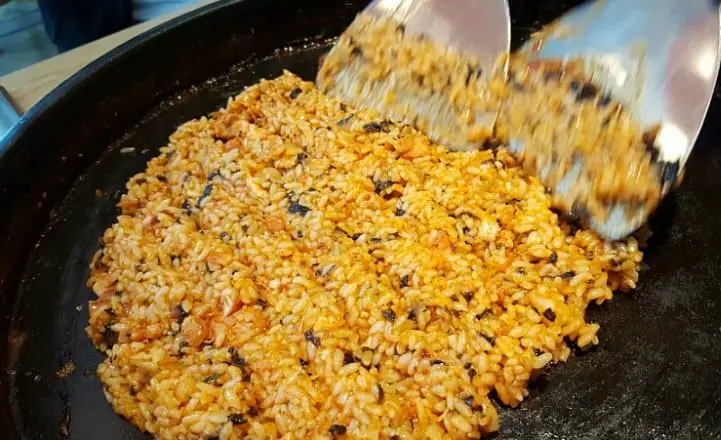 Make sure you finish it off with mixed rice! 
Address:

 635-11 Yeoksam-dong, Gangnam-gu, Seoul

Open: 11 a.m. – 10:30 p.m.
Slow Brew Pub (느린마을양조장)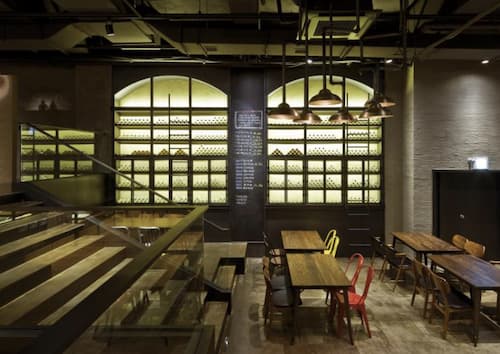 느린마을양조장 is the first urban-style makgeolli brewery in Korea where you can taste fresh makgeolli. This Slow Brew Pub offers fresh makgeolli divided into spring, summer, autumn and winter flavors according to the degree of aging and delicious food that goes well with it. In addition to a variety of Korean dishes like Jeon and boiled pork slices, fusion menus such as grilled garlic pork belly and salad pasta are also available.
Another bestselling menu is Coctail Makgeolli. If you are curious about the combination of fresh and sweet fruit and makgeolli, try it. 🙂 You will have a non-alcohol option. What's more, you can drink unlimited makgeolli for 2 hours by paying just 11,000KRW.
Address: 7, Seocho-daero 73-gil, Seocho-gu, Seoul
Open hours: Mon. – Sat. 17:00 – 00:00 | Sun. 16:00 – 23:00
Tel.: 02-587-7720
SUPERZIP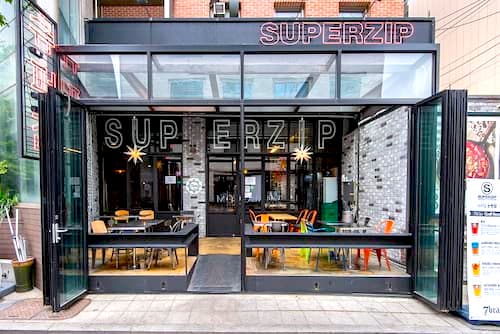 Do you like Korean street food, Tteokbokki? If so, how about visiting this SUPERZIP? It's nice to be able to eat snack foods with beer until late. The popular menu at Superjib is Garlic Tteokbokki with plenty of whole garlic and garlic sliced chips. More, seafood cheese tteokbokki, royal tteokbokki, triple cheese tteokbokki, and assorted tempura, etc. Not only it tastes good but I also love this hip and trendy interior unlike other Korean fast food restaurants.
Additionally, Superzip was introduced on Korean TV show as a favorite home of many K-drama stars. So if you are looking forward to a surprise meeting with a star, let's visit it late.
Address: 14, Eonju-ro 130-gil, Gangnam-gu, Seoul
Open hours: Mon. – Sat. 11:00 – 23:00 | Sun. 11:00 – 22:00
Tel.: 02-540-1591
Instagram: @superzip_topokki_/
SPC Square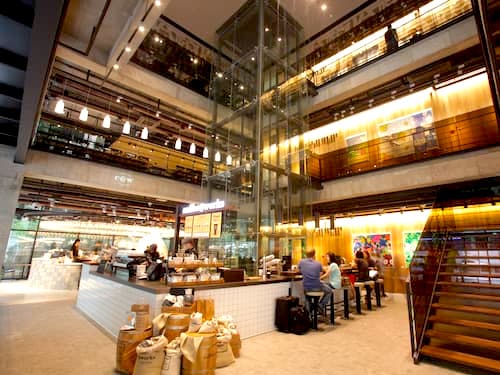 If you go straight from Exit 4 of Gangnam Station, you will see SPC Square, a large complex dining space. There are cafes and restaurants from the 1st to 4th floors, so you can have coffee, dessert, brunch, pizza, etc. in one place without worrying about choosing the menu. With its modern and warm interior, as well as instagrammable spots, it is the perfect dining spot.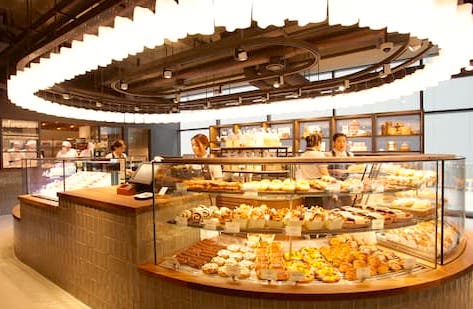 Address: 352, Gangnam-daero, Gangnam-gu, Seoul
Open hours: 11:00 – 22:00
Tel.: 02-567-9192
Nolboo Budaejjigae (놀부 부대찌개)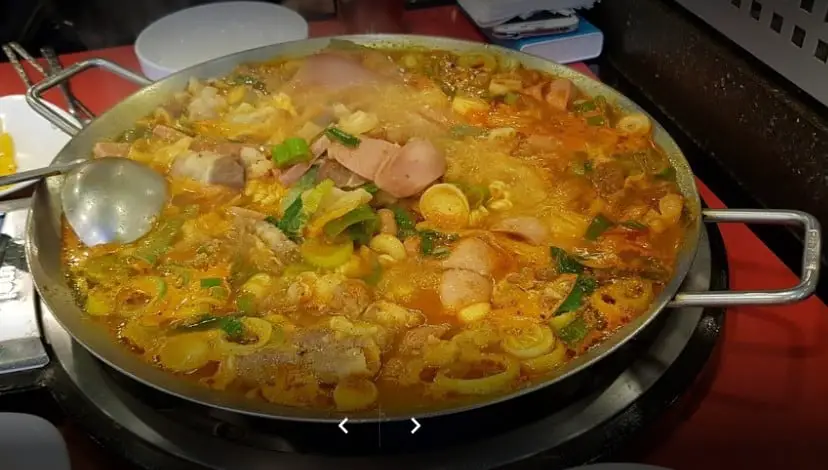 Budaejjigae is a Korean spicy sausage stew. It was created after the Korean war from leftover can sausages, ham, noodles, and beans. Koreans have come to indulge in Budae-jjigae for the taste and fullness of this stew.
The kimchi and gochujang or red hot pepper paste are blended with beef stock and topped with sausages, ham, noodles, beans to give it the extra kick. We recommend trying Budae-jjigae, I have a feeling you will like it or maybe even love it! 🙂
Address: 40 Teheran-ro 1-gil, Yeoksam-dong, Gangnam-gu, Seoul
Open: 24 hours
Youngji's Pojangmacha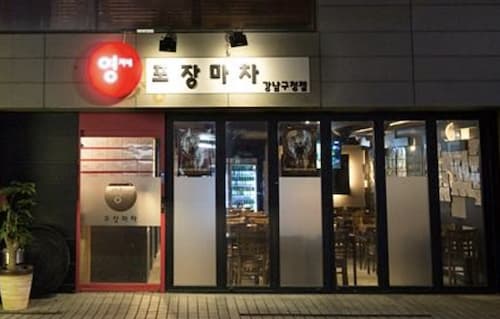 Originally, Pojangmacha is a small tent-style Korean pub on the street, and if you are a Korean drama fan, you may have seen it at least once. Unfortunately, it is difficult to find it these days. So, if you want to feel the atmosphere of a Pojangmacha, you can go to a Korean bar like the one, Yeongji's Pojangmacha. Here, you can have delicious Korean foods that go well with, makgeolli, soju, beer, and other alcoholic beverages.
This place is run by singer and K-pop idol vocal trainer Youngji. Thus, here you can see autographs of celebrities who have visited this place. Because many entertainment agencies are located nearby, many K-pop fans enjoy the Korean-style drinking culture here. 🙂
Address: 24, Dosan-daero 89-gil, Gangnam-gu, Seoul
Open hours: Mon. – Thu. Sat. 18:00 – 02:00 | Fri. 18:00 – 03:00. | Sun. 19:00 – 24:00
Tel.: 070-8154-4861
The River Marina
The River Marina Cafe is a place where you can experience a different kind of relaxation with a fantastic view of the Han River near Banpo Bridge. Not only you can use a cafe and restaurant but also the yacht is available under the reservation. They offer high-quality coffee and dessert with the luxury brand 'TONINO LAMBORGHINI LUXURY BEVERAGES' imported from Italy. Try it without any hesitation! The brunch set is sold only from 10 am to 2 pm on weekdays and costs 9,900 KRW! What a great deal! Isn't it ;)?
Despite the awesome view and reasonable price, it is not crowded on weekdays as I thought. So if you want to see the night view of the Han River in a leisurely manner, I recommend visiting by all means.
Address: 39, Sinbanpo-ro 11-gil, Seocho-gu, Seoul
Open hours: 11:30 – 22:00
Tel.: 02-595-1975
Famille Station
Famille Station is a dining complex in a three-story building connected to the Express Bus Terminal. If you stop by this bus terminal to go to the southern regions of Korea, such as Busan or Gyeongju, it would be good to visit to satisfy your hunger. Designed with the same theme as New York's Grand Central Station, there are many restaurants, cafes, and a beauty salon, etc. Not only Korean food, but also there are Chinese, Thai, Italian restaurants, dumpling houses, and more!
Address: 176, Sinbanpo-ro, Seocho-gu, Seoul
Open hours: 10:00 – 22:00
Tel.: 02-6282-0114
Conclusion
Finding great local restaurants and tasting traditional food is one of the main purposes of our trip. South Korea is famous for its unique culinary culture and recipes. I hope you can find amazing Korean food during your travel here.
If you are looking for vegan restaurants in Seoul, check out this post for the best vegan restaurants in Gangnam. You can taste Korean food and experience Korea at the above 7 best traditional restaurants in Gangnam. Afterward, you can also experience the best of Gangnam by making the ultimate Gangnam itinerary!
You can also use the MangoPlate app to find good restaurants near you. For more information check our post, 'Best Apps for Traveling to Korea.'
You may also like
IVK's Top Picks – Day Tours, Tickets, and Travel Activities
Seasonal Picks!😍