Last Updated on November 20, 2020
How many natural parks in Seoul do you know about? Certainly, there will be around 10 including Hangang Park which you can name. It is no more surprise that first-time travelers to Seoul may omit a visit to nature parks in Seoul. Korean parks are perfect to take your friends and family to enjoy some chillaxing time in the best possible way. 
Here you can enjoy family time, see animals, visit museums, go on a picnic or just stretch out on a mat to relax. This can also be an amazing way to socialize with people or watch flocks of Koreans enjoying themselves with their families and friends. Nature parks in Seoul have the ability to offer you much more to enjoy. 
Here we have compiled a list of the best parks in Seoul to visit
One of the most popular parks in Seoul
The Hangang River is running towards the heart of Seoul, Yeouido. Yeouido is known as home to political, broadcasting, finance and banking world. However, when it comes to Yeouido Park, then this is the most accessible park with public transport.
In the spring season, the visit to this park can stun you with the popular Yeouido cherry blossom festival. Also, it can be a great opportunity for you to set up a camp here doing outdoor barbeque or so. Most of the Korean people prefer to place mats and tents here and order delivery foods to the park. It's amazing even you can get any type of delivery food in an outdoor park! That's Korean's one of the favorite things to do in the spring and autumn season.
Moreover, it can be an amazing and crowded place for couples and friends to spend weekends and evenings. From bikes to hoverboards, Yeouido park can allow you everything which you can consider as personal transport to wander around. Don't miss watching the sunset here that is a breathtaking view.  
Address: 120 Yeouigongwon-ro Yeongdeungpo-gu Seoul
342m from National Assembly Station Exit 3 (line 9) or Yeouinaru Station (subway line 5) exit 1 or Yeouido Station (subway lines 5, 9) exit 3
Phone: +82-2-761-4078
Open hours: 24 hours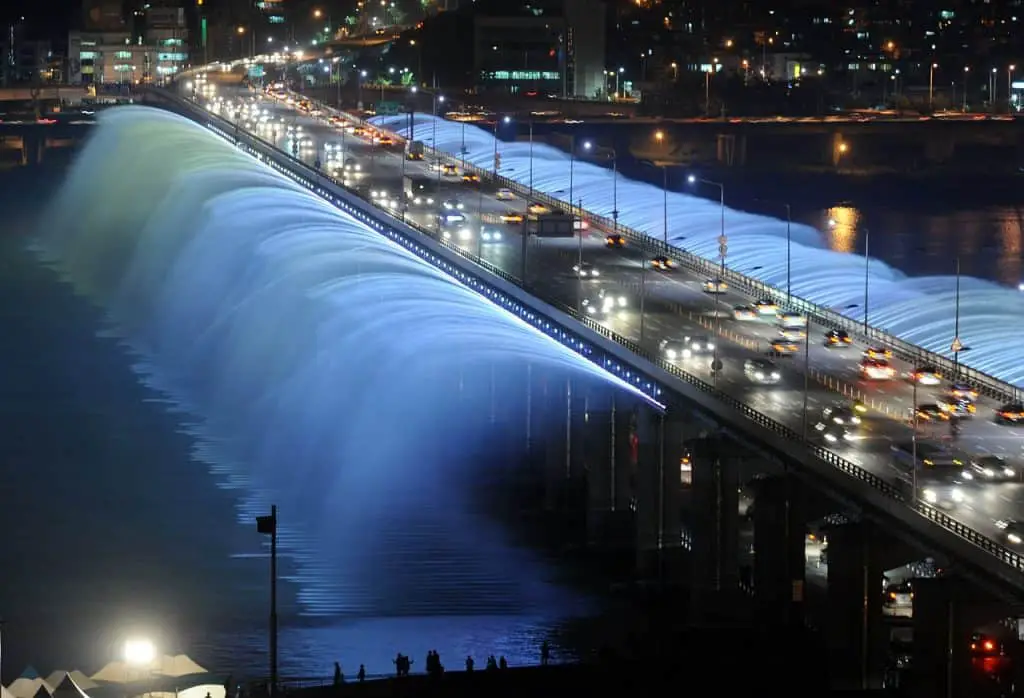 Best place to see the city's night view from the parks in Seoul
This park is a kind of a cheat, because there are miles of parks all around Hangang River. Each of these parks is containing their favorite section, From the Seoul Forest just beyond to austere shores via busier Banpo Hangang park to the most popular Yeouido Park. 
However, the more popular areas of stunning Banpo Hangang park are featuring convenience stores. Some of these are also offering an attractive combination of fireworks and beers. Also, you can find amazing pavement to walk or bike along the river.
 Simply head to the river to reach Hangang park. If you are a biker then, fortunately, you can also find bikes for rental here to wander around the park. Besides, plan a visit to Banpo Hangang park to have delicious Chi-maek that means Korean fried chicken and beer. It is the best place to watch the stunning two-tier Banpo bridge, which is a famous location to enjoy the Moonlight Rainbow Fountain. Here, you can check the time of the show.
Address: 40 Sinbanpo-ro 11-gil Seocho-gu Seoul
1030m from Sinbanpo Station Exit 1 (line 9)
Phone: +82-2-591-5943
Open hours: 24 hours
The closest to the sky of five parks of World Cup Park, this park was named right as Haneul. It is because in Korean Haneul means Sky. Previously, this park was a landfill, but now the entire location has been decorated in a beautiful way to overcome shameful past of it. Haneul Park is aimed to remain natural and harnessing natural wind energy with five large wind turbines. It is also containing few manmade art structures. 
Haneul Park is most beautiful in October when the golden Eulalia grass waves fill the fields, and cosmos flowers are adding beauty to the park in varying pink shades. But don't worry because summer is also never lacking its charm. There're multiple photo zones and make sure to capture yourself on one of the benches which are surrounding the edge of the park to view a perfect Seoul Spread out to the sky. 
Before heading to the park, keep in mind that there are no shops up there, therefore, it is always a good idea to prepare drinks and snacks.
Address: 95 Haneulgongwon-ro Mapo-gu Seoul
World Cup Stadium Station Exit 1 (line 6)
Phone: +82 2-300-5574
Open Hours: 05:00 – 22:00
Yanghwadaegyo Bridge which is connecting Dangsan-dong and Hapjeong-dong passes over Seonyudo Park. This is actually an awesome island that is located in the middle of the Han River.
Originally it was known as Seonyubong Peak, which is carrying the meaning of a small peak where godly spirits have played. This is also known as the "Park of water" because this place has formed by renovating a water filtration plant. While, at the present time, this beautiful park has been divided into multiple themed gardens including Garden of Green Pillars, Garden of Time, a greenhouse and much more to enjoy. 
Overall, this ecological park can be perfect for couples and families to have wonderful memories and spend some unforgettable time together.
Address: 343 Seonyu-ro, Yeongdeungpo-gu, Seoul, Korea
700m from Seonyudo Station Exit 2 (line 9)
Phone: +82-2-2634-7250
Open hours: 06:00 – 24:00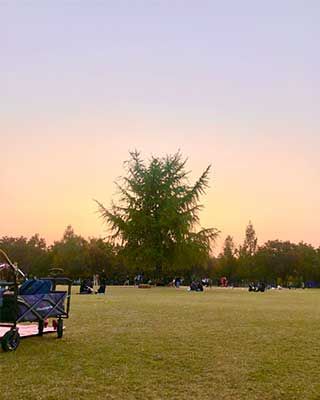 Koreans always have a deep affection for social hubs and green spaces in the urban cityscape. Besides other amazing nature parks, the Seoul forest is also a magnificent park that is said to be replicated from Central Park of New York. Unlike its name, Seoul Forest is not any forested area. 
Rather it was a Royal Hunting ground once, and also a military inspection facility. However, at the present time, Seoul Forest is featuring five particular themed districts, including Ecological Forest, Wetlands Ecological Field, Cultural Art Park, Han River Waterside Park, and Nature Experiencing Studying Field. This can let you imagine how big the park actually is.
Instead of merely putting clutters of wooded areas and green foliage together Seoul Forest is boasting a unique area of a sculptural playground filled with water fountains, unique sculptures, a deer park, a butterfly house, cycling paths. Artistic installations of every aspect of Seoul Forest is making it a unique place to visit.  
Address: 273, Ttukseom-ro, Seongdong-gu, Seoul 
5min. walk from Seoul-forest Station Exit 3, 4 (Bundang line)
Phone: +82-2-460-2905
Open hours: 24 hours
Olympic Park is an icon of the Seoul Olympic Games 1988. This stunning park contains an abundance of sculptures and other permanent artworks displayed in the memory of this global event of sports. While, inside the park, you can also find mesmerizing Mongchontoseong, which is an ancient earthen rampart dating from the Baekje Kingdom. The Peace Square and vast lawn area are also there with pleasant natural surroundings. Furthermore, it can be an amazing opportunity to enjoy a wonderful experience of inline skates or biking.
Multiple gymnasiums and sized squares in the park are some of the most popular venues in Seoul for sporting events and music concerts. With 1,421,494m² floor space, this beautiful park is combining an uncontaminated natural environment along with various art displays and making it a stunning and a favored location to shoot films, photographs, and TV show.  
Address: 424 Olympic-ro, Songpa-gu, Seoul  
Olympic Park Station Exit 3 (line 5)
Phone: +82-2-410-1114
Open hours: 05:00 – 22:00
Yongsan Family Park 
On a bit rolling hills, Yongsan Family Park is adjacent to Korea's National Museum. The park is meant to offer a lively and lovely place to cool off after taking exhibitions in the National Museum of Korea. Here is scattered with picnic chairs, tables, and huge space to spread out a mat to relax.
 Plenty of vendors can let you fulfill your drink and food needs with ease. Yongsan family park also contains a formal garden and a lovely pond, artificially triumph with rocks and reeds arranged, and an artificial waterfall. Visiting this park on a nice day can let you enjoy some best and unforgettable time here. 
Address: 137 Seobinggo-ro Yongsan-gu Seoul
686m from Seobinggo Station Exit 1(Gyeongui-Jungang line)
Phone: +82-2-792-5661
Open hours: 24 hours
Namsan Park is one of the most easily accessed parks in Seoul which every visitor must visit who comes to Seoul. This park is located at the Mountainside of Namsan. Here you can go for a walk through a beautiful path that is circulating around the base of the mountain. The paths to reach Namsan park are pretty easier to walk and well-maintained. Besides, reaching the mountain top can take up to an hour but you will surely enjoy walking there.
Although this park is the best to visit around the year spring and fall can be the best times to be there. Because the entire park will come out in blossom in spring while in fall walking underneath fallen petals can let you enjoy a great experience with ease. Check more things to do in Namsan here!
Address:  231 Samil-daero, Jung-gu, Seoul
Roughly 10min walking from Myeong-dong Station Exit 1(line 4)
Phone: +82-2-3783-5900
Open hours: 09:00 – 23:00
Final Thoughts about parks in Seoul
Some of the nature parks in Seoul are known as popular places for weekend gatherings with a rich diversity of flora and fauna, crammed with joyful faces of friends and family bonding, over palatable picnic lunches, full-filled activities, and hearty conversations. While others can be idyllic escapes away from the city life's hustle-bustle. Whether you are a city dweller or not, here we have some of the best nature parks in Seoul to relax and enjoy the time. 
Every park in Seoul is having its own charm with some unexpected surprises which are popping up at every corner there.  However, if you want to take advantage of the greatest resources of Seoul, then spring and Autumn can be the best time for you to visit Seoul.
You may also like
IVK's Top Picks – Day Tours, Tickets, and Travel Activities
Seasonal Picks!😍