Last Updated on January 18, 2021
It won't be wrong saying that your visit to Korea is incomplete if you have not tasted the local and cultural experiences in Seoul. Seoul is one of the brightest cities in Asia, full of a lot of attractions for visitors from around the world. Not only Seoul is quite famous for its state of the art museums, old temples, beautiful and charming parks, festivals but also its local and cultural activities. Aside from enjoying the historical places and fun and amusement parks, you can also take part in the cultural activities that have the taste of Cultural experiences in Seoul. 
South Korea offers a wide variety of cultural experiences in Seoul that ranges from traditional rituals to modern K-pop dance
Seoul is the hub of cultural and traditional attractions such as gastronomic delights, Buddhist temples, markets, cooking classes, dance and music theaters, handicrafts, beauty salons, and a lot more. Korea never disappoints its visitors by offering its unique culture that portrays both traditional and modern traits. If you want to visit shopping markets, tranquil villages, examples of rich Cultural, ancient historic places, and cultural attractions of Korea, you will get to have all these cultural experiences in Seoul.
While in Seoul, you can take a good start by wearing traditional Hanbok and taking a class to learn how to make Kimchi. Learn to make the best Kimchi from Korea's Master Chefs in Korea. Kimchi is a traditional Korean cuisine that can serve as the most exquisite addition on your tour. You can enhance your cooking skills as well as learn to make the traditional food of Korea. Wearing cultural clothes i.e., Hanbok and making traditional dishes "Kimchi" in class, will give you immense pleasure and a feeling that you would never want to miss next time you visit Seoul. 
The best part about attending a Kimchi Class is that you will not only get to learn how to make it, but you will gain healthy knowledge about the history and culture of Korea. You will be under the supervision of Professional Instructors of Kimchi Academy. Another plus point for you is that you can take your Kimchi home after the class.
To get admission to Kimchi making class + wearing Hanbok, you will have to pay 36,000 KRW where you can also get special offers and discounts up to 25%.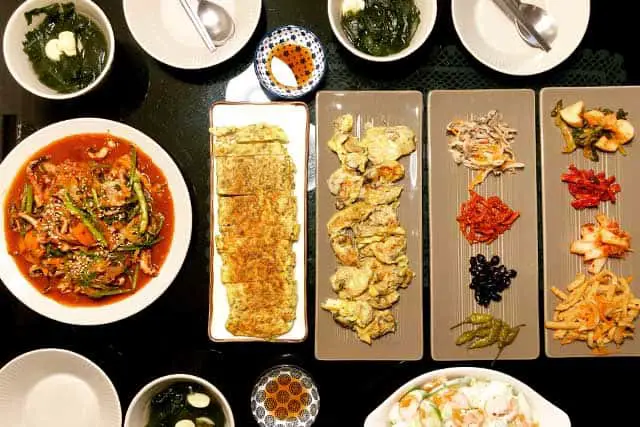 Korean Kimchi Academy will train you to make the best Kimchi. Similarly, you can join Korean cooking classes to learn the secrets of making the best Korean cuisine. Moreover, you can get into the world of cultural experiences in the Korean food section.
As a part of the cooking classes, you will visit the traditional local market and have an intensive view of the market. Your tour will be completely guided where you will be able to know about the ingredients that might be used in the vibrant Korean cuisine. Also, you can purchase the ingredients for the cooking class and finally prepare yourself for making the best Korean foods.
During the class, you will learn to make at least 2 new dishes every day throughout the week. Along with a complete guide to make food, you get all the equipment, lunch, drinks and facility of live commentary in the English language. 
Before registering for cooking class, note that you can participate with your family as well and check the price for the cooking class below :
Free for children aged 0-2
Child ticket: Age 4-13
Adult ticket: Age 14+
As the menu varies from day-to-day, If you are vegetarian, I suggest you choose either the Wednesday or Friday class for Non-meat Korean dishes.
To have the best cultural experiences in Seoul, you must not miss the chance to attend the Korean tea ceremony in Seoul. In Korea Tea World located in Jongno-gu Seoul, you can experience the Korean tea ceremony. First of all, you get a lecture with Professor Eunju Seo to learn the customs and proper etiquette during a tea ceremony. In this lecture, you will get to know about the history, cultural demonstration, and fascination of the tea ceremony. 
After the session is completed, you will be given the traditional demonstration of how you can prepare green tea. You would be amazed to know that the roots of Korean tea history are found in the culture of Japan and China. It means that the Korean tea ceremony is a blend of the two country's ceremonies. That is full of dance-like hand and arm movements that more kind depicts the robotic dance. Click here for more information and reservation.
Before registering for cooking class, an important point to note here is that there is a chance of class cancelation in case of mismatched requirements. A minimum of 4 participants is required for this class. If the minimum number of participants is not met, you will be informed 1-3 business days prior to the activity. And you will be given the option to reschedule or request a full refund.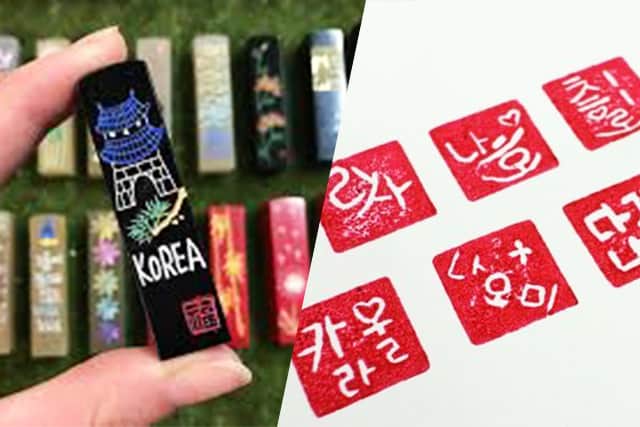 As the debate continues on the traditional and cultural experiences in Seoul, South Korea keeps fascinating its visitors with various attractions. Take your part in learning how to make hand-engraved stamps. In your classes for making handmade stamp engraving, you can customize your stamp and personalize your seal. You can learn the beautiful ways to decorate your scrapbooks and letters. 
Engrave the stone yourself and create unique stamps by hand carving different patterns, designs, or even your name. The traditional handmade stamps engraving illuminates the calligraphy techniques, at top design the seals in unique ways, knife cutting techniques, and lot more. You will find handmade engraved stamps having deep roots of cultural experiences embedded in them. 
When you start learning to make the hand-engraved stamps, you need to follow certain rules. 
Taking precautions while using tools
Special care to be provided to children when they are performing the activity. 
The same fee to be paid for both adults and children. 
Participants must be older than 7 years. 
Click here to book the experience.
Hand down one of the best places to have cultural experiences of styling and makeup in Seoul. Don't you want to get the styling and makeup on your face just like it was done for the famous Korean drama serial star Cheon Song Yi? Not only that, but you can also choose a style as you like to have a look of your choice. All of the makeup and hairstyling are available at very affordable rates at luxury makeup and hair salon. 
If you want to experience only Korean hair cut and styling without makeup, it costs around 40,000 KRW by professional and famous designers. The salon also has hair designers who speak Chinese and English so that you can easily convey what you require. You might also get a chance to meet the famous star and Korean actors of its drama industry. 
Furthermore, you can get 1:1 customized makeup class from a professional makeup artist. You'll learn how to choose color cosmetics according to your skin type, refine and draw eyebrows based on your face shape, and use various makeup kits as well. Head here for details.
So, without delaying any further, start transforming yourself into pure Korean look by utilizing these professional and skillful artists. All you need to do is to make a reservation for yourself and arrive at least 10 minutes before your appointment. 
Seoul is best known for its plenty of cultural experiences as well as modern styling and beauty treatments that you can have here. Nail salons offer you a unique beauty regime for your nails as a part of your cultural experiences in Seoul. Their basic offerings include 3D nails, manicures, glittery painted on your nails, acrylic nails of varying lengths, self-nail machines, and a lot more. All you need to do is to pick and choose the best one for your nails. The important thing that must be kept in mind while choosing from a variety of options, you will have to pay different prices according to what you choose. Rest assured, the worthiness and value for money. Here, you can check the location and reviews of the nail salons in Hongdae.
To have the best experience of nail art in Seoul, you must consider visiting mail salon with automated nail machines. An automated mail machine is a unique and fun way to do get your nails done. You might be familiar with the mobile printer for nails named O2Nails Mobile Printer. In addition, this unique technology allows you to choose any style for your nails on your mobile phone connected with the printer. Make a selection and press print. That's it. The printer starts printing on your nails. Surprisingly you can even print your photographs on your nails because of this amazing technology. For getting both hands done, it will cost you between 20000 KRW to 10000 KRW depending on the style and design. 
Also, you will get customization for your nails in the self-mask shop where you will have perform all the procedures yourself. Though so staff is always there for your complete help and guidance. 
Get yourself immersed in the fun and joy of K-pop dance! That is trendy, having modern and cultural experience in Seoul for you. The enthralling songs are quite vibrant, classy, and immensely pleasurable. 
K-pop is pop-out popular genre music in Seoul, South Korea, where most of the artists and winners are known as idols. The advancements in social media and the increasing technology have spread Korean entertainment throughout the world. The idols we just talked about are not only famous for their visual and aural contents but also for their sense of styling and presenting. If you think that you are a harbor fan of K-pop music and dance, then this is going to be one of the best cultural experiences in Seoul for you. 
If you are looking for unique activities, K-pop dance classes at Real K-pop dance studio are for you. 
You may also like
IVK's Top Picks – Day Tours, Tickets, and Travel Activities
Seasonal Picks!😍