Last Updated on May 25, 2023
For many of you visiting Seoul, trying Korean barbecue restaurants is compulsory on the list of eateries. Even if you have tasted barbecue many times and are not a die-hard fan of barbecue, visiting Korean barbecue restaurants and eating will be a delicious treat for you.  
Korea is the best place for foodies as there are many excellent eateries in Korea. Kimchi, rice, and soup are all kinds of different side dishes that can fill your stomach enough. Besides, It is the most popular cuisine in Korea as it reflects the culture of Korea. Koreans like to spend time together, eat together, and love to sing along. If you are going to try Korean barbecue restaurants, plan a get-together with your friends to double happiness.
Best Korean barbecue restaurants
What is Korean BBQ?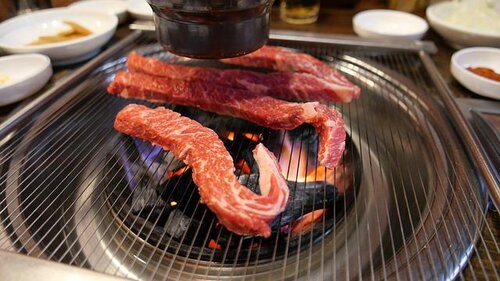 Korean barbecue doesn't just mean meat. It is usually grilled meat, pork, chicken, duck, beef, or even seafood. In Korean barbecue restaurants, you can expect foods often prepared on gas or charcoal grills built into the dining table itself. Also, there are many other side dishes as well that can complement real Korean barbecues. How you eat the barbecue also adds to this treat.
The most famous Korean barbecue is Galbi, Samgyupsal, and Bulgogi. Here you can opt for un-marinated meat or marinated meat which is more tendered and juicier when compared with un-marinated meat.
Popular BBQ Menu Explanation
Samgyeobsal, Moksal, Dwaeji-galbi, and Hanwoo are the popular menu of Korean barbecue restaurants. I would recommend you to try different types of Korean barbecue as various Korean barbecue restaurants offer a defined menu.
Hanwoo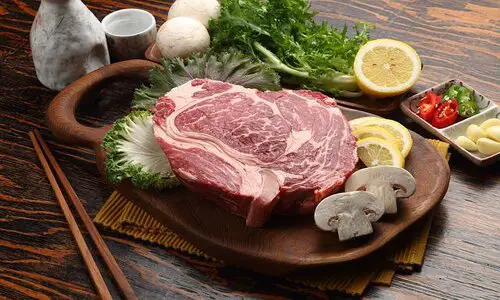 Hanwoo means Korean beef that is raised mainly for meat in Korea. And it's one of the rarest and most expensive meats in the world. Trying this will be an unforgettable experience in terms of tenderness and flavor. The tenderness and marinating of this Korean barbecue meat make it a delicious restaurant dish to try.
Dwaeji Galbi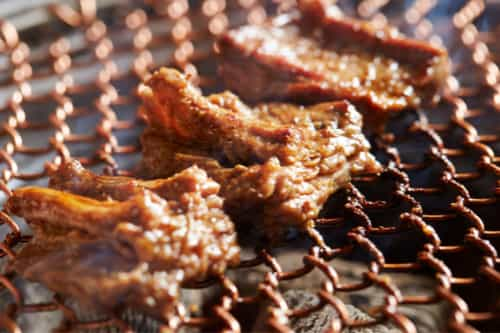 Pork ribs are a standard cut used in gui preparation, the traditional barbecue of Korea. Marinate the ribs in a spicy Gochogang mixture or the sweetest soy sauce, which is usually enriched with garlic, ginger, and wine rice in addition to other things. In Korean barbecue restaurants, ribs are traditionally grilled next to the table and are served with perilla or lettuce leaves. The whole meal is usually accompanied by a dip called ssamjang, fresh vegetables, and side dishes.
Samgyeobsal and Moksal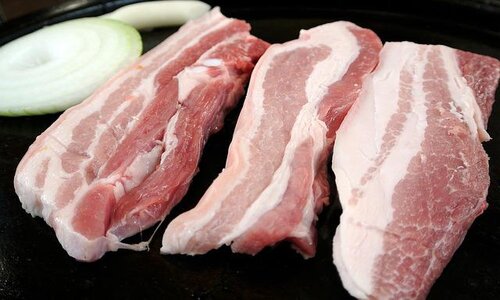 Samgyeobsal is famous for its juicy taste and the most reachable bbq menu in Korea. It is the top choice for Koreans and for foreigners as well. Besides, this soft pork belly is served at low temperature after a delicate touch of a chef. In case you don't like the taste of Samgyeobsal with a fatty part, you can choose Moksal. The texture of Moksal is firm and tough with an abundant flavor. You can enjoy the Moksal as is, after cooking it over high heat.
How to Eat Korean Barbecue the Right Way?
You can enjoy a Korean barbecue, but if you want to have a real Korean barbecue, you need to know how to eat it in the right way like locals do. When you order meat in the restaurant, you can get all kinds of side dishes (Banchan in Korean), which are vegetables, mung bean sprouts, steamed eggs, seasoned soybean sprouts, pickled, etc. for free. Even you can ask them more and more (for free) which is an awesome part of Korean food culture. There will be a lot of food beyond your expectations. As the side dishes are typically served first you can enjoy them before the main menu.  
Cook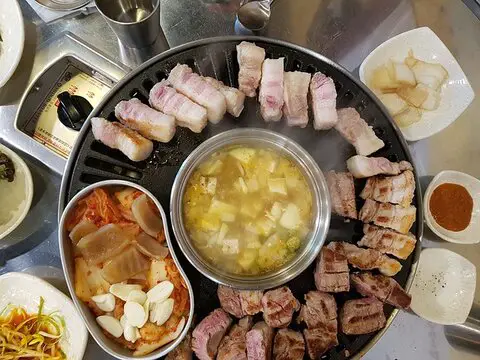 In many Korean barbecue restaurants, the waiter will operate the grill for you on the table. He will set the fire and cook the meat in front of you. If the waiters don't cook meat for you, you can do it yourself; you can hold the kitchen scissors with one hand and tweezers with the other. 
Also, Korean people like to eat not only meat but also other dishes like garlic, mushrooms, potatoes, onion, and kimchi on the grill. You can turn the meat over several times and know when it's ready to eat. If you feel the grill is too hot, you can ask the waiter to control the heat.
Wrap
The Korean way of eating a Korean barbecue is to wrap the meat with leafy vegetables. It's easy! Wrap the meat with grilled vegetables like mushrooms and onion, and some side dishes. This is called Ssam by the Koreans. Take a large vegetable that will serve as the basis of Ssam.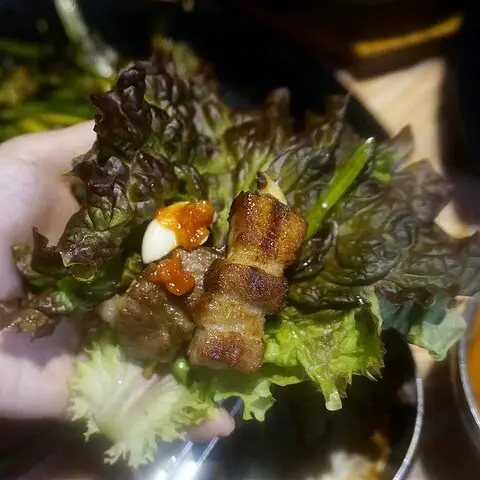 Sesame and lettuce leaves are the most common vegetables for Ssam. On the lettuce, put the meat, seasoned scallion, garlic, and what other ingredients you want with the spice known as Ssamjang, a sauce of soybean with a pleasant flavor. Ssamjang sauce is made from red pepper paste, soybean paste, onion, green onion, sesame oil, garlic, and also brown sugar. Whatever sauces they serve, you can try them all. Surely you can customize your Ssam.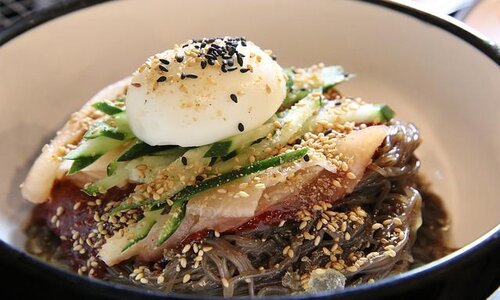 After eating the Korean barbecue, you may be full or want to try some other dishes. There are many types of Korean barbecue dishes after meat, such as spicy noodles (Bibim Naengmyeon), cold noodles (Naengmyeon), and rice with many ingredients (bibimbap), fried rice (bokkeumbap), and hot soup (Jjigae).
Best Korean Barbecue Restaurants in Seoul
Check the list of the best Korean barbecue restaurants and visit at least one of the themes for an unforgettable barbecue experience in Korea.
Hanam Dwaeji Jib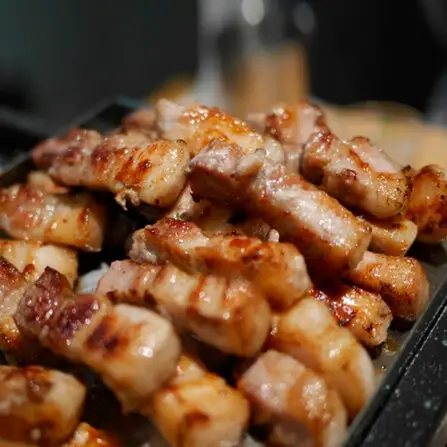 Hanam Dwaeji Jib is my go-to place when I'm tired of grilling myself because the restaurant's staff grills the meat in the most delicious way.
They use the original Korean pork meat, and most of all, they minimize the loss of meat juice (육즙) through unglazing before it comes to the table.
Watching the meat-cutting performance of the employees is another joy to visit Hanam Dwaeji Jib.
Saemaeul Sikdang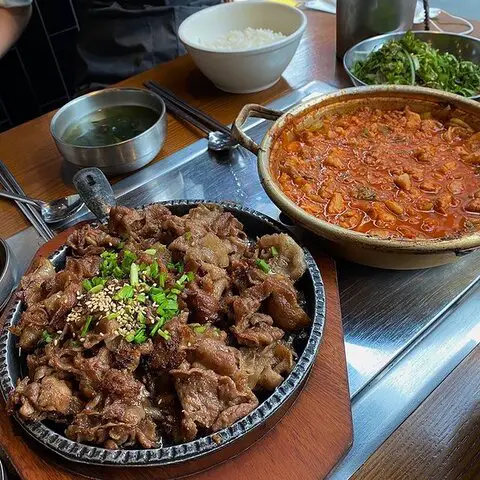 For those familiar with Korean cooking shows, they may have heard of Korean chef Paik JongWon and also his franchise restaurant, Saemaeul Sikdang. Yeontan bulgogi is a signature menu in this restaurant that you should try. It is a little spicy. For those who cannot eat spicy food, you can order their Saemaeul bulgogi which is not spicy like marinated Yeontan bulgogi. Moreover, it's very affordable. 🙂
After having the main menus, try 7-minute Dwaeji Kimchi (Kimchi jjigae) and Naeng Kimchimali Guksu (Cold Kimchi Noodle).
As there're over 200 branches in Korea, you can easily find one near you. The largest one is in Gangnam,
YukTongNyeong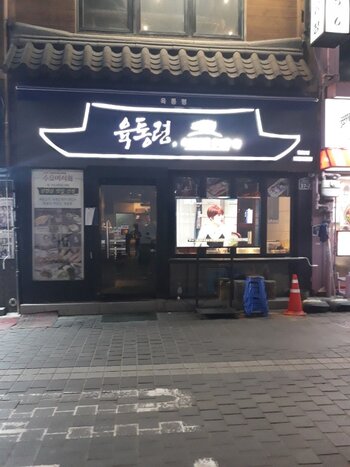 If you like tender and thick Korean barbecue meats, this restaurant might be for you. Yuk TongNyeong is trendy because of its tasty and delicious food and relaxing environment. If you can speak Korean, you would get what Yuk TongNyeong means which is the president of Meat cause Dae TongNyeong means the president in Korean. Haha, it seems like they are very proud of their meaty menu. Isn't it? 😉 One of the main features of this Korean bbq restaurant is that many satisfied customers have indicated that they serve six different sauces so that you can dip the barbecue meat. Moreover, the price is affordable and many Koren TV shows introduced this place as a mouthwatering place. The main branch is in Myeongdong and you can visit other branches in Hongdae, Gangnam, and Incheon as well.
Address: 37-2 Myeongdong 8na-gil Jung-gu Seoul
Open Hours: 11:30 – 01:00
Phone: 010-7445-9111
Web: Yuk TongNyeong Facebook Page
EunJoo Jeong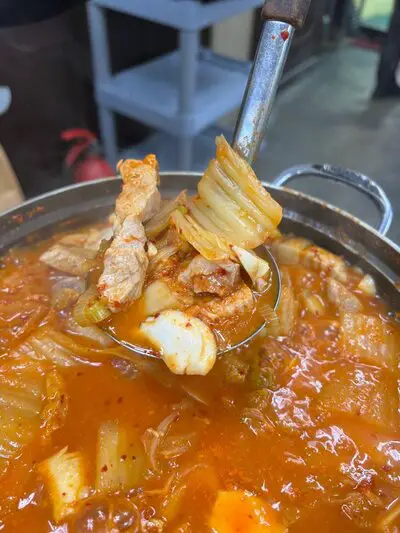 EunJoo Jeong has become a famous restaurant for Korean barbecue after the appearance of EunJoo Jeong on Wednesday Food Talk. It is a Korean TV program that features restaurants that serve delicious food. Since then, the list of Korean barbecue restaurants is incomplete without the name of EunJoo Jeong on the list. Their signature menu is pork belly (Samgyeopsal) with various vegetables and Kimchi Jjigae. Let's try an authentic Korean meal here in the old market located in the center of the city.
Address: 32 Changgyenggung-ro 8-gil Jung-gu Seoul
Open Hours: 10:30 – 22:00
Phone: 02-2265-4669
Gogikkun Kim ChoonBae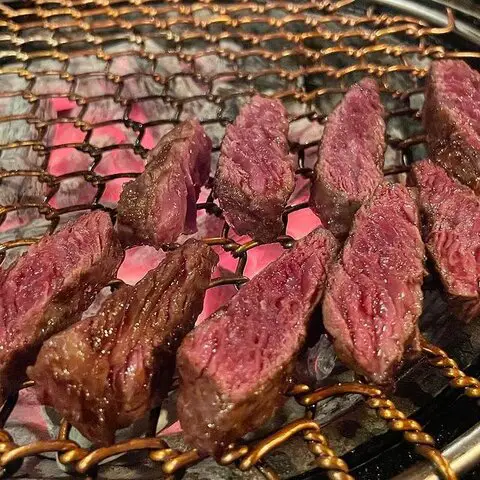 Hongdae is most likely one of the popular places eateries to visit for tourists. The university district frequently visited by the students features affordable shops and Korean barbecue restaurants. Street musicians also add to the charm of this region. Gogikkun Kim ChoonBae is one of the best Korean barbecues in Hongdae. Its decor is very appreciated by many customers because it displays a somewhat unique atmosphere compared to most Korean barbecue restaurants. Moreover, they offer high-quality thick pork belly native to Jeju, beef tartare (Yuk-hoe in Korean), and various wines on the drink menu. You can visit the main branch in Hongdae and also one in Gangnam and Jongno area as well.
Address: 36 Hongik-ro 3-gil Mapo-gu Seoul
Open Hours: Sun. – Thu. 12:00 – 24:00 | Fri. – Sat. 12:00 – 03:00
Phone: 070-7779-5658
Kang Ho Dong BaekJeong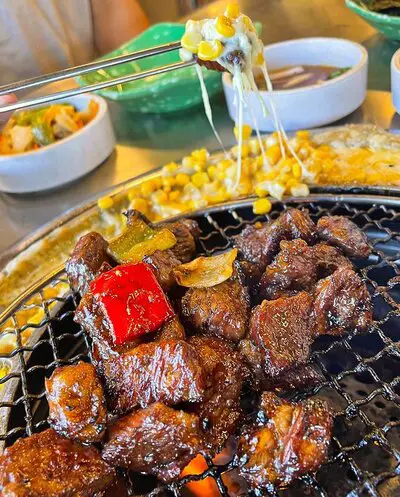 This Korean bbq place is a must to visit for all Korean barbecue lovers in Myeong-dong. Kang Ho Dong is already referred to the name a famous Korean comedian. This restaurant has and is renowned for offering the best flavors of Korean barbecue with a variety of meat options, including ham, beef, bacon, cheese, and other Korean dishes. Try it!
Address: 19-3 Myeongdong 10-gil Jung-gu Seoul
Open Hours: 11:00 – 24:00
Phone: 0507-1432-6780
Nongolgip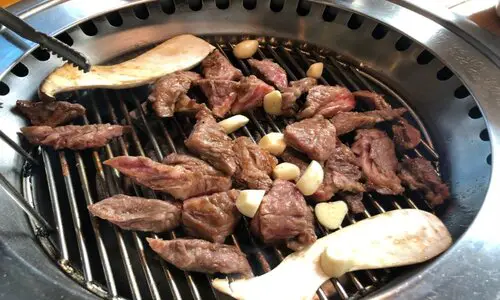 Nongolgip (Nongil house) is one of the best barbecue chains at the best value for money. No big claims are made with daily shipments of fresh meat from the farm, but generally, they do everything good for half the price, with a good selection of stews and rice. Try the outside skirt or galbi. A wooden cabin theme aspires to the décor of this restaurant. Furthermore, It is an ideal place for small casual meetings with large dining rooms. The restaurant's success has produced a full franchise, but the original locations of Nonhyeon and Chongdam are still the favorite locations.
Address: 19 Dosan-daero 8-gil Gangnam-gu Seoul
Open Hours: 10:00 – 24:00
Phone: 02-549-9930
Wangbijib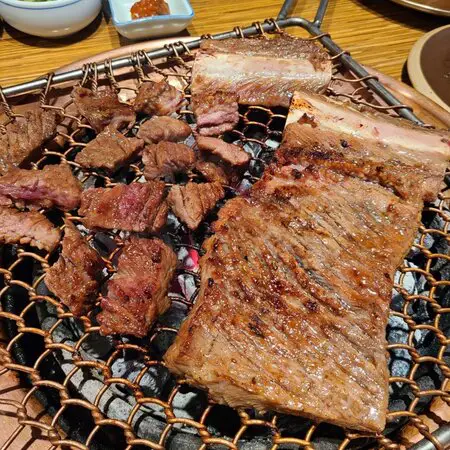 If you are visiting Seoul for the very first time, and want to see the experts roast the meat before eating the delicious barbecue, Wangbijib is for you. Make Wangbijib the first barbecue stop for you. The staff will prepare the cuts you choose for you. Also, your dress would not smell like smoke and meat because of the good ventilation system. 
All types of salted meats melt in the mouth, but for the best experience, choose marinated rib, sirloin steak, or other marble cuts of your choice. The marbling gives the meat desired richness without fatty flavor.
Address: 24 Samil-daero 15-gil Jongno-gu Seoul
Open Hours: 11:30 – 22:30
Phone: 02-720-3066
Daedo Restaurant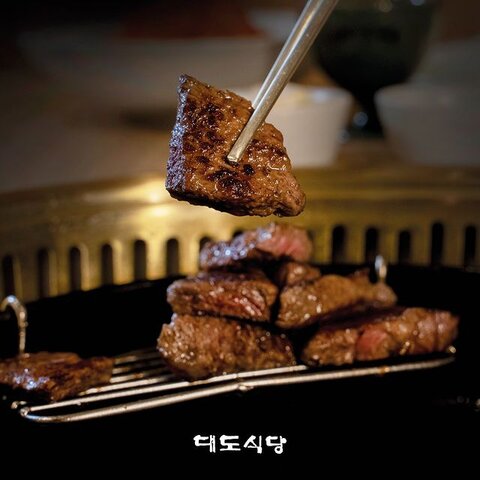 One of the best ways to treat yourself is through food! Of course, food that is healthy and delicious. We recommend the Daedo restaurant's hanwoo meat. The grilled Korean bbq is a taste to remember as the Daedo restaurants' know-how is placed into every bite. Since 1964, the restaurant has been serving premium Korean hanwoo bbq. Treat yourself today!
서울 성동구 무학로12길 3
02-2292-9772
Bongwoohwaro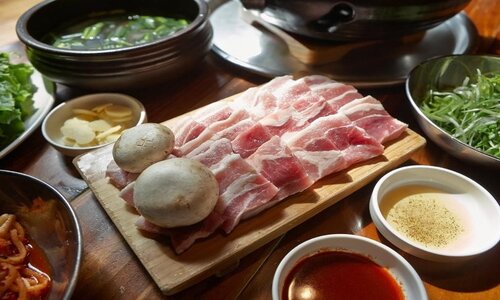 Bongwoowharo specializes in pork belly meat. The thick and juicy meat is cut just right so you can savor each piece. The pork is cooked under charcoal fire harmonizing the pork flavor and fire. They also have bibimbap, ddaengjang jjigae, and raw meat bibimbap to go with the Korean bbq or to eat just alone.
서울 강남구 봉은사로18길 76 스타 팰리스
02-558-8452
You may also like:
IVK's Top Picks – Day Tours, Tickets, and Travel Activities
Seasonal Picks!😍