Last Updated on August 17, 2023
With its bustling streets and vibrant energy, Seoul is undoubtedly a city of countless cafes. Yet, for those yearning to escape the urban hustle and immerse themselves in spacious and Instagram-worthy settings, the outskirts of Seoul offer a hidden treasure trove of giant cafes. These sprawling establishments provide an exceptional opportunity to unwind, relish delectable treats, and bask in the serenity of nature. In this article, we'll take you on a journey through the top 15 giant cafes near Seoul, each with its distinctive charm and a promise to provide an unforgettable experience. Let's go!
Read also:
Abogoga (아보고가)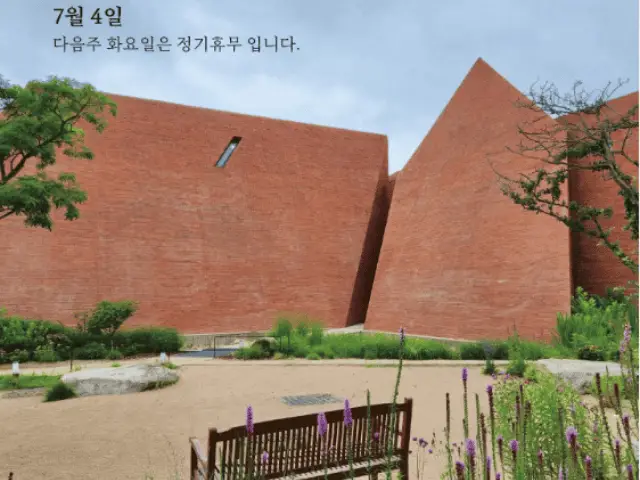 This expansive coffee shop boasts a truly distinctive architectural style. Its exterior combines a pyramid and museum elements while stepping inside reveals a spacious, airy interior adorned with large windows that offer a serene river view. The café also features an ample outdoor seating area adorned with lush greenery and blooming flowers, evoking a peaceful forest atmosphere. It's a peaceful setting, perfect for hanging out with friends and family on a beautiful day. Abogoga is a fantastic destination for an enjoyable and leisurely outing, catering perfectly to families, friends, and couples. 
Abogoga's menu includes various options: coffee and tea, waffles, pancakes, bingsu (a traditional Korean shaved ice dessert), cakes, croissants, sandwiches, and salads. The café takes pride in using fresh, high-quality ingredients, presenting each dish and drink beautifully. Moreover, Abogoga has an extensive selection of vegan and gluten-free choices to accommodate various dietary preferences. Particularly renowned for its bingsu, a beloved Korean dessert, the café crafts these treats with fresh, carefully chosen ingredients and tops them with an assortment of fruits, nuts, and syrups. Some of the most popular bingsu flavors at Abogoga include Strawberry Bingsu, and Mango Bingsu.
British Garden Studio (브리티시 가든 스튜디오)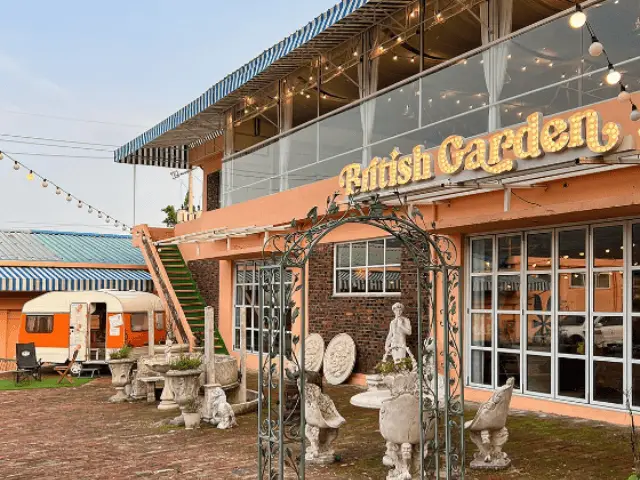 If you enjoy capturing vintage-inspired photos, you should stop at this café. It's a spacious establishment with a distinctive British classic style. The café spans two floors, and its interior exudes a charming vintage vibe, with each piece of furniture carefully imported from England. Upon stepping inside, it feels like a showcase of British antique furniture – intriguing items such as typewriters, sewing machines, and vintage TVs. Any corner you choose offers the perfect opportunity for striking Instagram-worthy pictures.
The café's exterior is adorned with numerous art sculptures, including small van-like structures with tables and chairs. These provide a secluded and intimate setting for you to chat with friends. The café's main offerings include drip coffee, salads, and pancakes. Additionally, they feature steak, desserts, crepes, and a brunch menu.
Open hours: 11:00 – 21:00 daily | closed on Thursdays
Phone: +82 31-864-7500
Price range: 6 – 37 USD
Instagram: british_garden_studio
Cafe La Vue (카페 라뷰)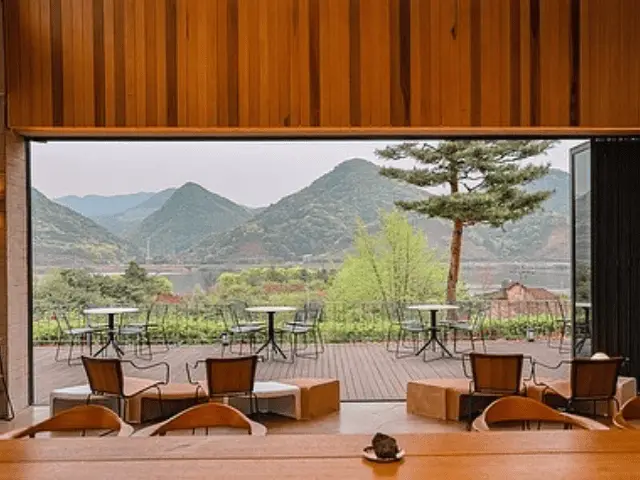 The café carries the name "La Vue," which translates to "the view" in French. This name is a perfect fit, considering the breathtaking sights of the Bukhan River it offers. Perched on a hill provides an expansive viewpoint to witness the river's meandering path through the mountains. Inside, the café boasts a roomy and comfortable interior, featuring a range of seating options, including indoor tables and chairs and outdoor setups with umbrellas.
Turning to the menu, Cafe La Vue focuses on various beverages. The offerings cater to diverse tastes, from aromatic coffees and lattes to refreshing ade and various teas. For sweets, they mostly provide a selection of delicious macarons and some cakes to satisfy your sweet tooth. However, Cafe La Vue's unique presentation of Dutch coffee distinguishes it. You can pour and appreciate the coffee at your leisure because it is meticulously brewed and elegantly served in bottles. 
Cafe La Vue is perfect for unwinding with your loved ones during a peaceful afternoon or evening. You can relish both the stunning Bukhan River scenes and the delightful assortment of beverages. Also, don't miss the breathtaking sunset!
Open hours: 11:00 – 21:00 Sunday to Thursday | 11:00 – 22:00 on Friday and Saturday
Instagram: cafelavue
DongYang Bakery Cafe (동양염전 베이커리 카페)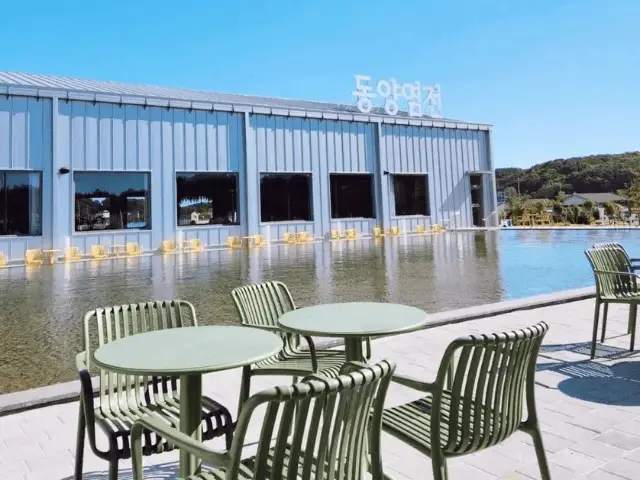 Dongyang Yeomjeon Bakery Cafe stands as a spacious haven, imbued with a one-of-a-kind ambiance that draws inspiration from the allure of a salt field. Its expansive layout includes a generous interior expanse and an outdoor terrace overlooking a serene shallow lake. The cafe's grandeur is further accentuated by two warehouse-sized structures, providing ample seating and a peaceful atmosphere where guests can unwind.
Within the confines of Dongyang Bakery Cafe, you'll find an artistic fusion of motifs that lends each corner a distinctive character. From pastel-infused nooks to the tranquility of a forest-inspired alcove, the cafe caters to various preferences, creating an inviting backdrop for intimate conversations and shared moments.
Beyond its aesthetic appeal, the heart of Dongyang Bakery Cafe lies in its culinary offerings. Collaborating with four esteemed experts from pastry and coffee, the cafe's menu boasts a collection of delectable creations. Must-try selections include the Salt Baguette, the indulgent Mammoth Bread, and Gorgonzola Croissant. They also provide a variety of desserts, including delectable tarts and cakes. About beverage, the Iced Americano and Cream Latte stand out as the perfect companion to the delectable pastries
Cafe Gleen Park (글린 공원)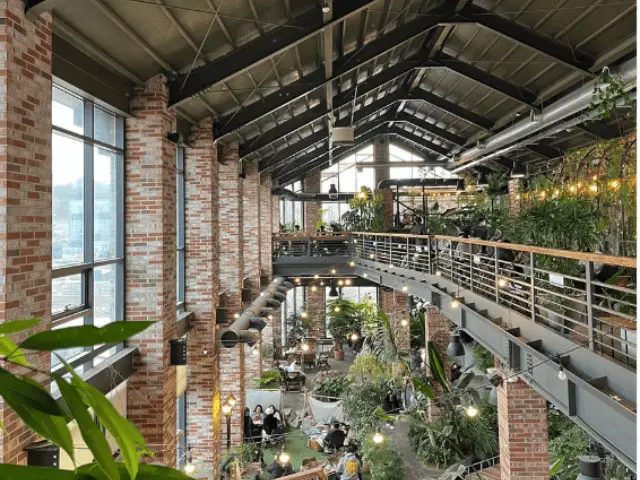 Have you ever imagined enjoying a picnic inside a coffee shop? If not, now's your chance to uncover the magic of Gleen Park. The café's interior has been ingeniously crafted to transport you into a forest-like or botanical garden atmosphere. Imagine a café that's not just a café but a complete botanical escape. It boasts an array of seating options, including low wooden benches, swings, beanbags, and even a dedicated camping zone. A small pond is meandering from the entrance throughout the entire first floor. This is home to gracefully swimming carp, adding an extra touch of wonder.
Their drink menu spans a wide range, featuring everything from classic coffees and lattes to refreshing teas and indulgent frappes. They also serve ice cream. Apart from their signature drinks, the rice powder latte and the unique Seokmori Blending are highly recommended for an unforgettable taste experience. And if you're looking for a snack, Gleen Park has covered you with an enticing variety of light treats, including croissants, assorted bread, and salads. Grab your friend and have a picnic here! 
Open hours: 10:00 – 21:00 daily
Phone: +82 31-996-5177
Instagram: gleenpark_cafe
Hyegyeonggung Bakery (혜경궁 베이커리 카페)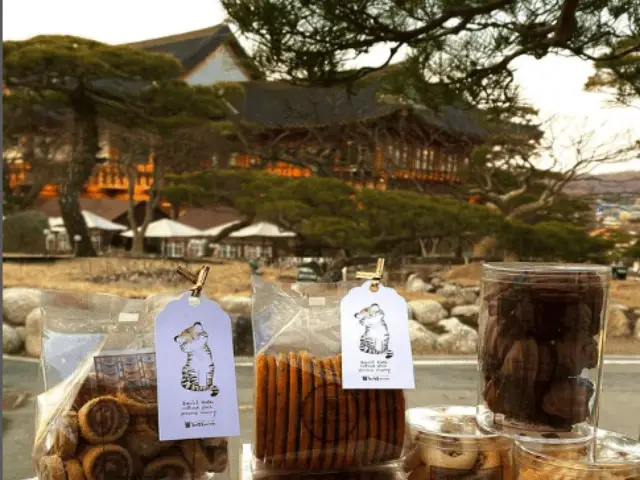 If you're seeking an authentic taste of traditional Korea paired with delightful treats, Hyegyeonggung Bakery Cafe is your destination. This Hanok-style cafe is a fusion of cultural charm and culinary excellence, inspired by the elegance of the Gyeonghuigung Palace. Every corner, adorned with traditional Korean furnishings and evocative artwork, invites guests to embrace the warmth of nostalgia, creating an inviting and comforting atmosphere.
Hyegyeonggung Bakery Cafe has meticulously designed its space to offer you the utmost relaxation. From the abundance of seating spanning the second and third floors to the charming outdoor terrace on the second floor, it's a space that seamlessly blends indoor comfort with refreshing open-air experiences. Plus, they have a serene outdoor garden area, nestled discreetly behind the hanok building, offering a serene escape. With multiple outdoor tables, it's an idyllic spot to unwind and bask in the tranquility of the spring and fall seasons.
The menu showcases an array of delectable bread and beverages, each bearing a distinctively Korean essence. Traditional Korean pastries, cakes, and coffee embody this fusion, meticulously crafted with fresh ingredients. Among them, the Gyeonghuigung Croissant and Royal Milk Tea are popular.
Malddong Donut Dessert Town (말똥 도넛)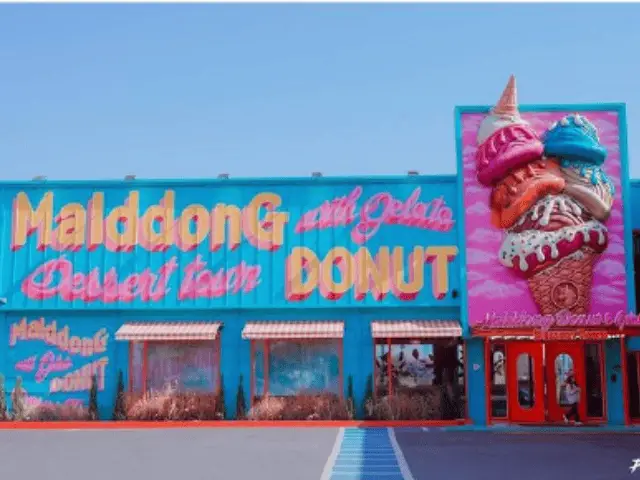 You might have seen this spot's Instagram-famous entrance before – it's a real sensation. The storefront proudly features a huge ice cream sculpture hanging above the doors, while a neon sign boldly proclaims "Malddong Donut & Gelato," inviting curiosity. Drawing inspiration from the charm of 1950s cinemas and diners, this café oozes a vintage vibe. Inside, you'll find retro diner chairs and booths in pastels and many photo zones, and there's no shortage of picture-perfect corners.
Staying true to its name, the café boasts an extensive variety of doughnuts, ranging from inventive options like Lotus biscuit-topped to Oreo O-topped creations. They also serve gelato, soft ice cream, and artfully crafted lettering cakes that satisfy your sweet tooth. The drink offerings are equally enticing, encompassing classics such as coffee and comforting tea, indulgent milkshakes, and invigorating smoothies. Don't miss out on their standout creation, the Malddong Original Milkshake, crowned with a glazed doughnut, marshmallows, and cereal.
But that's not all; the most unique feature is that they have a gift shop. Hoodies, mugs, thermoses, and tumblers featuring the café's logo are also available. The shop also sells Malddong-branded packaged goodies such as biscuits, jelly candies, and appealing toppings such as Nutella. So bring a little of the café experience home the next time you visit.
Munjiri 535 (문지리 535)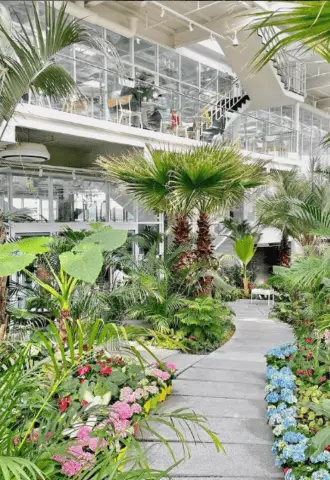 Spread across three expansive floors, Munjiri 535 embraces a minimalist aesthetic while offering a wealth of space and comfort. The café's interior is a symphony of natural light, thanks to its generous array of large windows. An indoor garden flourishes within its walls, adorned with lush, dark green foliage that imparts a sense of tranquility. You can wander around the garden; it's very relaxing.
On cooler days, the front terrace provides a refreshing outdoor escape, revealing vistas of serene rice fields and distant forested hills. Beyond lies the Imjingang River, extending to the horizon where North Korea resides. When the sun goes down, the café's expansive glass windows make it an ideal spot to bask in the ethereal glow of twilight. If you enjoy sunsets, you should come.
As for the culinary offerings, the menu is a delightful array ranging from cakes to savory treats. The choices include mouthwatering selections like Munjiri cream pasta, 535 Rosé pasta, shrimp basil cream pasta, and shrimp basil pasta. Alongside these, an assortment of bread, desserts, and beverages such as croissants, Munjiri Signature Latte, ciabatta, and sliced pastries await to please your palate.
Open hours: 10:00 – 20:00 daily
Phone: +82 50-71470-1408
Instagram: cafe_munjiri535
Munster-Dam (뮌스터담)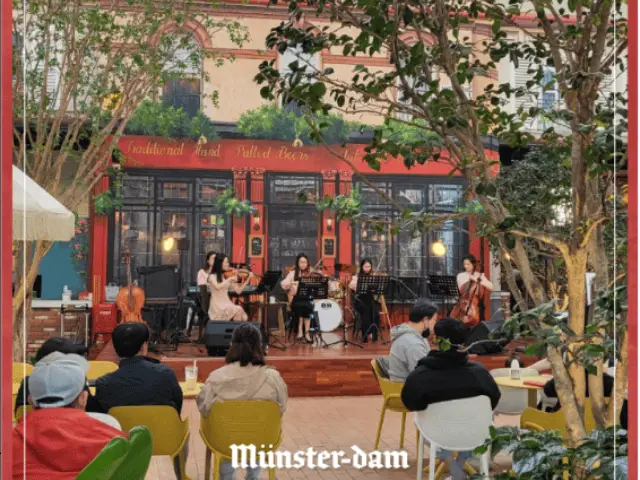 If you're searching for the perfect spot to gather with friends or family, look no further than Munster-Dam. Drawing inspiration from the charming city of Münster in western Germany, the café's interior design encapsulates the essence of this European gem. Adorned with captivating wall paintings, the ambiance evokes the sensation of indulging in a meal along the quaint streets of Münster.
The culinary offerings at Munster-Dam are nothing short of diverse and enticing. They serve from delectable pastries and indulgent ice cream to authentic German dishes. Among their standout creations, the Schweinshaxe and Currywurst shine as signature delights, encapsulating the rich flavors of Germany. They also boast a dedicated pub zone, serving various beverages to accompany your main dishes. Whether you're inclined towards draft beers, handcrafted cocktails, or refreshing mocktails, the options are plentiful.
However, the most notable feature that Munster-Dam offers is a camping facility on its property. You can gather with your loved ones in a pleasant campfire ambiance while enjoying your chosen snacks. They also feature daily live band performances that add a lovely musical touch, ensuring your enjoyment while tasting delectable meals.
Open hours: 10:00 – 22:00 daily
Phone: +82 31-949-6020
Instagram: munsterdam
Villa De Parnell  (빌라드파넬)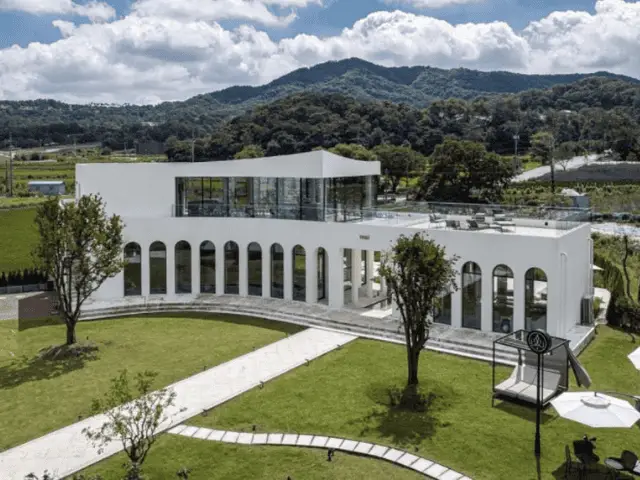 Nestled in Yongin, Villa de Parnell is a unique fusion of café and furniture showroom. Its exterior evokes the grandeur of Egyptian architecture, capturing attention from afar. The building is divided into two sections: showcasing exquisite furniture pieces and offering a delightful café experience. There is also a terrace and a lush green garden to enjoy the coffee outside and chill with nature. 
Villa de Parnell's menu is a sensory delight, featuring aromatic coffees, various teas, and refreshing smoothies. You can pải your drinks with delectable desserts and cakes. Relish in brunch selections and satisfying dishes like sandwiches and lasagna for heartier appetites. This is the ideal spot for a peaceful getaway because it is isolated and hidden. 
M Cliff (카페 엠클리프)
Perched on a cliff, M Cliff lives true to its name by offering a stunning view. Its elevated position provides sweeping vistas of Incheon's coastline and the surrounding mountains. With its modern design featuring large windows, this locale is ideal for soaking in the seascape and sunsets. Standing in any corner, you can capture numerous picturesque moments for your Instagram feed. Spread across three floors, and the café ensures a waterfront view from each level, with the highest floor boasting the most magnificent perspective.
About the menu, they offer an array of bread, pastries, and delectable cakes, ensuring there's something to satisfy every taste bud. The beverage choices are equally abundant, featuring a variety of coffee options, revitalizing juices, and lattes. The honey chestnut latte and Cafe Einspaner are particularly worth trying, two standout selections that promise a memorable experience.
Open hours: 10:30 – 22:00 daily
Phone: +82 32-751-3334
Price range: 4.5 – 7 USD for drinks
Instagram: cafe_m_cliff
The November (더 노벰버)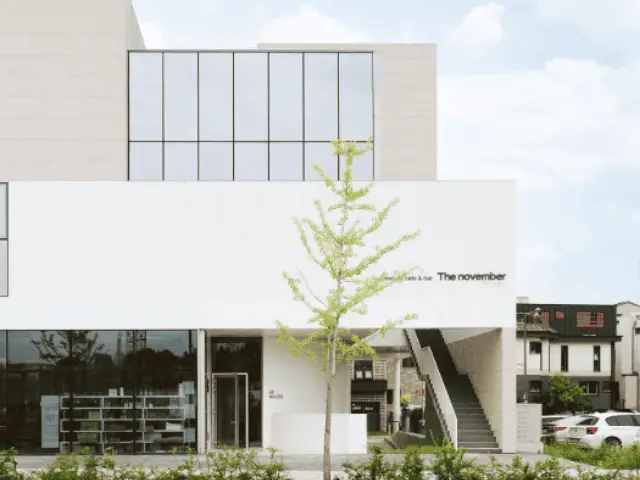 The November is the place to be if you're searching for a 24-hour coffee shop. This cafe extends a rustic embrace, a refuge from the urban flurry. With ample table spacing and high ceilings, you'll enjoy a breezy and uncluttered atmosphere, making your coffee time a breath of fresh air. Thanks to its round-the-clock schedule, you'll find an abundance of plush sofas and bean bag chairs inside, providing you with a comfortable and leisurely spot to unwind.
The second floor is your haven for those aiming to work, hold meetings, or study. Every table has power outlets, ensuring a seamless work session. At night, the warm lighting and comfortable seating conspire to create an ambiance of homely comfort, akin to reuniting with an old friend. The cafe is fully equipped to meet your needs day and night. Their drink selection is wide-ranging, offering an array of coffees, lattes, teas, and even alcoholic options like beer and liquor. Additionally, they offer a variety of delectable treats, including pastries, bread, macarons, pizzas, and snacks to complement your experience.
Nakta (나크타)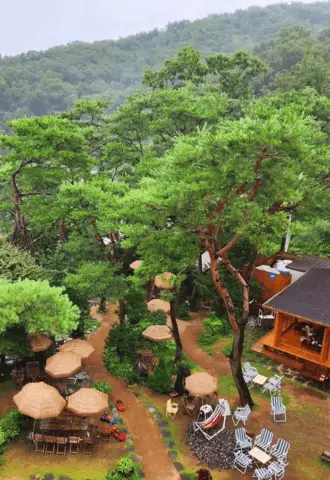 Nakta, a sprawling resort-style cafe, is hidden within a forest and nestled under the watchful gaze of Dobongsan Mountain. Opened in May 2022, Nakta, which translates to "camel," stretches across three expansive floors, seamlessly blending with its natural surroundings. Sunlight floods the first and second levels through floor-to-ceiling windows, providing an uninterrupted panorama of the scenery.
Be sure not to overlook the rooftop seating on the third floor, a haven for nature enthusiasts seeking a sweeping view of the lush green landscape. Yet, the true charm of Nakta lies in its outdoor seating options, including a traditional Korean hut where you can unwind on a wooden platform, soaking in the gentle breeze. 
Beyond the captivating scenery, Nakta's culinary delights stand out. The cafe has gained acclaim for its shio pan, or "salt bread" in Japanese, a signature favorite among patrons. Other favorites include the Magic Passion Fruit Ade and Nakta Gold Frappe, accompanied by a diverse selection of desserts, including Chocolate Castella and Creamy Castella.
Open hours: 11:00 – 21:00 daily
Phone:  +82 31-872-0495
Instagram: nakta_nakta
Forest Outings Ilsan (포레스트 아웃팅스)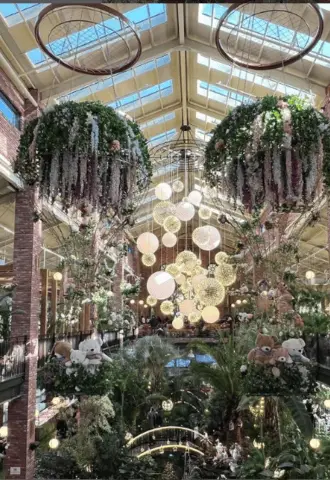 Staying true to its name, Forest Outings features a charming miniature forest. Situated on the ground level is a delightful man-made mini-lake with a petite fountain illuminated by vibrant hues. The surrounding area boasts an array of trees, including various palm species. An arched bridge elegantly traverses the lake, illuminated by LED lights and dangling starlight decorations. Such a cocoon of serenity amid the urban tumult.
When it comes to quenching your thirst, the cafe offers an enticing selection of beverages, including refreshing fruit ades, invigorating citrus coffees, and fragrant flower teas. A delectable array of one-dish meals awaits, ranging from hearty pasta to fresh salads and savory pizzas. They also offer an array of delectable pastries and sweets – from cream-filled croissants to slices of heavenly strawberry shortcakes. If you're a nature enthusiast, make sure to pay a visit at least once.
RaonSoom (라온솜)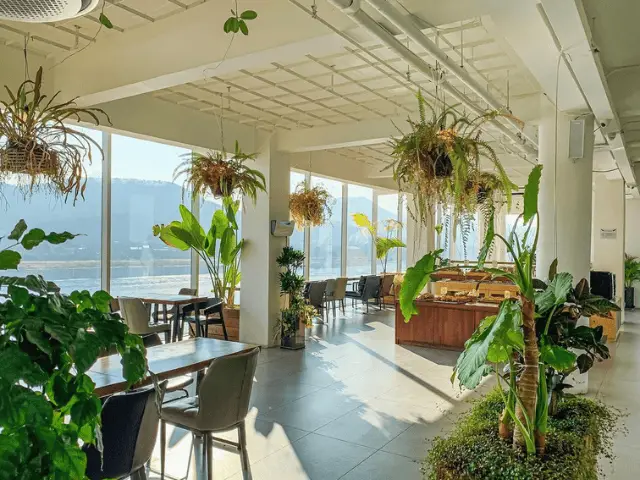 Taking its inspiration from the pure Korean word "Raon," meaning "joyful," Raonsum is a harmonious blend of this sentiment and the concept of breathing freely. Spread across five expansive floors, Raonsum offers a diverse and enriching experience on each level. The first floor is adorned with plant interiors, creating a green oasis that invites relaxation. The third floor transforms into a gallery, showcasing art and culture. As you ascend to the fifth floor, a charming campsite setup awaits, while every floor boasts a vantage point overlooking the scenic Bukhangang River. Each floor provides a unique ambiance, allowing you to appreciate the Bukhangang River from a fresh perspective. 
The menu here is wonderfully diverse, offering various beverages and pastries such as bread, sweets, cakes, croissants, and more. Two standout drink options you should try are the mugwort latte and the sesame latte.
Open hours: 10:00 – 22:00 daily
Phone: +82 31-591-3433
Instagram: raonsoom_
Download a map of the most beautiful cafes near Seoul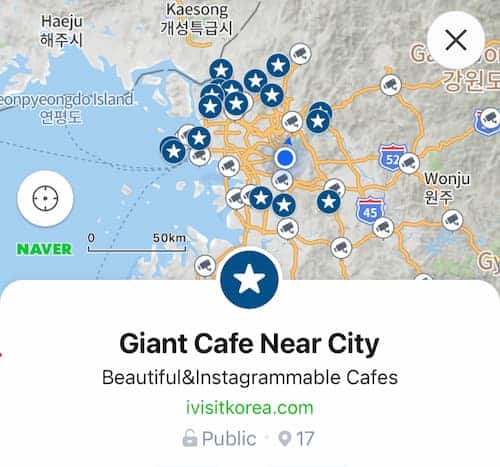 Escape the hustle of the city and experience enchanting cafes amidst nature's beauty. From whimsical gardens to dreamy castles, these cafes are the perfect retreat to indulge in your favorite brew! Save the map for your Seoul journey here 👉🏻 https://naver.me/5teKqGWK
In summary, if you're searching for a peaceful escape with your loved ones, these giant cafes near Seoul are worth visiting. Rest assured. You'll find yourself thoroughly satisfied and captivated by the experience. So why wait? Come and discover these gems for yourself!
IVK's Top Picks – Day Tours, Tickets, and Travel Activities
Seasonal Picks!😍