Last Updated on September 21, 2023
Where to look for the best cafes in Seoul? Then greetings, dear coffee lovers and culture vultures! Today, we are embarking on a fascinating journey through the bustling cityscape of Seoul. Known for its vibrant culture, innovative technologies, age-old traditions, and the best Kimchi you'll ever taste, the South Korean capital offers much more than meets the eye. Join us as we stroll through narrow alleys, bustling neighborhoods, and tranquil corners, exploring Seoul's 15 most beautiful cafes. Let's dive into the heart of Seoul's coffee scene, one stunning cafe at a time!
You may also love:
The Spectacular Aesthetics of Osulloc Tea House Bukchon Branch: A Feast for the Eyes and Taste Buds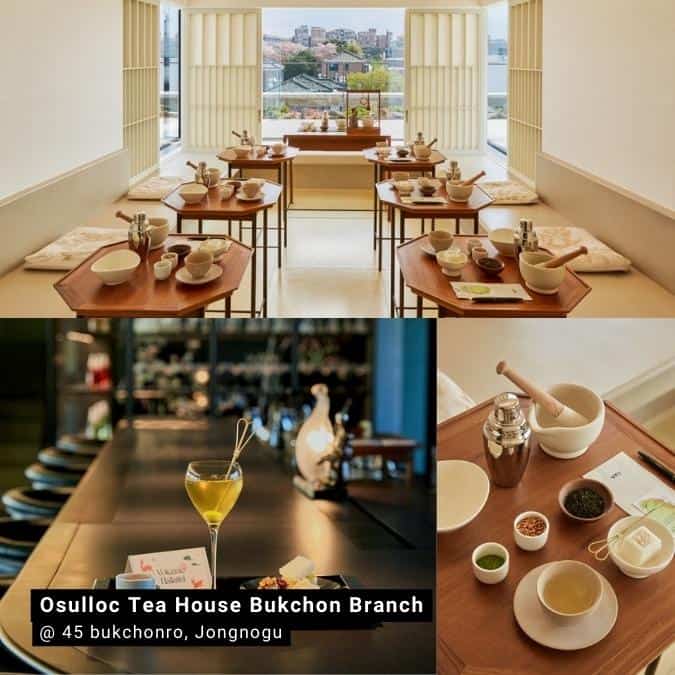 Address: 45 Bukchon-ro, Gahoe-dong, Jongno-gu, Seoul, South Korea
Opening hours: 11:00 – 21:00, Monday to Sunday
Price range: 8,500 KRW (~6.49 USD) to 50,000 KRW (~41.85 USD) 
Website: osulloc.com
The Osulloc Tea House Bukchon is a three-story building with a Western-style architectural design from the 1970s. Within this space, you can explore a tea atelier for tea shopping and a cafe for delightful tea times. And the Bar Sulloc, a special section where you can enjoy tea-inspired drinks and various delicious desserts. The Bar Sulloc is unique to the Bukchon branch, making it a must-visit for tea enthusiasts. You'll be greeted with a wide array of tea options inside this beautiful house. As one of the most beautiful cafes in Seoul, Osulloc is particularly renowned for its matcha-specialty café. The good news is you can indulge in the finest matcha-based creations here. 
Apart from the delectable tea-infused treats, Osulloc offers an impressive range of specialty tea leaves, such as Foose Green Tea Leaves, Moon Walk, and Coral Island. For instance, you can purchase these teas in tea bags or sticks, starting at 4,500 KRW (~3.42 USD). Additionally, if you're interested in natural skincare products, Osulloc has an exclusive line of Green Tea Cleansing Foam, Green Tea Cleansing Oil, and Green Tea Facial Mask. These skincare products utilize the beneficial properties of tea to nourish and rejuvenate your skin. Let's indulge in the charming atmosphere!
Gongmyoung: Blending Traditional Seoul with Contemporary Café Culture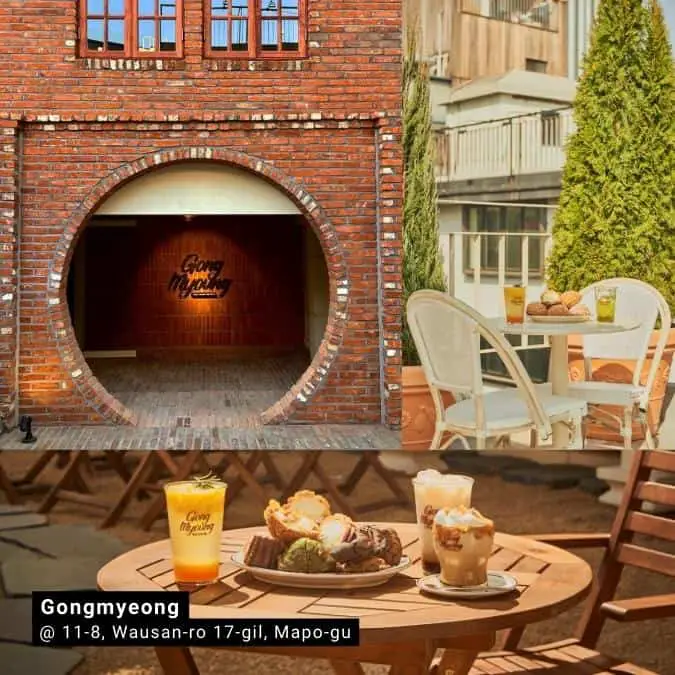 Address: 11-8 Wausan-ro 17-gil, Mapo-gu, Seoul, South Korea 
Opening hours: 10:00 – 22:00 Everyday
Price range: 5,000 KRW (~3.80 USD) to 7,000 KRW (~5.32 USD) 
Instagram: cafegm
Nestled in the heart of the vibrant Mapo-gu area, this cafe has garnered quite a reputation with milk tea. This charming establishment has established itself as a beloved destination, drawing in patrons with its delectable offerings and inviting atmosphere. Among their offerings, one standout gem is the Gongmyoung latte, a true must-try at this cafe. This drink embodies a symphony of flavors and textures, with each bite delivering a luxurious creaminess. While the cream maintains a delectable firmness, this delightful contrast in textures is a true testament to the careful craftsmanship that goes into each creation.
Yet, it's not just the gastronomic offerings that make this cafe a standout; it's the ambiance it cultivates. The cozy and inviting setting adds another layer of enjoyment to your visit, ensuring that your time spent here is not just about consuming treats but about crafting memorable experiences. It's no wonder that Gongmyoung, one of the most beautiful cafes in Seoul, has become a sought-after destination cherished by both locals and visitors seeking a haven of comfort and indulgence.
SAMDACOZY: Where Comfort Meets Coffee in Seoul's Most Charming Nook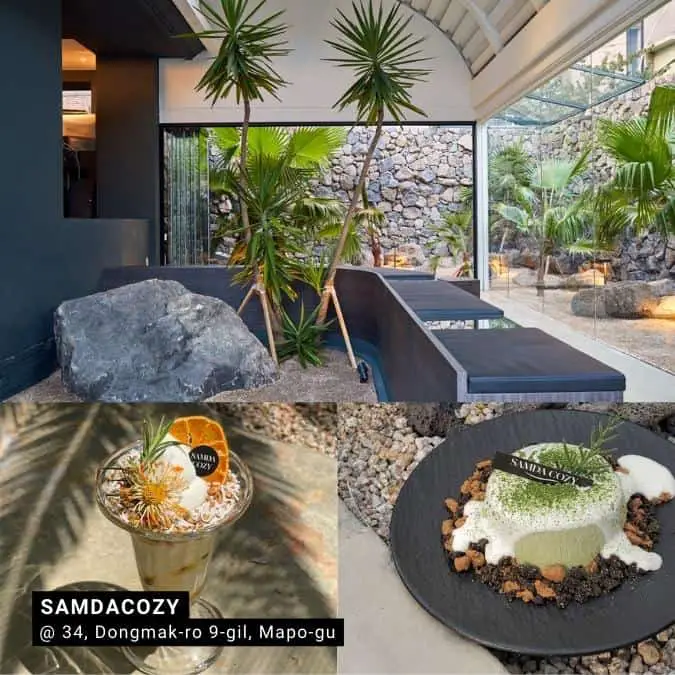 Address: 1F, 34 Dongmak-ro 9-gil, Mapo-gu, Seoul, South Korea
Opening hours: 11:00 – 23:00 every
Price range: 7,900 KRW (~6.01 USD) to 14,900 KRW (~11.34 USD) 
Instagram: cafe_samdacozy 
Samdacozy is a flagship café introduced by the renowned Jeju Samdasoo, a distinguished spring water brand from Jeju Island. Stepping inside, you will be immediately transported to Jeju. There are unique palm trees, dol hareubang (Jeju's iconic stone statues), and volcanic rocks meticulously creating an authentic island atmosphere. Within the café's premises, you'll find three floors, each boasting its distinct and captivating vibe. Tip to capture the best photo: make your way to the pour-over bar, thoughtfully inspired by the natural caves of Jeju.
A highlight of Samdacozy, one of the most beautiful cafes in Seoul, is its meticulously curated menu. This menu utilizes locally sourced ingredients from Jeju, encompassing milk, water, lemons, and mandarins. Their commitment to quality extends to their coffee, as they exclusively employ beans roasted on the island. Visiting Samdacozy is a must to immerse yourself in its incredible ambiance and unwavering attention to detail. The café, in all its facets, beautifully encapsulates the very essence of Jeju Island, but in Seoul. However, it's important to note that prices might be slightly high. Situated near Sangsu station in the Hongdae area, it conveniently invites you to drop by during shopping hours or neighborhood exploration. 
Mooni: The Starlit Café That Makes Seoul Nights Extra Magical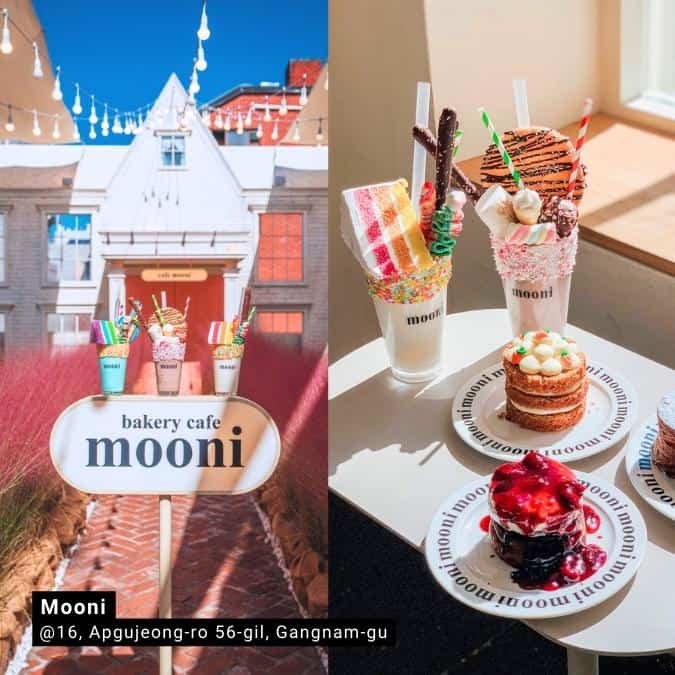 Address: 16 Apgujeong-ro 56-gil, Gangnam-gu, Seoul 
Opening hours: 10:00 – 22:00 Everyday
Price range: 7,000 KRW (~5.32 USD) to 12,000 KRW (~9.13 USD) 
Instagram: mooni_apgujeong_ 
Mooni Cafe is a whimsical, dreamy dollhouse-esque cafe that will transport you into a world of pastel colors and elaborate architecture. The cafe's exterior resembles a dollhouse, attracting visitors with its romantic pastel hues and Parisian vibes. It boasts abundant seating, making it a comfortable place to unwind and enjoy your visit. As both a cafe and a bakery, Mooni, one of the most beautiful cafes in Seoul, delights customers with its delectable bakes and pastries, including their specialty "cronuts" – a delightful fusion of donuts and croissants. The strawberry custard cronut and blueberry cronuts are customer favorites and tend to fly off the shelves quickly.
Mooni Cafe's signature milkshakes are a must-try for those with a sweet tooth. The visually stunning milkshakes will tantalize your taste buds from coffee to matcha flavors. If you're looking for heartier options, the brunch menu offers pulled beef bagel sandwiches and eggplant confit bagel sandwiches. To complement the delightful menu, they also sell wine by bottle, adding a touch of elegance and colorful decor to the space. This cafe is the perfect destination for a delightful and aesthetic experience without leaving Seoul.
Cheongsudang Gallery: A Story of Timeless Elegance in Every Cup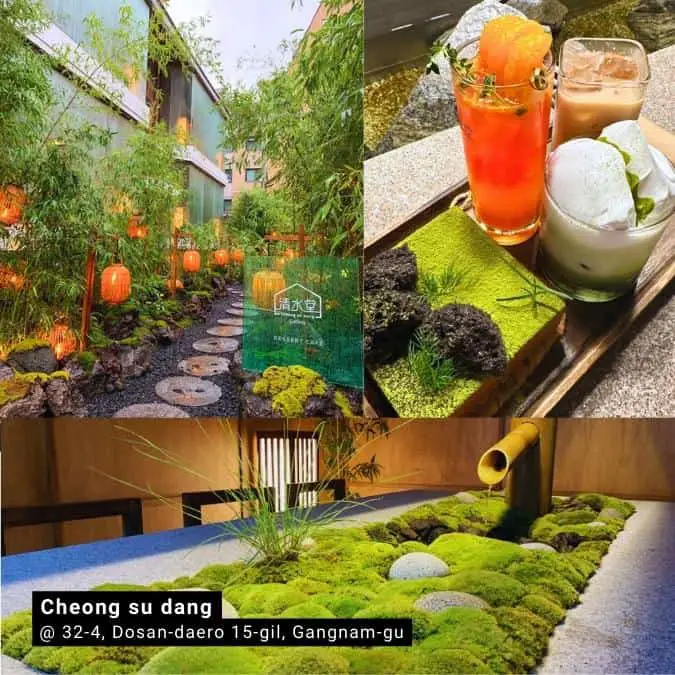 Address: 32-4 Dosan-daero 15-gil, Gangnam-gu, Seoul, South Korea
Opening hours: 11:30 AM–10 PM Everyday
Price range: 5,900 KRW (~4.49 USD) to 16,600 KRW (~12.63 USD) 
Website: glowseoul.co.kr
Cheongsudang (청수당) is a charming cafe in the heart of Ikseon-dong, a neighborhood known for its traditional-style buildings in Seoul. With a name meaning "clear water room," this cafe lives up to its serene ambiance and high-quality beverages that have left a lasting impression on coffee enthusiasts and visitors. The cafe's entrance is adorned with stepping stones surrounded by a bamboo pathway and wooden lanterns, creating a delightful and picturesque entrance. While the exterior exudes traditional Hanok-style architecture, the interior is a harmonious blend of modern and traditional elements.
The seating options offer comfort and variety, with "shoes-off" floor seating overlooking the internal garden space, providing a peaceful, quiet setting to unwind. For those who prefer regular seats and tables, they are also available. Plus, the menu boasts a selection of premium coffee and tea-based drinks. The Iced Matcha with Milk and Iced Black Tea with Cream are highly recommended, offering a refreshing and delightful taste. While the cafe excels in beverages, its specialty is delectable desserts, including warm made-to-order soufflés.
Time seems to slow down at Cheongsudang, making it the perfect oasis to escape the summer heat and savor a cold drink in a serene environment. Whether you're a coffee lover or seeking a tranquil setting to relax, Cheongsudang is one of the must-visit cafes in Seoul.
The Unrivalled Charm of Moltto Italian Espresso Bar: Seoul's Little Slice of Italy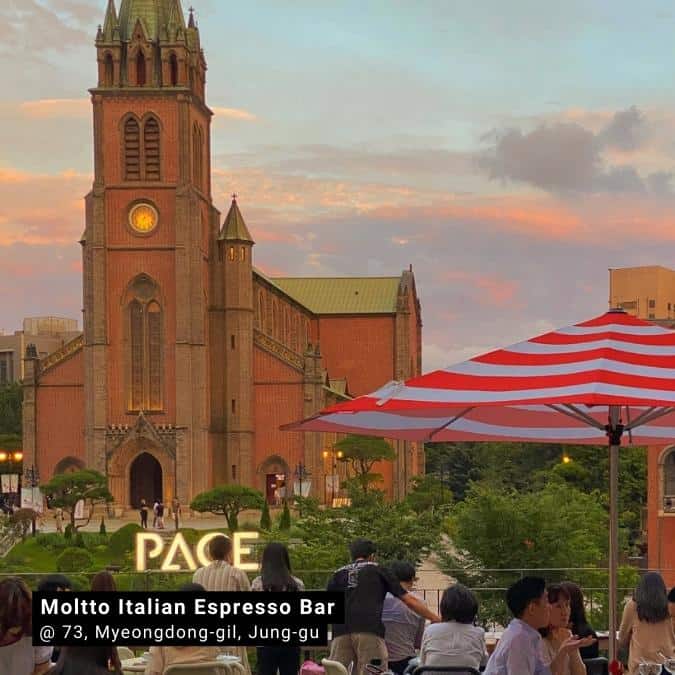 Address: 73 Myeongdong-gil, Myeong-dong 1(il)-ga, Jung-gu, Seoul, South Korea
Opening hours: Monday-Saturday: 10:30 – 19:30, closed on Sunday
Price range: 3,200 KRW (~2.43 USD) to 8,800 KRW (~6.69 USD)  
Instagram: molto_espressobar
Molto Italian Espresso Bar is famous for its delightful European atmosphere, perfect for coffee enthusiasts and travelers alike. This cafe is unique, from its top-notch coffee to the vibrant vibes and picturesque view, making it a must-visit spot in Seoul. Although it may not be the perfect cafe for a peaceful retreat, the delicious food and exceptional coffee make it a worthwhile visit. The limited bakery selection is complemented by the delightful Italian dessert Cannonccini, offering a taste of Italy in the heart of Seoul.
The cafe's terrace on the third floor provides a European sidewalk cafe experience, while the breathtaking view of Myeongdong Cathedral adds to its allure. Furthermore, the espresso-focused menu ensures a high-quality coffee experience, making it an excellent choice for coffee lovers looking to enjoy a cup in a charming ambiance. Finally, Molto, one of the most beautiful cafes in Seoul, is a gem for travelers and coffee enthusiasts seeking excellent coffee and a scenic view. Due to its occasional crowding, it may not be an everyday spot, but it's a must-visit destination for a memorable coffee experience in Seoul.
Ssijang: A Hidden Gem in Seoul's Bustling Café Scene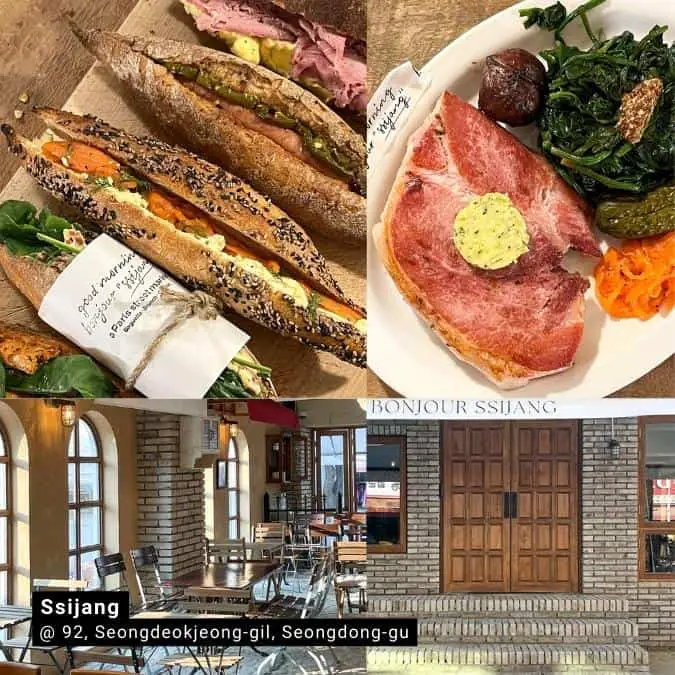 Address: 1st Floor, 92, Seongdeokjeong-gil, Seongdong-gu, Seoul, South Korea 
Opening hours: 8:00 – 18:00 Everyday
Price range: 6,000 KRW (~4.56 USD) – 32,000 KRW (~24.35 USD) 
Instagram: ssi_jang
SSIJANG is a charming French bakery nestled in Seongdong-gu, Seoul. With its freshly baked pastries and bread, this cozy establishment has earned a reputation for its inviting ambiance. The interior is elegantly designed with white walls, wooden furniture, and scattered plants, creating a warm and pleasant atmosphere. The cafe offers a delectable array of pastries, including must-try croissants, pain au chocolat, danishes, and muffins. Their selection of bread is equally enticing, featuring baguettes, sourdough, and rye bread. SSIJANG, one of the most beautiful cafes in Seoul, also serves a delightful range of coffee and tea beverages to accompany these delights.
The SSIJANG is a favorite place for locals and tourists because it is the ideal location for unwinding, enjoying coffee or tea, and purchasing freshly made pastries for a scrumptious breakfast or lunch. In addition to providing mouthwatering treats, the bakery is frequently used as a subject for photographs due to the exquisite presentation of its pastries and bread. Whether looking for a peaceful vacation, a great breakfast, or a memorable photographic spot, SSIJANG promises a pleasant experience with its enticing pastries and warm atmosphere. This is the case regardless of what you're looking for!
Urban Plant Seobinggo: Where Nature Meets Novelty in Seoul's Coffee Culture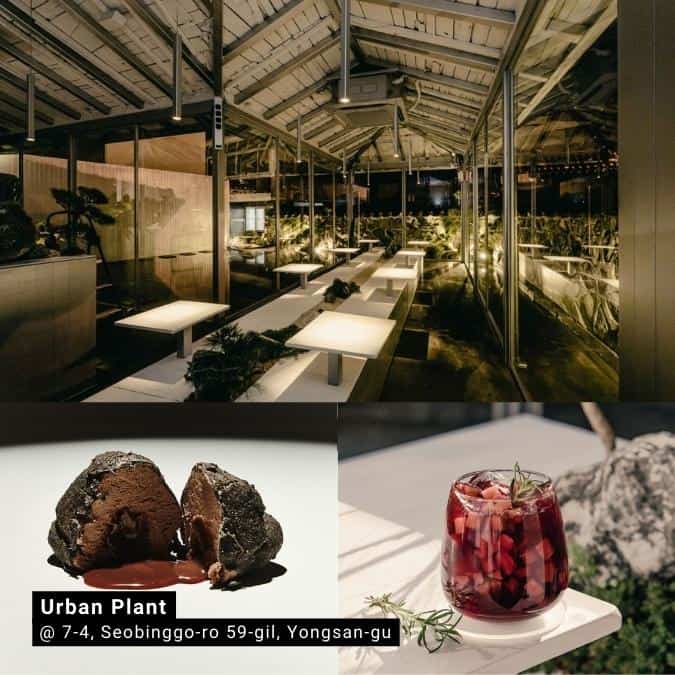 Address: 7-4, Seobinggo-ro 59-gil, Yongsan-gu, Seoul 
Opening hours: 11:00 – 21:00 daily
Price range: 5,000 KRW (~3.80 USD) – 9,500 KRW (~7.23 USD)
Facebook: 어반플랜트 URBAN PLANT 서빙고 | Facebook
Seobinggo is a hidden gem tucked away in an alley, offering a charming and attractive space that transports visitors into an oriental painting. The cafe's exterior features pine trees and white roof tiles, creating a serene ambiance. A flowing water yard with stepping stones adds to the picturesque setting, making it a delightful spot to explore.
The cafe continues to impress with well-designed spaces that blend nature and a serene atmosphere. Unlike typical Japanese Karesansui spaces with white sand, Seobinggo, one of the most beautiful cafes in Seoul, takes a unique approach, making it stand out. The sand in the middle of the seating area adds a distinctive touch, and though it might raise maintenance concerns, the overall effect is visually appealing. As the weather gets warmer and all the doors are opened, the cafe promises to become even more enchanting.
While Seobinggo is becoming increasingly popular and might get crowded on weekends, its location could be more transparent, so it's worth trying even during peak times. You might be pleasantly surprised by the lack of crowds. All-in-all, Seobinggo offers a beautiful combination of captivating visuals, nature-inspired spaces, and delightful treats, making it a cafe worth visiting.
Sumsei Terarium: An Oasis of Relaxation in the Heart of Seoul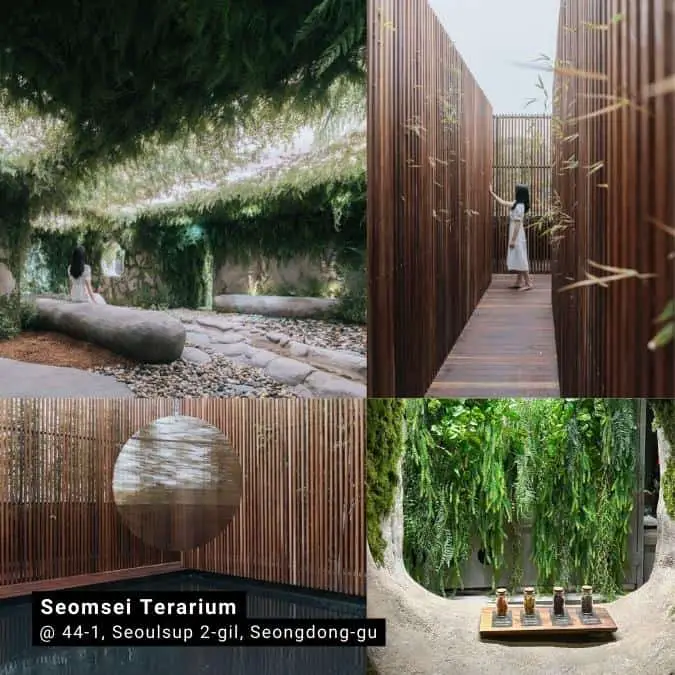 Address: 44-1 Seoulsup 2-gil, Seongdong-gu, Seoul, South Korea
Opening hours:
Price range: Barefoot experience exhibition (with drink/takes 1 hour) 18,000 KRW (~13.69 USD) 
Website: sumsei.kr
Sumsei Terrarium is a captivating gallery-cafe in Seoul that offers a unique and immersive experience to reconnect with nature. Unlike typical cafes, Sumsei Terrarium combines the elements of a gallery with a cafe, presenting you with five nature-themed exhibits that aim to stimulate the senses and provide a reprieve from the busy city life.
The journey through Sumsei Terrarium starts with "Black Out," a dark cave-like room where you must feel your way and walk barefoot to reach an aurora borealis installation, creating a captivating sensory experience. Next is "Water of Dawn," where you tread barefoot through shallow water amidst swirling fog, creating an ethereal ambiance. Third, "Heart of Wind" offers a serene setting where you can lie on waterbeds, listening to the gentle rustle of plants in the wind and feeling the breeze on their skin. And the exhibit "SUMSEI Forest" serves as a cafe and a gallery, where you can sip themed drinks while admiring live birds and enjoying the forest-like atmosphere. The final exhibit, "Refresh Five Senses," leads you outdoors to experience natural lighting and wind, encouraging them to appreciate the intricacies of their senses and the natural world around them.
Sumsei Terrarium, one of the most beautiful cafes in Seoul, strives to remind urban dwellers of nature's calming effect and encourages you to cherish and be more aware of nature in your daily lives. The drinks included in the entrance fee are served at the serene "SUMSEI Forest," accompanied by cards explaining the gallery's mission to promote ecological awareness. The gallery-cafe also hosts nature-themed workshops in collaboration with various organizations, such as meditation classes, gardening sessions, and terrarium DIY workshops, offering you a chance to engage further with nature during your visit.
Rain Report: Seoul's Weather-Themed Café That Keeps You Coming Back for More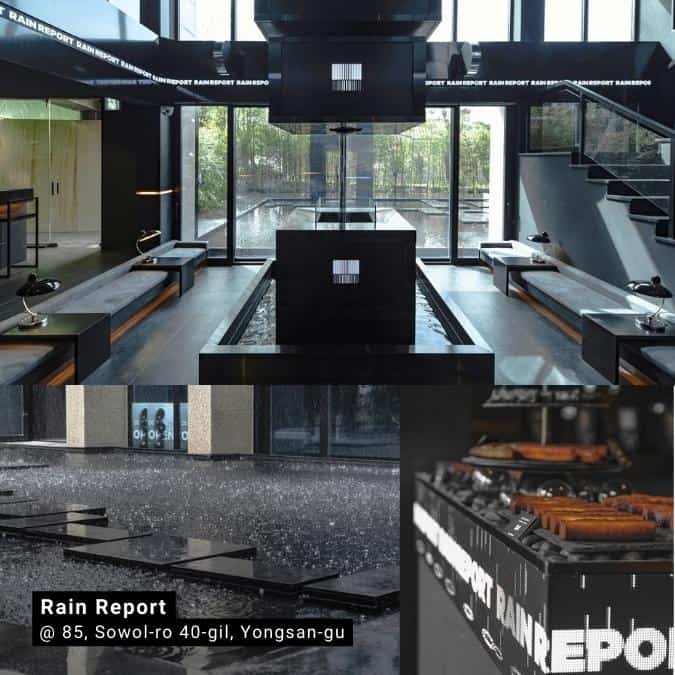 Address: 1st-2nd floor, 85 Sowol-ro 40-gil, Yongsan-gu, Seoul
Opening hours: everyday 11:00 – 21:30
Price range: 4,000 KRW (~3.04 USD) to 38,000 KRW (~28.93 USD) 
Instagram: rainreport_official
Since it opened its doors in Seoul four months ago, the intriguing Rain Report Cafe has garnered much attention. The cafe has a motif centered on rain. This one-of-a-kind cafe, found in Itaewon close to Gyeongnidan-Gil, boasts a tranquil and uncluttered atmosphere and serves as a welcome respite from the city's frenetic activity. The highlight of Rain Report Cafe is its photo spot with artificial rain, creating a captivating backdrop for memorable photos. 
The cafe also houses a small coffee roastery on-site, showcasing its dedication to freshly roasted coffee beans. Rain Report Cafe's dessert selection will surely delight your taste buds. Additionally, their freshly-made financiers are a must-try, with intriguing flavors such as squid ink, basil, maple bacon, fig wine, and triple cheese available in sets of 5.
The signature Sesame Cloud, a black sesame latte, is highly recommended for coffee lovers. Whether you prefer classic espressos, refreshing iced beverages, or delectable desserts, Rain Report Cafe has something to cater to every palate. Beyond being a cafe, Rain Report Cafe, one of the most beautiful cafes in Seoul, is an enchanting sanctuary that celebrates the beauty of rain. Its al fresco area features rain effects on a 15-minute cycle, offering a unique experience of rain's calming and soothing sound.
If you're seeking an extraordinary cafe experience in Seoul, Rain Report Cafe is the place to be. With its enchanting rain-themed ambiance, delectable desserts, and delightful coffee creations, this cafe offers a unique and memorable visit that will transport you to a world of tranquility and beauty.
Another Side: Unveiling a Different Perspective of Seoul's Café Landscape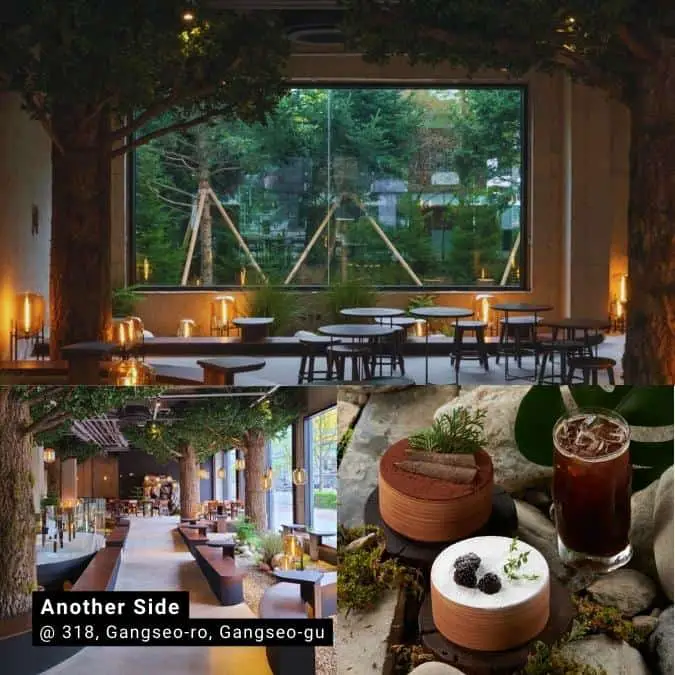 Address: 1F Cafe Another Side, 318, Gangseo-ro, Gangseo-gu, Seoul
Opening hours: 09:00 – 23:00 Everyday 
Price range: 3,900 KRW (~2.96 USD) to 21,900 KRW (~16.67 USD) 
Instagram: anotherside_coffee
Another Side is a delightful cafe that has recently caught the attention of locals and visitors alike. Its charming interior and enticing menu make it a must-visit spot for coffee and dessert enthusiasts. The cafe offers a variety of drinks, including Vanilla Latte, Iced Latte, and the highly recommended Milk Tea made with milk from Sangha Farm.
The cafe's interior is spacious and beautifully designed, creating a welcoming atmosphere. However, it's worth noting that the seating is limited, so arriving early is advisable to secure a comfortable spot. The Strawberry Tiramisu is the standout item on the menu. It is an innovative take on the traditional tiramisu topped with actual bread to create a mouthwatering dessert. It is very popular with clients, especially those who crave sweet things. The cafe also serves a range of other drinks, including Americano and Ice Cream made with Sangha Farm's milk. While the ice cream is a standout choice, some customers have mentioned that the Milk Tea and Americano were less impressive than they had hoped.
Another Side, one of the most beautiful cafes in Seoul, offers a reasonable beverage price range, making it an attractive choice for both quality and value. While some seating options may not be comfortable for extended stays, the experience at Another Side is delightful. Its captivating ambiance and delectable treats make it an ideal spot for a quick visit or a cozy coffee break.
Indulge in Luxury at Royal Melting Club, Seoul's Pinnacle of Café Elegance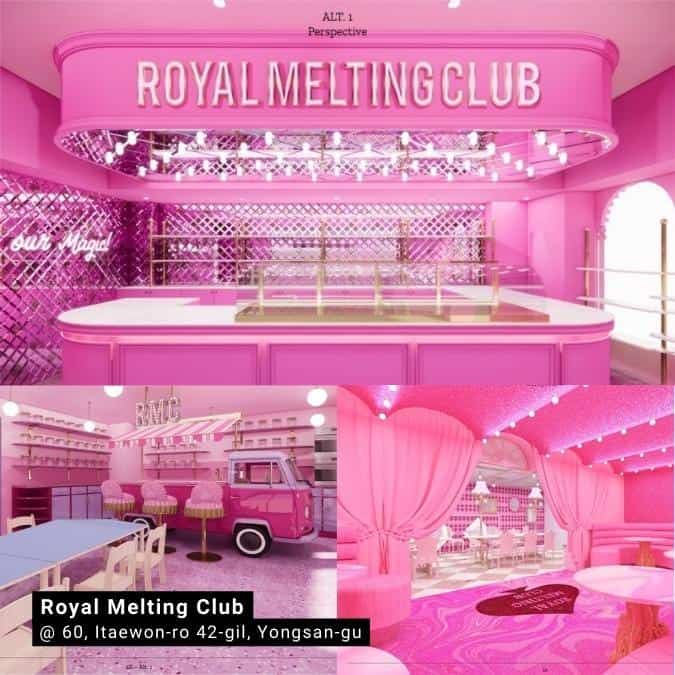 Address: 60 Itaewon-ro 42-gil, Yongsan-gu, Seoul
Opening hours: 11:30 AM–7:30 PM Everyday
Price range: 5,000 KRW (~3.80 USD) – 7,500 KRW (~5.71 USD) 
Instagram: royalmeltingclub
Royal Melting Club is a dreamy all-pink cafe in Seoul that captures the essence of a Barbie-inspired wonderland. From the moment you approach the cafe, the exuberant use of pink, including a giant pink sheep mascot at the entrance, sets the stage for an enchanting experience. Inside, the pink paradise theme continues, with almost every inch of the cafe adorned in various shades of pink. The furniture, resembling thrones, adds a touch of royalty to the ambiance, perfectly aligning with the cafe's name. Spades, a recurring motif in the design, appear on the mascot, wallpaper, window panes, and carpets, adding to the overall whimsical atmosphere.
One of the unique features of Royal Melting Club is the moving carousel next to the entrance, showcasing the cafe's adorable lamb mascot. Unfortunately, it's only for viewing but adds charm to the cafe. Art lovers will appreciate the separate exhibition space in the middle of the cafe, which regularly showcases various art pieces, including giant pink dice and creative doodles from guests using chalk markers. The cafe's passion for art and creative expression is evident in every corner, tying everything together with shades of pink.
The desserts at Royal Melting Club are also a treat for the eyes and taste buds. While the cafe's theme is predominantly pink, the desserts boast a pop of color and maximalist flair. From cupcakes with rainbow fondant to cakes with layers of different colors and flavors, the cafe specializes in visually stunning and delicious pastries. Larger orders are elegantly presented on a pink cake stand, adding to the overall aesthetic appeal. If you're yearning to live out your pink princess dreams and experience an artsy, whimsical, and Instagram-worthy cafe, Royal Melting Club, as one of the most beautiful cafes in Seoul, is the place to be!
Knotted: A Knot of Tradition and Modernity in Seoul's Coffee Haven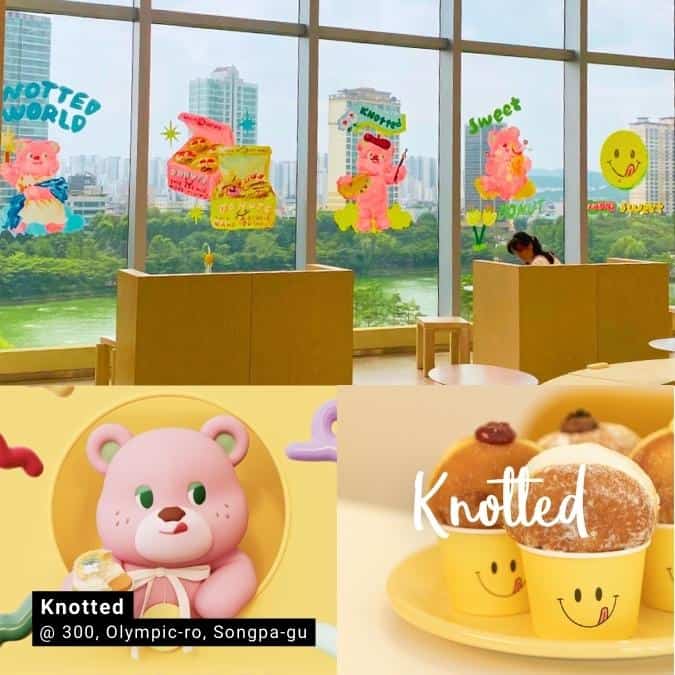 Address: 5F Lotte World Mall, 300 Olympic-ro, Songpa-gu, Seoul 
Opening hours: every day from 10:30 to 22:00
Price range: from 3,500 KRW (~2.66 USD) to 14,800 KRW (~11.256 USD) 
Website: knotted-order.com
Knotted is a donut shop that has taken Seoul by storm, with multiple branches across the city. Its popularity is evident as its most sought-after flavors sometimes sell out within minutes of opening. The curiosity led us to the Samseong branch, conveniently close to COEX in Gangnam, to see if it lives up to the social media hype.
As one of the most beautiful cafes in Seoul, Knotted offers a diverse menu, ranging from scones and brownies to croissants, but the show's star is undoubtedly its donuts. The donuts are presented in a smiley box, adding to the delightful experience. After the initial bite, the choco pudding donut revealed its decadent chocolate cream goodness.
It is worth noting that the cafe's atmosphere and design are impeccable, creating a perfect backdrop for Instagram-worthy photos. If you're a fan of localized flavors and charming aesthetics, Knotted is a must-visit for its ambiance and delightful packaging. Nonetheless, exploring this trendy donut shop in Seoul is an enjoyable experience, especially for those looking to indulge in cute spots in the city.
Hey: The Friendly Encounter in Seoul's Café Scene You Can't Resist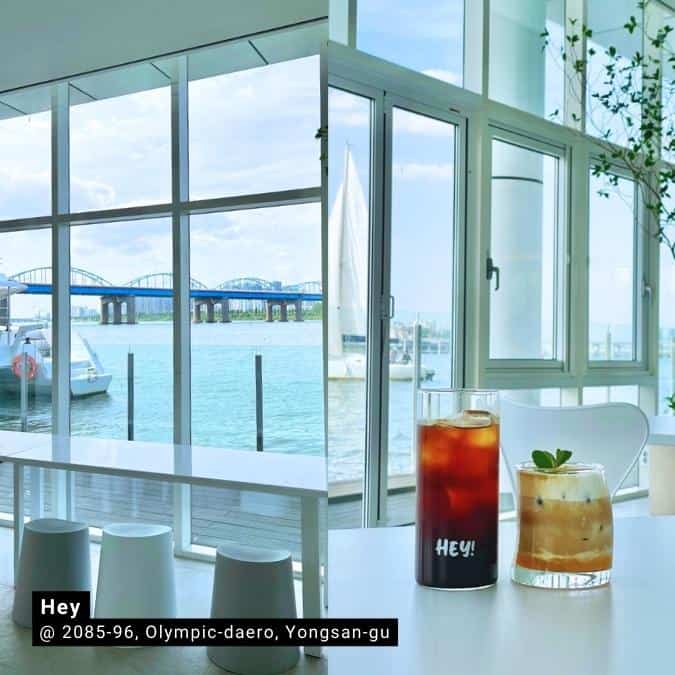 Address: 1F THE RIVER, 2085-96 Olympic-daero, Yongsan-gu, Seoul
Opening hours: 10:30 – 18:30 Tuesday – Sunday, closed on Monday
Price range: 7,000 KRW (~5.33 USD) – 16,000 KRW (~12.18 USD) 
Instagram: hey_theriver 
Welcome to Hey, a charming and cute cafe with a warm and welcoming tone, nestled near the vibrant Hyehwa area in Seoul. Coffee and dessert fans have a lot of positive things to say about the inviting atmosphere and delectable food at this cafe, so it's no surprise that it's a popular pick. 
Its wooden interior and soft, dim lighting enhance the cafe's warm and cozy atmosphere. This creates a sense of comfort and tranquility, making Hey an excellent spot to escape the hustle and bustle of the city. The reviewer visited during lunch on a weekday and found themselves the only customer, adding to the sense of discovery and making them feel like they had stumbled upon a new hidden gem amidst the complexity of the main street.
For coffee enthusiasts, Hey offers a satisfying range of coffee options that can be paired with their delectable desserts. While some reviewers noted that the coffee taste was strong, the cafe's desserts received high praise for their taste and variety. Hence, if you're looking for a quiet and charming cafe experience, Hey, as one of the most beautiful cafes in Seoul, is an excellent choice. It's warm tones and delightful menu create comfort and delight for anyone seeking a respite.
FOUR STONES: Unearthing the Four Gems of Café Culture in Seoul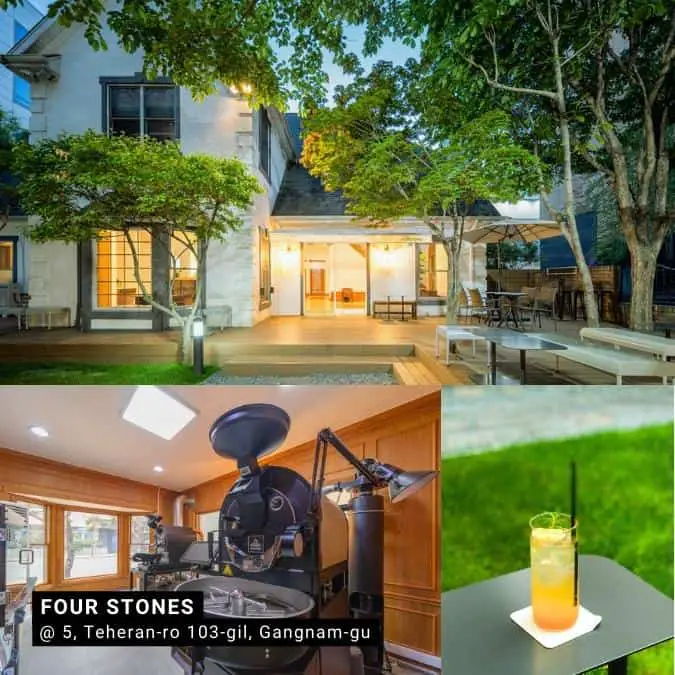 Address: Four Stones Coffee Roasters, 5 Teheran-ro 103-gil, Gangnam-gu, Seoul 
Opening hours: 08:00 – 21:00 Everyday
Price range: 3,000 KRW (~2.28 USD) – 23,000 KRW (~17.51 USD) 
Website: four stones.co.kr
Four Stones Coffee Roasters is an enchanting cafe in the heart of Seoul that beckons visitors with its American mansion-like exterior and warm ambiance inside and outside the building. Despite its sophisticated setting, Four Stones maintains a surprisingly reasonable price level, making it an attractive destination for coffee enthusiasts and cafe lovers. Notably, the cafe takes pride in its coffee offerings, ensuring patrons have a delightful coffee experience that exceeds expectations.
Another feature that separates this cafe is its spacious and inviting terrace space. The terrace provides an idyllic setting for patrons to bask in the beautiful weather while savoring their carefully crafted beverages. Those looking for a moment of leisure amidst the hustle and bustle of Seoul will find this place a serene reprieve because it is an oasis of calm amid the city's activity.
For those seeking a caffeine-infused adventure near Samseong Station, Four Stones Coffee Roasters stands out as a gem among the bustling city's coffee houses. The combination of its inviting ambiance, quality coffee offerings, delectable fig sauce dessert, and charming terrace space makes it a must-visit destination for locals and travelers alike.
Download a map of the most beautiful cafes in Seoul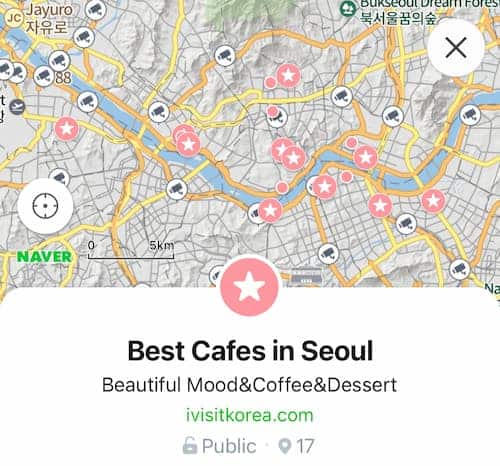 From cozy hidden gems to trendy hotspots, this curated list will guide you to the most Instagrammable spots in the city. Save the map for your Seoul journey here 👉🏻 https://naver.me/5bdJJXC8
Final thought 
Whether you're a traveler seeking Instagram-worthy spots, a local looking for a cozy corner to unwind, or an art enthusiast searching for inspiration, Seoul's café scene caters to all. These 15 cafes are just the tip of the iceberg, a glimpse into a world where every corner turned can reveal a hidden gem waiting to be discovered.
So, whether you're intrigued by the minimalist designs of Italian-inspired cafes or the traditional charm of tea-style establishments, Seoul invites you to embark on a delightful café-hopping adventure. As the city continues to evolve and reinvent itself, the café culture is a testament to its commitment to beauty, innovation, and the art of savoring life's simple pleasures amidst breathtaking surroundings. Happy travel~