Last Updated on July 8, 2023
Korean summer is one to fear – it's hot, humid, and unforgiving to those from colder countries, but it does not mean it's impossible to enjoy! If your stay in Korea happens during summer, this article is for you! Here are the best things to do in summer, starting with something classic and finishing with something unusual.
You may also like:
Surfing at the Surfyy Beach in Yangyang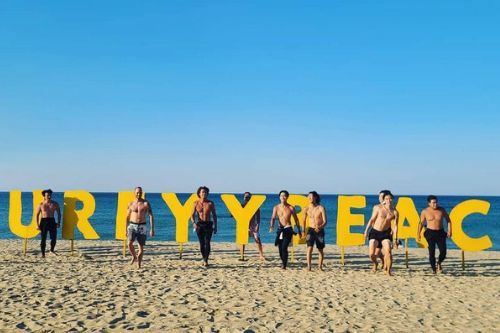 Place: Surfyy Beach
Booking: 1522-2729, or 서피비치 on KakaoTalk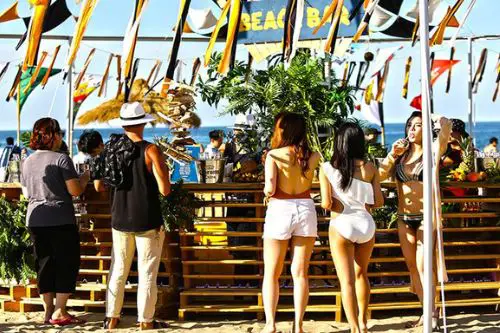 Surfing is the new black – or so they say. If you want to experience surfing in Korea, look no further. The Surfyy Beach is a private area, or a beach pavilion, of the more extensive Hajodae Beach located in Yangyang, Gangwon-do. It is about 1 kilometer long and divided into three zones, one for the swimmers and two for those who want to rest.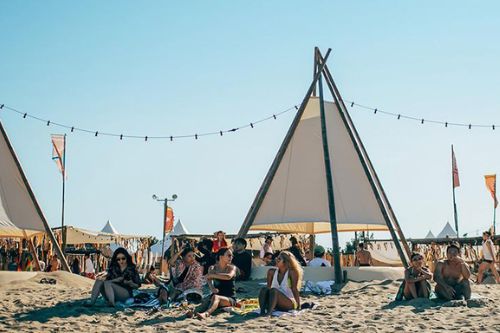 The Surfyy Beach is the first beach dedicated to surfing in South Korea – pretty cool, right? It is cool and provides a breathtaking view of the East Sea combined with a very picturesque beanbag and hammock territory that makes you feel like you're attending an alternative version of the Coachella festival. Every zone is accessible with the purchase of the Surfyy Pass. Ride the waves and have fun!
Check Out Surf Lessons in Yangyang
Swimming at the Caribbean Bay Water Park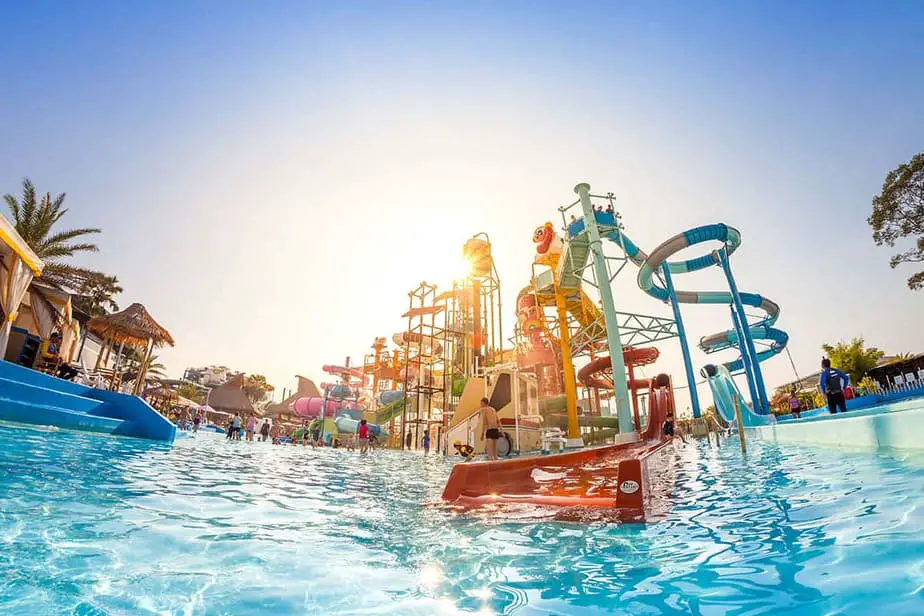 Place: Caribbean Bay
Booking: +82-31-320-5000
You may have heard about Everland, one of Korea's incredible amusement parks, but did you know that it's not just the Everland rides you may enjoy there? "Caribbean Bay" is a huge water park that, though located on Everland's territory, requires a separate entry fee – at the same time, it does not require that you visit the amusement park. After all, it's summer, and sometimes, summer makes you want to have fun swimming, not walking around under the blazing sun!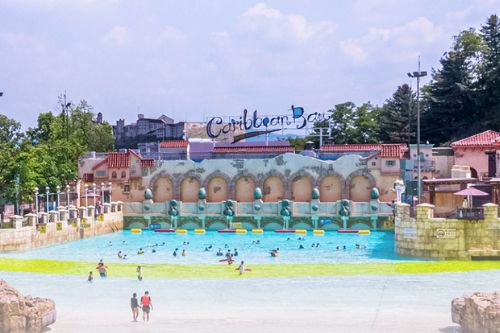 The park accommodates various indoor and outdoor facilities such as pools (a wave pool, adventure pools, kids' pools, etc.), water slides ("Mega Storm," "Water Bobsleigh," etc.), a sauna, and a spa. There are a few restaurants on the territory, as well! Just enough to give you the strength to keep on swimming.
This summer of 2023 (07.7~08.15), Caribbean Bay is hosting the Mega Wave Festival with DJ performances, events, goods, and many other fun things. Check the official Mega Wave Festival page for more information.
Read the article, CARIBBEAN BAY, The Best Water Park In Korea, to learn how to get there and important information about enjoying the water park.
Enjoying Music at the Pentaport Rock Festival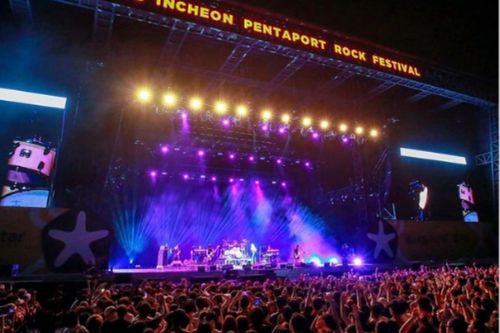 Address: 350 Central-ro, Songdo-dong, Yeonsu-gu, Incheon
Learn more and book the Pentaport Rock Festival
Date: August 4~6
Rock'n'roll never dies, and the Pentaport Rock Festival is in its prime! Years of Covid-19's world domination kept the audience of various festivals at home, but not anymore. This year, one of the most legendary events in the rock scene of Korea, which happens every summer, finally opens its doors for the 17th time for the live audience to attend. This year's line-up will include ElleGarden, The Strokes, Ride, Ginger Root, and many others. Hurry and get your tickets at the official website. This festival will rock your world!
Find more music festivals in 2023 in Korea here.
Walking Along the Lavender Fields in Herb Island, Pocheon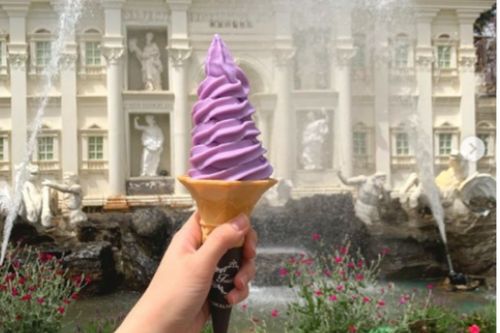 The sight of beautiful lavender fields, lavender coffee, lavender ice cream…The purple paradise you're looking for is here at Herb Island.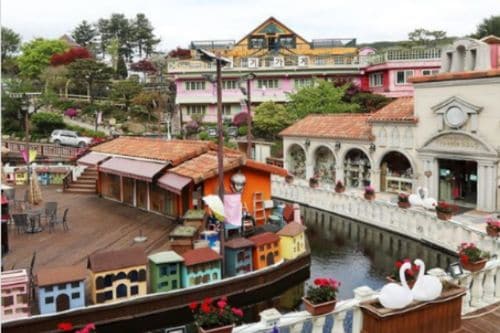 Do not be fooled by its name – it's not an actual island, but the largest botanical garden combined with a museum zone in the whole country in Pocheon. It's been open since 1998!
It's not only a display of flora but a mini-fairytale kingdom. When you walk on its territory, Herb Island takes you to the streets of Venice, to an old Korean road, to beautiful cafes and stores where you can buy herbal products made right there, in the park.
Though strikingly beautiful in summer, Herb Island is also a must-visit in wintertime with its Christmas-themed Santa Village extravaganza and festivity.
Eating Cakes and Drinking Cold Beverages in Pretty Seoul Cafes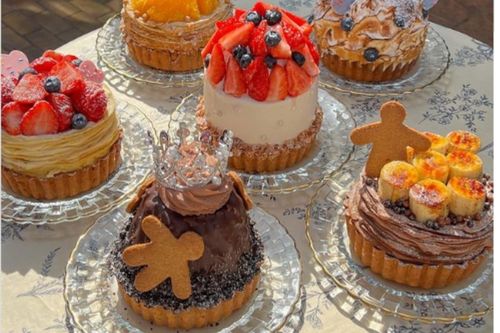 Place: Dosan Mamma (Mamamia)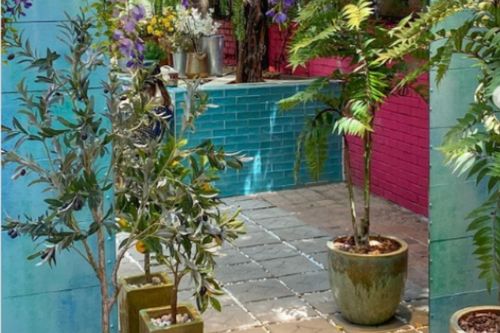 Tell me to find the pinkest wall in Seoul, and I will do it in a moment, as it belongs to the highly-popular café in the area of Apgujeong called "DosanMamma." The café is a fabulous two-story house with European-style outside tables and a whole flower tree growing in the middle of the second floor (is it real? Visit the café and check for yourself!).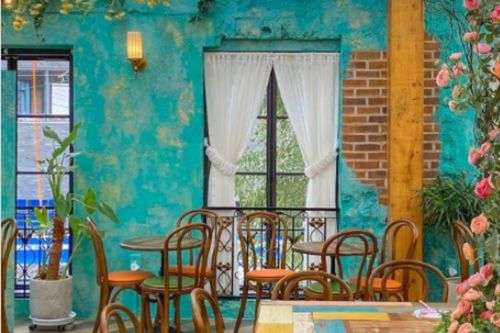 The abundance of the most beautiful desserts you've ever seen is too good to be true in "DosanMamma." There are many different beverages on the menu, as well, so if you want to be trendy, make sure to visit this place. Everyone wants a bite, so let them eat cake!
Enjoying Korea's summer beach festivals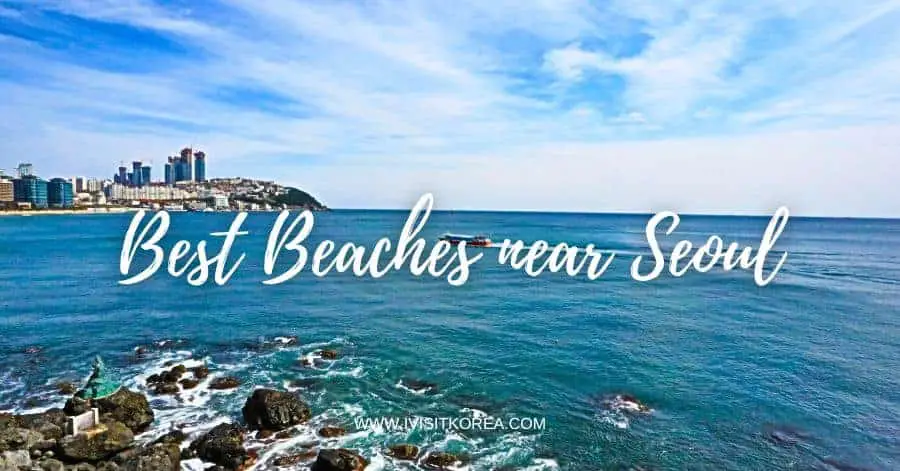 When it comes to embracing the vibrant spirit of summer, Korea's festivals are in a league of their own. From electrifying music festivals to traditional cultural celebrations, there's something for everyone to enjoy and create unforgettable memories. Here are some notable festivals in 2023 you may like. For a comprehensive guide to all the incredible festivals in Korea 2023, check out here.
The Boryeong Mud Festival – July 16th to Aug 15th, 2023
Boryeong Mud Festival in South Korea is a must-visit summer event. Held in Boryeong, this festival attracts visitors worldwide to experience the joy of playing in the mud. From playful mud fights and slippery mudslides to artistic mud painting and exciting obstacle courses, it's an opportunity to let go, embrace your inner child, and get delightfully dirty. In addition to mud-related activities, the festival also offers a variety of events, such as mud baths, live music performances, and cultural showcases. Set against the picturesque backdrop of Daecheon Beach, the Boryeong Mud Festival promises a unique and unforgettable experience for all attendees. Learn more about Boryeong Mud Festival in 2023 here.
Jeongnamjin Jangheung Water Festival 2023 – July 29 – August 6
If you're looking for a refreshing way to beat the heat, the Jeongnamjin Jangheung Water Festival is a fantastic choice. In Jangheung, this unique festival offers a range of water-centered activities to cool you down. Dive into thrilling water slides, engage in epic water gun battles, witness vibrant water parades, and marvel at captivating fireworks. It's a water lover's paradise and a perfect family-friendly getaway. Chosen as one of the top summer festivals by the Ministry of Culture, Sports, and Tourism, this festival will not disappoint you! More details are here.
Gangwon-do East Sea Overnight Sunrise Party – Saturdays in Jun~Aug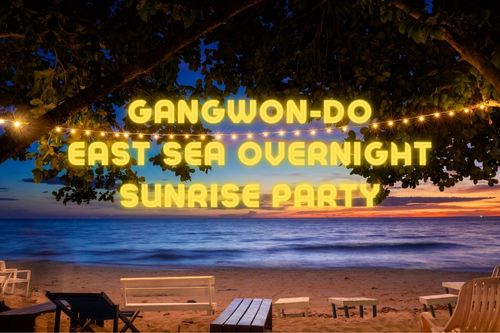 For a beachside celebration like no other, the Gangwon-do East Sea Overnight Sunrise Party is a must-visit. Set against the stunning backdrop of Gangwon Province's pristine shores, this festival allows you to witness the magical sunrise while enjoying live music performances, beach parties, and various engaging beach activities. It's a chance to embrace the coastal vibes, dance under the stars, and welcome the new day with joy and enthusiasm. Find more information here.
Exploring the Beaches of Jeju Island 
Jeju Island is where it's at if you're a beach lover! This heavenly island, known as the "Island of Gods," has incredible beaches that will make your jaw drop. Look closely at some beaches you shouldn't miss and the rad activities you can do there.
Hyeopjae Beach
This beach is one of the island's most famous beaches, known for its powdery white sand and crystal-clear waters. It's like stepping into a postcard! Take a dip in the calm and shallow waters, or unleash your adventurous side with kayaking and paddleboarding. Don't forget to snap a killer selfie with the stunning Biyangdo Island as your backdrop!
Hamdeok Seoubong Beach
This beach is popular among visitors for its kayaking opportunities. Rent a kayak and venture out onto the waves for an exciting adventure on the water. The view of Hamdeok Beach is breathtaking as well. The turquoise-blue waters and soft sandy shores create a paradise-like atmosphere. Whether you're in the mood for a leisurely swim or simply want to soak up some sun, this beach has covered you. Take a leisurely stroll along the beach and let your worries melt away.
Jungmun Saekdal Beach
For a more secluded and tranquil beach experience, visit Jungmun Saekdal Beach. Though it's just a stone's throw away from the bustling Jungmun Tourist Complex, its location at the base of a towering cliff gives it an isolated vibe. Jungmun Saekdal Beach is renowned as one of the best surfing spots on the island. From June to October, when the waves are most reliable, numerous surfers will enjoy the thrill of riding the waves.
Seongsan Ilchulbong Beach (Gwangchigi Beach)
Not only does this beach have a cool name, but it also offers a unique experience. Dive into the underwater wonderland filled with vibrant coral reefs and colorful marine life. Snorkeling or diving here is like entering a whole new world! And if you're an early bird, don't miss the sunrise from Seongsan Ilchulbong Peak—a magical sight you won't forget. The sunset there is magical as well.
Geumneung Beach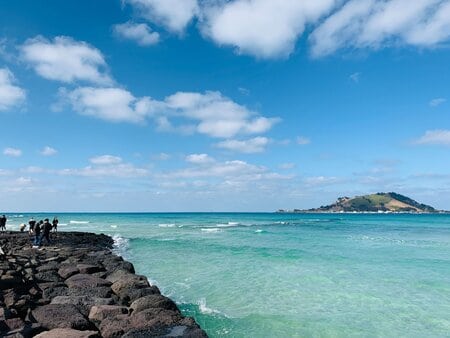 Looking for a peaceful beach getaway? Geumneung Beach is your spot. What sets Geumneung Beach apart is its tranquil atmosphere and less crowded vibe compared to some of the more popular beaches on the island. This hidden gem offers a serene ambiance and natural beauty that instantly relaxes your soul. Take a leisurely walk along the shore, feel the soft sand between your toes, and let the calming sound of the waves wash away your worries. It's pure bliss!
Iho Tewoo Beach
This beach has got it all – sandy shores, a gradual slope, and a cool mix of city vibes and natural beauty. It's like the best of both worlds! You won't run out of fun things to do here. Rent a boat and go fishing or try your luck off the seawall where the locals catch plenty of sea smelts. And when the sun sets, be sure to witness the enchanting beauty of the beach and surrounding pine forest, such a captivating atmosphere. When hunger strikes, no worries! There are tons of great restaurants nearby with killer beach views. So grab a bite, kick back, and enjoy the good times at Iho Tewoo Beach. 
Visiting the Haeundae Beach in Busan 
Haeundae Beach is like the rockstar of beaches in Busan—it's famous, loved by everyone, and always in the spotlight!
The beach boasts stunning white sands stretching about 1.5 kilometers and is 70-90 meters wide. It's no wonder people from all over flock here for the ultimate summer vacation. During the day, you'll witness a hilarious sight as seagulls swoop to snatch shrimp crackers thrown in the air by excited beachgoers. It's a seagull party!
When the sun sets, the sky, beach, and sea turn into a stunning painting of red, orange, and yellow hues. It's like stepping into a dreamy painting. When night falls, the beach comes alive with dazzling fireworks, the soothing sound of crashing waves, and live music filling the air. It's a perfect way to end a lovely day at Haeundae Beach.
Enjoy Watersports and Picnics at Hangang River
Hangang River in Seoul is a top destination for summer fun, both during the day and at night. Whether you're seeking relaxation, outdoor activities, or a vibrant social scene, Hangang River has it.
For watersports enthusiasts, there are plenty of activities to choose from. Rent a kayak or a paddleboard and navigate the gentle currents of the river while enjoying the city's scenic views. If you're up for some adrenaline-pumping action, try out wakeboarding or water skiing and feel the rush as you glide across the water. Visit our article about water sports in Hangang River for a full experience. 
If you prefer a more laid-back experience, pack a picnic basket and find a cozy spot along the riverbank. This is also a well-liked activity by locals in recent years. Hangang River has numerous parks and grassy areas to spread a blanket, enjoy delicious food, and soak up the sun. Take in the vibrant atmosphere as families and friends gather for barbecues, games, and quality time together.
Hiking the Beautiful Trails of Seoraksan National Park 
Yes, you heard it right! Hiking in summer at Seoraksan National Park is an incredible adventure that shouldn't be missed. This renowned tourist destination spans Sokcho, Goseong, Inje, and Yangyang in Gangwon-do, offering breathtaking views and exciting trails for outdoor enthusiasts.
At the heart of Seoraksan Mountain is Daecheongbong Peak, the third-highest peak in Korea. Despite its snowy reputation, summer unveils a different side of the mountain, with vibrant greenery and lush landscapes awaiting hikers. As you embark on your journey, you'll encounter around 30 magnificent peaks, including Socheongbong, Hwachaebong, and Jungcheongbong, each with its own unique charm and panoramic vistas.
There are numerous trails for all hikers, from beginners to experts. Every trail has its own character and draws, like Biryongpokpo Falls, Ulsan Peak, Heundeulbawi Rock, and Geumganggul Cave. Every turn reveals a new surprise, a moment of natural beauty that will awe you.
Exploring the DMZ 
This is maybe the most mysterious place to visit this summer: the Demilitarized Zone (DMZ), a weapons-free buffer zone separating North and South Korea. For over six decades, this area has remained untouched by human activity, unintentionally creating a haven for wildlife and transforming it into a captivating destination for nature enthusiasts.
While many places within the DMZ are not accessible to individual tourists due to their location beyond the Civilian Control Line, there are travel packages available that offer a comfortable and immersive experience, such as the DMZ Peace Train operated by KORAIL. By joining these organized tours, visitors can explore the DMZ securely and informally, guided by knowledgeable experts who provide valuable insights into this unique zone's history, culture, and significance.
Don't forget to bring your ID or passport as they are required for entry. Also, be aware that photography is highly restricted, so check the rules before taking any pictures. We also have a very detailed piece about visiting the DMZ, which you can find here.
Rafting on the Naerincheon River 
This place is not for the faint of heart—it's one of Korea's most thrilling rafting spots! Naerincheon will challenge even the most daring rafters with over ten rapid sub-streams. The 6km stretch from Wondaegyo to Gosari Resting Spot is exciting, thanks to its narrow width and rocky obstacles. Rafts flipping over, heart-pounding rapids, and quick maneuvers to conquer each sub-stream—it's a true test of your rafting skills! This place will leave you breathless and craving more excitement.
After an exhilarating ride, Naerincheon Stream Rafting ensures your comfort with excellent amenities. Their modern shower facilities, with warm water, offer a refreshing respite from the adventure.
Address: 6221, Naerincheon-ro, Inje-gun, Gangwon-do
Visiting Night Markets and enjoying food adventures 
When the summer heat is at its peak, there's no better place to spend a hot summer night in Korea than at the lively night markets. These bustling hubs of food, culture, and entertainment offer a respite from the scorching temperatures while immersing you in an atmosphere of excitement and culinary delights. Add these popular night markets to your list as you enter the summer of 2023.
Some popular night markets in Korea
Myeongdong Night Market (Seoul): Located right in the heart of Seoul, Myeongdong Night Market is a buzzing hub of food stalls and shops. You'll find an incredible variety of street food to satisfy your cravings, like spicy tteokbokki (rice cakes), mouthwatering mandu (dumplings), grilled skewers, and sweet hotteok (pancakes).
Gwangjang Market (Seoul) is one of Seoul's oldest and largest traditional markets. In the evening, the market transforms into a vibrant night market. Taste authentic Korean street food like bindaetteok (mung bean pancakes), mayak gimbap (mini seaweed rice rolls), and yukhoe (Korean beef tartare).
Bupyeong (Kkangtong) Market (Busan): Located in the coastal city of Busan, this Night Market is a treasure trove of culinary delights. Here, you can enjoy fresh seafood, street snacks, and local specialties that capture the essence of Busan's vibrant food scene. Be sure to try some mouthwatering milmyeon (cold wheat noodles), eomuk (fish cake), and treat yourself to the sweet delights of hotteok (sweet pancakes).
Above is just a brief summary of some best night markets in Korea. For a more comprehensive and detailed guide on more fantastic night markets in Korea, including fashion, food, and all the exciting offerings, check out our dedicated post here. It's your go-to resource for planning an unforgettable night market experience in Korea.
Chill Out with Bingsu: Seoul's Best Bingsu Spots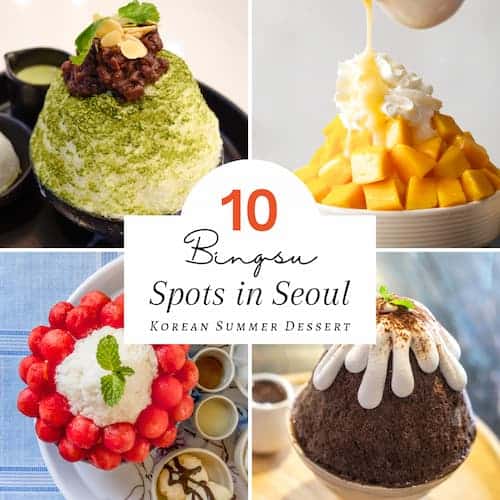 Regarding iconic summer desserts in Korea, bingsu – Korean shaved ice takes the crown. It keeps you cool when the heat is at its hottest and is insanely refreshing. Bingsu is a refreshing dessert with fluffy shaved ice as its base, topped with various delectable ingredients to create a harmonious blend of flavors and textures. Some typical bingsu contains red beans, fruits, matcha, oreo… In Seoul, you'll find many incredible bingsu spots that satisfy your sweet cravings. Here are some top places to visit. For more details and additional spots, check out our article on the "Top 10 Bingsu Spots in Seoul."
Sulbing (설빙) 
You can't go wrong with it since this is one of the most well-known bingsu chains in Korea. Their distinctive tastes include Strawberry, Green Tea Chocolate, Oreo Monster, Red Bean and Injeolmi. You should sample items from their seasonal menu, including the zingy Mango Cheese Sulbing and the mouthwatering Melon Sulbing. They taste delicious. In addition to bingsu, Sulbing offers a variety of mouthwatering sweets, like cakes, pizzas, macarons, tarts, and different pastries.
Some famous branches in Seoul:
Samcheong Bingsu (삼청 빙수)
This is a hanok-style setting amid the lovely Bukchon district. They offer a lot of flavor. The flavor we recommend most is the "Grapefruit Bingsu." The basis is freshly shaved milk ice, abundantly garnished with juicy grapefruit segments, making a great combination of sweetness and acidity. You must try it!
Open hours: 12:00 – 19:00 from Monday to Thursday | 12:00 – 22:00 from Friday to Sunday
Phone:  +82 2-720-8233
Maison de la Catégorie
Among Seoul's bingsu locales, Maison de la Catégorie, a café with French influences, is a hidden gem. Maison de la Catégorie is known for its outstanding bingsu desserts despite its French culinary roots. The two flavors that are most popular with the general public are Corn Bingsu and Peach Bingsu. The Corn Bingsu is so unique and delicious that you won't be able to find it anywhere else.
Island Escapade: Visiting Ulleungdo and Dokdo Island
Jeju Island may be the go-to destination for most tourists in South Korea. Still, the lesser-known Ulleungdo and Dokdo Islands, located near the border with Japan, offer a unique and less commercialized experience. Situated in Ulleung County, North Gyeongsang Province, these islands provide a semi-remote and peaceful getaway for those seeking tranquility. Unlike the bustling tourism scene on Jeju Island, Ulleungdo and Dokdo offer untouched natural beauty and a chance to escape the crowds. If you're seeking a peaceful escape, a visit to either island is exactly what you need for a quiet getaway.
What to do on Ulleungdo Island
Ulleungdo Island, the seventh largest island in Korea, is surrounded by 44 islets of various sizes. Its volcanic nature makes it a popular destination for rock climbing, offering many cliffs to explore. The island features a network of walking trails that connect the sea, mountains, and rivers, so you are spoiled with choices to experience the island's natural beauty and observe the daily life of its residents. A must-visit spot is Bongnae Waterfall, where you can witness the mesmerizing cascade and enjoy the tranquil surroundings.
As a fishing village, Ulleungdo is known for its pretty boats and abundant seafood. Trying the local delicacy of raw fish, similar to sushi, paired with soju is a must-do culinary experience. 
Address: 66 , Dodong 2-gil, Ulleung-gun, Gyeongsangbuk-do
What to do in Dokdo Island
Dokdo Island may be small, but it packs a punch with its activities and attractions. The island offers breathtaking views of Ulleungdo and mesmerizing blue waters, creating a picturesque backdrop for your visit. Additionally, you can indulge in the local culinary scene, with pumpkin makgeolli being a standout treat. This delightful rice wine infused with pumpkin flavors is a must-try. Ulleungdo and Dokdo Islands showcase their rich collection of medicinal herbs, adding a unique twist to their herb-based dishes. Exploring the local cuisine on these islands promises a culinary adventure that will satisfy your taste buds.
When visiting Dokdo, a must-visit attraction is an observatory. The option to reach the observatory via a cable car makes it even more exciting, adding an element of fun to the experience. From the observatory, you can enjoy panoramic views of the constellations and the surrounding islands and rocks. You should stay here til night to witness the beauty of Ulleungdo illuminated at night. Such a gorgeous view.
Address: 55, Dokdoisabu-gil, Ulleung-gun, Gyeongsangbuk-do
Indoor Entertainment: Movie Recommendations for a Hot Day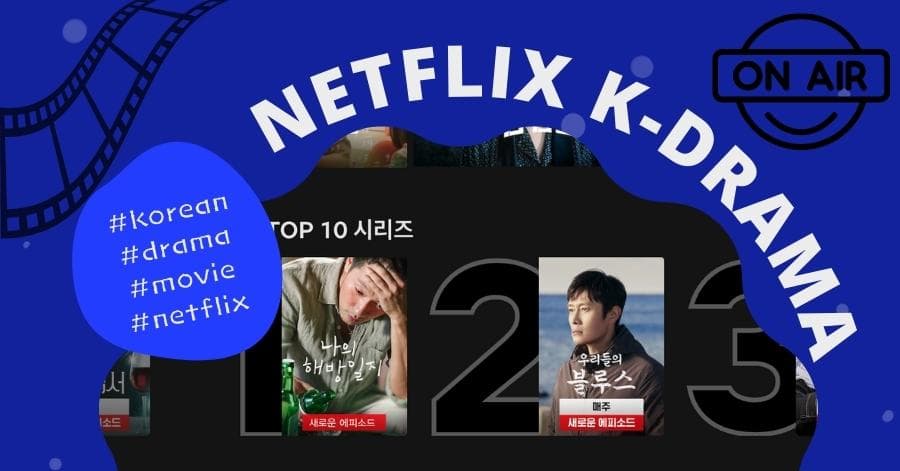 If venturing outside doesn't appeal to you, grab your favorite snacks, settle into your cozy couch, and prepare for a binge-watching session filled with the finest Korean dramas. Netflix has curated a fantastic collection that will keep you engaged and entertained for hours. From heartwarming romantic comedies to intense thrillers and gripping historical dramas, there's something for every mood and preference.
Some popular dramas that you might like
The Glory (2023): This is a gripping revenge-drama series starring Song Hye Kyo and Lee Do Hyun. Follow the story of Moon Dong Eun, a resilient individual who overcomes a traumatic past of violent bullying. As fate would have it, she finds herself teaching at an elementary school where her former tormentor's child is a student. She seeks revenge. This intense series explores themes of resilience and justice, promising captivating drama and stellar performances.
Our Beloved Summer (2021): This is a romantic comedy starring Choi Woo-shik and Kim Da-mi as Choi Woong and Kook Yeon-soo, two former high school sweethearts who reunite after years apart. They agree to film a documentary about their relationship, but as they spend more time together, they start to remember why they fell in love in the first place. The drama aired from December 2021 to February 2022. 
Crash Landing on You (2020): It is a romantic comedy starring Son Ye-jin and Hyun Bin as Yoon Se-ri and Ri Jeong-hyeok, a South Korean heiress and a North Korean soldier who fall in love after Yoon Se-ri crash-lands in North Korea. The drama was a huge hit, both in South Korea and internationally. 
Twenty-Five Twenty-One (2022) is a coming-of-age drama starring Kim Tae-ri and Nam Joo-hyuk as Na Hee-do and Baek Yi-jin, two young people who fall in love during the IMF crisis. They dream of achieving their goals, but they also have to deal with the realities of life. The drama aired from February to April 2022. 
Try some Korean Summer Dishes
When the summer heat hits in Korea, it's the perfect time to explore the vibrant and delicious world of Korean summer dishes. Here are some must-try Korean summer dishes you may like to try:
Naengmyeon: Naengmyeon, or cold noodles, is a quintessential summer dish in Korea. It consists of chewy buckwheat noodles served in a chilled broth. There are two popular varieties: Mul-naengmyeon, served in a tangy and refreshing broth, and Bibim-naengmyeon, tossed in a spicy sauce. Naengmyeon is the perfect remedy for hot summer days with its cool and satisfying flavors.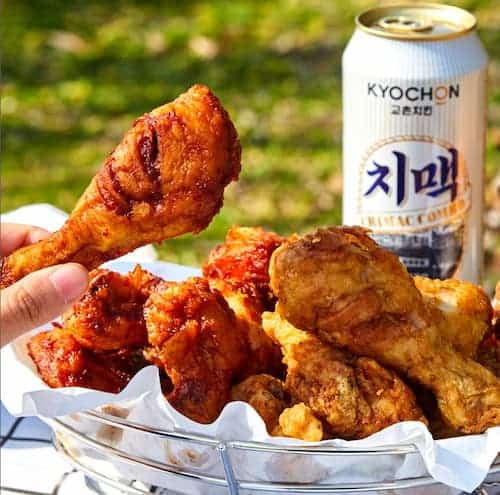 Chimaek: It means "chicken and beer," the classic summer snack. The best place to enjoy it is along the Han River, where it can be delivered directly to your picnic spot. The famous twice-fried chicken of Korea, which has a festival devoted to it, is frequently served with a side of radish cubes, which help to cool the chicken down. You'll stay cool no matter how hot the weather gets with the crunchy, crisp radishes and the ice-cold Cass beer. Click here for the best Korean fried chicken restaurants in Seoul!
Kongguksu: For a refreshing vegetarian option, try kongguksu. It features hand-cut noodles served in a cool, thick soybean broth. Cucumbers and peanuts are common additions; you can even add ice cubes on hot days. Season with salt to taste and enjoy this summer dish's creamy and soothing flavors.
Samgyetang: During the three hottest days of summer, Koreans believe in adding heat to beat the heat, and that's where samgyetang (ginseng chicken soup) comes in. This nourishing soup features a whole chicken cooked in hot broth and various nuts, medicinal herbs, and vegetables. It's a gourmet combination that can help restore appetite and vitality by increasing blood circulation.
Indulge in Luxury: Staycation(호캉스) at Top Korean Hotels
If you're looking for a luxurious getaway without leaving the country, consider staying at one of the top Korean hotels. Staycations, known as "호캉스" (hokangseu) in Korean, offer a perfect opportunity to indulge in relaxation and pampering while enjoying the comforts of a high-end hotel. Immerse yourself in the world of opulence as you indulge in lavish amenities, exquisite dining experiences, rejuvenating spa treatments, and impeccable service. 
Korea boasts a wide range of top-notch hotels that cater to various preferences and budgets. From luxurious resorts in scenic locations to stylish urban retreats in bustling cities, there's a perfect staycation option for everyone. If you stay in Seoul, you can refer to the following hotels: Signiel Seoul, Banyan Tree Club and Spa Seoul, Grand Hyatt Seoul, The ShillaSeoul, Four Seasons Hotel Seoul, JW Marriott Đongaemun Square Seoul…
That is it for the fun places you may visit in the summer of 2023 in South Korea. Have an unforgettable one!