Last Updated on July 5, 2023
There is no better way to experience South Korea than by visiting its beaches. It is the unique phenomenon of each beach that attracts travelers. Each beach listed below has become home to festivals, vacations, and one-day trips. Visit these top 10 beaches near Seoul within two hours any time of the year.
Popular Beach in Korea Opening Date 2023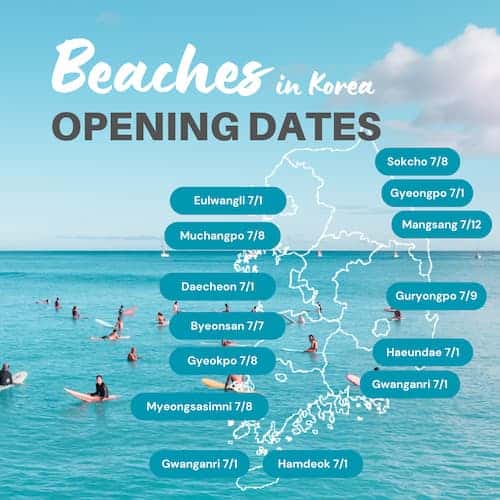 Top 10 Famous Beaches Near Seoul
Eurwang-ri Beach (을왕리 해수욕장)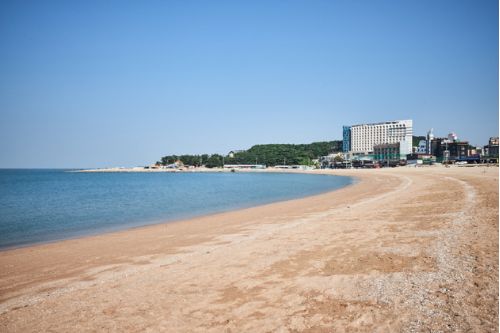 Eurwang-ri beach is one of the most popular beaches in Jung -gu, Incheon. It is easily accessible from metropolitan areas and is one of the best places for seeing the sunset. Every year, sunset festivals are held on the 30th and 31st of December. It also hosts Incheon Eurwang-ri rock concerts. Moreover, foreigners can be seen there because of its international popularity, but locals like Eurwang-ri just as much. There are many small shells in the sand, so walking barefoot is not advisable. But since the water is shallow, it is perfect for kids.
WEBSITE: http://rwangni-beach.co.kr/
ADDRESS: 16-15, Yongyuseo-ro 302beon-gil, Jung-gu, Incheon
PHONE: 032-747-0110
Masian Beach (마시안해변)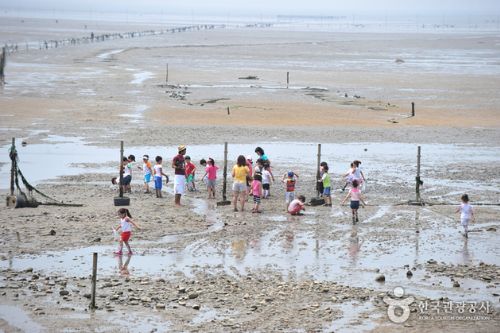 Another great beach in Incheon is Masian beach at Yongyu-do. Located on Yeongjong Island's southwest coast, Masian Beach is one of the most popular beaches, especially for its mud flats. The pine trees surrounding the beach create a peaceful and secluded atmosphere. Octopuses, shellfish, and clams are abundant at Masian Beach.
A café street has emerged around it, making it increasingly popular as a weekend outing destination. The place is perfect for leisurely time with your friends and family or for a romantic date with your partner. You can enjoy a cup of hot brew and stunning ocean views at a beachside cafe to cap off your beach experience. The sunset setting over the horizon, turning the sky red, is an incredible view. A unique natural environment is found at Masian Beach, which features tidal flats and sand beaches. Grey mud flats and sandy beaches are visible at low tide.
ADDRESS: 118, Masiran-ro, Jung-gu, Incheon
PHONE: 032-760-8872
Dongmak Beach (동막해수욕장)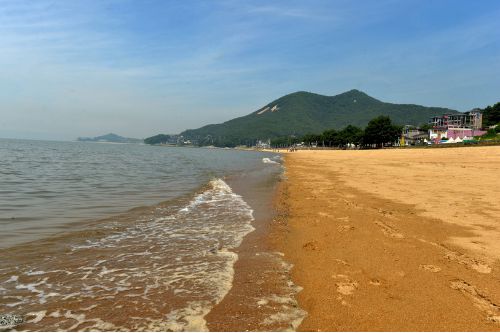 Dongmak Beach has breathtaking white sand and lush pine forests. When the water recedes at Ganghwa's southern end, it forms a flat tidal zone up to 4km long. Many sea creatures like crabs and clams are at Dongmak beach. In addition to the beautiful beach, there are nearby attractions and plenty of things to see in the area.
At Dongmak Beach, you can watch the sunset and enjoy the ocean view. There are a variety of amusement facilities and convenience stores near the park, including food outlets and restaurants, restrooms, and showers. Furthermore, a parking lot and campsite are nearby.
ADDRESS: 1481, Haeannam-ro, Ganghwa-gun, Incheon
HOMEPAGE: www.ganghwa.go.kr
PHONE: 032-937-4445
Bangameori Beach (방아머리해수욕장)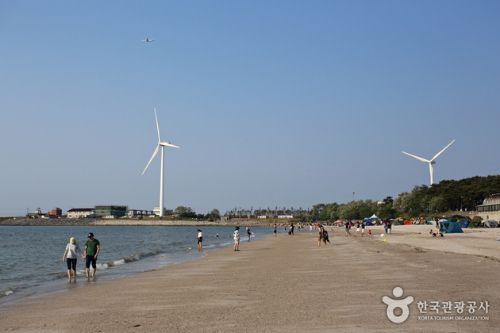 Bangameori beach has 500 m of white sand, it is not huge but an excellent place to experience mud flats. There is also a pine forest behind the beach so you can also enjoy a nice hike. The beach is also close to the Bangameori food culture street so you do not have to worry about what you will eat.
Bangameori Beach offers free parking for the public. If you bring your kids, you won't notice time passing at the mud flats. All you need for digging is a shovel and a bucket.
ADDRESS: South Korea, Gyeonggi-do, Ansan-si, Danwon-gu, Daebubuk-dong
HOMEPAGE: https://tourinfo.ansan.go.kr/main.do
PHONE: 1899-1720
Jebudo Beach (제부도 해수욕장)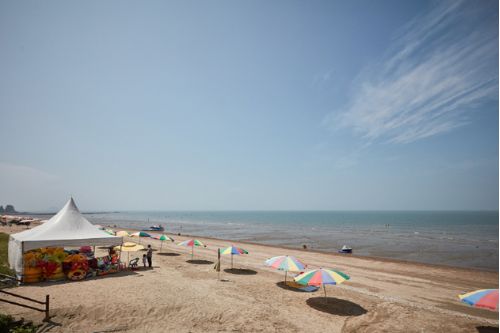 Located in Hwaseong, Gyeonggi, Jebudo beach is one of the best beaches near Seoul. It has something amazing to offer its visitors. The beach is the perfect place to enjoy swimming, mud flats, and playing with sand. You can stay all day to experience the water coming in and out. When the water comes in it is shallow enough to swim but parents should still be cautious of their children. Once the water slowly leaves you can find shells and crabs on the mud flats.
There are convenience stores and restaurants nearby so eating will not be a problem and the best part of Jebudo beach is the parking structure. The parking is 1,000 won for 5 hours. You can also bring your own tent to the beach as well.
ADDRESS: 421-12, Haean-gil, Hwaseong-si, Gyeonggi-do
HOMEPAGE: tour.hscity.go.kr
PHONE: 031-355-3924
Wangsan Beach (왕산 해수욕장)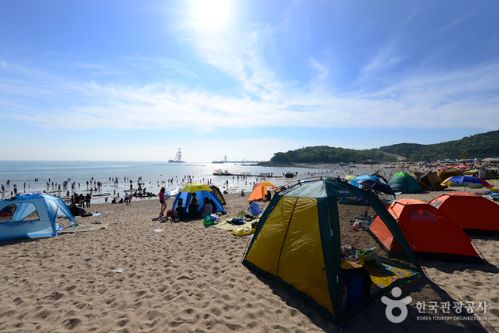 One of Incheon's best scenic spots is Wangsan Beach, known for its incredible sunsets that color the entire sea crimson. The nearby campgrounds can accommodate those who wish to camp or caravan.
The reddish sea and the setting sun are visible from the beach at sunset. Nothing beats watching the sunset on the beaches framed by lush forests and clean white sand. If you want a quiet beach, Wangsan is better than a busy summer resort. It is also close to Eulwang-ri beach.
ADDRESS: Eulwang-dong, Jung-gu, Incheon
PHONE: 032-777-1330
Hanagae Beach (하나개해수욕장)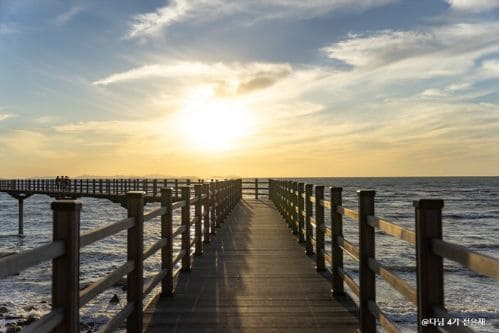 Hanagae Beach is a 1km-long beach with fine-grained sand boasting the largest tide pool on Muuido Island. The mudflats along this beach are great places to find clams and seashells during low tide. It's a great summer beach for swimming. Many local restaurants are adjacent to the beach's entrance, so you won't have trouble finding food.
ADDRESS: 151-8 Hanagae-ro, Jung-gu, Incheon
OFFICIAL WEBSITE: http://hanagae.com/
PHONE: 032-751-8833
Minmeoru Beach (민머루 해수욕장)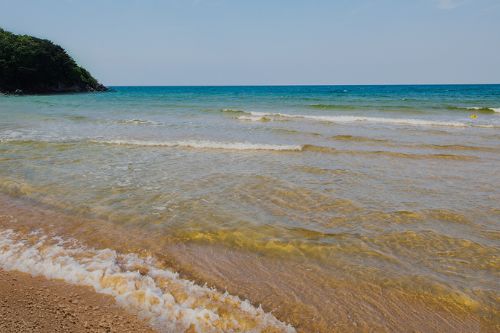 Minmeoru Beach is the only beach on Seongmodo Island, a small island west of Ganghwado. Visitors can relax and watch sunsets over a large stretch of sandy beach. At low tide, mudflats extend for approximately one kilometer. Additionally, the mud is known to be beneficial to women's skin. In addition to clams and crabs, the mud flat is a great place to take scenic photos. It is recommended to wear rubber boots or shoes when walking in the mud flats.
Simnipo Beach (십리포해수욕장)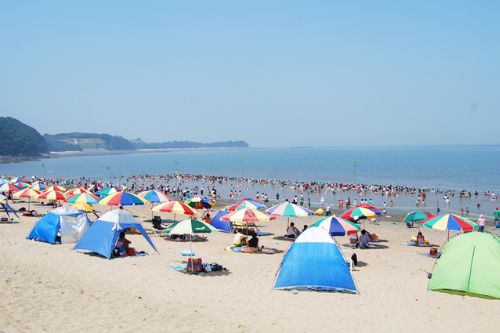 Simnipo Beach offers fantastic views of the night sky, an old forest of pine trees, and pavilion trees. The beach is mixed with about 4km of sand and gravel, and 1km of fine sand fields. They blend well with the surrounding scenery to create a beautiful landscape. In particular, the lights of Incheon Metropolitan City are visible at night, creating a spectacular view. During low tide, seashells and sea creatures can be caught.

You can also climb along the forest road leading from the beach to Guksabong Peak. The slope is gentle, so you can hike, ride a bicycle, or do mountain training. You can see Songdo New Town, Sihwa Lake, foreign ships entering and leaving Incheon Port, and fishing boats at a glance.
OFFICIAL WEBSITE: http://www.simnipo.com/
ADDRESS: Naeri san 91-4, Yeongheung-myeon, Ongjin-gun, Incheon
PHONE: 032-886-6717
Gungpyeong Beach (궁평리해수욕장)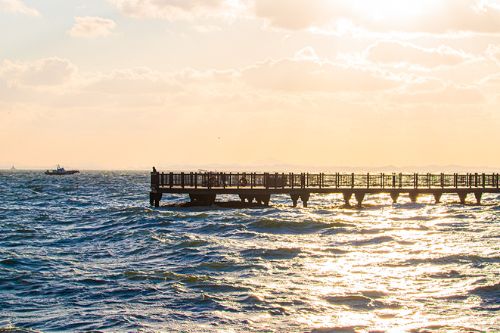 One of the best beaches near Seoul is Gungpyeong Beach. Mostly because it is friendly to all ages. The muddy flats make it possible for children to dig up clams and seashells. Gungpyeong Beach is two kilometers long and 50 meters wide. It has white sand beaches and more than 500 sea pine trees over a century old. Tidal flats are formed when the tide is low, forming approximately 2km of muddy sand.
Over 5,000 pine trees line the beach, and the area has an abundance of shellfish, so you can do sea fishing or catch shellfish there. The harmony between the sea and the pine trees creates one of the most beautiful sunsets. Gungpyeong sunset is one of the Eight Views of Hwaseong chosen by the Hwaseong district.
ADDRESS: 660-41 Gungpyeong-ri, Seosin-myeon, Hwaseong-si, Gyeonggi-do
WEBSITE: https://tour.hscity.go.kr/NEW/1tour/nature2.jsp
PHONE: 031-356-7339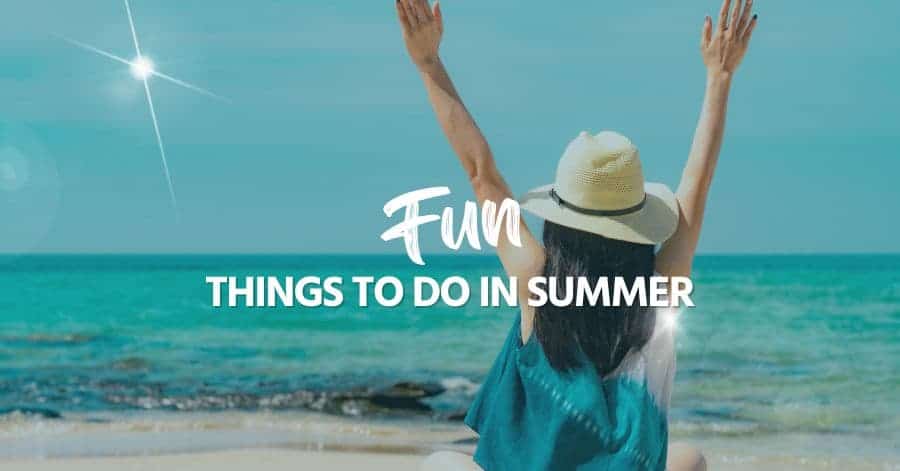 Most Popular Beaches In Korea
Jumunjin Beach in Gangwon-do (주문진해수욕장)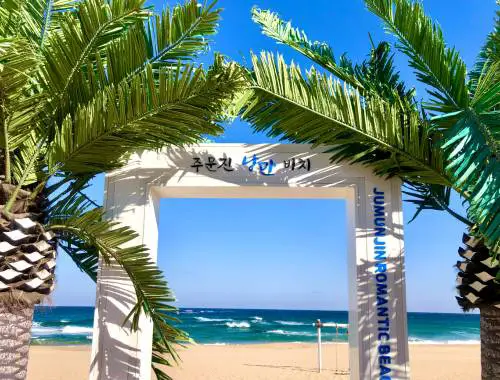 Jumunjin Beach, located in Gangneung City, Gangwon-do Province in South Korea, is renowned for its stunning natural beauty, featuring clear emerald waters, white sandy beaches, and majestic pine tree forests. Noted for its fine sands and shallow waters, it's a popular destination for both locals and tourists, offering a plethora of activities such as swimming, beach volleyball, and picnicking. Jumunjin is also known for its seafood market where fresh catches are sold daily, adding a unique culinary dimension to the beach experience.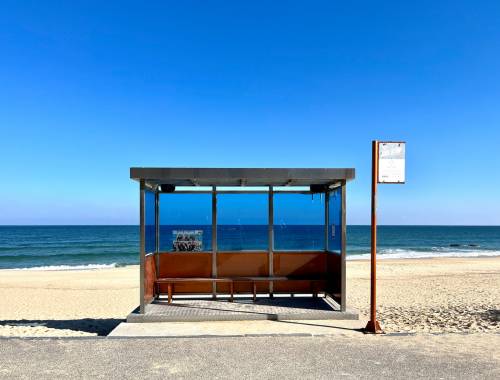 In popular culture, it gained fame as a filming location for the album cover of BTS's "You Never Walk Alone," attracting a considerable number of K-pop fans.
Trazy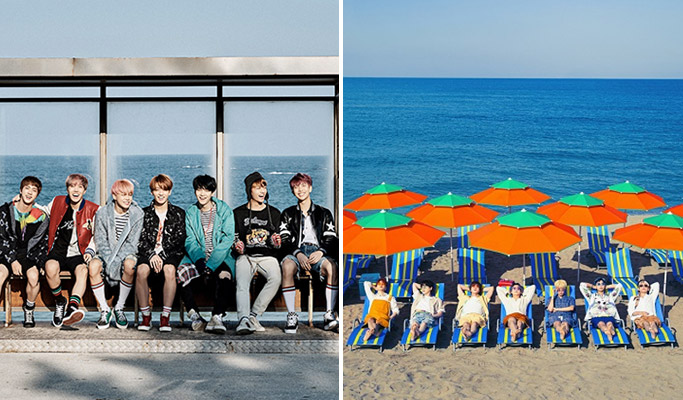 ADDRESS: 210, Jumunbuk-ro, Jumunjin-eup, Gangneung-si, Gangwon-do, Republic of Korea
WEBSITE: http://jumunjin-beach.co.kr/
PHONE: 033-640-4535
Daecheon Beach in Boryeong (대천해수욕장)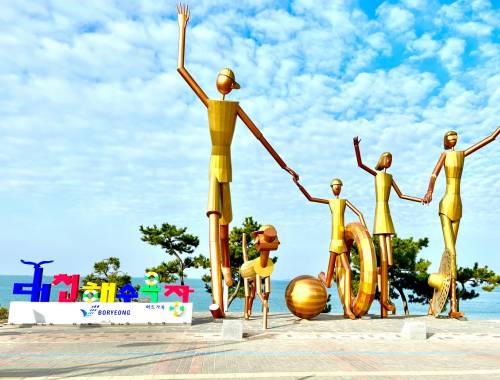 Daecheon Beach is a remarkable coastal attraction known for its extensive stretch of fine, light-gray sandy beach spanning approximately 3.5 kilometers. It's particularly famous for hosting the Boryeong Mud Festival, an annual summer event attracting millions of visitors with a unique array of mud-based activities.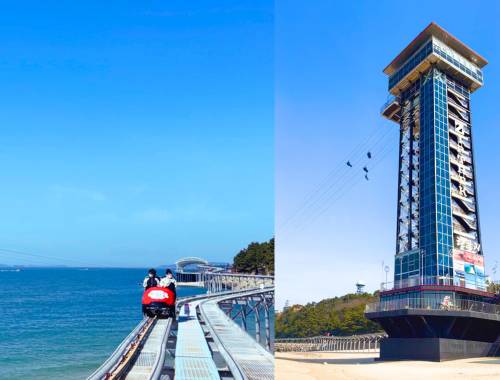 The beach offers a variety of recreational activities such as swimming, sunbathing, jet-skiing, zipline, sky bik, and banana boat rides, complemented by a thriving local seafood scene. Nearby attractions include a seaside walkway and a variety of restaurants, cafes, and accommodations, making Daecheon Beach a comprehensive destination for a seaside getaway.
ADDRESS: 5, Haesuyokjang 10-gil, Boryeong-si, Chungcheongnam-do, Republic of Korea
WEBSITE: daecheonbeach.kr
PHONE: 041-933-7051
Anmyeon Beach in Taean (안면해수욕장)
Anmyeon Beach in Taean is well known for its pristine white sands and clear blue waters, this crescent-shaped beach stretches over 1.5 kilometers and is surrounded by lush pine forests, creating an alluring blend of sea and nature. Furthermore, you can try the Anmyeondo Island Coastal Trekking Path, which winds its way around the island's coastline, offering a combination of sandy beaches, rocky shores, and lush forest paths.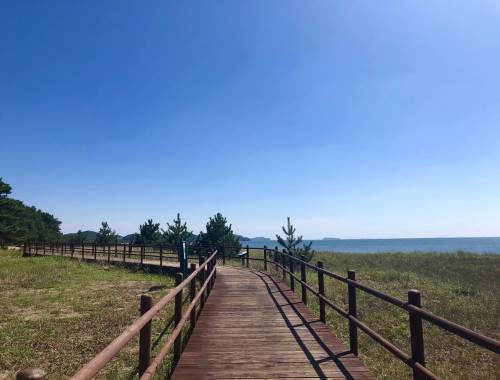 The road stretches around the perimeter of Anmyeondo Island, allowing travelers to appreciate the island's beauty from various perspectives, offering breathtaking views of the West Sea, verdant forests, and the beach's pristine sandy stretches.
ADDRESS:  Haeangwangwang-ro, Anmyeon-eup, Taean-gun, Chungcheongnam-do, Republic of Korea
PHONE: 041-670-2691
Surfyy Beach in YangYang (서피비치)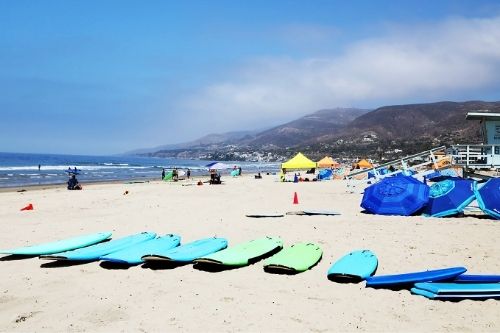 Surfing enthusiasts often flock to Yangyang in the Gangwon Province of South Korea, as it is home to some of the country's best surf spots. Among these, the most notable is probably Surfyy Beach (also known as "Surfing Beach"), situated in the small village of Dongho-ri. Surfyy Beach is South Korea's first official surf beach, offering excellent wave conditions suitable for both beginners and experienced surfers.
Trazy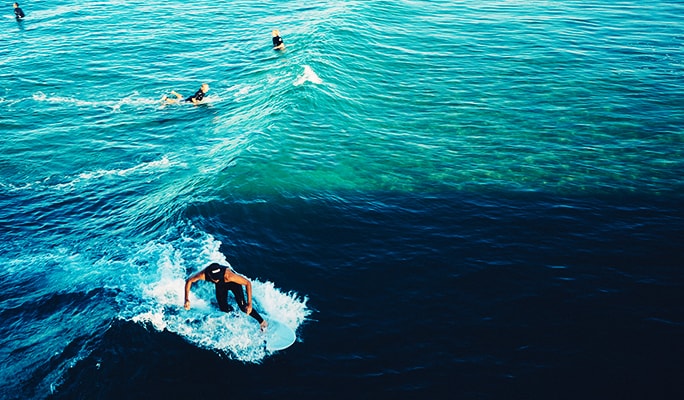 The beach is relatively quiet and unspoiled, and the surf community here is welcoming and inclusive. Surfing lessons and board rentals are available on-site for those who need them, and there are a few surf shops and cafes around. Surfyy Beach hosts a number of surfing competitions and festivals throughout the year, contributing to its reputation as the heart of the Korean surf scene.
ADDRESS:  119, Hajodaehaean-gil, Hyeonbuk-myeon, Yangyang-gun, Gangwon-do, Republic of Korea
PHONE: 033-672-0695
Mangsang Beach in Donghae (망상해수욕장)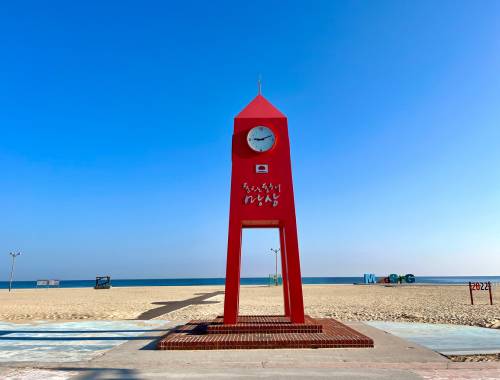 Mangsang Beach is a popular coastal retreat renowned for its gentle sea waves, clear emerald waters, and a long stretch of white sandy beaches lined with beautiful pine trees. This shallow and tranquil beach offers an ideal environment for family outings, swimming, and beach activities, while the surrounding pine forest provides refreshing natural beauty and shade.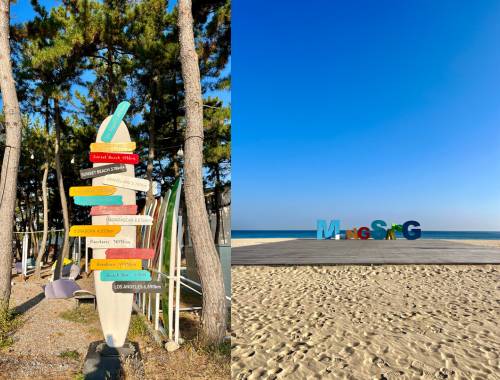 Mangsang Beach also houses an Auto Camping Resort, a unique feature that allows visitors to camp with their vehicles on the site, making it a popular destination for camping enthusiasts!
ADDRESS:  Donghae-daero, Donghae-si, Gangwon-do, Republic of Korea
PHONE: 033-530-2800
Hyeopjae Beach in Jeju Island (협재해수욕장)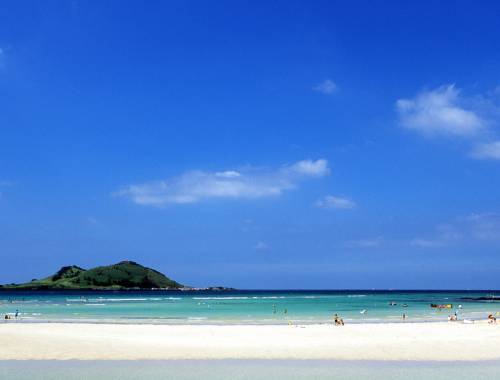 Hyeopjae Beach is a stunning coastal attraction located on the west side of Jeju Island in South Korea. It is also unique in that it offers a view of the nearby Biyang Island, another tourist hotspot known for its fascinating volcanic rock formations. Behind the beach, there's a dense grove of evergreen trees, providing a perfect spot for camping or picnicking.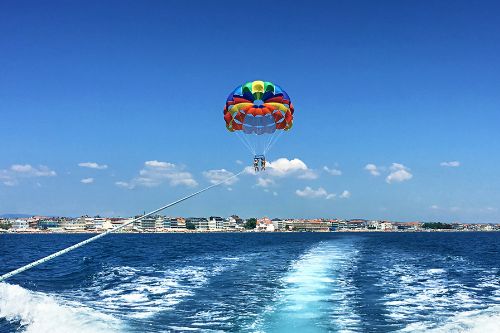 Famous for its beautiful white coral sands that contrast beautifully with the beach's clear, shallow turquoise waters, Hyeopjae Beach offers a picturesque setting for relaxation and leisure activities. Its soft sandy floor extends far into the sea, providing an excellent spot for swimming and water sports.
Near the beach, there are several eateries that serve fresh seafood and local dishes. The beach is part of Hallim Park, making it convenient for visitors to explore other attractions like the Hyeopjae and Ssangyong caves and a folk village, providing a rich, multi-faceted travel experience.
ADDRESS:  2497-1, Hyeopjae-ri, Hallim-eup, Jeju-si, Jeju-do, Republic of Korea
WEBSITE: http://www.visitjeju.net
PHONE: 064-728-3981
The summer is just around the corner. When planning your next vacation, do not forget to take a trip to the best beaches near Seoul.
You may also like:
IVK's Top Picks – Day Tours, Tickets, and Travel Activities
Seasonal Picks!😍