Seongsu-dong: Hip and Trendy
Seongsu-dong is an area of Seoul where you can discover a new image of the city. Famous for being an old industrial area re-invented for the public, it contains quaint streets filled with coffee shops, high-end restaurants, hubs for fashion, art, culture, and even celebrities!
The Seongsu hand-made shoe street is also one of the highlights of the neighborhood, although it attracts an older population. And, of course, the beautiful Seoul Forest and Ttukseom Hangang parks allow residents and visitors to hang out, do water activities, and overall have a great time during all four seasons.
Another charming point about Seongsu is the number of celebrities calling it home: Taeyeon, BTS Jungkook and J-Hope, EXO Baekhyun, and countless actors are gathered in this neighborhood, driving its popularity to new heights.
You can access Seongsu through the Seoul Metro Line 2 (green line) or the Suin-Bundang Line (yellow line). Any stops from Seoul Forest Station to Seongsu Station and Ttukseom Station can take you to the heart of the neighborhood, depending on where you are coming from, and each station requires less than 10 minutes by foot.
One quick tour of the hashtag #seongsudong on Instagram can give you an idea of the hot places to go to, but I thought I would give you a pseudo-tour of the must-see spots so that you don't miss anything!
From the overall feel to the cafes and restaurants, Seongsu can keep visitors busy for days. Here are 4 major things to see in "Korea's Brooklyn," as many call it.
Top 4 things to do in Seongsu-dong
Colorful alleys and Cafe street (to take great pictures)
Whether you depart from Seoul Forest station or Seongsu station, a short walk in any of the alleys will take you to a maze of coffee shops born from repurposing old factories and warehouses into urban-style interiors with cozy vibes. Colorful decoration and unique interiors mixed with delicious drinks and desserts make for a great afternoon of sightseeing.
Popular concept stores (to shop until you drop)
Seongsu's charm comes mainly from its young population coming to shop for unique items or eat famous desserts. The two concept stores responsible for this hype are Supy and Knotted, as seen all over Instagram.
SUPY (Successful Pyrates)
SUPY (standing for Successful Pyrates) is only 200m from Seongsu Station's exit 3. On the right side of the road stands an unassuming red revolving door. Once inside, different fashion concepts are pulled together in a sea of trendy or vintage items.
From ready-to-wear to accessories, you can find almost everything. The dimmed atmosphere almost makes it feel like a nightclub, and it is possible to forget about the outside world for a minute or two.
Address: 71 Seongsui-ro, Seongdong-gu
Knotted Peaches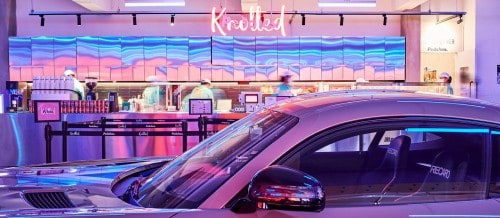 KNOTTED PEACHES is a space that offers so much more than meets the eye. A coffee shop and a concept gallery allow visitors to shop for clothing and accessories while drinking coffee and tasting delicious treats from Knotted, the famous donut brand. Burger restaurant "Downtowner" is also in the corner of the space, with a gelato booth next to it.
Most people come to Knotted Peaches for the donuts but also the Instagram photos. Depending on the period, you can find luxury cars randomly parked inside the space: Knotted Peaches is also a Car Styling shop.
The overall atmosphere communicates an urban style that reminds visitors of New York's Brooklyn, and I highly recommend it for Instagram pictures – or tasty Donuts!
Address: Yeonmujang 3-gil 9, Seongdong-gu (you can access it from Ttukseom Station's exit 5).
Must-visit Restaurants (to discover varied cuisines)
Pizzeria Marione
This Italian restaurant has everything, including a lovely interior, and great traditional Napoli pizza with dough made Italian-style and baked in a brick oven. You can also enjoy pasta and wine. Vegan options are available if you pick the "pizza marinara" or ask for the removal of cheese and meat.
Perfect for a date, the small restaurant does not take reservations, so it is best to get there early (around 6 pm). It opens from Tuesday to Friday, from 11:30am to 2:00pm and 5:00pm-8:00pm.
Address: 15 Seongsuiro 12 gil, Seongdong-gu
Zesty Saloon
This burger joint, known for having long lines at the door, offers "American-style" burgers, including garlic burgers, Wasabi shrimp burgers, American cheeseburgers, and Chipotle chili burgers for roughly $10 each.
Reviews rave about its unique taste, and it has built up a community of fans willing to wait 3 hours to taste the menu. The place operates from 11 am to 9 pm.
Address: 19, Seoul Forest 2-gil, Seongdong-gu (you can access it at Exit 5 of Seoul Forest Station)
Dodohan Myeon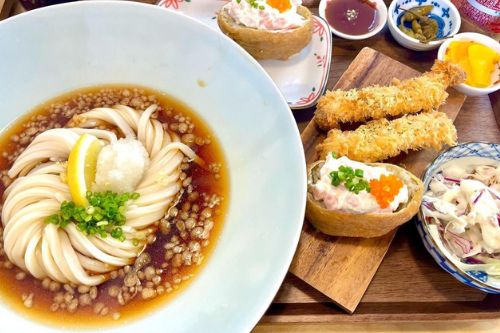 This udon restaurant is popular due to its quaint exterior, which is perfect for cute pictures. Its menu is also ideal for rainy or cold days, as it offers different noodle soups for less than $15.
Reviews call the noodles "the best kind of noodles I've ever had," praising the clean and neat interior and kind staff. You can visit Dodohanmyeon from 11 am to 8 pm.
Address: 41-17 Yeonmu-gil, Seongdong-gu (at exit 4 of Seongsu station).
Art Galleries (to expand your cultural taste)
The Page Gallery
The Page Gallery is located near Seoul Forest, this contemporary art gallery shows paintings, sculptures, and other various pieces of work featuring international artists from the US, Germany, China, and more.
Open: Tuesday to Sunday, from 10:30 am to 6 pm.
Address: 85, Wangsimni-ro, Seongdong-gu (access it from Ttukseom Station's exit 8).
Gallery Kuzo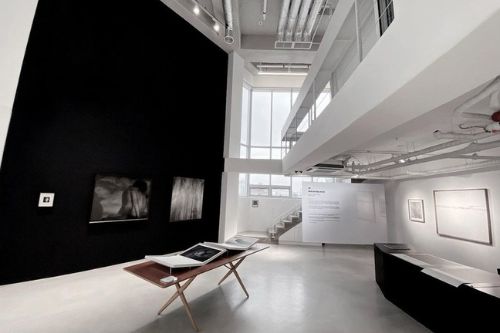 Gallery Kuzo: KUZO was established in 2012, showing experimental and unconventional art under No Wave. The space became an art consulting business helping Korean and foreign artists organize their shows.
After relocating to Seongsu-dong, Gallery KUZO started featuring art that mixes old and new and different media types in one space. You can book your visit on their website to see it for yourself.
Address: 419, Ttukseom-ro, Seongdong-gu
You can see how Seongsu bursts in culture and spunk from just this small list. These are only a few examples, and there is much more to see. Tour the neighborhood to take in the fashion, the food, and the art as much as possible. I hope this guide helped you. Enjoy Seongsu!
You may also like:
IVK's Top Picks – Day Tours, Tickets, and Travel Activities
Seasonal Picks!😍