Last Updated on July 21, 2022
Seoul is a dynamic city with some grand hotels, arguably one of the most interesting Asian destinations. Seoul has steadily become the beacon of Asian tourism and has leapfrogged in the region due to its beautiful culture and upbeat K-pop. Regardless of why you visit Seoul, it will leave a mark on you and how you travel for the foreseeable future.
The concierge business in Seoul is a blossoming industry when critically compared to other cities in the region. Part of enjoying a work or leisure trip is the concierge experience, which is subtle but pivotal to how we rate trips today. Here is a list of 9 cheap and highly rated hotels with a pool and gym in Seoul.
Top Cheap Hotels with a Swimming Pool and Gym
Amanti Hotel Seoul
Amanti Hotel is conveniently located 500m from Hongik University Subway Station Exit 1 (Line 2, Airport Railroad and Gyeongui-Jungang Line). The hotel is a short walk to the busy Hongdae area and a short subway ride to Seoul City Hall and Deoksugung Palace.
The hotel hosts a seasonal outdoor pool, a fitness center with free access to guests, and free Wi-Fi access in public areas. It offers 24-hour front desk services alongside currency exchange and luggage storage.
Amanti Seoul has a beautiful rooftop garden with breathtaking views of the city's skyline, where guests can take leisurely walks. The 24-hour business center is finished with hardwood floors, panoramic views from every room's window, an electric kettle, and flat-screen television.
Amanti Hotel Seoul
Address: 31, World Cup Buk-Ro Mapo-Gu, Seoul, Republic of Korea, Hongdae, Seoul
---
Agoda
Hotel Skypark Kingstown Dongdaemun
Rated at 9.1 for a two-person trip, the modern Hotel Skypark Kingstown Dongdaemun is conveniently located only 350 m from Dongdaemun Subway Station (Line 1 and 4). In just a few footsteps, guests can explore the Dongdaemun shopping district.
The rooms are finished with wooden furnishing and carpet flooring giving them a modern feel. While the hotel has 24-hour front desk services, it also offers a small fridge and electric kettle for the guests' convenience.
The hotel serves a daily breakfast buffet at a surcharge. Guests at this trendy hotel can work out at the in-house gym or enjoy a dip in the swimming pool. The hotel is ideal for traveling couples who want to enjoy a lovely time in Seoul.
Hotel Skypark Kingstown Dongdaemun
Address: 335, Dongho-ro, Jung-gu, Dongdaemun, Seoul
---
Agoda
L7 Hongdae by LOTTE
Located in Hongdae Mapo-Gu district, Seoul, this colorful hotel features various facilities that will make your guest feel superb. L7 Hongdae offers a restaurant, fitness center, bar, swimming pool, and free Wi-Fi.
The seasonal swimming pool is located on the rooftop, and you can access it at an additional cost. All rooms are air-conditioned with a kettle, flat-screen TV with satellite channels, and a fridge.
There is an onsite bar where you can grab a drink as you pass the night. L7 Hongdae hotel offers a business center with 24-hour front desk services in English and Japanese. This trendy hotel is ideal for corporate travelers who wish to be in a great location to hold business meetings in a calm, refreshing environment.
L7 Hongdae by LOTTE
Address: 141, Yanghwa-ro, Mapo-gu, Seoul
---
Agoda
Hamilton Hotel Itaewon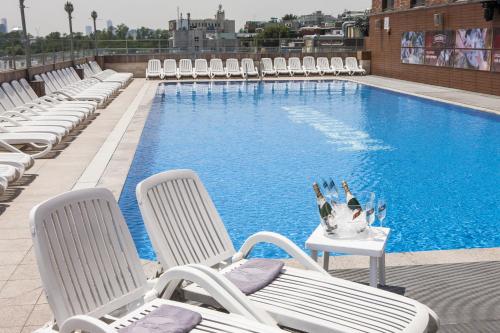 Hamilton Hotel sits regal and cozy in front of Itaewon Subway Station (Line 6). The modern space is accentuated by a seasonal rooftop pool and a large sauna where guests can enjoy fun water activities.
It offers free internet, furnished air-conditioned rooms, en-suite bathrooms, ironing facilities, a mini bar, and satellite TV. Guests can enjoy Korean and Western dishes in a casual dining setting.
They can also arrange day trips at the hotel's tour desk, and you can also exercise at the gym. The hotel is near many Muslim eateries and only 3 km away from Namsan Park.
This stylish hotel is ideal for couples who want to take day trips, enjoy nice dinners, and vacation in Seoul.
Hamilton Hotel Itaewon
Address: 179 Itaewon-ro, Yongsan-gu, Itaewon, Seoull
---
Agoda
Riviera Hotel
Situated conveniently close to the famous Gangnam, the enormous Riviera Hotel is a high-quality hotel that provides guests with the best services. If you intend to explore Seoul, this property puts you close to many attractions and countless dining options that will excite you during your trip.
The hotel offers free Wi-Fi, a swimming pool, an onsite fitness center, and a restaurant. Other facilities include; transport to the airport, shuttle service, valet parking, 24-hour front desk services, and luggage storage.
This hotel is ideal for young travelers looking to see more and spend less as it is closer to many attractions. You will have no problem with budget traveling!
Riviera Hotel
Address: 737, Yeongdong-daero, Gangnam-gu, Gangnam, Seoul
---
Agoda
Tmark Grand Hotel Myeongdong
The fabulous Tmark Grand Hotel Myeongdong boasts a convenient location in front of Hoehyeon Subway Station (Line 4). It offers free Wi-Fi, sound-proofed and air-conditioned rooms, a flat-screen TV with cable channels, an electric kettle, and a refrigerator.
Guests can access the fitness center for free. The indoor pool is at a surcharge with also a 24-hour front desk service. The hotel also offers currency exchange services, an in-house restaurant, and breakfast for all guests between 7:00 and 10:00.
Guests can experience the robust atmosphere of the Namdaemun market across the street from the hotel. This fabulous hotel is ideal for youth who want to travel using subways during their stay conveniently.
Tmark Grand Hotel Myeongdong
Address: 52 Taegyero, Junggu, Seoul, Myeong-dong, Seoul
---
Agoda
Hilton Garden Inn Seoul Gangnam
The hotel offers accommodation alongside a restaurant, private parking, a fitness center, a bar, and a seasonal outdoor swimming pool. Hilton Garden Inn Seoul Gangnam provides concierge services, 24-hour front desk services, currency exchange, and continental or buffet breakfast for all guests.
The experience at this hotel is superb. It is suitable for adult travelers looking to unwind and take in a few days of relaxation.
Hilton Garden Inn Seoul Gangnam
Address: 253 Gangnam Dae-ro Seocho-gu, Seoul , Gangnam, Seoul
---
Stanford Hotel Seoul
The Stanford Hotel Seoul is located in a buzzing area with student bars, shops, and trails alongside riverside Haneul Park. It is a polished hotel with a reputation for its clean and large rooms amongst the guests. The hotel offers an in-house swimming pool, a fitness center, free Wi-Fi, and parking. Also, it is conveniently located a 3-minute walk from a bus station and an 8-minute bus ride to Seoul World Cup Stadium.
This hotel is ideal for young travelers who prefer to use public transport and hang out around spots filled with other young people.
Stanford Hotel Seoul
Address: 15, World Cup buk-ro 58-gil, Mapo-gu, Gangbuk, Seoul
---
Agoda
Pacific Hotel Seoul
The cozy Pacific Hotel Seoul is set in a bustling neighborhood in a busy shopping district Myeongdong adorned with countless luxury department stores, local brands, and informal global delicacies. It is located a couple of minutes away from the metro stop and is close to many attractions in the city like the N Seoul Tower on Namsan Mountain. Hotel guests have access to a pool, fitness center, spa treatment, and free WiFi.
The experience at this cozy hotel is ideal for shopping enthusiasts who are looking to spend some time relaxing and shopping within the same neighborhood.
Pacific Hotel Seoul
Address: 2 Toegye-ro 20-gil, Jung-gu , Myeong-dong, Seoul
---
Agoda
You may also like:
IVK's Top Picks – Day Tours, Tickets, and Travel Activities
Seasonal Picks!😍