Last Updated on August 11, 2023
Read also:
Can I Use Google Maps in Korea?
Google map is the go-to app for navigation and mapping in most parts of the world. Whenever you face any navigation difficulties, you open Google Maps to get the best route to your target destination. It shows you the best directions to the destination address, and Google maps tell you the estimated time you will arrive at the target destination. Of course, depending on the mode of transportation you choose. However, Google map is not one of the best navigation apps in Korea. South Korea is one region where Google Maps does not work. The country has strict security policies when it comes to mapping data. Google stores the direction details on a foreign server, but South Korea has not allowed Google access to its country's map.
As a result, Google Maps cannot be used for navigating Korean routes when you are driving, biking, or walking. It is believed that the country has implemented these restrictions since it is technically still at war with North Korea. The country's geographical data would be available on foreign servers if it allowed the citizens to use Google Maps for navigation. Due to the high risk involved in the process, the nation has restricted using Google Maps. Korea does allow certain mapping features, as long as the security protocols are followed and navigation does not compromise the privacy and security policies of South Korea.
Check Out Airport Transfer Services in Korea!
That being said, South Korea does allow map data export features, given that the satellite pictures of certain locations are blurred or edited out. These locations include certain government facilities and military locations. Google did not accept the condition and had, therefore, enabled only the basic mapping functionalities for South Koreans. It has not agreed to delete any information from the map. As a result, Google Maps does work in Korea, but it has limited information. And you can't rely on it for navigation, especially if you need directions for narrow streets and government facilities.
It has made it quite challenging for non-Korean speakers, especially tourists, to navigate around Korean cities. So, a vast majority of tourists rely on maps for directions. Fortunately, Korea does have a few map applications for those facing difficulty navigating their way around Seoul and other Korean cities. These apps are available in English and other languages as well, making it easier for non-native speakers to get accurate directions.
Let's check out a few best navigation apps (Google Maps Alternatives) in Korea. We have listed each app's features, uses, and how you can use the app for navigation.
Read more about Best Apps for Korea Travel!
Best Navigation Apps in South Korea
Naver Map
Naver is called the Google of South Korea, as it holds just about any information like Google. Not only does it have blogs, music, videos, society, and news, but Naver is known for offering a map app that helps you with navigation. It definitely is one of the best navigation apps in Korea.
You can navigate around any Korean city using its smart mapping features. The app also shows you the best restaurants, sightseeing locations, spas, and other places based on customer reviews. The map has detailed information about the addresses, website, photos, reviews, and more.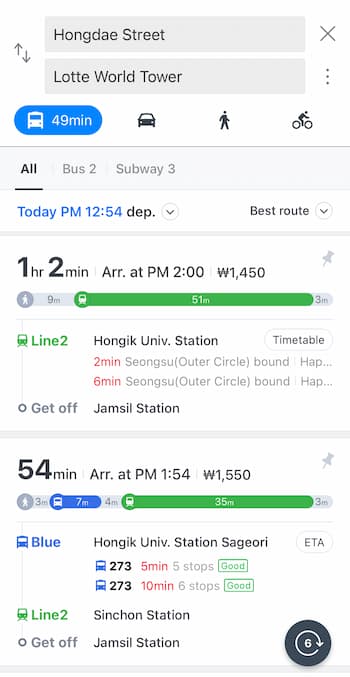 The best part of this map I like most is offering how to get there by public transportation, car, walk, and bike. So, you can check the best routes to reach a destination and even the timetable for the bus and subway.
The company has added real-time traffic data with the Clova voice command function for easy and smooth navigation. If you are walking or riding to the destination, rotate the map to 360 degrees to get a clear view of the place.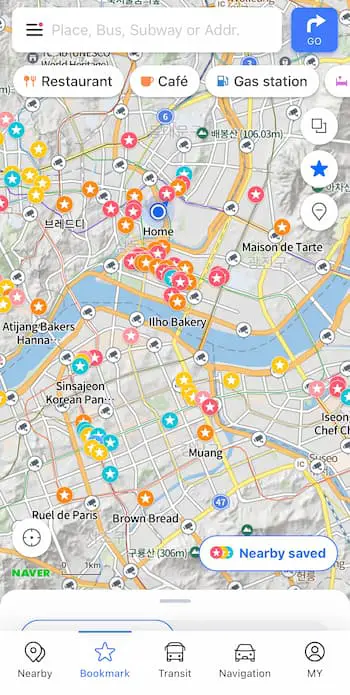 You could also save your favorite places on Naver and find the best directions to these places on the Naver map app.
I'm based in Seoul and I've saved a lot of my favorite places on Naver Map. I thought I would share the list with you in case you're ever visiting Seoul. You can download the list and see the places on your own map.
The list includes a variety of places, including restaurants, cafes, bars, shops, and attractions. I've tried to include a variety of places to suit different interests. I hope you find the list helpful! 😉
Best Cafes in Seoul
Naver Map Link: https://naver.me/5bdJJXC8
Top Korean BBQ Restaurants in Seoul
Naver Map Link: https://naver.me/GwEskGvI
Must-visit Places Near Seoul
Naver Map Link: https://naver.me/IxW5EOZd
Top-notch Bakeries in Seoul
Naver Map Link: https://naver.me/x3qUd1lp
Trendy Places in Seongsudong, Seoul
Naver Map Link: https://naver.me/GedoBqZX
You can use the app in four languages – English, Chinese, Japanese, and Korean.
Here's how you can use the Naver map:
The language of the map is set to the default language of your mobile, but if the data is in Korean or any language you can't understand, switch the language to English.
Right on the home screen, click in the search bar, and type the address, name, or contact number (whatever details you have)
Enter your current location in the "from" field and the destination address in the "to" field.
Pick the mode of transportation.
If you choose public transportation, you can select from the intercity and intracity transportation options.
The app shows you the directions based on your transportation mode and your preference. You can choose a short-cut, toll-free route, or a traffic-free route. Zoom in on the map for detailed directions.
Find & Compare the Best Activities in Korea!
Kakao Maps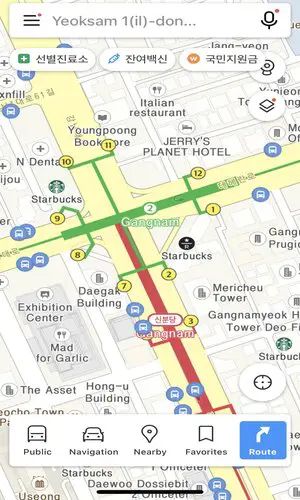 Kakao Maps is another excellent choice for those looking for one of the best navigation apps in Korea. Like the Naver app, it has many features that make mapping super simple and convenient for tourists. The best part is that Kakao maps are compatible with KakaoTaxi and KakaoTalk, two of the most commonly used apps in South Korea.
The map automatically detects your current location, given that your GPS is on. You can enter the destination address and get detailed directions, including the fastest route to the destination, the shortcuts, and the toll-free routes. You can get the best directions – whether traveling by car, bicycle, bus, train, on foot, or by other public or private transport.
The map also tells you the estimated time of the bus's arrival. The reason why it's Korea's most popular mapping app is that it gives you accurate timing of travel. It also offers a 3D map, which allows you to rotate the map 360 degrees to get a clear view of the directions from different angles. Kakao map has an English support feature, which is perfect for Non-Korean speakers. However, as you download the app, it will be available in Korean by default. So, you have to change the settings and set it to English. Here's how you can do that:
Download Kakao maps on iOS or Android
Find the Menu button and then Settings
Search for the "app settings" and "language"
Here, you will find the "English" language.
Once you have changed the language, getting directions to whichever place you want to go will be easier. Now, the question is, how do you change the language when you can't read and understand Korean? Take help from a local. They will help you change the language settings.
Once the interface is available in English, you can search for the destination by typing the address in the search bar. The map also suggests the best places for eating, sightseeing, shopping, and more.
The app is available for both iOS and Androids.
T Map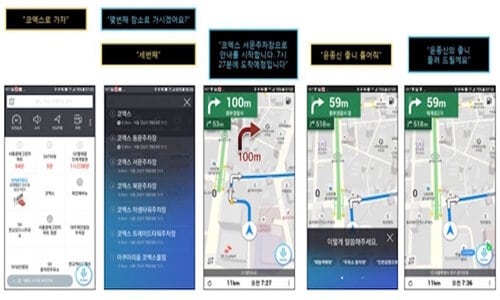 T Map is your best choice if you are looking for one of the best navigation apps in Korea. Developed and launched by SK Telecom, it was initially designed for SKT users only, but it was made available for the public so everyone could use it and enjoy smooth and seamless navigation around the Korean cities.
The app comes with the "children protection path" – the feature that we liked the most in this map. The app is popular for providing the best and most accurate directions in just about any Korean location. You type the address in the search bar, and the map will guide you to your target location via different routes. You could also filter the routes by your preference.
The company has partnered with NUGU voice assistants. So, it is possible to make voice commands. You can use this feature to call your mom, text a friend, find the weather reports, listen to music or podcasts, and so on.
Another special feature is for the drivers. It enables drivers to access their driving records so they can calculate their driving score and become eligible for the 11% discount on insurance premiums. T Map also happens to be the first app to offer aerial directions. So, you can use this map if you are traveling by air. T Map does a lot more than showing you the directions. You could listen to music, make phone calls, check your schedule for the day, and perform other activities while navigating your way around Seoul and other cities.
Download the application for Android and iOS.
Once you have downloaded the app, use this subway map in Korea to enjoy the best navigation features. Type the destination address in the search bar, as you did with the other apps, and enter your current location.
Kakao Taxi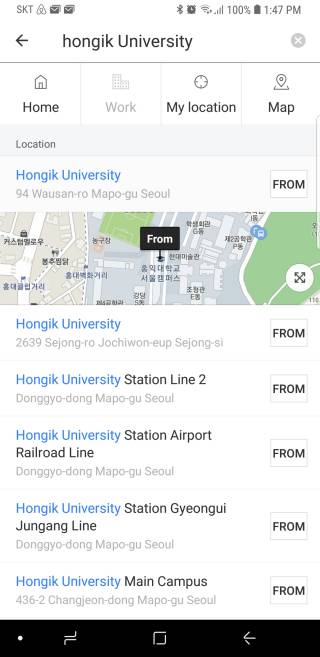 Although Kakao Taxi is not a Map service, it is a popular ride-hailing service in South Korea that allows users to request and pay for rides through the Kakao app. Here's how you can use Kakao Taxi:
Download the Kakao app: To use Kakao Taxi, you'll need to have the Kakao app installed on your smartphone. Download the app from the App Store or Google Play.
Sign up for an account: Once the app is installed, open it and create an account. You'll need to provide your phone number and email address to sign up.
Request a ride: To request a ride, open the Kakao app and tap on the "Taxi" icon. Then, enter your pickup location and destination, and choose the type of vehicle you'd like (e.g., standard taxi or luxury taxi). You can also specify any additional preferences, such as whether you'd like a car with a child seat or a female driver.
Track your ride: Once you've requested a ride, you'll be able to see your driver's location and track their progress as they make their way to you. It's pretty much similar to Uber or Grab. You'll also receive notifications about the status of your ride, such as when your driver is arriving or if there are any delays.
Pay for your ride: When your ride is complete, you can pay for it through the Kakao app using your credit card, mobile payment services, or by cash. You'll also be able to rate your driver and leave feedback about your experience.
Bottom Line
So, these were the best navigation apps in Korea. Try them now, set the language to English, and explore the features. While Google Maps isn't an option for Korean travelers and locals, the above-listed apps are a good alternative to Google Maps. They have information about every street, road, public transport, and other site in the database. So, you never have to worry about getting lost in the Korean streets. Note that these are the local map apps that work in South Korea only. They are not for global use.
IVK's Top Picks – Day Tours, Tickets, and Travel Activities
Seasonal Picks!😍