Don't sweat riding the Seoul subway and bus anymore. Here are the best ways for a convenient trip within Seoul!
Traveling in Seoul is convenient once you know the system. The Seoul subway and bus are aligned to give you free passes, and you only have to use one card for every transportation. The subway station has many signs to direct you to your destination. And most importantly, because Seoul is a global city, English signs are there to help guide you.
Public transportation is essential in Seoul, South Korea, where there are many people and places to go. The city of Seoul relies heavily on its public transportation system. As can be seen, it provides inhabitants and visitors with a means of getting around that is dependable, economical, and friendly to the environment.
You may also love:
Understanding Seoul's Public Transportation: Subway & Bus
The subway is the most efficient mode of transportation for getting around Seoul. If you want to remain out late, you can take a taxi here and there, or if you can't walk to your destination, you can take the bus. Both options are available to you. Certainly, Seoul is too big to walk around and see everything, but some neighborhoods are made for walking (Bukchon Village, for example). 
Overall, it would be best to remember how vital public transportation is in Seoul. Seoul's subway and bus system is efficient, easy to use, and has an extensive network. This helps the city's economy, reduces traffic congestion, and improves its residents' and visitors' quality of life. Whether you live in Seoul or visit, public transportation is a wise choice.
Seoul Subway System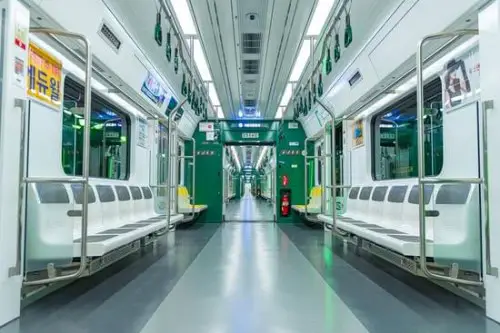 Massive number of lines and connections: The Seoul subway system comprises many lines that go all over the city and cover a large part of Seoul and its surrounding areas. Right now, there are more than 20 lines that serve different parts of the city. A different color marks each line. These lines go a long way, making it easy for people to get to other neighborhoods, business districts, and tourist attractions.
Punctuality, cleanliness, and safety measures: One of the best things about the subway system in Seoul is how on time it is. Trains run smoothly because they stick to strict schedules. This means that passengers don't have to wait long. The system's efficiency and dependability are shown by how on time the trains are. This lets commuters plan their trips with confidence.
The subway fare in Seoul is cheap and can take you almost everywhere, so it's an excellent way to get around the city. It would be much easier if you don't ride the subway during rush hour (8 to 9 a.m. and 6 to 7 p.m. on weekdays) or between midnight and 5:30 a.m. when the system is closed.
The station signs, maps, and recordings are all in English. Multiple Journey Transportation Cards, or T-money cards, are used by people in Seoul to pay for subway rides.
Seoul Subway Map
The Seoul subway map might be a little bit overwhelming at first. Indeed, over 20 subway lines cross each other, each stopping at the most important part of Seoul and on the outskirts of Seoul. You can go to this site to see a virtual subway map.
We recommend checking out our post on Best Apps for Traveling in Korea. You can download Kakao metro and Naver map applications to find your subway destination easily.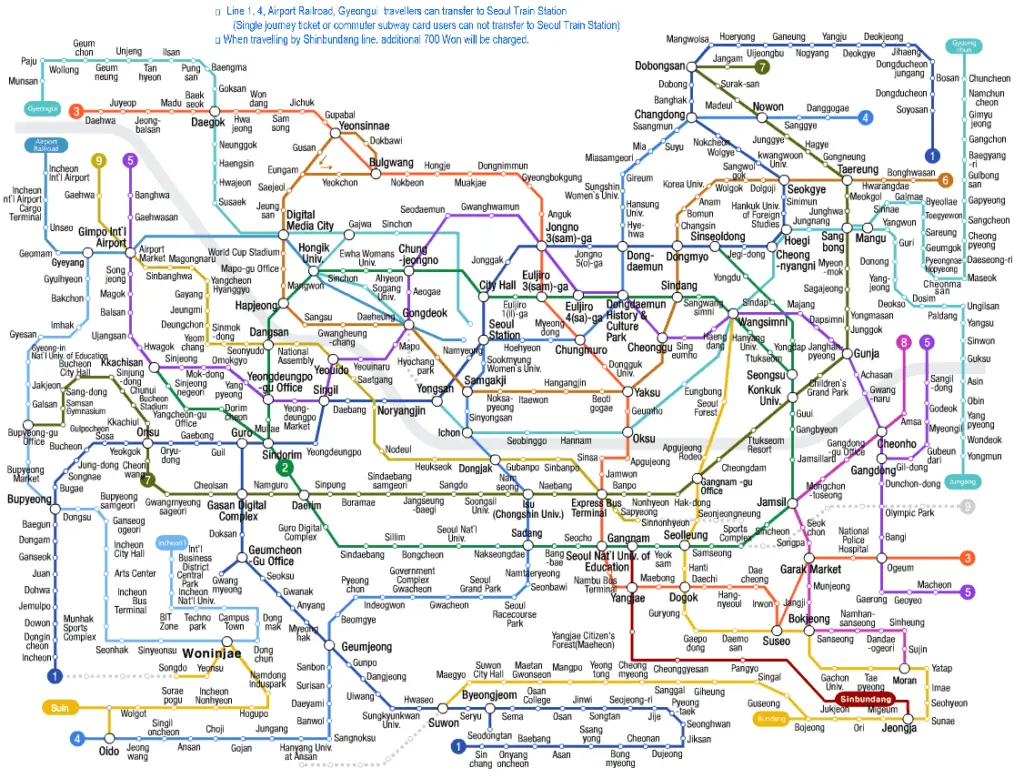 Here is the summary of the Seoul Subway Map:
Line 1 – The first subway line to open in Seoul.
Line 2 – The line that goes in a circle through the middle of Seoul.
Line 3 goes from Goyang-si and Ilsan in Gyeonggi Province to the Southern part of Seoul.
Line 4 goes from the Northern part of Seoul to the Southern region.
Line 5 goes from Gimpo Airport to the center of Seoul.
Line 6 is an easy way to get to the World Cup Stadium and Itaewon.
Line 7 goes from Uijeongbu-si in the north of Seoul to the Gangnam area of the capital.
Line 8 connects Southern Seoul and Seongnam-si.
Line 9 – The newest line, which started service in July 2009.
Bundang Line: This line goes from Seonneung Station in Gyeonggi Province to Bojeong Station in Giheung-gu, Yongin City.
ShinBundang Line goes through the Yangjae Citizen's Forest and the Jeongja-dong, Bundang, café street.
Jungang Line goes from Yongsan Station in Yangpyeong-gun, Gyeonggi Province, to Yongmun Station.
Gyeongui Line goes from Seoul Station to the city of Munsan in the province of Gyeonggi.
Airport Express: Airport Express trains go from Incheon International Airport and Gimpo Airport to Seoul Station.
You can read detailed information about Seoul Subway here: Subway Information.
Subway Fare
| | | |
| --- | --- | --- |
| Passenger | T-Money | Ticket (Cash) |
| Adults (19 years & up) | 1,250 KRW (~0.95 USD) | 1,350 KRW (~1.03 USD) |
| Teens (13-18 years) | 720 KRW (~0.55 USD) | 1,350 KRW (~1.03 USD) |
| Children (6-12 years) | 450 KRW (~0.34 USD) | 450 KRW (~0.34 USD) |
Note:
On Airport Railroad Line and Sinbundang Line, tickets are more expensive than on other lines.
T-Money cardholders are eligible for a KRW 100 (0.07 USD) discount for each ride's adult cost. This discount is prorated based on the distance traveled, starting at 10 kilometers and going up to 50 kilometers.
Early Bird Tickets: Passengers who charge their cards with pay-as-you-go credit before 6:30 a.m. will receive 20% off the basic fare.
Permanent residency (F-5) visa holders who are 65 and reside in Seoul can also receive the same "free rides for senior citizens" benefit as Korean nationals.
Subway Travel Tips in Seoul
Plan your route: If you take the subway in Seoul, it's best to plan your route. Use online tools, mobile apps, or subway maps to find the best way to get anywhere. 
Peak hours: During the week, due to people going to and from work, the subway system in Seoul can get crowded during peak hours.
Stand on the right side. In contrast, walk on the left side.
Pay attention to the priority seating: On the subways of Seoul, the elderly, the pregnant, and the disabled are given seating precedence.
Keep your valuables safe, and ensure valuable items like wallets, phones, and cameras are safe.
Use the underground shopping malls. There are many shops, restaurants, and convenience stores in these places.
Take advantage of transfer discounts: Tap your T-Money card or buy a transfer ticket.
Generally, the following suggestions for using the Seoul subway system can help you get around more efficiently, enhance your trip, and see more of this fascinating city.
Seoul Bus System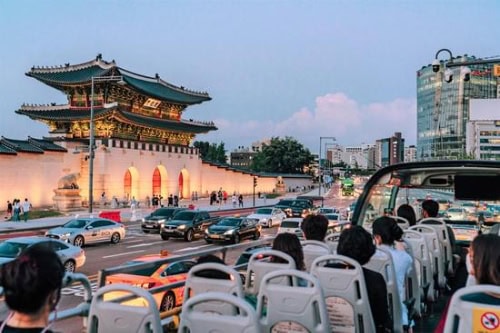 The bus system in Seoul is an essential component of the city's public transportation infrastructure. It works with the subway system to cover much of the city and complements accessibility. The bus system in Seoul ensures that even the most inconveniently located neighborhoods are reachable by commuters thanks to its well-established network of bus routes.
The subway system in Seoul is easy to use. In contrast, the bus routes can be confusing and hard to understand for foreigners. Most bus maps don't have English translations, and most bus drivers only speak Korean. Particularly, on-board bus fares can be paid either with cash or, for a discount of 100 won, with a T-money card. 
Different Bus Types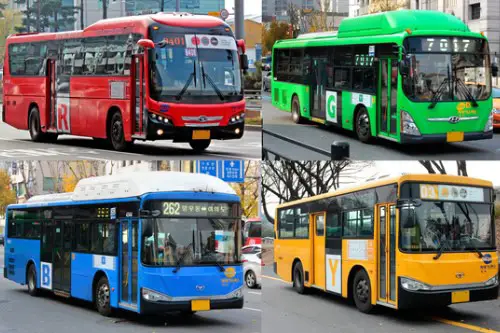 The Seoul bus system consists of various types of buses designed to cater to different travel needs:
Regular Buses serve as the backbone of the bus system, operating on most routes throughout the city. These buses make frequent stops, allowing passengers to board and alight at various locations. Blue buses are for mainline, green buses for branch, and yellow buses for circulation.
Express Buses, or red buses. These buses are for longer trips, connecting different districts and regions within Seoul. These buses have fewer stops and provide a faster alternative for commuters traveling longer distances.
Village Buses (Maeul buses) are smaller buses that serve specific neighborhoods or areas that may not be easily accessible by other means of transportation. These buses play a vital role in connecting residential areas with primary bus and subway stations, making it easier for residents to access essential services and transportation hubs.
Night Buses, shortly marked with an "N" before the bus number, run at all times of the day.
You can read more about Regional Buses and Seoul Bus Numbers here: Bus.
The bus system in Seoul, comprised of regular, express, and village buses, is a vital component of the city's overall public transit network. The bus system in Seoul provides commuters and tourists with an easy-to-use and effective mode of transportation, enabling them to navigate the city's many distinct neighborhoods and arrive at their destinations of choice. The bus system is all-encompassing, easily accessible, versatile, and inexpensive.
Fare & Transfer System
| | | | |
| --- | --- | --- | --- |
| Type | Adults (19 & up) | Teenagers (13-18) | Children (6-12) |
| Blue bus | 1,300 KRW (~0.99 USD) | 1,000 KRW (~0.76 USD) | 450 KRW (~0.34 USD) |
| Green bus | 1,300 KRW (~0.99 USD) | 1,000 KRW (~0.76 USD) | 450 (~0.34 USD) |
| Yellow bus | 1,200 KRW (~0.92 USD) | 800 KRW (~0.61 USD) | 300 KRW (~0.23 USD) |
| Red bus | 2,400 KRW (~1.84 USD) | 1,800 KRW (~1.38 USD) | 1,200 KRW (~0.92 USD) |
| Maeul bus (local) | 1,000 KRW (~0.76 USD) | 550 KRW (~0.42 USD) | 300 (~0.23 USD) |
Note
One-time fares can be paid in cash or with a preloaded transit card and are set at a flat amount.
Maeul (village) and city buses in Seoul can be paid for with T-money, U-Pass, EB Card, Cashbee, or a Korail Membership Card. Furthermore, you can also use a T-Money card that lets you pay later. These cards are called "deferred payment" cards.
City buses in Seoul let up to three children under six ride for free if they are with an adult. Additionally, people who can ride for free by the Passenger Transport Service Act of Korea can do so.
Multiple-passenger boarding and a discount for transferring are only available on city buses, and this offer can only be accepted if the same people are going to the same place.
Bus Travel Tips
Bus Stop Signage System and Reading Bus Route Information: Seoul's bus stop signage system is designed to provide clear and concise information for commuters. Bus stops are typically marked with a pole displaying the bus numbers that stop at that location. Likewise, the signage also indicates the direction of the bus route, usually with an arrow pointing toward the destination.
Identifying Major Bus Stops and Transfer Points: Major bus stops and transfer points are essential landmarks in navigating the Seoul bus system. These locations serve as crucial hubs for multiple bus routes and often connect with subway stations, making them convenient transfer points. Major bus stops are typically more extensive and crowded, making them easily identifiable.
Finding the Appropriate Bus to Reach Specific Destinations: Concurrently, you can find the appropriate bus to reach your destination in Seoul through several strategies such as Route Planning Apps, Bus Stop Timetables, Bus Information Centers, or Asking Locals.
Hence, following these bus travel tips allows you to navigate Seoul's bus system more effectively, secure seats during busy periods, better understand bus schedules and frequencies, and use available resources to overcome language barriers.
TMoney card – The Korea Tour Card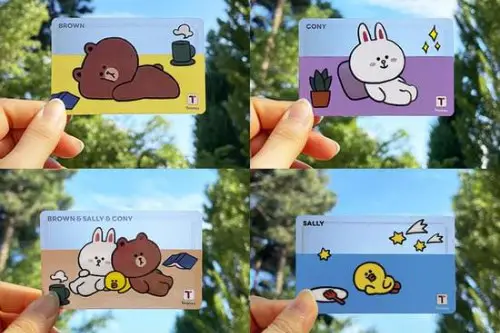 TMoney card is a rechargeable transportation card used on subways, buses, and some taxis, and even to make purchases in designated areas. Especially you can avoid the hassle of buying tickets every time you ride public transportation while enjoying discounts along the way. The T-money card is the most used method of payment for transportation for locals as well.
What is a TMoney card?
TMoney
The TMoney card is a universally accepted form of payment that may be used on any public transportation system, including the metro, taxis, and convenience stores. After you put the amount you want on your card, money is taken off as the card is used.
The TMoney card gives you a KRW 100 discount on bus and subway fares and deals on transfers between buses and subways. Scan your card on and off the bus to get the transfer discount. (Note: You must scan your card when you get off the bus at your last stop.) The transfer discount only works if there are at most 30 minutes between transfers. 
Furthermore, this card can also be used at traditional markets like Sinwon Market, Gildong Market, Jeongneung Market, Namseong Market, Jangwi Market, Dongbu Market, Namguro Market, Yeongcheon Market, Macheon Market, Seongnae Market, Ttukdo Market, Donam Market, and Huam Market.
Use the TMoney card on public transportation and buy something at a traditional market within an hour. You can save KRW 1,000 on purchases of at least 10,000 won.
TMoney Mpass
The TMoney Mpass is a type of public transportation card developed especially for tourists from other countries who must utilize the public transportation system daily. The card allows users to ride most subways and public buses up to 20 times a day. 
In the same way that ordinary TMoney cards can be loaded with additional dollars, the Mpass can also add these monies to be used at convenience stores, taxis, and other locations.
Where can you buy a TMoney card?
TMoney Card
Most convenience stores (like 7 eleven, CU, GS 25, Emart 24, subway stations, and tourist information centers sell and let you put money on TMoney cards. Cards can be bought for KRW 3,000 (2.36 USD)and put any amount on them. Specifically, TMoney cards don't have an end date, and any money left on them will stay there until it's used. 
At convenience stores, you can get a refund for balances of less than KRW 20,000 (15.51 USD) for a small fee. However, if you owe more than KRW 20,000, you must get your money back at the TMoney headquarters (1F, TMoney Town, Seoul City TowerBuilding, Namdaemun-ro 5-ga, Jung-gu, Seoul). You can't get the price of the card back.
TMoney Mpass
At the Tmoney Town, located inside Seoul Station, you can purchase a T-Money Mpass. This card, in particular, is only active when used and has a validity period of one month beginning on the date of purchase. The card is no longer valid after midnight on the final day.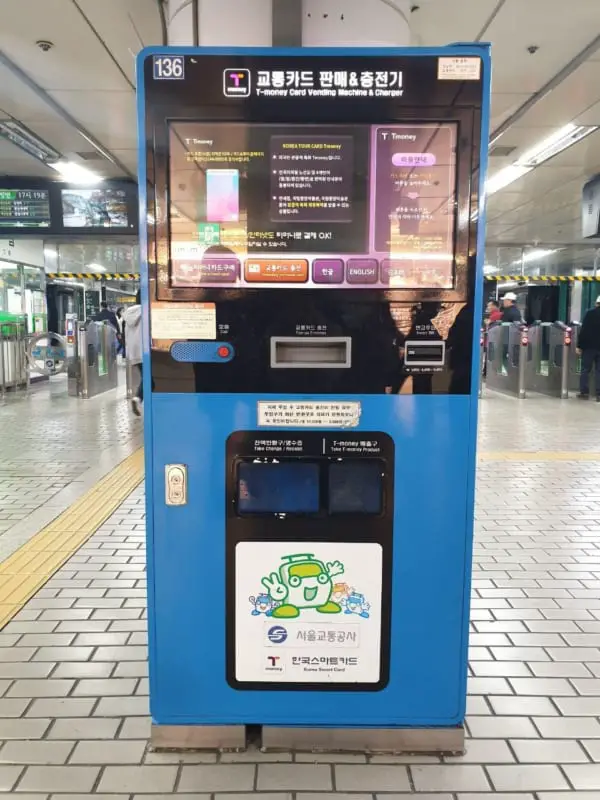 How to use the T-money card?
Every public transportation has a card reader which you tap the card. The sensor will read your card and display the amount charged and the remaining balance on your card.
Bus
You will see a card reader on the bus like the one below. Then tap your card on the part that reads "Place your card or cell phone" until you hear a beep. Afterward, the machine will read the amount charged and show below your card's remaining balance.
Moreover, if you transfer from a bus to a bus or bus to a subway within 30 minutes, you will receive a discount. Most importantly, tap the card again on the card reader before leaving the bus! Failure to do so means you might get a double charge on your next ride.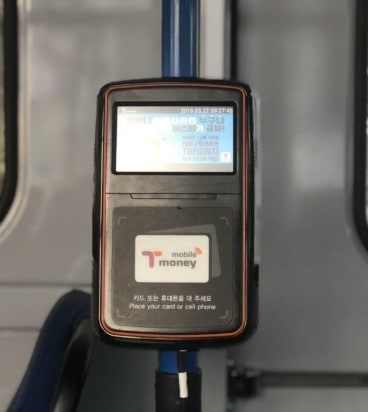 Subway
Using T-Money cards to pay for and transfer subway fares. It's easy to pay for subway rides and make transfers with a T-Money card:
Paying for the subway: Look for the fare gates when you enter a subway station. Look for the symbol of the T-Money card on the gates or card readers. Tap your T-Money card on the card reader, and the fare will be removed from your card balance. Before you get on the bus, check to see that your card has the appropriate amount of money to cover the fare.
Transfers: If you need to switch to another line or catch a bus within a specific time, use your T-Money card. If you switch from one subway line to another or from the subway to a bus within the allowed time window, you don't have to pay an extra fare (around 30 minutes). Tap your T-Money card on the card reader at the transfer point, and the system will know you're changing lines and deduct the correct fare.
Accordingly, remember to tap your T-Money card when you enter and leave the subway system so that your fare is calculated correctly and you don't get fined.
Using a T-Money card will streamline your metro travels. The card is also valid for usage on other forms of public transit and in some retail locations. It's a flexible tool that makes paying for things more accessible and improves your experience in the Seoul subway system.
Place the T money card on the card reader before entering the subway. You will hear a beep, and the sensor will read the card. The top will read the ticket amount, and the bottom will be the remainder. The card will read the transfer amount if you transfer from subway to subway. The amount will depend on how far you go.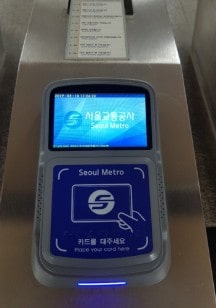 How can you buy a subway ticket and refund the card?
Take these simple steps to purchase a subway ticket:
Find a Ticket Vending and Card Reload Device. The machine can read English, Chinese, and Japanese. It also looks like this: 

Choose the language you need.
Push on the screen "Single Journey Ticket." Adult and youth tickets are 1,350 KRW (1.06 USD), and children 7-12 years are 450 KRW (0.35 USD).

Search and select your destination.
Select the quantity.
The total price plus an additional 500 KRW (0.39 USD) will be added. The 500 KRW will be returned once the card has been deposited.

Pay for the ticket.
The ticket will come out. Get the ticket and place it on the card reader.
How to get the 500 KRW (~0.39 USD) back?
Get out of the subway.
Look for the Deposit payment return machine. It is near the ticket machine.

Put your card inside, where it says "Card."
Take the 500 KRW.
Discounts – Free transfers
Discounts are available between transfers from subway to bus and bus to bus. No free transfers for buses on the same route. So that you can transfer up to 4 times in one day, and from 9 p.m. until 7 a.m. there is a discount for transferring within one hour.
There is only a discount available if you use the T money card. Moreover, there is a 100 KRW discount per ticket when using the T money compared to buying a single ticket.
Also, for children and youth (6 ~ 12 years old /youth: 13 ~ 18 years old), you can get a discounted ticket price by buying your T-Money in a convenience store and registering your birth date. Bring your proof of birthdate (passport, alien card, etc).
Essential Apps and Resources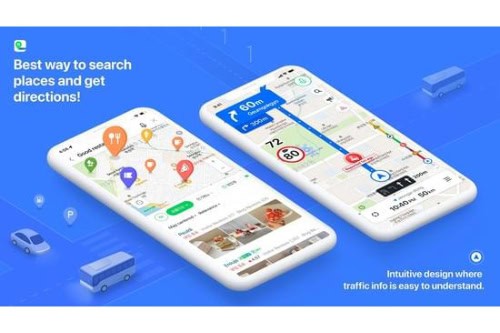 Mobile Applications for Navigating the Subway
When navigating the Seoul subway system, several mobile applications can be beneficial in providing real-time information and guidance:
Seoul Subway App
The official Seoul Subway App, available for iOS and Android devices, offers comprehensive information on subway routes, station maps, real-time train arrival and departure times, and transfer information. Furthermore, it also includes features like offline maps and route planning to assist you even without an internet connection.
KakaoBus
Developed by Kakao, a famous Korean internet company, KakaoMetro provides real-time subway information, including train schedules, arrival times, and station exits. It offers convenient route planning and fare calculations. It even shows the expected crowd levels for each station, helping you make informed travel decisions.
Naver Map
Naver Map is a widely used navigation app in South Korea that offers detailed subway maps, real-time train information, and precise directions. It provides accurate transit times and station layouts. It even alerts you of disruptions or delays on your chosen subway lines.
Websites for Real-Time Information
In addition to mobile applications, various online resources and websites offer real-time information to assist you in navigating the Seoul subway system:
Seoul Metro Official Website 
The official website of Seoul Metro provides comprehensive information on subway lines, schedules, station maps, fare calculations, and service updates. It offers many options for route planning and includes a trip planner to assist you in determining the most efficient route to take between your starting point and final destination.
T-money Website
The T-money website offers valuable information about T-Money cards, including how to purchase, recharge, and use them on the subway. It also provides updates on card promotions and any changes to the T-Money system.
Korail Website
Suppose you plan to travel beyond Seoul and explore other regions of South Korea using the train. In that case, the Korail website is a valuable resource. It provides information on intercity train services, including schedules, ticket reservations, and station guides.
By utilizing these essential apps, online resources, and multilingual assistance options, you can easily navigate the Seoul subway system, ensuring a smooth and enjoyable travel experience in the city.
Conclusion
What do you think? Not too bad, right? Transportation is made simple in Seoul for foreigners to explore Korea. The subway is the number one means of transportation in Korea because it is made well and convenient. If you ever have trouble, there are information desks inside the subway stations. The workers will gladly help you! Cheers to your new adventure!