In a city where couple holidays, outfits, and menus are a standard, sometimes it can feel that dating options in Seoul are somehow predictable. There are numerous ways for couples to enjoy in Seoul thanks to this city's romantic dating spots, exciting parks, and attractive areas. No doubt that your daily routine and schedule become more fascinating when you have your loved one besides you. And even in a busy city like that of Seoul, you will come across various places where you can sit peacefully and spend some quality time with your loved one. From vibrant shopping areas to quiet forest roads, you can select any area according to your and your partner's taste. After all, why skip any chance to get nearer to each other? If you want to spice up things, have a look at the best 15 romantic spots in Seoul for couples.
Discover Your Best Romantic Places in Seoul
Bukchon Hanok Village in Seoul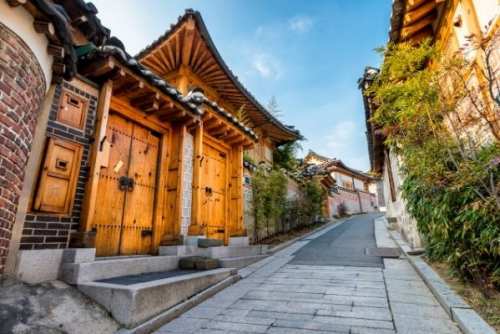 Travel around the six hundred-year-old urban regions comprised of traditional Korean homes in Bukchon Hanok Village. Join the guided trip, discover the slim streets, and do not miss cultural and hospitality services like cafes, museums, workshops, and restaurants. Having more than half of a million tourists each year, book a reservation three days before and enjoy yourself with your partner. Check here for more information on what you can do in Bukchon Hanok Village.
N Seoul Tower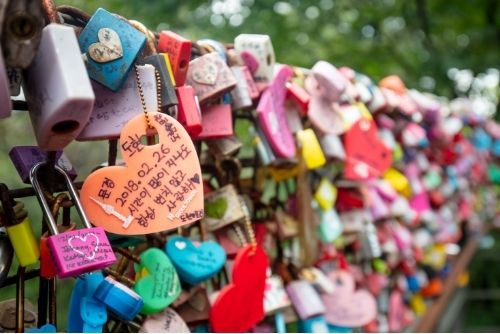 An innovatory site of Seoul, the N Seoul Tower located up above Namsan Hill will give you exotic views of the entire city. For a more luxurious experience, enjoy a lovely French dinner at n. Grill, a famous restaurant in Seoul N Seoul Tower. Also, go to the love lock bridge on Seoul tower and secure the locks with your loved one. N Seoul Tower is one of the best places to view Seoul at night time.
Compare N Seoul Tower Ticket Prices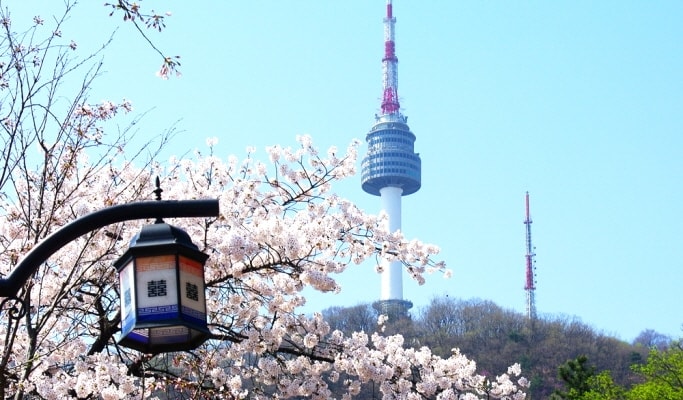 Nami Island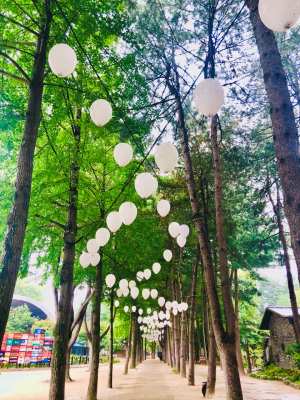 Nami Island is always highlighted as the most attractive tourist spot in Seoul. Discover the entire island with your partner, and you might come across some famous Korean series shooting locations, take beautiful pictures, and make some unforgettable memories. Here is information on How to Go there & What to do on Nami Island.
Petite France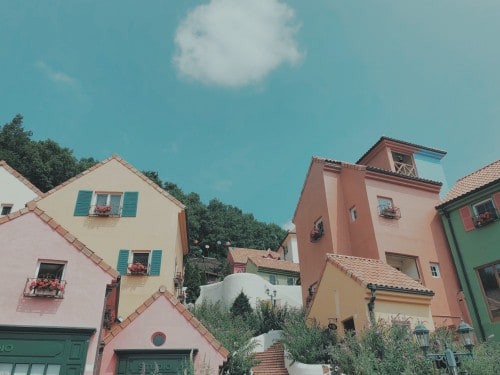 Have a European vibe of romance in Seoul, South Korea, in Petite France. Motivated by the most well-known French novel 'The Little Prince,' it is quite similar to a small town in Petite, France. Apart from walking through the antiquated restaurants, stores, and buildings, you can also recreate the classic scenes from your favorite Koran series with your partner.
Garden of The Morning Calm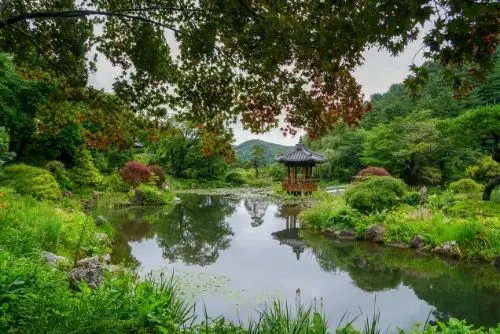 Opened in 1966, this garden is one of the oldest botanical gardens in Seoul. You will come across the 'lightning festival' arranged each year during winters beginning in December up till March. Trees adorned with neon lights would be an amazing atmosphere to have a romantic date. Here are some other great spots you can visit while you go to the Garden of the Morning Calm.
Lotte World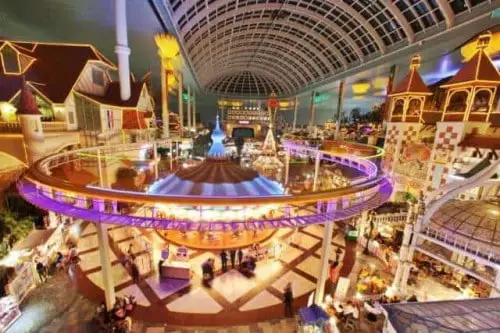 Lotte world is one of the famous dating spots in Seoul. Consisting of outdoor and indoor areas, this amusement park has some exciting rides and many fun things to do as a couple. Spend a romantic date on a hot air balloon and hop on to some thrilling rides like Viking, Atlantis, gyro swing, and the French revolution. Check here for more information about Lotte World and the Seoul Sky observatory.
Everland
The most famous theme park in Seoul is an excellent date idea for a couple who love excitement and adventure. Having different thrilling rides and minimalist animal fascination, Everland is a perfect date spot. Make a stronger bond with your partner by taking a relaxing walk in the beautiful gardens known as the Rose Garden, and the Four Season Garden features vibrant and lively flowers giving you a romantic and cute background for the date. Check out everything you need to know about Everland theme park here.
Gyeongui Line Forest Park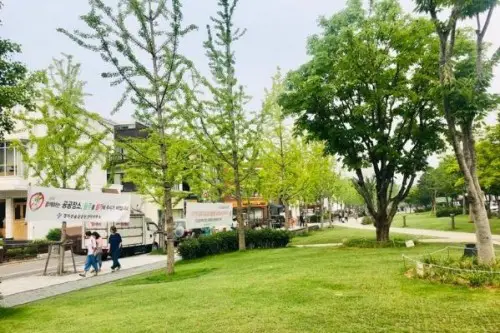 The forest Park, primarily appreciated by the locals as a point of unwinding but is likewise the most popular dating spot, and it is because of its beautiful atmosphere and surrounding cafes. You can go to the Hongdae area to experience some exciting live performances during the evening, and it would be the perfect evening with your partner.
City Hall Ice Skating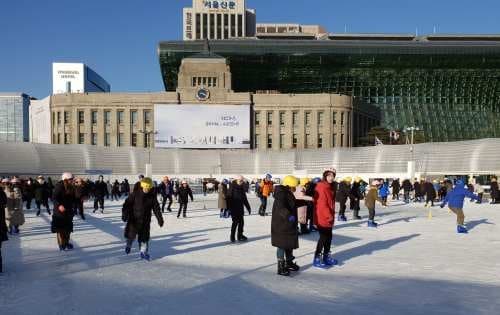 As the ice skating setup is arranged outdoors, it is only accessible to the public in winters from mid of December. As compared to the Lotte World, it is quite cheaper where you get to skate alongside a beautiful Christmas tree hanging nearby the City Hall each year. Here are some other things to do in winter in Korea.
Seoul Forest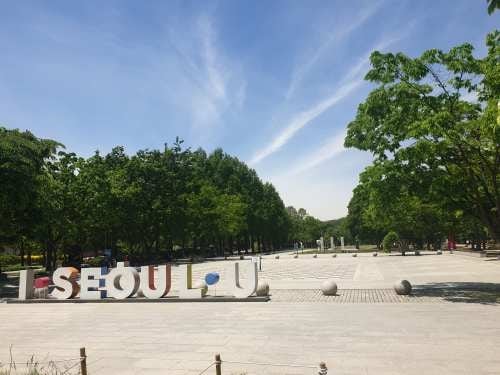 Plan a lovely picnic date as you breathe in the freshness surrounding you, particularly in spring when the flowers are blooming or in autumn when everything is red and gold. Consisting of five different parks, it is a perfect place to be with your dear one.
Cheonggyecheon Stream
To experience the taste where the locals of Seoul would go for a date, discover the Cheonggyecheon Stream. It represents a secret oasis in the center of this busy city. The majority of the couples like to walk beside this stream, mostly during the evening. The flowing water and the glistening lights create an ideal romantic atmosphere for a walk with your partner. Here is the list of the best Seoul itinerary and attractions.
Dongdaemun Design Plaza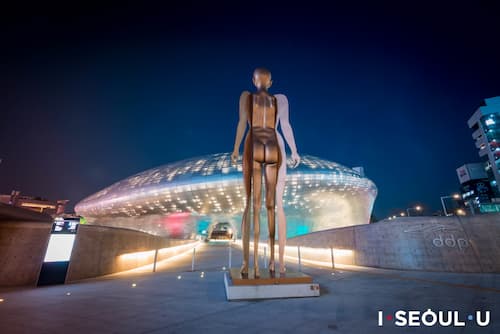 Dongdaemun Design Plaza is also known as 'Dreaming, Designing, and Playing.' As its name tells us, you will come across numerous things to eat, see and enjoy. It is the Markaz of Seoul's fashion, where all the famous brands of Korean designers are available. There likewise night market places which open daily, so this could be the option of an evening date.
Insadong Ssamziegil
For the couple who prefer a cute and enchanting place, Insadong Ssamziegil is the place for them. A four-story building, it offers you exclusive accessory and snack stores. Ikaseondong and Insadong have many famous cafes and restaurants around, making it a great place for a date. Here is a list of the Best Things to do in Insadong. Check it out while you are visiting Ssamziegil.
Leeum, Samsung Museum of Art
You will come across numerous restaurants and cafes in Leeum, Samsung Museum of Art, which is perhaps an ideal spot for a lovely date in Seoul's center. Planned by four architects, the museum is a masterpiece in itself. If you love history and want something close to reality, then spend your time here with your loved one.
Ihwa Mural Village
Located in the north of Seoul, Ihwa mural village is a tiny neighbourhood you would want to explore with your partner. Take some amazing pictures with the incredible art pieces painted by many talented artists worldwide.
Explore these amazing date places with your loved one in Seoul. You will different places each according to your preference and taste.
You may also like,