Best place to visit with your kids in Seoul, Lotte World
Lotte World Theme Park
If you are visiting Seoul with your kids or want to see the breathtaking night scenery of Seoul, Lotte World, Aquarium, and Seoul Sky Observatory is the best place. When it rains, it's a no-brainer to visit. Because Lotte World Theme Park is the largest indoor theme park in the world. You can enjoy an amusement park, observatory, aquarium, folk museum, shopping mall, restaurant, movie theater, and ice rink here in one place.
The best part of Lotte World is that you can enjoy the park even in raining or in freezing weather outside. Because it consists of indoor and outdoor spaces. That is the upside of the Lotte World theme park compared to Everland, one of the best theme parks in Korea. Don't let the weather disrupt your plans! Enjoy Lotte World in any weather with indoor and outdoor attractions!
At the end of the post, we added the Lotte World discount ticket deals from the famous global OTAs (Online Travel Agency) so that you can find the best deal for you.
How to get to Lotte World Seoul
It's located in Jamsil and you can directly access the park from Jamsil station by subway lines no.2 and no.8. Follow exit 4.
How to get to Lotte World from the main areas of the Seoul
Gangnam Station: Subway line 2 (20 minutes)
Hongdae Station: Subway line 2 (45 minutes)
City Hall / Myeongdong: Euljiro 1-ga Station, Subway line 2 (40 minutes)
Travel Tip!
Carrying luggage or shopping bags in the theme park is a hassle. If you have luggage, store it at a luggage storage service in the Jamsil subway station.
Best Rides & Attractions in Lotte World Seoul
Even though there are tons of exciting rides, we recommend taking the Atlantis, Gyrodrop, Gyroswing, French Revolution, Spanish Pirate Ship, and Pharaoh's Fury. If you don't enjoy the thrilling attractions, take a balloon flight, World Monorail, Sindbad's adventures, fantasy dreams, merry-go-round, and jungle expedition boats. And you don't want to miss out on the adventure parade of cute characters and actors.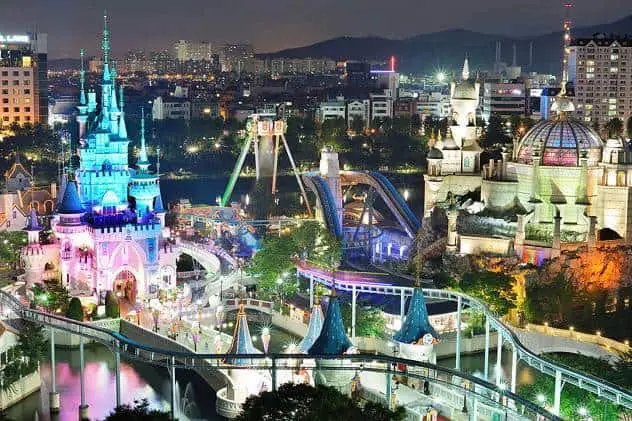 What Is Magic Pass & How To Use It
Magic Pass is Lotte World Adventure's smart queuing service. There are two ways to use it: using the Lotte World Adventure app and using the kiosk.
Lotte World Adventure App
After entering the theme park, you can scan the barcode of the mobile ticket at the attraction you want to ride, reserve the attraction for the desired time, stamp and use it at the reserved time
Find and select the attraction through a kiosk, scan the ticket barcode, and print the reservation voucher to use.
Lotte World Seoul Open Hours
Monday – Thursday: 9:30am ~ 10:00pm
Friday – Sunday: 9:30am ~ 11:00pm
Lotte World 1 Day Pass Deals


Experiences.travel.rakuten.com

Lotte World Korean School Uniform Rental Deals



Things to know before you visit
Pets are not allowed except for guided or assistance dogs
Camera tripods, alcoholic beverates are not allowed.
Smoking is only allowed in the smoking rooms.
There is a picnic area you can bring and enjoy your own foods. (Besides the Giant Loop entrance)
Seoul-sky Observatory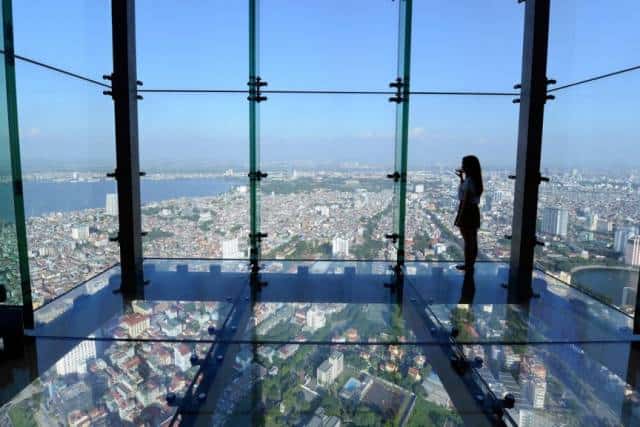 The thrilling Seoul-sky observatory shows the outstanding views of Seoul. The observatory deck has two-story-high glass windows for a 360-degree view. It's on the 117 to 123rd floors of the Lotte World Tower, the tallest building in Korea, and also the 5th tallest in the world.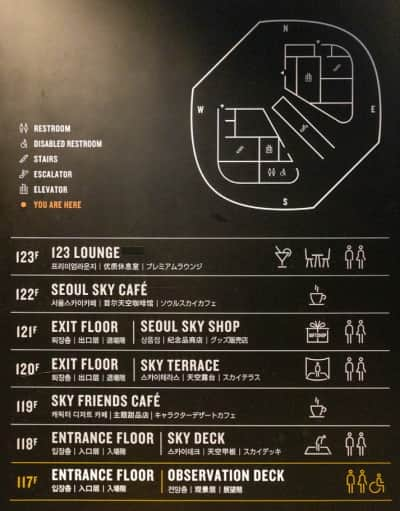 Open Hours : 10:00 ~ 22:00 (23:00 on Friday & Saturday)

Fare : KRW 25,500
Seoul Sky Admission Discount Ticket Deal



Lotte World Aquarium
Lotte World Aquarium show offs 55,000 sea friends of 650 species from the sea nature. They are providing a free Ecosystem explanation program where one can empathize with marine species through stories of various species as told directly by aquarists.
They provide 14 kinds of experiential education programs so you and your kids can learn the nature ecosystems.
There are 9 aqua chambers from Nature Zone, Tropical Rivers, Amazon River, Sealion Zone, Polar Region Zone, etc.
Tip: Don't spend too much time on the B1 floor because there are more photo spots on the B2 floor.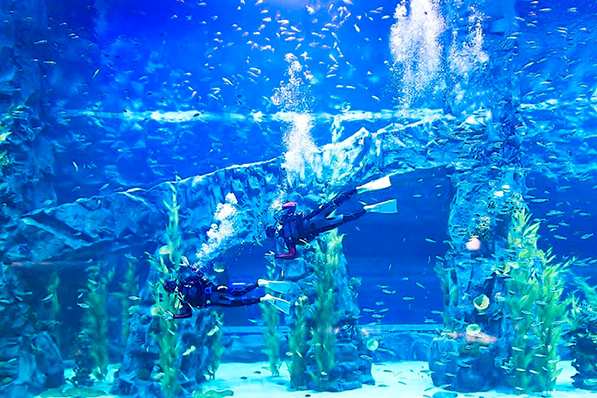 Open Hours: 10:00 AM – 8:00 PM
Price: Adult – KRW 31,000 / Child – KRW 27,000
Lotte World Aquarium Admission Ticket

Lotte World One Day Pass + Aquarium Day Pass
Lotte World Adventure, Aquarium, and Seoul Sky Package
Lotte World Ice Rink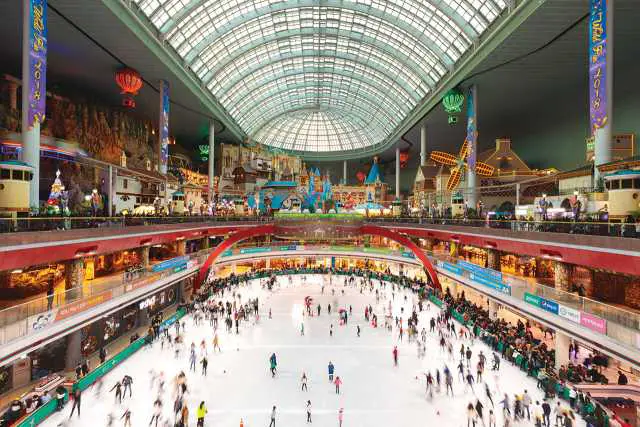 If you are looking for a romantic place, Lotte World Ice Rink will be the best choice. Most of all, the atmosphere of the ice rink is very special because of the parade sounds from the Adventure Theme Park and the music.
Tip 1: Bring your own gloves! Gloves are not included in the rental service, so you have to purchase one if you don't have yours. If you didn't bring your gloves, you can purchase one at the vending machine in the locker room. (The cheapest one is ₩1,000)
Tip 2: People usually bring thick clothing, but don't forget. The Lotte World Ice Rink is indoors, so it's warmer than you think. You can keep your clothes in a paid locker. (Small – ₩1,000 / 2 hours, Large – ₩2,000 / 2 hours)
Tip 3: Check the ice cleaning time below before you visit the Ice Rink because it takes 40 minutes. If you visit the ice rink at 2 pm on Saturday, you may have to wait an hour to go into the rink.
Lotte World Ice Rink Operating Hours
Week days – 11:00 ~ 21:00
Weekends – 10:00 ~ 21:00
Ice Cleaning Hours (Weekdays)

12:50 ~ 13:30
15:50 ~ 16:30
19:50 ~ 20:30

Ice Cleaning Hours (Weekends)

12:50 ~ 13:30
14:20 ~ 15:00
15:50 ~ 16:30
17:20 ~ 18:00
Lotte World Ice Rink + Skate Rental Price
Lotte World Ice Rink

Lotte World Folk Museum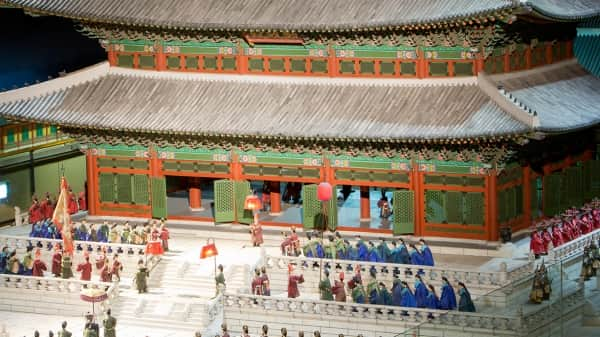 I can say that the Lotte World Folk Museum is a hidden gem of Lotte World Theme Park.
Different from other folk museums, which exhibit past relics or treasures, you can literally see and experience the history of South Korea.
From the Paleolithic period to the Japanese colonial period, they built reproduction models to show the real life of the people who have lived in the country for over 5,000 years.
In particular, the model village realistically expresses the four seasons and customs of the Joseon Dynasty, ceremonial occasions, and the lifestyles of nobles and commoners by using about 2,000 dolls, reduced by one-eighth.
Open hours – 11:00 am to 7:00 pm
Ticket Price

Adult: 5,000 KRW
Juvenile: 3,000 KRW
Child: 2,000 KRW
Everland vs Lotte World, Which One Is Better?
Everland and Lotte World both are the most famous and wonderful theme parks in Korea. In case you should select one theme park you will visit, I compared two theme parks.
Weather
If it is wintertime or is a rainy day, Lotte World would be a better choice. Because it consists of indoor and outdoor parks, and the indoor park is the largest amusement park in the world.
Zoo and Safari
If you love to see animals and enjoy a safari, Everland is the winner. I strongly recommend you try Safari World, Lost Valley, and Amazon Express. Panda World and the cute animals in the zoo will make you and your kids happy.
Top Attraction (Ride)
The best ride in Everland is the T Express. Boasting a maximum fall angle of 77 degrees, a maximum speed of 104 km/h, a running time of 3 minutes, and an air time of 12 times. T Express is Korea's best roller coaster. Lotte World's number one amusement ride is the Gyro Drop. If you want to experience falling at a speed of 94 km/h from 70 meters height, choose Lotte World.
Flowers & Gardens
The Tulip Festival and Rose Festival are held throughout the year in the Four Seasons Garden and Rose Garden. Lotte World is located right next to Seokchon Lake, and Seokchon Lake is famous for its beautiful cherry blossoms.
Location
I don't think the location is a huge factor in your choice. Because, although Lotte World is located in Seoul, Everland can be reached in about an hour by shuttle bus. However, it's true that Lotte World has better accessibility.
Size
Everland's area is 1,488,000 square meters, which is 2.6 times of ​​Lotte World (581,645 square meters). Everland has a skylift so you can move around the large theme park effortlessly.
Check the ultimate guide to Everland Theme Park in this article!
Everland Ticket Discount Deals!
---
You may also like;