Everland is the largest theme park in South Korea with fantastic rides and a zoo. So if you are visiting Seoul with kids, we definitely recommend coming here. Because it will be a great gift for your kids who are tired of following adults to see old palaces. 🙂
And even more, there are regular festivals like the Tulip Festival, the Rose Festival, the Summer Water Festivals, and others. So it's a great place for couples and all family members even if they don't like scary rides. There are parades held during the day and night making coming to Everland even more exciting.
By the way, Lotte World is another great theme park in Seoul and both of them have their own attractions. Lotte World is located in Seoul and has a large indoor amusement park with Seoul Sky. If you can't decide whether to go to Everland or Lotte World, briefly check out the Everland vs Lotte World comparison.
If you are ready, let's dive into the Everland Theme Park Korea!
How to get to Everland Theme Park
Shuttle Bus
If you want to visit Everland from Seoul, the shuttle bus is the best way to get there. Because the theme park is in Gyeonggi-do it will be a bit complicated to take public transportation. The round-trip fare for the shuttle bus from Seoul to Everland is KRW 10,000 from Gangnam, and KRW 12,000 from Hongdae, Myeongdong, and other places in Seoul.
By Car
Address: 199 Everland-ro, Pogog-eup, Cheoin-gu, Yongin-si, Gyeonggi-do
There is a parking guide on the road.
Free shuttle buses irregularly operate between parking lots and the main gate.
Public Transportation
We don't recommend taking a bus or subway to get to the park because you might be exhausted even before you arrive. However, there are many ways to take public transportation.
By Bus (Bus number and Main Stops before Everland)
5002: Sinnonhyeon Station – Gangnam Station – Yangjae Station
5700: Gangbyeon Station – Jamsil Station – Songpa Station – Suseo Station
1500-2: Sadang Station – Nambu Terminal – Pangyo Station – Bundang (Seohyeon Station)
By Subway
Transfer to Everline at Giheung Station from the Bundang Line and get off at the Jeondae/Everland station
Take the free shuttle bus to Everland and Caribbean Bay
※ It takes about 2 hours to get to the Everland station from Hongdae including three transfers
Opening Hours
Everland is open from the below times. You can check their official website for the exact day when you go.
10:00 a.m. to 21:00 p.m.
10:00 a.m. to 22:00 p.m.
Everland Ticket List Price
| | | |
| --- | --- | --- |
| Type | Adults | Children |
| One-day Ticket | 64,000-46,000 KRW | 51,000-36,000 KRW |
The pricing of the Everland ticket varies based on the day. Please check their website for the day's price. Everland website. Click ABCD Calendar to check the price for each day of the month.
Everland Ticket Discount Deals!
Guide Map & Five Theme Zones
Download the Everland Guide Map!
Everland consists of 5 unique-theme zones, such as Global Fair, American Adventure, Magic Land, European Adventure, and Zootopia. Usually, we take a tour from Magic Land to American Adventure by going in a counter-clockwise direction.
Magic Land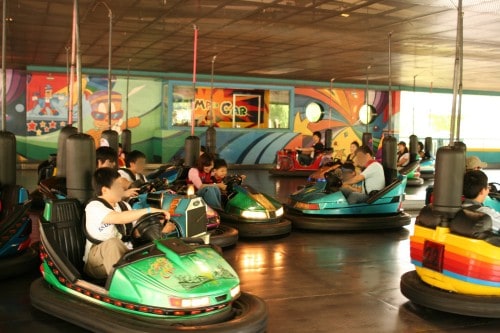 If you go through the main gate and Global Fair zone you can enter the zone of Magic Land. It's built around the theme of Aesop's fables with a lot of attractions and rides for children.
Aesop Umbrella Alley is the best spot to take a photo with hundreds of colorful umbrellas.
Dy and my favorite ride in Magic Land is the Bumper car. If you have children, it's a great ride as well.
Another exciting ride is the Thunder Falls! The ride has the highest drop fall at 20 meters in Korea. Note that your belongings might get wet at the Big Splash Zone.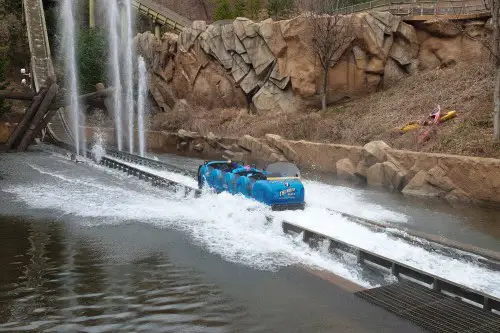 Best Rides in Magic Land
Bumper Car (Must be taller than 120 cm)
Thunder Falls (Must be taller than 100 cm)
Peter Pan (100 cm and below must be accompanied by a guardian)
Flying Elephant (100 cm and below must be accompanied by a guardian)
Racing Coaster (Must be taller than 100 cm)
European Adventure
European Adventure is based on the theme of a European town. So it's filled with fragrant flowers in the Four Seasons Garden where beautiful seasonal flowers including tulips, roses, and chrysanthemums are in full bloom all year round.
There is a T Express in this zone, the most interesting and scary roller coaster that I've ever ridden! If you are brave enough, make sure you go for it ~ 🙂
Another favorite for the younger children is the Royal Jubilee Carousel! Your child will feel like they are part of a fairytale on the horse.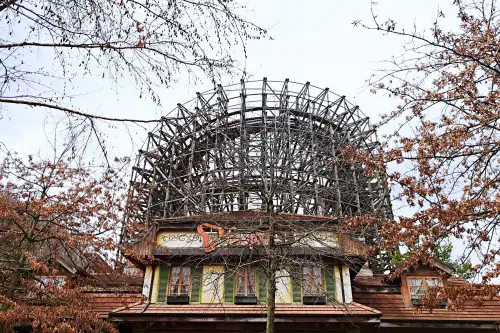 Best Rides in European Adventure
T- Express (Must be130 cm to 195 cm tall)
Royal Jubilee Carousel (100 cm and below must be accompanied by a guardian)
Shooting Ghost (Must be taller than 110 cm)
Space Tour (Monster Family 4D) (Not recommended for pregnant, heart problems, and elderly. 110 cm and above)
Festival Train (Must be 120 cm and above)
Zootopia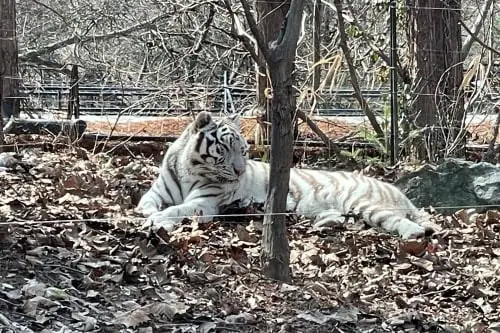 Zootopia makes Everland theme park unique and our favorite zone in the park.
You can meet a ton of real animal friends like penguins, pandas, and seals.
Moreover, you can take a safari trip to Safari World, the home of white tigers and bears. Or enjoy another fantastic safari adventure called Lost Valley with a convertible amphibian vehicle to move from water to land where 150 unique animal species roam freely.
Leave the Amazon jungle by taking the Amazon Express water ride as well. ※ Caution: Riders may get wet. 🙂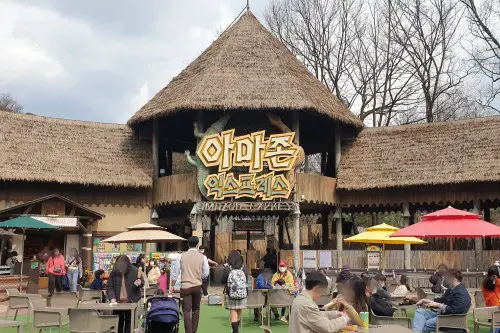 Best Rides in Zootopia
Lost Valley (36 months and under 100 cm must be accompanied by their guardians)
Safari World (36 months and under 100 cm must be accompanied by their guardians)
Amazon Express (must be 110 cm and above)
Panda World (For all)
Raptor Ranger (Loud noise, pregnant, elderly, disc patients not recommended)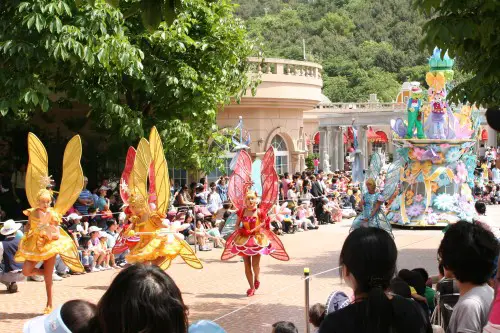 Global Fair
Global Fair is the first and last zone you should meet when you go to the park.
The theme of the Global Fair is a festive street full of the world's various cultures. There are many marts and stores with different kinds of architectural backgrounds.
Check out the Hello Turning Adventure animation with popular Carbot characters Chan and Evan!
American Adventure
Because American Adventure is built around the theme of American history, you can see many interesting rides related to it. For instance, Columbus Adventure, a dizzying Viking ride that falls from 33 meters, Championship Rodeo, and Double Rock Spin.
There are VR facilities as well like Robot VR or Gyro VR as well.
Most rides in American Adventure are not recommended for pregnant, heart, neck, disc patients, and seniors.
Best Rides in American Adventure
Hurricane (130 cm and above)
Robot VR (5,000 won, must be 130 cm and above)
Gyro VR (5,000 won, must be 130 cm and above)
Columbus Adventure (110 cm and above)
Championship Rodeo (130 cm and above)
Rolling X-Train (120 cm and above)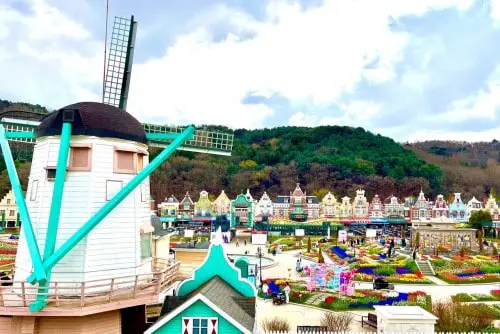 Festivals & Performances in Everland
Year-round Everland Festival Calendar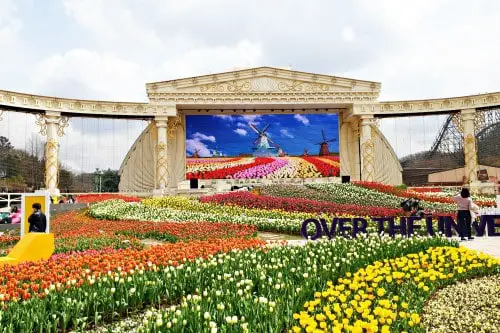 Snow Park

Open and thrilling 4-person snow sled and snow playground

Tulip Festival

Four Season Garden is filled with an uncountable number of colorful tulips – you may be able to get the shot of a lifetime! March and April are when the tulips are in full bloom.

Rose Festival

Enjoy the beautiful fragrances and delicate roses in full bloom at the romantic Rose Festival starting in May and June.

Summer Water Fun Festival

The Bomb Bomb Men attack visitors by shooting water guns at the Carnival Square
Make sure to bring your own water gun and raincoat

Halloween Festival

You can enjoy a spooky Halloween parade and events

Christmas Festival

In the Christmas season, Everland is filled with glittering lights and a romantic atmosphere
Entertainment Performances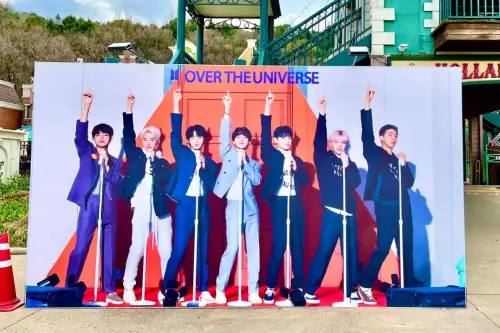 Over the Universe, BTS multimedia show, at Four Season Garden. Every night for 15 minutes, you can see BTS multimedia show with their top songs, colorful lights, and fireworks.
Walts in Royal Palace, enjoy this festive musical at the Four Season Garden, held twice in the afternoon. See beautiful dancers dance with the colorful garden as their background. Take pictures and leave an Instagrammable memory here.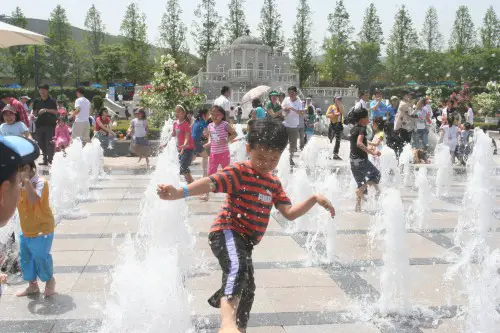 Summer Water Fun (Water Festival) became the most famous festival in Everland since it started in 2005. Visitors can enjoy water shows, light shows, and various water activities in the hot Summer.
Moonlight Photo Party at the Carnival Square
Take pictures at the best nighttime parade with hundreds of thousands of lights.
Restaurants in Everland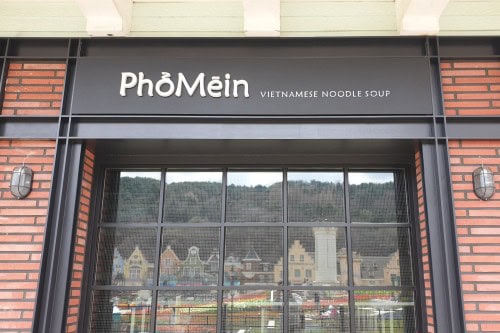 There are various kinds of restaurants, snack bars, and pubs to take a break with a cup of coffee or beer.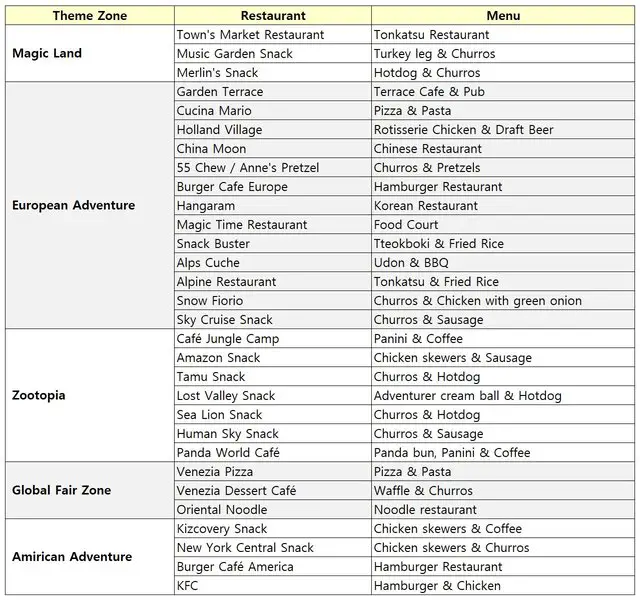 The Sky Plum Blossom Trail – A Hidden Gem of Everland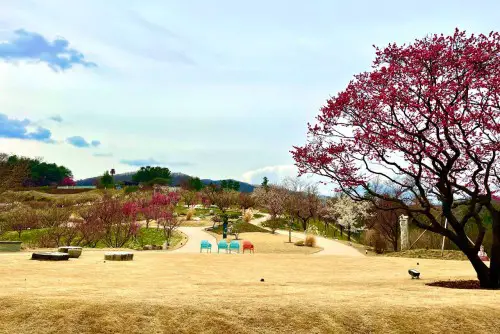 There is an awesome hidden place most people don't know in Everland. The Sky Plum Blossom Trail recently opened. DY and I were obsessed with the beautiful gardens and viewpoint where you can overlook the landscape of Everland.
How to find the Sky Plum Blossom Trail? It's simple. As you walk towards the Colombus Adventure in American Adventure Zone, you will see cherry blossom marks on the road. If you continue to follow them, you will meet the bamboo path and plum path that will take you to the gardens.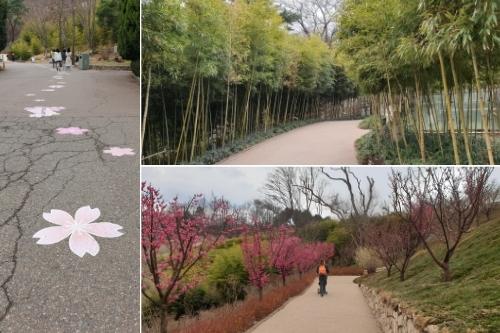 Enjoy the wonderful view of Everland from the garden.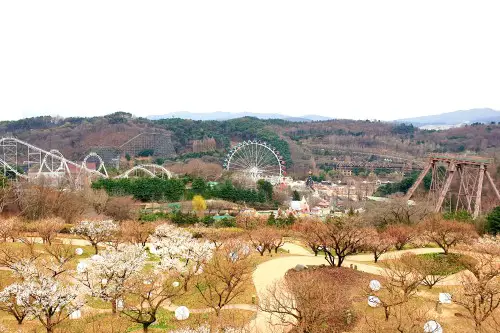 How To Use Everland App
Everland vs Lotte World, Which One Is Better?
Everland and Lotte World both are the most famous and wonderful theme parks in Korea. In case you should select one theme park you will visit, I compared two theme parks.
Weather
If it is wintertime or is a rainy day, Lotte World would be a better choice. Because it consists of indoor and outdoor parks, and the indoor park is the largest amusement park in the world.
Zoo and Safari
If you love to see animals and enjoy a safari, Everland is the winner. I strongly recommend you try Safari World, Lost Valley, and Amazon Express. Panda World and the cute animals in the zoo will make you and your kids happy.
Top Attraction (Ride)
The best ride in Everland is the T Express. Boasting a maximum fall angle of 77 degrees, a maximum speed of 104 km/h, a running time of 3 minutes, and an air time of 12 times. T Express is Korea's best roller coaster. Lotte World's number one amusement ride is the Gyro Drop. If you want to experience falling at a speed of 94 km/h from 70 meters height, choose Lotte World.
Flowers & Gardens
The Tulip Festival and Rose Festival are held throughout the year in the Four Seasons Garden and Rose Garden. Lotte World is located right next to Seokchon Lake, and Seokchon Lake is famous for its beautiful cherry blossoms.
Location
I don't think the location is a huge factor in your choice. Because, although Lotte World is located in Seoul, Everland can be reached in about an hour by shuttle bus. However, it's true that Lotte World has better accessibility.
Size
Everland's area is 1,488,000 square meters, which is 2.6 times of ​​Lotte World (581,645 square meters). Everland has a skylift so you can move around the large theme park effortlessly.
Check the ultimate guide to Lotte World Theme Park, Aquarium, and Seoul Sky Observatory in this article!
Lotte World Ticket Discount Deals!
Everland Visiting Tips
1. Download the Everland Mobile App to check the waiting time for rides, hours of operation, and other helpful information. You can use the smart queuing service through the Everland app.
2. Use the queuing kiosks in the park to reduce your waiting time. To learn more about how to use the kiosk, watch IVIsitKore's 'Things To Do in Everland' YouTube video.
3. Consider visiting nearby attractions like Caribbean Bay (in Summer), the Korean Folk Village, or Jisan Ski Resort (in Winter) to maximize your time outside of Seoul.
You may also like:
IVK's Top Picks – Day Tours, Tickets, and Travel Activities
Seasonal Picks!😍