Everland is the largest theme park in South Korea with fantastic rides and a zoo. So if you are visiting Seoul with kids, we definitely recommend coming here. Because it will be a great gift for your kids who are tired of following adults to see old palaces. 🙂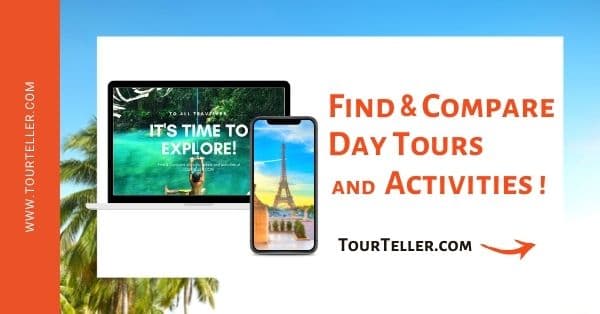 And even more, there are regular festivals like the Tulip Festival, the Rose Festival, the Summer Water Festivals, and others. So it's a great place for couples and all family members even if they don't like scary rides. By the way, Lotte World is another great theme park in Seoul and both of them have their own attractions. Lotte World is located in Seoul, has a large indoor amusement park, and close to Seoul Sky and other sites. But, except for the location, I should say Everland is the best theme park in South Korea.
At the end of the post, we added the Everland discount-ticket deals from the famous global OTAs (Online Travel Agency) so that you can find the best deal for you.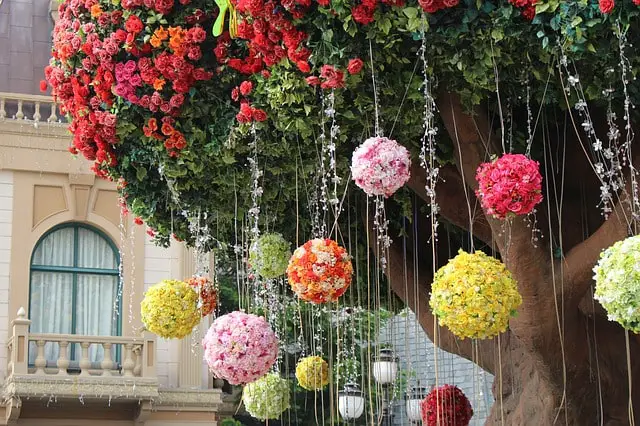 If you are ready, let's dive into the Everland Theme Park Korea!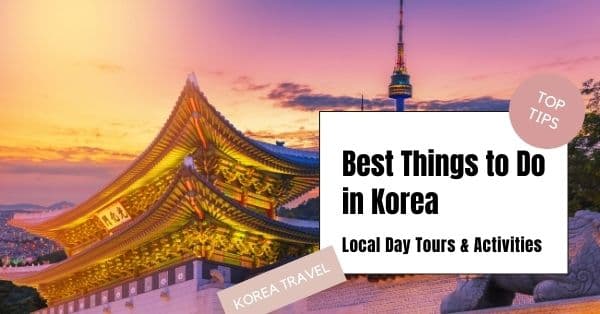 How to get to Everland Theme Park
Shuttle Bus
If you want to visit Everland from Seoul, the shuttle bus is the best way to get there. Because the theme park is in Gyeonggi-do it will be a bit complicated to take public transportation. The round-trip fare for the shuttle bus from Seoul to Everland is KRW 10,000 from Gangnam, and KRW 12,000 from Hongdae, Myeongdong, and other places in Seoul.
By Car
Address: 199 Everland-ro, Pogog-eup, Cheoin-gu, Yongin-si, Gyeonggi-do
There is a parking guide on the road.
Free shuttle buses irregularly operate between parking lots and the main gate.
Public Transportation
We don't recommend you take a bus or subway to get to the park because you might be exhausted even before you arrive. However, there are many ways to take public transportation.
By Bus (Bus number and Main Stops before Everland)
5002: Sinnonhyeon Station – Gangnam Station – Yangjae Station
5700: Gangbyeon Station – Jamsil Station – Songpa Station – Suseo Station
1500-2: Sadang Station – Nambu Terminal – Pangyo Station – Bundang (Seohyeon Station)
By Subway
Transfer to Everline at Giheung Station from the Bundang Line and get off at the Jeondae/Everland station
Take the free shuttle bus to Everland and Caribbean Bay
※ It takes over 2 hours to get to the Everland station from Hongdae including three transfers
Everland Ticket Price
| | | |
| --- | --- | --- |
| Type | Adults | Children |
| One-day Ticket | 56,000 KRW | 44,000 KRW |
| Night Ticket (15:00~) | 46,000 KRW | 37,000 KRW |
Guide Map & Five Theme Zones
Download the Everland Guide Map!
Everland consists of 5 unique-theme zones, such as Global Fair, American Adventure, Magic Land, European Adventure, and Zootopia. Usually, we take a tour from Magic Land to American Adventure by going in a counter-clockwise direction.
Five Theme Zones
Magic Land
If you go through the main gate and Global Fair zone you can enter the zone of Magic Land. It's built around the theme of Aesop's fables with a lot of attractions and rides for children.
Aesop Umbrella Alley is the best spot to take a photo with hundreds of colorful umbrellas.
Dy and my favorite ride in Magic Land is the Bumper car. If you have children, it's a great ride as well.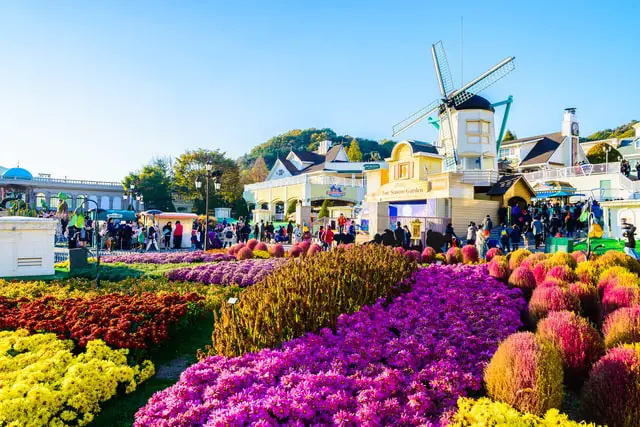 European Adventure
European Adventure is based on the theme of a European town. So it's filled with fragrant flowers in the Four Seasons Garden where beautiful seasonal flowers including tulips, roses, and chrysanthemums are in full bloom all year round.
There is a T Express in this zone, the most interesting and scary roller coaster that I've ever ridden! If you are brave enough, make sure you go for it ~ 🙂
Zootopia
Zootopia makes Everland theme park unique and our favorite zone in the park.
You can meet a ton of real animal friends like penguins, pandas, and seals.
Moreover, you can take a safari trip to the Safari World, the home of white tigers and bears. Or enjoy another fantastic safari adventure called Lost Valley with a convertible amphibian vehicle to move from water to land where 150 unique animal species roam freely.
Leave to the Amazon jungle by taking the Amazon Express water ride as well. ※ Caution: Riders may get wet. 🙂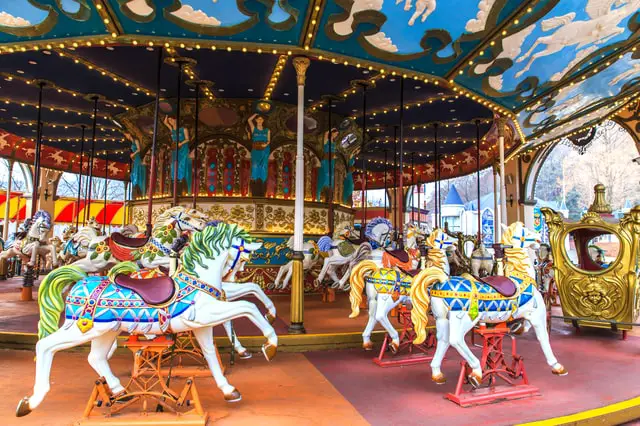 Global Fair
Global Fair is the first and last zone you should meet when you go to the park.
The theme of the Global Fair is a festive street full of the world's various cultures. There are many marts and stores with different kinds of architectural backgrounds.
American Adventure
Because American Adventure is built around the theme of American history, you can see many interesting rides related to it. For instance, Columbus Adventure, a dizzying Viking ride that falls from 33 meters, Championship Rodeo, and Double Rock Spin.
There are VR facilities as well like Robot VR or Gyro VR as well.
Festivals & Performances in Everland
Year-round Everland Festival Calendar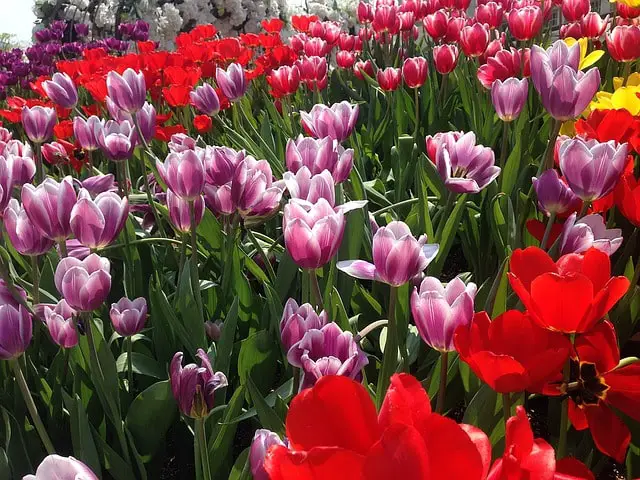 Snow Park

Open and thrilling 4-person snow sled and snow playground

Tulip Festival

Four Season Garden is filled with an uncountable number of colorful tulips – you may be able to get the shot of a lifetime!

Rose Festival

Enjoy the beautiful fragrances and delicate roses in full bloom at the romantic Rose Festival

Summer Water Fun Festival

The Bomb Bomb Men attack visitors by shooting water guns at the Carnival Square
Make sure to bring your own water gun and raincoat

Halloween Festival

You can enjoy a spooky Halloween parade and events

Christmas Festival

In the Christmas season, Everland is filled with glittering lights and a romantic atmosphere
Entertainment Performances
Time Odyssey, The Illumination Fantasy at Four Season Garden
– It's a mega-size finale show with an enormous screen.
Moonlight Parade from the Carnival Square
– The best nighttime parade with hundreds of thousands of lights.
Le Bao's Adventure, Panda Musical
– A cute musical for children about the panda named Le Bao.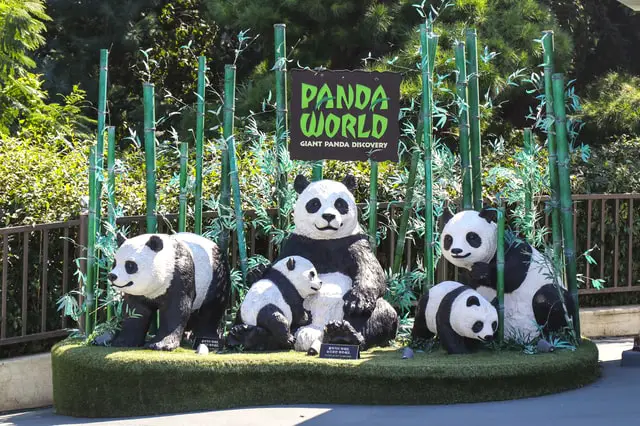 Restaurants in Everland
There are various kinds of restaurants, snack bars, and pubs to take a break with a cup of coffee or beer.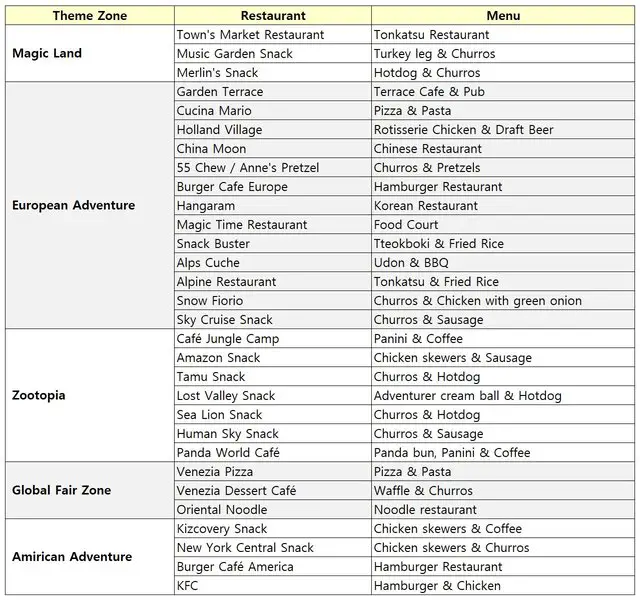 Everland Visiting Tips
1. Download the Everland Mobile App to check the waiting time for rides, hours of operation, and other helpful information.
2. Consider visiting nearby attractions like Caribbean Bay (in Summer), the Korean Folk Village, or Jisan Ski Resort (in Winter) to maximize your time outside of Seoul.
Everland Ticket Discount Deals! (Jan 7, 2020)
Everland One Day Pass
One Day Pass & Roundtrip Bus
Jisan Forest Ski Resort & Everland
You may also like,
[/fusion_text][/fusion_builder_column][/fusion_builder_row][/fusion_builder_container]