Last Updated on November 17, 2023
📍 경기도 용인시 처인구 포곡읍 에버랜드로 199 (포곡읍) | 199, Everland-ro, Pogok-eup, Cheoin-gu, Yongin-si, Gyeonggi-do
🕒 10:00 – 23:00 (Closing hours may vary from 21:00 to 23:00)
₩ 1-Day Ticket – Adult: 54,000 KRW / Child: 43,000 KRW | Night Ticket (from 17:00) – Adult: 45,000 KRW / Child: 36,000 KRW
🌐 www.everland.com
Everland Theme Park in Yongin, Korea, is one of the top attractions at any time of the year. The park welcomes its visitors with warmth and joy every season through the various parades and activities. Locals and visitors plan to stay until late to see the nighttime parade and enjoy all the best rides in Everland. But no theme park is complete without trying its food. Here is our guide to the best food inside Everland theme park.
Everland
By Bus
Here's a step-by-step guide on how to get there from Gangnam Station:
Exit Gangnam Station through exit 5, which is conveniently located on both Line 2 and Sinbundang Line.
As soon as you emerge from exit 5, make a U-turn and head towards the road just behind the station exit.
You'll find a bus stop situated in the middle of the road. This is where your journey to Everland begins.
Board bus #5002, and the fare for this ride is 2,800 won. Be prepared for a 40 to 50-minute scenic journey to your destination.
Upon reaching the terminal stop, you've almost made it to Everland. Here's the final step: Take advantage of the complimentary regular Everland shuttle service that will transport you straight to the entrance of this thrilling theme park.
With these straightforward directions, you'll soon be enjoying the excitement and wonders of Everland!
By Shuttle Bus Service
Instead, you can opt for Shuttle Bus Services operated by private tour companies. These services typically offer one daily morning pickup at various locations, such as Myeongdong and Dongdaemun, and one or two fixed evening departures from Everland. The round-trip fare for these shuttle buses is usually around 10,000 won.
By Subway
Start your journey by heading to Giheung Station, where you'll need to transfer from the Bundang Line to the Everline.
Once you arrive at Giheung Station, make the transfer to the Everline. Ensure you board the correct train heading towards the Jeondae/Everland station.
Ride the Everline train until you reach the Jeondae/Everland station. This is a crucial stop for your trip to Everland.
After exiting the train at Jeondae/Everland station, proceed to exit 3.
At exit 3, you'll be in the perfect position to access the free shuttle bus service that will take you directly to Everland and Caribbean Bay.
By following these simple steps, you'll be on your way to enjoying the attractions and fun of Everland in no time! Please keep in mind that the journey may take around 2 hours when starting from Hongdae and may involve up to three transfers, so plan accordingly for a smooth trip.
You may also like:
Can I bring food inside Everland?
The answer is yes. Everland allows visitors to bring food outside to eat inside Everland. This makes it convenient for those with young children. They have Ever Mart, a big market near the main gate where you can buy snacks, drinks, wet naps, noodles, etc.
On The Border
The Global Fair is the first village you will encounter once you enter the park. The diverse variety of restaurants from Italian, Mexican, Chinese, and Korean, and cafes make it one of the busiest areas during lunch and dinner. My favorite is On The Border, where you will be greeted with fresh chips, salsa, and many menus, like quesadillas, burritos, steaks, fajitas, mojitos, and more. The chips and salsa can be ordered without extra charge. The interior and open bar in the middle add to the Mexican vibe and taste of the food. The portions are big, and the price is not cheap, but the taste is great, and there is something to each for all ages.
Location: Global Fair
Price range: $25-$55
Type of food: Mexican
KFC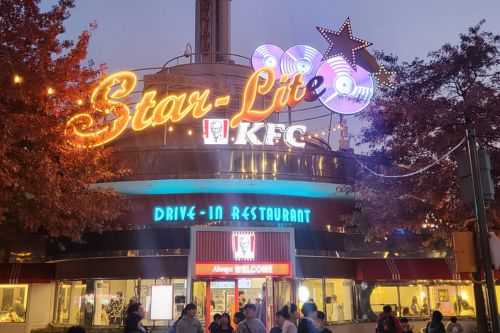 KFC is a classic and all-time favorite Chicken and hamburger restaurant. There is something for everyone of all ages to eat. As you can see in the video, the ordering system is straightforward, and the inside is clean. Order using the touchscreen menus on the side, place your card inside, and receive an order number. Your number will show on the TV screen when your order is ready.
Location: American Village
Price: $1- $35
Type of food: Hamburger, chicken, fries
Holland's Village
There are five main villages in Everland, and the most popular with the most variety of food selection is European Adventure. Here, you can get Korean, Chinese, Western, European, Italian, vegetarian, and more food. We recommend Holland's Village within European Adventure, located next to the Four Seasons Garden. There are 12 European-style restaurants and 1,000 seats to eat foods like BBQ with beer, pizza, chicken, and sausage. The seating area is great to hear the musical performances held on the grand stage. There is seating indoors as well for rainy days in Everland.
Location: European Adventure
Price: $3-40
Type of Food: rotisserie chicken, beer, sausage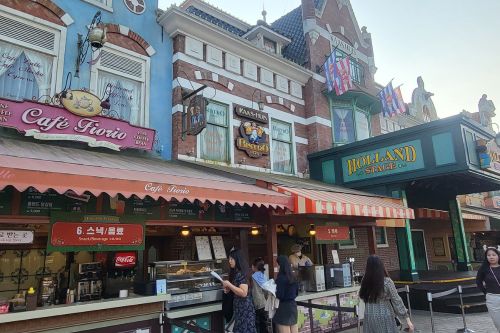 Garden Terrace
The location of the Garden Terrace restaurant is great as it is close to the Four Seasons garden for a magnificent view. Also, it has both indoor and outdoor seating and is close to the main stage. They serve beer, beverages, sausage, and chicken to go with your drinks. They also have hot dogs, chicken skewers, pizza, and rice meals. The wait might be long, especially during lunch and dinner, so I recommend going about 30 minutes before everyone on your team gets hungry.
Location: European Adventure
Price: $5-20
Type of Food: rice, chicken, sausage, beer, snacks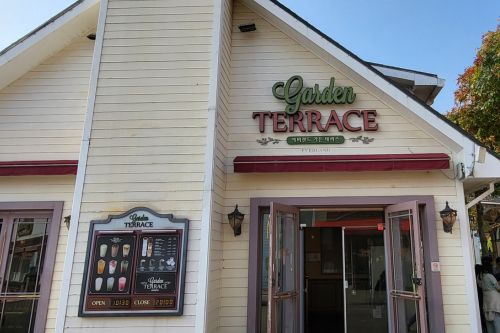 Inside and outside view of the Garden Terrace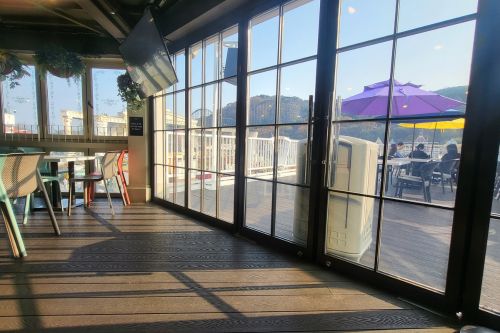 HanGaRam
Korean traditional food in Korea can never be wrong. Here, you can choose a hot kimchi stew with pork, grilled mackerel fish, hot rice soup, crispy chicken in honey soy sauce, seafood pancake, and kimchi pancake. The restaurant is large with a lot of seating, but it can get crowded during meal times.
Location: European Adventure
Price: $4-20
Type of Food: Korean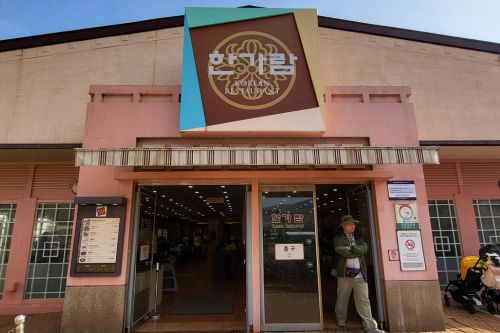 Magic Time
The Magic Time Snack restaurant near T-Express has various foods like grilled chicken salad, pork cutlet curry, warm noodles and dumplings, fruits, kimchi pancakes, beer, and more. The foods are not heavy but more on the healthier side. Once you enter the food court, you can choose which food you want: Korean, Japanese, Chinese, Salad, Noodles, and drink, then pay at the counter. Inside, there are many seats, and they make it convenient for families by having extra dishes and utensils.
Location: European Adventure
Price: $4-10
Type of Food: Korean, Japanese, Chinese, salad, noodles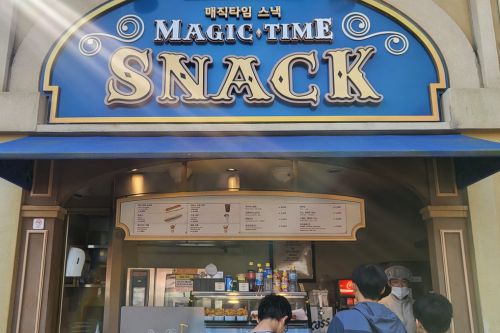 Snack Busters
The line at Snack Busters shows the popularity of Korea's all-time favorite snacks: tteokbokki and chicken. Tteokbokki at Snack Busters come in three types: sriracha hot chicken, fried squid, and assorted fried dish. The portions are big, and the flavor is spicy yet sweet. Try the chicken with cheese powder topping or boneless honey soy sauce; both go well with the spicy tteokbokki.
Location: European Adventure
Price: $6- 32
Type of Food: Tteokbokki (spicy rice cakes), chicken, beer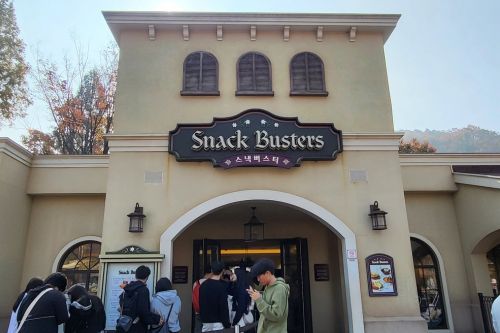 China Moon & PhoMein
China Moon is a great place to try classic Chinese dishes like black bean noodles, spicy noodles with squid, dumplings, grilled chicken and fried rice, and sweet and sour pork. The menu is simple, and portions are big with many seating inside. It is especially crowded because it is along the parade line, and sometimes you might have to wait in line. But because everyone wants to ride the next ride, the seats become empty quickly. Right under China Moon is the popular Vietnamese franchise PhoMein, which is great for rice noodles in warm broth. Expect to stand in line here as well for authentic and delicious flavors.
Location: European Adventure
Price: $5-12
Type of Food: Chinese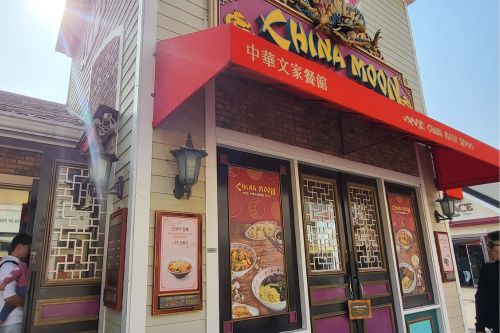 Burger Cafe Europe
The Burger Cafe serves traditional burgers and fries with coke. They have classic garlic beef, spicy chicken, shrimp hamburgers, boneless chicken, french fries, cheese sticks, coffee, and more. It's everything you can expect at a traditional hamburger store. If you are coming with a group, try their hurricane set for three and try their various snacks, burgers, and cold drinks.
Location: European Adventure
Price: $4-40
Type of Food: Hamburgers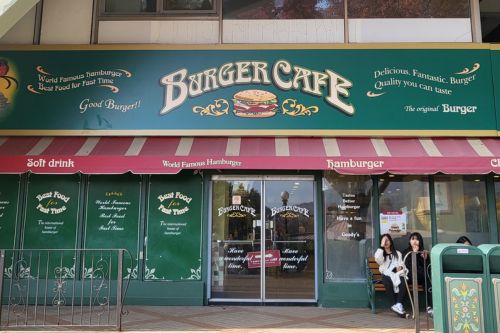 Coffee Bean
Coffee tastes better at the Coffee Bean in Everland. Get a boost of caffeine to stay up the entire night here. They have seating inside and outside with warm-to-cold drinks and small desserts. It's a great place to relax and rest before standing in line and screaming to your heart's content.
Location: European Adventure
Price: $3-10
Type of Food: Coffee, drinks, desserts
Cucina Marino
At Cucina Mario, you can find oven-baked pizza and delicious pasta in an open Italian setting. They take reservations, and it is tough to get reservations at night because it's an excellent spot for the fireworks. Children usually eat cheese pizza or bacon cream pasta. The dough is handmade and thin, cooked in the oven. The clam chowder soup tastes great, and the baked bread appetizers are worth trying. If you feel fancy, try their wine with the Italian food.
Location: European Adventure
Price: $4-40
Type of Food: Italian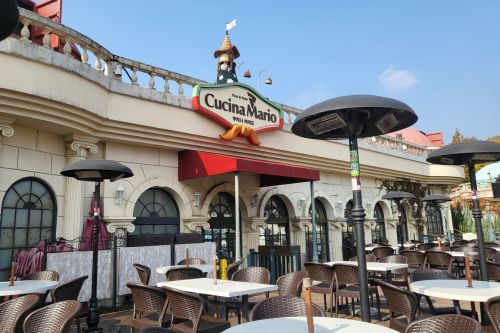 BHC Chicken
The popular Korean fried chicken franchise, BHC, has entered Everland. The boneless, popcorn-style chicken and special chicken powder topping set are delicious once you arrive until late at night. It's a perfect snack any time of the day and also great while you are watching the parade. You will see why there is always a long line here.
Location: Magic Land
Price: $2-20
Type of Food: Chicken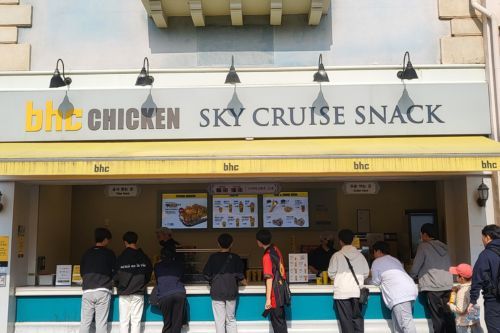 Zootopia Snacks
Everywhere you go in Everland, you will be given the choice to eat many snacks. Here are some of our favorites found at Zootopia from sausages, churros, hot dogs, chicken skewers, cotton candy, corn, popcorn, soft ice cream, and panda-style ice cream.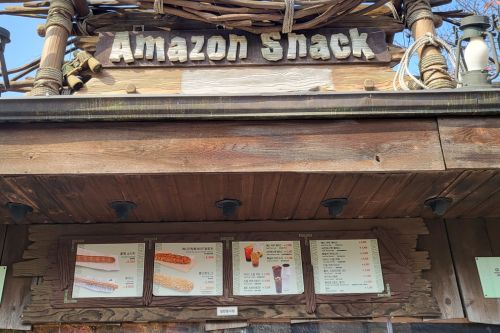 Everland Theme Park in Korea is a place to ride roller coasters and see animals and a great place to eat. There is something for everyone. The Everland food and snacks mentioned here are our favorite choices. Let us know which ones you liked the best.
Everland Ticket Discount Deals!