Last Updated on November 17, 2023
Yeonnam-dong is a trendy neighborhood in Seoul, South Korea, located just north of Hongdae. The area is known for its hip cafes, unique shops, and vibrant street art. These days, it can be said that Yeonnam-dong is the most popular area with young people, and it is considered to be one of the coolest neighborhoods in Seoul. If you're about to explore that charming street, check out our Yeonnam-dong guide to ensure you won't miss any fun things there.
Read more:
What To Know About Yeonnam-dong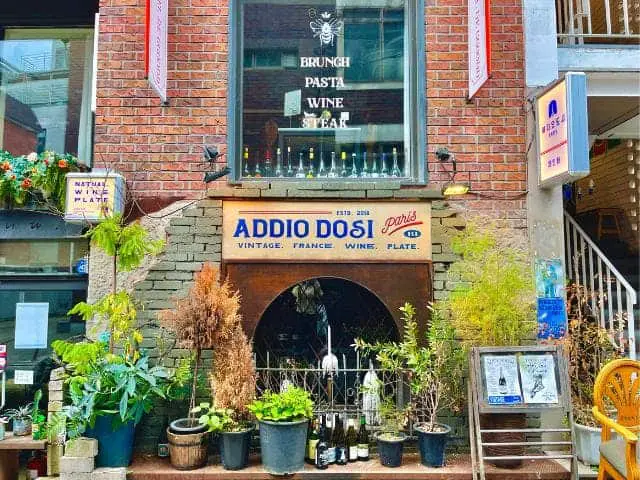 The 'Mini Art World in Seoul' is perhaps the most fitting name for the feeling that this neighborhood evokes for visitors. Right north of the famous Hongdae district, Yeonnam-dong is gaining recognition for its uniquely decorated cafes, diverse international cuisine, trendy fashion boutiques, and charming accessories.
Yeonnam-dong was once an ordinary residential area, but it has recently transformed thanks to an influx of young artists and entrepreneurs. The neighborhood is now home to a variety of independent shops, cafes, and galleries, as well as several popular restaurants.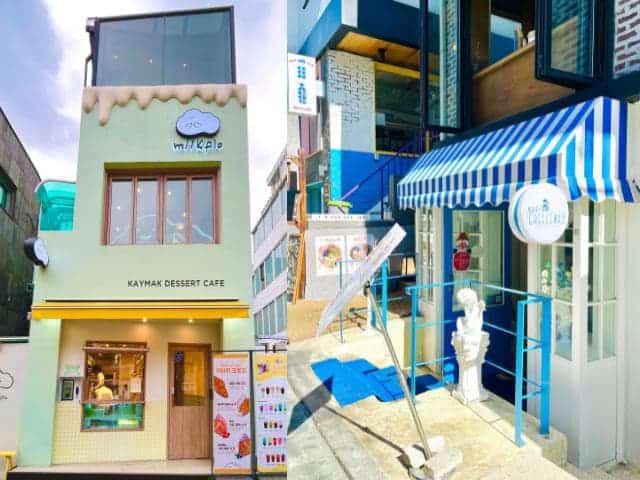 Although sitting near Hongdae, Yeonnam-dong brings a different ambiance compared to Hongdae. While Hongdae exudes a lively atmosphere with street performances, bustling shopping areas, and a youthful vibe with vibrant bars at night, Yeonnam-dong presents a tranquil, relaxed setting, perfect for afternoon tea and a stroll. Moreover, since it is close to major universities, this street has become a popular hangout for the Millennials and Gen Z. It's also an ideal dating spot for couples.
How To Get To Yeonnam-dong
Getting to the street is simple because it is close to Hongdae. Exit Hongik University Station at Exit 3, and you'll be beside the Gyeongui Line Forest Park. Then, follow the alleys and streets from there, and you'll find an array of cafes and restaurants.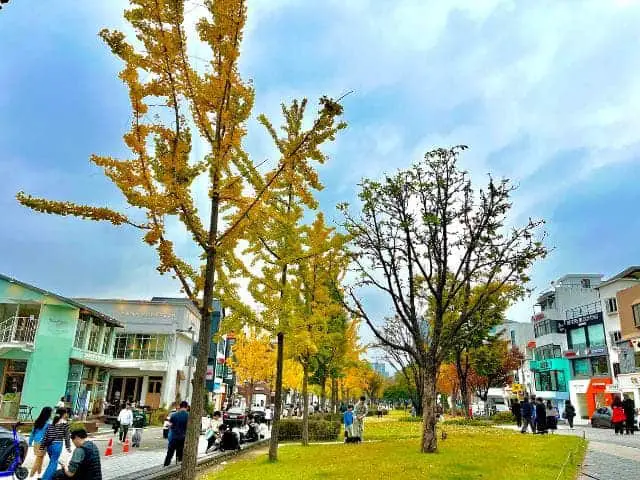 Fun things to do in Yeonnam-dong
Get your caricature at Acorn Caricature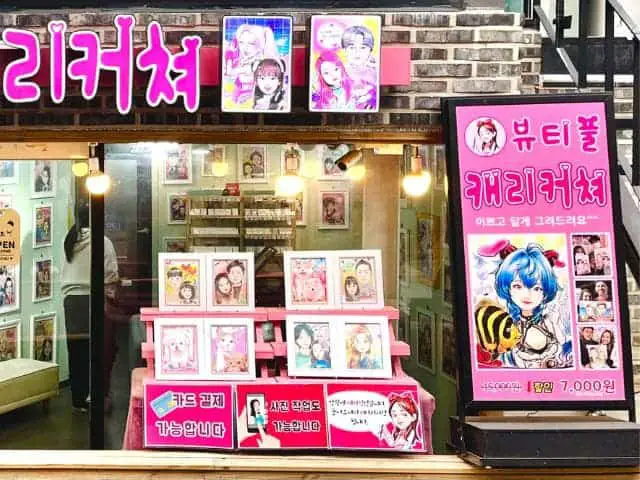 Unlike typical caricatures, which exaggerate certain facial traits, the Korean version is the cutest cartoon-style portrait of yourself. If you find yourself at Yeonnam-dong, stop by Acorn Caricature for a caricature. It'll be the most adorable souvenir from your trip. 
The store was built to look like a cozy wood cottage with a maple wood roof and rust-brown brick walls. Many sample pieces are hung outside, so it's easy to spot when you walk by. If you are a K-pop fan, you may notice Hwasa from Mamamoo's portrait was also hung outside the shop.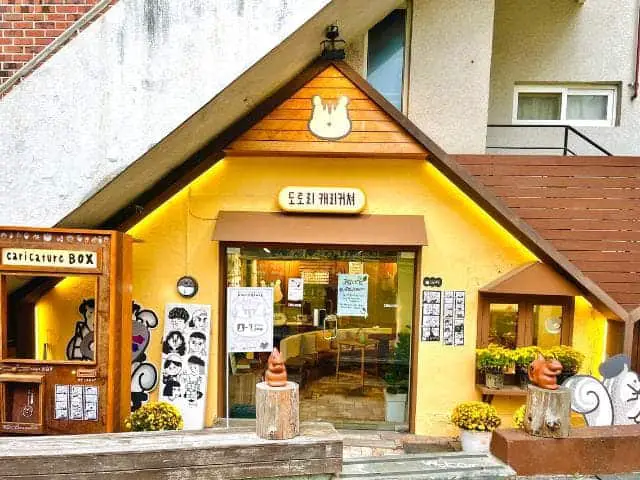 You can offer them a picture of a loved one or pet to refer to or decide to have a portrait done directly. The cost will vary from USD 7 to USD 16. As part of the experience, after paying, you'll also get to select some freebies, typically stickers.
Shopping for casual clothing & accessories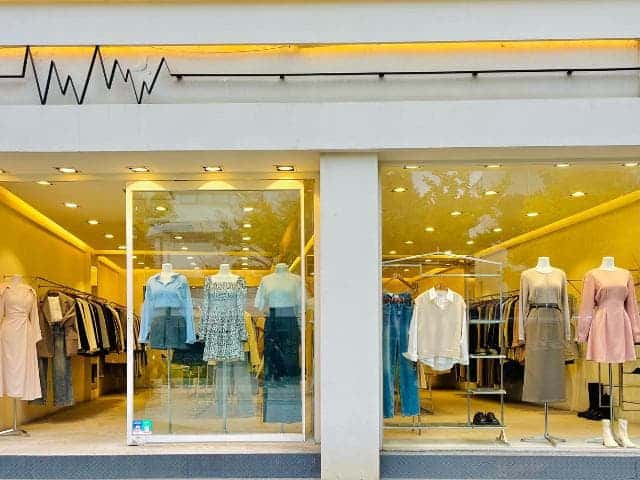 Yeonnam-dong may not have big clothing stores like Hongdae, but it's a hot spot for local Korean fashion. The area is filled with shops selling domestic brands, making it the go-to place to discover unique and trendy local styles.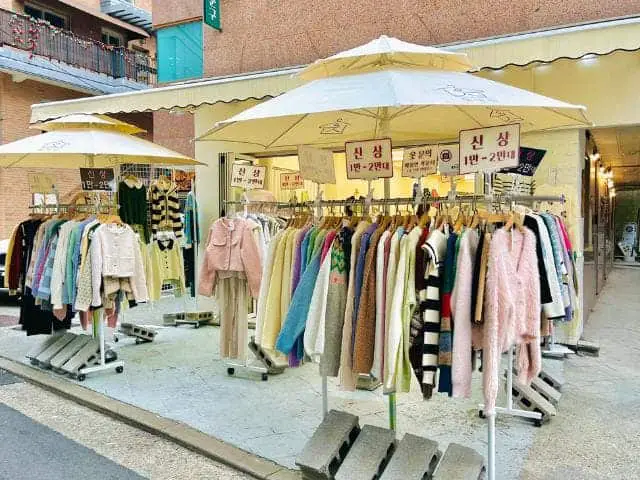 For clothing, if your style is simple and you are looking for staple pastels as well as neutral-colored items, 50 Sale Market (50 세일마켓) is a great choice. This women's clothes store has very reasonable costs, just from 10,000 to 20,000 won (7.6 – 15.3 USD) for an item. Another cool place to go is Visual Aid Club. You can find many niche Korean brands here.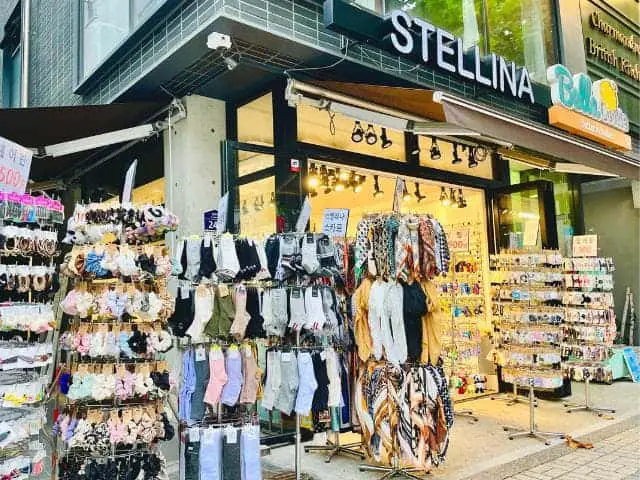 For accessories, head to Fennec Station, a Korean brand that sells various trendy accessories such as purses, wallets, phone cases, and AirPod cases. This store offers a variety of colors in products with a minimalist style and simple design. And if you like to get some fancy glasses, stop by VIEWMAP. The designs are quite trendy and appeal to the tastes of young people. There are frames for every face shape, including round, cat-eye, square, and more!
Check out some cute gift & living shops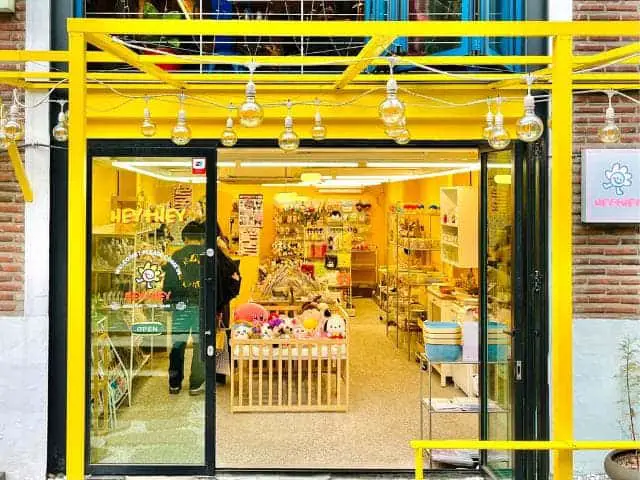 There are numerous handcrafted gift and accessory shops in Yeonnam-dong. Because each business has its distinct design, you can find numerous one-of-a-kind goods here that would make wonderful keepsakes for you or your loved ones!
Here are some famous shops that you might want to check out:
Sokamono (소카모노): This is heaven if you're a cat lover. They offer books, stickers, posters, and wall art with adorable cat prints. Because these pieces are handcrafted, they are one-of-a-kind.
Adorable me (어도러블미): As its name suggest, the shop sells a lot of items with cute and girly design. Most of the items are pastel colors. You can find a huge variety of hair accessories, stickers, handmade drawstring bags here, and cutely shaped scented candles.
Bom Bam Dal: This is an accessory shop with a stand-out vivid pink color. They are known for their little accessories, such as hair clips and earrings. You may also get fashionable and one-of-a-kind rings made of various materials ranging from plastic to metal here.
Visit vintage shops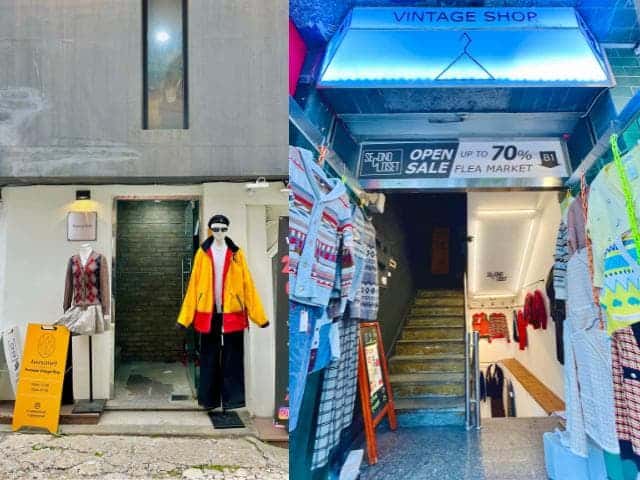 If you're looking for vintage clothes, Yeonnam-dong has many options. The first one we recommend is Yeonnam Y. This is a pretty big vintage store with many items from various brands, mostly from Europe. Both men's and women's clothing is available here. So check out this store if you're looking for reasonably priced products.
The next one is Distangdal, a vintage store that focuses on streetwear. They have clothes, hats, and various types of bags. You can get one-of-a-kind and unusual items here at lower prices than in other vintage stores.
Experience self-photo booth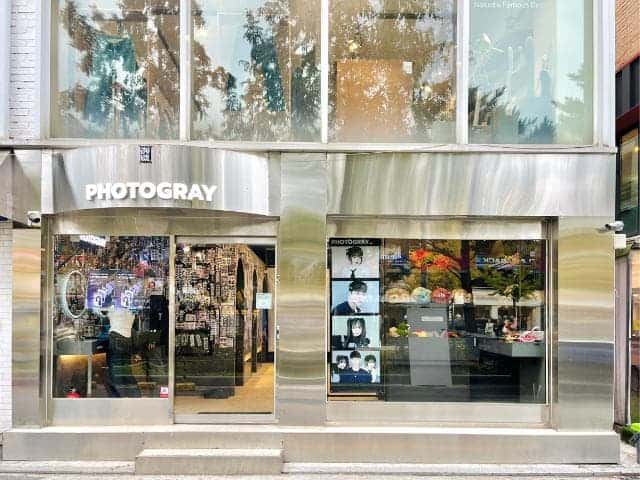 In Korea, self-photo booths have gained popularity in recent times. In hip districts, shopping centers, or entertainment venues, you can see a lot of photo booths. You can use these photo booths whenever you'd like because they are unattended and available 24 hours a day.
Photo booths are usually offered with lovely backgrounds and feature cute stickers or headbands for you to use when taking photos. Depending on the photo booth, you can print a specific number of photos, usually 4 or 6. Another unique feature of Korean photo booths is the ability to download images online using the rapid response code written on the strips. When you scan the code, you will be directed to a page where you may download digital copies of the photos and a movie of you taking shots in the booth.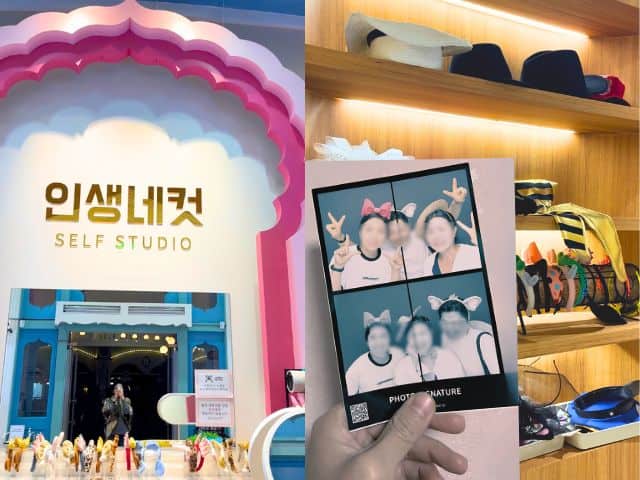 In Yeonnam-dong, you can check out the Photoism Box. This booth is well-known for doing collaborations with K-pop idols, so you can imagine you took cute photos with your favorite K-pop idol. 
Address: 230 Donggyo-ro, Mapo-gu, Seoul
Instagram: photoism.kr
Having a cup of coffee or beer in the Gyeongui Line Forest Park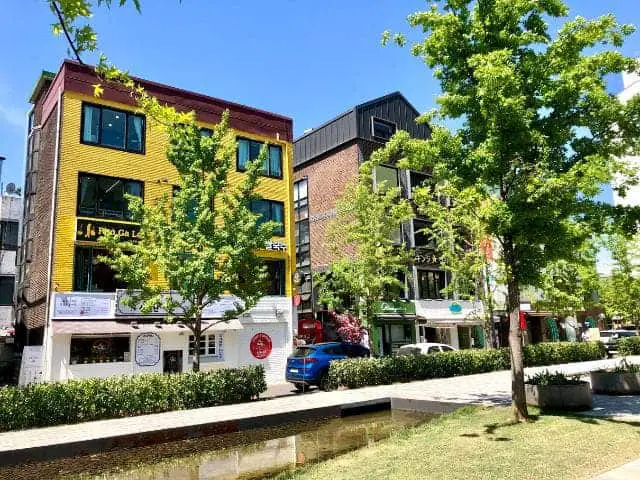 The Gyeongui Line Forest Park is the first place you see after leaving Hongik University Station exit 3. This lush green park is recreated from an old railroad track, providing a unique urban setting that seamlessly blends nature and modernity. There's also a small stream within the park.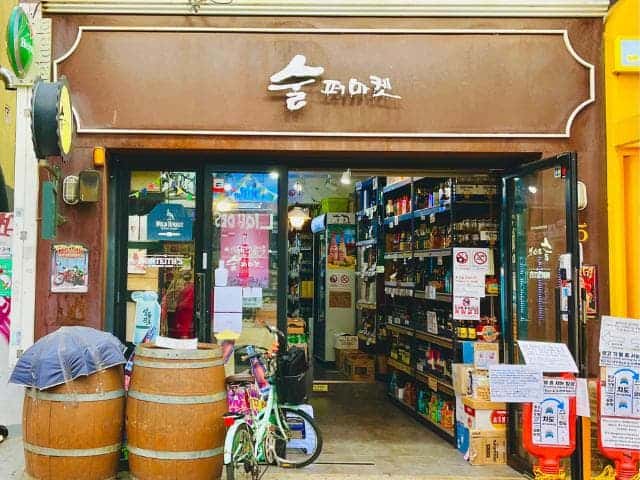 It's a great idea to stroll along the park, have a cup of coffee on hand, and catch up with your friends. Or if you're looking for a picnic spot around Hongdae, this park is not a bad choice. Just grab some beers and food from numerous restaurants and then sit on the grass with friends and enjoy the tranquil ambiance here. 
Have fun at Coin Noraebang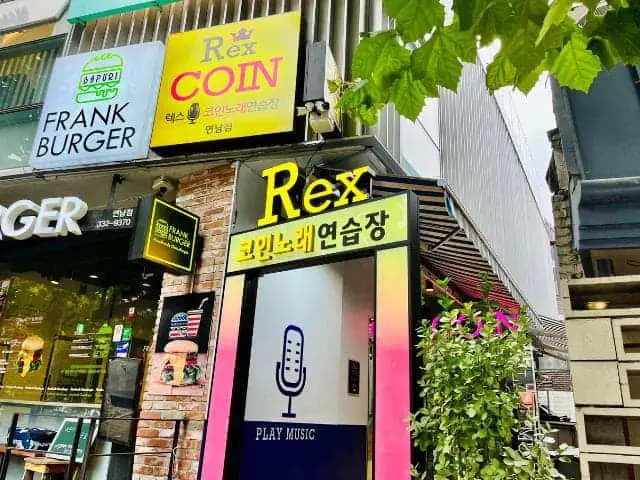 Coin noraebangs have become the hotspot for Korean teens, and it's easy to see why. These compact singing rooms, accommodating 2-4 people, are all the rage due to their budget-friendly and pay-per-song approach. Unlike traditional noraebangs, coin noraebangs offer an intimate setting perfect for a close-knit group of friends. With just 1,000 won (0.7 USD), you can sing around 2-4 songs, depending on where you go. There are many coin noraebang in Yeonnam-dong; some prominent ones include Rex Coin, 락휴 코인노래연습장 홍대 연남점.
Play some arcade games at RETRO ARCADE (콤콤오락실)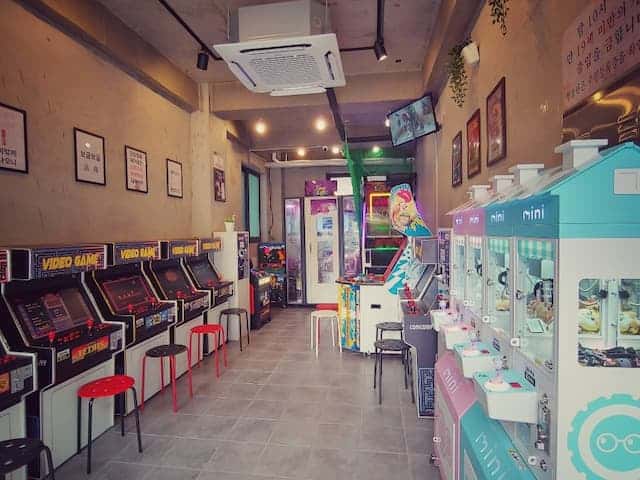 If you like Korean school movies, you've probably seen arcade game stores. When visiting Yeonnam-dong, in addition to eating and shopping well, playing arcade games can be a great way to relieve stress while on vacation. A retro-style arcade with various games is named RETRO ARCADE within the street.  You can check out various games, like darts, racing, and gun shooting. The price of each play ranges from 500 to 1,000 won (0.3 – 0.7 USD). 
Tarot & fortune consult (사주&타로)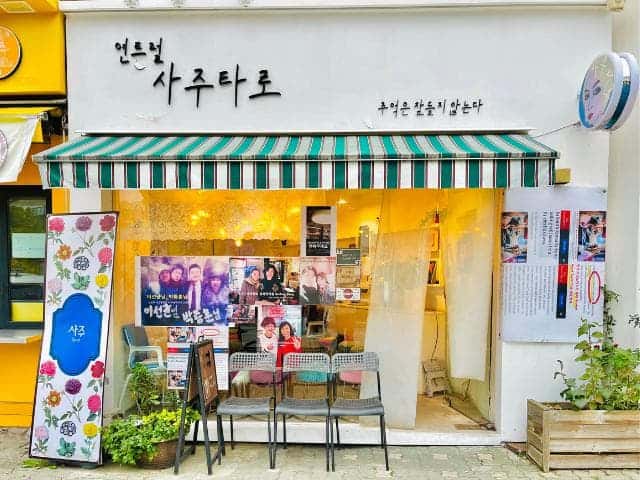 Fortune telling, often known as divination, is the practice of foretelling the future or knowing the unknown – whether by methods considered art or without a reasonable basis. Even though South Korea is predominantly a conservatory country, fortune-telling remains popular among young and old. Millennials and Gen Z have been particularly interested in this in recent years. They enjoy fortune-telling as healing, entertainment, and learning about future issues and remedies.
Many fortune-telling methods are available in Korea, but the four most common are Tarot Cards, Palm Reading, Korean Physiognomy, and Saju. Fortune tellers are everywhere in Seoul. You can find them in parks, shopping centers, and cafés at popular tourist destinations. There are also a lot of readers in Yeonnam-dong; you can check out two locations below:
Where To Eat In Yeonnam-dong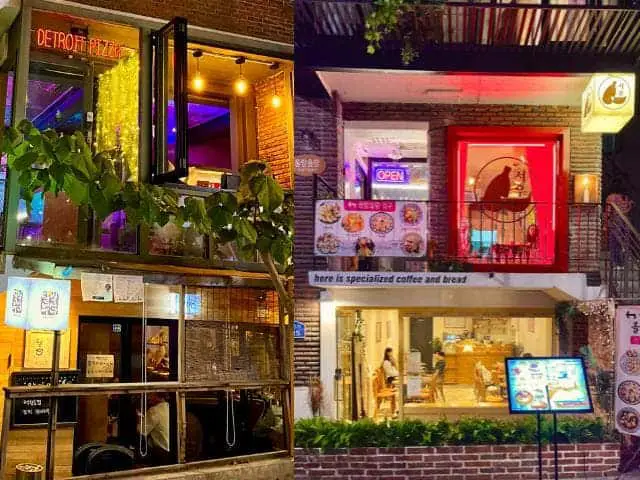 This area is full of restaurants. You have many options, from Korean restaurants to foreign places serving Vietnamese, Thai, Chinese, and Mexican cuisine. Here are a few popular restaurants you might want to check out:
Banh Mi Phuong 반미프엉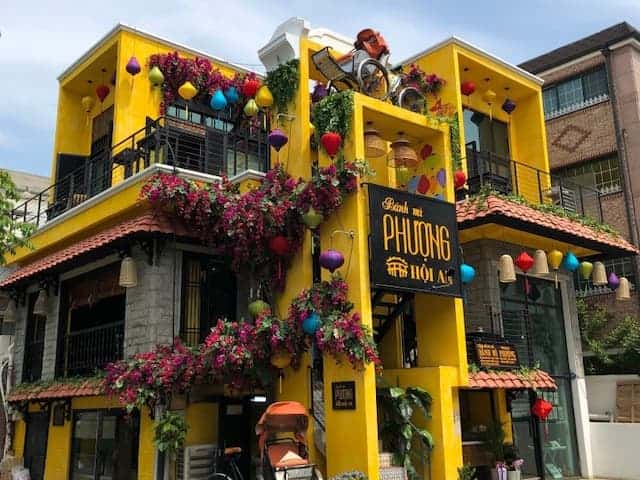 Banh Mi Phuong is a Vietnamese restaurant known for its superb banh mi, a Vietnamese baguette sandwich. This is also a famous spot for taking photos because of the stunning golden walls and lanterns hanging outside the restaurant. Stepping inside, you will be amazed because the interior design makes you feel like you are in Vietnam. Old wooden tables, chairs, televisions, kettles, etc., create a vintage atmosphere. 
The banh mi here is stuffed with typical fillings such as grilled pork, chicken with cheese, beef, and raw veggies. In addition to banh mi, they also offer traditional Vietnamese cuisines such as pho, spring rolls, bun cha, banh xeo (Vietnamese pancake), and more, and some coffees such as coconut coffee, iced milk coffee, and so on. The foods served here are priced between 8,000 and 18,000 won (6 – 13.8 USD).
Tuk Tuk Noodle Thai 툭툭누들타이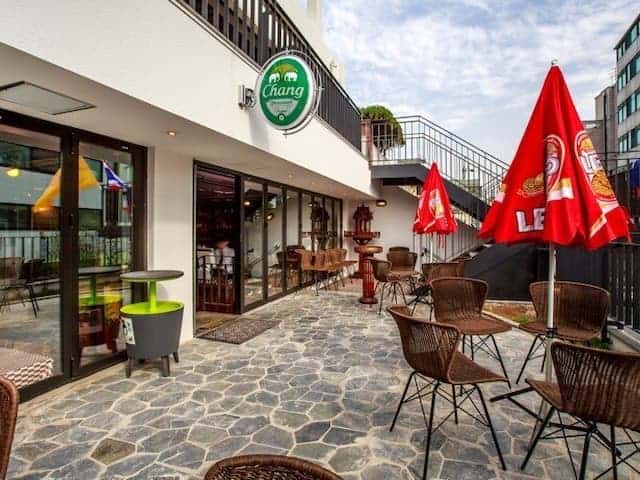 This is, arguably, Yeonnam-dong's popular Thai restaurant. Tuk Tuk Noodle Thai is a three-story building with plenty of seating and great Thai dishes. Thai chefs prepare the dishes here, so they are authentic Thai. 
The menu here is diverse, from famous dishes like tom yum and pad thai to Yeonnam Galbi Noodles, Foot Nim Pad Pong Curry, Pad Kra Pao, and Radish Salad Rice. The space is very cozy, and the staff is friendly and enthusiastic. But because this restaurant is so popular, you should go on weekdays if possible since weekends will be packed and nobody likes to stand in lengthy lines for hours.
GOD EAT 갓잇 연남
This is the ideal spot if you're craving some Mexican taste in Yeonnam-dong. GOD EAT has multiple branches in Korea and is well-known among netizens for its Mexican-style cuisine. The interior has a relaxed, cozy, and inviting feel and is furnished in a Mexican-inspired style. 
The menu is diverse; some favorite dishes are God Fajita, burrito, tacos, and more. In addition, the restaurant also offers drinks such as coke, mojito, cocktails, and beer. The price is reasonable, from 10,000 to 23,000 won (7.6 – 17.6 USD) for the main dishes. 
Haha Chinese Restaurant 하하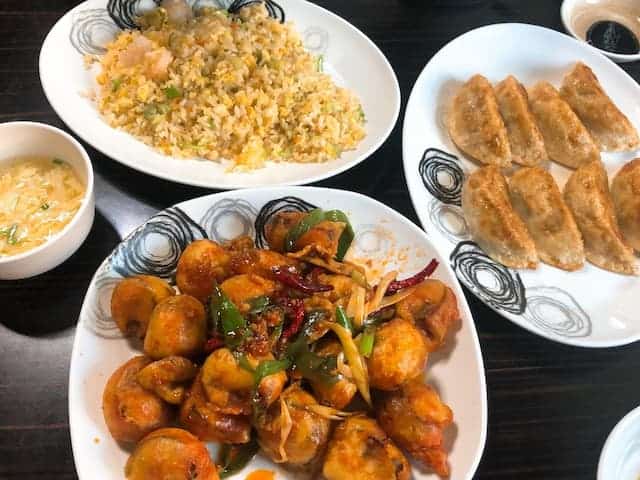 This is an old Chinese restaurant famous for its dumplings and fried eggplant. Their fatty-fried eggplant paired with a traditional Chinese sauce is truly delicious. If you once thought that eggplant was a bland dish, try the fried eggplant here; it will change your mind. In addition, you can also try other dishes such as sweet and sour stir-fried meat, fried rice, and more; all are very delicious.
Address: 263 Donggyo-ro, Mapo-gu, Seoul
Open hours: 11:30 – 22:00 Monday to Saturday | 11:30 – 15:00 and 17:00 – 22:00 on Sundays
Phone: +82 2-337-0211
Bali Moon 발리 문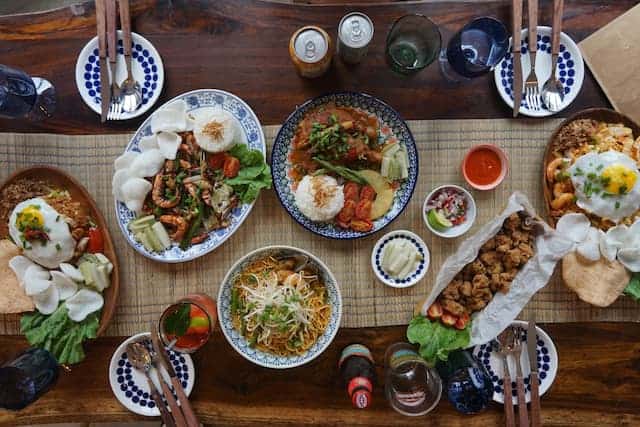 Bali Moon is an Instagram-famous restaurant recognized for its Bali interior with tropical decorations. The cuisine at this restaurant is equally well-known, with the core menu consisting of five items: Rendang ayam, Nasi Goreng, Mi Goreng, Udang Cari Bali, and Coconut noodles. The two Goreng dishes are popular on Instagram, topped with the most gorgeous sunny-side-up eggs. The price is also reasonable, which ranges from 10,000 – 15,000 won (7.6 – 11.5 USD) per dish. Come and try if you like Bali food and want to get some stunning pics for your Instagram!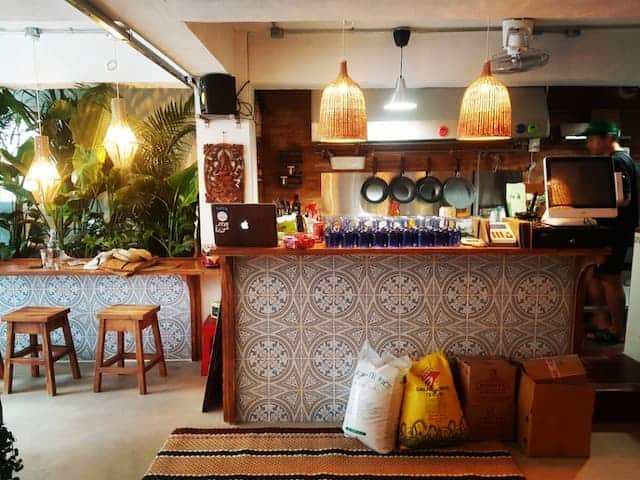 Open hours: 12:00 – 21:00 daily
Phone: +82 70-7774-8282
Instagram: balimoon_seoul
Hong Kong Daepaedang 홍콩 대패당
In Korea, finding Hong Kong cuisine is difficult, so if you are craving Hong Kong food while in Korea, head to Hong Kong Daepaedang restaurant. The restaurant's interior is fairly roomy, with many tables and chairs. Every nook and cranny is furnished with mementos from Hong Kong, giving guests the impression that they are there.
The restaurant serves separate menus for lunch and evening. Dinner menus typically feature a wider range of items. Some famous foods you can try are stir-fried beef noodles, Hong Kong steamed chicken, and grilled pork rice with tomato sauce. Other delicacies and beverages include egg-fried bread, red bean sweet soup, lemon tea, and Hong Kong milk tea.
Open hours: 11:00 – 23:00 Mon to Sat | 15:00 – 21:00 on Sundays
Phone: +8223380930
RAT THAT Pizza House 랫댓 연남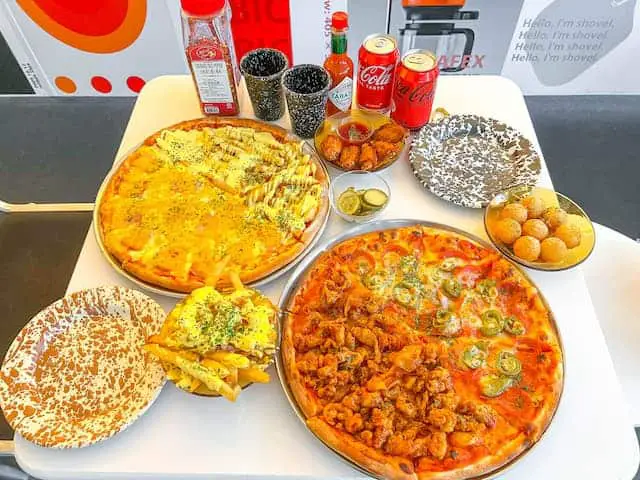 If you're in the Yeonnam-dong area, you should definitely check out RAT THAT Pizza House, which was highlighted on SBS's Today show. People usually wait in line to satisfy their craving for pizza because it's so popular.
The plus point is that you can order a  half-and-half pizza in this restaurant. It's so convenient; you can try two different pizza types simultaneously. The most popular pizza here is the half-garlic potato and half-chicken skin pizza. The chicken skin may sound weird, but it tastes good and is super crispy. 
Choisajangne Dak 최사장네닭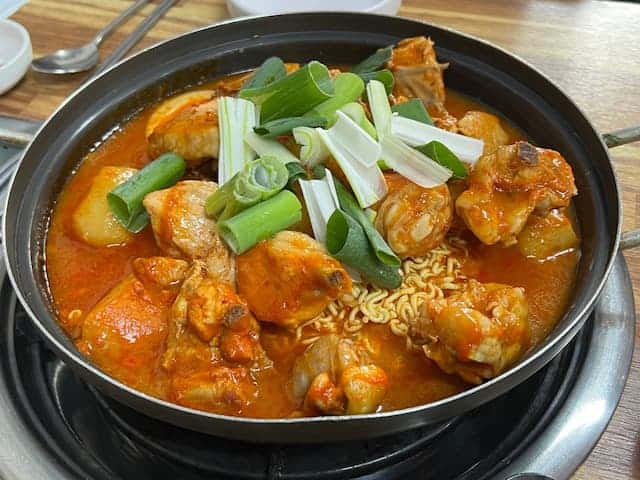 Choisajangne Dak is a popular restaurant in Yeonnam-dong frequented by celebrities, including Infinite member L. When you walk in, you'll notice that the walls are covered in celebrities' autographs. 
The restaurant space is small and cozy, with the sense of a traditional Korean restaurant. As its name suggests, they serve chicken related dishes such as spicy chicken stew (dakdoritang), Korean Chicken soup (dakgomtang), Spicy braised chicken breasts (Dakbokkeumtang )…
Where To Get Coffee In Yeonnam-dong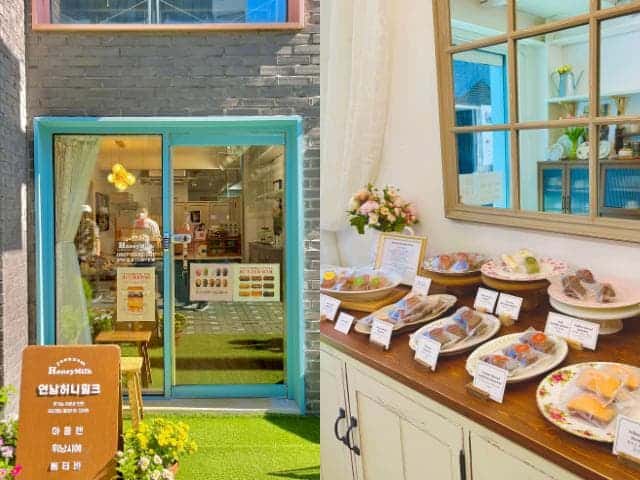 Cafe hopping is a must when visiting Yeonnam-dong. There are many cafes with distinctive and unique themes for you to explore. Here are some famous shops you might want to drop by: 
Greem Cafe 그림카페
This is arguably the coolest cafe in Yeonnam-dong and one of the most popular on Korean social media. The design of the cafe is influenced by the Korean film "W – Two Worlds." Going into this cafe, you'll feel like you're in a comic book. 
The cafe has unique effects created by 2D black and white illustrations. If you don't look closely, the artists' skilled sketches can fool you into thinking they're genuine objects. The sweets and drinks are also equally appealing. Everything in this setting is like walking out of a storybook, from the drink decorations to the cup designs. Some best-selling items include the Green Green Milk, Orange Cafe Latte, and strawberry cakes.
Open hours: 12:00 – 21:00 daily | closed on Mondays and Tuesdays
Price range: 5,000 – 6,500 won (3.8 – 5 USD)
Instagram: greem_cafe
Cheong Su Dang
Amid the city rush, Cheong Su Dang is a calm retreat. With one basement floor and two stories, this café brings nature inside, featuring bamboo touches and a soothing pond. The entrance steals the show with trees and lanterns, creating the perfect photo spot.
Beyond its peaceful ambiance, Cheong Su Dang delights taste buds. Favorites include egg coffee with creamy yolk custard and made-to-order soufflé castella cake. Finding tranquility in the city's heart is a simple joy, surrounded by nature's charm and delicious treats at Cheong Su Dang.
Cafe Layered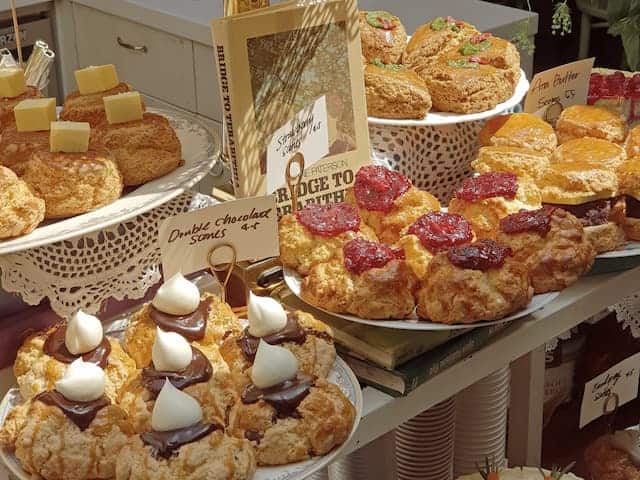 Nestled in Yeonnam-dong, Cafe Layered is a popular European-inspired gem in a charming brick building. This is one of the biggest cafes in the street. It has a warm beige interior adorned with delightful decorations and creates a cozy atmosphere. The cafe is spacious and offers a lot of seating on two floors, but there's always a long line outside because it's so famous.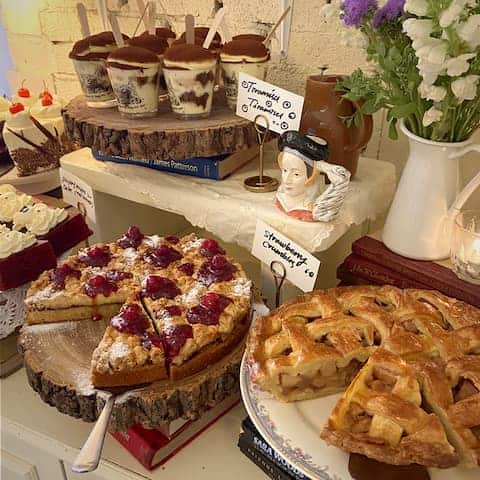 The most notable feature of this cafe is its extensive dessert menu! A table in the center has many baked items, while a table near the wall has exquisite cakes. Must-try items include the Matcha Homemade Cheesecake and the Classic Butter Scone. Their drink menu is likewise extensive, with options ranging from tea, latte, blend, and milk tea. 
Merry Go Round 메리고라운드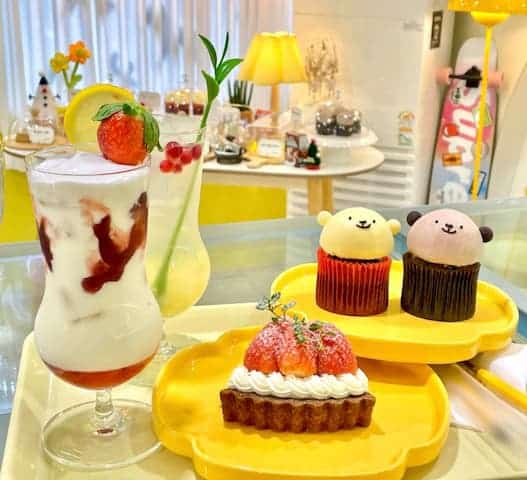 If you love all things cute, Merry Go Round is your spot. The cafe, decorated in cheerful golden yellow tones, is not just adorable; it's a paradise for photos. You can take tons of cute photos at every corner of this shop. The owner is super friendly, adding a welcoming touch.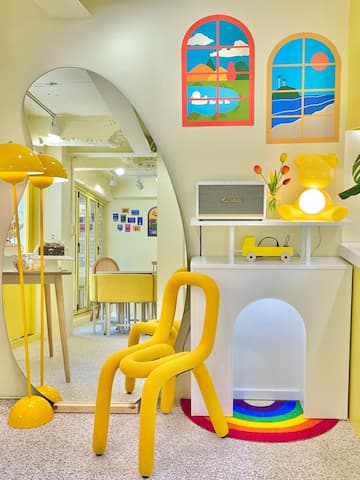 What makes Merry Go Round stand out is its fantastic drinks and desserts. Both the look and flavor are outstanding. The Merry Latte has a frozen coffee ice bear – cute and delicious. The Roundade is not only elegant but also refreshing. And don't miss the cupcakes shaped like little teddy bears – pure cuteness overload! This cafe is a simple joy for those who appreciate a delightful and charming experience.
Cong Ca Phe 콩카페 연남점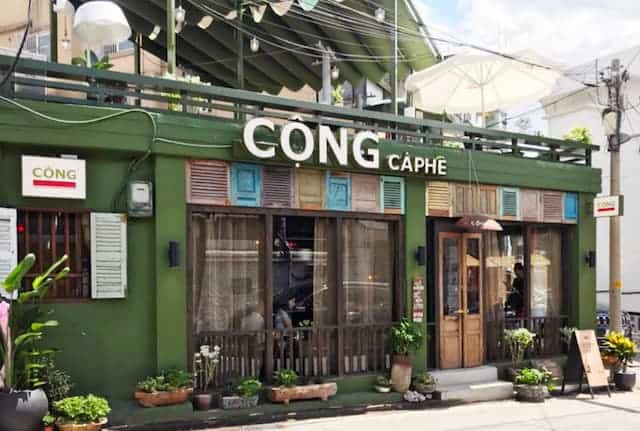 Cong Ca Phe is a place to visit if you're looking for vintage. It is a well-known coffee chain in Vietnam, much like Vietnamese Starbucks". Thanks to its distinctive moss-green color, you can easily find the shop in Yeonnam-dong. 
With its wooden tables and chairs and blue and red seat cushions, the cafe's design is like what you might find in Vietnam. You will undoubtedly sense the vibe of Vietnam when you visit here. 
The menu is diverse, ranging from Vietnamese coffee, smoothies, espresso, juice, and snacks. The Coconut Smoothie Coffee is the most famous name for Cong Ca Phe. A foam star is drawn on top, and the aroma of the coffee and coconut dancing together is irresistible.
I listed up the best cafes in Seoul. Download the map here!
Where To Stay In Yeonnam-dong
There are numerous places to stay in Yeonnam-dong, making it easy to explore the area. You can stay in hotels or Airbnb right in Yeonnam-dong. You can also choose hotels in the Hongdae neighborhood to make it easier to explore both Yeonnam-dong and experience the dynamic environment in Hongdae at once. 
Here are some options you can prefer: 
DW Stay Hongdae
The hotel owners are a couple who love to travel and have lots of travel experience, so they know just what you'll need for your journey. They have everything for your trip, including TV, free wifi, and private bathrooms. Additionally, you will receive very helpful travel advice from them due to their great travel experience. 
The hotel's location is yet another benefit. Since it's located in Yeonnam-dong, strolling to many hip cafés and restaurants nearby only takes a few minutes. Get the best price on Agoda.com.
Holiday Inn Express
If you want to visit Yeonnam-dong while staying in the Hongdae neighborhood, the Holiday Inn Express is the nicest and nearest hotel. Located near the train station and just 150m from the Gyeongui Line Forest Park, you can easily explore Yeonnam-dong and Hongdae. Besides the full range of amenities, some rooms in this hotel offer a stunning city view. You don't have to worry if you don't speak Korean because the staff at the front desk can speak in Vietnamese and English. Book a stay in this charming hotel at Agoda.com.
H21 – a cozy studio
This is one of the best Airbnbs around Yeonnam-dong area. You can easily explore the street and the city with easy access to the AREX (Airport Subway Line) and Subway Line 2.
You'll find everything you need, including a queen-size bed, floor heating, air conditioning, a clothing closet, and a table with chairs. There is also a kitchen with all amenities like a refrigerator, electric kettle, and frying pan, so you can cook if you're too lazy to dine outside. Book a stay in this Airbnb here.
For more lodging suggestions in Hongdae, check out our article about the best budget hotels and guesthouses to stay in Hongdae.
So, what are your thoughts on Yeonnam-dong? We hope that our Yeonnam-dong guide can help you arrange the right plan for your next visit. Have a good time in Yeonnam-dong!
IVK's Top Picks – Day Tours, Tickets, and Travel Activities
Seasonal Picks!😍