Last Updated on June 20, 2022
Seoul is one of the most attractive places where you can find a lot of exciting things to do. Even if you are planning a short visit, you will still find much to see without feeling rushed. If you are excited about planning your trip, you can make your trip more memorable by discovering the capital city of South Korea and its neighborhoods. You will find a lot of cultural attractions, historical places, food courts, shopping markets, places for night activities, and various parks for chilling.
Here is a guide to trendy areas in Seoul. It has been seen that Korea is the most underrated destination in Asia. Though it offers you a variety of places to visit and incredible cultural experiences. You can have visits to various sites in the lit city of Korea. Such as historical places, art galleries, outdoor exploration, shopping, and different kind of services.
After going through the complete guide, you will know which area of Korea should be visited. It depends on your desires and traveling style.
Top Trendy Areas in Seoul
Euljiro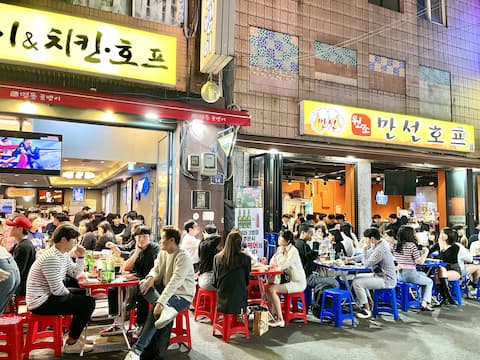 The Euljiro is known to be the famous neighborhood of Seoul, present between the fantastic and breathtaking areas Dongdaemun and Myeongdong. Euljiro has become quite popular among people of frequent visits by young people. It is now called the Hipjiro which means Hipster + Euljiro. Young locals and foreigners are most attracted to this place. It is because of the increasing number of cafés, restaurants, bars and other places to see and eat.
Between the two stations of Euljiro 3-ga station and 4 ga station, you can have a ten-minute walk. Enjoy your walk along with the exciting and small-sized backstreet shops. You would be surprised to know that Euljiro is the name of the famous road. Not only It connects Seoul city to Dongdaemun park of culture and history but you also can spend your time shopping in the best locations and sightseeing areas. For that, you need to visit Myeongdong and Dongdaemun. They are popular areas among the west and the east.
One of the significant characteristics of this place is the functioning of businesses that have been here for almost 40 years now. However, drastic changes have been seen happening in Euljiro as of 2015. But still, this place remains as the center of attention because of its location, ease of access, cheaper rental, etc. If you are an artist and looking for a place to open up your studio, you can consider moving to Euljiro as it has been a place for artists.
If you visit here today, you will find a lot of artists, fashion items, boutiques, restaurants, bars, and other places of entertainment opened by young people. All these things create a brand new retro profile that attracts visitors to Euljiro.
Hyemindang 혜민당
Address: 16-9 Samil-daero 12-gil Jung-gu Seoul
Open hours: Weekdays 11:00 – 22:30 | Sat. 11:00 – 21:00 | Sun. 12:-00 – 20:00
The most representative cafe where you can feel the HipJiro vibe. This hot place kept the traditional Hanyakbang and remodeled the cafe for the perfect Seoul retro look. From coffee to sangria to traditional Korean tea, there is a choice for everyone. Furthermore, there are many different dessert menus, including chocolate, croissants, tarts, and cakes. If you want to enjoy delicious desserts and the old atmosphere of Seoul, I strongly recommend it! It is a three-minute walk from Exit 1 of Euljiro 3-ga Station, make sure you don't pass by it.
Other Hot Recommendations
Taegeukdang
Eulji Darak
Bunkasha
Hotel Susunhwa
Huiseutori Darakbang Wine Bar
Small Wine Bar
59 Stairs Wine Bar
Ikseon-Dong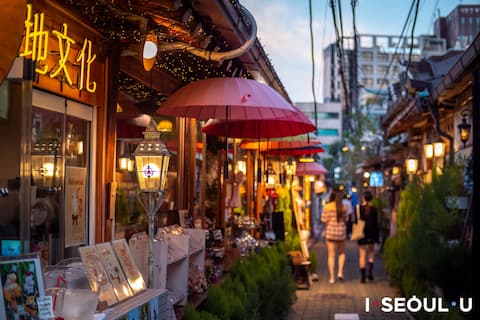 Ikseon dong is another popular point of attraction for visitors in Seoul. Young entrepreneurs and artists arrived to open small businesses such as handicraft shops, cafes, bars, restaurants. The streets full of modest companies will make you feel like you are going through some maze kind of treasure hunt game. It gets quite interesting if you are going there for the first time.
Ikseon Dong Historical Hanok Alley
Established in 1920, the Hanok driveway of Ikseon dong holds the charm of its 100 years of history and tradition. As time passed, the modernization and advancements caught this place up. Time transformed it into a unique, modern, yet traditional point of attraction for visitors. Even though this place has become the center of attraction for tourists, it is still home to many villagers who reside nearby to Ikseon dong.
You may find the narrow streets all the same i.e., turning and twisted in the same manner. Still, all lined with a variety of attractive cafes, shops, and other attractions. Surprisingly, these colorful and decorated places give you an excellent background for your photos. Ikseondong is also known as the photo zone. Besides, an important thing to keep in mind while you are here is that you must take notes of meals or shops. They can be used as path makers since there is no map or guides within the village.
Vintage Boni | 빈티지 보니
Address: 77 Gyedong-gil Jongno-gu Seoul
Open hours: 12:00 – 19:00 | Mon. Closed
Phone: 070-8866-7700
Web: http://www.instagram.com/vintage.bonnie
Though the various unique thing is there to see In Hankook alley of Ikseon dong, vintage Bonnie stands out from the rest of shops site to its unique offerings. Vintage Bonnie is famous for its handmade products having retro patterns and designs in kitchenware, clothing, and other household items. The well-organized elaboration of colorful kitchenware and vintage style clothing reside on each side of the shop. Which showcases the tradition and culture of Ikseon dong. Moreover, you will find some animal dolls and fruit-shaped little accessories. some of them having magnets to be stuck on your walls for decoration. You can get these items at reasonable rates.
Seoul Coffee Ikseon Branch
Address: 33-3 Supyoro 28gil Jongno-gu Seoul
Open hours: 11:00 – 22:30
Phone: 02-6085-4890
Web: http://www.instagram.com/seoulcoffee1945
This is one of Ikseon-dong's representative places. It is a café made by remodeling an old Hanok. It features a combination of modernity and Hanok's beautiful points as their interior. Also, we recommend Injeolmi Tiramisu, a fushion of rice cake and tiramisu. Plus, there are other various desserts, coffee, and drinks. Definitely it's the Instagram worthy place!
Other Hot Recommendations
Dongbaek Bakery
Ikseon Jutaek
Cafe Onwha Ikseon Branch
Plants
Gyeongseong Bakery
Seongsu-dong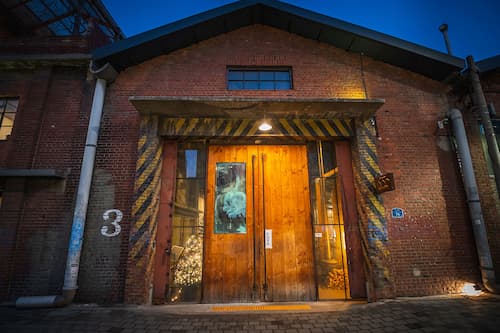 Seongsu dong is another neighborhood attraction in Seoul. It might not be quite famous in tourists, but it is a popular place of attraction for young Koreans. The streets of this area once served as the hub for small shoe factories. But if you have a look at this place today, you will find various cafes and restaurants. It all happened when entrepreneurs and artists arrived at this place.
Brookly of Seoul
They transformed the old building into entirely new, captivating, and attractive homes. After all the advancements, you can call Seongsu dong as the Brooklyn of Seoul. Let's have a look at further details to know what makes this a trending place to visit.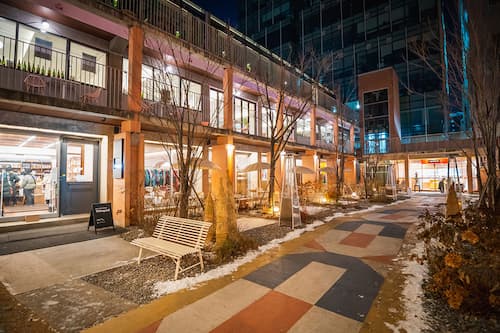 Seongsu dong is considered as the most photogenic neighborhoods of Seoul. The reason behind the eye-catching image of this place is that you can find various street paintings and meals at every corner of the streets. Thus, you can use them as the perfect backdrop for your images to keep with yourself as memory or post them on Instagram.
Handmade Shoe Street in Seongsudong
When you walk around in the streets of Seongsu dong, you will find a variety of unique stores that specialize in handmade shoes. A surprisingly unique shoemaking store that specializes in making handmade heels will grab all of your attention. While you walk around in the streets, you can sense the historical existence of many businesses in this place. Moreover, you can easily find the leather shops where they sell quality bags and clothes at a reasonable rate.
Cafe Onion | 카페 어니언
Address: 8 Achasan-ro 9-gil Seongdong-gu Seoul
Open hours: Weekdays 08:00 – 22:00 | Weekend 10:00 – 22:00
Phone: 02-1644-1942
Web: http://www.instagram.com/cafe.onion/
As you on our that every place has its specialties, the famous spot of Seongsu dong is its Cafe onion.
Cafe onion opened in September 2016 in a shutdown factory. The crumbled brick walls, old rust gate made of steel, rugged floor with stains, and old stickers make you feel the history of the building. Though it seems like it could fall in the very next moment but look at what, this place has got the most attention as compared to other sites in Seongsu dong.
Cafe onion was designed by the company Fabrikr who focuses on the preservation of historical remains while revitalizing them into something new and unique. The primary point behind leaving old stains and stickers on the walls and floor with attacked bricks was to portray the traces of historical building. Today this place is a place of gathering for young people who are coming to have gossips with delicious pastries and a nice cup of coffee.
Moreover, the distinctive structure of the building makes it look like the movie set. Moving from the grassy ground and climbing up the old staircase, on the rooftop, you can find a bakery that will serve you freely valued pastries and beads. Pandit is yet another famous dessert, which is the Origination of Italy, which is also there to enhance your taste.
Cafe onion serves its customer's tasty pieces of bread, pastries, sugar powder pandoro, carrot juice, crispy who filled ciabatta bread, and coffee in the unique environment. Therefore, whenever you visit Seongsu dong, you must have to visit Cafe onion.
Seongsu Federal | 성수연방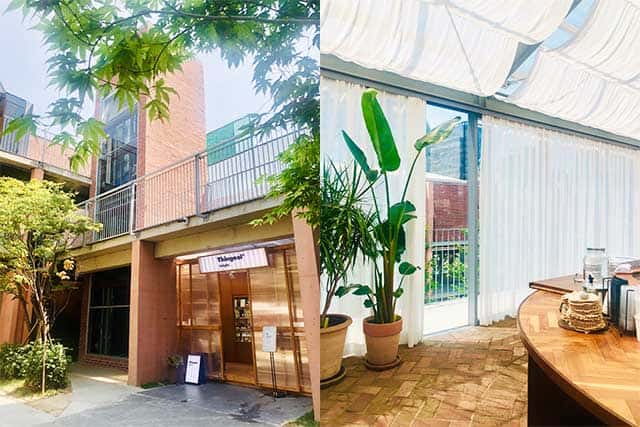 Address: 14 Seongsui-ro 14-gil Seongdong-gu Seoul
Open hours: 11:00 – 22:00
Phone: 0507-1336-0277
It is a complex cultural space located in Seongsu-dong, which remodeled a factory in the 1970s. You can enjoy exhibitions, cafes, pubs, bookstores, restaurants, and lifestyle editing shops all in one place. From cute accessories and fashion items to famous dessert cafes and restaurants, visit Seongsu-dong!
Other Hot Recommendations
Blue Bottle Seongsu Cafe
Udi House
ORER
Positive Zero Lounge (Jazz Wine Bar)
Spinning Wolf Seongsu Bar
Seoul Forest
Hannam-dong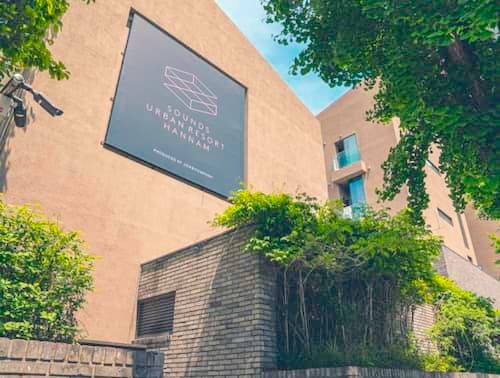 Yes, Hannam Dong is a place of sophistication and subdued environment, having an appeal more than that of Cheongdam-dong accepts the river. Hannam Dong being the modern, sophisticated, well established, having hipster square cafes and electric art galleries remains a cultural and historical spot of attraction that acquires the attention of most of its visitors. You can explore Hannam dong to find the best places to eat, drink, and sleep in the quaint alleyways.
Hannam Dong draws a greater, cooler, and high-end crowd due to its location as it is located from Sinsa just over the bridge and from Itaewon, just a street down. The neighborhood is full of small independent cafés where you can enjoy delicious desserts and other things to eat.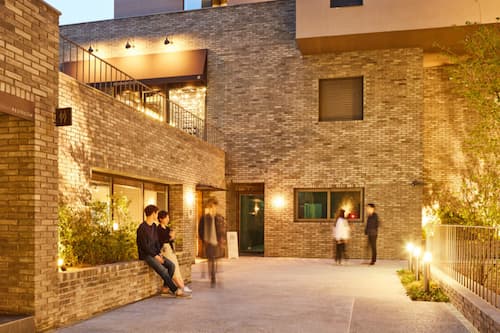 A Few Other Places to Visit
Apart from small eateries, cafes, and shopping places in Euljiro, Ikseon dong, Seongsu dong, and Hannam dong. In the neighborhood of Seoul city, you can find some other attractive places to visit. including in trendy areas in Seoul.
Leeum museum of art
D museum
Sounds Hannam
Seoul central mosque
Blue Square
Hyundai music library
The spa grand Hyatt
What you think about the information about the trendy areas in Seoul. Don't forget to share your experiences in Seoul's neighborhoods. And let us know in the comments how you found the information useful in this blog. Have a great time having fun visiting trendy areas in Seoul.
You may also like
IVK's Top Picks – Day Tours, Tickets, and Travel Activities
Seasonal Picks!😍