Myeongdong Street – One of the most famous streets of Seoul
A trip to Seoul means you get to experience the Myeongdong shopping style of the city. For those of you who don't know about Myeongdong, let us give you a brief introduction to the place. Although Seoul is the capital city of South Korea and has many places to shop from, Myeongdong stands to be the main shopping location for locals and tourists from different parts of the world.
Myeongdong station
Myeongdong Station, Seoul subway line 4 is situated in Jung-gu, the city-center. This is your gateway to reaching the nearby places in Myeongdong. Here's a helpful guide for the newcomers to Seoul that can assist them in reaching their destinations using the Myeongdong subway station.
To go to Myeongdong shopping street, take exit 6, and to Shinsegae Department Store, go out from exit 5 and go straight until you see a big crossroad. If you want to visit Myeongdong Cartoon Street Jaemiro, use exit 3 across from the shopping street.
Besides, Myeong-dong Station has an underground shopping center and lockers, so if you want to enjoy shopping lightly, you can leave your luggage here. For more details such as the number of lockers, price, and how to use it, check this post.
Myeongdong Tourist Information Center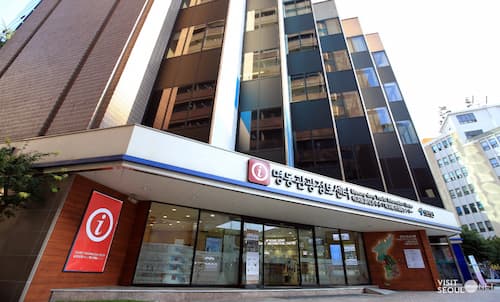 If you are visiting Myeong-dong for the first time, you may want to visit the Myeong-dong Tourist Center to get various information. There are leaflets according to various travel themes as well as Souvenir Shop and Coin locker. Check the location and opening hours before heading to!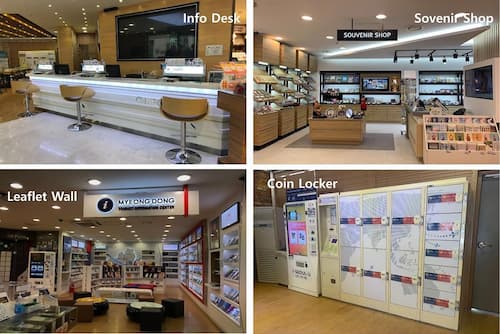 Business hours: 9:30am – 5:30pm.
Souvenir shop hours: 10am – 5:30pm.
Closed Only Luna Year's Day & Chuseok.
Address: 66 Eulji-ro, Jung-gu, Seoul
Find it on Google map HERE.
Tell: +82 2-778-0333
Email: [email protected]
How to get there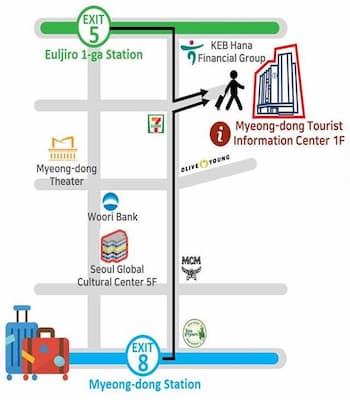 From Euljiro 1-ga Station Exit 5 (Seoul Metro Line 2), it takes 5minutes by walk.
From Myeongdong Station Exit 8 (Seoul Metro Line 4), it takes around 10minutes by walk.
What To Do in Myeongdong
Myeongdong Shopping Street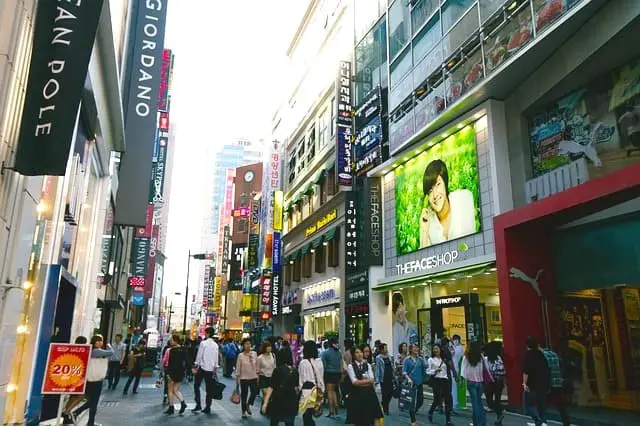 If you're in Korea and especially visiting Seoul, you might find yourself asking, "where can you get the best items to take back home?" or maybe you just want to buy gifts and souvenirs for your friends and family and surprise them with the wonderful tokens from your trip.
But where should you go? Where in Seoul can you find a place that has everything that you've got to buy? There is only one place where you will see everything and want it. Myeongdong is a popular place for shopping. But the only way you can have it is if you've got enough cash to burn. In Myeongdong shopping street, you can find small market brands to high and international brands as well making their sales brilliantly.
Apart from shopping, there are many other things that you can do in Myongdong. So keep on reading below to find out what to do in Myeongdong.
How to get to Myengdong Street
To go to Myeongdong street is very simple. All you have to do is take the Myeongdong subway station to line 4 and then take the next exit 6 to reach the streets. The street which is right there on the exit is called Myeongdong 8-gil and that will be your intended destination.
Myeongdong Cathedral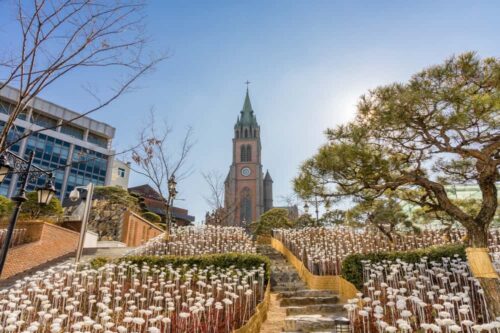 One of Seoul's most visited places is Myeongdong Cathedral. It is a tall building with gothic architecture and pointed pillars that are marvelously standing and appeal to many tourists. The church is also responsible for spreading Catholicism in Korea to this date. Myeongdong Cathedral is very close to the Myeongdong station. That means that you can easily visit this site and stop by to take some pictures in front of this holy façade on your way to shopping. Moreover, it's wonderful at night time as well with beautiful lights decorations!
How to get to Myeongdong Cathedral
Start your journey and take line 4 of Myeongdong station. Taking exit 6 and exiting from Myeongdong food street block and turn left to Myeongdong-gil. Approximately 350 meters ahead of Myeongdong-gil take a right turn and you will see in front of you standing, the Myeongdong Cathedral on the right.
Myeongdong NANTA theatre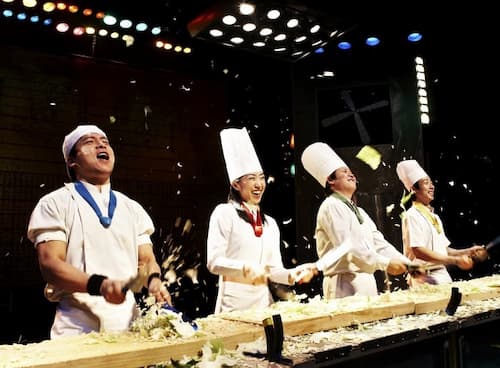 You might be thinking about what good a theatre show would be if you can't understand the language. Well here is news for you.  Shows at the NANTA theatre are not in Korean. In fact, they are non-verbal shows, especially for tourists who just want to have a good time there. The comedy performance will surely give you a stomach-hurting laughing session. It's a family show so that the kids can enjoy it as well. Get a discount ticket on NANTA theatre here!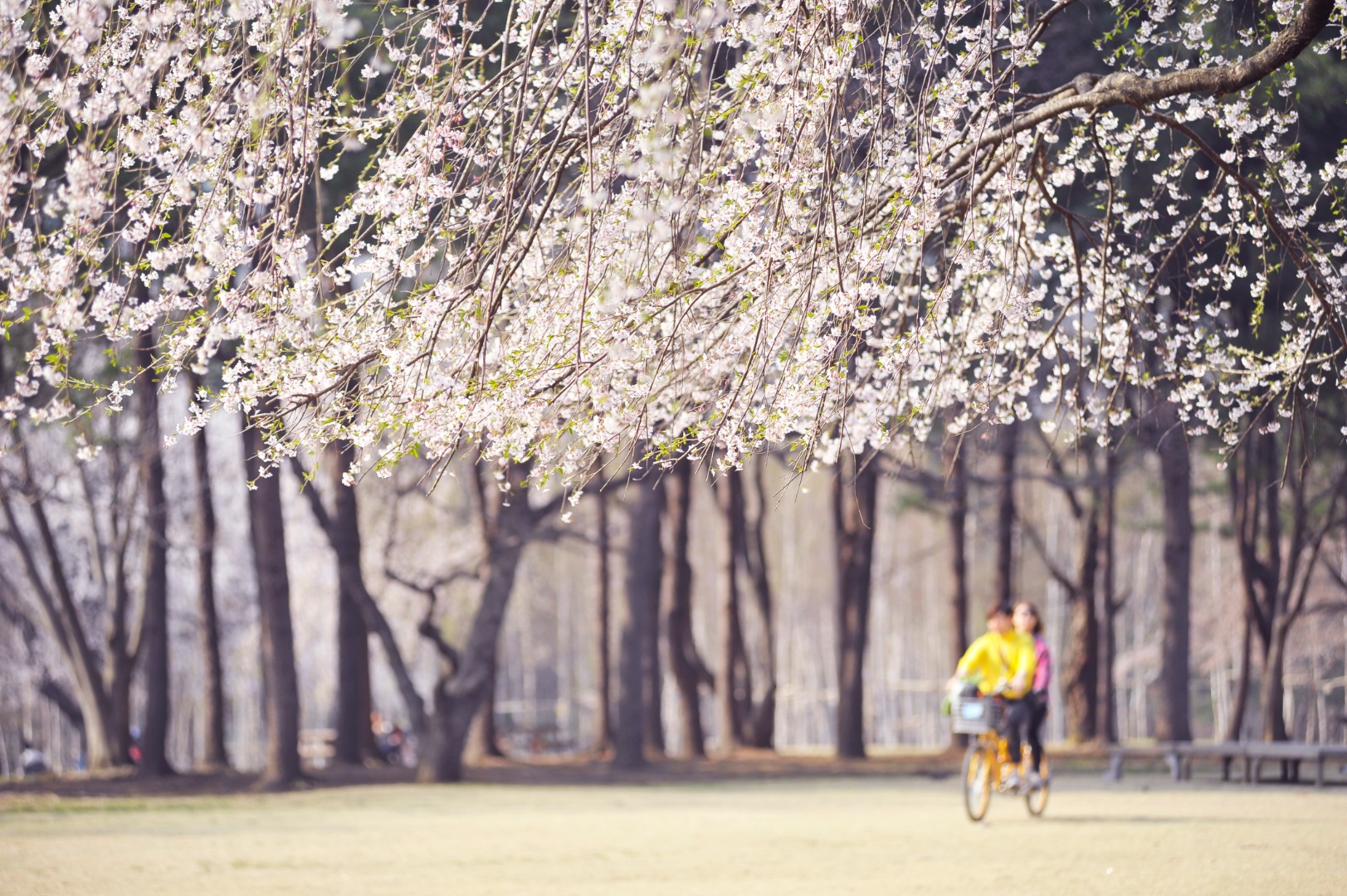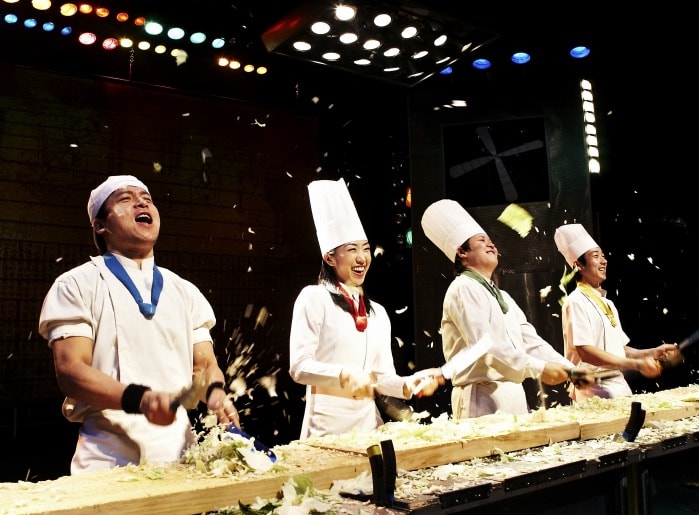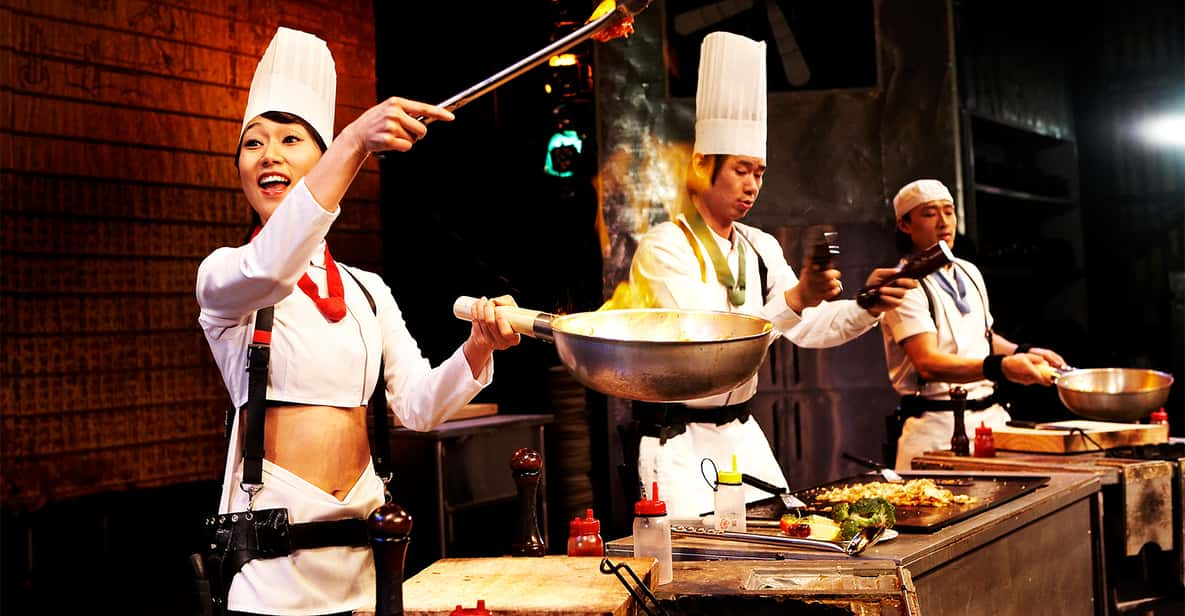 How to get to NANTA theatre in Myeongdong
Take Seoul metro line 2 to Euljiro 1-ga station Which is also in the Myeongdong area you need to leave the station through exit 6. After that, there's a little walking from Namdaemun-ro to Myeongdong –gil and then you take a left turn. Keep following the block and you will spot what you're looking for on your right.
Stylenanda Pink Hotel Flagship Store – Fashion & Beauty
If you're interested in Korean fashion or K-beauty, you've probably heard of Stylenanda. Stylenanda has a unique style that is funky & modern and has its own cosmetic brand 3CE. Stylenanda Pink Hotel is a hotel-concept flagship store located in Myeong-dong, with 3CE cosmetics on the 1st and 2nd floors and clothing products and fashion accessories on the 3rd, 4th, and 5th floors. It is decorated with a hotel theme such as hotel lobby, terrace, bedrooms, and spa. In addition, the 5th floor has its own Pink Pool Cafe (Bakery & Beverage), and the 6th floor rooftop is also available.
How to get to Stylenanda Pink Hotel
It's just 148m away from Myeongdong station exit 6. Starting from the main shopping street, Myeongdong 8-gil, go straight and take a right turn on the second intersection, when you see Banila.co and Holika Holika store. Keep following the block and you will spot what you're looking for on your right.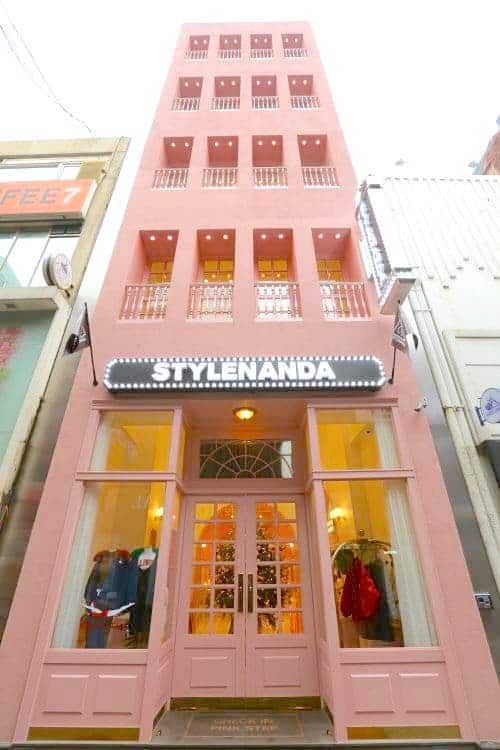 Star Avenue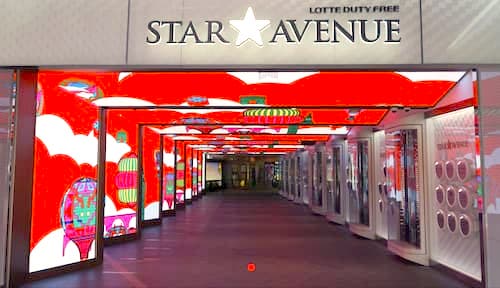 Are you a big fan of BTS? If so, be sure to visit Star Avenue! At Star Avenue, there are media contents where you can experience K-pop culture. Inside the tunnel, there is a 'High Five Zone' full of handprints of stars including BTS. If you put your hands on hand printing, you can see your favorite stars on the LED display. What's more, you can experience in the LDF photo zone with an interactive mirror of the stars. Let's go enjoy shopping and the K-pop culture here at the same time!
How to get to Star Avenue, Lotte Department Store Main Branch
To visit this is a fancy department store you will have to hop on Euljiro 1-ga station, line 2. From there it will take you straight to where the department store is connected with exit number 7 and exit number 8. Super easy!
Olive Young Myeongdong Flagship Store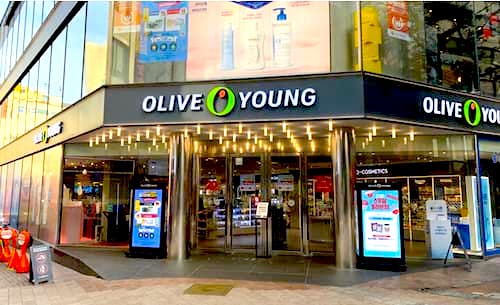 If you are interested in Korean skincare & makeup, Olive Young is a must-visit place. Olive Young, the largest beauty drugstore in Korea, handles various categories of beauty products as well as health foods, diet snacks, and pet supplies. The Myeongdong flagship store has a big difference from the existing Olive Young in terms of store size. 14 concept zones are organized so that you can experience and enjoy themselves. Representative concept zones include a perfume bar, beauty care zone, and body&hair care zone, where you can find products imported directly from Olive Young and expensive perfumes. Before you get there, check must-buy Korean beauty products in Olive Young here.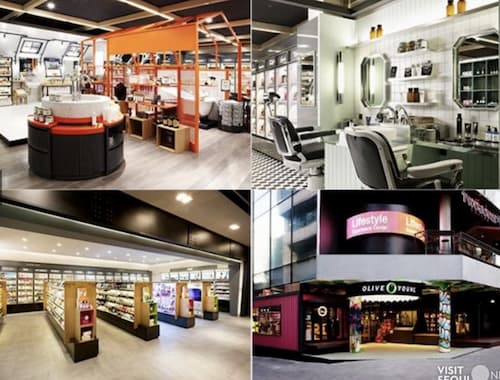 How to get to Olive Young Myeongdong Flagship Store
It's 351m far away from Myeongdong Station (line 4) Exit 8. Take a turn left on the first street from exit 8 and just go straight till you see the Olive Young store!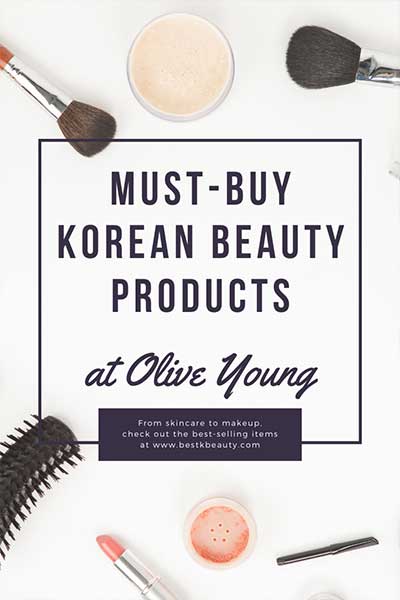 Cheonggyecheon stream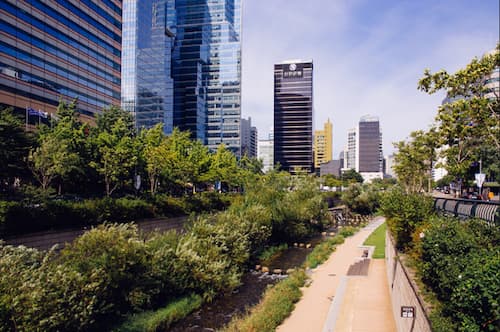 Would you like to enjoy greenary in the city center? Cheonggyecheon is a river that flows through the border between Jongno-gu and Jung-gu, in the middle of Seoul. This is famous for various festivals as well as a good walking trail for Seoul citizens. Cheonggye Plaza has a wonderful photo-shoot point with a candlelight fountain and a large waterfall. If you walk along the stream from Myeong-dong, you can pass by Gwangjang Market, a traditional Korean market, famous for its variety of Korean food like Bindaetteok, Mayak-Gimbab, Dumpling, Seafood, and street foods, etc. Also you can reach the Dongdaemun Fashion Town and DDP as well. 🙂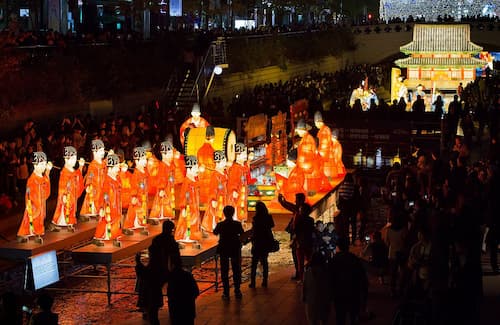 Moreover, the Seoul lantern festival held every November brings out beauty by lighting up hundreds of lanterns that fit the theme. If you want to feel the city and nature of Seoul City Center together, we recommend a visit.
How to get to Cheonggyecheon Stream
You can easily find Cheonggyecheon Stream from Eljiro 1-ga station exit 3 or Jonggak station exit 5 by going straight from.
National Theater Company Myeongdong Theater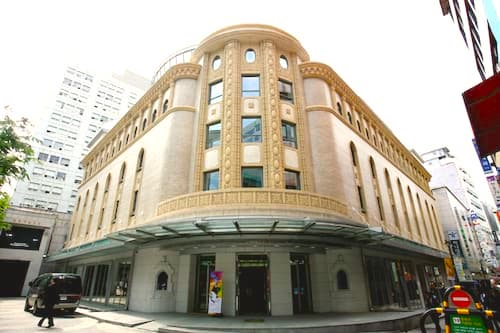 In Myeong-dong, there is a place where you can feel the history of culture and art. Myeongdong Arts Theater, which opened in October 1936, was a large cinema capable of accommodating 1,100 spectators. It has been used as a performance hall since liberation and reopened as a theater specializing in a theater after remodeling in 2009. It was selected as the Seoul Future Heritage, and its value was recognized for its role as a center of modern and contemporary culture and art in Korea.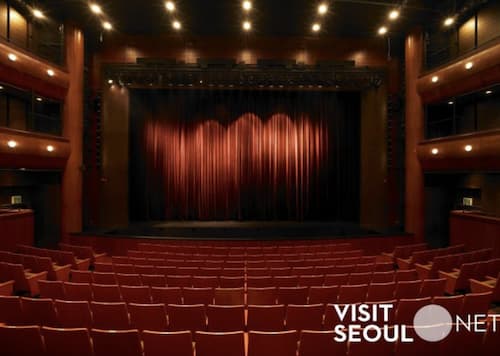 Open hours: Weekdays 1pm – 8pm | Weekends 10am – 5pm (Lunch time 12pm – 1pm)
Address: 53 Myeongdong-gil, Jung-gu, Seoul
Tell: 1644-2003
Website: www.ntck.or.kr/ko
Tips:
Don't miss out on member benefits
If you sign up as a member of the National Theater Company, you can choose a better seat than the reservation site and there is no reservation fee. You can sign up on the website without an annual fee, and when you purchase a ticket, 5% of the ticket price is credited. Above all, the advantage is that they are given the opportunity to participate actively, such as a surprise practice release, an invitation to rehearsal, and a dialogue program with artists.
How to get to Myeongdong Theater
It's 5-10minutes walking distance from Myeongdong station (line 4) exit 6 or Euljiro 1-ga station (line 2) exit 6.
LU42 – Fashion & Beauty Shop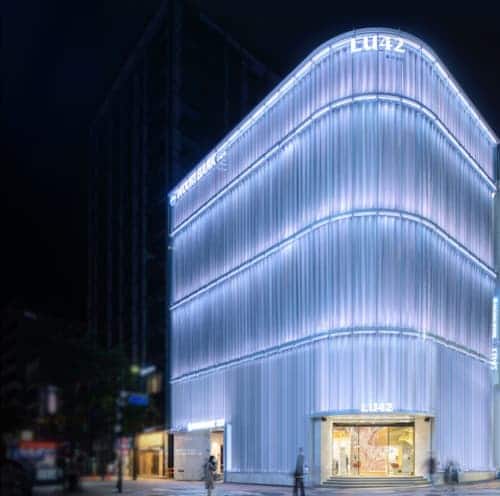 A new concept cosmetics select shop, LU42, has three stores in Seoul: Myeongdong, Hongdae, and Gangnam. If you remember the popular "flower MBTI" in various online communities, we've already encountered the LU42. Currently, there are a total of 11 brands, including cosmetics, fashion, and masks. Let's take a look at a variety of products at the Myeongdong flagship store with a pleasant golden space.
Open hours: 11am – 8pm
Address: 42 Myeongdong-gil, Jung-gu, Seoul
Tell: 02-6956-6556
Website: https://www.lu42.co.kr/
How to get to LU42 Offline store in Myeongdong
It's located right across from Myeongdong Theater by taking 5-10 minutes from Myeongdong station (line 4) exit 6 or Euljiro 1-ga station (line 2) exit 6. You can find this beautifully designed building along the side of the main Myeongdong street.
Shinsegae Department Store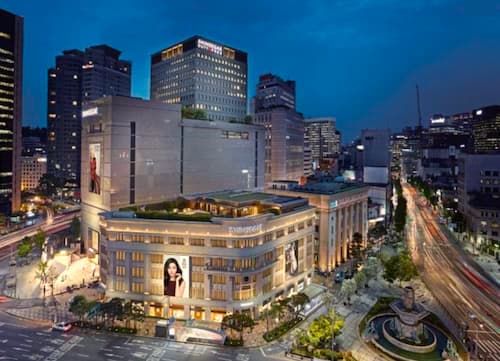 The Shinsegae Department Store is the oldest existing department store in Korea. A luxurious store which is great for window shopping as well. Shinsegae Department Store serves everything that you can imagine seeing in a cultured and traditional Korean shop. Shingsae Department Store is divided into different floors. On each floor, there are shops with assorted things like jewelry, handicrafts, and artisans displaying their best work for sale. The gift shops are always blooming with people buying souvenirs back home.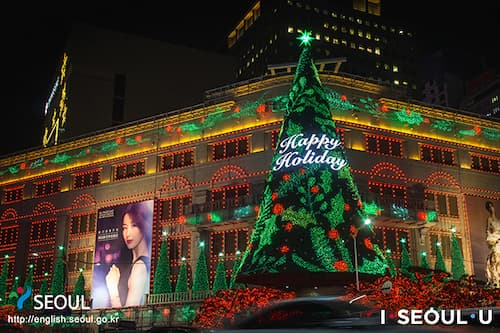 In addition, Shinsegae Department Store Main Branch is famous for installing special LED lights of Christmas, so many people visit to see the beautiful winter decorations. All of this makes Myeongdong shopping a real fun experience to have. The tourist can also enjoy the duty-free options available at the shops here. Check here for more information about duty-free and Tax refunds in Korea.
How to get Shinsegae Department Store
To go to this traditional Korean department store you will need to get into Seoul Metro line 4 and get off at the Hoehyun Station. After that, you take exit number 7 and take a left turn on the first street you see. Remember to turn right on the next coming block and then start walking along the Namdaemunsijang-gil. Don't be confused with the name of the street that you're already on. The store will be visible after going to one block on the left side. 
Myeongdong Night Market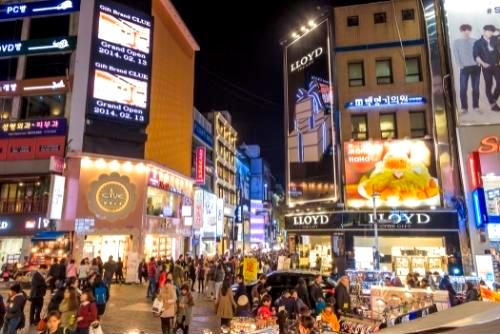 Where shopping under the bright blue skies of Seoul has its own excitement. Ever afterward, the city gets more enjoyable when you got out for shipping at night. There's a different hustle bustle in Myeongdong night market which is surely an experience not worth missing for the night owls. These night markets have everything from freshly prepared food items and juices to clothing and accessories waiting for you to come by.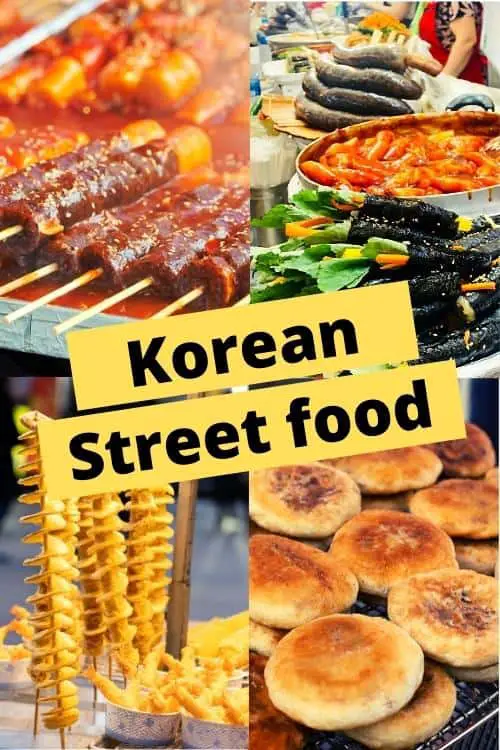 Above all, I would like to recommend you to try Korean street food here. How can you miss Myeongdong street food? Street stalls sell a variety of menus from grilled shrimp with cheese and tornado potato to fried chicken skewer and Hotteok and Bungeoppang. So much more is all available on the streets of Myeongdong. That would be one of the best Korean street food you've ever had in Seoul.
Please note that Myeongdong night market opening hour is usually from 4 pm onwards. There are different timings depending on the vendors of the street shops.
What To Eat in Myeongdong
Myeongdong is not only for shopping but also for eating.😋 The street food alley can't be missed here, but if you want to have a decent meal, check out the restaurants below and choose the menu you want. I listed up the menu and places loved by Koreans and foreign friends alike.
Myeongdong Kyoja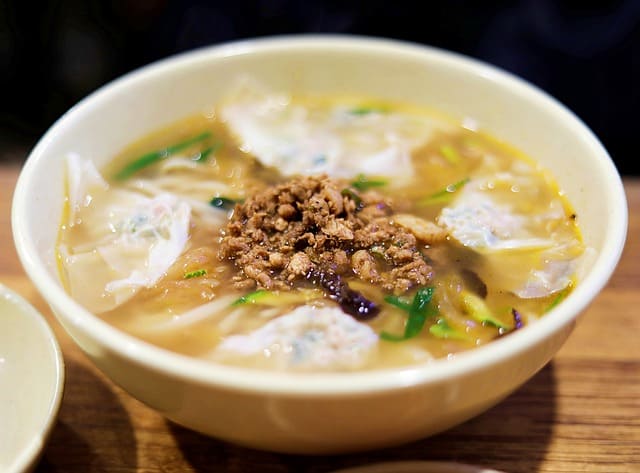 What is the first thing that comes to mind for Koreans when they think of food to eat in Myeong-dong? It's Myeongdong Kyoja! Kalguksu with thick noodles in non-spicy hot soup is one of our favorite Korean dishes. When I think of Kalguksu, I cannot miss the original Myeongdong Kalguksu. The broth, made by boiling chicken bones for a long time, is so deep and thick that once you taste it, other Kalguksu feels flat. What's more, the soft and filling noodles are enough to satisfy the five senses. If you want to taste thick and thick Kalguksu, let's go to Myeongdong Kyoja. Lastly, it's picked up as a Michelin guide Seoul 2022. 😉
Open hours: Weekdays 10:30am – 8:30pm | Weekends 10:30am – 9:30pm
Address: 29 Myeongdong 10-gil, Jung-gu, Seoul
Price: 7,000 KRW ~ 8,000 KRW
Tell: 02-776-5348
Website: http://www.mdkj.co.kr/
How to get Myeongdong Kyoja Main Branch
Get on to Seoul metro line 4 and take an exit 8 from Myeongdong station. Next, you will go left and resume your journey by walking 2.5 blocks more until you stop and see the famous Korean noodle restaurant on your side. The restaurant is on Myeongdong 10-gil 29.
Myeongdong Pork Cutlet
This 명동돈가스 is the first place in Korea to offer Japanese style pork cutlet and has been operating in Myeongdong for over 30 years. There is an open kitchen on the first floor, and you can enjoy fresh pork cutlet right away at the table bar in front of it. 로스까스 is the basic yet best menu of Myeongdong Tonkatsu, which consists of tender and thick pork sirloin, and 코돈부루, with vegetables and pizza cheese inside pork cutlet, is also popular. Cabbage, rice, and miso soup are constantly refilled as needed, so if it's not enough, feel free to ask for it!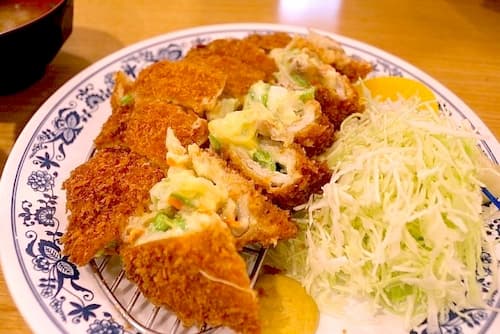 * Tips
Try making the sauce in a ratio, Tonkatsu Sauce 3 : Mustard Sauce 1 and dip it for rich flavor. If you like spicy, you can sprinkle Tabasco on the pork cutlet and then dip it in the sauce.
Open hours: Weekdays 11:00am – 9:30pm | Weekends 11:00am – 9:00pm
Address: 8 Myeongdong 3-gil, Jung-gu, Seoul
Price: 14,000 KRW ~ 19,000 KRW
Tell: 02-775-5300
Website: http://mddongas.co.kr/
How to get Myeongdong Pork Cutlet
It's 250m away taking 5minuets on foot from Seoul metro line 2, Euljiro 1-ga station exit 6. Or you can take Seoul metro line 4 and take an exit 6 at Myeongdong station. It takes around 5-10minuets (435m) by walk.
Gogung – Myeongdong Branch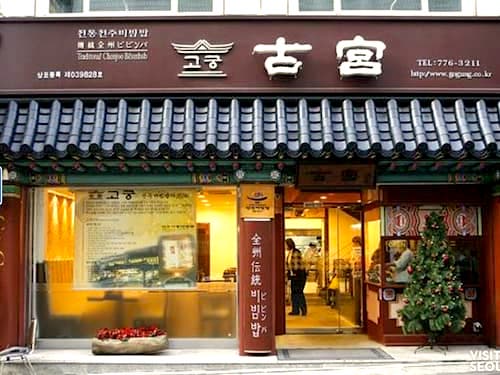 Gogung is a Korean restaurant based in Jeonju where is famous for its variety of delicious food, the source of bibimbap as well. Fortunately, there is a Myeong-dong branch in Seoul so we can taste the traditional Jeonju bibimbap! Here you can enjoy a variety of Jeonju dishes such as four kinds of Jeonju bibimbap, stone plate bulgogi, seafood pajeon(fried pancake), traditional japchae(noodle with vegetables), and Jeonju-style beef sashimi. Vegetarian bibimbap is also available, so vegetarians can visit without any worries.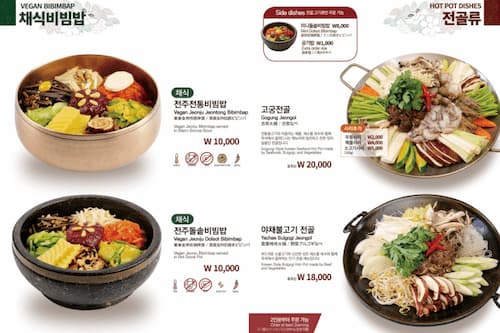 Open hours: 11:00am – 10:00pm
Address: 27 Myeongdong 8ga-gil, Jung-gu, Seoul
Price: 10,000 KRW ~ 20,000 KRW
Tell: 02-776-3211
Website: https://blog.naver.com/go-gung
How to get Gogung Myeongdong Branch
It's very close, just 140m away from Myeongdong station (line 4) exit 9. Take a turn right at the corner on Lotte Hotel L7.
Mi Seong Ock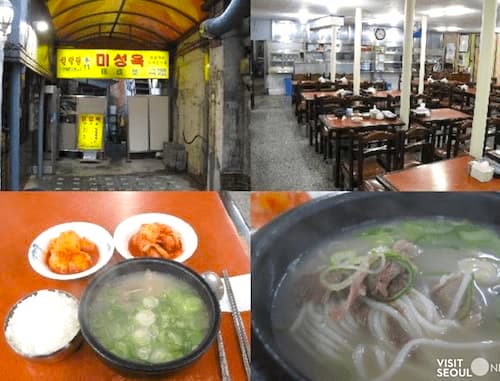 Mi Seong Ock is a very popular restaurant among local Koreans as a hole in the wall. There are only two menu items, Seolleongtang (Ox Born Soup) and Suyuk (Boiled Beef Slices). Opened in 1966, it is far from a fancy interior, but the food is good, it has long been famous as a 'Seolleongtang restaurant in Myeong-dong'. Miseongok has a clearer broth than general Seolleongtang and the meat quality is very good, with only lamb chops in the soup. If you eat it with Suyuk (Boiled Beef Slices), you will never forget it. Want to try real local foods being away from traveler restaurant? Visit here! I highly recommend 🙂
Open hours: 6:00am – 10:00pm
Address: 25-11 Myeongdong-gil, Jung-gu, Seoul
Price: 11,000 KRW ~ 45,000 KRW
Tell: 02-776-8929
How to get Mi Seong Ock
It takes around 5 minutes by walk from Euljiro 1-ga station exit5 but it can be hard to find it due to hidden spot. So, make a turn left at Top10 fashion store and take a left turn again to the narrow street between New Balance and NATURE REPUBLIC.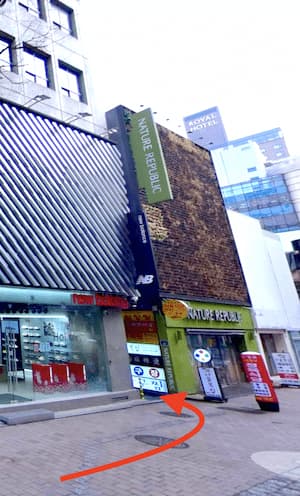 Le Style Bar – ibis Styles Ambassador Myeongdong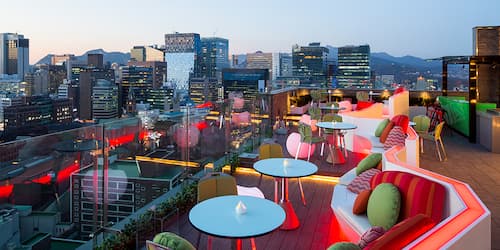 If you have experienced the charm of traditional Korean culture, how about visiting a trendy place in Seoul this time :)?
ibis Styles offers stylish accommodations, as well as a restaurant and rooftop bar. Le Style Bar is located on the 21st floor of ibis Styles Ambassador Myeong-dong, and what I like the most are the great view and the very reasonable price.
Local draft beer costs 8,800KRW ($8 USD), and a glass of house wine costs 12,000KRW ($10 USD). Of course, you can order a variety of wines by the bottle, and there are various alcoholic and non-alcohol menus such as whiskey, brandy, cocktail, etc.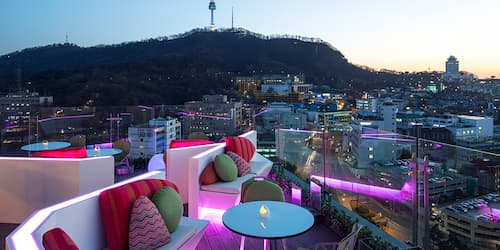 ibis Styles Ambassador Myeongdong is the first hotel in Korea to open under the name ibis Styles. Let's feel the fantastic atmosphere with the Myeongdong skyline and Namsan Tower at a glance! We hope that you will leave unforgettable memories in Myeong-dong, Seoul while enjoying a variety of foods and beverages.
*Tips
If you join AMBASSADOR CLUB for free here, you can get a 5% discount on the room and 10% discount on food and beverages.
It is recommended to make a reservation here at least a week in advance to get a good seat, as seats are always full due to the great view and affordable price.
Open hours: 6:00pm ~ 10:00pm (Please check the operating hours during wintertim)
Address: 302 Samil-daero, Jung-gu, Seoul
Price: 6,000 KRW ~ 300,000 KRW
Tel : 02) 6020-8880
Email : [email protected]
How to get Le Style Bar in Myeongdong
It takes just 3 minutes by walk from Myeongdong station exit 10. Super easy to find it when you go straight from the exit.
The Spot Faboulous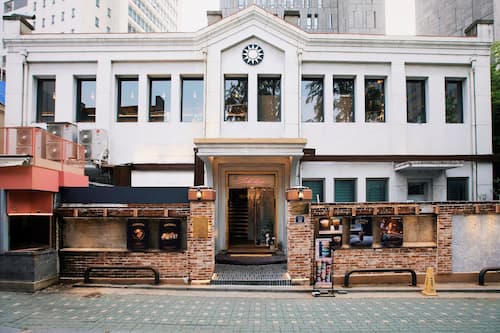 Do you like sweets :)? The Spot Fabulous, famous for a variety of premium handmade desserts, is a cafe that is loved not only for its taste but also for its beautiful space. A building built in the 1950s was renovated in their own moods, so the unique atmosphere where the past and the present coexist is even more outstanding.
Desserts made by patissiers who have graduated from famous confectionery schools all over the world using carefully selected ingredients every day are a must-try. Sweet and delicious desserts such as fig tiramisu, financier, and macaroons are welcome on the first floor. If you order a drink, you can get it at the beverage maker on the second floor. On one side, there are big windows that have such a beautiful view changed in each season, and I think that's the biggest attraction of The Spot Fabulous!
Open hours: 10:00am ~ 10:30pm
Address: 22 Myeongdong 2-gil, Jung-gu, Seoul
Price: 3,000 KRW ~ 7,500 KRW
Tel : 02) 779-1981
Instagram : @the_spot_fabulous_/
How to get The Spot Fabulous
You can get here in 5 minutes on foots getting out from exit 5 of Myeongdong station (line 4) or exit 6 of Euljiro 1-ga station (line2).
Myeongdong shopping street
It is a shopping street that forms a juncture in the middle of the block. One end of the street begins from the Myeongdong subway station and the other street starts from Lotte Department Store at Euljiro. Myeongdong markets have multinational brands and luxurious shops filled with quality and high-end products for all the shopaholics to come and shop their hearts out.
Myeongdong shopping street can be a fun way to explore the city and feel the richness that it has to offer. Every tourist who comes to Seoul makes sure not to miss the Myeongdong shopping street experience. A lot of markets in the street also offer you some discount and tax-free shopping if you take your passport along. Especially cosmetic shops you can easily find in Myeongdong shopping street which is one of the must-buy items in Korea. Here you can check the best Korean face sheet masks and other Korean skin care products here. 
Moreover, the street is filled with shop vendors attracting customers with their wonderful items on display.
Shop till you drop
Myeongdong is a magnet for shopaholics. The streets are bustling with people entering shops and coming out with a hand full of shopping bags. Many famous Korean brands have made a huge market in Myeongdong streets. Also, they attracted a lot of people not only from Korea but from around the country as well. Anyone who visits Seoul even if it's for a day, they make sure to make a short trip to Myeongdong because that's how exciting this street shopping is.

You may also like