We all love traveling as its fun and the best therapy to replenish your mood. The most memorable part of traveling is food, especially local food. Food tells so much about a country. Their past, present, and even future! If you are a food lover like me and love to explore the different traditional and local foods. Here are some of the Best Korean street food that locals and foreigners love and remember.
Read also:
Best street food in Korea
Tteokbokki – 떡볶이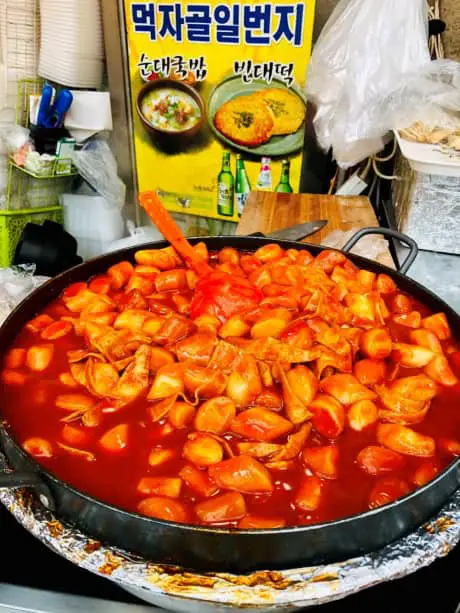 If your taste buds like sweet and spicy, then I highly suggest you try tteokbokki. This is undoubtedly the number 1 Korean street food and well-known throughout the world because of its deliciousness. This traditional dish is rice cakes cooked in sweet and spicy red pepper sauce called gochujang. Many restaurants have made this local treat more luxurious by adding shredded mozzarella cheese and/or sliced beef. You can find tteokbokki in EVERY outdoor traditional market. They are mostly sold along with our next favorite, the Emouk Tang or fish cake soup!
Eomuk (Fish cake) – 어묵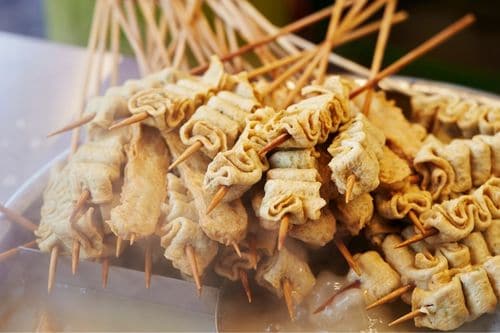 If tteokbokki is a little bit too spicy for you, we recommend eating it together with Emouk or fish cake. It comes with a rich and flavorful broth made by a crab base. I love drinking warm soup during winter days in Korea. But it tastes good all year round. We highly recommend you try this! Moreover, the fish cake is a nice chewy texture and you can taste a combination of fish and seafood. Many consider the Emouk a light food and it is the best combination to any street food. Especially when you try the next highly popular street food, Twigim or Korean style fried food.
Twigim or Korean style fried food – 튀김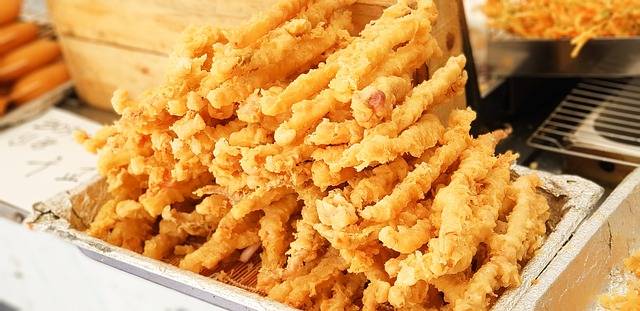 Twigim or Korean style fried street food is a perfect treat for everyone! You can enjoy a succulent squid, delicious hash of vegetables, boiled eggs, shrimp, and sweet potatoes. All of them in a crunchy coating! Those of you who don't like vegetables especially some children, won't know if it's a carrot they're eating or a yummy snack! Choose any Twigim as you want. The price varies from 500 won to 2,000 won. If you are trying this for the very first time, I advise you to try each flavor because you will surely miss this when you're back at home.
Gimbap – 김밥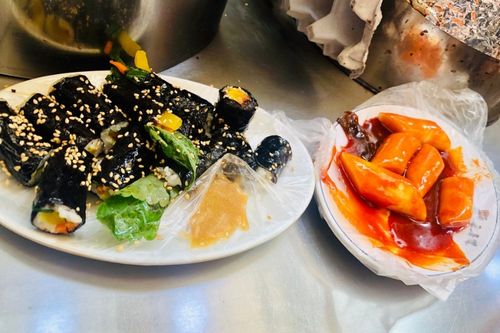 Gimbap is a traditional Korean dish that wraps dried seaweed with rice, vegetables, and meat (if you'd like). The various colors are pleasing to your eyes as well as satisfying to your taste buds. In the past and still today, Gimbap is the number one food most locals go-to for a quick, convenient, and healthy meal. You can find Gimbap sold in outdoor street food carts, sold separately outside the subways, or in specialty Gimbap restaurants. You can find various types of gimbap there. For instance, emouk (fish cake) gimpbap, fried shrimp gimbap, dongatsu (fried pork) gimbap, vegetable gimbap, tuna fish gimbap, and so much more!
Korean Street Toast – 길거리 토스트
This popular and loved street food brings back so much memory. It is the perfect "on the go" breakfast. Also known as "gilgeori toast" or "street toast." It is sold mostly in the morning and you can find them close to a busy subway station. The sandwich is made of hot bread toasted with butter. Topped with a slice of ham, cheese, and an egg batter with shredded cabbage, carrots, and other vegetables. Then ketchup and mayo are squeezed on top making it so tasty and filling. It's always served warmed and wrapped so you can eat it wherever you go.
Bungeo-ppang – 붕어빵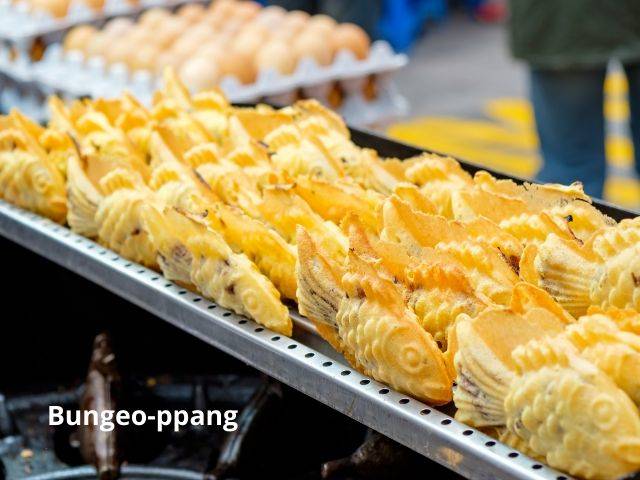 To make bungeoppang, the dough, which is a mixture of flour and margarine, is poured into a mold, and then red beans are added to the oven and grilled over a strong fire. Despite this simple recipe, the reason why the taste of each store is so different is that there is a formula that 'the dough is a little different + the beans are a little different + the fire is a little different + baking time is a little different = very different Bungeoppang.' Depending on the shapes of bread, names are different. For instance, Bungeo means a kind of fish in Korean and Bungeoppang is a fish-shaped pastry.
Hotteok – 호떡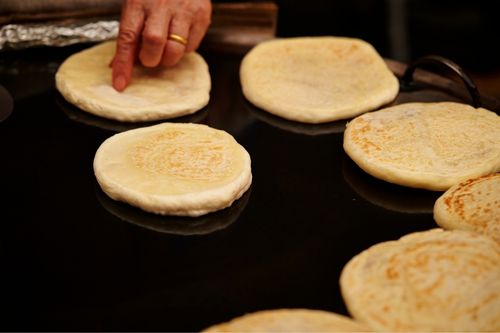 It is a Korean pancake snack that contains sugar made by glutinous rice or flour. Usually, brown sugar with cinnamon flavor is added, but nowadays it is made with vegetables, nuts, seafood, and Japchae. Moreover, Hotteok is usually white and round-shaped, but with the efforts of street chefs, various kinds of hotteok are being introduced, such as green hotteok with green tea powder and a rectangular one.
Dakkochi – 닭꼬치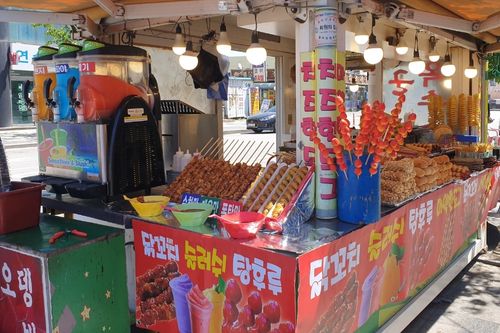 The smell of grilled chicken skewers in gochujang, Korean red chili paste, is a temptation that cannot be avoided. Koreans love Dakkochi as a snack and side dish for drinking Soju. It is a dish made by stitching chicken on a skewer and gochujang or soy sauce is applied while baking. Most street food shops sell Dakkochi and you can enjoy it in the highway rest area as well.
Sotteok Sotteok – 소떡소떡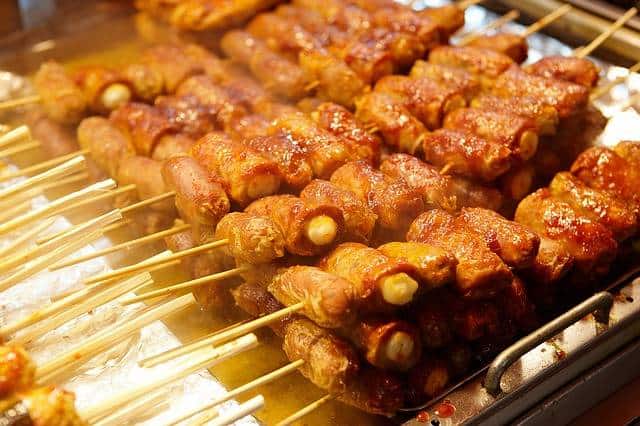 Sotteok Sotteok has become the hottest Korean street food recently. Even some senior-citizens might not know it, but the younger generation is sending unlimited love to Sotteok Sotteok. To make it, they put sausage and rice cake on skewers one by one and bake them on the grill with gochujang sauce. If you meet Sotteok Sotteok on the street, you shouldn't pass by. 🙂
Sundae – 순대 – It's not the ice-cream sundae 🙂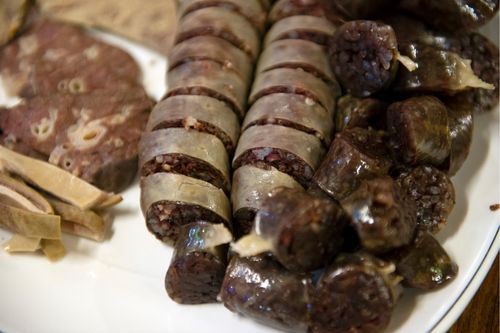 This is another popular street food loved by Koreans. Sundae is a steamed pig or cow blood sausage. It might sound strange but the taste is flavorful and texture chewy. Sundae is sold alongside Tteokbokki and Twigim. It also comes with steamed intestines! Sundae is so popular that there is a Sundae Town in Sinlim-dong, Seoul as well. The street is filled with Sundae restaurants where you can try different types of Sundae. If you liked Sundae at the street food shop, now you may able to try stir-fried Sundae at the Sundae restaurant. It's cooked on the table with Sundae, Japchae, vegetables, and gochujang sauce. Needless to say, it's the best side dish for drinking Soju or Makgeolli.
Tornado potato – 회오리 감자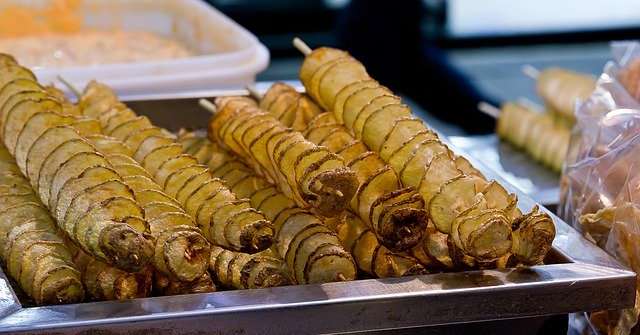 It's also called a twist fried potato. If you see the above photo of it, you may be able to understand why it is called tornado potato. There are various seasoning for it, onion salt, cheese, and honey. It's an interesting thing and hard to believe but the tornado potato is patented food of a Korean food company.
Cupbap – 컵밥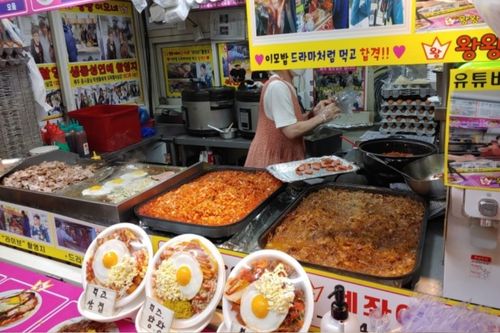 While many above street foods have been popular for many years, the Cupbap or rice in a cup (dish) you can say is fairly new. It slowly started to gain it's popularity during 1998 when the "Cup Bap Geori" or "Cup Rice Street" was made in Norangjin subway station. The Cupbap was first made for students preparing for exams, college admissions, near the busy Norangjin neighborhood. Now it has become a hearty and customized meal for all. You can choose which toppings you want or choose from their menu like spam, pork, and fish eggs. The price varies from 3,000 won to 5,000 won as well.
You might think it's done but wait… this is not the end. It's time to explore the best markets or places to try the best Korean street foods. Moreover, some local markets offer you a variety of different traditional Korean cuisine. You can find them actually cooking it in front of you.
So some of the Korean local markets for food, which is not just famous but also a budget-friendly deal for the tourists as well as for the locals, are here below.
Best Korean Street Food Marketplaces
Gwangjang Market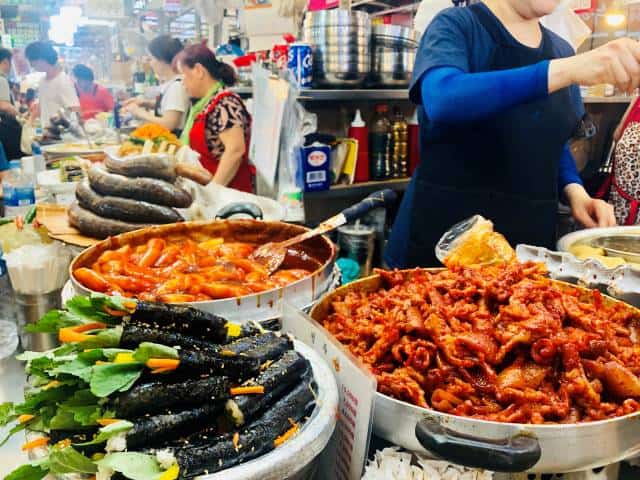 This is one of the traditional, old, and still, the crowd running market in Seoul, where hundreds and thousands of people come and eat their favorite local Korean food in a day. Especially for a tourist, it is one of the hot-spotting points where they can actually explore the taste of traditional Korean cuisine. Learn more about the Gwangjang market HERE. The best cuisine which you can try in this Gwangjang market is,
Mayak Gimbap
Bindaetteok (savory pancake) and Makgeolli (Korean rice wine)
Pollack stew
If you are interested in visiting Gwangjang foodie market with Seoul N-Tower and the Royal Palace, check this night-tour.
Seoul Bamdokkaebi Night Market
Bamdokkaebi means a Night ghost in Korean. And if you are curious why the name of the market is ghost night market, check this 'Seoul Bamdokkaebi night market' post. Seoul holds these night markets at 5 different places on every Friday to Sunday from April to October. All five places are great so you can find the nearest market from your place. You can enjoy Hangang and Banpo bridge water fountain show at Banpo Romantic Moonlight Market or stop by Cheonggyechon Time Tour Market after your shopping in Myeongdong. More than 50 plus food trucks are there that are ready to serve you the best and finest Korean cuisine according to their cultural taste. Other than great street foods with food trucks, you can enjoy concerts, views, and other festivities as well. Learn more about Seoul Bamdokkaebi Night Market HERE.
Myeongdong Alley Food Street
Myeongdong street is well-known for shopping in Korea. The street is filled with a lot of cosmetic brands, fashion stores, and restaurants. But keeping the shopping factor aside, this market place is also profound and considerable for Korean traditional food as well. At 5 p.m. on weekdays or at 2 p.m. on weekends, street food stalls begin to appear in the middle of Myeongdong Jungang-ro. And it forms a food alley without even noticing. Several accessory shops are sparsely lined up between the carts with food stalls, but most of them are popular enough to be called everything in Jujeonburi (주전부리). Jujeonburi means light snacks you can enjoy in Korean.
You can find different kinds of street foods here.
Hot bar (핫바, Handmade fish cake)
Kkoma Gimbap (꼬마김밥, Small gimbap)
Grilled Shrimp
Skewered Sausage
Strawberry glutinous rice cake (딸기모찌)
Gyeranppang (Egg-ppagn)
Bungeo-ppang icecream
Custard hand-made churros
Rolled Pizza
Tongin Market
Well, if you want to explore the different flavors of Korea, then this market is the best consideration for you. Established back in 1941, it's a 200-meter-long small alley type traditional market you can stop by after visiting Gyeongbokgung Palace or Seoul City Wall Hiking. Famous foods in Tongin market are Gireum Tteokbokki (기름떡볶이) and Yeopjeon Dosirak (엽전 도시락, Coin Lunchbox).
They stir fry seasoned Tteokbokki with oil and you can select one flavor out of two, Gireum tteokbokki and Ganjang (Soy sauce) tteokbokki. To try various kinds of Korean foods, I recommend you try Yeopjeon Dosirak. It's a kind of system that you have to buy Yeopjeons to purchase foods in the market. After purchasing foods, you can eat it on the 2nd floor, lunchbox cafe. 500 KRW is one Yeopjeon coin and they sell coins from 11 to 3 pm (weekdays) and 11 to 4 pm (Weekends). But you should check the visiting date because they don't open the cafe every Monday and the 3rd Sunday of the month.
Dongdaemun Night Market
Dongdaemun is the place where you cannot just shop but actually enjoy your time as long as you can. This is the place that has a massive collection of fashion. So no matter if you are a fashion lover, trendsetter, or even want to enjoy some late-night snacks, this is the point where you can do all these things with your friends, family, and even alone. Rest apart from the shopping for the tastiest food; there are some specific spots where you can get traditional Korean food at a reasonable price. Places like the Gwanghui market and Jeil Pyeonghwa market are reputable eatery places.
Namdaemun Market Hairtail Alley
Namdaemun market is a large traditional one you can shop almost everything at an affordable price. As a street food market, there are three famous alleys. Hairtail alley, Kalguksu alley, and Meokja alley. The most famous alley would be the hairtail alley, you can taste spicy braised hairtail stew. It's hard to find a spot to sit at lunchtime because of crowded people. Kalguksu is a Korean traditional flour noodle and the name verifies followed by ingredients. For example, Seafood Kalguksu. Meokja alley means Gourmet alley in Korean and you can taste many kinds of traditional Korean foods here. In addition, Namdaemun Market is a great place to taste various Hotteoks, such as Seafood Japchae Hotteok, Honey Hotteok, and Kimchi Hotteok.
FINAL WORDS:
Hope after reading this, you are aware enough and can easily visit Korean markets and food streets for the sake of getting the best Korean street foods. At last, if you think there is anything else that you want to know regarding the best Korean street food in Seoul, then feel free to bug me in the comment section box. I would love to trigger your queries and come up with some exciting solutions.
Written by Dy & Jay.
IVK's Top Picks – Day Tours, Tickets, and Travel Activities
Seasonal Picks!😍