Hongdae is one of the best places to experience the youth of Korea. It is a place where many trends start and culture begins. Not only in music and fashion but in food! When you're in Hongdae, there are so many restaurants it's hard to choose. To help you save time, we narrowed it down to the Ultimate best Korean restaurants in Hongdae.
Ultimate Korean Hongdae Restaurants
Makgeolli Salon (막걸리싸롱)
I highly recommend this old makgeolli house in Hongdae for those who like Korean traditional liquor makgeolli! You can taste various kinds of local makgeolli like Goyang Baedari Makgeolli, Dangjin Baekryeon Makgeolli, Buyeo Albam Makgeolli, and Wonju Corn Makgeolli. Also smoothie makgeolli with sweet fruits is available for Makgeolli beginners. This place will provide a perfect evening with Korean cuisine like Jeon, Tofu-Kimchi, Bossam, etc. which goes well with makgeolli. Makgeolli Salon has been loved so much by locals in Hongdae for over 10 years.
Address: 12-6, Wausan-ro 21-gil, Mapo-gu, Seoul 서울특별시 마포구 와우산로21길 12-6
Direction: 10minutes walking distance from Hongik Univ. Station Exit 9

Time: 3:00 p.m. – 2:00 a.m.

Price: 15,000KRW ~ 30,000KRW
Phone: 02-324-1518
Pork Gomguk Soup- Okdongsik (옥동식)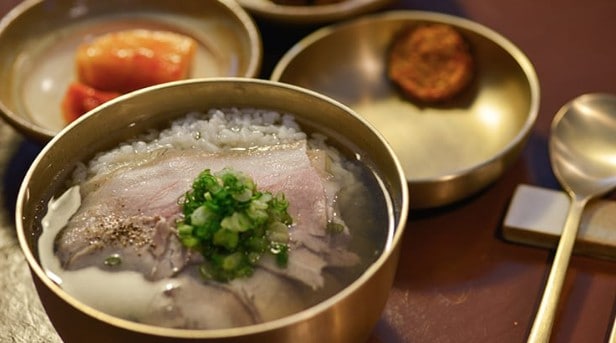 Lastly, this Michelin award-winning store has captured the hearts of all foodies who come to taste the delicious pork broth soup with rice. The soup is made with black pork bone and meat that is slow-cooked. The thinly sliced pork meat is soft and tender and blends perfectly with the rice and soup. There is no MSG or artificial ingredients. Also, the kimchi is fresh and well fermented and the ambiance of the restaurant makes you feel comfortable. There are only 100 bowls that are served every day so come early.
Address: 44-10, Yanghwa-ro 7-gil, Mapo-gu, Seoul
Nearest station Hapjeong Station
Time: Lunch 11:00-14:00, dinner 17:00-19:30 (until sold out)
Price: 8,000KRW- 14,000 KRW
Phone: 010-5571-9915
Woo Waa (우와)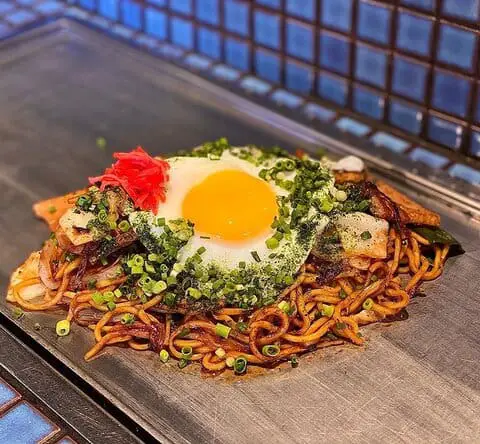 If you want to try something new and flavorful, you must try Woo Wah. This Japanese fusion restaurant specializes in okonomiyaki and teppan yaki. They do not use any flour in their oknomiyaki. Only 100% Chinese yam (마) for a healthy and soft texture. The various sauces will make your mouth dance.
The visual is amazing to your eyes. The teppan yaki is made with fresh noodles and salty sauce makes you keep having more. The combination of the ingredients mixed with their specialty sauce is truly a masterpiece. No wonder why people wait in long lines to try this.
Time: 12p.m.-10:00 p.m. Break Time: 2:30 p.m – 5 p.m.
Station: Hongik University exit 9
Phone: 0507-1414-9500
Address: 2nd floor, 21-16 Wausan-ro 21-gil, Mapo-gu, Seoul
Price: 8,000- 16,000
401 Restaurant (하하&김종국의 401정육식당)
Opened in Hongdae in 2009, it is a Korean BBQ restaurant that offers the best meat at an affordable price. If it's your first time visiting Haha & Kim Jong-kook's 401 Butcher's Restaurant, we recommend the set menu where you can taste various cuts such as belly, collar butt, and jowl meat. The homemade sauce and various side dishes served with the meat work well together. One thing I'd like to suggest is to try dipping them in anchovy sauce. It will take you to the new world of southern Korean cuisine. Moreover, Soybean paste soup with beef brisket is an essential part of Korean BBQ!
As it is run by Korean celebrities, Haha & Kim Jong-kook, it is also one of the attractions of this place to see the autographs of numerous celebrities and photos of the two bosses on the walls of the restaurant. However, since it is a popular restaurant, it is important to know in advance that there is a waiting line at the entrance.
Address: 23, Jandari-ro, Mapogu, Seoul 서울 마포구 잔다리로 23
Time: Sun. – Thu. 4:00 p.m. – 2 a.m. | Fri. Sa. 4:00 p.m. – 4:00 a.m.
Price: 14,000KRW – 34,000KRW
Phone: 02-325-0805
Solsot (솔솥 연남점)
When you walk along Yeonnam-dong street lined with cute cafes and delicious restaurants, you will see a long line in front of this cozy restaurant. Sotbap is a Korean food cooked in a hot pot with broth and topping with meat or seafoods on top. Solsot's signature menu is steak pot rice and sea bream&scallop pot rice. What I most like is that all menu is neatly served with various side dishes. There are also other items such as eel and abalone. What's more, the fried shrimp on the side menu is really good, so I recommend you try it. This Korean restaurant, Solsot, is highly recommended if you want to try a warm Korean meal! However, note in advance that there are long queues even on weekdays, before add it to your go-to list.
Address: 35, Donggyo-ro 38-gil, Mapo-gu, Seoul 서울 마포구 동교로 38길 35
Time: 11:30 a.m. – 9:00 p.m.
Price: 15,000KRW – 24,000KRW
Phone: 070-8822-5846
Hong Ma Tteok-Hongdae Garlic Tteokbokki (홍마떡)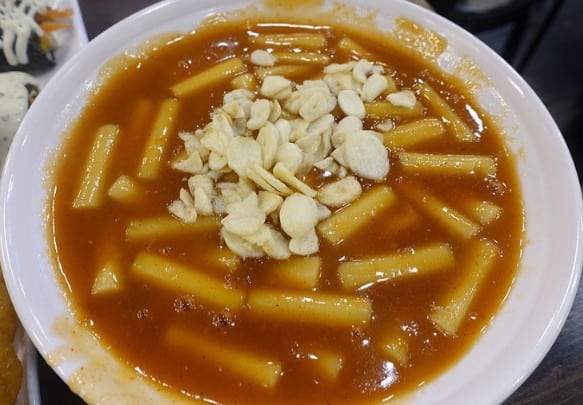 Furthermore, Spicy Korean rice cakes called tteokbokki are the most popular street foods in Korea. If you are in Korea, you have to try the spicy tteokbokki. Here at Hongdae Garlic Tteokbokki, the spicy tteokbokki is topped with crispy sliced garlic for the best combination. You might think that garlic might be too strong of a taste but the unique blend has customers waiting to be served. Moreover, the garlic adds a rich taste to the tteokbokki spiciness and you can also order other street foods like cream cheese kimbap and garlic fried shrimp and onion rings.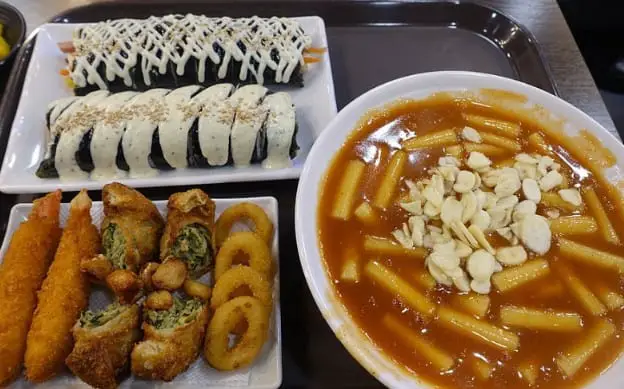 Address: Seoul, Mapo-Gu Hongik5ro AhnGil24 서울 마포구 홍익로5안길 24
Located in alleyway 
Time: 11:00 a.m.-11p.m.
Price: 7,500KRW
Phone: 0507-1416-1107
Bistro TOMA (연남토마)
Bistro Toma, made by renovating an old house in Yeonnam-dong, offers a variety of fusion dishes made with fresh ingredients. The menu of this restaurant is Japanese and Italian fusion, and the bestsellers here are Katsudon and Cod Roe and Basil Oil Pasta. Furthermore, Beef and cheese cutlets, yakiniku don, and creamy pork belly pasta are also great! If you want to try Japanese and Italian food reinterpreted by a Korean chef, visit this cozy restaurant. 🙂
Phone: 0507-1329-8064
Address: 61, World Cup buk-ro 6-gil, Mapo-gu, Seoul, 서울 마포구 월드컵북로 6길 61
Time: 11:30 a.m. – 10:00 p.m.
Price: 11,000KRW – 18,000KRW
Yook-Mong (육몽)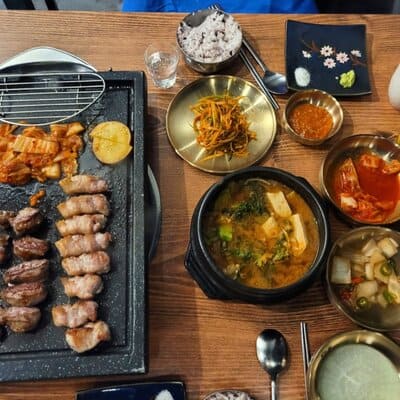 You can't leave Hongdae without trying grilled pork and beef tripe. Yook mong's 3 generation of beef tripe restaurant history is tasted from the sauce to the side dishes to the charcoal used. The mouth watery and savory and chewy beef tripe is best when eaten with wasabi and pickled garlic leaves. The diverse price range lets you try all the different meats.
Phone: 0507-1447-1149
Address: 19, Yanghwa-ro 16-gil, Mapo-gu, Seoul 서울 마포구 양화로 16길 19
Station: Hongik University exit 9
Time: 3:00 p.m.-2:00 a.m.
Price: 13,900-51,900 won
Burgers Almighty (버거스올마이티 홍대점)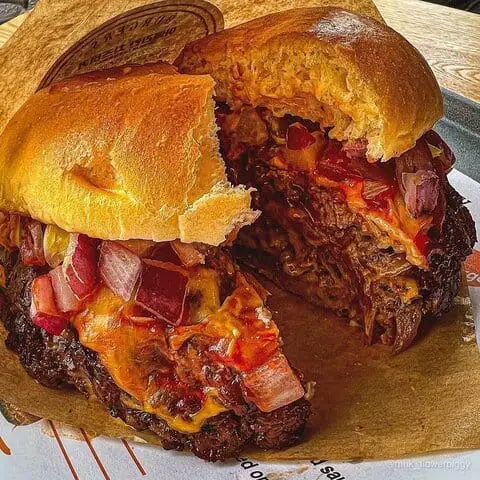 The name says it all. The Almighty burgers in Hongdae are big, tasty, and memorable. You will definitely come again to try other burgers. The American cheese burgers are made from 100% Australian and American meat with the bun made from top Korean bakers. French fries and a cup of coke are the perfect compliments to your American cheese burger. You have to try the American cheese burger. You can also order an extra meat patty. If you want to eat chicken, they also have a soft chicken burger as well.
Address: 21-1, Jandari Bridge in Mapo-gu, Seoul 서울 마포구 잔다리로 21-1
Time: 11:00 a.m.- 12:00 p.m.
Phone: 0507-1338-0997
Station: Hapjeong station exit 3
Price: 6,500- 17,000 won
Mountain Bulgogi (산더미 불고기)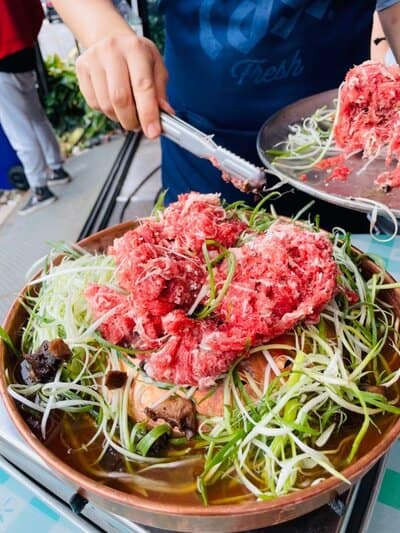 Mountain Bulgogi restaurant has been featured in numerous TV shows. The taste has been acknowledged by locals and for years has been recommended as the go to place for a hearty meal. You will not be disappointed. Bulgogi is also a favorite for children to seniors. The sweet marinated bulgogi is complimented with the welsh onion (파). If you want to try something spicy, I recommend the spicy ribs as well. The meat will fall off the bones so easily. Mix the red sauce with rice and you will finish a bowl in no time.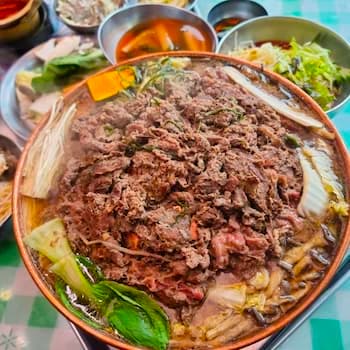 Address: 47, Eoulmadang-ro, Mapo-gu, Seoul 서울 마포구 어울마당로 47
Station: Sangsu station exit 1
Phone: 0507-1305-7626
Time: 24 hours
Price: 24,000KRW – 51,000KRW
Yeonhuidong Noodle Soup (연희동칼국수)
This place really only sells Kalguksu that is fresh knife-cut noodles made by rolling flour dough and slicing into thin noodles. It is one of the foods that Koreans want to eat on a rainy day or when they miss warm food especially in winter. Yeonguidong Kalguksu is a true noodle house that insists on only hot kalguksu even in summer, and the beef bone broth brewed for more than 12 hours is definitley mouthwatering. In addition to that, the taste is the best when eaten together with kimchi. White kimchi and regular red kimchi are available, but you can free-refill them if you want. Located next to Yeonnam-dong where is the hottest area in Seoul, it is a famous restaurant in Yeonhui-dong. If you like noodles, I highly recommend a visit.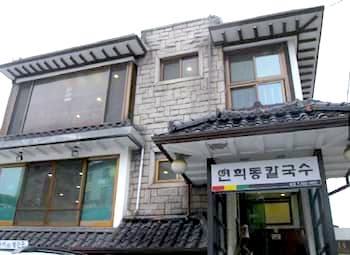 Address: 37, Yeonhuimat-ro, Seodaemun-gu, Seoul 서울 서대문구 연희맛로 37
Phone: 02-333-3955
Time: Tue. – Sun. 11:00 a.m. – 9:00 p.m. | Monday Closed
Price: 9,000KRW – 25,000KRW
Idus Place Seogyo (소담상회 with 아이디어스 플레이스 서교)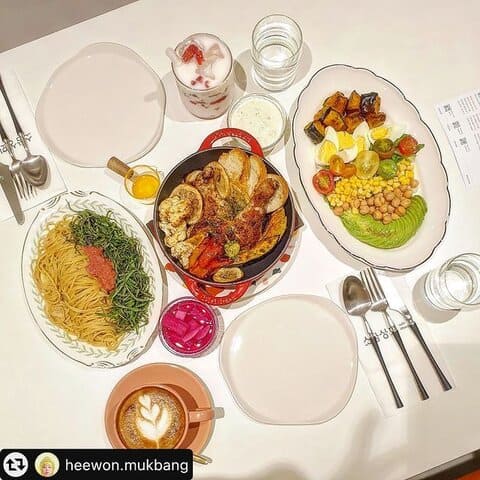 With idus place is a very special place where even the cups and plates that are served are specially hand picked by the artists of the restaurant. Each dish reflects the cooks creativity. The pasta and mazing combination of the ingredients will make you want to come back once again with your friends. They also serve heart healthy foods like yogurts, fruits, and sandwiches. Have brunch and also buy the homemade goods from the artists. Also you have to enjoy the hand crafted beers with the pasta!
Address: Hongik-ro 5-gil, Mapo-gu, Seoul 서울 마포구 홍익로 5길
Phone: 02-1668-3650
Time: 11:00- 7:00 p.m. | Tuesday Closed
Station: Hongik University exit 9
Price: 9,000-21,000 won
Myth Jokbal (미쓰족발)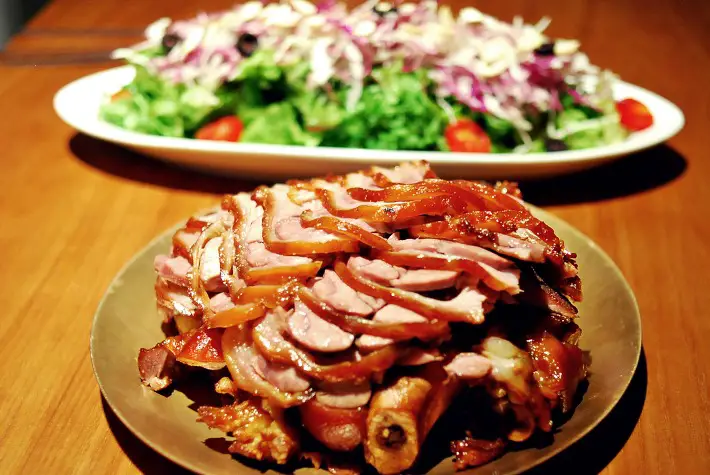 Jokbal might be new to you but a tradition in Korea. It is braised pig trotters with soy sauce and spices. It's chewy and tastes sweet. The jokbal is complemented with side dishes like noodles, spicy soup, salads with olives and almonds, and Korean rice balls.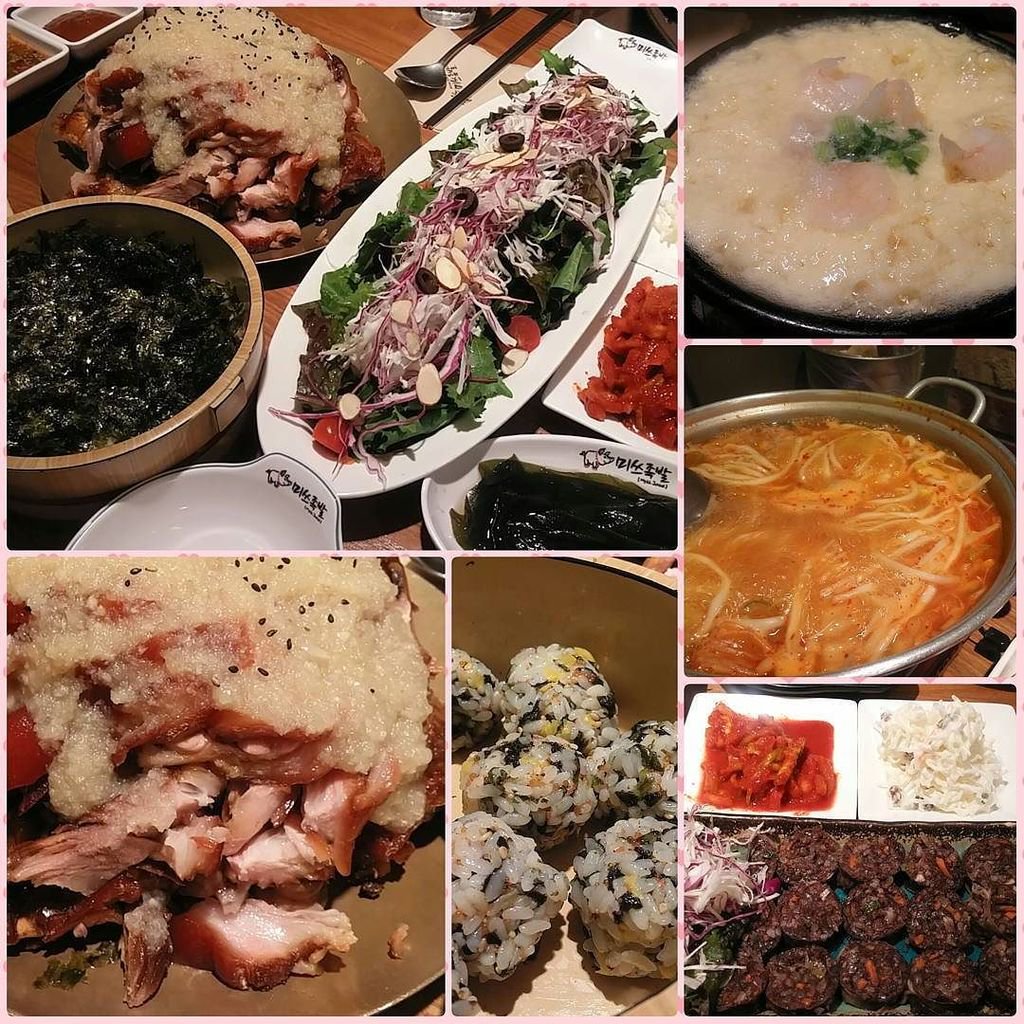 Address: Eoulmadang-ro 123-1, Mapo-gu, Seoul
Located near Hongdae Shopping Street
Time: 12:00 – 04:00
Price: 29,000KRW – 35,000KRW
Phone: 02-336-2111
Samonim Donkatsu (사모님 돈가스)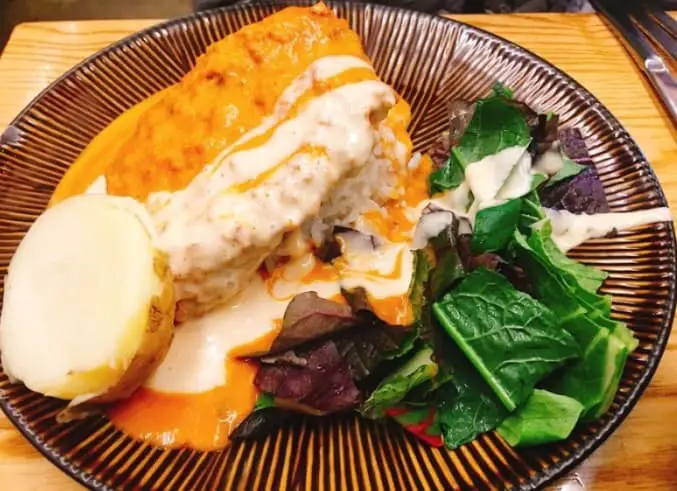 In addition, if you're looking for a fulfilling meal, we recommend pork cutlet from Samonim Donkatsu. This restaurant was featured in tvN's program "Wednesday Food Talk" for its thick pork cutlet, fresh salad, and buttery potatoes. The serving is big, the meat is crispy, and there is always a waiting list so come early. In addition, if you like spicy food, we also recommend the spicy donkatsu. You'll remember the taste later on and want to come again. 
Address: 39, Yeonhui-ro 11ga-gil, Seodaemun-gu, Seoul 서울특별시 서대문구 연희로 11가길 39
Located in alleyway 
Time: 12:00 p.m. – 08:00 p.m. or earlier until everything is sold out, break time 2:50 p.m. – 6 p.m.
Price: 8,500KRW – 14,000KRW
Phone: 02-332-2204
Choma (초마)
Choma is a restaurant famous for Jjambbong, which has been passed down for three generations. Jjamppong is a Korean Chinese noodle soup with red, spicy seafood- or pork-based broth. Here you can choose from two types: regular Jjamppong with a spicy taste and White Jjamppong with a light udon flavor. The spicy soup with the texture of various crunchy vegetables and the taste of fire is amazing. In addition to the house's signature dish, Jjamppong, we recommend you to try Tangsuyuk, fried pork with sweet and sour source.
Address: 72, Wausan-ro, Mapo-gu, Seoul 서울특별시 마포구 와우산로 72
Time: 11:30 p.m. – 09:00 p.m. | break time 4 p.m. – 6 p.m. | Monday closed
Price: 9,000KRW – 18,000KRW
Phone: 070-7661-8963
On Black 94 (온블랙 94)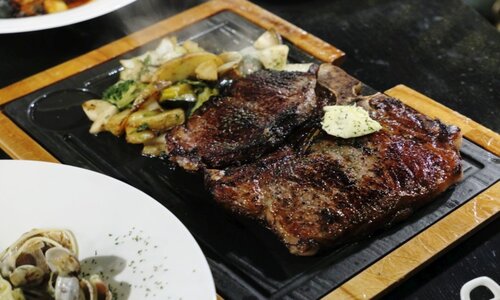 On Black 94 is a steak restaurant that specializes in water age meat cooking process. They have excellent t-bone and tomahawk steaks. The meat is well cooked and soft not to mention seasoned just right. The price of the meal is not that expensive compared to the quality. Not only is the food exceptional, the atmosphere of the restaurant brings a Hawaiian vibe with bright lights and cozy rooftop. This restaurant is the perfect date and party place. The food will be healing to your body and the environment strength to your soul. Come and enjoy the mouth watering steak at On Black 94.
Address: 39-14, Wausan-ro, Mapo-gu, Seoul 서울 마포구 와우산로 39-14
Phone: 010-4046-9009
Station: line 6 Sangsu exit 1
Time: 3 p.m.- 2 a.m., Mondays closed, Sundays from 3p.m.-10 p.m.
Price: 65,000-129,000
What do you think of the top Korean traditional restaurants in Hongdae? Trust me, you can't go wrong with any one of these places.
Please, leave a comment if you have any questions on this post.
You may also like: