Hongdae is one of the best places to experience the youth of Korea. It is a place where many trends start and culture begins. Not only in music and fashion but in foods! When you're in Hongdae, there are so many restaurants it's hard to choose. To help you save time, we narrowed it down to the top 4 best Korean restaurants in Hongdae.

Top 7 Korean Hongdae Restaurants
1. Namul Meongneun Gom (나물먹는 곰 차웅가)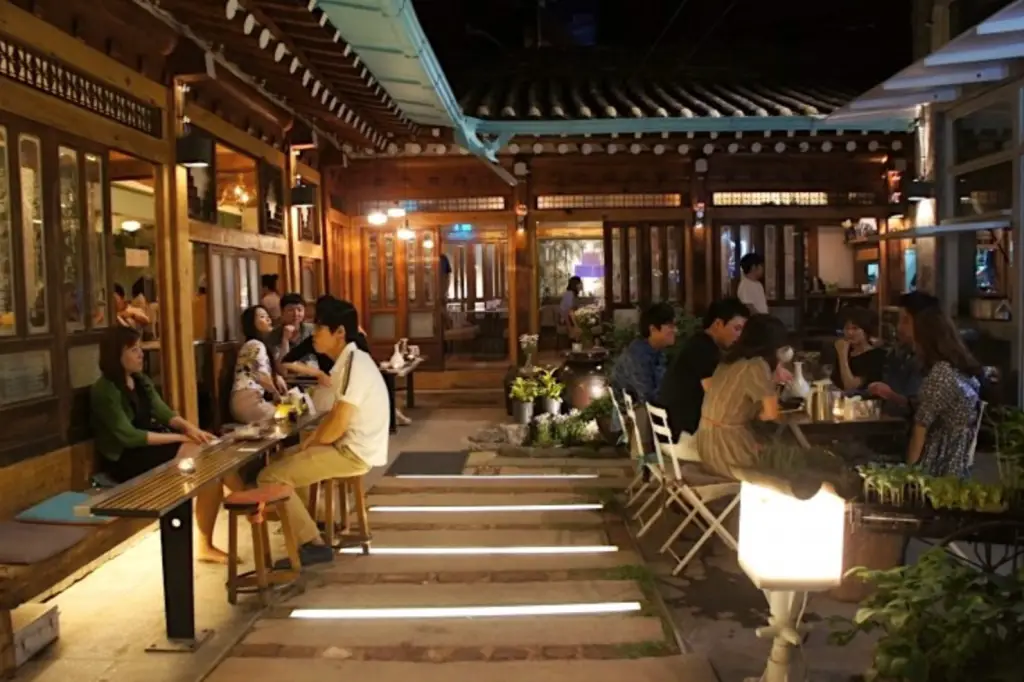 The name of the restaurant, Namul Meongeun Gom, might be intimidating but it just means a bear that eats vegetables in Korean 🙂
It is a Korean-style restaurant opened by a mother who was dining in Gyeongbuk province. Bibimbap, Gomguk(Beef soup), stew, and Jjimdak(steamed chicken with soy sauce) are available in Gyeongsangdo style.
I recommend the NamulGom set. It includes bibimbap, Korean rice wine, and Kimchi-jjim(spicy Kimchi stew with pork). The Bibimbap here is different from the traditional bibimbap with gochujang (red pepper paste) because they use a special soy sauce. Namul Meongeun Gom is also located near Hongik University and definitely worth trying.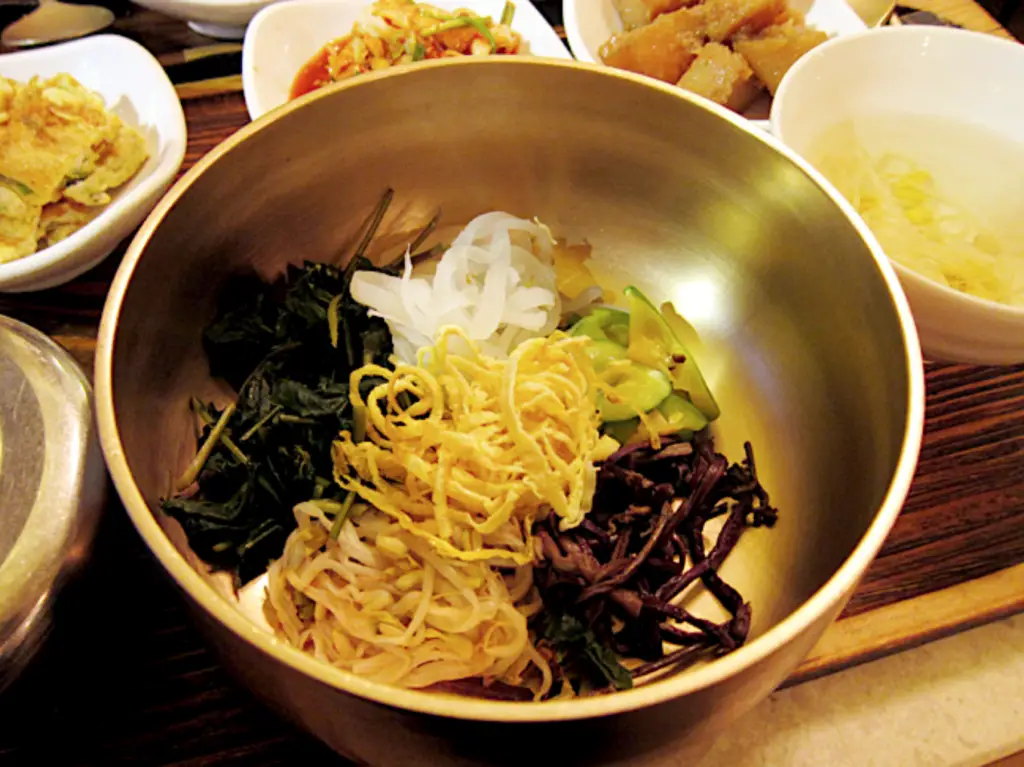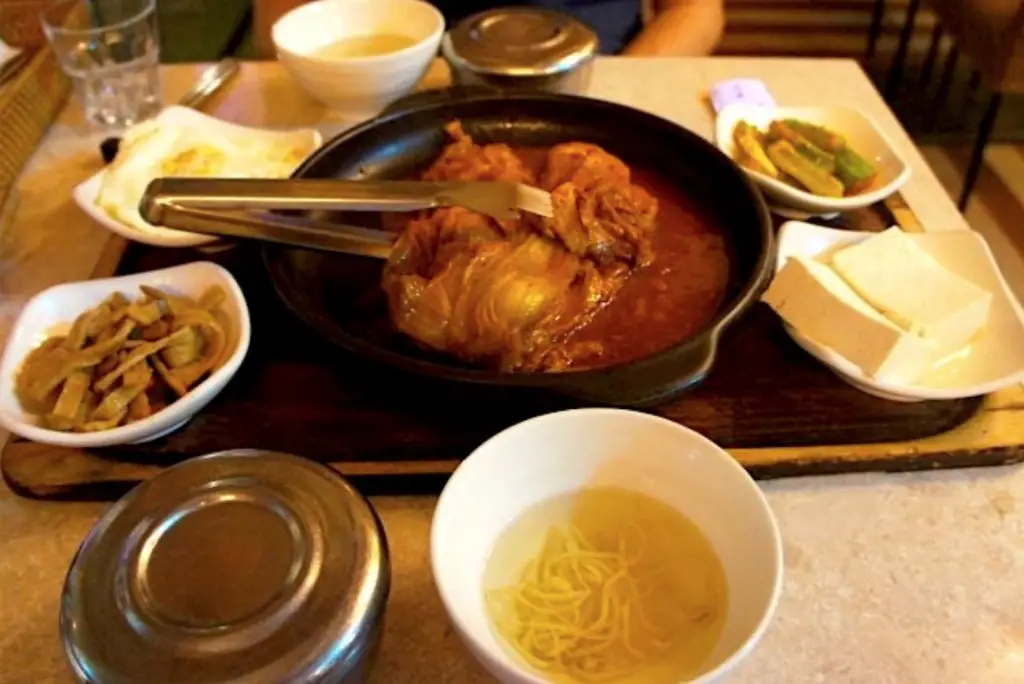 Address: Jandari-ro 20-12, Mapogu, Seoul
Located in the center of the main shopping street in Hongdae
Time: 12:00 – 22:00
Price: 7,000KRW – 25,000KRW
2. Yoon's Grill- Korean Barbeque Restaurant (윤씨그릴방)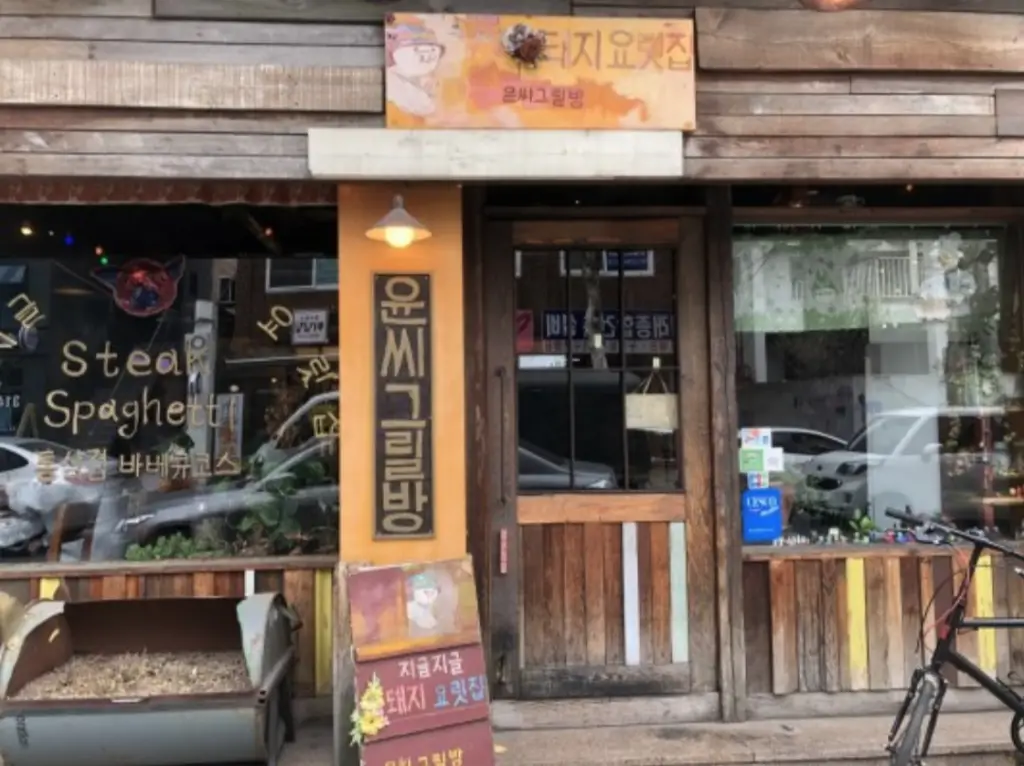 Yoon's Grill (윤씨그릴방) is one of the best Korean barbeque restaurants in Hongdae. They serve sam-gyeop-sal (Korean style pork belly barbeque) and side dishes like spaghetti, soup, fried rice, and noodles at an affordable price. You can also try various types of fusion foods to go with the Korean barbeque. Everything tastes great here! It takes about 10 minutes on foot from the Hongik University subway station. I strongly recommend downloading the Naver Map application to find the restaurant.
Please, find the Naver Map on our previous post, '5 Best Apps for traveling in Korea'.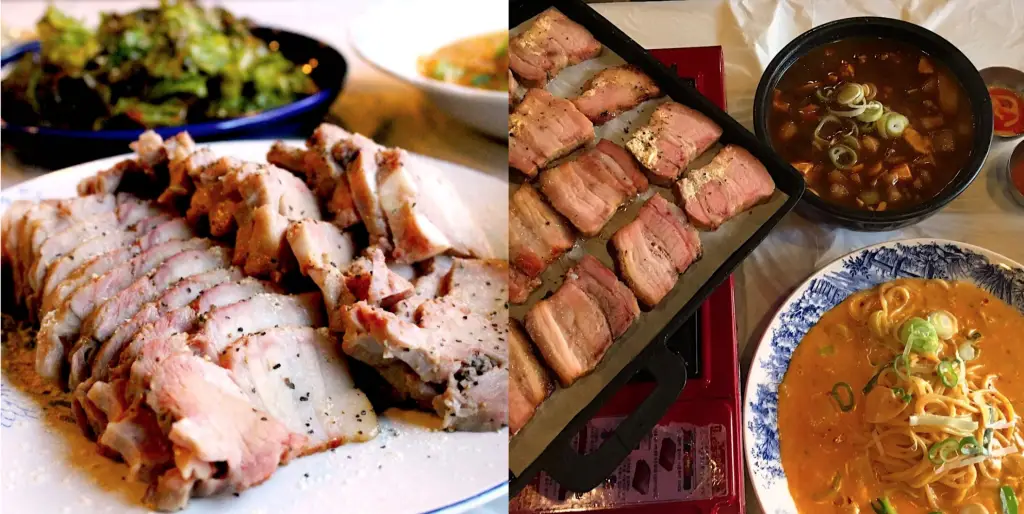 Address: Seongmisan-ro 184, Mapogu, Seoul
Locate in Yeonnamdong near Dongjin Market, Gyeongui Line Forest Park.
Time: 12:00 – 22:30 / Break time 15:00 – 17:00 / Closed MONDAY
Price: 7,000KRW – 13,500KRW
3. Jangin Dakgalbi (장인닭갈비)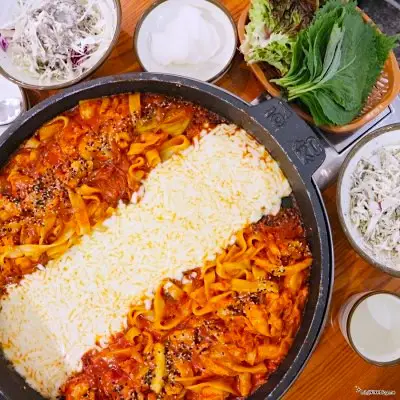 Have you heard of dakgalbi?
It is a popular Korean dish made with spicy grilled chicken and vegetables like sweet potato, onion, and cabbage. You can choose how spicy you want it and you can add toppings like cheese, bacon, sausage, noodles, and Korean rice cakes.
Koreans eat dakgalbi with Ssam, a traditional method of wrapping the grilled chicken with leafy vegetables like lettuce or sesame leaf. You might have seen it in Korean dramas. It's how the locals here eat and also quite healthy! 🙂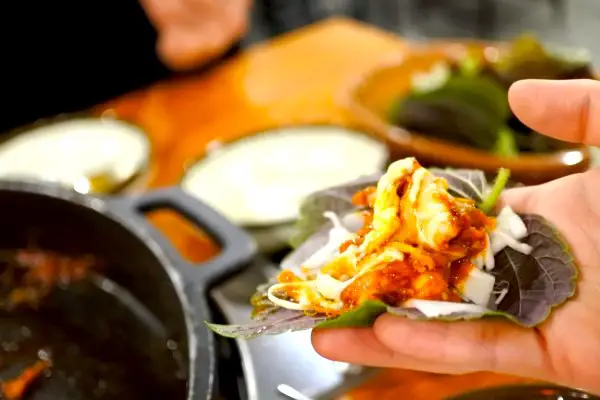 The best part is they have a "self bar" so you can eat as many vegetables as you want without asking anyone.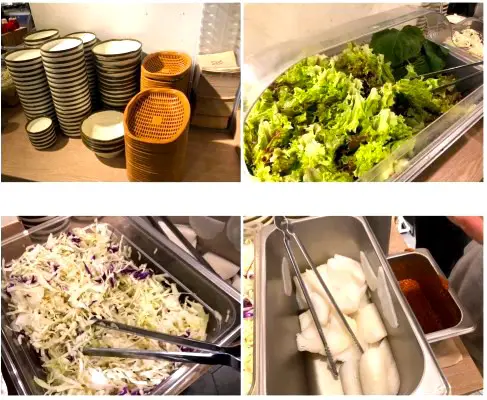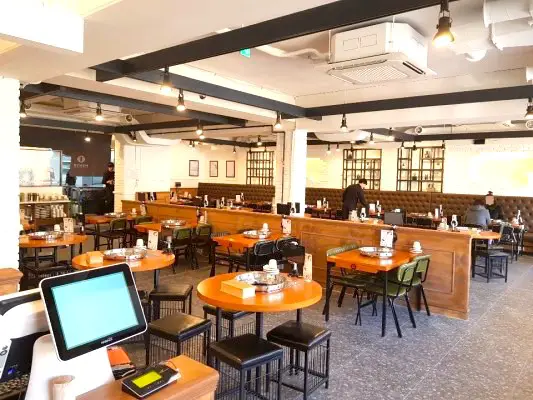 Address: Hongik-ro 19, Mapogu, Seoul
Locate near Hongik University
Time: 11:00 – 24:00
Price: 9,500KRW ~
4. Myth Jokbal (미쓰족발)
Jokbal might be new to you but a tradition in Korea. It is braised pig trotters with soy sauce and spices. It's chewy and tastes sweet. The jokbal is complemented with side dishes like noodles, spicy soup, salads with olives and almonds, and Korean rice balls.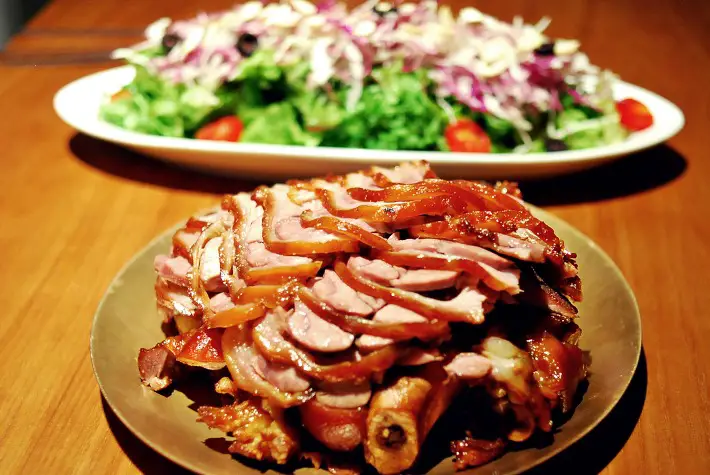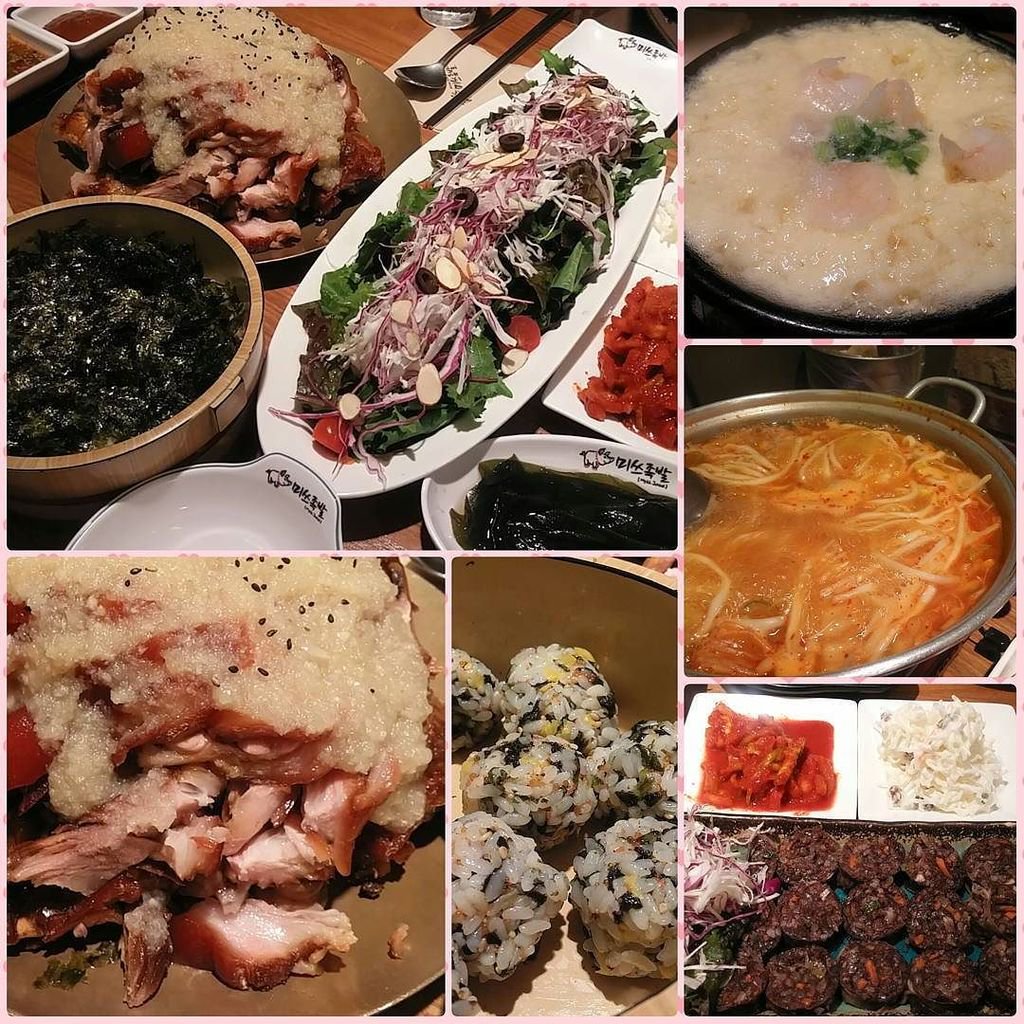 Address: Eoulmadang-ro 123-1, Mapo-gu, Seoul
Located near Hongdae Shopping Street
Time: 12:00 – 04:00
Price: 29,000KRW – 35,000KRW
5. Samonim Donkatsu-(사모님 돈가스)
In addition, if you're looking for a fulfilling meal, we recommend pork cutlet from Samonim Donkatsu. This restaurant was featured in tvN's program "Wednesday Food Talk" for it's thick pork cutlet, fresh salad, and buttery potatoes. The serving is big, the meat is crispy, and there is always a waiting list so come early. In addition, if you like spicy food, we also recommend the spicy donkatsu. You'll remember the taste later on and want to come again.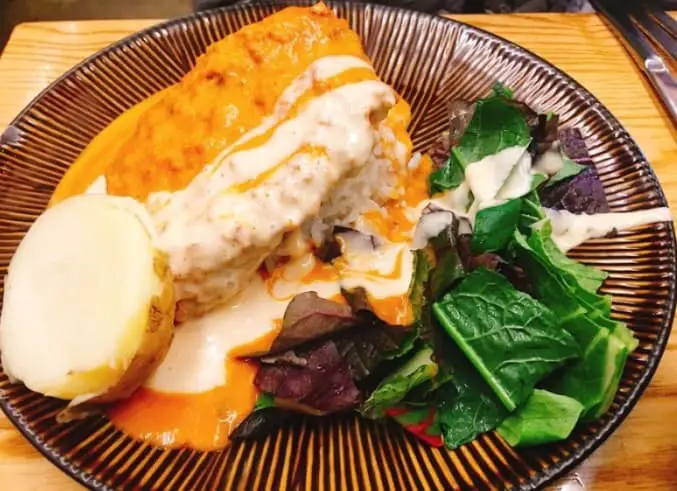 Address: Seoul, Mapo-Gu WoUsan Road 39-13 서울특별시 마포구 와우산로 39-13
Located in alleyway
Time: 12:00 p.m. – 08:00 p.m. or earlier until everything is sold out, break time 2p.m.-5 p.m.
Price: 8,500KRW – 14,000KRW
6. Hong Ma Tteok-Hongdae Garlic Tteokbokki
Furthermore, Spicy Korean rice cakes called tteokbokki are the most popular street foods in Korea. If you are in Korea, you have to try the spicy tteokbokki. Here at Hondae Garlic Tteokbokki, the spicy tteokbokki is topped with crispy sliced garlic for the best combination. You might think that garlic might be too strong of a taste but the unique blend has customers waiting to be served. Moreover, the garlic adds a rich taste to the tteokbokki spiciness and you can also order other street foods like cream cheese kimbap and garlic fried shrimp and onion rings.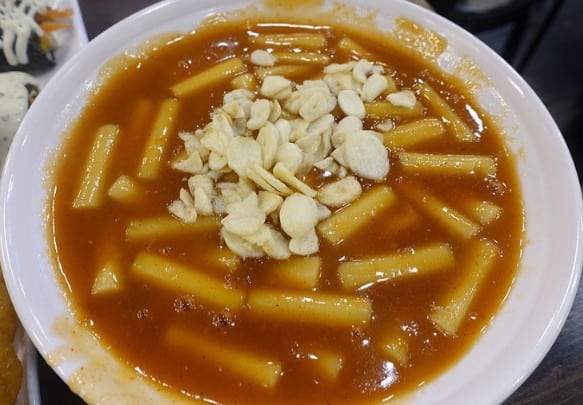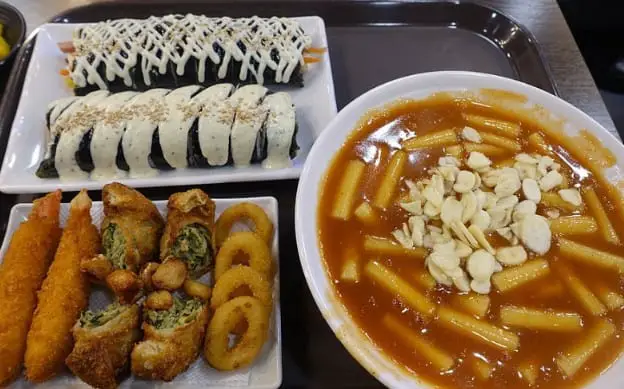 Address: Seoul, Mapo-Gu Hongik5ro AhnGil24 서울 마포구 홍익로5안길 24
Located in alleyway
Time: 11:30 a.m.-11p.m.
Price: 7,500KRW
7. Pork Gomguk Soup- Okdongsik
Lastly, this Michelin award winning store has captured the hearts of all foodies who come to taste the delicious pork broth soup with rice. The soup is made with black pork bone and meat that is slow cooked. The thinly sliced pork meat is soft and tender and blends perfectly with the rice and soup. There is no msg or artificial ingredients. Also, the kimchi is fresh and well fermented and the ambiance of the restaurant makes you feel comfortable. There is only 100 bowls that are served everyday so come early.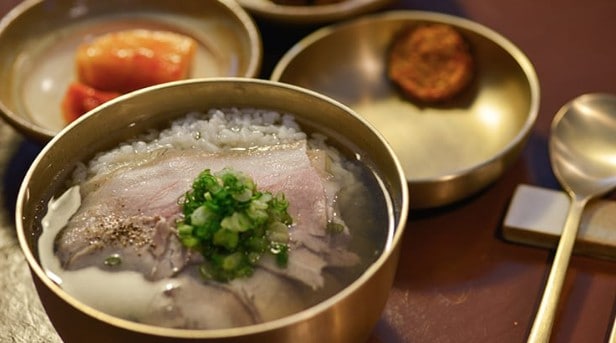 Address: 44-10, Yanghwa-ro 7-gil, Mapo-gu, Seoul
Nearest station Hapjeong Station
Time: Lunch 11:00-14:00, dinner 17:00-19:30 (until sold out)
Price: 8,000KRW- 14,000 KRW
What do you think of the top 7 Korean traditional restaurants in Hongdae? Trust me, you can't go wrong with any one of these places.

Please, leave a comment if you have any questions on this post.

You may also like