South Korea has become one of the most popular tourist destinations in recent years, thanks to the ever-growing ecstasy of Korean pop culture sweeping the globe. As a result, many popular tourist spots, including Seoul, have witnessed increased visitors.
Many ardent tourists have added the city to their bucket lists. However, Gangwon Province, only an hour and a half from Seoul, is a hidden travel treasure waiting to be found. Read more about the Best things to do in Gangwon-do for your next ultimate Korea trip.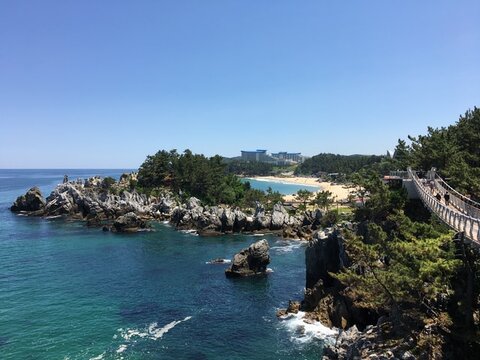 Gangwon Province, in the northeast of South Korea, is great because you can go on a day trip from Seoul. There are lots to see, taste, and do in Gangwon, from seductive natural beauty to real traditional food and even renowned Korean drama shooting locations.
Given how much there is to tour and do in the province, we suggest dedicating more than a few hours to genuinely exploring this off-the-beaten-path area. And the best way to accomplish it is to tour Gangwon Province like a local!
Visit Chuncheon and eat Chuncheon goodies
Chuncheon, the capital of the country's northernmost province, serves as a gateway to the region's harsh landscapes. Chuncheon, surrounded by lakes and rivers, is sometimes enveloped in fog, which gives the panorama of river islands, mountains, waterfalls, and woods in a mystical air.
Jade Garden Natural Arboretum
A must-visit is the Jade Garden Natural Arboretum, a well-maintained garden on a mountain. Don't miss the Jazz flower festival for camping and a nice picnic to relax.
Gangchon Rail Park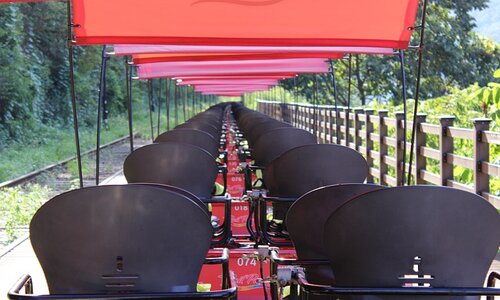 Then head off to Gangchon Rail Park, you may ride your bike along an old railroad bed while surrounded by enormous mountains and a river. In the company of friends and family, two-and four-seater carts give a romantic and pleasant experience of exploring the fields, mountains, lakes, and wonderfully painted caverns.
Gangchon Rail Bike Tours
Samaksan Cable Car
The nation's longest cable car, which runs over a lake at Samaksan Mountain in Chuncheon, Gangwon-do Province, commenced service.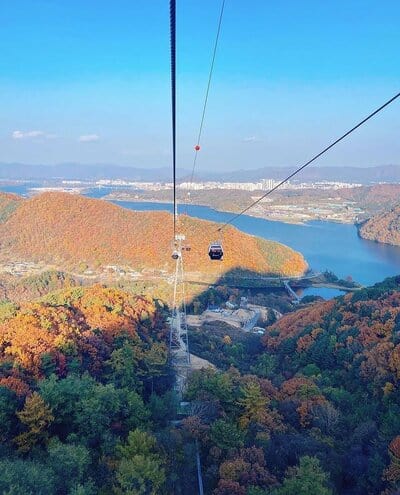 Tour Uiamho Lake
Tour Uiamho Lake by canoe on the Mulle-Gil for a unique experience. Many visitors flock here to try canoeing after being featured on renowned Korean TV series like "Two Days, One Night" and "Running Man." Mulle-Gil offers a variety of courses, including the Skywalk Course, Bungeoseom Island Course, and Jungdo Island Course.
Chuncheon Mulle-gil Canoeing
Dakgalbi
During your visit to Chuncheon, be sure to try some of the local specialties, such as dakgalbi, which is a meal of grilled chicken and veggies in a spicy gochujang sauce. Makguksu (cold buckwheat noodles), another Chuncheon delicacy, is a superb accompaniment to any order of Dakgalbi.
Chuncheon 3Hours Taxi Tour
Hongcheon: Experience the refreshing hills!
Hongcheon is a city in South Korea's Gangwon Province. The city is located southeast of Chuncheon on the northern bank of the Hongcheon River. The county's topography is primarily hilly, including hot springs in the Hongcheon River basin! Here are the best hot spots to visit!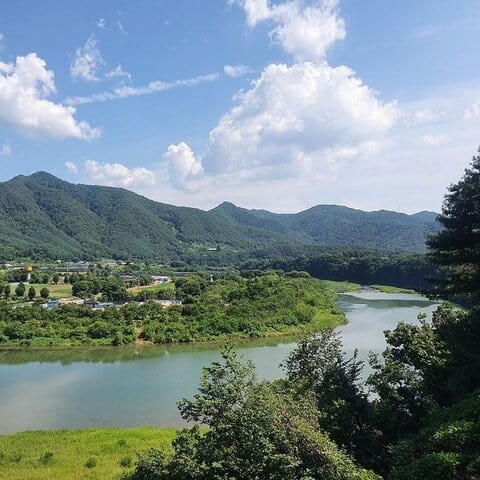 Alpaca World
Alpaca World is a site where you can watch alpacas roaming about in the wild, and it aspires to be a joyful place for nature, animals, and people. You may not only connect with, feed, and touch rare creatures such as alpacas, white deers, mules, hinnies, and ponies, but you can also see magicians and animal companions perform. You will be drenched in bliss provided by nature after you have had a picnic in the breezy and cool Starlight Plaza.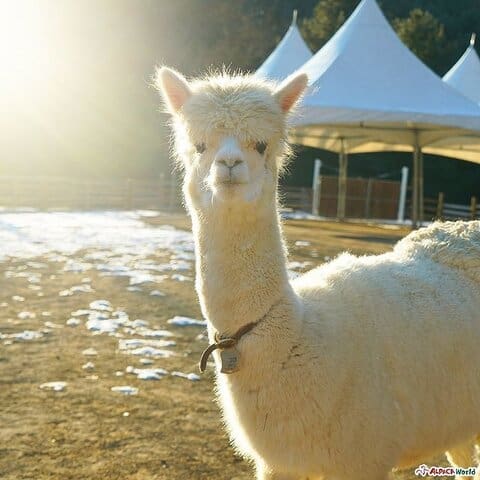 Alpaca World Related Tours
Vivaldi Park
Vivaldi Park, Korea's most popular ski resort, is continually upgrading its facilities and services to meet the demands of its visitors. With its modern eateries and attractive structures, Vivaldi Park claims to be Korea's most fashionable Resort, especially among the local youth.
Compare Ocean World Ticket Prices
Garisan Leports Park

Also, you must visit Garisan Leports Park and enjoy nature! There is something for everyone to do. You can zipline, play games, go on forest walks, and so much more.
Gong Jaksan Sutasa Temple
Gong Jaksan Sutasa Temple is an ancient temple. The gabled Paljak roofs of the Daejok shrine, a bronze bell, a three-tiered pagoda, and Wollnseokbo, a biography of Buddha that has been declared as a National Treasure, is among the temple's cultural assets.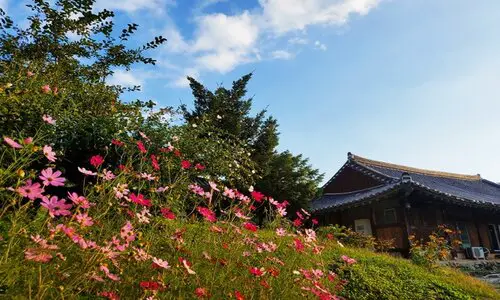 Wonju: The Modern Metropolis!
Wonju, during the Joseon Dynasty, served as the capital of the ancient Gangwon province. It is one of the biggest cities in Gangwon province. You will be able to see nature and IT all in one place.
Museum SAN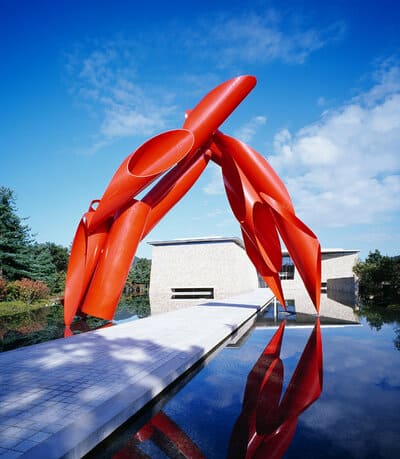 The Museum SAN (Space Art Nature) has historical attractions, exhibitions, historical heritages, and historical relics of the ancient Wonju region gathered and conserved throughout the Goryeo Dynasty at the museum's History Museum. In addition, different programs such as special exhibits, family movie theaters, and movie theaters manage various types of exhibitions to help people understand and appreciate our traditional culture.
Chiaksan National Park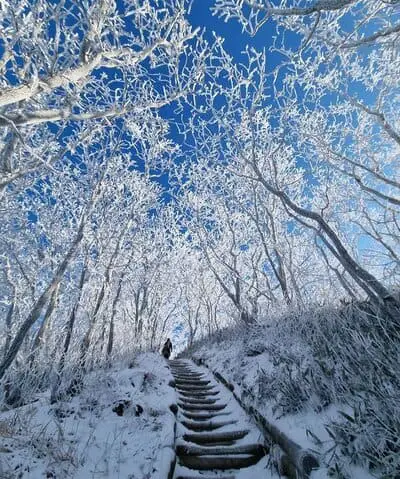 Moreover, Chiaksan National Park is the 16th national park in Korea since 1984. It is close to Wonju city and has many high mountain peaks and steep valleys. Go there to get close to nature and find healing. You can find the Guryongsa temple at the foot of the national park. Try a temple stay program. You can rest from the stress of life and find healing within the Chiak mountain.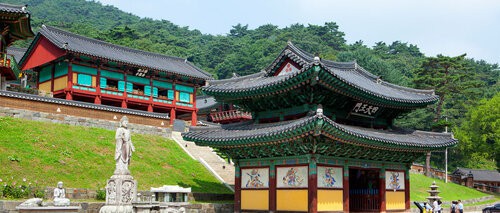 Sogeumsan Suspension Bridge
Then check out the Sogeumsan Suspension Bridge, one of Wonju's most fantastic attractions. It is Korea's most extended and most giant pedestrian bridge, with a length of 200 meters, a height of 100 meters, and a width of 1.5 meters. Visitors flock to this attraction for the sensation of strolling in midair.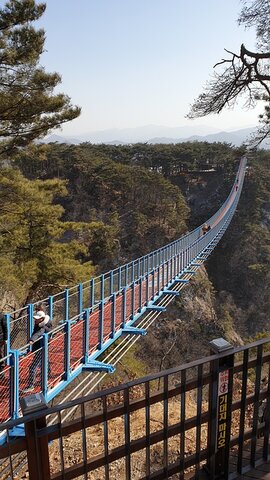 The Skywalk next to the bridge provides a spectacular view of the surrounding area. Anyone with bravery may go on the bridge since it has a protected deck at the entrance.
Oak Valley Resort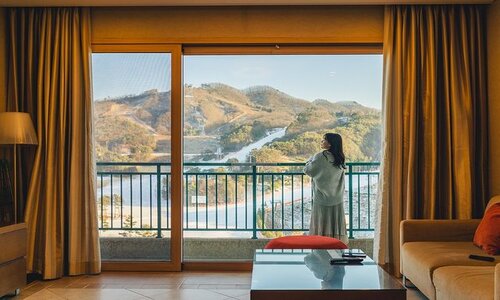 In Wonju, Oak Valley Resort has a restaurant, a fitness center, a bar, and a garden. This hotel has family rooms and a patio for visitors to enjoy. Guests may make use of the hotel's 24-hour front desk, concierge service, and currency exchange. So, What are you waiting for?
Pyeongchang: Ancient to Present!
Be it Pyeongchang's history or present; this place will have you tour it all! Here's how it will do so!
Woljeongsa Temple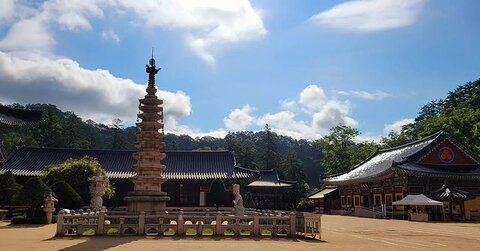 This route will lead you to the Woljeongsa Temple Fir Forest trails. This route is a fir woodland trail with around 1km. Even while this fir forest route is known for its greenery, the panorama is as breathtaking in the winter, when many of the woodland's gorgeous trees are blanketed in snow. This route is also well-known for being the location of the Korean TV drama 'Guardian: The Lonely and Great God.'
Sangwonsa Temple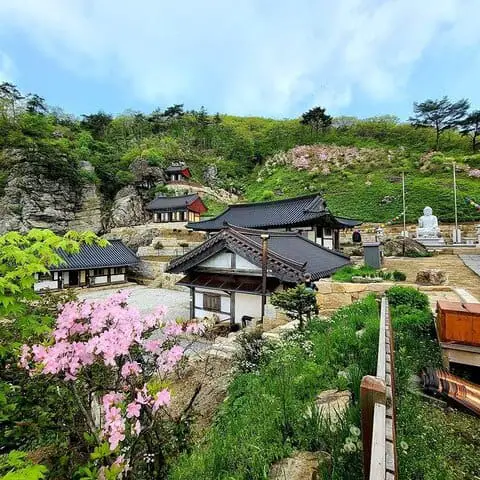 8 kilometers north of Woljeongsa Temple lies Sangwonsa Temple. The Bronze Bell of Sangwonsa (a National Treasure) is at the temple and is the country's oldest bronze bell. The bell has a height of 1.67 meters and a diameter of 91 cm. You can see a lovely, clear ring, and it was created during King Seongdeok's 24th year. Other relics in the temple include the Statue of Child Manjusri. It is reported to have been viewed personally by King Sejo. There is also a plaque signed by King Sejo commending the restoration of Sangwonsa Temple.
Let's jump to the adventurous part! The biggest ranch in Asia, Daegwallyeong Samyang Ranch, has been featured in several advertisements and dramas. The ranch will have shuttle buses running from time to time. When you reach the top of the ranch, you can see Gangneung and Donghae cities.
Then, Odaesan national park is spread across Gangneung-si, Hongcheon-gun, and Pyeongchang-gun in Gangwon-do (Province). It is over 303.929 square kilometers and is centered on Birobong with the majestic Sogeumgang (Valley) flowing below. The majority of Odaesan's summits are flat, and the slopes are sluggish, typical of Korean dirt mountains.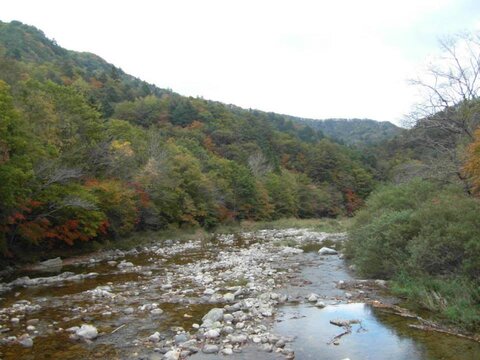 Herbnara
Herbnara is a place where you may learn about herbs from the garden to your own house. The extensive range of unique herbal tea blends, gastronomy, and potpourri are prepared with herbs cultivated on our farm. Farm Herbnara is a fun place for the whole family to visit. Come to Farm Herbnara and be enchanted by the beauty of nature and the delicious flavor of herbs.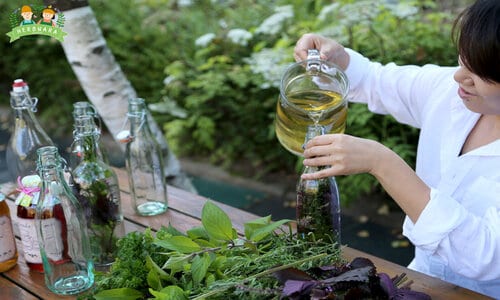 Balwangsan Skywalk
When you visit the Balwangsan Skywalk, you'll feel as if you're strolling through the clouds. Enjoy the natural splendor of Mount Balwang and enjoy a pleasant time! Then, book yourself with the ever-so-famous Pyeongchang Phoenix!
Pyeongchang Phoenix Stay with Your Puppy & BBQ Package
Welli Hilli Park
Welli Hilli Park is a ski resort in Gangwon Province, South Korea. To enjoy, book your stay at Pyeongchang with popular and superb resorts such as Alpensia resort and Yongpyeong Resort!
Taebaek: An Attractive Tourist Destination
Taebaek is a city in South Korea's Gangwon province. It has the same name as the Taebaek Mountains. Taebaek is the tallest city in South Korea, at 650 m to 700 m. Here are the attractive tourist spots!
Mangyeongsa Temple
Mangyeongsa Temple in Hyeol-dong is a temple created to house the Bodhisattva of Wisdom, located at the height of 1,460 meters in the Taebaek Mountains.
Tongri-Tan Tan Park
Tongri-Tan Tan Park is a new tourist attraction in Taebaek that debuted recently. This theme park with an IT display is where abandoned mining resources have been turned into a tourist attraction. Visitors may enjoy a variety of digital material as well as ride-on go-carts.
O2 Resort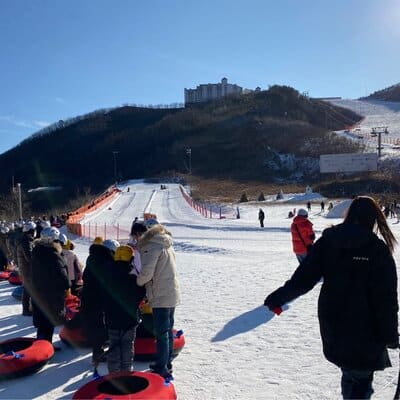 Taebaek is home to the O2 Resort. If you're searching for something to do, go to High 1 Ski and High 1 Country Club, while those seeking local attractions could go to 365 Safetown and Taebaek Paleozoic Natural History Museum.
While you're in town, why not take in a show or a game?
Yeongwol: Amusing and Amazing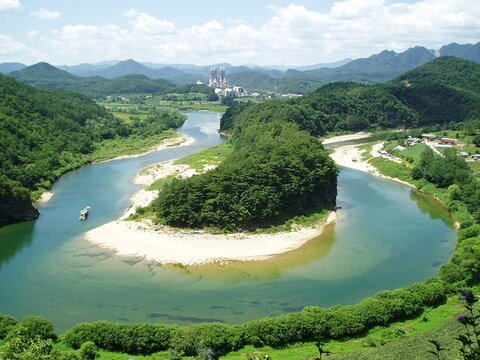 We have got some hot spots for you here! The Korean Peninsula-shaped cliff, situated in Yeongwol, Gangwon Province, is noted for its well-preserved environment. It is one of the most well-known destinations for its fascinating scenery. When you visit the site, compare it to a satellite image of the Korean peninsula to see how similar the two are.
Youngwol Y Park
Next is the Youngwol Y Park a great place for the entire family to witness masterpieces. You will be able to walk throughout the park and see the huge art pieces shine among the natural beauty. This location is also within an hour of Resom Resort, an incredible spa and sauna, so you could combine the two and stay in the region.
Jeongseon: A bunch of Varieties
Jeongseon Rail Bike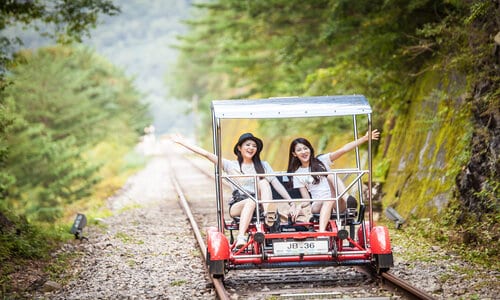 In Jeongseon, the rail bike is a novel leisure activity that mixes pedaling along a train with picturesque vistas. Jeongseon Rail bikes are pretty widespread in Europe's hilly areas. The sport is played on a decommissioned railway track that connects Jeongseon's Auraji and Gujeol-Ri. A railbike, despite its size, rides smoothly, and one person can easily pedal a four-person rail cycle at speeds of 10 to 30 kilometers per hour.
Hwaam Cave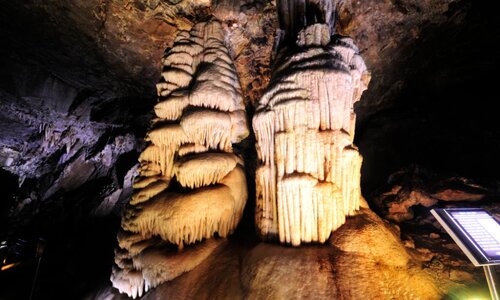 Hwaam Cave, formerly known as the Cheon Po gold mine, is Asia's biggest limestone cave and was Korea's fifth most prolific gold mine. As a mining museum and tourist attraction, the mines and cave system are now available. Visitors enter via a monorail ride (or a strenuous climb) at the top of the mine, then descend into the caverns, passing through many diverse areas of history and spectacle. Hwaam Mineral Spring is one of Hwaam's Eight Scenic Sites, and it delivers carbonated water that is supposed to be beneficial to stomach and skin ailments. Surprisingly, the water in the valley's streams is merely typical freshwater.
Romy Zian Garden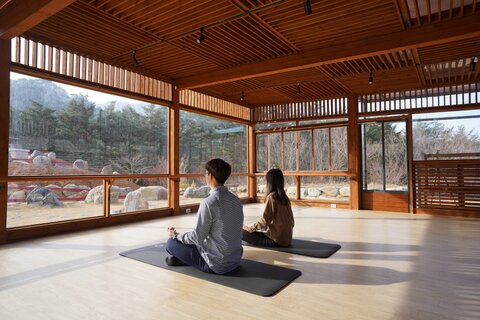 Go to Romy Zian Garden with one book in a light bag. In the shelter of a lonely woodland, you may read and communicate with nature. Alternatively, sit on Arii Hill overlooking Jeongseon's gorgeous environment and draw, or relax while listening to nature's noises at Geumgang Pine Forest Park. Surrounded by flowers, wind, forest, and light, High1 Resort is a National Rest Area. Spend your family vacations at High1; the Healing Sanctuary is open all four seasons.
Gangneung brings you knowledge with fun!
Arte Museum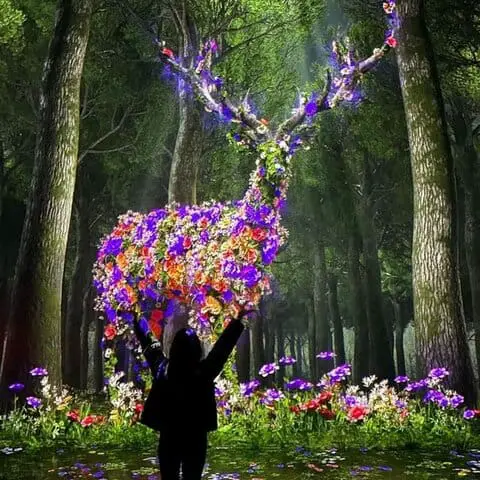 Arte Museum is Korea's most extensive immersive media art exhibition, organized by the district. Also, a world-class digital design firm best known for the public media art "WAVE," shown at Coex. The large area of 4,600 sqm with a maximum height of 10-meters, formerly a speaker manufacturing plant. It has been renovated to offer you ten new, vivid media art shows via mixing light and music. With their striking sights, seductive sounds, and delicate smell, the media artworks produced around the concept of ETERNAL NATURE deliver a completely immersive experience.
Haslla Art World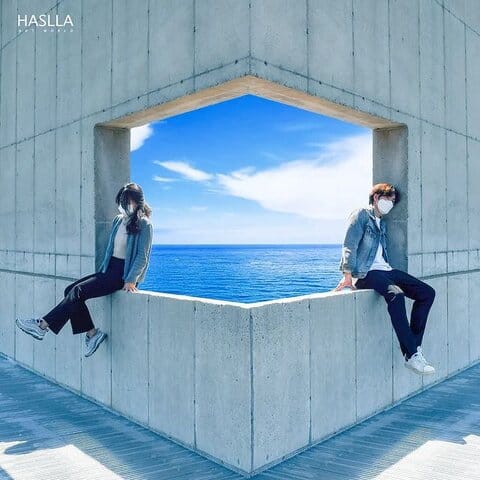 Haslla Art World is a fantastic art museum; it allows plenty of time to explore the expanding outside section, brimming with sculptures ranging from tiny to massive.
Gyeongpo Beach
Gyeongpo Beach is Gangneung's most well-known beach, drawing visitors of all ages. It is the most beautiful beach in Gangwon-do and I go there often to clear my head. The colors of the water especially in summer will make you feel like you are on an island.
BTS Album Jacket Filming Locations Tour from Seoul
Jumunjin Fish Market
If you prefer being near the shore, the vibrant Jumunjin Fish Market and Gyeongpo Aquarium are well worth seeing. The Jeongdong-Simgok Badabuchae-Gil Trail was built to provide a diverse range of views of coastal terraces that have never been seen before. Between the magnificent sea and the coastal terrace, the water is veiled by coastal guard stations and barbed-wire fences, creating a sorrowful feeling.

Anmok Coffee Street
Anmok Coffee Street in Gangneung is a popular hangout for residents in Gangwon Province. This ambient position along Anmok Beach is probably The hanging destination in the city, especially among the young and young at heart. It is also unquestionably one of Gangwon's must-see attractions.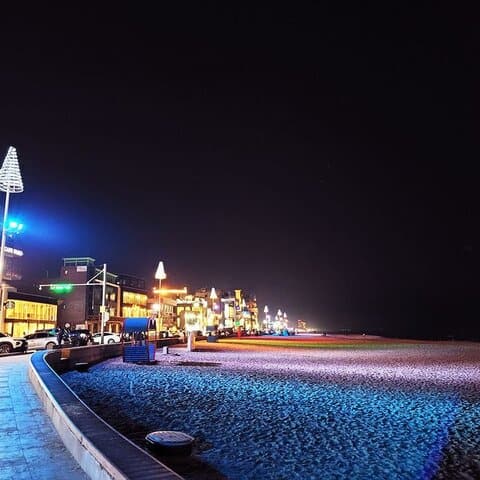 Jumunjin Breakwater
Jumunjin Breakwater is a fantastic K-drama shooting location. Fans of the iconic Korean drama series Guardian (2016) will instantly recognize this place. It was here, after all, that the two central protagonists famously first met.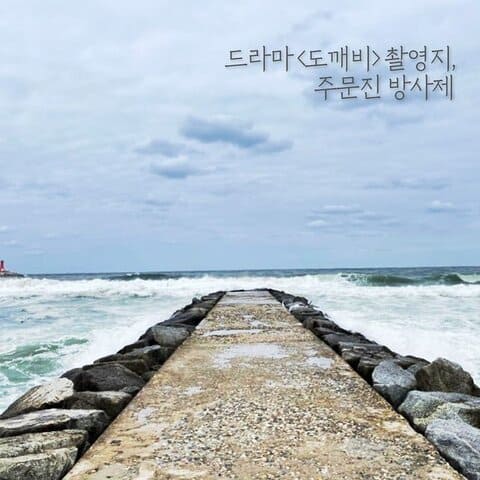 Chuam Chotdaebawi Rock
Chuam Chotdaebawi Rock, surrounded by ten other rocks, is a stunning sight. The wonderfully shaped rock rises far into the sky and is named because it resembles a candlestick. "Chote" means "candle" in Korean, and "bawi" means "rock"; literally, "candle rock."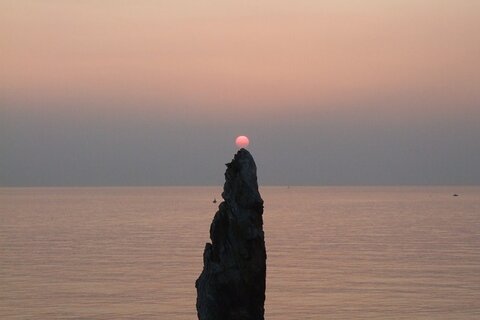 Samcheok: Caves, Beaches, and Falls
Hwanseon Cave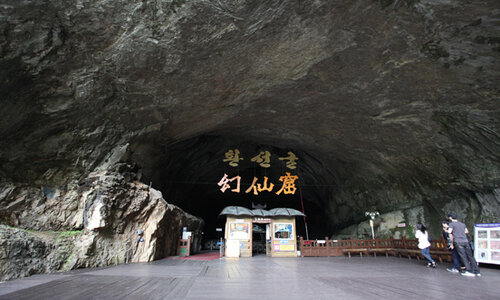 The most significant cave on Korea's East Coast, Hwanseon Cave, is in Samcheok's Daei-ri district. The Taebaek-san Range, which forms the backbone of Korea, is where limestone caves are concentrated on the mountainside valleys. Sadari Bahwe Cave, Yanhtuh-mokseh Cave, Daegeum Cave, and Keunjehseh Cave are nearby caves.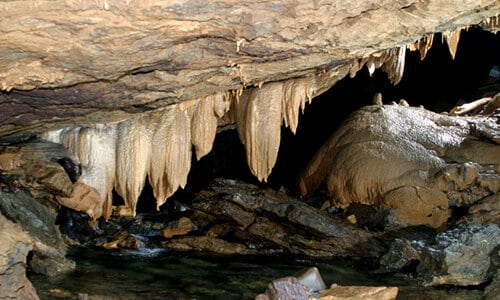 Cable Cars
Korea's Grand Canyon is Korea's most significant limestone region, covering almost 6.6 million square meters. Samcheok is famous for having marine cable cars like no other place can have!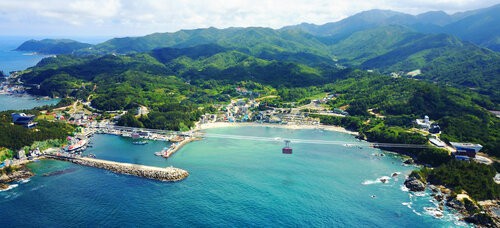 Janghohang Port
The Janghohang Port is located just outside Samcheok's downtown area. The port is the "Naples of Korea" because of its circular beach line and white sand beachfront. Janghohang Port provides spectacular views of the sea's distinctive rock formations from the shore.
Samcheok Beach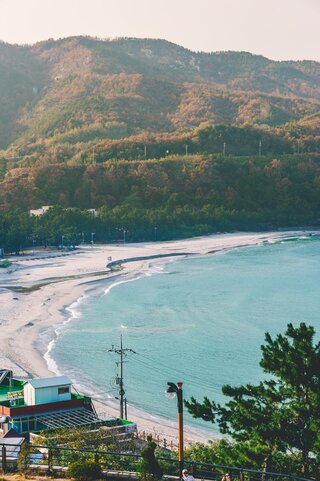 This Beach offers a 1.2-kilometer-long, 100-meter-wide white sandy beach that is readily accessible. Beachgoers flock to the area every year because of its pine tree forest, white sand, and shallow waves. Other amusing activities include a barehanded flounder fishing tournament.
Miin Waterfall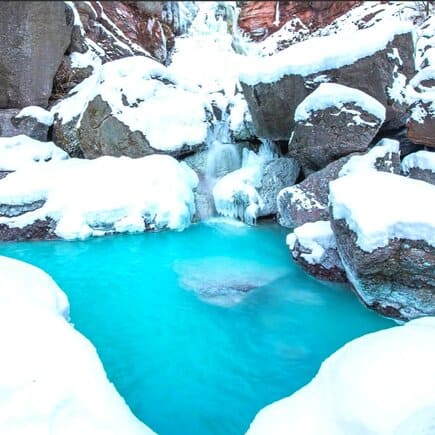 The Miin Waterfall is quite beautiful, with pure water cascading down from many levels. Sounds so peaceful and relaxing!
Sokcho: The Evergreen!
Sokcho is appealing in any season. Extreme ice climbers conquer the frozen Towangsung Waterfall, while others enjoy Lake Youngrang's ice fishing. Summer festivals are at Sokcho Beach, and the Seorak Cultural Festival is in October. Here's what it offers!
Seoraksan Mountain National Park
Seorak Mountain is the tallest peak in the Taebaek mountain range in eastern South Korea's Gangwon Province. It's near the city of Sokcho. Cable cars are mainly used for hiking this mountain!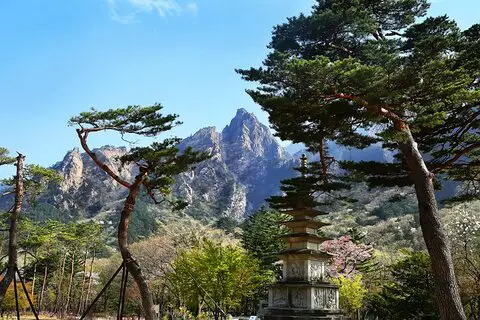 Jungang Market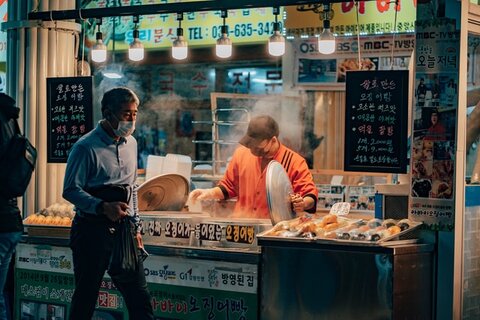 Jungang Market has become Korea's largest dried seafood and seaweed market. Traditional marketplaces, such as Jungang Market, are excellent representations of everyday life in Korea.
Oeongchi Bada Hyangiro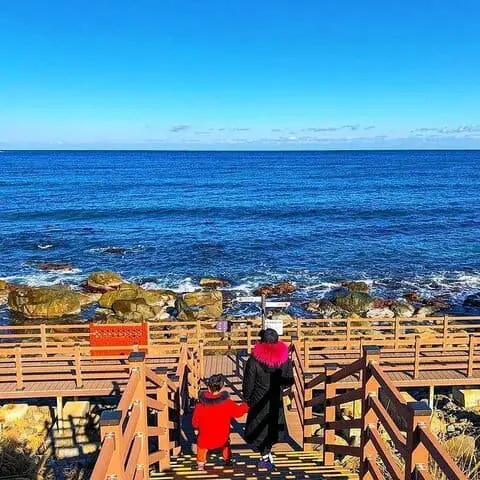 Oeongchi Bada Hyangiro has some fantastic restaurants nearby that you must try! In addition, Alive Museum tickets combined with Dynamic Maze tickets provide you access to two of the city's most fascinating attractions. So, what are you waiting for? Why not add this to your list?
Sokcho Alive Heart & Dynamic Maze Ticket
Sokcho 3Hours Taxi Tour
Head to Yangyang's Surfing Culture!
Yangyang is South Korea's Bali, a genuine surf paradise, and a great place to visit! Everything in Yangyang is so devoted to the surfing culture that even the public restroom signs are in the form of a surfboard.
A tiny mountain separates the beaches of Ingu and Jukdo Jeong in Yangyang. Jukdosan, a lovely coastline promenade constructed around the mountain, is a must-see. You'll find a little temple snuggled into the rock around halfway along the trek. Jukdoam is the name of the temple.
Hyuhyuam Hermitage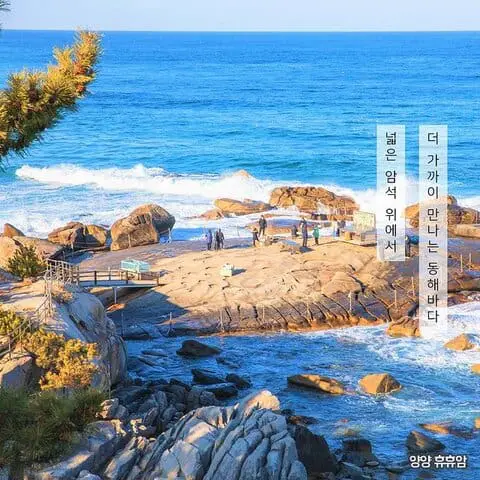 Another lovely temple near the sea is Hyuhyuam Hermitage. It means "Rest and Rest Again" in English. Because this setting is so soothing, you'll immediately understand why.
Yangyang 3Hours Taxi Tour
Donghae: Natural Resources
Donghae is a city in South Korea's Gangwon Province. The city is mainly hilly, with natural resources including Mureung Valley and lovely beaches. As a result, we'll suggest the top places to visit in Donghae!
Mureung Valley
The Mureung Valley is located between the Dutasan and Cheongoksan mountains. A flat granite slab stretches across the opening of Mureung Valley, providing a resting spot for hikers before ascending.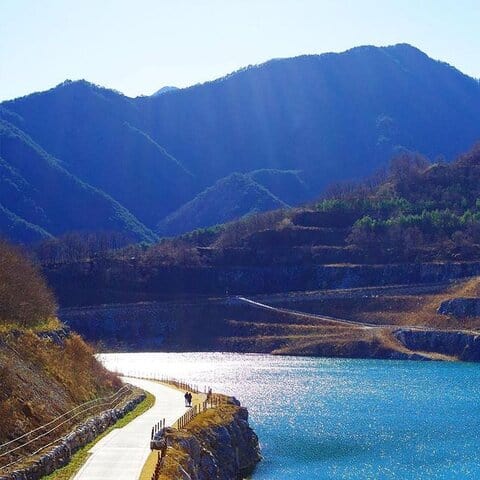 Famous artworks adorn the walls of this location. During your visit to Donghae, why not spend a relaxing day at Mangsang beach?
Mangsang Beach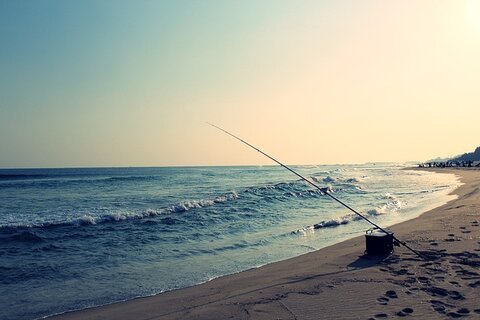 While you're in the neighborhood, make time to explore the theme park and temples. And, amid your fantastic tour, don't forget about Hanok village. Enjoy the wonderful Cultural and rural life of Hanok village!
Cheorwon: History and chemistry!
Cheorwon Peach Observatory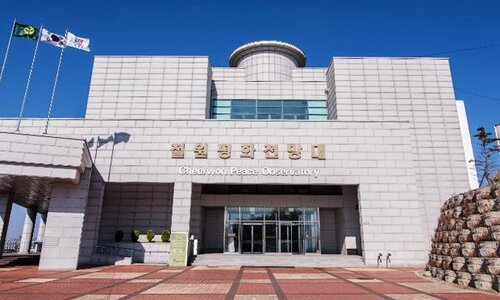 Cheorwon Peace Observatory is a vast museum that includes the history of DMZ. It's on the left side of the road as you approach the Goseong Unification Observatory, within the Tongil Security Park. In addition to the scenery, you can experience prehistoric ruins, the Three Kingdoms era, and modern and contemporary historical ruins. Not to mention, the life of residents living in modern times on the Han River columnar joint road, which is 27.9 kilometers long and surrounds Hantan River on the Yeoncheon side.
Sambuyeon Falls

A three-stage waterfall around 20 meters high and in the granite region amid Mount Myeongseong (870 meters). It was made during the Cretaceous era by water cutting (eroding) down the granite on the surface. The granite that makes up the waterfall is said to be 110 million years old (Hwang Jae-ha and Kim Yu-bong, 2007). Because the water stream is interrupted three times and the lowest half of the waterfall is dented like a cauldron, the name Sambuyeon Waterfall is derived from "bu," which means cauldron. It was possible to see spectacular hexagonal and polygon-shaped features in the basalt surrounding the Jiktang Falls.
Jiktang Falls

When you look around the Jiktang Falls, though, you'll see that multiple layers of lava (the basal layer) are layered on top of each other. Lava rushed down the Han River, filling it and piling up, as it frequently erupted from the Chugaryeong Tectonic Valley. The lava layer of Jiktang Falls is primarily separated into two units since the porous structure that can be seen on the surface of the lava at the unit's border can also be seen on the lava layer of Jiktang Falls.
Inje: Lovely tourist spot!
Wondaeri Birch Forest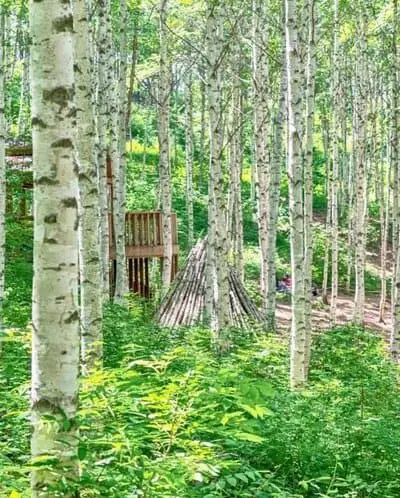 Here's why it is a lovely tourist spot! Wondaeri Birch Forest is a lovely natural preserve in Inje with various picturesque hiking trails. Tourists may immerse themselves in the quiet forest, majestically rising to the blue sky with towering white bark birch trees.
Baekdamsa Temple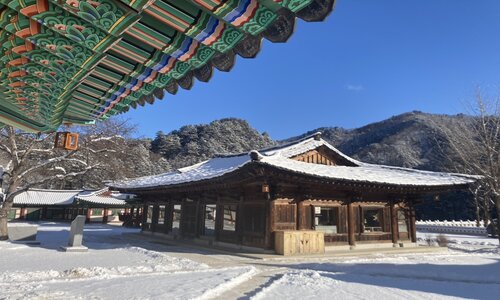 A hidden gem deep inside Inner Seorak, with a breathtaking backdrop. With the temple surrounded by the tiered foothills of Inner Seorak, the view surrounding Baekdamsa is already breathtaking. Still, when the fall leaves set the trees ablaze with crimson hues, it's as if nature has carefully arranged this vision of indescribable beauty.
Soyanggang Skywalk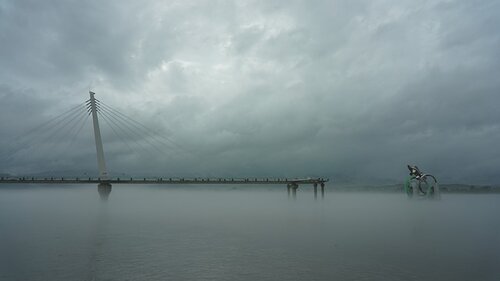 Soyanggang Skywalk is a 156-meter walking route built entirely of translucent glass that provides a stunning view of Uiamho Lake. The Skywalk is 7.5 meters over the ocean, so it may be a little nerve-wracking for some, but it's well worth it if you're courageous enough.
Inje Secret Garden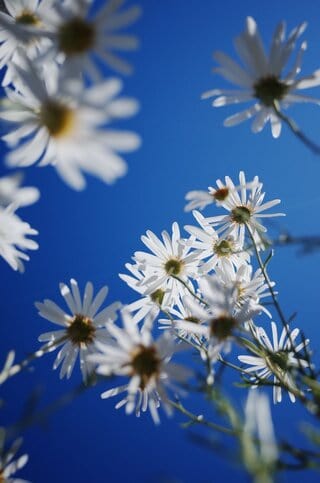 Inje Secret Garden, in Gangwon Province, is a hidden gem. The fall foliage at Inje Secret Garden is unquestionably gorgeous, even though it is not available to the public. Autumn-colored mountains lined together in a row. This isn't your typical park. Instead, it resembles a forest, complete with natural and artificial paths.
Goseong: North Korean tour!
Tongil Unification Observation tower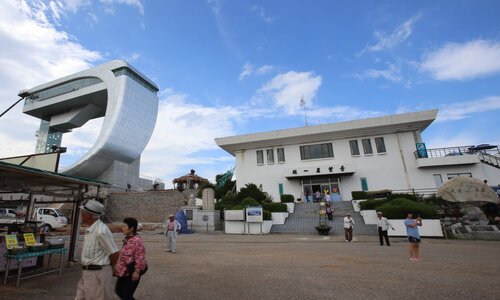 Tongil Unification Observation tower is the closest place to view the Geumgansan mountain in North Korea. You can book a tour with the popular Tongil Tours. It is the first North Korean tour agency with solely academic personnel who speak Korean. Tongil Tours aims to provide tour participants with a memorable experience in North Korea and a more profound knowledge of the nation and its people.
Songjiho Dulle-Gil
Songjiho Dulle-Gil hiking Trail is a 3.2-mile trail in Gangwon-Do, near Goseong-gun. This route is simple and includes an elevation gain of roughly 160.7 feet.
DMZ Museum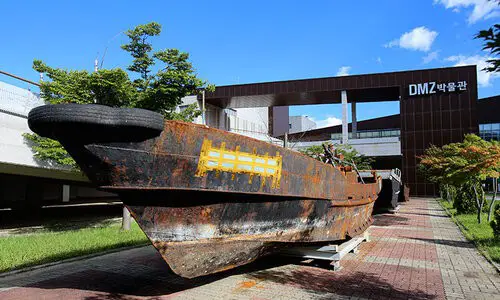 The DMZ Museum depicts the South Korean perspective on the North Korean war. The artifacts are well-presented and exhibited. If you like reading, you could easily spend an entire day here. Keep in mind that this museum is in one of the world's most active military zones. Yet no shots have been fired in decades.
Conclusion
Finally, there you have it: a comprehensive guide to the Best things to do in Gangwon-do like a native. Of course, there's much more to see and do in Gangwon than what's on the list. A day trip is great, but we suggest staying longer to experience the beauties of this overlooked place! Do spend some time in Gangwon the next time you're in South Korea and explore its rural attractions!
You may also like: