Excited to visit Nami Island and take some Winter Sonata inspired pictures? Well, don't just only visit there, but also visit more awesome tourist destinations in the city of Chuncheon! With how famous Nami Island is, this capital city of the Gangwon Province is rapidly developing its tourism industry, maintaining its beautiful nature lakeside scenery as the city's name means, "a stream that flows when spring comes." Also, did you know Chuncheon is the birthplace of Dak-galbi (stir-fried chicken) and Mak-guksu (buckwheat noddle)? I bet you've seen them in many K-dramas! And if you come in August, you can attend the Chuncheon Chicken Ribs & Mak-guksu Festival. So make sure to try some!
Here are the top 12 attractions and things to do in Chuncheon, Gangwon-do.
Top Attractions and Things to do in Chuncheon
Samaksan Cable Car (삼악산 케이블카)
Start your visit with a magnificent overview of the whole city with the Samaksan Cable Car connecting Samak Mountain to Lake Uiam. It's also the longest cable car trail in South Korea, with a total of 3.61 km. You can also enjoy refreshments and buy souvenirs inside the building while enjoying the Samak Mountain view. A round trip costs 23,000 KRW ($16.19 USD) (adults) and 17,000 KRW ($12 USD) (children). 
Nami Island (남이섬)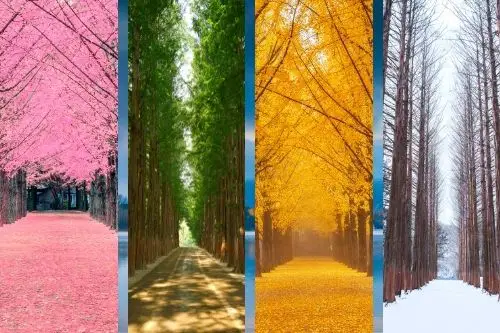 Perhaps the most popular place in this list, Nami Island becomes an international sensation as the filming location of Winter Sonata (2000). Entering the area is like entering a new world, with forest trails, walking paths, lush foliage, and many photo spots! You should visit the Metasequoia and Gingko Tree Roads (best to visit during autumn). Other attractions are the UNICEF Hall, the Song Museum, and many restaurants to try. The entry fee costs 13,000 KRW ($9.15 USD) (adults), 10,000 KRW ($7 USD) (teenagers), and 7,000 KRW ($4.9 USD) (children). Learn more about Nami Island with our article, Best Things To Do in Nami Island & Getting There.
Find & Compare Nami Island Tours
Gangchon Rail Bike (강촌 레일바이크)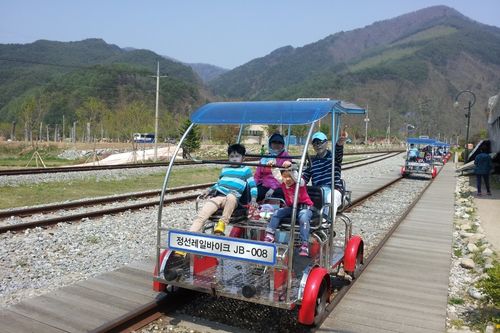 This place used to be the Gangchon Station and was converted into a rail park in 2012. It's located in Gangchon Village. Visitors usually rent a bike and ride alongside the railway line with the view of the Bukhan River or take a leisurely stroll through the paved railway tunnel. It's a relaxing and healing experience if you want to enjoy some peace and quiet! It's also the filming location of popular dramas like The King: Eternal Monarch (2020) and Vincenzo (2021). From March to October, it opens from 9 a.m. to 5 p.m., and from November to February, it's from 9 a.m. to 3:30 p.m. For the Rail Bike operation hours and price, visit their website.
Check Out Gangchon Rail Bike Ticket Price



Jungdo Mullegil Canoeing (중도물레길 카누)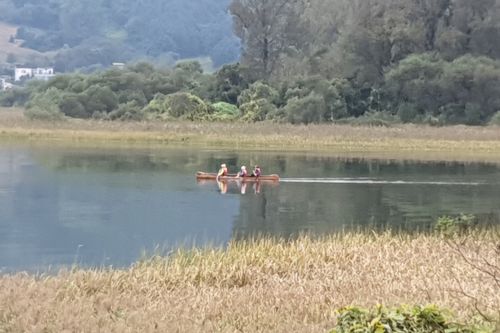 If you want to spend a hot summer vacation here, enjoy water sports like canoeing on the Jungdo Mullegil Trail. It's located at Lake Uiamho and is a popular local and international destination for the romantic and calming canoeing experience. The site is also an eco-tourism center that preserves the rivers and lakes. Admission is free and open year-round except for winter.
Check Out Jungdo Mullegil Canoeing Ticket Price

Hajungdo Eco Park (하중도생태공원)
The Hajundo Eco Park is an ecological park on Hajungdo island in Lake Uiam, located south of Hahakdo Island. The large waterfront area is usually used for family picnics, sports activities, and walking along the trails around the island. There are also several rest areas and tables to eat or do your work. You can reach here by car as the Chuncheon Bridge connects it. The entrance is free as it's a public space.
Soyanggang Dam (소양강댐)
At 123 meters high, 530 meters long, and can hold up to 29 million tons of water, the Soyanggang Dam is the largest in South Korea. The dam borders the Gangwon-do cities and several districts in Chuncheon, Hongcheon, Yanggu, and Inje. The water comprises the Soyangho Lake, the country's biggest man-made lake. The sound of the water will be a perfect companion as you have your morning jog on the walking trails. There are also many restaurants and other attractions nearby. 
Cheongpyeongsa Temple (청평사)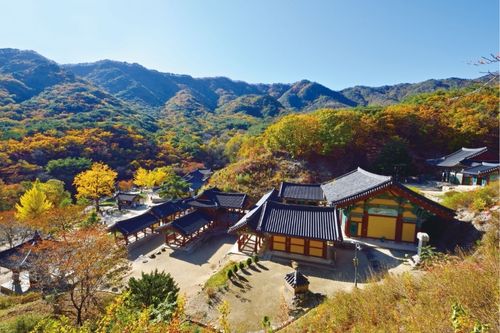 The Cheongpyeongsa Temple, built in 973 during the Goryeo dynasty, is located on the slopes of Obongsan Mountain. It underwent several reconstructions, especially during the Korean War, but it retains a beautiful natural landscape and historical buildings. Some notable sites are the Hoejeonmun Gate of Cheongpyeongsa Temple (Treasure No. 164), the Three-story Stone Pagoda of Cheongpyeongsa Temple (Gangwon-do Cultural Heritage Material No. 8), and Stupa of Yi Ja-hyeon (posthumous epithet: Jillakgong). You can reach the temple by ferry from Soyang Lake Ferry Dock. 
Jade Garden Arboretum (제이드가든)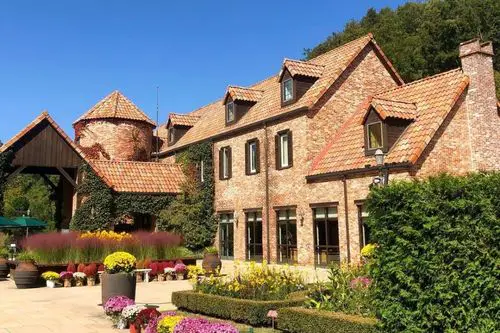 Known as a popular filming location and designed with European architecture, the Jade Garden is a huge botanical garden complex with over 24 themed garden zones. Right when you enter, you'll see the Visitor Center in a Tuscany-style building, just like you're in Italy! Other areas are the English Border Garden, the Italian Wedding Garden, and several walking trails such as the Tree Scent Trail, Maple Tree Trail, and Forest Breeze Trail. There are also restaurants and souvenir shops. It opens from 9 a.m. to 11 p.m. Check more information and price on their website.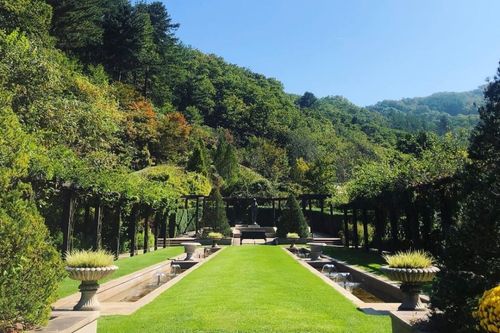 Check Out Jade Garden Ticket Price

Website: https://www.hanwharesort.co.kr/irsweb/resort3/eng/tpark/tp_intro.do?tp_cd=0400
Eating Chuncheon Dak-galbi and Mak-guksu (춘천닭갈비와 막국수)
You can't leave Chuncheon before having one good dak-galbi and mak-guksu meal! Dak-galbi is a spicy stir-fried marinated chicken in a gojuchang-based sauce. Restaurants usually cook it on your table in a big hotpot plan, and you can eat it right away with other side dishes. It's a very popular dish for going out with friends since it's more fun to eat together. 
Mak-guksu is a traditional Korean buckwheat cold noodle salad. It's a true specialty of the Gangwon Province. One meal consists of noodles, chicken, vegetables, gochujang sauce, and soy sauce. And like a salad, you mix it all together. 
To eat these authentic dishes, visit Chuncheon Myeongdong street. This is where the famous Dak-galbi Street is located, where you can find many dak-galbi restaurants!
Skiing at Elysian Gangchon Ski Resort (엘리시안 강촌 스키 리조트)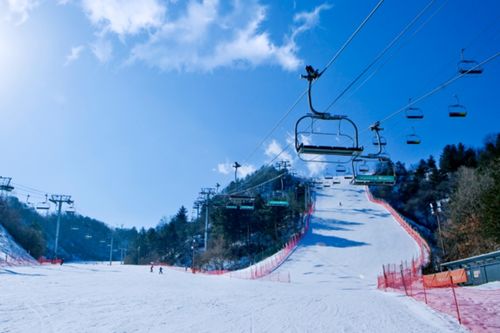 Chuncheon is not only best enjoyed during the summer but also during the winter season. The Elysian Gangchon Ski Resort offers many slopes and ski trails for all ages, even for children! There are ten slopes, with a practice slope for first-timers and ski camps. Aside from the ski facility, the resort also has an Elsuite hotel resort, a gold course, and banquet and wedding sites. Check the rental fee on their website.
Check Out Elysian Gangchon Resort Activities
Gubongsan Observatory Cafe Street (구봉산 전망대 카페거리)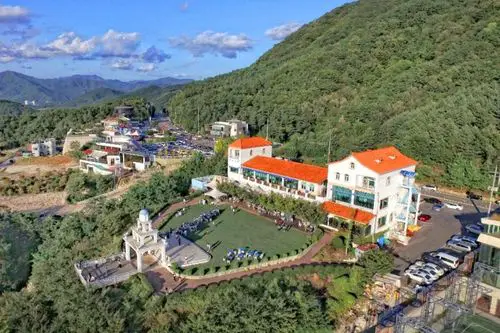 Enjoy a relaxing afternoon cafe time with a beautiful scenic background of the mountains, lake, and river. Cafe street is located in downtown Chuncheon in the Gubongsan Mountain. All the cafes have a glass panel and terrace, so you can directly see and feel the panorama view while you enjoy a cup of coffee. Aside from the cafes, there are also a glass skywalk and many photo spots. 
Chuncheon Lego Land (춘천 레고랜드)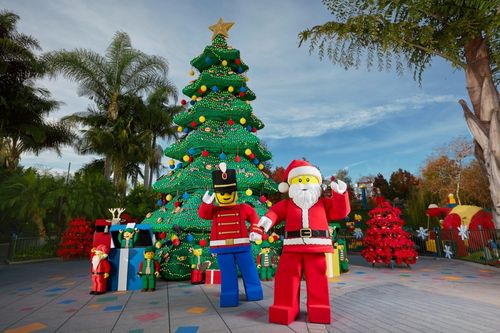 Yep, South Korea also has its own Legoland! The Chuncheon Legoland is the 10th Legoland attraction and is the second largest in the world. The massive vacation playground and resort are located on Hajung Island at the center of Uiam Lake. They have many different rides, shows, and attractions across 7 theme zones, including Pirate Shores, LEGO Castle, Miniland, Bricktopia, and many others. It opens from 10 a.m. to 5 p.m. You can check their ticket package and bundle offers on their website.
That sums up the beauty and fun of Chuncheon and the unique attractions you won't find anywhere else in South Korea. Make sure to check them out and have fun!
You may also like: