Last Updated on September 19, 2023
Fall has come! Korea's four seasons each have charms and related activities that everyone can enjoy throughout the year. However, Fall in Korea truly has a unique "flavor" to it, and I believe that anyone visiting Korea should witness the Fall season in all of its glory.
From Seoul to the countryside, there are different places that you can go to feel the presence and beauty of Fall. Eat the most delicious seasonal foods and enjoy the most meaningful activities during the right season.
Here are 10 places to go to witness the beauty of Fall in Korea!
Top Places to Experience Fall in Korea
Neighborhood of Insa-dong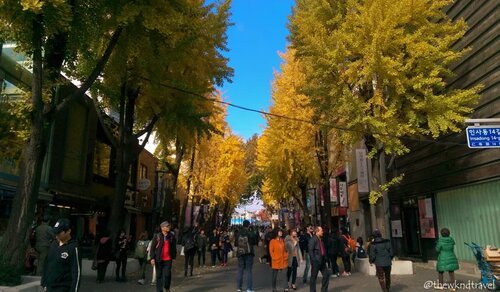 Many already know of the traditional village of Insadong. Near Bukchon Hanok Village, Insa-dong has kept traditional Korean architecture and art as its signature. Its main avenue is surrounded by large Ginko trees, and the orange hue they sport during the Fall makes for fabulous Instagram pictures.
Location: 19 Insadong 11-gil, Jongno 3(sam), Jongno-gu
How to get there: You can find Insadong through exit 6 of Anguk Station. Less than 200 meters straight ahead is the Insadong main street to your left.
What to do: you can visit Insa-dong's countless galleries, highlighting both modern and traditional art. Admire pottery and handicrafts made by locals and visit the small and charming antique shops around the district.
What to eat: you can find traditional Korean food, including temple food, in Insa-dong. Try traditional coffees and teas after your meal for the ultimate experience. There are many useful guides on the best food to have in Insa-dong.
Bukchon Hanok Village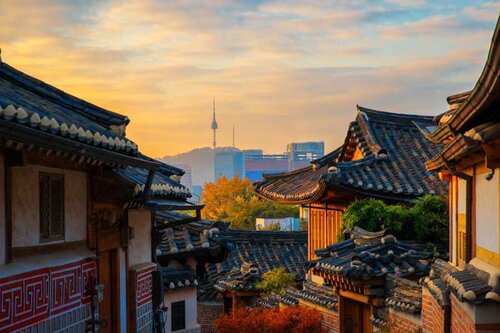 Bukchon Hanok Village is home to traditional Hanok houses dating back to the Joseon dynasty. As you walk around the homes with the Fall leaves around you, you will surely take the most breathtaking photos. Get the whole experience of traditional Korean culture, with architectural wonders and delicious foods.
Location: Kyedong-gil 37, Jongno-gu
How to get there: take the subway to Anguk Station (Line 3). From exit 3, head to your right for about 200 meters. Then you will soon see the information signs that signal the entry to Bukchon Village.
What to do: You can rent a Hanbok to look your best as you walk around the many cultural centers, eat a delicious meal at one of the many restaurants, and grab traditional tea in one of the tea houses.
What to eat: Bukchon Hanok Village has so many different options that it would be impossible to list them all. Check out the top 10 restaurants according to travelers.
Yonsei University's Cheomsongdae Park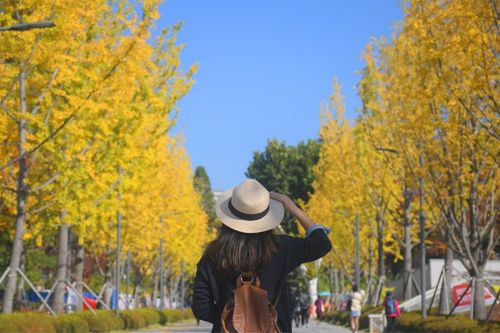 As a Yonsei graduate, I cannot help but recall the times I took a walk in Cheomsongdae Park between classes. The small forest with hiking trails is Yonsei's most popular photo zone. Originally a space created for meditation and healing, the park preserves the natural environment of the forest and looks mesmerizing during the Fall, thanks to the leaves turning a shade of bright red in many spots. The refreshing air is ideal for resting if you are visiting the campus.
Location: Yonsei University, Seoul
How to reach: You can take the subway or a bus to Sinchon station. Exits 3 and 4 of the subway will take you directly to the avenue that runs to the University's main door.
What to do: Yonsei is a beautiful campus that is worth visiting. After you visit, you can also explore Sinchon, the college town. It has countless restaurants, fast-food joints, and stores, but also shopping malls and movie theaters. You can also enjoy busking, depending on the temperatures outside!
What to eat: Yonsei has a food court that includes Korean menus, Japanese food, and other foreign foods. Outside of Yonsei, you will find just about anything in Sinchon. Pizza, pasta, wine, Korean street food, and foreign foods are everywhere. If you want to try Korean fast food all in one place, I recommend the restaurant Pomato in Sinchon. It's affordable and delicious!
N Seoul Tower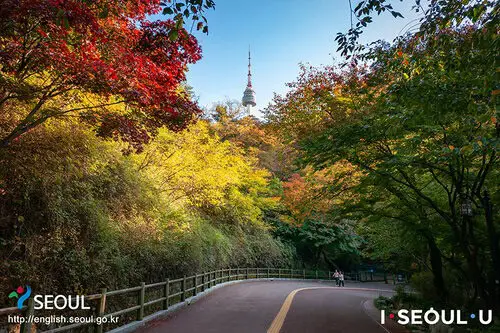 Also known as the N Seoul Tower, the Namsan tower is a romantic's dream, especially in the fall. You can oversee Namsan park and its various hiking trails decorated with beautiful reds and yellows, framing the Seoul Tower perfectly.
If you are visiting as a couple, Namsan is a must-see spot! When you go to N Seoul Tower, don't forget the lock that will protect you and your lover's unchanging love. If you rent a hanbok as well, it will be the best photo of your life.
Location: 105 Namsangongwon-gil, Yongsan-gu
How to get there: From Myeongdong Station, walk to the Namsan Cable Car Station and take the cable car to Namsan and the N Seoul Tower.
What to do: I highly recommend getting on the cable car to get a full view of the breathtaking scenery.
What to eat: Enjoy an old-fashion Korean version of the Tonkatsu with spicy sauce right at the bottom of the tower.
Changdeokgung Palace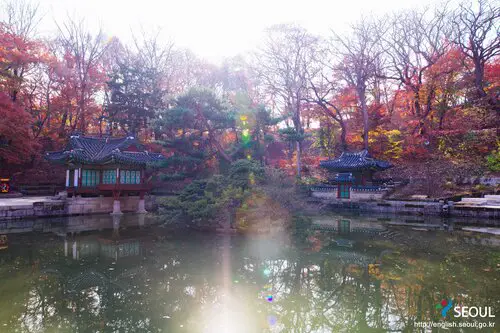 The historical architecture blended with the colors of Fall is what is waiting for you if you visit Changdeokgung Palace. Bright yellow leaves make for the most beautiful pictures, especially if you are wearing a Hanbok for the day. Make sure to check out Changdeokgung Palace's secret garden!
Location: 185, Changgyeonggung-ro, Jongno-gu
How to get there: Walk for 5 minutes from Anguk Station's Exit 3 or for 10 minutes from Jongno 3 (sam)-ga Station (Subway Line 1, 3 or 5)'s exit 6.
What to do: Visit the beautiful historical landmark for 3,000 won ($3) only!
What to eat: There is an extensive list of the best places to eat around the palace.
Bulguksa Temple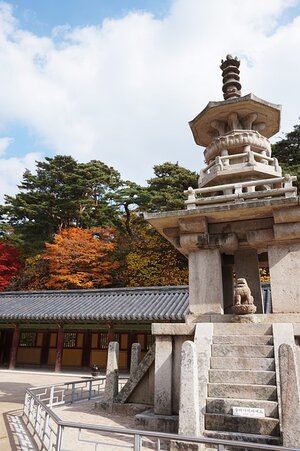 Watch the traditional tea ceremony and explore the temple grounds, admiring the wooden and stone structures and surrounded by vibrant red Fall foliage. Bulguksa Temple, built in 528, represents the relic of Gyeongju. It was designated as a World Cultural Asset by UNESCO in 1995.
Location: 15-1 Jinhyeon-dong, Gyeongju, Gyeongsangbuk-do
How to get there: Take the KTX from Seoul Station to Singyeongju Station.
What to do: Visiting the temple is one thing. You can also explore the Gyeongju National Park and National Museum, the Donggung Palace, and the Shilla Arts and Science Museum.
What to eat: Try temple food during your visit! Many restaurants serve it along the road from Bulguksa back to the heart of Gyeongju.
Nami Island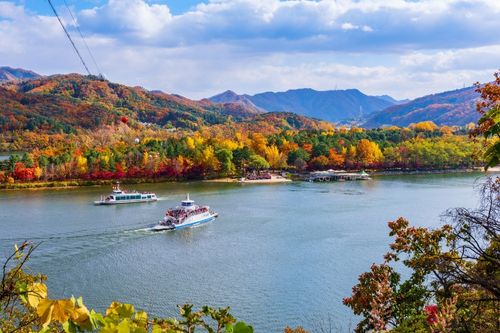 Also known as "Namiseom" (literally Nami Island in Korean), Nami Island got its name from the grave of General Nami, who brought home a victory during the Joseon Dynasty. The island also served as a filming set for the famous Korean drama 'Winter Sonata.' Usually visited for its gorgeous avenue of honey-colored maple trees, Nami Island becomes a gorgeous shade of red and orange right around late October to early November, which is truly worth the trip.
Garden of Morning Calm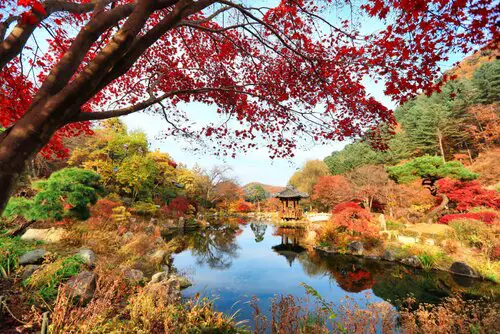 The Garden of Morning Calm is an enormous botanical garden that highlights Korean horticulture. With Chungryeongsan Mountain right behind it, it gives off an almost magical atmosphere. There are over 5,000 plant species that turn into the beautiful colors of Fall, making the place look even more romantic!
Location: 432 Sumogwon-ro, Sang-myeon, Gapyeong-gun, Gyeonggi-do
How to get there: if you visit Nami Island, take the Gyeongchun Line and stop at Cheongpyeong Station, where you can take the Gapyeong City Tour Bus to the garden.
What to eat: Here is a list of restaurants in the vicinity of the garden.
Naejangsan Mountain National Park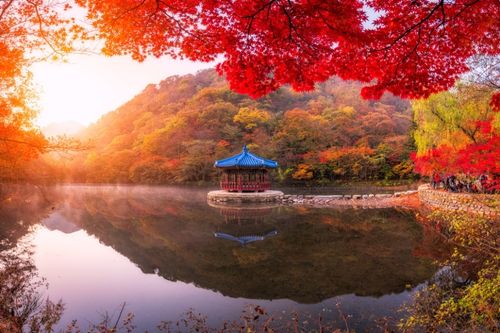 Full of beautiful varieties of trees, Naejangsan National Park is famous for its beauty during the Fall. You can be quite literally "surrounded" by red, orange, and yellow leaves while enjoying the park's breathtaking views.
Naejangsan harbors the Dodeok and Geumseon waterfalls, thousands of local plants and animals, and famous temples such as the Baekyangsa and Naejangsa temples. Along with the Fall leaves in the National Park, enjoy the crisp air of the season.
Location: 936 Naejangsan-ro, Naejang-dong, Jeongeup, Jeollabuk-do, South Korea
How to get there: Take the subway from Seoul Station to Yongsan Station and transfer to the KTX to Jeong-eup Station. You can reach the park by local bus.
What to do: Enjoy the yearly Maple Tree festival or simply a leisurely walk in these natural photo zones!
This is only a small snippet of what Korea has to offer. Fall brings in a cozy atmosphere, and beautiful views are waiting at every corner. Do not hesitate to go on your discovery as well and find yet a new Instagram-worthy spot to share. Hopefully, you will enjoy this year's foliage to the fullest.
You may also like: