Olympic Park in Seoul is one of the most excellent places to go on a date in the city. However, inquiring about what to do in the Olympic Park might be frustrating for guests who search online. What precisely is one supposed to do at this well-known date spot? When you visit the park, you'll realize just how large it is and how many things you can do there. Invariably, there are walking families, sports teams, and couples with young children.
How to get to the Olympic Park, Seoul?
Olympic Park's closeness to major railway stations, including Jamsil (Green Line 2) and Mongchontoseong Station, makes it an ideal location for tourists (Purple Line 5).
By Airport Limousine bus, take Airport Bus 6006 bound for 'Sangil Dong.' Get off at 'Olympic Park.'
Location: 424 Olympic-ro, Bangi-dong, Songpa-gu, Seoul
One of the favorite spots to go alone or with companions is Olympic Park. An excellent place to bring your dog if you like being outside since the grounds are spacious and provide a wide range of activities, from traditional Korean games to sports. So, young grasshopper, go out and take in the splendor of Seoul's eastern suburbs.
What Are The Fun Things To Do in Olympic Park?
An early Baekje-era artificial lake, Mongchonhaeja, is now part of Olympic Park, which was built on the site of the Mongchontoseong Fortress (1st to 7th century B.C.). To discover and know more about the area's rich history, visit the History Experience Park and Baekje Museum located inside the complex. A Cultural Art Park, a Leisure Sports Park, and an Eco Park round out the grounds.
If you're a sports lover, you'll want to check out the gymnasium from the Seoul Olympics in 1988 and see the Olympic torch burning brightly. Swimming, fencing, badminton, basketball, dancers, weightlifters, and gymnasts are just a few of the sports you may see in Korea.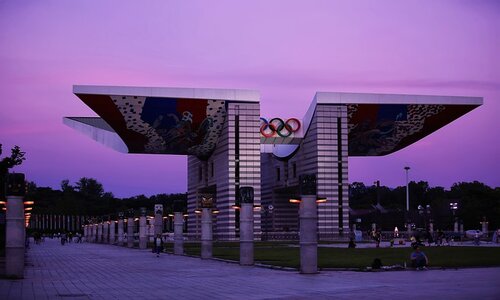 Visit the Olympic Museum and Cultural Art Park, where you'll find a café and gift store. The Seoul Olympic Museum of Art (SOMA) has a large variety of sculptures on display, and the Musical Fountain performs while you're there.
Recreational activities are at the park's Leisure Sports Zone. In addition, the therapeutic properties of the reflexology trail may be enjoyed after inline skating, walking, or running.
In the Eco Park, look and listen for cuckoos, koala squirrels, pheasants, white herons, and frogs to forget you're in the middle of Seoul.
Rent a Bike
There will be a long wait for this activity during the peak autumn and spring seasons. You'll witness families, friends, and couples doing a few laps around the main entrance's lakes and trails while they enjoy this memorable pastime. Within the park, you can rent a bicycle for a 2, 3, and 6-passenger bike. The price for the weekend and weekdays is different. The price ranges from 4,000 won to 33,000 won. The rental shop is open from 10 a.m. to 6 p.m.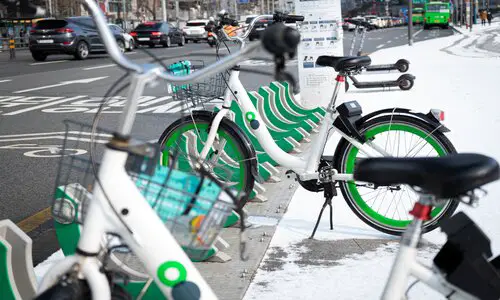 If you are looking for a cheaper bike rental, check out the bikes from the Seoul government. The bicycle is stationed outside of Olympic park subway station exits 1, 2, and 3. The price for 60 minutes is 1,000 won.
Skate on the Ice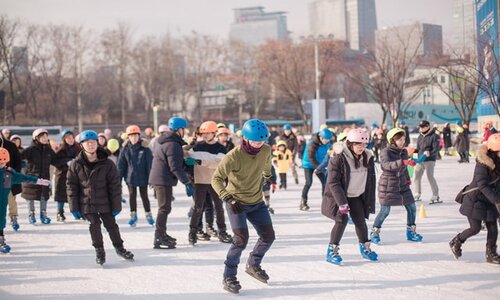 Ice skating is one of the most exclusive, beloved, and all-time favorite ways to stay warm during the long, chilly winter months. You may rent skates for 3,000 won at the Olympic Park's main gate.
Enjoy the festival at Olympic Park!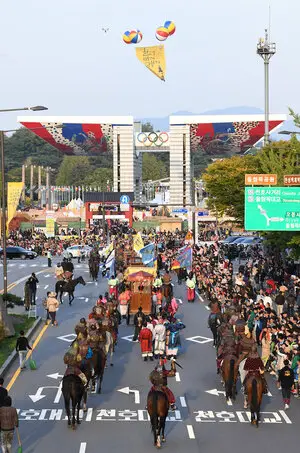 Seoul's Olympic Park Peace Square hosts the Hanseong Baekje Cultural Festival. This festival is a must-see if you're ever in Seoul since it features a wide range of folk performances, music, and food fair. However, don't lose out on the chance to do something special. 
The Hanseong Baekje Cultural Festival commemorates the history and culture of the Baekje dynasty's capital city of Seoul during the Hanseong period. The celebration takes place in the vicinity of the Mongchontoseong Fortress, a reminder of the Baekje capital. Folk, musicals, family concerts, and food and drink are all part of the festivities.
Fall Foliage and Autumn Leaves are on show.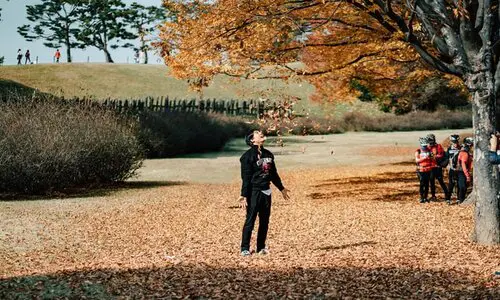 The Olympic Park's rose garden and the Seoul 1988 Olympic Stadium's mass float of red, yellow, and orange leaves have made it a popular destination for autumn visitors. It's also a great place to take a sweetheart out on a date.
Spend the Day at the Park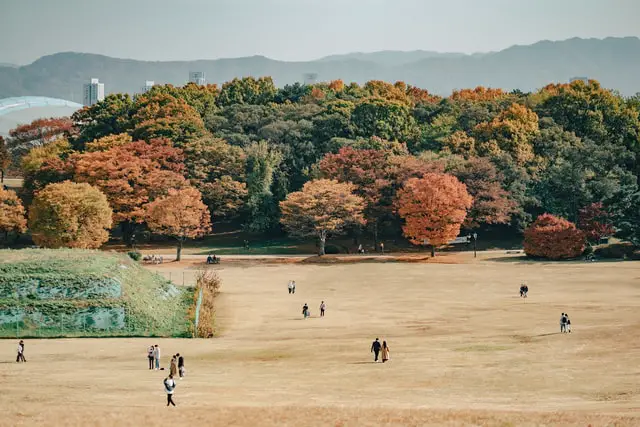 Get together with some friends, indulge in a few libations (alcohol or otherwise), food, and have a positive outlook. Plenty of space and attractions to spread out and enjoy the scenery on the park's expansive lawns. P.S. If you're at Olympic Park, you can even order food to be delivered since Korea is the undisputed leader in food delivery.
Play a sport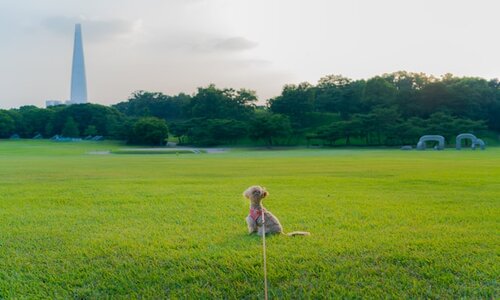 Throughout the park, you'll find a plethora of basketball hoops and folks playing a quick bit of soccer. Also very popular is rollerblading, and guests will build up obstacle cones to rollerblade through. Do you remember when I mentioned there were a lot of lawns around here? Bring your dog and a frisbee to fetch for fun in the sun. Alternatively, if you don't have a dog, you may play frisbee by yourself. Whatever you'd want to do.
Date in Cherry blossoms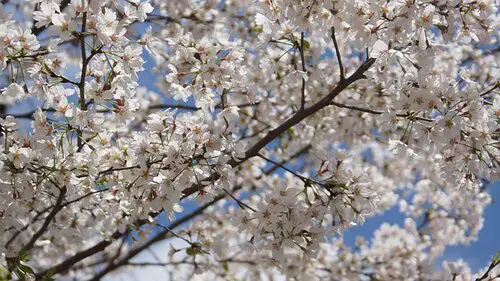 Olympic Park's Wildflower Garden is a sea of wild poppies every spring. Imagine what it would be like to be there right now.
Take in a Concert Performance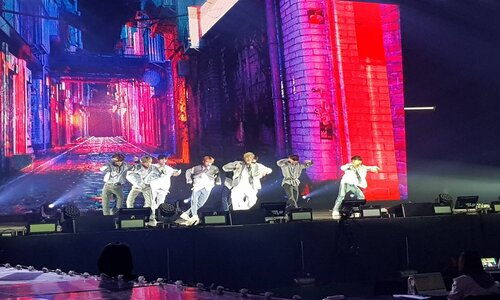 Indeed a city designed to host the 1988 Summer Olympics has stadiums capable of hosting Kpop concerts?
Yummy Eateries at Olympic Park, Seoul
The best way to spend time with friends is to gather around a table with some music, food, and a positive frame of mind. In addition to the expansive lawns, most picnic areas provide stunning vistas. As a bonus, since Korea is the undisputed leader in food delivery, you can have food sent to you at Olympic Park.
Read more about how to order Food Delivery in Korea.
Restaurants in Olympic Park
There are many restaurants within the Olympic Park where you can enjoy the quality and delicious Korean food.
Cheiljemyunso is a restaurant located at the meeting plaza east gates 1 and 2. It serves hot noodles with seaweed and tuna broth. They also have an excellent shabu buffet. Open hours are from 11 a.m. to 10 p.m.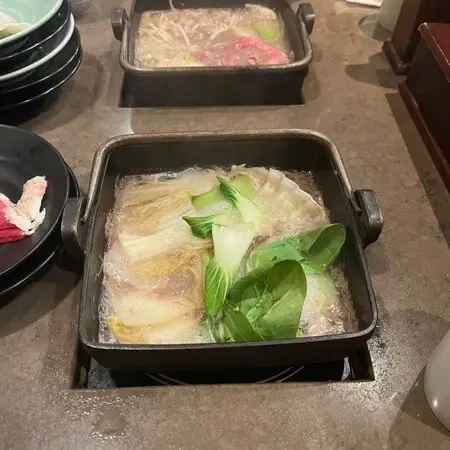 Another great restaurant is Songdo Bulgogi, located at the meeting plaza eat gates 1 and 2. The delicious and savory bulgogi is cooked on charcoal. It is great to eat it together with Makgusu, buckwheat noodles with spicy and sweet sauce. Open hours are from 11:30 a.m. to 10 p.m.
You can also enjoy other restaurants near the Meeting Plaza east gates 1 and 2.
Cafe in Olympic Park
Bakeries and cafés abound in the park. Sit down and unwind if you've been on your feet all day.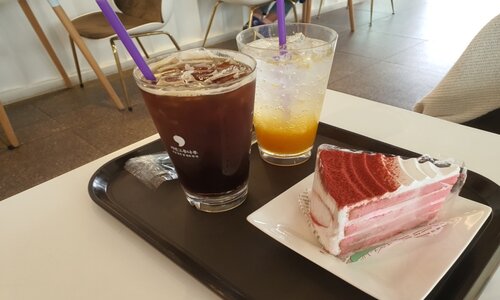 In the Olympic Hall, check out the Olympic Hall cafe for coffee, bagels, sandwiches, desserts, and more.
You can also visit the Woori Art Hall Cafe if you are closer to the Woori Art Hall to enjoy apple juice, donuts, and coffee.
One of the more familiar cafes is Coffine Gurunaru. It is conveniently located at the meeting plaza east gates 1 and 2. They open from the morning to 11 p.m. and serve everything from coffee, juices, cakes, and bagels.
Olympic Park Top 9 Highlights Stamp Tour
Olympic Park is among Seoul's large spaces where you can enjoy both leisure and culture at the same time. This park was in commemoration of the Asian Games 1986 and the 1988 Seoul Olympics. During which the talents and potential of the Korean people were known around the globe, respectively.
Pet Policy: Olympic park is eco-friendly, and pets are allowed with their owners. It's a dog-friendly park also.
Open hours: From Monday-Friday 5:30am-11:30pm, Saturday 4am-11:30pm
Entrance: Free 
Location: 424 Olympic-ro, Songpa-gu, Seoul, South Korea
World Peace Gate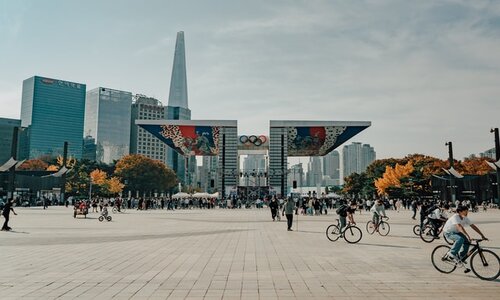 Kim Jung-up created it and was dedicated in July 1988 to world peace. The '88 Seoul Olympics' were commemorated by the construction of this monument. The traits and capacities of Koreans have become well-known around the globe as a result of the 1988 Seoul Olympics. 
The Thumb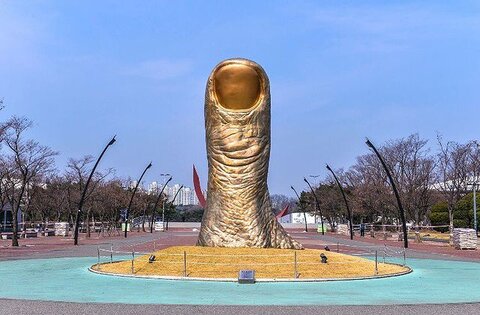 Cesar Baldaccini, a French sculptor who worked in the 1980s, made this sculpture in 1988. In addition, he created a 12-meter tall thumb that is in La Défense, France. Aside from that, this picturesque location is close to the Olympic Park Information Center.
Mongchon Musical Fountain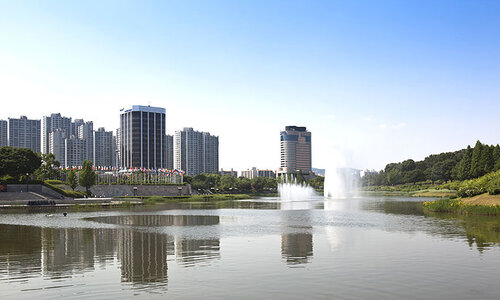 With 140 various settings and 14,000 spectacular patterns, this fountain was erected in September 1988 and is accompanied by excellent music. The fountain was dedicated in September 1988. 
Communication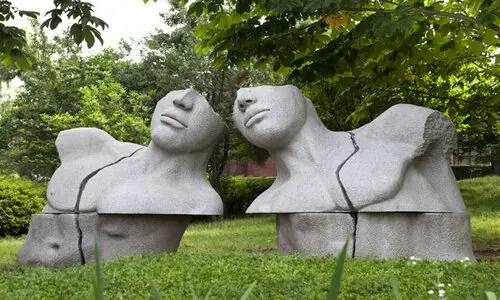 In communication, the fundamental rule "Close your lips and open your ears" is represented by the word "Communication." This is really based on an accurate tale of identical twins that constantly fight on a daily basis. 
Mongchontoseong Fortress Trail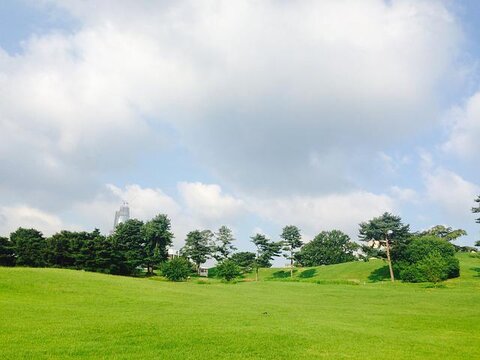 The Mongchontoseong Trail consists of five trails, two of which are my favorites: the 'Mud Castle path' and the 'Memory path.' The 'Mud Castle trail' has 2.21 kilometers and takes around 30 minutes to complete. 
Lone Tree

There is a significant attraction at every location, but A Lone Tree is the most frequented location in Olympic Park. Several private residences were used in this area, and in preparation for the '88 Seoul Olympics,' the homes were destroyed while trees fell.
Lake 88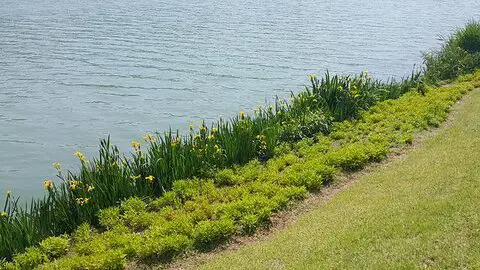 It is possible to enjoy a great view of the traditional Korean pavilion, a lake, and trees from Lake 88. You may capture the ideal image of harmony between culture, environment, and human beings at this location.
Seasonal Flower Garden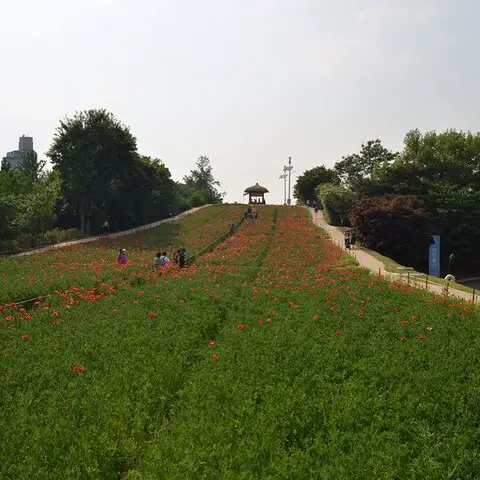 The location is considered a seasonal flower garden since the blooms that you can view here change depending on the season in Korea. From May through June, the field will be a riot of color, with poppies, baby's breath, cornflowers, and multicolored chrysanthemums in plenty. 
Rose Plaza
Who doesn't like an attractive bouquet of roses? I, for one, am a huge fan of roses, which is why I have been attending the Rose Festival every year since I first arrived in Korea. However, the celebration was canceled because of the corona, and the same was true here at Rose Plaza in Olympic Park. 
What Are The Nearby Attractions Around Olympic Park, Seoul?
There are a few attractions here that are certainly worth visiting. They are the following:
Lotte World Tower Aquarium
At Lotte World Aquarium, you may see more than 55,000 aquatic animals of 650 different kinds. In addition to the most significant main tank, the longest underwater tunnels, and South Korea's first underwater escalator tunnel, this famous aquarium is a part of the Lotte World Aquarium.
Lotte World Tower & Seoul Sky
Seoul Sky is at the top of the Lotte World Tower, South Korea's tallest building, 1,640 feet (500 meters) above the ground. Admire Seoul from a vantage point like no other, with a glass-bottomed Sky Deck and an open-roofed Sky Terrace offering 360-degree views of the city.
The Lotte World Tower is South Korea's highest structure. Other attractions include:
A big shopping mall called Lotte World Tower & Mall.
An aquarium, an amusement park.
A theater or cinema.
Joy Olpark (Olympic Park) Festival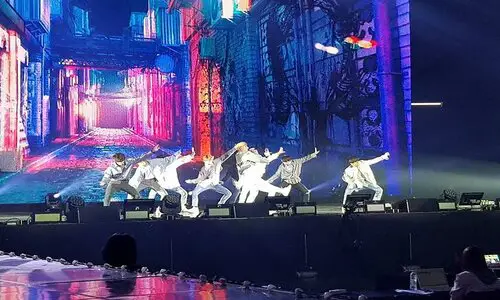 Joy Olpark (Olympic Park) Festival is an outdoor festival that allows you to enjoy the autumn weather while jamming to the sounds of your favorite singers such as Hyukoh, 10cm, Giriboy, Zico, Jang Beom June, and Crush. 
Instagram: Olympic Park
Wrapping Up!
The Olympic Park, spread over 1.5 million square meters, has become a popular destination for people to relax and engage in sports. The sheer expanse of the park might be intimidating to first-time visitors, so planning a route ahead of time is recommended. Programs in the arts are also often held in this area. Swimming pools, ice skating rinks, bicycle trails, hiking places, and much more can be found in parks. There are herons, cuckoos, chipmunks, frogs, and even squirrels in the natural eco-park. The Baekje museum Mongchontoseong Fortress is a worthwhile stop for history buffs. Were you still confused over stopping by Olympic Park while you are still on your Seoul trip? Clear your thoughts, get sorted, and plan your trip to Olympic Park in your "must-see-spot" list!
Happy journey!
FAQs
1. What are the opening hours of Olympic Park, Seoul?
Between 5:00 am and 10:00 pm late, pedestrians and bicyclists have access (Plaza area until midnight). Olympic Park Seoul requires a minimum of 2:00 hours of your time.
2. What is the fare charged on tickets at Olympic Park, Seoul?
The fare of a ticket will depend on the kind of event.
3. What is the pet policy at Olympic Park, Seoul?
Olympic Park does accept dogs. Please make sure they're on a leash and clean up any mess they make whenever you take them out.
You may also like: