South Korea takes food delivery to the next level. Almost all kinds and types of foods from coffee&desert to chef's meal are made available to any place you want. Even you can order a draft beer or soju with delivery foods while you are at the public park such as Hangang park (Han river), Seoul forest, or Namsan Park!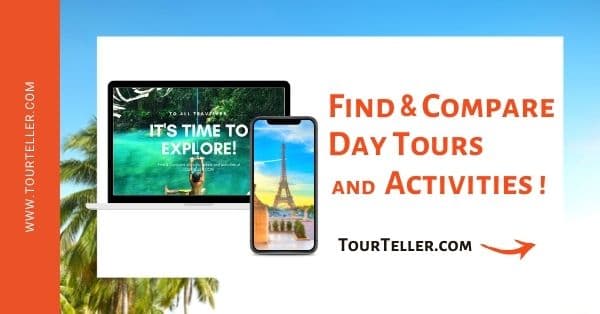 Let's see how to order food delivery in Korea!
Now, let's find out how you can order delivery foods in Korea, even if you can't speak in Korean.
How to order food delivery in Korea
The best way to order food delivery without speaking Korean is by using a food delivery app called Yogiyo. But unfortunately, the app doesn't support a foreign language yet. So, we captured the app images to explain how you may order foods step by step.
1. Download App Yogiyo
First, you have to download Yogiyo app from the Apple store or Google Play.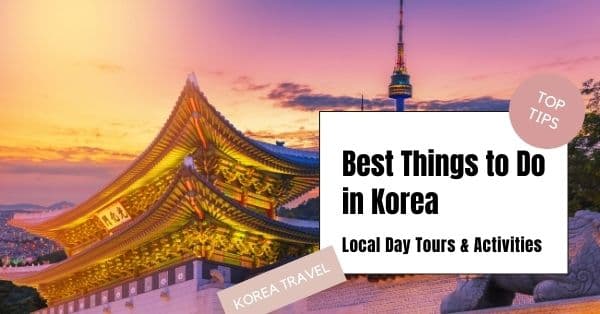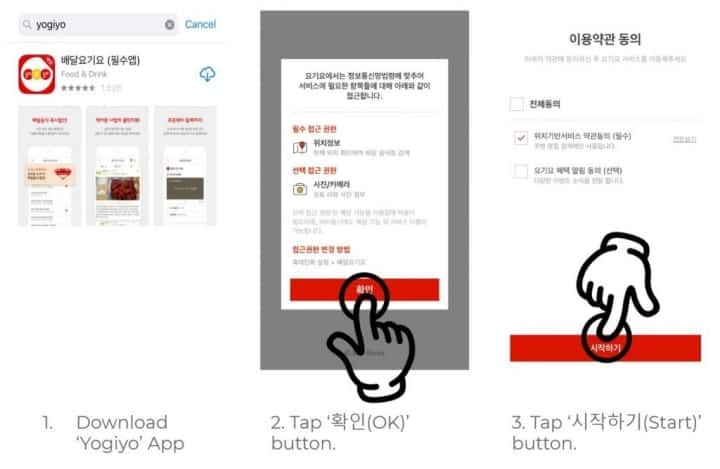 2. Set Delivery Address
To avoid confusion about your address, I recommend not allowing the app to access your location. If you enter the correct address in detail, the delivery person can find your place without any hassle.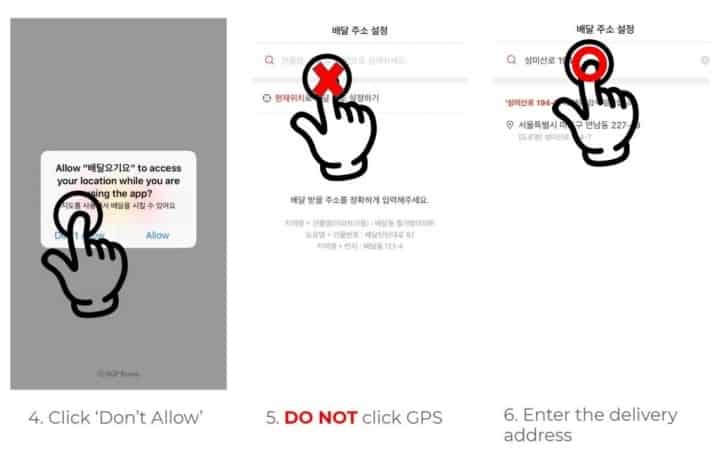 Please don't forget to add the suite number of your place and allow the app to notify you of the delivery status.
3. Place an order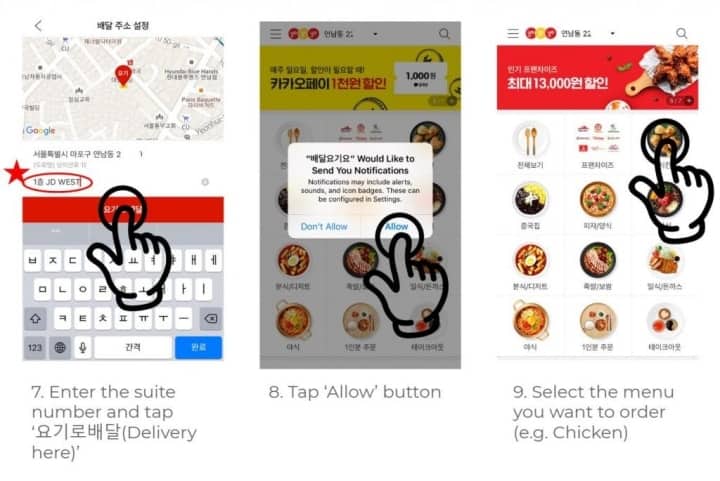 After, you have selected the menu you want, search for the restaurant that has the menu you want to order.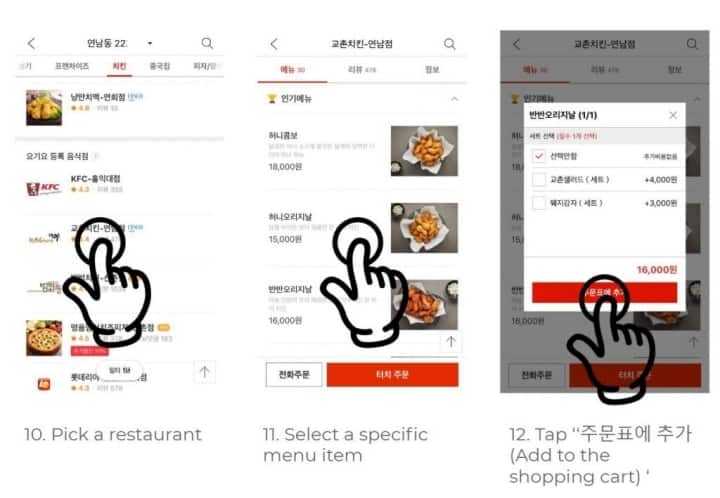 Furthermore, you can change the number of dishes in the shopping cart. Lastly, make sure you enter a Korean mobile number so that the delivery person can contact you if there is a problem finding your place. This might be the hardest part because most visitors don't have a Korean mobile number. We recommend asking your Korean friend or the host of your accommodation to see if you can use their number.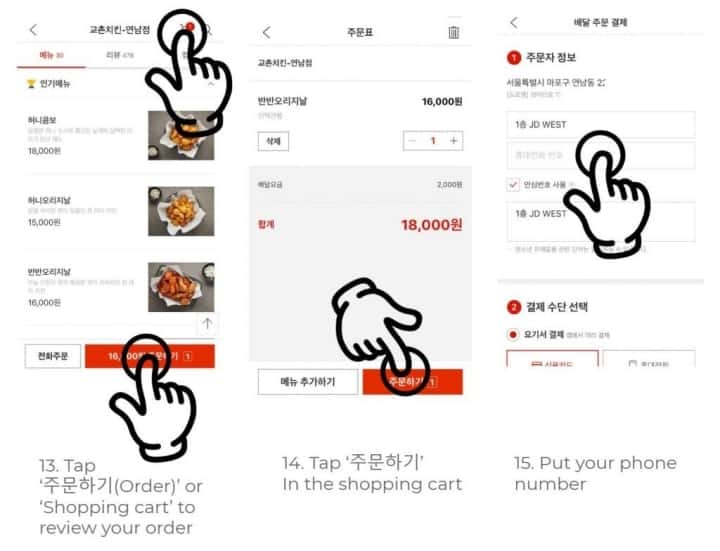 4. Payment
Finally, the last part is payment. Make sure to select '현장결제(pay when you get your food) to avoid any problems. Then choose the payment method, '카드결제(pay by a credit card) or '현금결제(pay by cash)'. Normally, they take Visa and Master cards.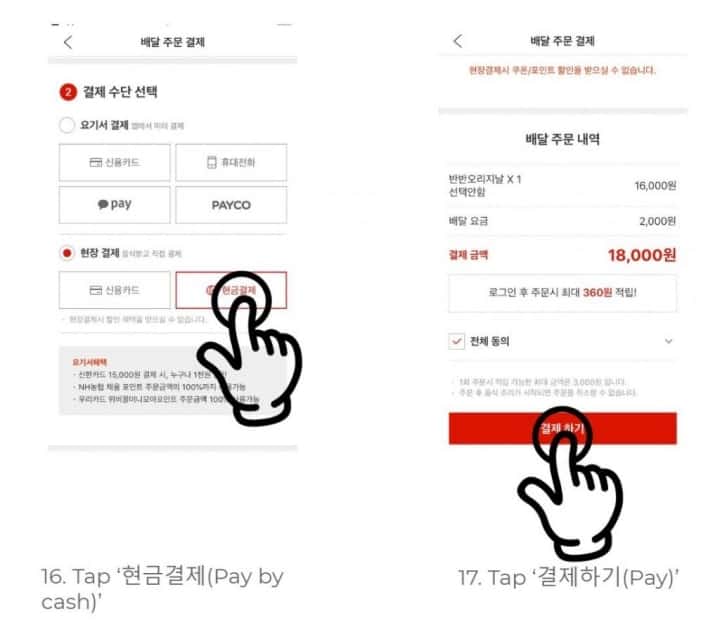 Phew~ At last, you're done!
Now, patiently wait for your yummy food delivery anywhere you're at with your family and friends. 🙂
Best Food Delivery services in Korea
The above procedure is almost the same for all food delivery services in Korea. If you are ever lost try using Google translate to help you with the search. Sometimes using the Yogiyo website instead of the app might be more helpful because they can translate the site in English for you. Here are also other best food delivery services in Korea: Baedal Minjok, Coupang Eats, and Shuttle Delivery.
Baedal Minjok
Many say that Baedal Minjok has more restaurants and choices than Yogiyo but it seems like both have comparably the same restaurants. Baedal Minjok however is divided into more categories than Yogiyo so that might make it seem like it has more choices. Nonetheless, Baedal Minjok is convenient, easy, and reliable. They also have a service for grocery shopping.
First, download the Baedal Minjok (배달의 민족) App on Google play or Apple store.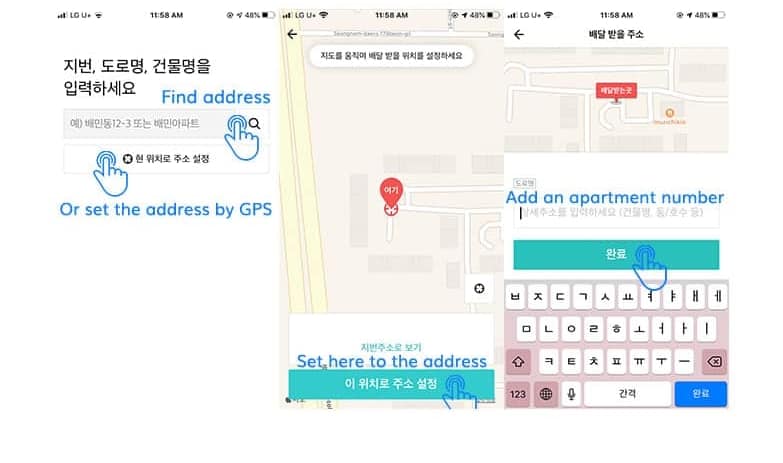 First, you will be asked to add your address. You can add your address by clicking on the magnifying glass icon. We also recommend clicking "현 위치로 주소 설정" so you will be able to set the address by GPS. You will be directed to a map of your location, if correct click "이 위치로 주소 설정" to set your order. Then add your apartment number on the next page and you are finished! The groceries will be delivered to you within the timeframe promised.
How to order the Grocery Delivery Service in Baedal Minjok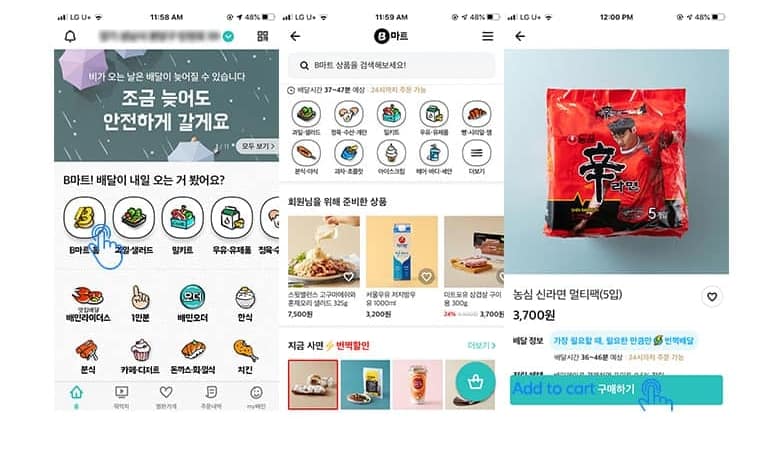 For the grocery delivery service, you want to click on the "B마트 홈" or B Market home button as shown above. You will be taken to a page that shows the different categories of food available. Choose the one that you want and "add to cart" or "구매하기." It will show you how long it will take to arrive at your destination as well.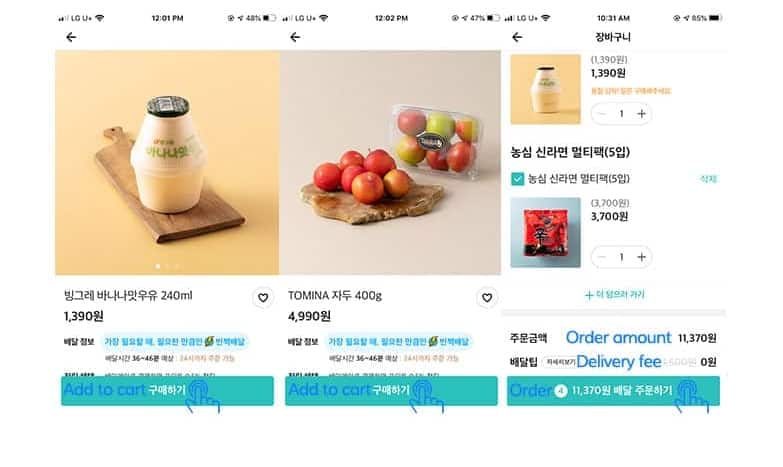 Fill your cart with all that you need, and when you are ready to check out, go to your cart or 장바구니. You will see the order amount and delivery fee. Proceed to pay by clicking on "배달 주문하기."
How to order the food delivery service in Baedal Minjok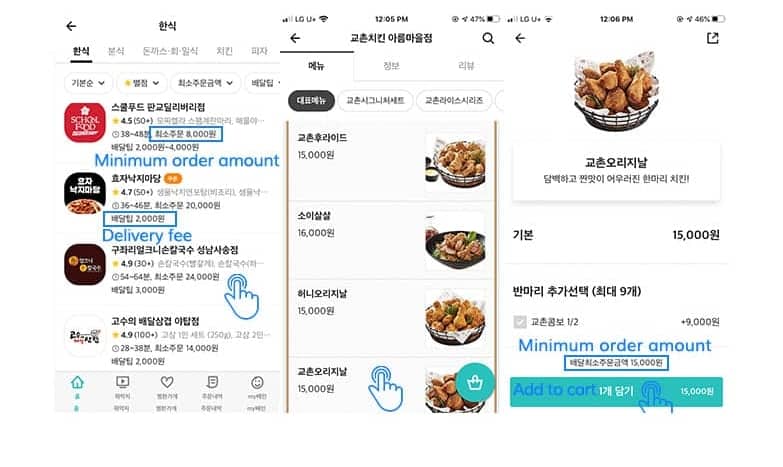 This same procedure is similar when having food delivered to your home. But notice that there is a minimum order amount or "최소주문" amount and also a delivery fee or "배달팁" for each restaurant. You can find it written for each restaurant. Add the food that you want in your cart and make sure that you reach the minimum order amount or more.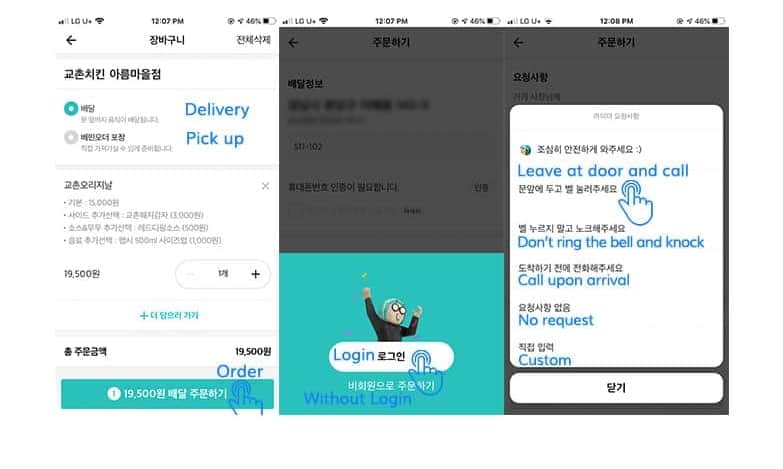 When you are ready to check out, you have the option of having it delivered to your home or picking it up yourself. Of course, you do not have to pay the delivery tip if you pick it up. Click "배달 주문하기" in the bottom. You can also have food delivered to your home as a non-member (비회원으로 주문하기). Choose which option you want to leave for the delivery person.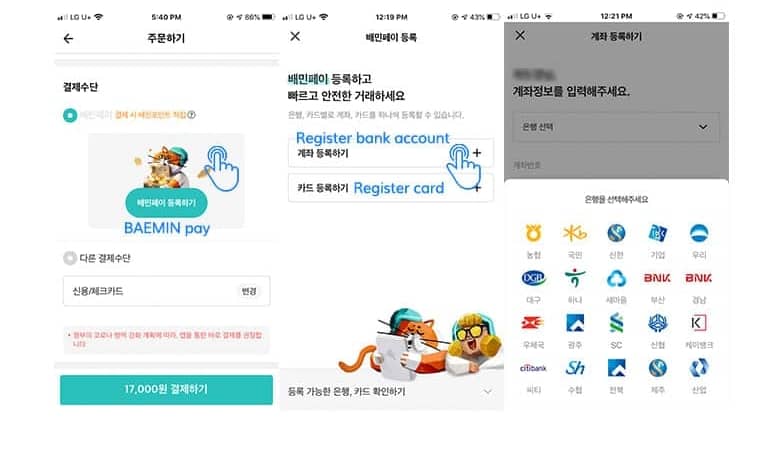 The next step is for the payment. There is the option of using Baemin pay and register your bank account or card so that you can have Baemin points 0.5% on the total amount saved to your account. You can use those points as money for your next purchase. You can register your bank by choosing your bank and adding your information.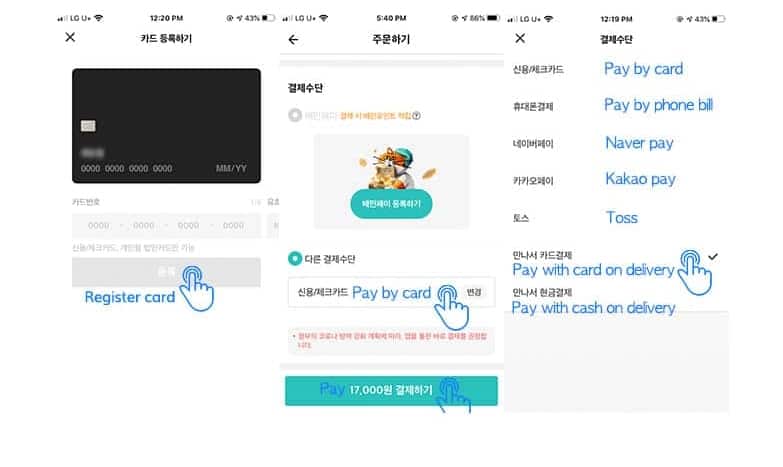 Or you can register your card by adding the card information. If you do not want to add your information in you can simply re-enter your information every time by clicking "다른 결제수단," or other payment methods. You have the option of paying by credit card, phone bill, Naver pay, Kakao pay, Toss, pay with card on delivery, or pay with cash on delivery. Choose your preferred method and you're finished! The food that you've been craving for will be delivered to you in the promised time.
Coupang Eats
Coupang has done it again as one of the newest food delivery services in Korea. You can now have delicious food delivered to your home. Download the Coupang eats app on Google play store or Apple app. The best part is they have their services in English.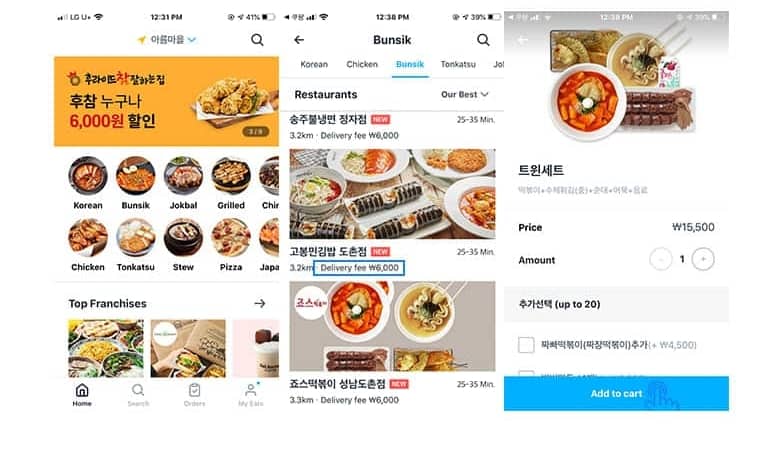 Coupang eats is similar to Yogiyo and Baedal Minjok in the process of ordering food. First, choose what kind of food you want to eat. Notice the delivery fee for each restaurant. Add it to your cart.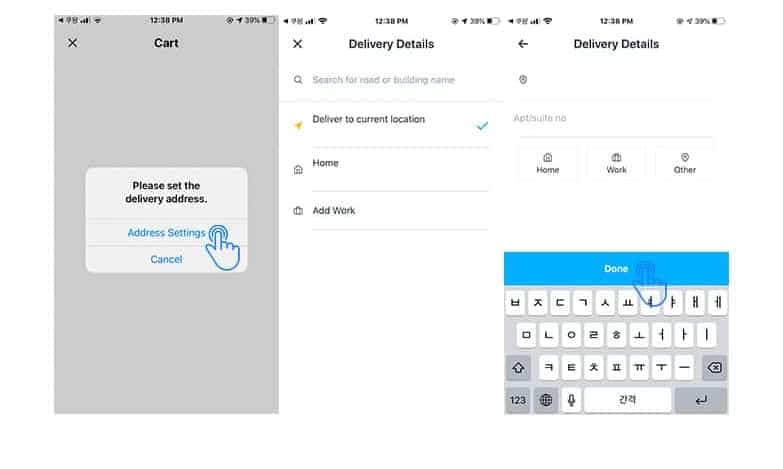 Set your delivery address by clicking address settings using the GPS function or add your delivery details. Click Done when you are finished.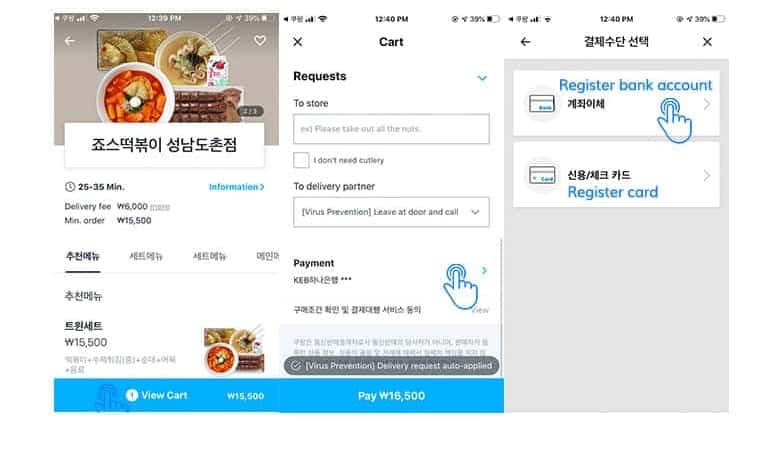 View your cart and proceed to checkout. Write or choose the request that you want to make to the store or delivery partner. Choose your payment method. You can register your bank account or credit card.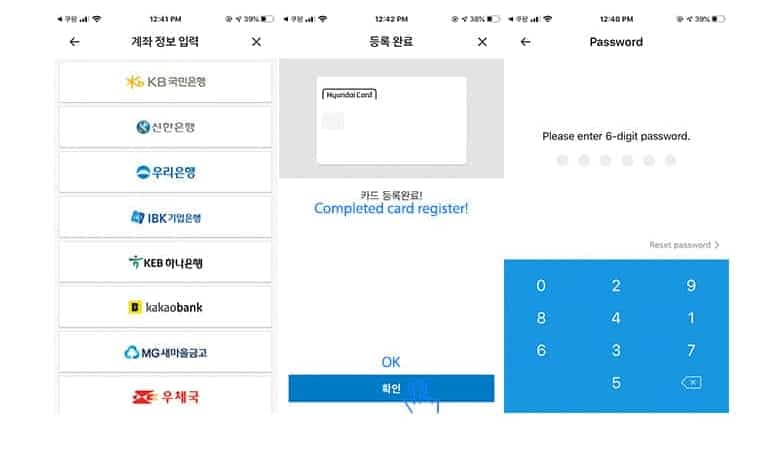 Choose your bank or complete your credit card registration. Click Ok and enter your 6 digit password. Your payment has been complete. Your food will be delivered to you at the promised time.
Shuttle Delivery
Shuttle Delivery is an excellent food delivery service in Korea providing mostly anything you want. They have a website, a Facebook page, and apps on Google play and Apple store. They also accept payments from Kakao pay, Credit cards, bitcoin, PayPal, and US dollars. Currently, they provide delivery services for Seoul, Pyeongtaek, and Busan. The best part is their services are all in English.
Check out their site to find what you are craving for!
Popular Food Delivery 
1. ChiMaek
The most famous delivery food is ChiMaek. It stands for fried chicken and beer. There are so many kinds of fried and grilled chicken restaurants with diverse menus like soy-sauce, hot & spicy, and oven-baked.
2. Jajangmyeon
Jajangmyeon is the second most popular delivery food ordered here in Korea. It appeared in the early 1900s by a Chinese restaurant in Incheon China town called 'Gonghwachun.' Koreans loved this type of Chinese style noodle. It might look a little strange to foreigners because of the black color, but once you taste it you'll fall in love.
3. Tteokbokki
Koreans have a love for hot and spicy foods. One of the first spicy foods besides kimchi that Koreans eat is tteokbooki. Tteokbokki is a Korean traditional food made from small-sized rice cakes called garaetteok which is cooked with spicy and hot red pepper paste. Moreover, to ease the spiciness usually fish cakes and boiled eggs are added. There are also levels of spiciness you can choose from when you order tteokbokki like mild(Soonhan-mat), medium(Botong-mat), hot(Maeun-mat), and the hottest(Aju-maeun-mat). It's up to you, but you might have fire on your tongue if you select the hottest one. 🙂
4. Jokbal
The third most popular delivery food is jokbal, a dish made by braising pig's trotter in various seasonings like soy sauce, garlic, cinnamon, and black pepper. It's popular among the foreigners here and because of its unique texture and taste, most Korean women love and enjoy jokbal with soju.
In addition, you will be surprised by the various kinds of foods that can be delivered to your dinner table in Korea, such as sushi, pizza, pork cutlet, and various Korean style stews and dishes.
We hope you can enjoy the amazing Korean food delivery system here and the delicious foods! Good luck!
We always welcome your questions or comments.
---

You may also like