Incheon is located on the outskirts of South Korea. This is an ultra-modern city with a massive population. Anything you have in mind, Incheon has it all. This beautiful city consists of the International airport, the railway stations, casinos, golf course, high-quality spas for both men and women, fish market and much more. Beach-lined islands are an attraction to the city. Moreover, it is known for its culture and tourism. There are so many things that we can do in this beautiful city. Let's explore what all we can do to make our journey more exotic.
THE BEST THINGS TO DO IN INCHEON
There are many beautiful sights that we can explore here. Not only site see but also indulge in activities like cycling, boating, eating and many more.
Wolmido (월미도)
Wolmido is an island located on the coast of the capital of Seoul and near Incheon. This island resembles the shape of the half-moon tail, that is why it is referred to as Wolmido. As it is located near Seoul, there is an ease of transportation.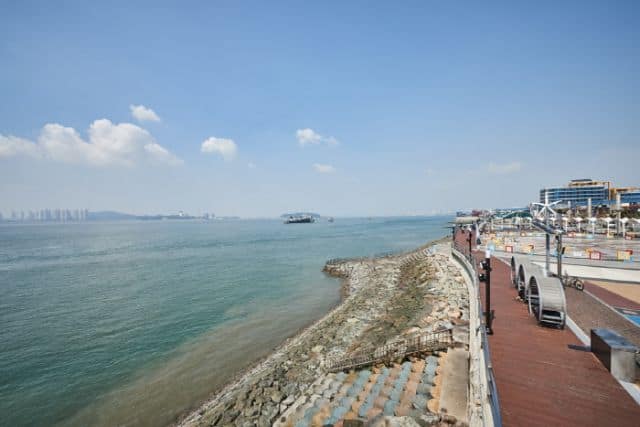 Moreover, this island is known for "Play Hill" as one of the top attractions. The highlights of Culture Street are Doddle Pillar, Meeting Square, Performance Square, Arts Square, Good Harvest Square, etc. these places provide Wolmido an elegant look. The adventure spots at this place are the Apollo Disco and Viking rides. Moreover, if you have a vehicle, no need to worry as there are parking facilities and also bus transportation.
The tourist sites here include:
Special Tourist Zone
Wolmi Park
Incheon Port Floodgate
Compare Top Things To Do in Korea!
Songdo Central Park (송도 센트럴 파크)
It is another great place to visit is Songdo Central Park. This Park was built in 2009, it uses the seawater and is located in the Songdo International Business District. It is the best destination to explore nature.
This beautiful man-made park is categorized into 5 parts:
Promenade
Mountain Strolling Garden
Sculpture Garden
Terrace Garden
Long Meadow
Plus, there are certain activities available at this destination like cycling, riding a water taxi, boating, watching skyscrapers, etc. The entrance is free of cost. The water taxi charges about 4,000 won per head for adults and about 2,000 won per head for children. Furthermore, the fee for boating is about 35,000 won.
Seasonal Picks by IVisitKorea!
Muuido Island (무의도)
One of the most famous islands is Muuido. It has been in many reality shows like "One night and two days (1박2일)" and "Infinite Challenge (무한도전)." It is located in Jung-gu district. It is surrounded by the two neighboring islands known as Silmido Island and Somuuido island. These two smaller islands are an attraction themselves.
The tourist destination here includes:
Geojampo Beach (거잠포 해수욕장)
Silmi (Keunmuri) Beach (실미 해수욕장)
Hanagae Beach (하나개 해수욕장)
Jamjindo Island (잠진도)
Masian Beach (마시안 해변)
Incheon Chinatown (인천 차이나타운)
It is the largest China Town in South Korea. And it's also very famous because of the fact that Jajangmyeon was born here. If you walk all the way down from the entrance, you can find a restaurant called 'Gonghwachun' restaurant.' That is the historic restaurant that Jajangmyeon, the most popular food for the ordinary people in Korea, is born. Consequently, there are a lot of Korean-Chinese food restaurants here. You can go to Chinatown by taking subway line 1 to Incheon Station and get out of exit 1.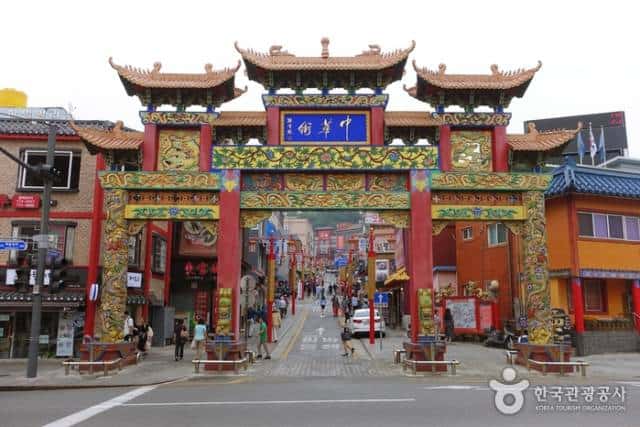 The tourist sites include:
Korean-Chinese Cultural Center
Jayu Park
Jemulpo Gurakbu
Incheon Art Platform
The parking facility is available and the restrooms are also available at Incheon station.
Jeondeungsa Temple
This temple is also known as Jinjongsa. It is located in Samrangseong Fortress that was built by Dangun who is believed to establish Gojoseon, the ancient kingdom of Korea. This temple is also known for its architectural work. Moreover, ancient buildings increase the beauty of this Temple.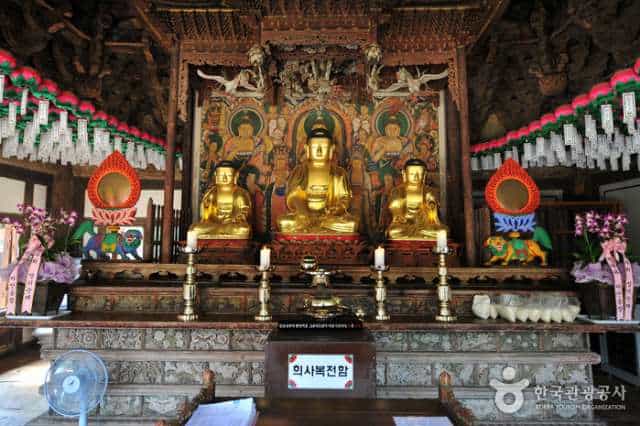 Tourist sites included in this destination are:
Lotus lantern international meditation center
Ganghwa Chojijin Fortress
Oktokki Space Center
Ganghwa Manisan Mountain
Ganghwa Deokjinjin Fortress
There are 50 parking spaces for small cars, the parking is around 2,000 won and for large cars, it is 4000 won.
Incheon Bridge
Another great attraction is this beautiful bridge in the city. It is the largest bridge in South Korea and seventh in the world for its length in addition. If you landed at the Incheon airport, you might have already passed the bridge because the bridge forms the connection between Yeongjongdo Island and Songdo Island. But it includes the toll fee, for compact cars it charges about 2,750 won, for economy cars, it charges, 5,500 won, for medium-sized cars, it charges 9,400 won and for large cars, it charges 12,200 won.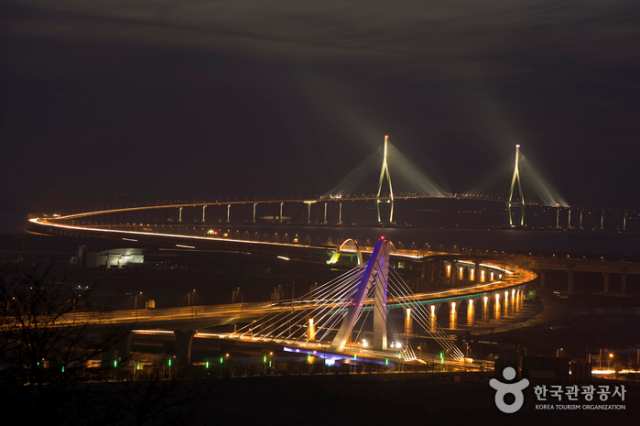 The tourist sites include:
Wolmi Special Tourist Zone
Baendaengi Street
Yeoman Pier
Wolmi Theme Park
Songwol-dong Fairy Tale Village
This village attracts foreigners to the beautiful paintings and decorations of fantastic fairy tales. As soon as the port is opened in 1883, many foreigners came to this village but young people moved to Seoul and it was almost empty. After that, people renovated this old town into a cute fairy tale village. Most of the houses in this village are decorated as they are welcoming the fairies to enter their house. In addition, it is a great destination for kids as well as for adults. No matter how old we get, there always resides a kid in our hearts.
Food is a basic necessity for all humans on this planet. When it comes to food we crave tasty as well as healthy ingredients. When we are visiting and exploring outstanding destinations then we also seek outstanding food items. And Incheon is very well known for its street food. It also consists of famous restaurants with great quality food. Let's have a glance at the best street food available in this beautiful city.
The best street food includes:
Haemul pa Jeon (seafood & green onion pancake)
Hoeddeok (sweet syrupy pancakes)
Dakgangjeong (deep-fried chicken)
Bulgogi (marinated beef barbecue)
Korean fried hot dog
Samgyeopsal (pork strips)
Tteokbokki (spicy rice cake)
Japchae (stir-fried noodles)
Kimchi (fermented cabbage)
Sundubu-jjigae (soft tofu stew)
Kimbap (rice roll)
Sundae (blood sausage)
Bibimbap (mixed rice)
Seolleongtang (ox bone soup)
Samgyetang (ginseng chicken soup)
All the above-listed items are very popular in the City. Now let's explore some restaurants that serve the best variety of food in terms of quantity as well as quality.
The best restaurants in Incheon
Baum Galbi- famous barbecue restaurant
Liquor Burger- bar and restaurant
Ilmi Hwapyeongdong Naengmyeon- famous for Korean style noodles
Ginghwachun- famous for Chinese inspired noodles
Sikgaek- famous for seolleongtang and yukhoe
Wonjo Sinpo Dakgangjeong- famous dish of deep-fried chicken coated with sweet and spicy sauce
Restaurant 8- consists of Japanese, Korean, French and Italian cuisines
Relish- beef steak
Chapter 1- Italian-style cuisine
Tochon- famous for bibimbap, bulgogi
Make sure to stop by one or even more places while your here.
How to get to Incheon from Seoul?
The best way to get to Incheon is by taking a subway. It takes 1 hour 10 minutes to get to the Incheon City Hall from Myeongdong station. And the fare is 1,750 KRW. Taking a taxi will be expensive and take more time because of the traffic. Here are the details of how you can get to Incheon from Seoul.
Conclusion
Incheon is a very beautiful city which consists of beautiful destinations as well as famous food for the adults as well as for children. Moreover, nature and scenery provide an overwhelming experience for visitors. One must go there and visit the destinations and explore more about the city. However, it's true that there isn't much information about Incheon travel like Seoul. So If you want to take a day trip to Incheon without any hassle, take a look at this tour.
Overall, Incheon is a great city to make blissful memories with your friends, family and all the loved ones. The children would love the Songwol-dong Fairy Tale Village and Wolmido as it consists of the theme park. All the visitors can enjoy a plethora of boating and the beautiful view of the lake. If you want to get some more information about Incheon travel, visit this official travel site.
You may also like:
IVK's Top Picks – Day Tours, Tickets, and Travel Activities
Seasonal Picks!😍