Last Updated on November 24, 2023
Seoul, a pulsating epicenter of modernity, is a mirror of South Korea's remarkable progress and innovation. Yet, for those seeking respite from the urban thrum, the outskirts of this bustling city offer a gateway to tranquility and discovery. Venturing beyond Seoul's boundaries reveals a realm where hidden treasures and unexplored gems await, promising a captivating contrast to the urban landscape. Stick with us if you want a fresh perspective and a break from the urban hustle. We're gearing up to spill the beans on the top 15 places to visit near Seoul. Buckle up, and let's embark on this thrilling journey together!
Read also:
Garden of Morning Calm (아침고요수목원)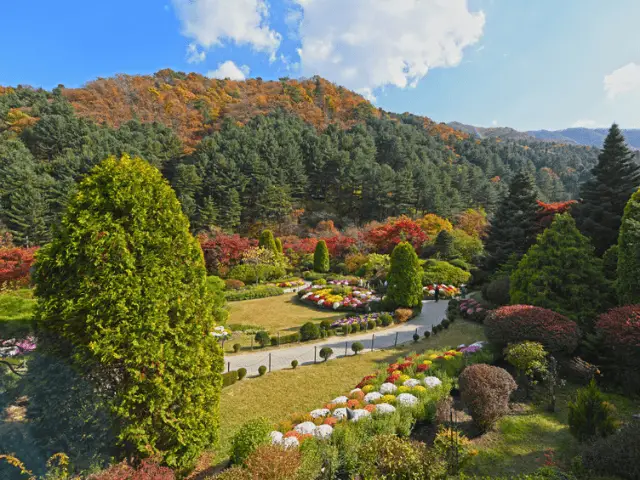 If historical K-dramas hold a special place in your heart, this garden deserves a spot on your travel bucket list. Nestled against the picturesque backdrop of Chungryeongsan Mountain, this is one of the most beautiful gardens in Korea. Conceived by horticultural visionary Professor Han Sang-kyung in 1996, this garden has become a cherished retreat for locals and wanderers alike, offering a tranquil escape from the urban hustle.
If you're a fan of hits like "Love in the Moonlight" and "The King's Affection," you've already been introduced to this natural wonder. With an impressive collection boasting around 5,000 plant species, including an awe-inspiring 300 varieties native to the revered Baekdusan Mountain, the Garden of Morning Calm is a living tapestry that undergoes a mesmerizing transformation with each passing season. Springtime blooms bring forth delicate cherry blossoms and vibrant tulips, while autumnal hues paint the landscape with a breathtaking symphony of reds, oranges, and golds. Each season has its own beauty and numerous events. Check out their website to learn more.
Well, aside from just standing around and staring, walking is the name of the game. Wander through the different sections, snap pics of the stunning flowers, and chill under the pine trees. This garden may be explored in around one or two hours. However, if you have limited time and want to make the most of it, the Hometown Garden, Pond Garden, Rose of Sharon Garden, and Millennium Juniper are must-sees.
Open hours: 8:30 – 19:00 daily
Phone: +82 1544-6703
Admission fees: 5.75 USD for kids | 6.52 USD for youths | 8.43 USD for adults (group purchases are more affordable)
Website: www.morningcalm.co.kr
Gangchon Rail Bike (강촌레일바이크)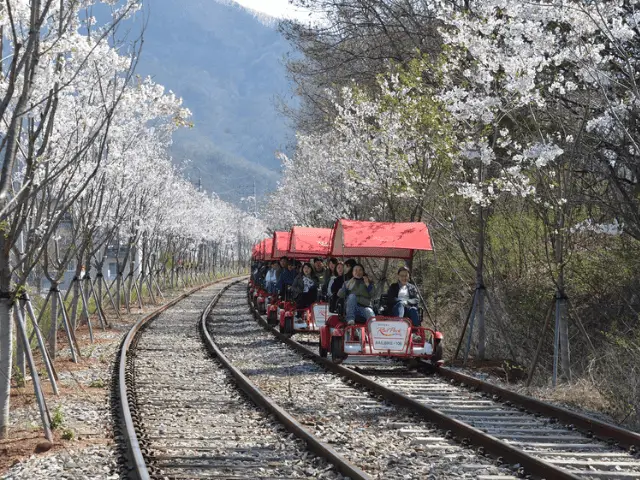 For a truly unique and scenic adventure near Seoul, look no further than Gangchon Rail Bike (강촌레일바이크). This one-of-a-kind experience seamlessly blends the thrill of rail biking with the natural splendor of South Korea's landscapes. It's just about a 2-and-a-half-hour metro ride away from Seoul.
Stretching across 8.5 kilometers, the ride covers 6 kilometers on the rail bike, followed by a final 2.5 kilometers aboard a train. As you pedal along, you'll find most of the track gently descending, ensuring an effortless ride while treating you to panoramic views of majestic mountains, verdant fields, and meandering rivers.
As you approach the conclusion of your rail bike expedition, you'll switch to a train that follows the scenic path along the tranquil Bukhangang River. This serene finale provides a perfect opportunity to relax and relish the beauty of the surroundings. Once you complete your journey, a convenient shuttle bus will be ready to whisk you back to your starting point. Whether it's the vibrant cherry blossoms in spring, lush greenery in summer, or colorful foliage in autumn, Gangchon Rail Bike promises an enjoyable adventure in harmony with nature.
Plus, this place offers more than just rail biking – it's a hub of attractions. Here, you can find a sprawling book-themed photo zone, a cozy café, and even a thrilling zip line, ensuring non-stop entertainment.
Lego Land (레고랜드)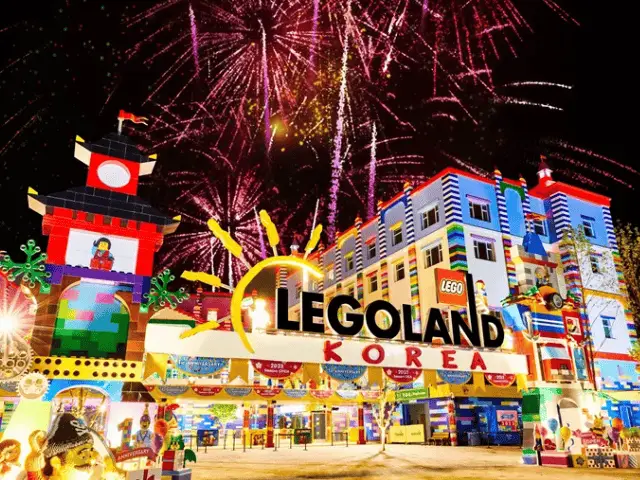 If you're a fan of creativity, imagination, and endless fun, then Lego Land (레고랜드) should be your next stop. It opened its gates on May 5, 2022. This Lego-themed haven has swiftly emerged as a magnet for local Koreans and eager foreign tourists. Catering to the younger crowd and the young-at-heart, LEGOLAND Korea Resort stands as a testament to the universal appeal of Lego magic.
The park features various themed zones, each with its unique attractions. In "Bricktopia," visitors can build and play with Lego bricks, bringing their wildest creations to life. "Lego Friends" offers a fun experience for kids with interactive shows and play areas. For thrill-seekers, "Lego Technic" features exciting rides and challenges. The park's highlight is "Miniland," where famous landmarks worldwide are recreated with millions of Lego bricks. It's a miniature world of wonder from the Eiffel Tower to the Great Wall of China. Each amusement park has about 40 rides and a broad range of food and shopping.
So, whether you're a Lego enthusiast, a family looking for quality time, or simply seeking a dose of pure joy, Lego Land promises an unforgettable experience. Grab your imagination, pack your curiosity, and embark on a colorful journey through the world of Lego – a place where dreams take shape, one brick at a time.
Open hours: 10:00 – 18:00 Mon to Thur | 10:00 – 21:00 Fri to Sun
Phone: +82 33-815-2300
Admission for 1 day: 37.57 USD for children | 45.09 USD for adults
Website: www.legoland.kr
Nami Island (남이섬)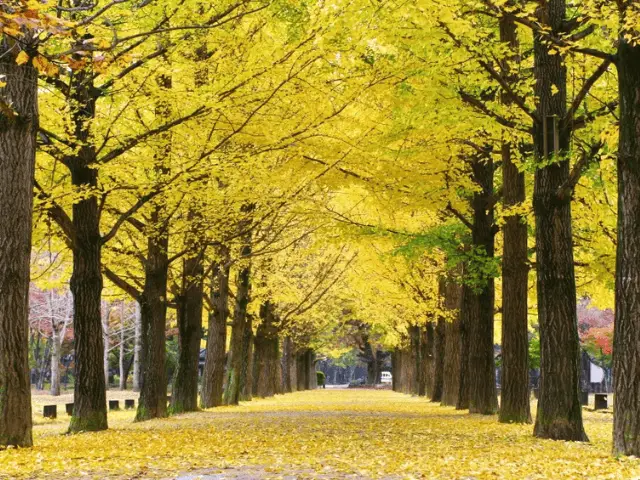 Tucked away merely 63 km from the bustling heart of Seoul, Nami Island is a tranquil half-moon-shaped oasis that has captured the hearts of countless visitors and K-drama fans alike. Famous for its tree-lined paths, picturesque gardens, and breathtaking views of the Han River, Nami Island offers a peaceful retreat and a chance to get closer to nature. 
The island's natural beauty changes with the seasons, making it an enticing destination year-round. In spring, cherry blossoms blanket the island in delicate shades of pink, while autumn transforms the landscape into a vibrant palette of reds, oranges, and yellows.
For K-drama fans, Nami Island gained fame as a filming location for popular dramas such as "Winter Sonata," "Hi, Bye Mama…" Standing by the iconic Metasequoia Lane (tree-lined paths), you can reenact the famous scenes from those movies.
Besides, you can check out famous attractions such as the Song Museum, the Picture Book Playground, the MICE Center, and various activities like the Charity Train, Story Tour Bus, Bicycle, etc. Also, you can enjoy delectable food made with carefully chosen regional ingredients in many restaurants here. 
Korean Folk Village (한국민속촌)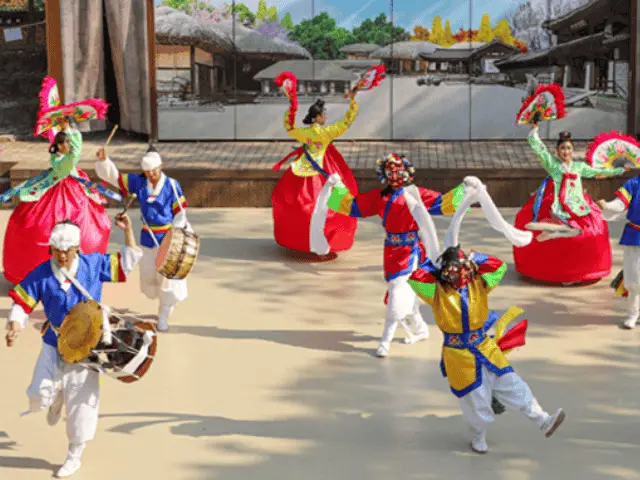 If you're a history buff or simply curious about Korea's rich cultural heritage, the Korean Folk Village (한국민속촌) is a must-visit destination. Tucked away in Yongin City, this living open-air museum offers a captivating journey through time, allowing you to step into the pages of history and experience the charm of traditional Korean life firsthand.
The village is divided into different sections, each representing a specific era and showcasing the lifestyles of different social classes. Wander through the streets and alleys, and you'll encounter artisans demonstrating traditional crafts such as pottery, weaving, and papermaking. They offer many workshops about traditional handicrafts so you can join and create your own artwork. The village comes to life with traditional music, dance, and acrobatics performances, providing a vivid picture of Korea's cultural heritage. 
One of the highlights of the Korean Folk Village is its seasonal festivals and events. The village hosts special performances, rituals, and activities during traditional holidays and celebrations, allowing visitors to participate in authentic cultural experiences. The village offers a hands-on journey through Korea's history and traditions, from traditional games to folk art exhibitions.
Hwadam Forest (화담숲)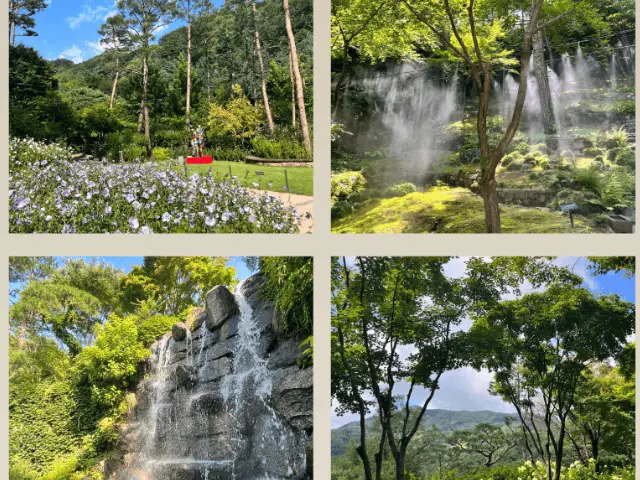 This eco-friendly sanctuary is nestled within Gwangju's Konjiam Resort, just a 40-minute drive away from the bustling energy of Seoul. With meticulous care, over 4,300 exquisite plant varieties, both native and international, have been lovingly introduced to create a sprawling forest park woven together by 17 captivating themes. "Hwadam," translating to "friendly communication," serves as more than a name – it embodies the garden's purpose as a bridge between humanity and the natural world, fostering a harmonious dialogue between the two.
Here, you can take a leisurely hike, have a picnic, and breathe in the crisp air of the forest. You can also explore the network of hiking paths that cater to varying levels of difficulty, making it accessible to both casual walkers and avid hikers. Along the trails, you'll encounter lush foliage, vibrant wildflowers, and the soothing sounds of chirping birds. The forest is enchanting in autumn when the leaves transform into a breathtaking tapestry of reds, oranges, and yellows. The forest's calming ambiance also makes it a popular spot for meditation and mindfulness practices. So if you want a healing trip, experience it yourself.
Open hours: 9:00 – 18:00 daily | closed on Monday
Phone: +82 31-8026-6666
Website: www.hwadamsup.com
Bangwhasuryujeong (방화수류정)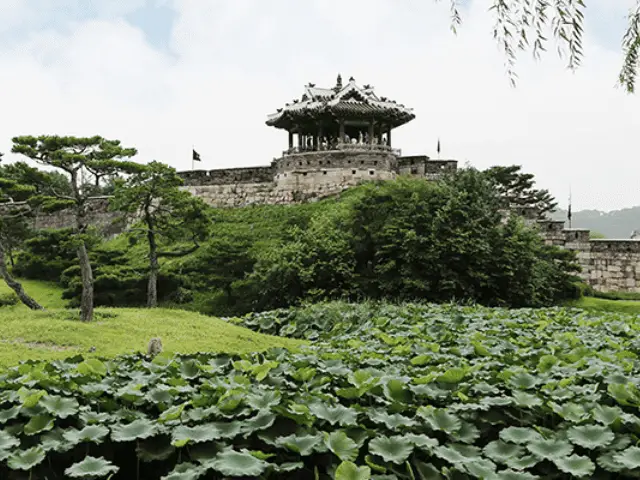 Experience the elegance of traditional Korean architecture at Bangwhasuryujeong, a beautiful pavilion located in Gwangmyeong. In times past, Bangwhasuryujeong fulfilled a strategic role, serving as a lookout point during the Joseon era. It also bore witness to the archery prowess of King Jungjo, adding a touch of regal splendor to its history. Today, the pavilion has transformed into a vibrant space where the arts come alive. Amidst the serene embrace of the duck pond, willow trees, and blossoming flowers, traditional Korean music and poetry recite, weaving together a tapestry of cultural heritage. 
The pavilion's design is a masterpiece of Korean architecture, with intricate wooden detailing, graceful curves, and a gracefully arched bridge leading to its entrance. Surrounded by lush greenery and the pond's tranquil waters, Bangwhasuryujeong exudes an air of serenity and charm. It's an ideal spot for a leisurely stroll, a peaceful picnic, or simply a moment of reflection. For history enthusiasts and admirers of architecture, Bangwhasuryujeong offers a unique glimpse into Korea's royal past and the architectural marvels that have stood the test of time.
Open hours: 9:00 – 18:00 daily
Phone: +82 31-290-3600
First Garden (퍼스트가든)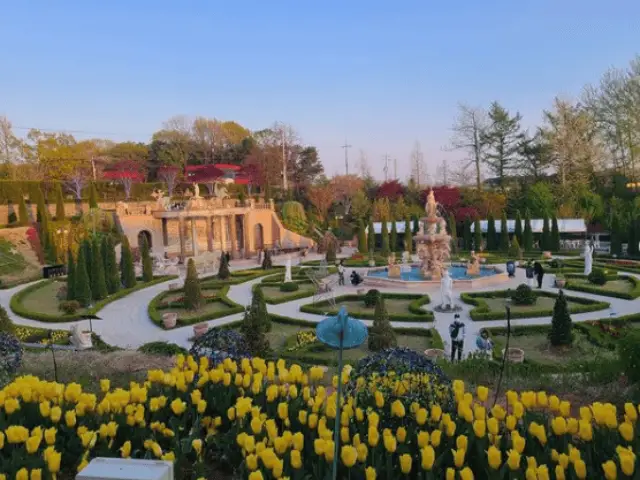 Nestled within its sprawling 66,000-square-meter expanse, First Garden has beckoned visitors since its opening in April 2017. This cultural haven seamlessly blends artistry, natural beauty, and modern conveniences, creating an immersive experience that resonates with all who step foot within its realm.
They offer different areas, such as Adonis Garden, with its 23 themed restaurants, inviting you on a delectable culinary voyage. The wedding hall exudes a sense of celebration, while the playground echoes with the laughter of families and friends, infusing the atmosphere with shared delight.
One of the highlights of First Garden is its interactive exhibits and hands-on activities. Visitors can participate in creative workshops, engage with kinetic art installations, and even create their own artistic masterpieces. The garden's thematic zones provide a variety of experiences, from meditative spaces to playful areas that invite exploration and interaction. As the sun dips below the horizon, a new enchantment unfolds. From 20:00 onwards, the garden transforms into an ethereal realm of luminous allure, adding an extra layer of enchantment to your experience.
Anseong Farmland (안성팜랜드)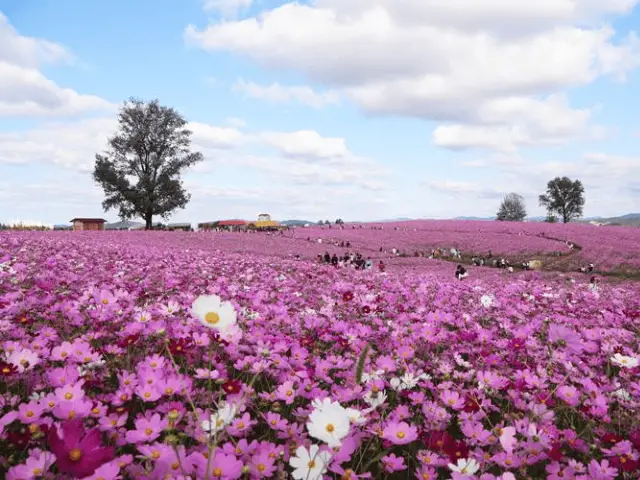 If you're up for a countryside adventure near Seoul, then Anseong Farm Land (안성팜랜드) is where the fun begins. Situated just 60 kilometers south of the bustling city in Gyeonggi-do province, this expansive agricultural theme park is ideal for families, school groups, and anyone seeking a wholesome and educational day out in the heart of nature.
Animal lovers will enjoy interacting with various farm animals, from goats and sheep to rabbits and ducks. Feeding them is a must-try experience. The farm's also famous for its stunning flower fields that change with the seasons. Whether surrounded by the vivid colors of rapeseed and rye or the delicate beauty of roses and lotus, the farm offers a picturesque setting for capturing special moments.
Beyond animal encounters and floral wonders, Anseong Farmland boasts many engaging activities. You can witness captivating shows and informative sessions, with the dog show taking center stage as a must-see spectacle. Kids can enjoy horseback riding at the equestrian center, offering a thrilling opportunity to connect with these majestic creatures. The scenic surroundings offer a peaceful atmosphere for leisurely walks, picnics, and the countryside's natural beauty. 
Open hours: 10:00 – 18:00 daily
Phone: +82 31-8053-7979
Entrance fee: 9.77 USD for children | 11.28 USD for adults
Website: www.nhasfarmland.com
Pocheon Art Valley (포천아트밸리)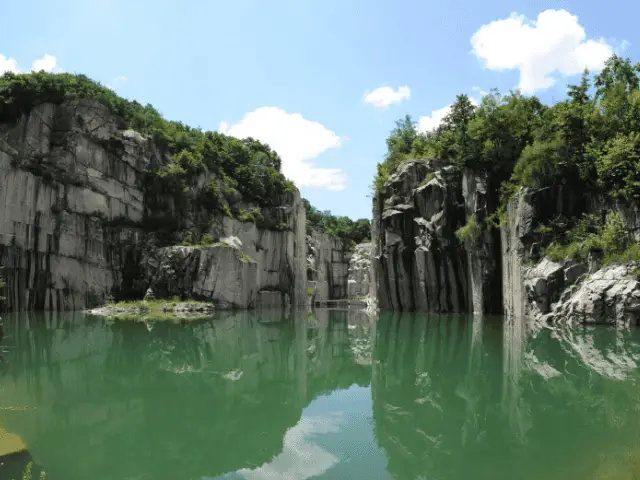 Nestled just a short distance from the bustling city of Seoul, Pocheon Art Valley stands as a mesmerizing blend of captivating artistry and breathtaking natural beauty. The landscape is a masterpiece, with emerald-green waters reflecting against the backdrop of striking cliffs that cut sharply into the sky.
As you stroll through the gardens, you'll encounter a variety of artworks that evoke emotions, spark contemplation, and celebrate the connection between art and nature. One of the main attractions of Pocheon Art Valley is its pristine Cheonjuho Lake. This pristine oasis is fed by spring waters and boasting depths of up to 20 meters (65.6 feet). While unsuitable for sports or swimming, this lake thrives as a sanctuary for protected flora and fauna, offering a glimpse into the delicate balance of aquatic life.
The Pocheon Art Valley offers many activities, making it a great choice for families. You can ride on the monorail to reach the hill's summit, where you can admire the landscape from above before heading to the Pocheon Art Valley Astronomical Science Center. You can ascend to the observation deck, the Sky Garden of Hope, or the Doleum Stairway for an alternate perspective. From this elevated standpoint, the Pocheon Art Valley presents a different view, inviting further exploration and amazement. Or just simply strolling, picnicking, and enjoying the serenity of the surroundings. That's more than enough for a peaceful escape.
Open hours: 9:00 – 18:00 Mon to Thur | 9:00 – 19:00 Fri to Sun
Phone: +82 31-538-3483
Admission fee: 1.1 USD for kids | 2.28 USD for youths | 3.8 USD for adults
Website: artvalley.pocheon.go.kr
DMZ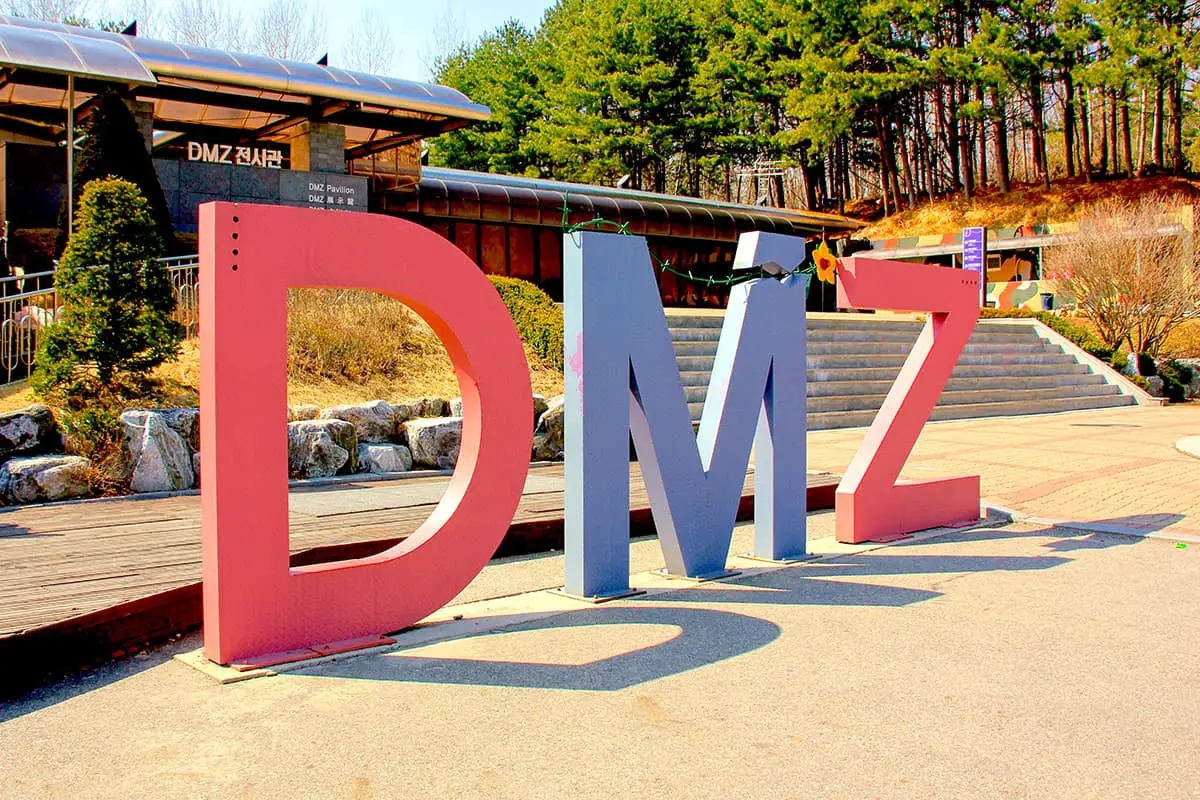 While not technically "near" Seoul, visiting the Demilitarized Zone (DMZ) is a unique opportunity to gain insight into the Korean Peninsula's complex history and geopolitics. Organized tours take visitors to the border area, including the Joint Security Area (JSA), offering a glimpse into the division between North and South Korea. The DMZ, approximately an hour's drive from Seoul, serves as a buffer zone between the two Koreas, offering visitors a unique and thought-provoking experience. 
The DMZ tour provides a comprehensive overview of the historical and political significance of the region. The Third Tunnel, a tunnel dug by North Korea to infiltrate South Korea, offers insight into the tensions between the two countries. The Dora Observatory provides panoramic views of the North Korean border and the city of Kaesong. Dorasan Station, the northernmost train station in South Korea, symbolizes the hope for reunification.
The DMZ tour is a sobering reminder of the Korean Peninsula's complex history and ongoing geopolitical challenges. It's an opportunity to understand better the region's past, present, and potential future. While visiting the DMZ, following the rules and regulations set by the tour guides to ensure a safe and respectful experience is essential. We also have a very detailed post about visiting the DMZ, which you can find here.
Jade Garden (제이드가든)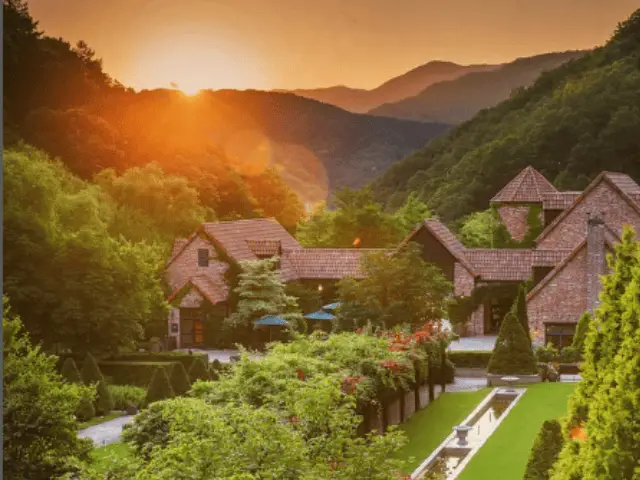 Visit Europe in the heart of nature at Jade Garden, an enchanting arboretum that invites you to experience the essence of "small Europe in the forest." Spanning an extensive 163,500 m2, this captivating destination beautifully preserves its natural contours while weaving together 24 meticulously crafted themed gardens.
The garden's themed zones offer a delightful journey through various landscapes and horticultural styles. From European-inspired gardens adorned with fountains and sculptures to tranquil ponds surrounded by native Korean plants, each section has its unique charm. Jade Garden is especially popular for its romantic ambiance. You can take leisurely strolls along tree-lined paths, cross charming stone bridges, and relax on benches overlooking picturesque vistas. The garden's serene atmosphere and well-manicured landscapes make it popular for weddings, photography sessions, and romantic outings. 
As you explore Jade Garden, you'll encounter a variety of plant species, from colorful flowers to towering trees. The garden's vast flora provides a feast for the senses, with vibrant colors, fragrant scents, and soothing textures. Jade Garden also offers a cozy cafe to relax and enjoy refreshments while taking in the views. 
Open hours: 9:00 – 18:00 daily
Phone: +82 33-260-8300
Instagram: Jadegardenkorea
Caribbean Bay (캐리비안베이)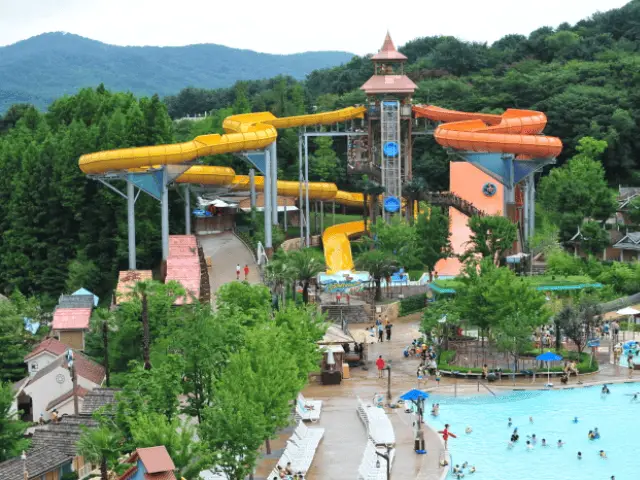 Escape the city heat and dive into Caribbean Bay, one of South Korea's largest water parks. Located in Yongin, this tropical paradise has water-based thrills, from adrenaline-pumping water slides to relaxing wave pools. Caribbean Bay is part of the larger Everland Resort, making it an excellent addition to a day of theme park fun.
At the heart of Caribbean Bay lies a magnificent artificial wave pool, stretching an impressive 120 meters in width and 104 meters in length. This sprawling pool creates a beach-like experience, where you can ride the waves or bask in the sun-kissed ambiance. The adventure continues with a lazy river that winds through indoor and outdoor pools, offering a leisurely escape for those looking to unwind.
For thrill-seekers, Caribbean Bay boasts a range of slides that promise an adrenaline rush. But perhaps the crown jewel of excitement is the famed Mega Storm – a colossal, intricate water slide that beckons the brave-hearted. Launching from a towering platform 37 meters above ground, the circular tube embarks on a 355-meter journey, twisting, turning, and dropping with three rapid descents. The pinnacle of the ride is an exhilarating 18-meter funnel-shaped tornado, offering riders an unforgettable sensation of zero gravity for a thrilling 55 to 60 seconds.
Indoor facilities enhance the experience with various slides, wave pools, spas, and saunas that cater to your every desire. Caribbean Bay has everything whether you're seeking heart-pounding adventures or serene relaxation.
Dumulmeori (두물머리)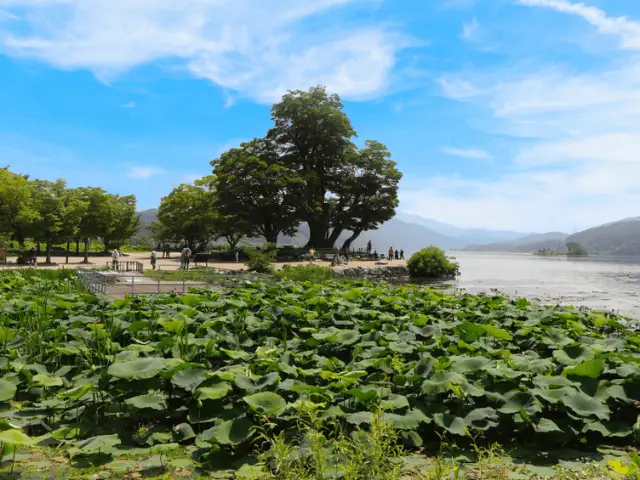 Nestled at the confluence of the Bukhan and Namhan Rivers, Dumulmeori is a scenic spot that offers breathtaking views and a serene atmosphere. The convergence of the two rivers creates a picturesque setting, where lush greenery, crystal-clear waters, and the gentle murmur of the streams create an enchanting ambiance. 
The three ancient Zelkova trees, which have stood tall for more than four centuries, are a famous location that you should see. These defenders of the soil dance gracefully together as their branches entwine, creating an amazing sight that resembles a single, mighty tree. There is also a lotus pond where, from May to June, you can see the lotus flowering magnificently.
You can traverse wooden footbridges that span the rivers, offering panoramic views of the surrounding landscape. The area is especially popular for its photo-worthy spots, where you can capture the serene beauty of Dumulmeori against the backdrop of the flowing rivers and the verdant hills. The sound of the water flowing beneath the bridges and the rustling leaves of the trees adds to the tranquility of the experience. Dumulmeori is also a favorite destination for picnics and leisurely walks. You can spread out on the grassy banks, enjoy a picnic with family or friends, and soak in the natural beauty.
Wave Park (웨이브파크)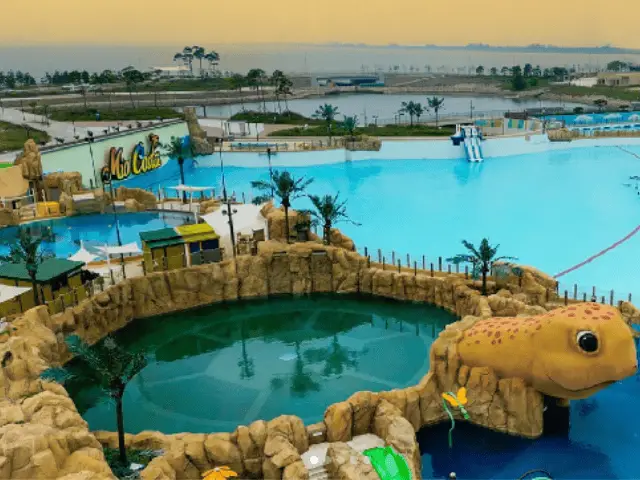 Looking for the ultimate surf experience near Seoul? Head to the Wave Park (웨이브파크). This colossal open-air wave pool is a paradise for surfers of all skill levels. With artificial waves tailor-made for your riding pleasure, you can catch the surf bug in a secure environment only about an hour and a half drive from Seoul.
While the wave pool is a world record-holder, a trove of activities will entertain the whole family for an entire day. Get your groove on at the concert stage with live music, soak up some rays in the relaxation area, let the kiddos loose in the water playground, or dive into the scuba pool for an underwater thrill. 
Wave Park is divided into four zones, each offering a unique experience. First, the Surf Zone is the playground for wave warriors, where you can ride those waves like a pro. Then there's the Caravan Zone, perfect for some relaxation and leisure. The Diving Zone caters to underwater adventurers with its scuba diving pool. And last but not least, the Mio Costa Zone, home to the Turtle Pool, Kids Pool, Island Spa, and Recreational Pool – a haven for family fun.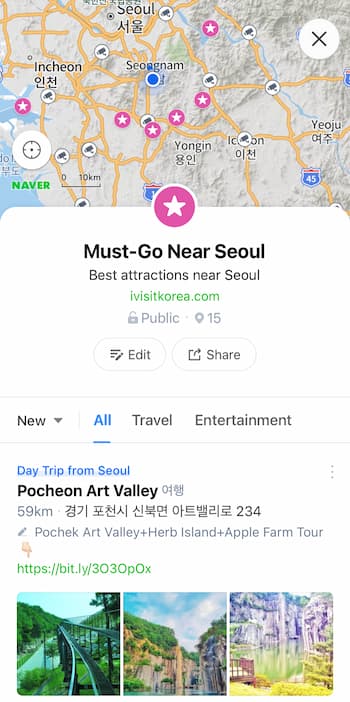 Save & share the Naver map of the best places to visit near Seoul 👉🏻 https://naver.me/xagzM0Cz
In short, as you plan your next escapade, consider the allure of these mesmerizing places near Seoul. They promise not only a temporary escape from the city's hustle but also a transformative experience that will leave you with lasting memories and a deeper appreciation for the diverse and captivating essence of South Korea. Have a nice trip!