Last Updated on July 31, 2023
Jeju Island, known for its breathtaking landscapes and cultural treasures, attracts millions of travelers annually. While luxury hotels and resorts are aplenty, many visitors opt for a more immersive and budget-friendly experience by staying in Jeju Island guesthouse. These hidden gems offer a unique blend of warm hospitality, local charm, and social interactions that elevate the Jeju journey to unforgettable heights. This article will explore the ten best-rated guesthouses on Jeju Island, each offering a gateway to authentic island living and a chance to forge lasting connections with fellow travelers.
Read also:
Jeju Woljeongrie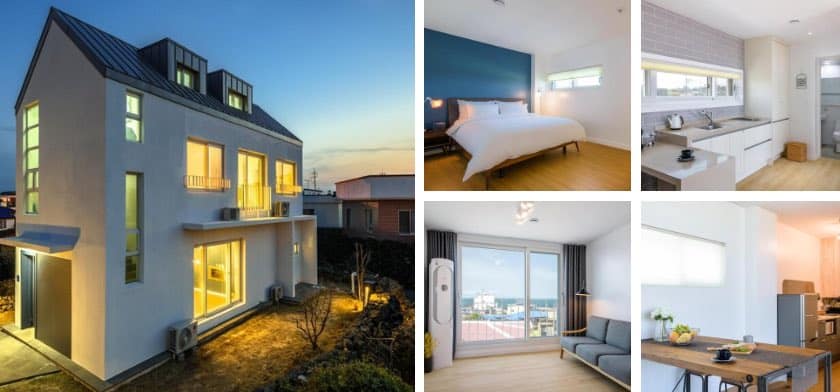 At Jeju Woljeongrie, unforgettable memories await you on the enchanting island of Jeju. They offer a perfect blend of convenience, comfort, and adventure. Immerse yourself in the vibrant energy of Jeju as you easily explore its captivating attractions from their doorstep. They are committed to providing impeccable service and all the essential amenities to make your stay exceptional. Indulge in the comfort of the thoughtfully furnished guestrooms, designed to cater to your needs. Jeju Woljeongrie is your gateway to an extraordinary Jeju Island experience. Let it be your home away from home as you create unforgettable memories in this captivating guesthouse.
Sagye Travel Guesthouse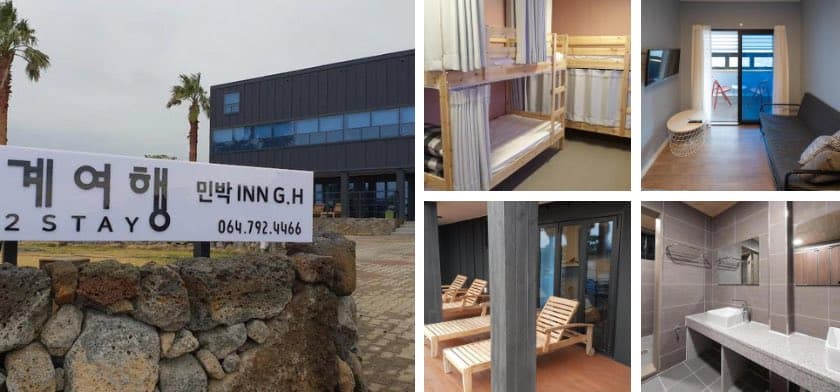 Experience the ultimate convenience and comfort at Sagye Travel Guesthouse in Jeju. This guesthouse ensures you get all the attractions during your stay. Their commitment to providing exceptional service and top-notch amenities is evident in every aspect of your experience. The friendly and helpful front desk staff is ready to assist you with any inquiries. Step into a cozy and inviting lobby with a charming on-site fireplace that creates a warm and welcoming atmosphere. Relax, unwind, and plan your adventures in Jeju while enjoying the cozy ambiance. The guestrooms are designed for your comfort, providing a range of amenities to ensure a restful night's sleep. From their strategic location to thoughtful amenities, they're here to create a memorable experience for you. Book your stay here and discover the beauty and charm of Jeju Island with ease and comfort.
Blue Island Guesthouse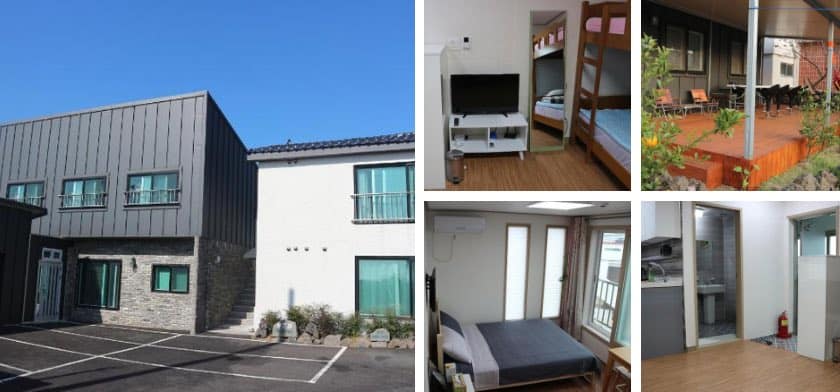 Blue Island Guesthouse Jeju is the perfect choice for travelers looking for a relaxing and luxurious stay in Jeju. The guesthouse offers a wide range of amenities to ensure guests have everything they need during their stay. Blue Island Guesthouse Jeju has everything from spacious rooms to an on-site restaurant. Guests can enjoy various activities, such as swimming in the outdoor pool, exploring the nearby beaches, or taking advantage of cultural attractions. The Blue Island Guesthouse Jeju staff are friendly, knowledgeable, and always willing to help with whatever guests need. Whether you're looking for a romantic getaway or just a place to relax and unwind after a long day of sightseeing, Blue Island Guesthouse Jeju is an ideal destination for any traveler.
Shanti Shanti Guesthouse
Discover the charm of Shanti Shanti Guesthouse, a beautiful, serene, and cozy haven that promises a delightful stay for all its guests. Nestled in a cute little house, the guesthouse exudes a welcoming atmosphere and provides everything needed for a comfortable and pleasant night's rest. Cleanliness is a hallmark of this accommodation, ensuring a refreshing and hygienic environment. Worries about the weather are put to rest as each bed is thoughtfully equipped with electric blankets, offering a warm and snug experience regardless of the climate. Kickstart your mornings with a complimentary, simple breakfast. One of the highlights of Shanti's Guesthouse is the friendly and approachable owner, always available for a chat and eager to make your stay as enjoyable as possible. Whether you seek relaxation or connect with fellow travelers, Shanti's Guesthouse promises a memorable and pleasurable experience that will leave you with cherished memories of your time there.
Slow Citi Guesthouse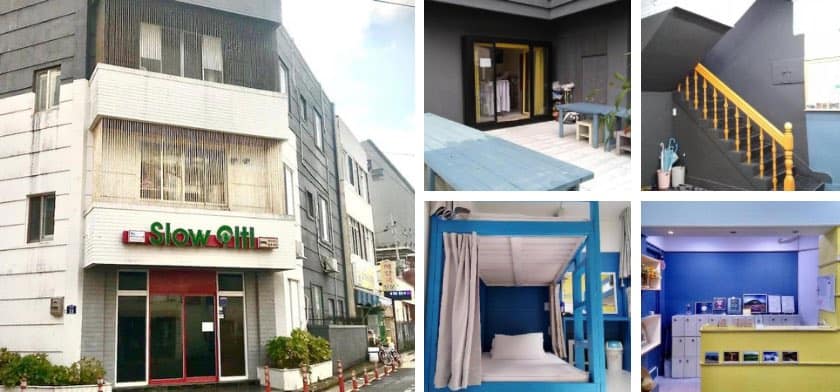 In the heart of Jeju lies a charming and well-maintained haven known as Slow City Guesthouse. The facilities at Slow City Guesthouse are complete and well-maintained, always appearing immaculate and tidy. The hosts go above and beyond to assist, creating a truly inviting and hospitable environment. Start your day with a simple yet satisfying breakfast from thoughtful hosts. Additionally, guests can relish complimentary coffee and enjoy the convenience of free WiFi in the rooms and public spaces. It's 2-6 minutes from public transportation, and this guesthouse offers easy access to explore the city's wonders. Moreover, various amenities are available, making your stay truly comfortable. You'll find a convenient store within walking distance, catering to all your daily needs. For those seeking a peaceful and pleasant retreat, Slow City Guesthouse is a top-notch choice, offering a delightful experience that keeps guests returning time and time.
Gudeok Guesthouse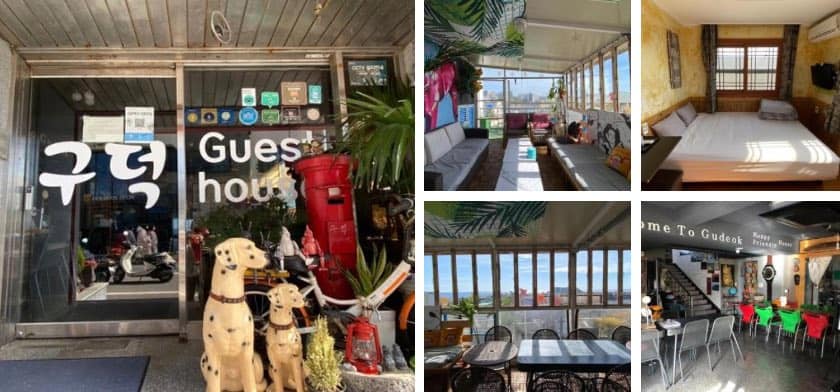 Discover Gudeok Guesthouse with an ideal location, offering easy access to multiple attractions. You will be impressed by the remarkable comfort of the rooms, providing a haven of relaxation. Two doors separate the bathroom from the sleeping area, ensuring complete privacy and preventing disturbances to fellow occupants. The staff's hospitality is unparalleled, with their genuine friendliness and exceptional helpfulness. Guests can rely on their expert recommendations for the best places to eat and explore in the area, making their stay even more enjoyable. For those who enjoy cooking or wish to socialize, the guesthouse's shared kitchen and rooftop have a generous supply of utensils and ample seating. The cozy atmosphere extends throughout the premises, particularly in the lovely lounge area with captivating views. Experience a memorable stay in this inviting guesthouse, where comfort, convenience, and warm hospitality blend harmoniously to create an unforgettable retreat.
Olle Stay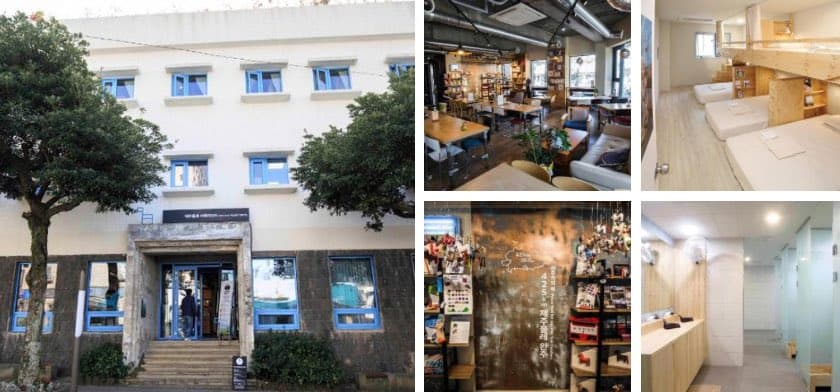 Olle Stay offers a delightful stay with wide, comfortable beds adorned with convenient lamps and power sockets for all your charging needs. You'll find your basic bathroom needs thoughtfully supplied for your convenience. A vibrant bar and restaurant await downstairs, boasting a delectable array of food selections to satisfy your cravings. Take advantage of trying the locally renowned Magpie beer, freshly poured on tap for your enjoyment. For your peace of mind, we offer secure lockers to keep your belongings safe and sound during your adventures. Experience true comfort, hospitality, and convenience; every detail is designed to ensure a memorable and enjoyable stay.
Jeju Doldam B&B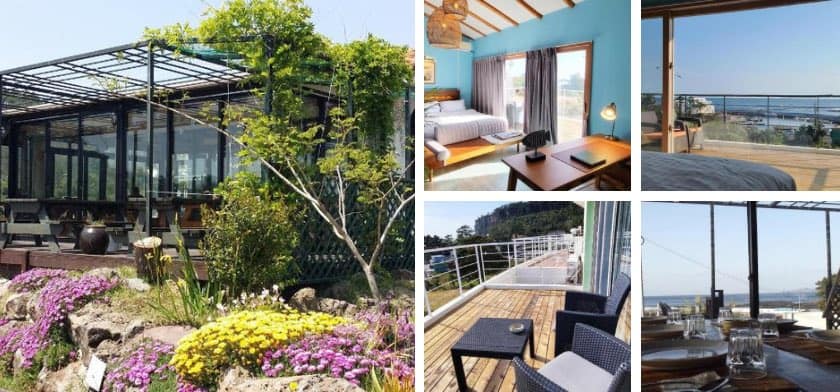 At Jeju Doldam B&B, each guestroom is thoughtfully furnished with convenient amenities. Kick start your mornings with a delectable breakfast served in-house. They provide delicious choices for dining options that cater to your preferences. Embrace the allure of a cozy night by enjoying the hotel's bar. You can try various recreational activities at Jeju Doldam B&B, where entertainment knows no bounds. The hotel's easily accessible beach invites you to bask in the sun and explore water-world activities like fishing and diving, promising refreshing adventures on sunny days. For those seeking a lighter experience, take delight in the nearby hiking trails that promise easy, fun-filled moments.
Jeju Masil Guesthouse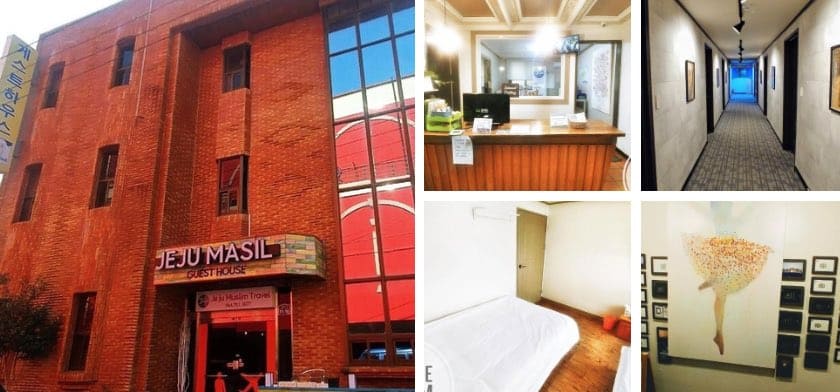 The Masil Guesthouse is highly recommended for its clean, quiet, and convenient accommodations. The guesthouse ensures guests of all backgrounds feel welcome and comfortable during their stay. The staff is known for being exceptionally helpful and accommodating, going the extra mile to assist visitors with any needs or inquiries. Whether you're a solo traveler or with family and friends, Masil Guesthouse provides a pleasant experience. It also boasts a prime location near numerous local restaurants that offer various cheap and delicious dining options. Guests can explore the vibrant culinary scene and indulge in authentic flavors without straying too far from the comfort of the guesthouse.
Bed Radio Dongmoon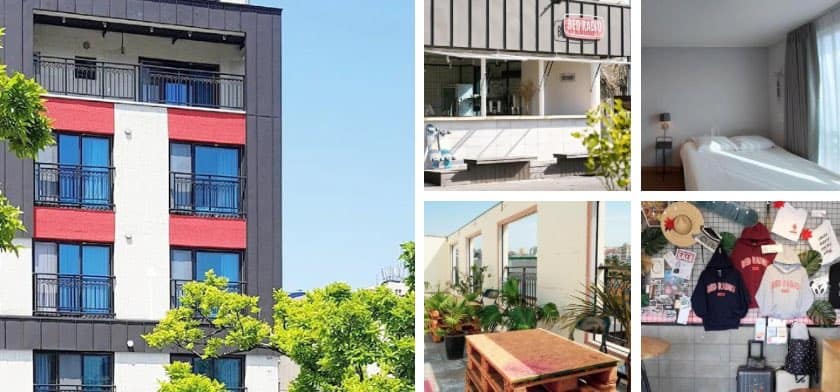 Experience the ultimate urban escape in Jeju with a stay at Bed Radio Dongmoon. It is conveniently located in Downtown Jeju for easy access to several local attractions and sights, ensuring you make the most of your trip. Enjoy a hassle-free and comfortable stay, enjoying the excellent services and amenities offered. As an added treat, the hotel boasts an indoor pool on-site, catering to your relaxation needs and providing a convenient way to unwind. During chilly days and nights, you can cozy up by the hotel's inviting on-site fireplace, keeping warm and snug. Begin your days with a delightful perk – a complimentary breakfast that awaits you at Bed Radio Dongmoon. For guests who prefer more control over their meals, the hotel offers an in-house shared kitchen, allowing you to prepare your favorite dishes easily. Embrace a delightful and fulfilling stay at this charming Jeju accommodation.
Why staying in a guesthouse is recommendable when in Jeju
Jeju guesthouses are often recommendable to stay when visiting Jeju for several reasons:
Affordability
Guesthouses in Jeju are generally more budget-friendly than hotels or resorts, making them an excellent option for travelers looking to save money on accommodation.
Local Experience
Staying at a guesthouse allows you to immerse yourself in the local culture and interact with the hosts, often residents of Jeju. They can offer valuable insights into the island's best-hidden gems, local cuisine, and customs.
Personalized Service
Guesthouse hosts typically provide customized attention to their guests, ensuring a more attentive and homely experience.
Social Atmosphere
Guesthouses often have communal areas where guests can mingle, share experiences, and make new friends. They create a friendly and social atmosphere, especially beneficial for solo travelers or those seeking a sense of community while traveling.
Unique Design and Ambiance
Many guesthouses in Jeju are designed with unique themes and aesthetics that reflect the island's natural beauty, adding to the overall experience and creating memorable stays.
Convenience and Accessibility
Some guesthouses are located near popular tourist attractions or public transportation, making it easier for guests to explore Jeju's sights and landmarks.
Local Recommendations
Guesthouse hosts usually recommend off-the-beaten-path destinations, local eateries, and activities that might be less well-known to tourists.
Flexibility
Guesthouses often offer various room types and flexible check-in/check-out times, accommodating diverse traveler preferences.
Environmental Consciousness
Some guesthouses prioritize eco-friendly practices, promoting sustainability and responsible tourism.
Note: Remember to read reviews and check the facilities, location, and services offered by the specific Jeju Island guesthouse you plan to book. Each guesthouse may offer different amenities and experiences, so finding one that suits your preferences and needs is essential.
In the enchanting realm of Jeju Island, where nature's splendor merges with rich culture, the ten best-rated guesthouses stand as shining beacons of hospitality and community. These havens of comfort and camaraderie have left indelible imprints on the hearts of travelers, offering more than just a place to rest. From the mesmerizing landscapes of Seogwipo to the vibrant city life of Jeju City, each guesthouse on our list has carved its niche, promising a unique experience that enriches every aspect of the island adventure. Whether savoring a home-cooked meal, swapping stories with newfound friends, or embarking on an expedition to Jeju's hidden gems, these guesthouses have turned fleeting visits into lifelong memories. For those seeking more than just a vacation, the best-rated guesthouses of Jeju Island beckon, ready to unfold their warm embrace and reveal the island's soul in ways only they can offer.