Last Updated on May 25, 2023
Spending time on Jeju Island, either as a tourist or a resident, will leave you with some of the most vivid and life-changing memories you've ever had. Jeju Island is famous for more than just its island; the area is historically significant and remarkable. If you ever find yourself in South Korea, make a point of visiting Jeju Island. Visitors and locals alike are drawn to the many beaches that provide opportunities for water sports of all types. To help you make the most of your time on Jeju Island, we've compiled a list of 14 fantastic water Sports and Activities in Jeju that showcase the best of what the island offers in terms of authentic enjoyment.
Water sports and Activities on Jeju Island
Jet boat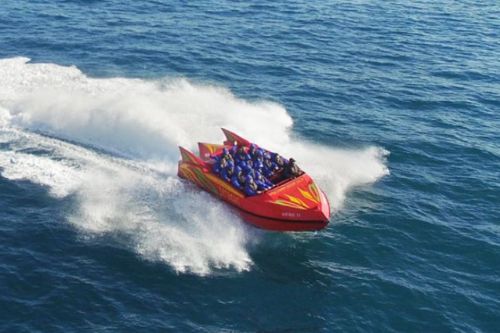 Taking the wheel of a jetboat is the only way to experience a journey on the water that is as thrilling as a roller coaster. Unlike other boats, which travel in a straight line, jetboats can do a complete turn in less than a second on the water without slowing down!
This is a fantastic method to get your blood pumping and cool down simultaneously. If you want to get a glimpse of the Jungmun Saekdal Beach, Hallasan Mountain, and Deapo Columnar Joint as they go by, you'd better keep your eyes open.
Check out Jet Boat Discount Ticket Prices!
Surfing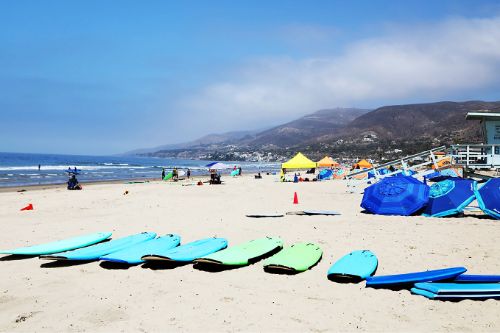 The island of Jeju has many excellent surfing beaches. This exhilarating activity played on the water's surface is an incredible delight to experience while vacationing on Jeju Island. You may learn how to ride waves at Samyang Beach, Gwakji Beach, or Iho Tewoo Beach, where you can show off your abilities if you already know how to surf. On the Island of Jeju, these are some of the most excellent beaches to surf!
Scuba diving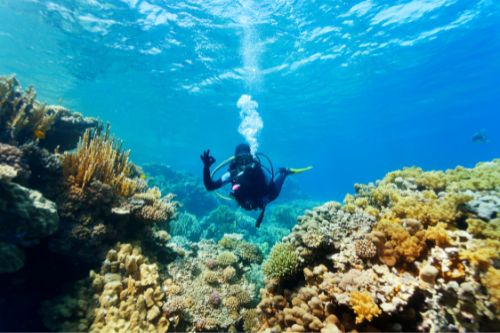 Experience the rich marine life of Jeju by going scuba diving off the southern shore. When starting: This is a fantastic diving program for non-certified divers, led by a knowledgeable instructor and conducted in English for the convenience of international guests. Scuba diving at Aqua Planet Jeju is excellent, even for people who don't have a diving certification. This is a message for licensed divers with experience: If you don't already have a diver's license, you could also get your Open Water Basic certification.
Snorkeling
Hamdeok Beachcaptureis a tropical paradise with clear, shallow seas ideal for snorkeling. Rest assured of colorful marine life that will capture your imagination. Snorkeling on Jeju Island is a great way to see the underwater scenery for yourself and make friends with the diverse marine life that lives there.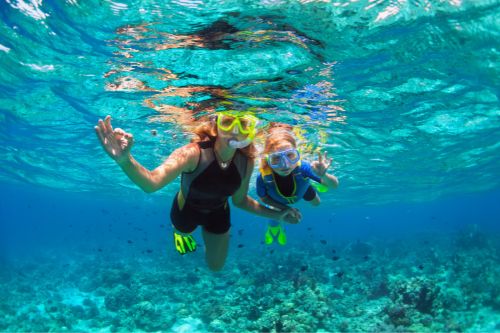 The water on the eastern side of Jeju Island is unpolluted, and so is a safe place to swim. Enjoy a one-of-a-kind adventure as you discover the fascinating species that call the ocean floor home. With the help of the lifeguards, everyone will have a fantastic day. If you are a marine lover, these are some places to have the most fun.
Submarine
In a comfortable and secure environment, the Seogwipo Submarine will take you on a tour of the sea floor to depths of up to 40 meters, where you may marvel at the vibrant marine life and colorful coral formations. After the underwater excursion, guests will be given a tour of Munseom Island itself. This is an excellent way for people of all ages to see the marine life of Jeju without having to get their feet wet, making it an ideal option for families with young children.
Yacht cruising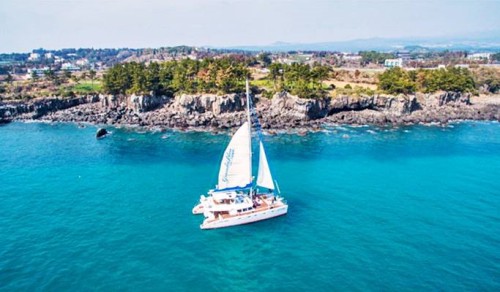 Take a yacht cruise if you've ever desired to experience the opulent lifestyle of the wealthy and famous for yourself. This "seaside summerhouse" is open all year, allowing you to enjoy a day of luxury whenever you choose. The Beomseom, Hyeongjesom, Marado, Daepo Columnar Joint, and Gapado islands are all visited on the boat excursion, including a formal supper.
Compare the prices of yacht experiences in Jeju.





Sea walking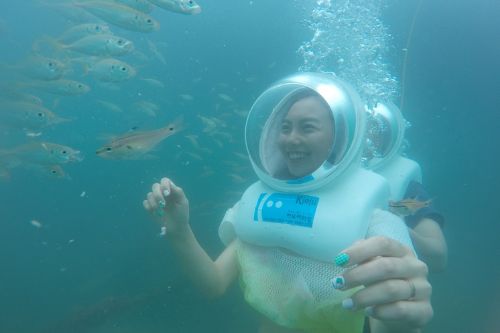 As the name suggests, this is just walking but inside the sea. Try your hand at sea walking if you're seeking an alternative approach to seeing the ocean. Sea walking is a more accessible and less time-consuming alternative to established methods of underwater exploration. An underwater helmet is required to go for a walk on the ocean bottom, rather than a cumbersome oxygen tank or special training to operate a snorkel. There are times of the year when you can even feed the fish.

Fishing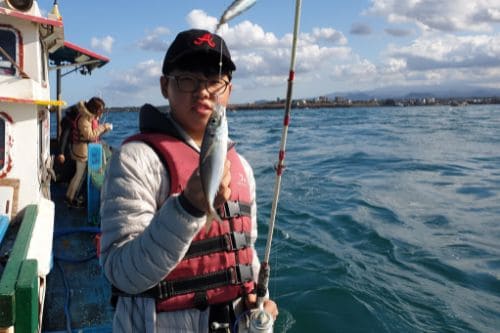 Enjoy the island's beautiful surroundings while participating in deep-sea fishing at Chagwido. Those who believe fishing is a sedentary and uninteresting summer hobby are gravely mistaken. When you're in the middle of such a big body of water, you can't help but feel a sense of tranquility and peace as you take deep breaths of the clean air of the ocean and let your mind wander. If you enjoy fishing and kayaking, you may try kayak fishing too! Fishing is a fun activity that can be enjoyed by people of all skill levels and all ages, so invite your loved ones and friends on this memorable fishing adventure. These are some of the most incredible spots for anglers to cast their lines.
Check out the fishing tour deals!

Parasailing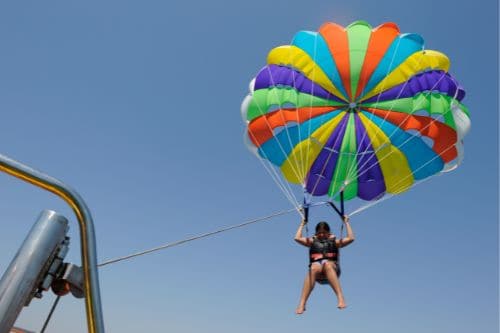 As a combination of air and water sports, parasailing is a kind of sailcraft that resembles a parachute. It is used in tandem with a boat to carry a rider into the air. Before the ride starts, all passengers must don life jackets and secure any loose items, such as sunglasses, mobile phones, and hats, in a designated area. So come here prepared to get wet and thrilled.
Paddleboarding (SUP)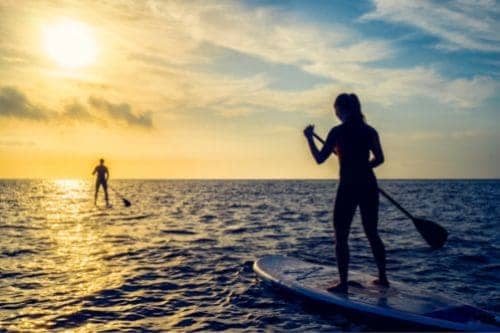 The sport of stand-up paddleboarding, which has its roots in Hawaii but is still in its infancy in the rest of the world, has just recently made its way to Jeju island. Lessons are offered, making this activity suitable for those without prior experience. You will only be responsible for paying the rental fee for the board! Choose the guided trip offered by the Jeju SUP Surfing Club if you want to learn the fundamentals of paddle boarding and experience a one-of-a-kind tour of the caverns on Jeju Island. You will make your reservation at whichever hotel you wish to stay in.
Paddle Yoga (SUP yoga)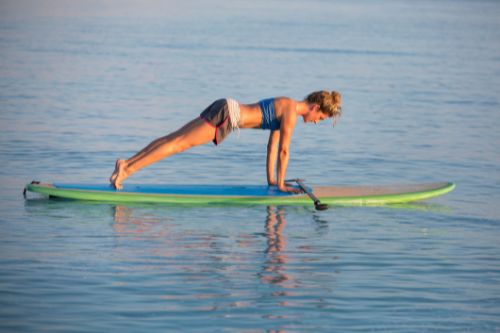 At the International Leaders Club in Jeju, you can enjoy fun water activities and a beautiful ocean view. Try stand-up paddle surfing (SUP) and easily move through the water. While paddling, you can see many different kinds of sceneries on the other end of the beach. Therefore SUP is a great way to end your trip to Jeju. The activity is more physical than expected, so burning a few calories can never be a misplaced priority.
Address: 1-11 Jocheon-eup, Jeju-si, Jeju, and Shinheung-ri.
Kayaking
Relax on your kayak while admiring the breathtaking natural landscape. You may go kayak fishing or kayaking in the gorgeous Hado Sea, which is close to Seongsan Ilchulbong and Udo Island. Hamo Beach is also ideal for kayaking with its beautiful surroundings and shallow waves. The beach has silvery-white sand that is enhanced by the sun's rays. Relax and take in the ocean air as the see-through kayak gets you closer to the ocean bottom and marine life. This exercise is appropriate for people of all ages. Enjoy the summer heat while kayaking! The best spots to go kayaking are:
Kite surfing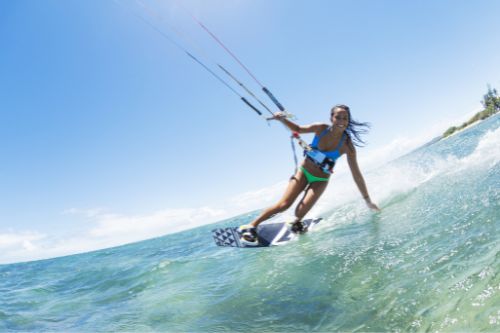 The next item on your to-do list should be kitesurfing or kiteboarding. This water sport is a newer kind of recreation that combines paragliding, sailing, and surfing. If you are looking for a reputable kiteboarding school on the island of Jeju that also offers equipment rentals and training, look no further than Jeju Kitesurfing. You will have all the knowledge and gear you need to have a memorable kitesurfing experience.
Big ball and zorb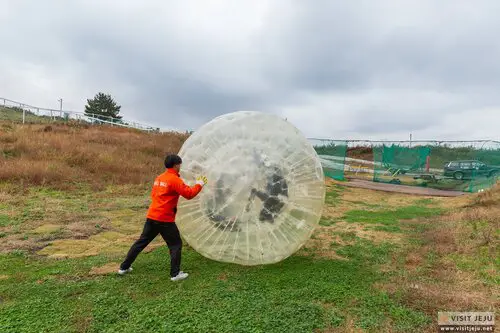 The exciting new sports of zorbing and giant ball can only be experienced on the island of Jeju in Korea. One similarity is that they both involve rolling a large inflatable ball down a hill, but that's about it. The Big Ball Ride is like a water slide since it is partially submerged in water. A waterproof camera is accessible for rental if you want to record your exciting experience on the giant ball ride. Wear something you don't mind getting wet if you decide to attend. Don't forget to include a change of clothing and a towel. But you can also rent them from Big Ball Land for a little charge.
You may also like:
IVK's Top Picks – Day Tours, Tickets, and Travel Activities
Seasonal Picks!😍