Last Updated on May 25, 2023
Exploring the unseen and undiscovered world of oceans is intriguing and enthralling. If you are a scuba diver, swimmer, or snorkeler, then nothing can give you more pleasure than the underwater world of fish, coral reefs, and various other species of plants, and aquatic animals.
For all those who are either in South Korea or are planning to visit soon, this article is for you. We are bringing the top ten diving and snorkeling spots in Korea to all the diving enthusiasts who are looking for sites for diving in Korea. So let's dive deep into this, without wasting any time.
Best Scuba Diving and Snorkeling Spots in Korea
Munseom, Jeju Island
Jeju Island, most commonly called "The Hawaii of South Korea", has become a prominent gateway because of natural attractions like pristine beaches, mounts, waterfalls, and tunnels. Where else can you uncover an azalea-framed volcano to ascend, a fraternity of deep-divers, and chronological stone statues on which you can make wishes?
The only place is Volcanic Jeju Island which was formed around 1.8 million years ago. After snorkeling in the crystal waters, have a cup of coffee with beautiful sunset views at one of the many cafes that line the beach. For all the people out there who love diving and snorkeling, do consider Munseom, Jeju Island in your list, as it is one of the top diving and snorkeling spots in Korea.
Ulleungdo Island
Ulleungdo Island is a mysterious volcanic island in the middle of South Korea's East Sea. For nature-loving Koreans, it has always been a popular place to visit.
However, now people from across the globe are catching on. Back to history, Ulleungdo Island is believed to have formed following volcanic eruptions over 2.5 million years ago. However, for most of the time, it remained uninhabited and was well preserved.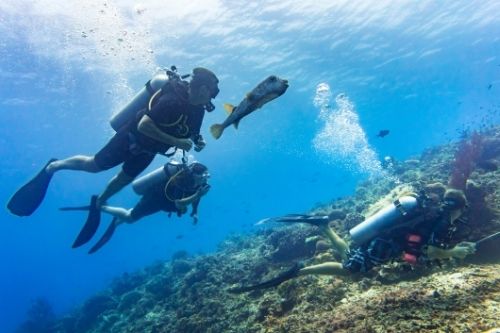 Ulleungdo is quiet and immaculate. It is a natural haven of volcanic highlands, captivating rock formations, Cedarwood and Juniper woodlands, and some tiny fishing villages. The island has gained prestige as South Korea's most sacred destination. Ulleungdo island is the snowiest place in South Korea.
Find & Compare Ulleungdo Activities
Goseong, Gangwon-do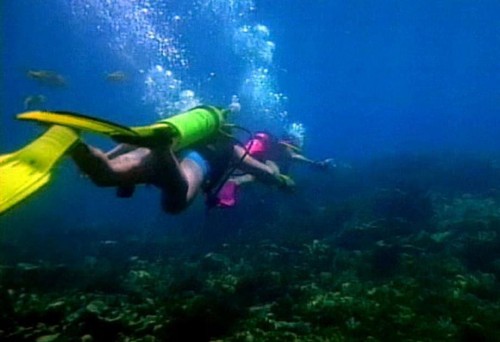 Surfing at Songjiho beach is a perfect place for those who are looking for sites for diving in Korea.  Songjiho is a white sand beach in Goseong, Gangwon-do. It is 4km in length and one of the best spots for those who love swimming, fishing, boating, and outdoor camping.
Goseong has an abundant bedrock area and clean water. There are various kinds of fish and underwater rock cliffs, seaweed, coral, and octopus.
Witness the beauty of the blue sky and blue water by enjoying the white sandy beach and rocky island. You will find many colorful disposable tents lined up there and visitors visit this place in huge numbers each season.
You will rejoice in diving, surfing, and snorkeling in Goseong, Gangwon-do. Even if you are not into diving much, watching the waves is itself healing and peaceful. So in short, Songjiho beach is a perfect place not only for surfers but also for campers. Check out Goseong, Gangwon-do as it is one of the best diving and snorkeling spots in Korea.
Wangdolcho, Uljin
Uljin is the North Gyeongsang province of South Korea. It is quite underrated because many people usually prefer the East coast as a favorite summer destination. Visitors mostly go to Gangneung and Sokcho while totally ignoring Uljin. It is a three-hour drive from Seoul. You will feel a retro vibe in the streets where old shops and dockyards line the streets.
At this point, you might be wondering what Uljin is famous for? No doubt, it may lack the gleam of its better-known neighbors, nevertheless, you can not forfeit its hot springs and forests. Uljin is a go-to spot for foodies intending a relaxing outing in the winter when snow crabs are in season.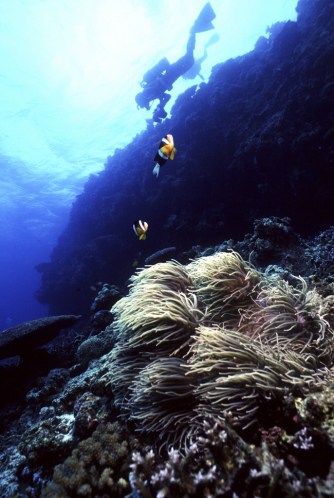 Uljin is home to snow crabs. The Wangdolcho area is a seabed that is 23 kilometers away from the harbor Hupohang. Wangdolcho is a natural habitat for snow crabs and is home to more than 120 species of oceanic life. So for all the diving and snorkeling lovers, don't miss out on the well-known Uljin Snow Crab and Red Snow Crab Festival which is held each year at Wangdolcho square, Hupohang Port, Uljin, Gyeongsangbuk-do held at the end of February and beginning of March.
Gageodo Island, Jeollanam-do
Gageodo Island also known as Soheuksando Island is the most southwestern island in Korea. It is located fairly close to China. Gageodo island has uneven mountain ridges. Witness the magnificent scenery of these cliffs. This place is home to various fish varieties as well as migratory birds.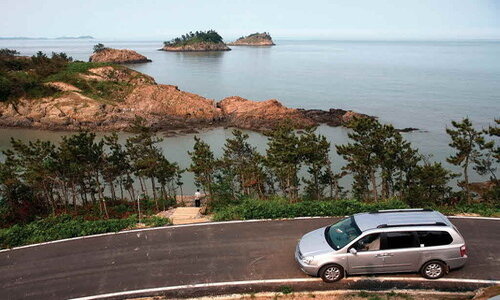 Gageodo island and its waters are home to fish like anchovy, croaker, hairtail, horse mackerel, and sea bream. If you are a scuba diver, then enjoy the underwater magnificent scenery of coral reefs. The unexplored ecological landscape is there for you to explore. Enjoy the beauty of corals and sponges in the warm water of the island.
Galdo Island, Tongyeong
Galdo Island is one of the most inhabited and remote islands in Tongyeong. It is loved by many anglers as it is the home of various varieties of fish like rockfish, red and black sea breams. You can go there by fishing boat. No matter what you are fond of, one thing is for sure: a day of sightseeing isn't perfect without enjoying scuba diving in Tongyeong.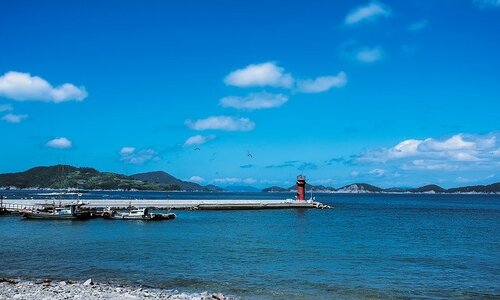 It is heaven for scuba divers who love to discern nature closely. Enjoy the colorful stone coral reefs and sponges and have a perfect holiday. For all the divers and snorkelers this is indeed a perfect spot, you should absolutely not miss it at any cost if you are coming to Tongyeong.
Taejongdae, Busan
If you're in Busan for more than a week and are thinking of diving in Korea then a voyage to Taejeondae is a worthy expedition. Taejongdae is a natural garden park with leafy evergreens. It includes numerous species of trees and incredible shore cliffs confronting the blue-green ocean. Its distinguished seascapes and topography were assigned as a Busan Monument. There are several spectacles and recreations throughout the whole park.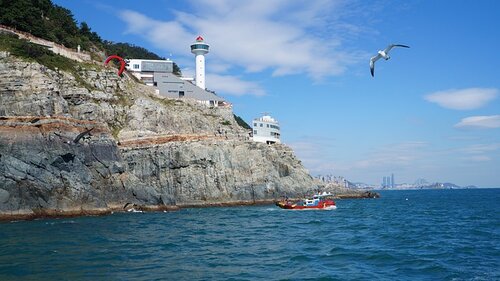 Taejongdae is one of the Busan beachfront parks with a tremendous panorama. The two-hour loop path goes through two temples Gumyeongsa and Taejongsa are worth a timely stay. You can see Tsushima Island of Japan from the observation deck if the visibility is good. Moreover, the Yeongdo Lighthouse area is the highlight where the nicest views of the spectacular seashore highlands are.
Geomundo Island, Yeosu
Geomundo Island was once known as Port Hamilton. It is not a single island but refers to a small group of islands in the Jeju Strait. Witness the breathtaking views of the off-the southern coast of the Korean Peninsula. Geomundo Island is made up of three principal islands. To the west, there is an island named Sodo while to the East, the island is named Dongdo. These two are the larger ones, while the smaller island in the center forms a harbor.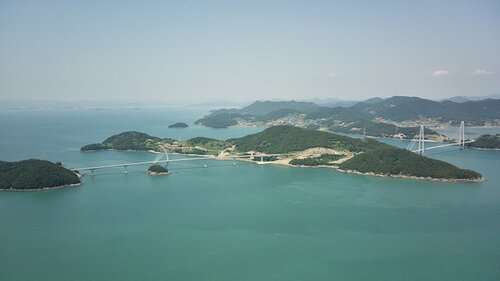 Experience the ecosystem of the sea at Geomundo island in Yeosu. It is an emerging scuba diving spot for all the scuba divers and swimmers who are enthusiastic to know about diving in Korea. Geomundo Island is famous for multicolored horned corals. Experience the habitat of seahorses in the emerald color clear seawater.
Find & Compare Things To Do in Yeosu
Guryongpo, Pohang
Experience the mesmerizing and spectacular seashore view at Guryongpo, Pohang. Make unforgettable memories of pure, unpolluted, crystal clear cobalt blue seawater. Guryongpo beach is another worth-watching spot for all the divers and snorkels out there who are looking for the best diving and snorkeling sites in Korea.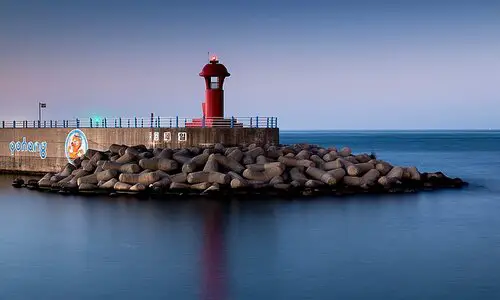 The sea of Guryongpo is full of various species of fish like whales, crane saury, snow crabs, squids, gwamegi, etc. You will find underwater rocks and multiple coral reef species as you go down in water 10m to 30m in depth. If you are a new scuba diver, then go using a dedicated diving boat.
Mijo, Namhae
Are you looking for a laidback destination in Korea? If yes, then go visit Namhae as it is what you are searching for. An excursion to Namhae is the ideal summer escape destination because there is plenty to do there. Near Mijo port in Namhae-gun multiple diving sites are waiting for scuba divers from near to far sea areas.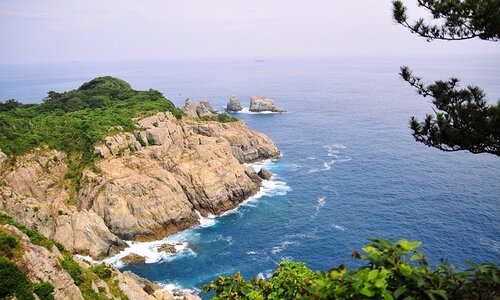 The beaches in Namhae are among the nicest in Korea because of the crystal clear, pure water. The golden sandy coastlines are favorable for a summer holiday. No matter whichever side of Namhae you are on, a nice coast is never far out. Experience the true treasures of Namhae-gun underwater.
Scuba diving is not only a hobby or childhood dream but is more like a sport these days. Exploring the world of the unseen and swimming in water like fish is not only a thrilling experience but also is unmatched. Going deep down in the water and observing the astonishing sea creatures is no less than any treat.
Make unforgettable memories and visit the best of the diving sites in Korea. Happy scuba diving, Korea is all ready to welcome you to experience the best of the bests in the world of diving and snorkeling.
You may also like:
IVK's Top Picks – Day Tours, Tickets, and Travel Activities
Seasonal Picks!😍