There are many places in South Korea that are worth visiting and exploring over a span of several days. Jeju Island is certainly one of those places. Nicknamed the Hawaii of Korea, Jeju Island is located a couple of hours off the southwestern coast of the mainland. If you're planning to visit soon, this article will guide you through drawing up the best Jeju itinerary for 2–5 days.
Regions of Jeju Island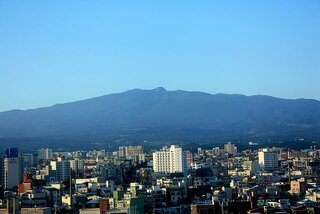 Jeju Island spans an area of 1833㎢ and has a population of 695,519 (as of 2020). While the main language of Jeju is Korean (hangookmal or hangook-eo or 한국말), there is a Korean dialect that is also spoken called Jejuan (jeju-mal or jeju-eo or 제주어). Due to the rise of tourism to the island over the years, there are many people who also speak English; although you may not know Korean, it's entirely possible and easy to travel around the island.
In Jeju, there are three biggest cities: Jeju City, Seogwipo, and Seongsan. These are the cities most non-Koreans know. 
Jeju City
Jeju City is the main city and the central location where you will land when you visit the island. Yes, Jeju City is where the Jeju International Airport stands! Because Jeju City is in the urban center, all the best cafes, bars, and restaurants are all situated near here; if you are looking for somewhat of a nightlife, you should choose to stay in Jeju City.
Seogwipo
Move to the southern region of Seogwipo and you will find yourself in one of Jeju's southern cities. Seogwipo is famous for housing several tourist attractions including differently-themed museums and the Osulloc's Green Tea Fields. If you hope for a mostly historical and cultural focus for your trip, you might want to find a hotel in Seogwipo.
Seongsan
If Seogwipo aims to uphold Jeju's culture past and present, Seongsan and its neighboring cities focus on historical culture. The biggest example of this is Jeju Folk Village in Pyocheon. If you want to get in touch with Jeju Island's history and culture, look for a hotel here.
Accommodations in Jeju
Depending on what you want out of your Jeju travels, you might be drawn to each of these cities for your stay. Once you have decided where you would like to stay, use our guide to look for the perfect accommodations!
When looking for things to add to your itinerary, websites that are good places to look are Jeju Tourism Organization and Jeju Tours. However, if you want to organize and create your own itinerary (and trust me, it is fun to make your own!) this article will list some must-see and must-do attractions that you can look through and pick and choose according to your tastes!
Jeju Itinerary
Day One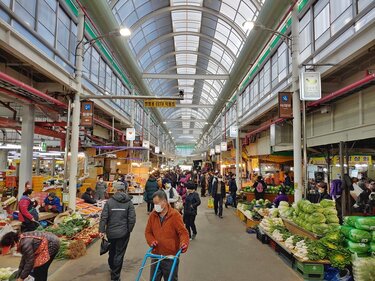 Depending on the kind of traveler you are, you might want your first day on Jeju Island to be relaxing, or you might want it to be full of activities! Well, if you are the former, two great places to start are Dongmun Traditional Market and Jeju Five-Day Market, located minutes away from each other. While you are there don't forget to look for the Top 15 Things To Buy in Jeju Island.
Night One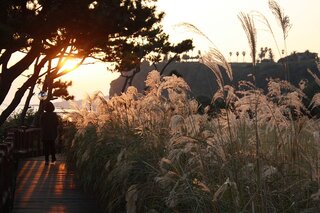 If you land in Jeju in the evening or during the night, you have an opportunity to tour around Jeju Island with Jeju City Tour. Starting from Gate 2 of the airport, the night tour will take you to various famous tourist attractions including Ihotewoo Lighthouse and Dodubong Mountain's peak, from which you can witness the picturesque glow of the sunset. You can also check out 17 Best Restaurants Loved By Locals In Jeju for delicious Jeju meals.
Day Two (Nature Day)
No matter where you are in Jeju, you have the chance to go on one of the many routes of the Jeju Olle Trail. Set your whole day right with one of these routes in the morning. If you come to Jeju in the autumnal season, you can participate in the annual Jeju Olle Walking Festival. Be warned though! If you plan on participating, you must register through this website between September 1 and October 13.
For more information, you can contact their office via phone number (+82 64-762-2190) or email ([email protected]).
After your revigorating trek on an Olle Trail route, head to the Mt. Halla Hiking Trails and Mt. Halla National Park. If you're feeling up for another trek or hike, you can climb Mt. Hallasan. You can also walk through the national park, admiring Jeju Island's natural beauty and observing the tallest mountain in South Korea at 1,947 meters, formed by a shield volcano. Before you hike these trails, you should make reservations.
Mt. Hallasan and Mt. Hallasan Park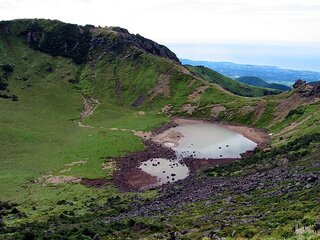 After spending the afternoon at Mt. Hallasan National Park, head down south to Jeongbang Waterfall, which stands at 23 meters tall. Aside from watching how the rushing waters start from the Donghongcheon Stream and deposit into the nearby ocean, you might be able to find the inscription "Seobulgwacha" (translated to "Seobul was here") on the rocky wall. A legend goes that Emperor Jin or Qin of China sent his servant Seobul on a mission to recover a magical herb of eternal youth from Mt. Halla. Unfortunately, Seobul didn't find any such herb and instead stumbled across the Jeongbang waterfall. He quickly scratched "Seobul Gwaji" as an autograph, marking his presence there.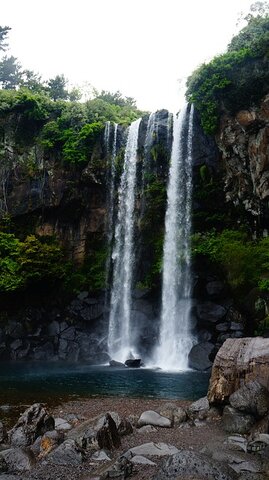 From the Jeongbang Waterfall, head east until you arrive at the Hwanguji Natural Pools and spend some moments reflecting on how wondrous nature is, and how powerful too, to create pools of clear, blue water.
Oedolgae Rock and Seonnyeo Rock
From the Jeongbang Waterfall, travel several minutes east and reach Oedolgae Rock and Seonnyeo Rock. Pictured below, there are many legends about these rocks, but the main one is that the Oedolgae Rock and its rocky foundation represent a halmoni and harabeoji (grandmother and grandfather). According to legend, the grandmother is waiting for her husband to return home from his job as a fisherman. Unfortunately, he never comes home. After having watched them both, the gods took pity on the couple and transformed them into never-dying rock formations.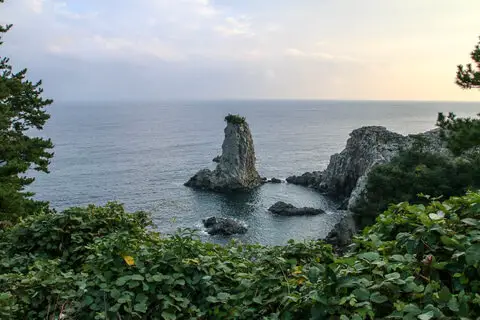 Seonnyeo Rock stands behind Oedolgae Rock and its foundation and appears to be hugging the grandmother and grandfather. Nicknamed "Angel Rock," Seonnyeo Rock is the sight of the last battle between the people of Mokho and Jejuan General Choi Young. Another famous legend goes like this: for the battle, General Choi dressed Oedolgae Rock to look like a giant soldier. Upon seeing this and thinking that it was indeed a formidable opponent soldier, the people of Mokho declared their own defeat and killed themselves, giving the victory over to the Jejuans. Because of his, people sometimes refer to Oedolgae Rock as "General Rock."
To finish your day, drive further east to Jusangjeolli Cliff and Cheonjiyeon Waterfall. After standing at the edge of the Jusangjoelli Cliff edge, venture over the bridge of koi fish to admire the Cheonjiyeon Waterfall, a visual representation of—as its name suggests—the sky and the earth meeting. Before reaching the actual waterfall, visitors must walk a carefully landscaped trail that includes the aforementioned bridge as well as a traditional Korean raft called tae-u (태우).
Day Three (Cultural Appreciation Day)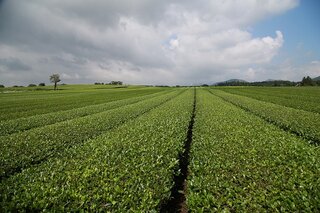 For your third day in Jeju, why not learn about Jeju and Korean culture? A must-visit attraction is Jeju's Osulloc Green Tea Fields & Museum, situated next to each other. 
It would be an understatement to say that a hot ticket in South Korea is the green tea flavor; everywhere you go, you will be hard-pressed to miss ice cream, coffee, or dessert whose flavor is green tea (malcha or matcha or 말차). Don't tell me you've never wondered about how this ubiquitous flavor gets made!
Osulloc Green Tea Museum blends the East and West, traditional and contemporary, as it creates and promotes South Korea's most famous green tea flavor and spread the richness of this unique taste to the rest of the world. Come here and learn about the process in which malcha goes from plant to plate and cup.
Just outside the museum are the fields where the green tea plants and farmed and taken care of. You also have the opportunity to buy and enjoy a refreshing green tea drink as you make your way through the adventure that is Osullock Green Tea Fields & Museum!
After strolling through Osulloc's green tea fields and exploring Osulloc's museum, steadily start heading over towards Innisfree Jeju House and to the nearby farmer's market.
Museums
Return to the southwestern region of the island but instead of going to Cheonjiyeon Waterfall, head on over to the Jungmun Tourist Complex, where you'll get the chance to visit one, two, or three of the most famous museums that are here.
Everybody loves optical illusions! At Alive Museum, you'll encounter several pieces of optical illusions and fun hands-on activities! Each piece has detailed instructions on how to view it, but you are always encouraged to use your creativity and think outside the box! A couple of hours at Alive Museum is perfect for the whole family!
For a fun afternoon for the whole family, the Teddy Bear Museum is a perfect tourist attraction! Here, you'll see many, many teddy bears dressed in different costumes and modeled doing chores and participating in different activities.
Fees:
Adults: ₩10,000
Youth: ₩9,000
Children: ₩8,000
Operating Hours:
09:00–19:00 (weekdays and weekends)
09:00–22:00 (summertime, last ticketing at 21:00)
Play K-Pop Museum
If you or your loved ones are fans of the global phenomenon that is K-pop, the Play K-Pop Museum in the Jungmun Tourist Complex is definitely a place you must visit! Here, you will learn about the history of Korean pop music as well as attend holographic music shows. There are also several exhibitions throughout the museum.
For inquiries, you can contact Play K-Pop via phone (064-780-9000)
From the museum complex, you are very close to yet another one of Jeju's beauties, the Yongmeori Coast (용머리). In Korean, yong means 'dragon' and meori means 'head'. When you come here, you will see that the Yiongmeori Coast cliffs are textured just like the head of a dragon. The length of the cliffs can be likened to the length of a mighty dragon's body. Standing nearby, you'll feel the largeness of the dragon as well.
From here, drive to Suwolbong Peak, another coastal cliff. According to legend, siblings Suwol and Bong happened across this peak in search of a magical herb that would heal their mother of her sickness. Hence, the peak is named after the siblings, symbolizing and celebrating their bravery and determination.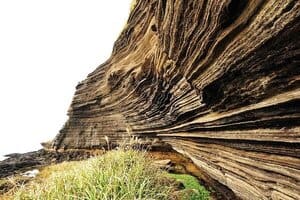 Day Four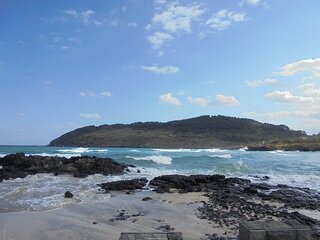 If you come to visit Jeju Island, you mustn't leave before visiting Udo Island, another one of South Korea's islands. You can take a short ferry ride (only 15 minutes!) from the eastern
Udo Island. You can reserve to go on an Olle Trail that specifically goes around the smaller island. (Jeju Olle Trail 01:1) You'll be taken around Udo Island to view the island's natural and tourist attractions.
Keep in mind that while crossing the sea from Jeju to Udo is a short trip, some stipulations are in order for the maintenance of everyone's safety. People who decide to drive have to be born after 1954, can't be pregnant, are disabled and using a wheelchair, and a minor under the age of six.
Day Five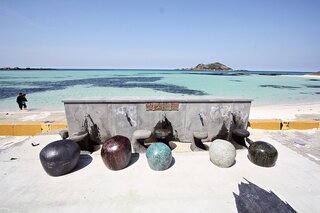 Congratulations! You'd made it to the last day and have seen and done everything that visitors to Jeju Island must-see and do. For your last day on the island, you should relax, chill, and hang out with your friends and family, and head to one of Jeju's many beaches. In fact, you have three main ones to choose from; these are Jeju's most popular and most visited.
Hyeopjae Beach
Hyeopjae Beach is one of the most—if not the most—famous beaches on Jeju Island, located at the top of the western coast. With long trails of white sands and clear blue water, Hyeopjae definitely looks picturesque and is a perfect spot to get in all your photos! Although it gets pretty crowded in the summertime, the beach is also big and spacious, so it's easy to find a cozy spot to lay around and hang out with your loved ones.
Hamdeok Beach
At Hamdeok Beach, it is a popular activity to kayak. It is also a popular swimming beach, with clear water and beautiful scenery abound. Hamdeok Beach is on the Northern coast of Jeju Island, near the East.
Jungmun Saekdal Beach
Located close to Jungmun Tourist Complex and the Southern coast, Jungmun Saekdal Beach is another beach tourists flock to when they visit the island. You can chill with your loved ones, stroll along the white sand trail, or surf if you so desired.
Geommeolle Beach
Have you ever been to a beach that has black sand instead of white or golden? Well, if you go to Jeju's Geommeolle Beach on the Eastern coast of Udo Island, and you'll be able to see for yourself! Due to Jeju Island being home to several volcanic eruptions and land formations, it should be no wonder that at least some of the beaches would show the result of what happens when sand and ash meet.
Pyoseon Haevichi Beach
There are two locations in Jeju that are perfect for watching the sunrise and sunset: Suwolbong Peak and Pyoseon Haevichi Beach. The latter in particular is a must-visit to watch the sunrise, as it is located on the Southeastern coast of the island. It's also a great place to spend your very last day in Jeju.
To fit in all the things Jeju has to offer in 2 to 5 days is a difficult task, if not an impossible one, as there are far too many wonderful things to see and do. However, we hope that this guide will help you organize and plan your itinerary for your next holiday in Jeju!
You may also like: