Once you go to Jeju Island you will know why it is called the "Hawaii of Korea." It is Korea's largest island; surrounded by beautiful beaches, scenic countrysides, and right at the center, the volcanic Hallasan mountain. Not only is it aesthetically pleasing but it also has a very profound historical background for South Korea. Back in the late 1940s, Jeju island was once a hub for protests and demonstrations against the South Korean government. The protest led to about 30,000 people losing their lives. Despite the tragedy, travelers make it a point to add Jeju island to their must-see list while traveling to Korea. Jeju island is famous for its natural landscapes, but most people are unfamiliar with the attractions here.
Here are Jeju island's attractions, directions on getting to Jeju island, where to stay in Jeju island and the best restaurants in Jeju island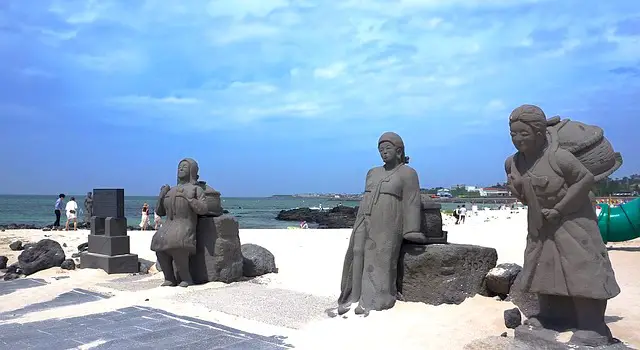 How to get to Jeju from Seoul or Busan
We recommend taking an airplane from Gimpo international airport, if you are in Seoul, or taking an airplane from Gimhae international airport, if you are in Busan, to Jeju international airport. The flight is only one hour and there are over 90 flights every 10 minutes. You can easily find a plane ticket and early morning flights or late night flights are the cheapest. You might be tired from riding an airplane to come to Korea, but once you arrive in Jeju island you'll know that it was worth it :).
Jeju car rental
Renting a car in Jeju island is the preferred method of transportation. Jeju island is much bigger than you might have thought and the public transportation is not as smooth as in Seoul. Renting a car will be more convenient and because the renting culture is so popular these days you can find reliable, affordable, and easy to use rental companies in Jeju island. Just make an online reservation here. You can compare and find rental car deals. Once you arrive at the airport, there is a rental car pick up spot at the airport parking lot, you can pick your car up there or at another location. Please don't forget that you must have a valid International Driving Permit or a valid driver's license issued in Korea, passport, and credit card in order to rent a car. Click this page for more details.

Jeju Hotel
Jeju island is a much bigger island than you might have known. You cannot see the entire island in one day. There are lots of attractions to see, and even if you rent a car, you will not be able to see everything. Depending on what you want to do in Jeju island, is where you should reserve your hotel. Here is a rough list of attractions you can go to at each part of the island.
Eastern Jeju: Manjang Cave, Seongeup Folk Village, and the Seongsan Peak to see the island's beautiful scenery.

Western Jeju: Cheonjiyeon Waterfall, Hallim Park, Suweolbong, and Teddy Bear Museum.

Southern Jeju:  Mt. Halla, Jusangjeolli Cliff, Mysterious Road, Jeongbang Falls, and Yakcheon Temple. 
You can go to this site to book the best places in Jeju.
Things to do in Jeju
1. The beaches
The first thing that should be on everyone's list is to explore Jeju Island. The best way to do that is by taking a Jeju tour to all the natural attractions. You will be mesmerized beyond belief. The Hamdeok Beach (함덕해수욕장) and Hyeopjae beach (협재해수욕장) are two all-time favorite spots for visitors and locals. Both the beaches are known for their crystal clear water and breathtaking views. It is also a favorite spot for taking pictures or relaxing with a good book while the soft breeze flows over you. So pack a bunch of swimsuits when visiting Jeju, as the sight of these beaches will most definitely want you to get in the water. 

2. Manjang Cave (만장굴)
The Manjang Cave also known as Manjanggul lava tube is among the longest lava tubes in the world. The entire concept of this place is that the lava underneath erupts to the surface and overtime formulates a crusty layer. If you are interested in finding information about geological structures of this particular cave the visit would be worth it. However, be aware of the bats :). Nevertheless, interesting geological aspects such as lava stalactites and lava toes can be seen while exploring this lava cave. The length of the entire cave is approximately 13 kilometers but for tourists, only 1 kilometer of this space is opened for exploration, and it usually takes about an hour to cover. Also, note that the temperature in the cave does fall and it gets a bit chilly so appropriate attire and shoes are a must. 
Entry Fee
Adults: 40,00KRW
Children: 2,000 KRW
Disabled and children under 7 years old: Free


3. Jusangjeoli Cliff (주상절리)
Ju-sang-jeol-li is nature's work of art. This cliff is covered in stone pillars that only nature can create. Hiking enthusiasts will love this place purely for the journey leading to a cave. The stone pillars were created from eruptions that ended up formulating patterns running along the cliff. Undoubtedly this attraction will literally take your breath away as the winds on top of the cliffs are very strong. While standing at the top of the cliff, all your worries will blow away and you will walk away feeling cleansed and rejuvenated. Hearing the crashing waves will calm your soul and lead you to gaze at the ocean. This attraction is the perfect place for a peaceful and refreshing walk.
4. Jeju Maze Land
Just as the name suggests, this theme park is one of the most adventurous parks on Jeju island. A guide will accompany you until the opening of the maze. Then you will be left alone to maneuver around and find the exit. The entire experience is very thrilling and the highlight of your trip. If you like solving puzzles then add this place to your list.  You'll be using your survival skills as the maze becomes harder and harder. Also, the best thing about this place is that all ages from 9 to 90 years old can join in on the fun. Everyone in your family will never forget this experience.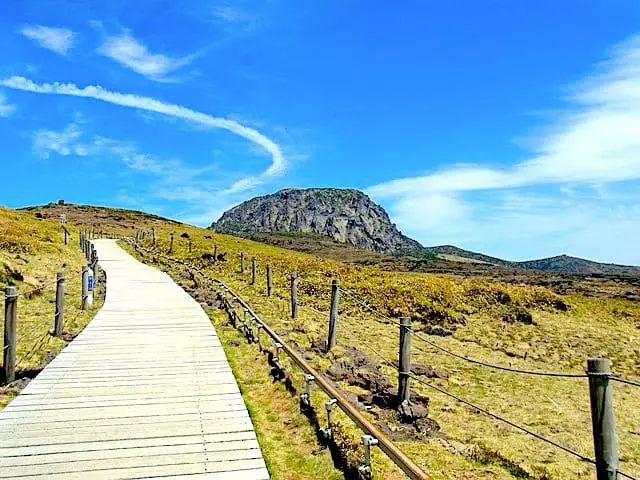 5. Mt. Halla
Mt. Halla or Hallasan is a shield volcano that is located in the Jeju Island. It is considered to be one of the highest mountains that exist within South Korea. Many tourists visit this place to enjoy the scenic view and location from the top. The main tourist attraction is to go hiking in this area. Concretely, there are 5 hiking courses. Seongpanak Trail is the most popular course, 9.6km / 4hrs 30mins each way. Besides, Eorimok Trail (6.8km / 3hrs each way), Eoseungsaengak Trail (1.3km / 30min each way), Yeongsil Trail (5.8km/ 2hrs 30mins each way) and Gwaneumsa Trail (8.7km/ 5hrs each way) are available. For more details, please check the official website here.

6. Cheonjiyeon Waterfall
This is the most beautiful waterfall that exists within South Korea. The water that falls from the waterfall is so white and pure that many people say that it looks as if the sky and land are connected. Many people say that water is falling from heaven because of its purity and the thundering sounds. Tourists tend to enjoy walking through the waterfall while it's raining as it makes their experience more pleasant and worth remembering. Try it 🙂
7. Teddy Bear Museum
Teddy bear museum in Jeju Island Korea is probably one of the most adorable Jeju attractions that you will come across. Most of the teddy bears that are displayed are handmade and depicting the stuffed toy versions of some of the most famous historical personalities. For example, there is a teddy bear that is a representation of Mona Lisa. This particular museum in more ways than others is the hub for tourists. Because everyone is curious to see the bear versions of historical figures they look up to. Especially if you are visiting with your children this would be once in a lifetime opportunity for them. So make sure this is added to your list of places to visit. You will not be disappointed at all. Get discount tickets here online! 

8. O'sulloc museum
If it's not apparent up till now, then let this be a reminder. Korea is probably the place to go to when it comes to unconventional museums. The O'Sulloc museum located in Jeju Island perfectly captures the strong tea culture of Korea. In the museum, you can find six different sections that all celebrate the love of tea. Various kinds of tea sculptures are made with the help of plants and are displayed all around the museum. Where ever you go, it'll be a snap worthy place. You can learn a lot about tea while drinking a hot cup of delicious tea. Visit this place as it will be calming to your soul, tasty for your mouth, and as well as a learning experience for you.
Jeju Island's Attraction Tour
If you do not plan to rent a car in Jeju, the Jeju island tour program would be efficient and perfect for experiencing Jeju's top sights. Here are the tour programs.
Tour Program
Eastern Jeju Discovery: Seongeup Folk Village, Lunch with Jeju BBQ, Canola Flower Seashore, Women Diver Show, Seongsan Sunrise Peak, Via Jongdalri Shore Road, and Manjang Cave. 
Western Island Exploration: Hyupjae Beach, Hallim Park, Suweolbong Trek, Lunch with hotel buffet, O'sulloc Green Tea Field, Mt. Sanbang and Cheonjiyeon Waterfall. 
Plus, If you are in a big group, Jeju Private Car Charter and Private Jeju Airport Transfer are available. 
What to eat in Jeju Island
Jeju island has it's own specialty food. From black pork belly, cutlassfish, meat noodles, raw seafood, peanut ice cream, horse meat, and more. Here are the top three restaurants in Jeju Island that we recommend.
Don Sa Don (돈사돈)
This black pork belly restaurant gained popularity on the show The Gourmet Dinner Party (수요미식회). They long to serve their customers with rich and quality black pork. It is located in Nohyung-dong, Jeju-si.  The meat of Don Sa-don pork is thick and very soft. There is no pork meat smell because the meat they use is fresh. Try the meat with the sauces or wrap it around vegetables to eat like a local.
Address: 19 Wupyeong-ro, Nohyung-dong, Jeju-si
Open: 12 p.m.
Close: 10 p.m.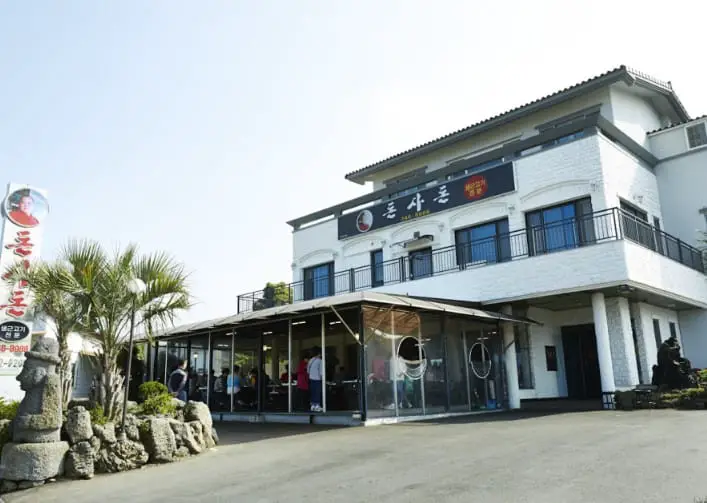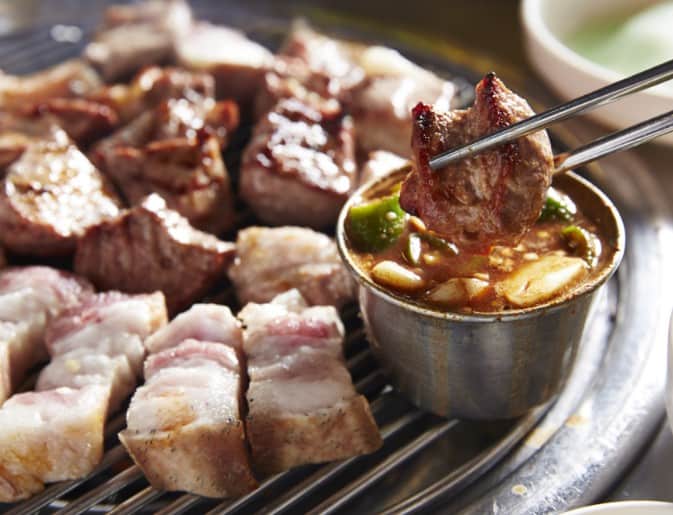 Chun Shim's Restaurant (춘심이네 본점)
This restaurant serves a whole grilled cutlass fish. It has been on numerous tv shows like Live Tonight (생방송), Live information box (생생정보통), and VJ special forces (VJ 특공대). They serve cutlassfish for two people or more. There is also a server who shows you the way to cut the fish to avoid eating the bones. They recommend eating the fish with a spoon as well.
Address: 16 Changcheon Central Road, Andeok-myeon, Seogwipo-si, Jeju-do
Open: 10:30 a.m
Close: 8:00 p.m.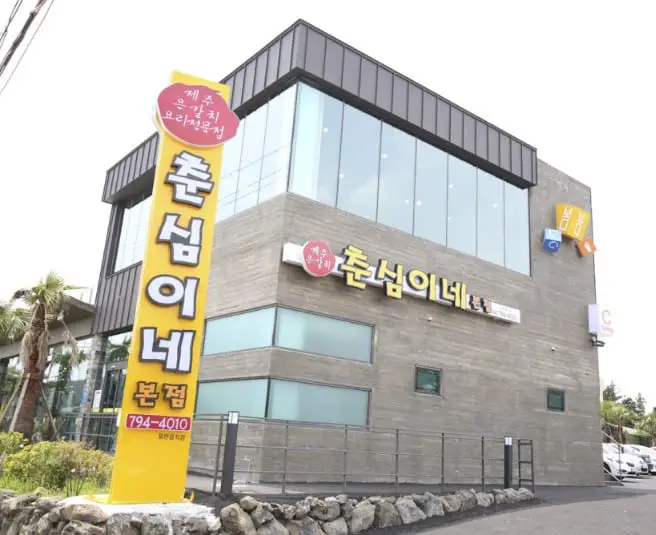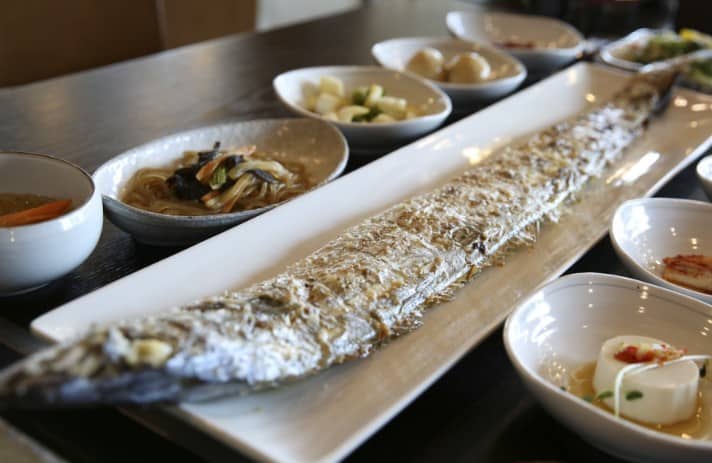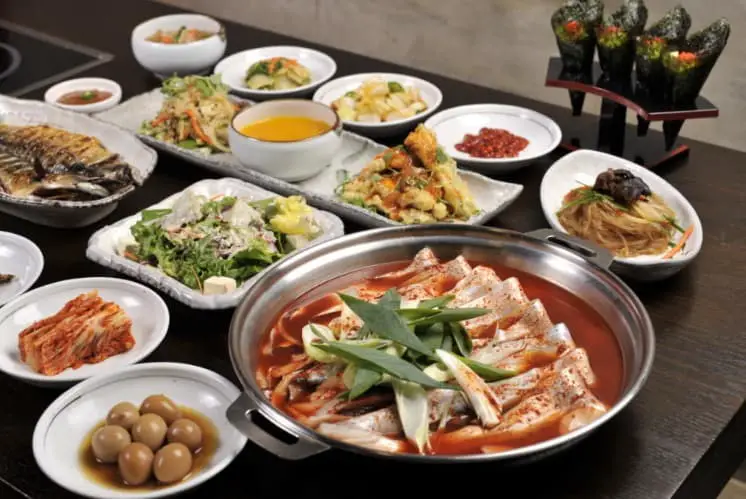 Ollae-Guksu (올래 국수)
If you are looking for something light but hearty, we recommend Gogi Guksu or meat noodles from Ollae Guksu. The deep pork broth served with the rightly cooked noodles will make you see why there's a waiting list all the time. The noodles come with kimchi, chili pepper, and pepper if you want to spice it up.
Address: 24, Gwiarang-gil, Jeju, Jeju Island 63119, South Korea
Open: 8:30 a.m.
Close: 6: 30 p.m.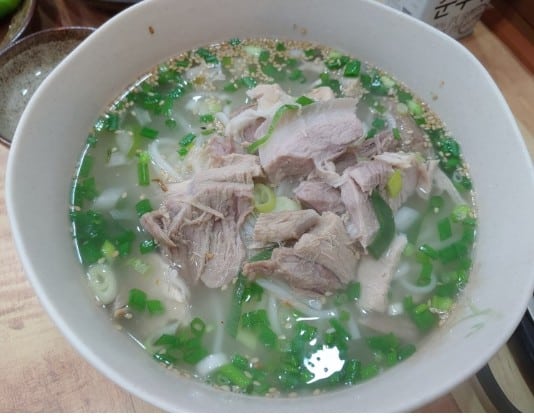 Best Cafe's in Jeju Island
Manor Blanc (마노르 블랑)
Manor Blanc has caught the attention of locals and tourists for it's elegant Victorian interior and beautiful outside garden. But especially during October and November of every year, cafe Manor Blanc is even more crowded for its pink muhly grass. Everywhere you go is instagrammable! The lights at night and the hand made signs bring warmth and healing to your body and soul.
Address: 2952, Deoksu-ri, Andeok-myeon, Seogwipo-si, Jeju-do
Open: 10:00 a.m.
Close: 9:00 p.m.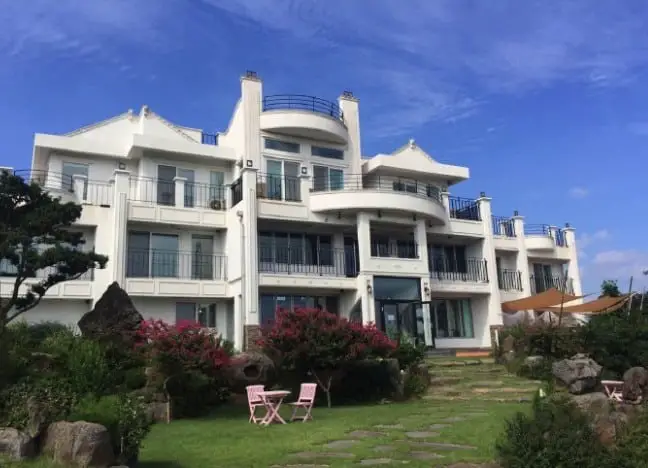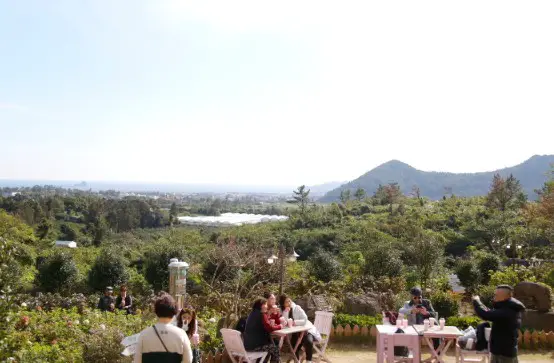 You can see mountain San Bang and the ocean as well from here!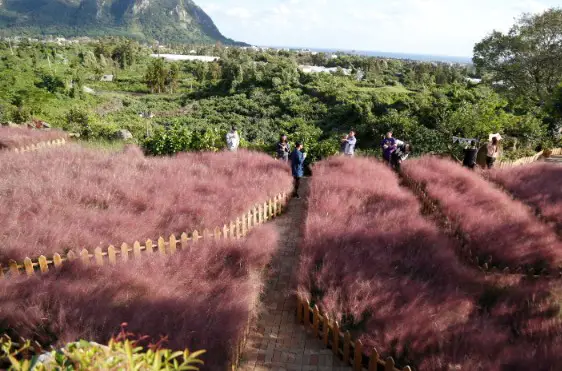 Look how yummy the desserts are!
Cafe Monsant de Aewol by G Dragon (몽상)
Cafe Monsant de Aewol is Big Bang's leader G Dragon's cafe. This cafe's modern and vintage interior with G Dragon's art pieces makes it a hot spot for tourists. The tall glass windows overlooking the ocean is the perfect place to wind your mind. It might not be the quietest place with all the people around but the oceanfront view will be worth it. They also serve carrot cake made from carrots grown from Jeju island. The carrots are sweet itself but made into a cake is heavenly!
Address: 2546, aewol-ri, Aewol-eup, Jeju-si, Jeju
Open: 9:00 a.m.
Close: 8:00 p.m.
Glass windows all around. You can't see inside only the reflection of the sky, trees, and ocean. It'll be awesome if you come during sunset!

The inside is modern and vintage style, but definitely the highlight is the ocean view.

Hey Brother Cafe and Pub (헤이브라더)
If you are looking for a hip and trendy cafe, check out Hey Brother. The second story cafe & pub will surely make you feel like you're on vacation because of the awesome ocean view. Find a seat on the second floor, overlooking the Sagye Beach while sipping a warm cup of latte. That's all you'll need for a laid back day. They also have different kinds of beer if you are looking to be adventurous! You will notice the beer brands as you come inside.
Address:  Hyung-jae-HaeAnro-Andeok-myeon, Seogwipo-si, Jeju-do, 72
Open: 9:30 a.m.
Close: 10:00 p.m. closed every Thursday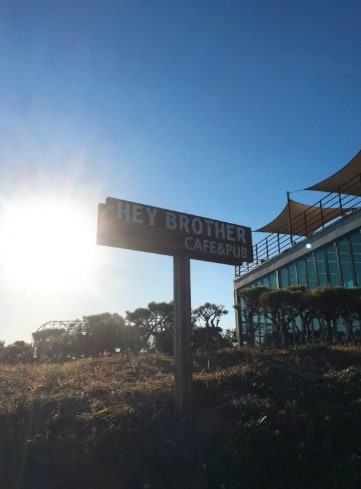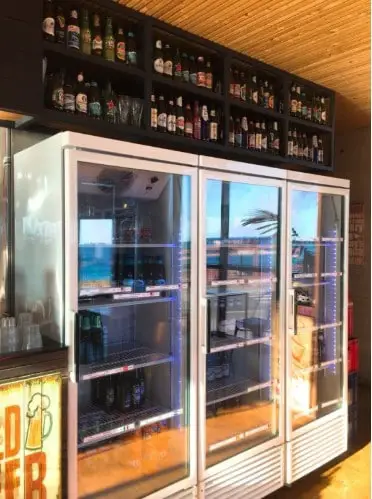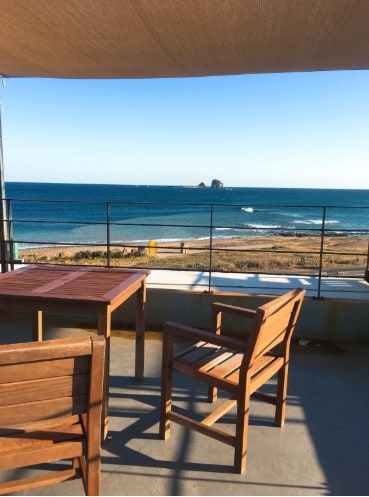 Conclusion
Jeju island is among the places that you have to visit to appreciate the natural beauty of the world and probably to clear your mind from the polluted air you have been inhaling. It has so much beauty and attractions that the trip would be a memorable one for you and your family. You will find precious gems in the form of natural landscapes that you will carry in your heart forever. So if you are planning on visiting Korea make sure you add this place to your itinerary. It would be worth it. Therefore if you are still confused about what to do in Jeju this list will be a good place to start.  It includes a perfect mixture of places where you can relax and explore and feed your adventurous side simultaneously. However, if you want to do research on your own then do so as this place has a lot to offer.