Why Jeju Island is famous and special? Once you go to Jeju Island you will know why it is called the "Hawaii of Korea." It is Korea's largest island and the only self-governing province in the southernmost part of South Korea surrounded by beautiful beaches, scenic countryside, and right at the center, the volcanic Hallasan mountain. Here you can enjoy watersports, along with countless beautiful landscapes, museums, gardens, amusement parks, and dazzling beaches.
Of course, I'll talk about all the fascinating attractions on Jeju Island, but that's not all. If you want to experience the real Jeju, I strongly recommend walking the Jeju Olle trails, various forests, and oreums (the rising small defunct volcanoes). You might be able to feel and experience Jeju Island with all your heart.
Check all the attractions on Jeju Island, and see the recommended Jeju travel itinerary, or the best restaurants loved by locals in Jeju as well.
Enjoying Breathtaking Nature in Jeju
Yongmeori Coast (용머리해안)
Yongmeori Coast is located at the bottom end of Sanbangsan Mountain. It is called Yongmeori Coast because it resembles the head of a dragon going into the sea. Sandstone rock walls that have been layered for tens of millions of years have been carved out by the waves to form a spectacular cliff.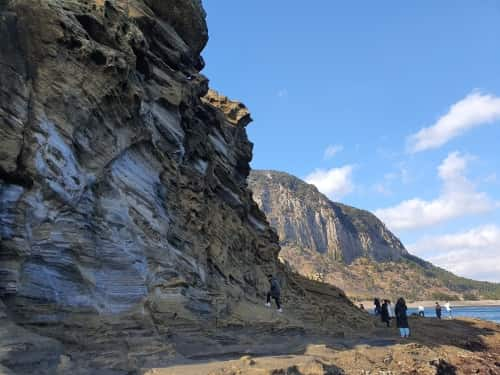 Yongmeori Coast is designed to be explored along a narrow trail, and as you walk along with the sandstone in the coastal area, you will see the hanyeos (women divers) selling raw seafood. It takes about 30 minutes to go around Yongmeori Coast.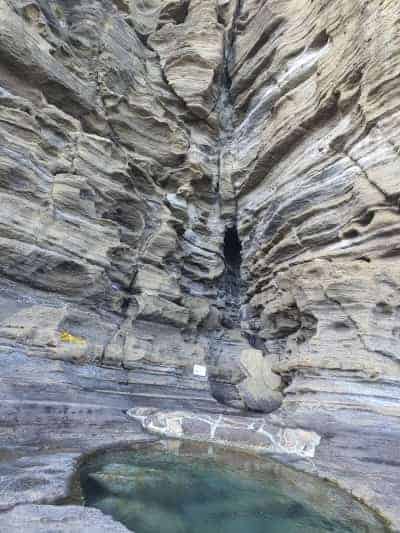 Travel Tip: In case of bad weather or high tide, entry is prohibited due to high risk, so it is recommended to check the available hours before visiting. (064-794-2940)
Open hours: 9:00 – 17:00 (Must check the available hours before your visit)
Phone: 064-794-2940
Address: 28 Sagyenam-ro 216 beon-gil, Andeok-myeon, Seogwipo-si, Jeju-do
Admission Fee: 2,500won
Sanbangsan Mountain (산방산)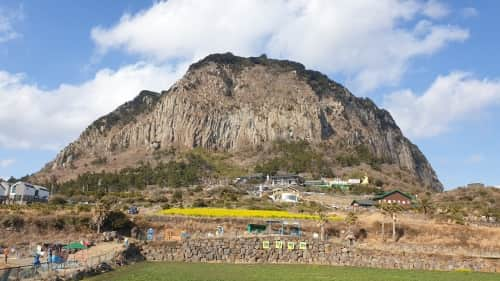 Sanbangsan Mountain is large enough to be seen from almost anywhere in the southwest of Jeju. It stands tall alone in a relatively flat area. 'Sanbang' means a mountain with a cave, and the Buddha is enshrined in a small cave under Sanbangsan Mountain, so this place is called Sanbanggulsa Temple.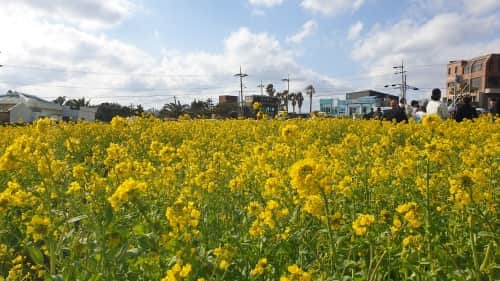 In spring, Yuchae flowers are in full bloom, so many people come to see the scenery of Sanbangsan Mountain in harmony with the yellow color.
There is an interesting old story about Sanbangsan Mountain where a hunter flew arrows into the sky and one of them was hit by Okhwangsangje (the God), the angry god pulled the peak of Halla Mountain and threw it away. And the peak became a mountain called Sanbangsan Mountain.
Sanbangsan Mountain is close to Yongmeori Coast, so they share parking lots. I recommend you visit both attractions together.
Address: San 16 Sagye-ri Andeok-myeon, Seogwipo-si, Jeju-do
Phone: 064-794-2940
Open hours: Changes according to sunrise/sunset times
Sanbanggulsa Temple admission fee: Adult 1,000won / Children 500won
Jeju Olle Trail (제주올레길)
As I mentioned, walking Jeju Olle Trail is the best way to meet and experience the real Jeju Island. It consists of 26 routes (21 main routes and 5 sub-routes) and the total length reaches 425 km. "Olle" means a small passage that connects a house to a big road in the Jeju dialect. There's no rule to walking these routes. You can walk only one or two best trail routes for you.
If you should take only one, I would recommend route 07, a coastal walking route. You will meet a ton of awesome sceneries and attractions while you enjoy the route including Oedolgae, Beomseom, and more. You might be able to see a small street restaurant just right next to the beach which sells fresh seafood ramen and raw fish. Personally, it's the happiest moment in my life that enjoy the scenery of Beomseom island with soju and seafood ramen in this street food restaurant. 🙂 Discover the wonders of Jeju Island on your feet through Olle Trail.
Jeju Olle Official Website: https://www.jejuolle.org/trail/eng/
Office Address: 22 Jungjeong-ro (seogwi-dong 316-1) 2F Seogwipo-si Jeju-do [Zip: 63592]
Phone: 064-762-2190
Instagram: https://www.instagram.com/jejuolletrail/
Facebook: https://www.facebook.com/jejuolletrail/
No admission fee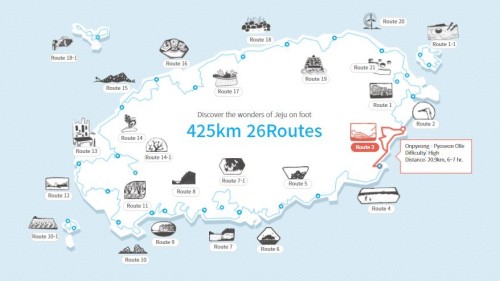 Hallasan Mountain Trekking (한라산)
Hallasan Mountain is the highest mountain in South Korea at 1,947 m in height and it was formed by erupting lava. The spectacular view of Mt. Halla, which is dyed red and pink in fall or covered with snow, will be the most impressive scenery of your life. Jeju volcanic islands and lava caves were registered as Korea's first UNESCO World Heritage Site on June 27, 2007. and it was certified as a World Geopark as well in 2010.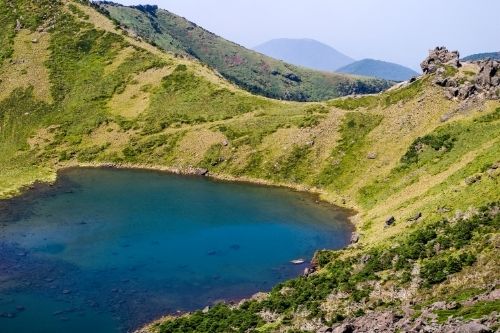 On the top of Halla Mountain, there is a beautiful crater lake called Baeknokdam, and there are two trekking routes to get to the crater lake and three other routes to Nambyeok Bungijeom (남벽분기점). The most famous route to see the Baeknokdam is the Seongpanak route (Route 3). It takes about 4.5 hours to get to the top of the mountain and it's relatively easy to hike although it's 0.9 km longer than the Gwaneumsa route (Route 4). Route 1 to 3 to visit Nambyeok Bungijeom (남벽분기점) also boasts breath-taking sceneries during the trekking and it takes about 2.5 to 3.5 hours to the top point.
To protect the nature of Hallasan Mountain, the Seongpanak and Gwaneumsa courses can only be visited by reservation from February 1, 2020. (You can visit the Eorimok, Yeongsil, and Donnaeko courses without reservation as before)
Advance reservations can be made through the Hallasan Trail Reservation System.
Reservations can be made one month in advance of the climb, the Seongpanak course can be reserved for 1,000 people a day, and the Gwaneumsa course can be reserved for 500 people a day.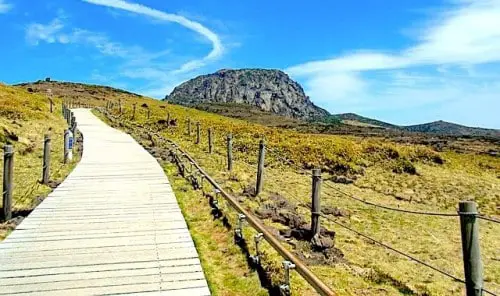 For more information,
Address: 2070-61 1100-ro Jeju-si, Jeju-do
Hallasan National Park Office (Reservation): http://visithalla.jeju.go.kr
Phone reservation is not allowed
Phone: 064-713-9950
No admission fee
Seongsan Ilchulbong Peak (성산일출봉)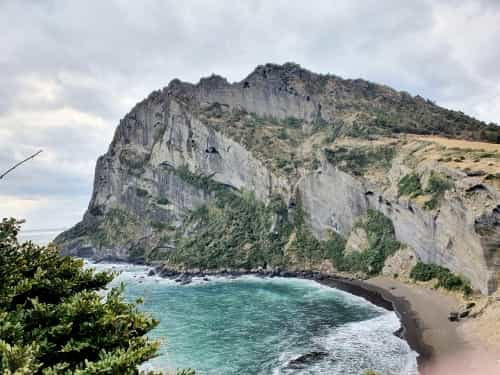 Unlike other oreums in Jeju Island, Seongsan Ilchulbong Peak is a water-based volcano created by magma erupting from the water. It takes about 20 minutes to reach the top of the peak, but the steep stairway will make you gasp for breath.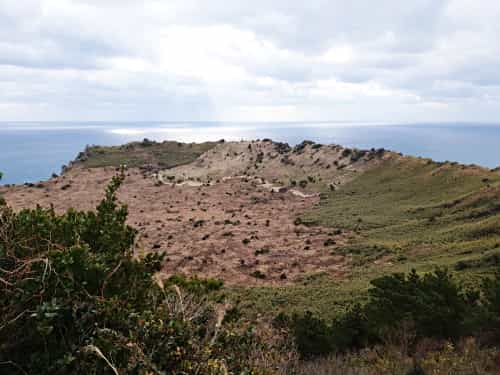 When you climb to the top, you can see a crater with a width of about 250,000 square meters. Seongsan means a huge castle, and Ilchulbong means that it is a peak that looks spectacular when the sun rose.
I tried to visit the place a couple of times to see the sun-rising but failed until now because of the bad weather. I hope you succeed to see the fabulous sun rising view at Seongsan Ilchulbong Peak.
Address: 284-12 Ilchul-ro Seongsan-eup Seogwipo-si, Jeju-do
Open hours: 7:30-19:00 (Oct-Feb), 7:00-20:00 (Mar-Sep)
Closed on the first Monday of every month
Phone: 064-783-0959
Admission Fee: Adult 5,000won / Children 2,500won
Seopjikoji (섭지코지)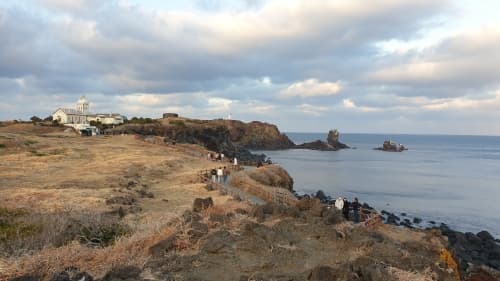 Seopjikoji, located at the eastern end of Jeju Island, has a superb view of the coast with Seongsan Ilchulbong in the background. In particular, the Youchae flowers here are brighter and more beautiful than anywhere else in harmony with the bright sunlight and the blue sea.
Seopjikoji is the most famous filming place because of its beautiful atmosphere and scenery. It's located near Seongsan Ilchulbong and Udo, so it would be great if you spend a day visiting those places together for a day.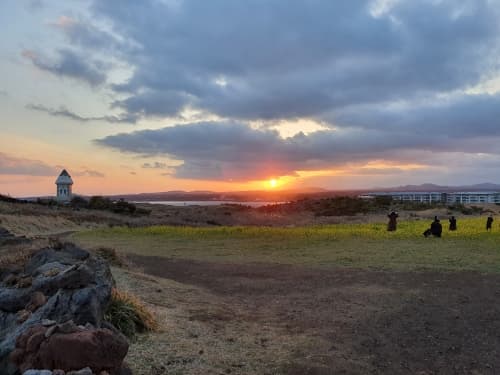 Most of all, the sunset view from the Seopjikoji will give you an unforgettable moment in your life and of course for your Instagram feed as well.
Address: 107 Seopjikoji-ro Seongsan-eup Seogwipo-si, Jeju-do
Open hours: All-day
Phone: 064-740-6000
No admission fee
Seonheulgot Dongbaek-Dongsan (선흘곶 동백동산)
Seonheulgot Dongbaek-Dongsan is a unique lava forest created on the lava plateau formed by the volcanic activity of Oreum. It's an easy 5-kilometer trail path where you can relax and feel the beautify of Jeju's primeval forest.
If you walk for about 30 minutes among the trees, you will come across a wetland, Meonmulkak Pond, meaning distant water in the Jeju dialect. Although not as famous as Saryeoni Forest Trail or Bijarim Forest, Dongbaekdongsan is a trail I definitely recommend to people on Jeju Island.
Dongbaek means camelia in Korean, and if you visit this place in winter, you will see many camellia flowers as the name means.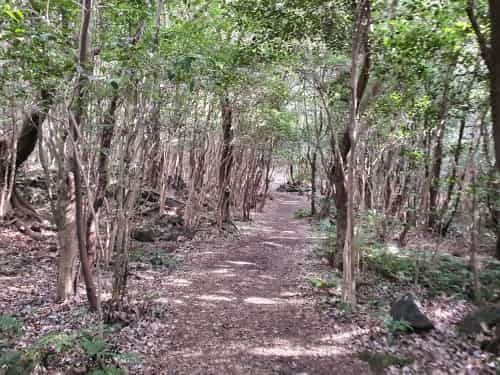 Address: San 12 Seonheul-ri Jocheon-eup Jeju-si, Jeju-do
Open hours: 9:00-18:00
Phone: 064-784-9445
Tour commentary program reservation: 10:00 / 14:00, Same-day reservations not available
Bijarim (비자림)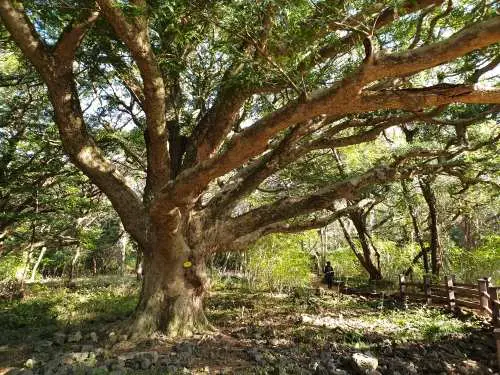 Walking in the forest of bija trees (Japanese Toreyas) will guide you to the mystery of the forest. Bijarim is a rare place to see about 2,800 bija trees born from 500 to 800 years old and the most famous tree is the one that was struck by lightning. As soon as you arrive there, a pleasant scent spreads out from the forest entrance. As you walk along the refreshing promenade with phytoncide, you will fall in love with the charm of forest bathing.
Travel Tip: There are two routes to stroll. A route takes about 40 minutes to walk and is easy to walk, and the B route takes about 80 minutes.
Address: 55 Bijasup-gil, Gujwa-eup, Jeju-si
Open hours: 9:00-18:00 (Weekdays), 08:00-18:00 (Weekends)
Pets not allowed
Phone: 064-710-7912
Admission fee: Adult 3,000won / Children 1,500won
Saryeoni Forest Path (사려니숲길)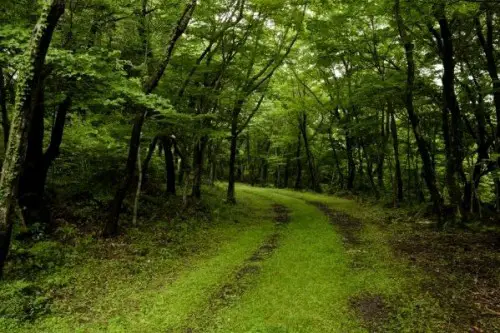 The Saryeoni forest path is a three-hour walking trail. The route goes through Mulchat Oreum (the rising small defunct volcanoes) and Saryeoni Oreum and that's why the name of the path is the Saryeoni forest path. The Joritdae Forest Road is a bit bumpy and uphill, so if you have an elderly person or a stroller, use the entrance to Namjo-ro, the south of the Red Oreum. Actually, I prefer to take the Red Volcanic path to enjoy the cedar tree road.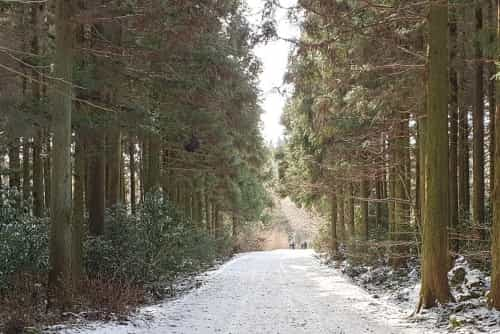 It's one of the hidden places on Jeju Island even for Koreans, and it is also the Jeju Biosphere Reserve designated by UNESCO in 2002. Walk a beautiful hidden forest path surrounded by thick cedar trees.
Address: San 137-1 Gyorae-ri, Jocheon-eup, Jeju-si, Jeju-do
Open hours: 9:00-17:00
Phone: 064-900-8800
No admission fee
Jeolmul Natural Recreation Forest (절물자연휴양림)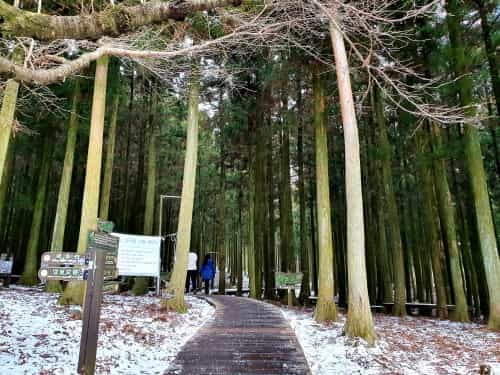 It is a famous travel spot in Jeju Island for tourists because of the clean air and the relaxing atmosphere. Many people visit Jeolmul Natural Recreation Forest even in rainy weather because it creates a dreamy atmosphere when there is fog.
The trails in Jeolmul Natural Recreation Forest are easy to walk and gentle, so you can enjoy this forest with children, the elderly, and the disabled. It takes about an hour to walk around.
Address: 584 Myeongnim-ro, Jeju-si, Jeju-do
Open hours: 7:00-18:00 (Mar-Oct), 7:00-17:00 (Nov-Feb)
Phone: (+82) 064-728-1510
Admission Fee: Adult 1,000won, Youth 600won, Children 300won
Exploring Oreums
Oreum is a dialect of Jeju Island that means mountain or peak, and technically oreum means small volcanic cones with individual craters spanning from Mt. Hallasan. There are about 380 oreums on Jeju Island, and each oreum has its own vibe and atmosphere. Personally, I fell in love with oreum hiking these days. If you visit Yongnuni oreum in late fall, you can enjoy the waves of reeds swaying in silver. And Geomun oreum is designated as a UNESCO World Natural Heritage because of the geological value of the volcanic terrain and lava caves.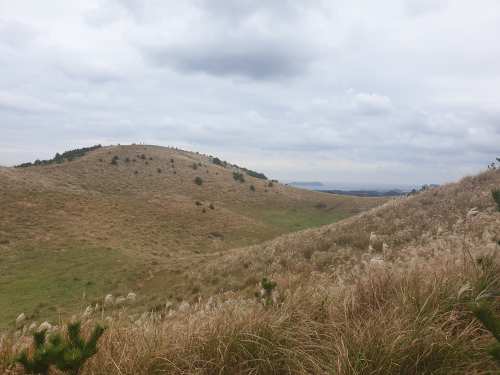 Hamdeok and Hyeopjae Beach (함덕해변 & 협재해변)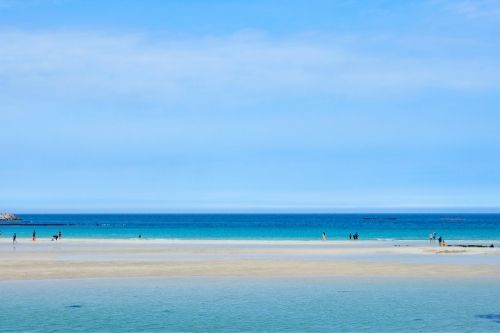 As you expected, there are many awesome beaches you enjoy. You will be mesmerized beyond belief. The Hamdeok Seoubong Beach (함덕해수욕장) and Hyeopjae beach (협재해수욕장) are two all-time favorite spots for visitors and locals.
They are also good for children because of the low water lever. Both the beaches are known for their crystal clear water and breathtaking views. It is also a favorite spot for taking pictures or relaxing with a good book while the soft breeze flows over you. So pack a bunch of swimsuits when visiting Jeju, as the sight of these beaches will most definitely want you to get in the water.
Udo Seobin-Baeksa and Hagosudong Beach
Udo is an island on Island. It is the island that resembles Jeju Island the most among the eight manned islands of Jeju Island, and about 1,800 people live there.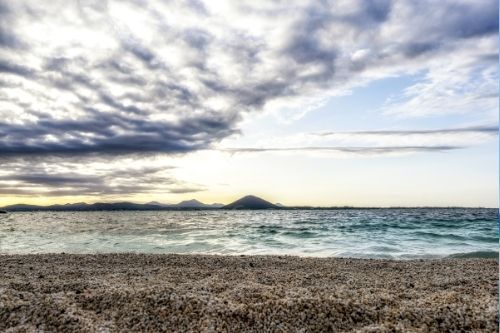 Hagosudong Beach is famous for its palm trees, emerald sea, and soft sand like flour. And Seobin-Baeksa is a rare beach made by deposits of red algae, and it's designated as a natural monument of Korea. Unlike ordinary sand, red algae do not stick to feet and make a strange feeling of stepping on them.
If you want to visit Udo, you have to take a ferry boat at Seongsanpo harbor. The boat departs every 30 minutes from 7:30 in the morning, so there is no need to hurry. If you prefer self-driving, you can load your car on the ferry.
The round-trip fare is 10,500 KRW per adult and 26,000 KRW per general sedan. Don't forget to bring your passport, and it will be convenient if you fill out two copies of the boarding declaration form for your return.
Jeongbang Waterfall (정방폭포)
It's the only waterfall in Korea that falls directly into the sea. It is 23 m high, 8 m wide, and 5 m deep. It takes about 15 minutes by bus from the Seogwipo downtown. Purchase a ticket at the ticket office and go down the stairs with pine trees for about 5 minutes, then you can see the beautiful sparkling waters from the Jeongbang waterfall.
Address: 35 Chilsimni-ro 214beon-gil, Seogwipo-si
Open: Everyday 9:00 ~ 18:00
Admission Fee: Adult 2,000won / Children 1,000won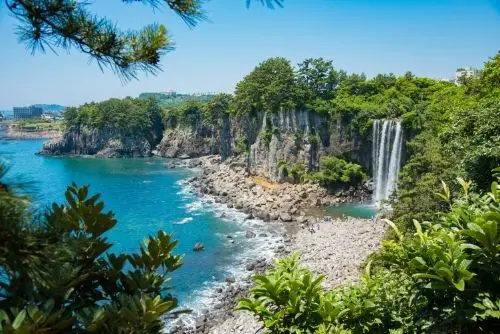 Cheonjiyeon Waterfall (천지연폭포)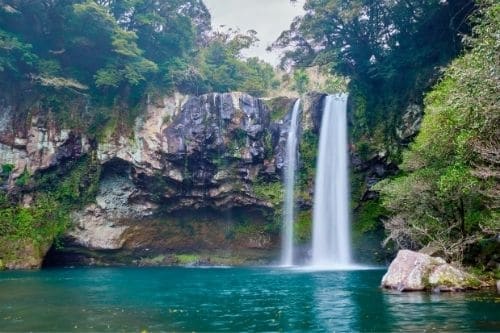 This is one of the top three beautiful waterfalls that exist on Jeju Island. The water that falls from the waterfall is so white and pure that many people say that it looks as if the sky and land are connected. Many people say that water is falling from heaven because of its purity and thundering sounds. Tourists tend to enjoy walking through the waterfall while it's raining as it makes their experience more pleasant and worth remembering.
Address: 667-7 Cheonji-dong, Seogwipo-si, Jeju-do
Open: Everyday 9:00 ~ 21:20
Admission Fee: Adult 2,000won, Children 1,000won
Cheonjeyeon Waterfall
This is the exit way of Jungmuncheon stream, which originated from Hallasan Mountain, to flow into the sea. And it's located in Jungmun Tourist Complex. The Cheonjeyeon Falls are divided into three waterfalls, the first waterfall that falls from the cliff to Cheonjeyeon (pond) from the cliff of Jusangjeolli, and the second and third waterfalls formed as the water of Cheonjeyeon flows further down.
Address: 2763 Jungmun-dong, Seogwipo-si
Open: Everyday 9:00 ~ 18:00
Admission Fee: Adult – KRW 2,500, Child – KRW 1,350
Tips: If you have a plan to visit Jusangjeolli Cliff, Cheonjeyeon fall is close to the cliff. Cheonjiyeon and Jeongbang Falls are close so you can visit both falls in a couple of hours.
Jusangjeolli Cliff (주상절리)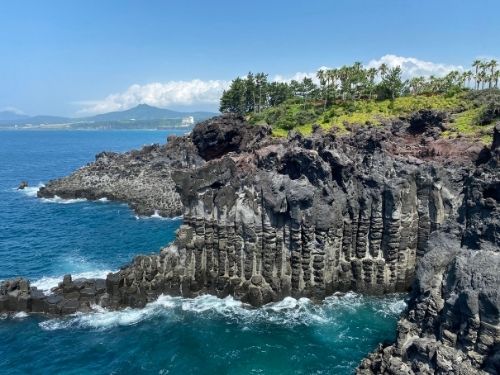 Jusangjeolli is nature's work of art. This cliff is covered in stone pillars that only nature can create. Hiking enthusiasts will love this place purely for the journey leading to a cave. The stone pillars were created from eruptions that ended up formulating patterns running along the cliff.
Undoubtedly this attraction will literally take your breath away as the winds on top of the cliffs are very strong. While standing at the top of the cliff, all your worries will blow away and you will walk away feeling cleansed and rejuvenated. Hearing the crashing waves will calm your soul and lead you to gaze at the ocean. This attraction is the perfect place for a peaceful and refreshing walk.
It takes about an hour to tour the entire park.
Address: 36-24 Ieodo-ro Seogwipo-si, Jeju-do
Phone: 064-738-1521
Admission Fee: Adult 2,000won / Children 1,000won
Open hours: 9:00 -18:00 (It may change depending on sunrise and sunset times)
Pets not allowed
Manjanggul Cave (만장굴) – UNESCO World Natural Heritage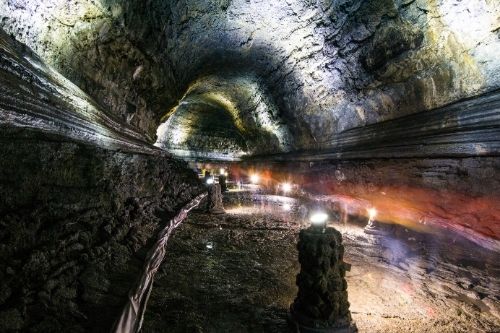 The Manjang Cave also known as the Manjanggul lava tube is among the longest lava tubes in the world. The entire concept of this place is that the lava underneath erupts to the surface and over time formulates a crusty layer. If you are interested in finding information about the geological structures of this particular cave the visit would be worth it. However, be aware of the bats :). Nevertheless, interesting geological aspects such as lava stalactites and lava toes can be seen while exploring this lava cave. The length of the entire cave is approximately 13 kilometers but for tourists, only 1 kilometer of this space is open for exploration, and it usually takes about an hour to cover. Also, note that the temperature in the cave does fall and it gets a bit chilly so appropriate attire and shoes are a must.
Address: 182 Manjanggul-gil, Gujwa-eup, Jeju-si
Admission Fee – Adults: 4,000 KRW, Child: 2,000 KRW
Open Hours: 9:00 – 18:00 (Off on the first Wednesday of the month, last entrance at 17:10 )
Phone: +82-64-710-7905
You may also like,
Other Attractions in Jeju
Camellia Hill
Camellia Hill is the largest camellia arboretum in the East, where you can find numerous camellia flowers from all over the world. The place was selected as one of Korea's top 100 tourism in '2021-2022' by the Ministry of Culture, Sports and Tourism, and Korea Tourism Organization.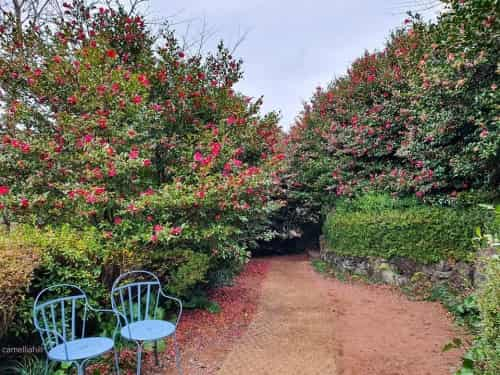 It is especially popular with couples and families because there are so many photo spots in the arboretum. Watching people that take photos on the same spot for their Instagram account is one of the fun things.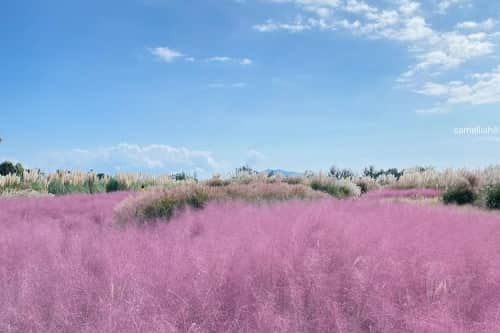 The beautiful garden doesn't stop in winter when the camellia flowers bloom. When summer begins, hydrangea flowers resembling the blue sky welcome visitors, and in autumn, silver grass and pink muhly flowers fill the autumn garden. It takes about 2 hours to look around the garden considering the time of your photoshoots.
Address: 166 Byeongak-ro, Andeok-myeon, Seogwipo-si, Jeju-do
Open hours

Summer: 8:30-19:00
Spring/Fall: 8:30-18:30
Winter: 8:30-18:00

Phone: 064-792-0088
Admission Fee: Adult 9,000won, Youth 7,000won, Children 6,000won
Pets with a leash under 8kg are allowed to enter
Homepage: https://www.camelliahill.co.kr/
Camellia Hill Ticket Prices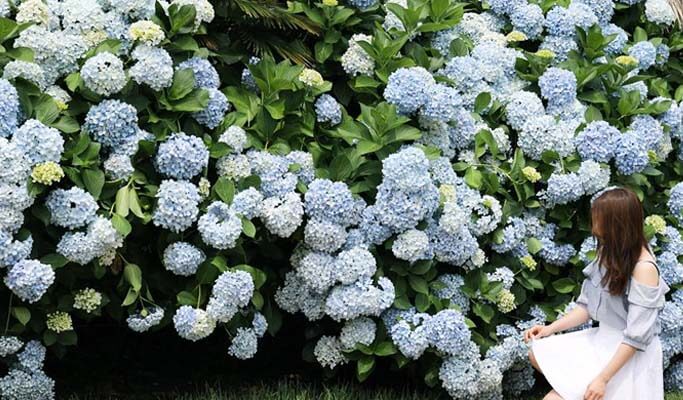 Arte Museum
Arte Museum Jeju is the d'istrict's first immersive media art exhibition hall in Aewol, Jeju, at the end of September 2020. It's Korea's largest Immersive Media Art Exhibition, and d'strict is famous for its public media art "WAVE" presented at COEX.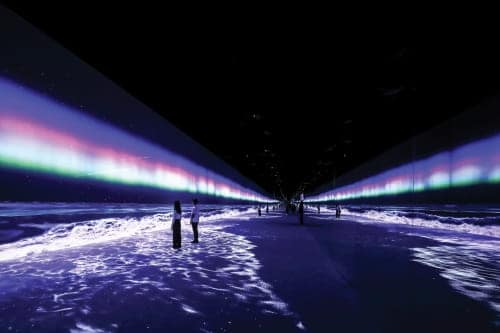 At Arte Museum Jeju, a magnificent space with an area of ​4,600 square meters, which was used as a speaker manufacturing factory in the past, and up to 10m in height, 11 colorful media art exhibitions made with light and sound under the concept of 'ISLAND' are displaying.
Works created under the theme of ETERNAL NATURE provide a completely immersive experience. Just try to relax and feel what you see and hear.
Address: 478 Eorimbi-ro, Aewol-eup, Jeju-si, Jeju-do
Open hours: 10:00-20:00
Phone: 064-799-9009
Homepage: https://en.artemuseum.com/
Admission Fee: Adult 17,000won, Youth 13,000won, Cheldren 10,000won
Arte Museum Ticket Prices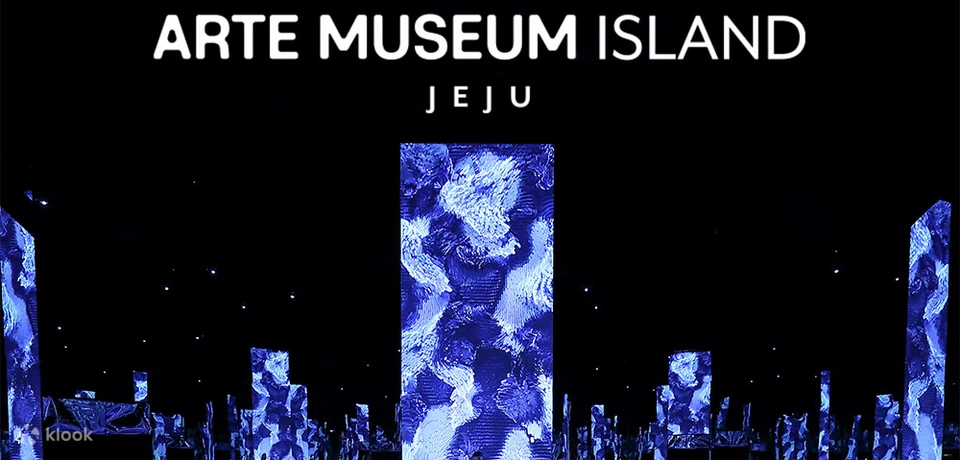 Bunker des Lumières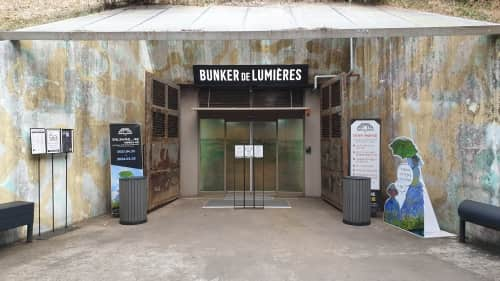 Located in Seongsan, Jeju, 'Bunker des Lumières (Bunker of Light)' is an Immersive Media Art exhibition that provides a powerful immersive feeling by mobilizing images, sound, and light.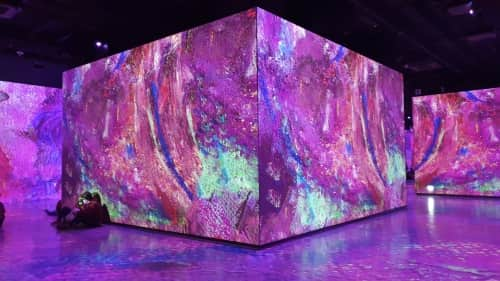 After the opening exhibition 'Klimt' and the second exhibition 'Van Gogh', currently the third exhibition 'Monet, Renoir… Chagall' and 'Paul Klee' are on display. The harmony created by the beautiful paintings of the masters, classical & jazz music, and the lights in the bunker were enough to create a unique experience.
Address: 89-17 1168beon-gil Seoseongil-ro Seongsan-eup Seogwipo-si, Jeju-do
Open hours: 10:00-19:00 (Apr-Sep), 10:00-18:00 (Oct-Mar)
Phone: 1522-2653
Homepage: https://www.deslumieres.co.kr/bunker
Admission Fee: Adult 18,000won, Youth 13,000won, Children 10,000won
Snoopy Garden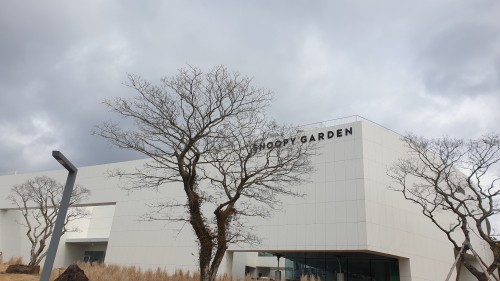 There may be people who don't know Snoopy, but is there anyone in this world who doesn't like Snoopy? Snoopy Garden is a must-visit attraction for people who love Snoopy and nature. Snoopy Garden consists of an indoor hall decorated with the stories of the daily life of Peanuts friends and a spacious outdoor garden with 9 themes.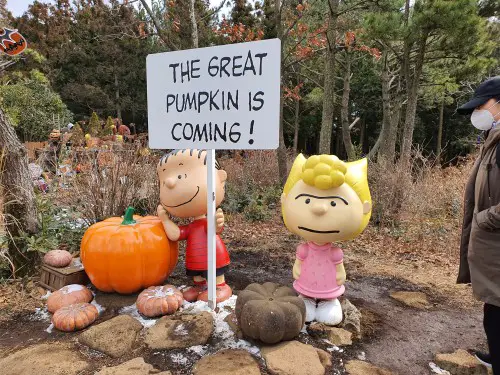 I fell in love with the outdoor garden where you can enjoy the beautiful nature of Jeju with Snoopy's various personas and even try a baseball game with the Peanuts gang.
They are running a Snoopy Garden Stamp Tour event. You can get a small souvenir if you stamp on the map while visiting eight outdoor gardens. The souvenir was a small Snoopy badge when I visited the place.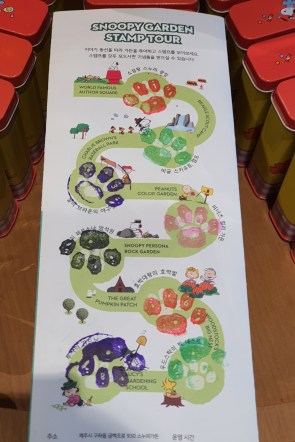 Address: 930 Geumbaekjo-ro Gujwa-eup Jeju-si, Jeju-do
Open hours: 9:00-19:00 (Mar-Sep), 9:00-18:00 (Oct-Feb)
Phone: 1899-3929
Homepage: http://www.snoopygarden.com/
Admission Fee: Adult 18,000won, Youth 15,000won, Children 12,000won
Kart Racing
Jeju Kart Racing Experiences
Teddy Bear Museum
The Teddy bear museum in Jeju Island Korea is probably one of the most adorable Jeju attractions that you will come across. Most of the teddy bears that are displayed are handmade and depict the stuffed toy versions of some of the most famous historical personalities. For example, there is a teddy bear that is a representation of the Mona Lisa. This particular museum in more ways than others is the hub for tourists. Because everyone is curious to see the bear versions of historical figures they look up to. Especially if you are visiting with your children this would be once in a lifetime opportunity for them. So make sure this is added to your list of places to visit. You will not be disappointed at all. Get discount tickets here online! 
Teddy Bear Museum Ticket Prices
Jeju Maze Land
Just as the name suggests, this theme park is one of the most adventurous parks on Jeju island. A guide will accompany you until the opening of the maze. Then you will be left alone to maneuver around and find the exit. The entire experience is very thrilling and the highlight of your trip. If you like solving puzzles then add this place to your list.  You'll be using your survival skills as the maze becomes harder and harder. Also, the best thing about this place is that all ages from 9 to 90 years old can join in on the fun. Everyone in your family will never forget this experience.
Yakcheonsa Temple
Jeju Yakcheonsa Temple is a large and beautiful temple located near the point where water originating from Mt. Halla meets the sea.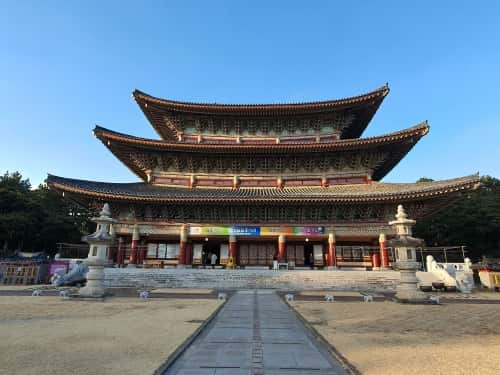 It is said that this area has been famous for a long time as a spring that does not dry out all year round, and it is said that there was a small hermitage called Yaksuam. The Daeungjeon Hall of Yakcheonsa Temple has three floors and boasts the largest Daeungjeon Hall in Korea. It is a wonderful temple to enjoy the calm relaxation and beautiful scenery of Jeju Island.
Dongmun Market
Dongmun Market, located not far from the airport, is the largest and oldest traditional market in Jeju Island, where locals and tourists visit all year round.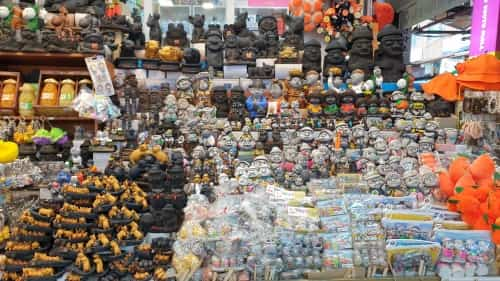 During the day, you can enjoy the traditional market with tons of Jeju souvenirs and goods, and at night you can enjoy the night market full of food. It also has a fish market, and I think the market is the best place to buy fresh raw fish at the affordable price.
In case you want to visit the Dongmun night market for food, I'd like to recommend some places: Bokmani Gimbap, Grilled Red Lobster Cheese, Olle Susan (Raw fish), Tomahawk Pork Cutlet, Corn hotdogs.
It's close to Jeju International Airport, so it's a good place to stop by for a little shopping before leaving.
Address: 20 14-gil Gwandeok-ro Jeju-si, Jeju-do
Traditional Market Open Hours: 08:00-21:00
Night Market: 18:00-24:00
Phone: 064-752-3001
Scuba Diving
Munseom and Beomseom Islands are loved by many divers all around the year because of the steady temperature and beautiful underwater views.
Bicycle Tour
Jeju has an awesome walking course. And it also has a fabulous circular bike path for riders. It has 10 courses and it stretches to 240 kilometers in length. As you see in the image below the routes cover all coastlines of the Island.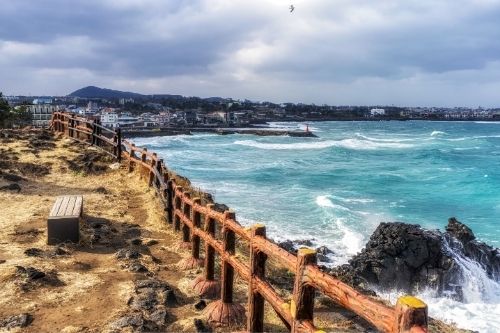 If you should take only one course, I'd like to recommend route 3, which starts from Haegeorum maul to Songak Mountain. This path is packed with various beautiful vistas, such as Panpo Port, Sinchang Windmill Coastal Road, Suwolbong Peak, Chagwido Island, and Songaksan Mountain.
Ride MTB, Road Bike, Electric Bike, or whatever, and hit the road to enjoy the fantastic blue sea and mountains on Jeju Island.
Submarines
There are several submarine experiences on Jeju Island. Udo, Marado, and Seogwipo submarine tours guide you to the mysterious undersea world and breathtaking natural landscapes.
Horseback Riding
Jeju horse is designated as a Natural Monument of South Korea in 1986 and is native to Jeju Island. There are many farms to experience horseback riding on Jeju Island, and it would be a great present for your kids. Here are two famous horse parks.
The Ma Park: http://www.mapark.co.kr
Horseland Jeju: https://www.jejuhorse.com
O'sulloc museum
If it's not apparent up till now, then let this be a reminder. Korea is probably the place to go to when it comes to unconventional museums. The O'Sulloc museum located in Jeju Island perfectly captures the strong tea culture of Korea. In the museum, you can find six different sections that all celebrate the love of tea. Various kinds of tea sculptures are made with the help of plants and are displayed all around the museum. Where ever you go, it'll be a snap-worthy place. You can learn a lot about tea while drinking a hot cup of delicious tea. Visit this place as it will be calming to your soul, tasty for your mouth, and as well as a learning experience for you.
Tour Program
If you do not plan to rent a car in Jeju, the Jeju island tour program would be efficient and perfect for experiencing Jeju's top sights. Here are the tour programs.
Eastern Jeju Discovery: Seongeup Folk Village, Lunch with Jeju BBQ, Canola Flower Seashore, Women Diver Show, Seongsan Sunrise Peak, Via Jongdalri Shore Road, and Manjang Cave. 
Western Island Exploration: Hyupjae Beach, Hallim Park, Suweolbong Trek, Lunch with hotel buffet, O'sulloc Green Tea Field, Mt. Sanbang and Cheonjiyeon Waterfall. 
Plus, If you are in a big group, Jeju Private Car Charter and Private Jeju Airport Transfer are available. 
Conclusion
Jeju island is among the places that you have to visit to appreciate the natural beauty of the world and probably to clear your mind from the polluted air you have been inhaling. It has so many beautiful attractions that the trip would be a memorable one for you and your family.
You will find precious gems in the form of natural landscapes that you will carry in your heart forever. So if you are planning on visiting Korea make sure you add this place to your itinerary. It would be worth it. Therefore if you are still confused about what to do in Jeju this list will be a good place to start.  It includes a perfect mixture of places where you can relax and explore and feed your adventurous side simultaneously. However, if you want to do research on your own then do so as this place has a lot to offer.
You may also like,