South Korea's biggest island, Jeju-do or Jeju Island, is an island with a population of 695,519 people as of April 2020. Often nicknamed "The Hawaii of South Korea," Jeju Island has a rich history dating back to the beginning of the 1400s when the Mongols invaded the Korean Peninsula. Today, it is colloquially known as a honeymoon destination, which an overwhelming number of aesthetically pleasing natural occurrences as well as man-made structures, restaurants, and cafes. For tourists, there are also a lot of things to do when the sun goes down, and in this list, we give you several things to do at night in Jeju. If you want a list of things to buy while you're in Jeju, check out our article on the topic!
Jeju Island at Night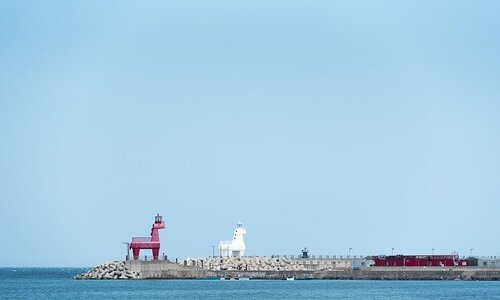 Yes, there is a nighttime tour that you can take straight after you land on the island! The Jeju City Tour Nighttime Bus, which will pick you up in front of Gate 2, at Bus Stop 3, will take you around the island and show you 22 of the island's most famous nighttime tourist attractions. These attractions include IhoTewoo Lighthouse, Dodubong Peak, Eoyeong Coastal Road, Sanjicheon Stream, and the Dongmum Traditional Market, and these will take up all of two hours. You can take pictures at every sight, as all of these are picturesque and have qualities that each contribute to Jeju's charm.
Not only will you get the chance to see Jeju Island's popular tourist attractions, but you'll also be able to see where the major transportation hubs are: Jeju International Airport, Cruise Passenger Terminal, Jeju Coastal Ferry Terminal, and Jeju Bus Terminal. Along the way, Jeju's many beautiful might markets and coastal beaches and sights will entice you all through the night.
In order to secure a spot on a nighttime tour, you will need to reserve via their main website. Note that you need to m make your reservation in advance and via the computer.
Address of Pick-Up Location: Jeju International Airport (2 Gonghang-ro, Jeju-si, Jeju-do)
Office Phone Number: 82+64-741-8784~5
Email: [email protected]
If you and your loved ones want to step into an ice wonderland, Sumokwon Theme Park is an awe-inspiring destination! With an ice museum displaying ice crafts of different shapes and sizes and "ice slides" that you can actually slide down on, Sumokwon Theme Park will give you a sensation of what it would be like in a wintery fairytale.
Nestled in the center of Sumokwon Theme Park, then, is the Sumokwon Theme Park's Night Market. As their website states, "[the] night market is Korea's first night market with a natural form built inside a pine tree forest." It is truly a marvel to see, especially at night, when the entire market is set against the backdrop of bright and colorful lights and the natural beauty of its surroundings. Since 2018, Sukmokwon Theme Park Night Market has had trucks run by local multicultural families, nine youth start-up trucks, and 30 teams of small business owners in Jeju.
Sumokwon Theme Park opens to the public for most of the year. More specifically, during the winter season, the night market runs from 17:00 to 22:00. During the summer season, it runs from 18:00 to 23:00.
For information and help, contact them through their phone number (064-742-3700)
Address: 69 Eunsu-gil, Jeju-si, Jeju (제주특별자치도 제주시 은수길 69)
Jeju Light Garden (Night)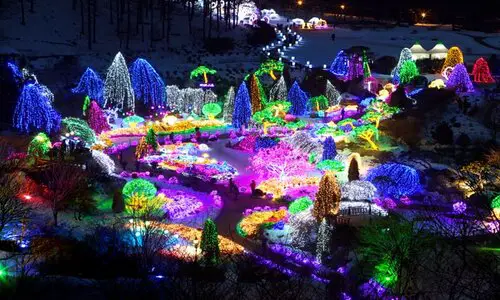 For a real show-stopping and breathtaking sight, why not go to the Jeju Light Garden? Here, you'll be able too many different designs, figures, and shapes that illuminate with neon-colored light, shining through the night. These figures are perfect for the backgrounds of your Instagram photos and you and your loved one are sure to enjoy strolling through the garden and pointing out familiar shapes.
Prices
An adult (20 years old and older) can enjoy Jeju Light Garden for a price of ₩9,700 (USD$8.69)
A ticket for youth 14-19 years of age is ₩7,700 (USD$6.90)
Children between the ages of 3 and 13 can enter for ₩6,200 (USD$5.55)
And for children under the age of three, the entrance fee is free of charge.
Jeju Dongmun Night Market
Dongmun Night Market is one of the best places in Jeju to do your shopping, as it has stalls and stores selling all kinds of wares ranging from home and general products to food and fish. Because Dongmun Night Market is an indoor market, visitors can enjoy their shopping experience from morning to night! In fact, all of the stalls and stores open their doors every morning at 5AM and don't close until 9PM every night.
Address: 20 Gwandeong-ro 14(sipsa)-gil, Idoil-dong, Jeju-si, Jeju-do
Jeju Herb Dongsan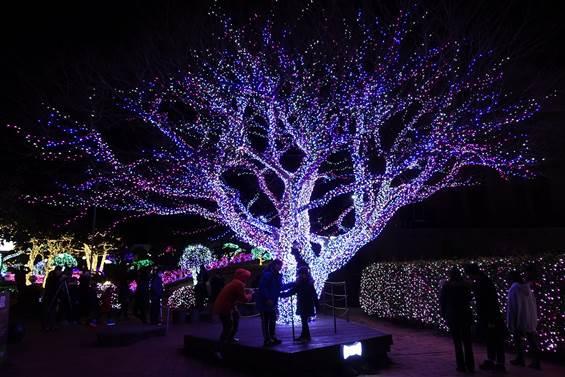 If you like all kinds of flowers and herbs, Jeju Herb Dongsan is the perfect place for you! With a ground space of 66,115㎡, you will find 150 different types of herbs and wildflowers here, making for the perfect picturesque landscape for your Instagram photos. This is for sure an excellent place to visit with your family or your significant other at night, as the Herb Garden creates a romantic atmosphere. If you are so inclined, there is also a mandarin farm that could walk through and peruse.
For more information about Jeju Herb Dongsan at night and about Jeju in general, you can contact them via phone ((064) 740-6000). You can also contact them through their Instagram account and their website.
This one is not for the kids! Jeju's LoveLand Museum is a humorous, sex-themed museum that has sculptures and art pieces dedicated to the erotic and the profane. Adults will enjoy perusing through the museum together. Although there is a play area for children under the age of 18 nearby, children cannot cross the threshold of the actual exhibitions.
You should expect to take up all of 40 minutes to see the entire museum. You should also note that one ticket is ₩12,000.
Address: 2894-72, 1100-ro, Jeju-si, Jeju-do, Republic of Korea
Phone: +82-64-712-6988
Cheonjiyeon Waterfalls and Saeyeongyo Bridge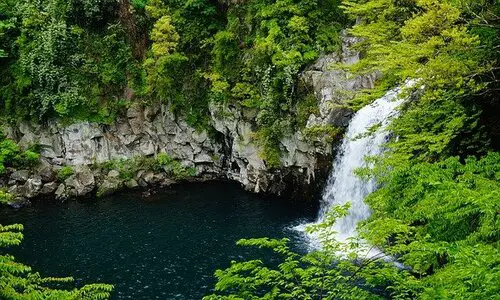 Jeju Island has many wonderful things to offer its locals and tourists at night, and the Cheonjiyeon waterfall is surely one of them. Standing at a height of 22 meters, the waterfall is one of South Korea's most gorgeous sights. Although it is great to see the waterfall during the day, it is even more magical and enchanting to see the waterfall during the night; during the night, the waterfall is illuminated. While you gaze upon the lit-up waterfall, you will feel as if the sky and earth are one entity here, as the name Cheonjiyeon literally means.
Famous Pork Barbecue Restaurants in Jeju
Jeju Island is famous for a lot of things, including the local delicacy Heukdwaeji (흑돼지) which literally means "black pig." This variation of pork has more of a delicious and complex taste than other types of pork, even the black pork that you can find on the mainland. Black pig pork is most commonplace in Jeju because the island is where the black pig is native, and so Jeju has a monopoly on it, as well as the advantage of localization.
For more information on Jeju's black pig pork, check out this website, which outlines the details of Jeju's specialty meat.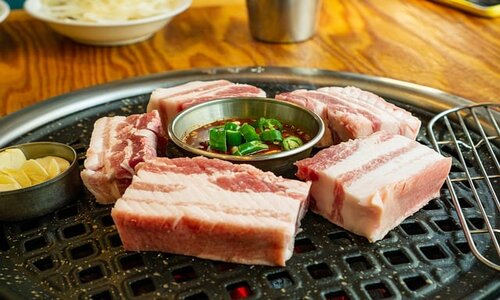 Donsadon (돈사돈)
Famously known for their food and for their customer service, Donsadon has gained a reputation for being one of the most comfortable places to be! Along with Jeju's famous black pork, they have other items on their menu such as kimchi stew and cold buckwheat noodles. They, of course, also serve alcohol like beer and soju.
Restaurant Hours: 2 to 10 pm
Address: 19, Uopyeong-ro, Jeju, Jeju Island 63107 South Korea
Phone: +82 64-746-8989
Here at Heukdonga Jeju, you will find the regular menu: Jeju's famous black pork, other types of meat, and alcohol. Heukdonga also has an awesome staff who instills a comfortable and friendly atmosphere with their excellent customer service. A plus is that Heukdonga Jeju is aware and thought of their customers who may have physical disabilities; they have tables that allow for easy movement on wheelchairs and crutches.
Restaurant Hours: 11 am to 12 am
Address: 1509 Nohyeong-dong, Jeju, Jeju Island South Korea
Phone Number: +82 64-747-0088  
Like the other restaurants on this list, Childonga is a meat grill restaurant, with their specialty meat being pork. Here, you will also find friendly and accommodating staff who are eager to help you! Even with a language barrier, they will provide you with the best customer service. They will even explain how to cook and eat the meat! With decent pricing (₩30,000–₩40,000) and free parking, Childonga is the perfect restaurant to go to with the family!
Restaurant Hours: 4:30 to 11 pm
Address: 43 Namseong-ro, Yongdam 1(il)-dong, Jeju-si, Jeju-do, South Korea
Phone: +82 64-738-1191 
Hwaro Hyang (화로향)
In addition to their black pig pork, Hwaro Hyang adds abalone in their food menu set, which gives the whole experience a different and interesting experience. The staff at Hwaro Hyang also has impeccable customer service; they have one or two staff members who speak Chinese for their Chinese-speaking customers. They also show how to properly barbecue and eat their various meats.
Address: 1399-2 Geonip-dong, Jeju-si, Jeju-do, South Korea
Phone: +82 64-724-4050
Tamgung (탐궁)
Reviewed repeatedly as the "warmest BBQ restaurant in Korea," Tamgung has certainly gained a reputation for its friendly staff who are more than happy to fulfill their customers' every need and want.
Restaurant Hours: 10 am to 9 pm
Address: 32 Woldeukeom-ro, Beophwan-dong, Seogwipo-si, Jeju-do, South Korea
Phone: +82 64-739-8944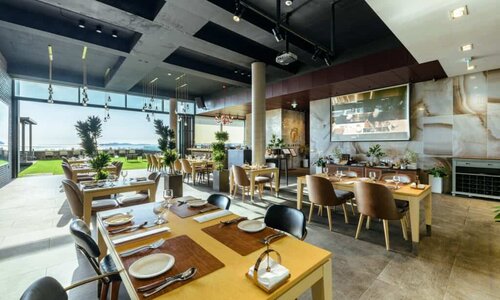 What distinguishes Narnia from the other options on this list is the fact that Narnia Restaurant & Cafe is a part of Jeju's Bayhill Hotel, Pool, and Villa. Because of this, the prices here at a little higher than the rest, but it's worth eating here at least once. Reviewers praise their staff and their variety of menu items. In addition, if you are a guest at Bayhill, Narnia offers room service so that you can get any of their famous dishes straight to your hotel room.
Restaurant Hours
Breakfast  07:00 ~ 10:30 (Last Order 10:00)
Brunch 11:00 ~ 15:30 (Last Order 14:30)
Dinner 17:00 ~ 22:00 [Part 1: 17:00 ~ 18:40 / Part 2: 19:00~21:00]
Room Service 17:00 ~ 21:30
Address: 424, Yerae-ro In Bayhill Pool & Villa, Seogwipo, Jeju Island 63538 South Korea
Phone: +82 64-801-9078
88 Pig (88돼지)
Did you know that the number 88 is considered a lucky number not only in China but also in Korea?
Address: 7, Je Won-Gil, Jeju, Jeju Island South Korea
Phone: +82 64-711-9947
Sunny Garden
Although Sunny Garden is a bit pricier than the usual black pork barbecue restaurant, the meat selection is often cited as being worth the price for one person.
Restaurant Hours: 11:30 am to 10 pm
Address: 75-10 Nohyeong-dong, Jeju-si, Jeju-do, South Korea
Phone: +82 64-744-1000
Myeonglidong Sikdang (명리동식당)
Like all of the other options on this list, Meyonglidong Sikdang serves Jeju's world-famous black pig pork. The staff here is friendly and accommodating of their customers, no matter weather they're a local, a Korean tourist from the mainland, or a foreigner.
Address: 498, Nokchabunjae-ro, Hangyeong-myeon, Jeju, Jeju Island 63005 South Korea
Phone: +82 64-772-5571
For more information, check out their Instagram page.
One shining point about Nulbom Heukdwaeji is that it's, similar to Heukdonga Jeju, has accommodations for people who use wheelchairs, or people who are in crutches. They also offer highchairs for your little ones.
Restaurant Hours: 10 am to 10 pm
Address: 12, Halladaehak-ro, Jeju, Jeju Island South Korea
Phone: +82 64-744-9001
Famous Pubs and Bars in Jeju
Bluebird By Magpie
In addition to being a brewery, pub, and taproom establishment, Bluebird of Magpie Company offers takeout orders as well as in-house table service. They also accommodate those who use wheelchairs, very mindful of their needs. Magpie Brewery and Alcohol Company is so successful that they have various locations, including locations in Hongdae and Itaewon, Seoul's main and biggest nightlife hubs. For more information, check out their website, their Facebook, and their Instagram.
Open Hours
Everyday, 5pm-1am
*Closed first Wednesday of every month*
Address: Jeju-si, Tapdong-ro 2-gil 7
Phone: +82 64-721-0227
Magpie Taproom
Along with Bluebird, Magpie Taproom is one of the many bars from Magpie Brewery and Company. Magpie Taproom is regularly cited as being one of the best bars in all of Jeju, complete with outdoor seating and free wifi.
Hours
Sunday 12:00 PM – 8:00 PM
Wednesday 12:00 PM – 8:00 PM
Thursday 12:00 PM – 8:00 PM
Friday 12:00 PM – 8:00 PM
Saturday 12:00 PM – 8:00 PM
JESPI
According to one reviewer, JESPI is one of the most famous and visited bars in Jeju. At JESPI, the staff brews their individual craft beers on sight, serving them up to their customers right then and there. Besides their drink selection, JESPI also has a menu that has a big range of food and snacks for you to enjoy while you drink.
Open Hours: 4 pm to 1 am
Address: 44, Sindae-ro 16-gil, Jeju, Jeju Island 63123 South Korea
Phone: +82 64-713-7744
Orda Lounge
Not only is Orda Lounge a pub, but it is also a café that serves coffee, desserts, and baked goods. This means that Orda Lounge is open earlier and for a longer period of time than your other, more traditional bar. For more information, check out their Facebook page.  
Address: 269-37, Hando-ro, Seongsan-eup, Jeju, Jeju Island 63643 South Korea
Phone: +82 64-783-7839
The Dull Ice Flower
Described by one reviewer as a very bright, homey space, The Dull Ice Flower is a well-visited bar in Jeju. Not only is the interior clean and cozy-looking, The Dull Ice Flower has a wide collection of craft beers to choose from as well as cocktails. Fun fact, The Dull Ice Flower is also a name of a Taiwanese movie!
Address: 1430, Haemajihaean-ro, Gujwa-eup, Jeju, Jeju Island 63361 South Korea
Phone: +82 64-782-1955
If you look at the many things that Jeju can offer you as a tourist, you will be overwhelmed by the sheer beauty and coziness of the Korean island. Very different from the mainland, Jeju offers a friendly and more homey and a closer atmosphere. It's the perfect vacation spot for you and your loved ones because of the beauty everywhere. Jeju is a popular honeymoon spot for many newlywed Korean couples.
You may also like: