Last Updated on April 3, 2022
Seoul is the capital city of South Korea. Seoul is a magnificent blend of the technology of subways and skyscrapers with the cultural centers of Buddhist temples and historical significance. If you are traveling to Seoul, Korea, you must make amazing memories and cherish them forever too. There is no better way to do just that than by visiting the most snap-worthy places and capturing them to preserve in your memories. Seoul is beautiful as it is but there are certain places that really do require that extra bit of praise. To top your experience in Seoul and to bring the value of Seoul to your Instagram feed, visit the 25 most Instagrammable Spots in Seoul, described in this article below.
Seoul's Most Instagrammable Spots
Changgyeonggung Palace (창경궁, Promoting Virtue Palace)
The Changgyeonggung Palace was built in the late 15th century. It is home to the Honghwamun Gate that is Treasure No. 384. It also has many other facilities such as the Sungmundang Hall. This is where the King used to hold the banquets with the vassals. There is also the Myeongjeongjeon Hall, the National Treasure No. 226, renowned for being the oldest hall of a palace dating to the Joseon dynasty. The Munjeongjeon Hall is the place where the King used to administer the affairs of the state.
How To Get To Changgyeonggung Palace?
The fastest way to get to Changgyonggung Palace is through the Anguk subway and go through the third exit. Take a walk for some minutes and you will see the palace on your left.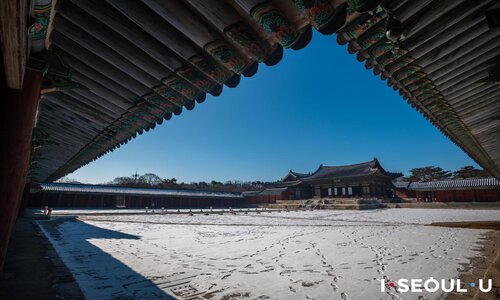 The History of Changgyeonggung Palace
The Changgyeonggung Palace is located on the east of Changdeokgung Palace. The historical significance of the Changgyeonggung Palace is quite painful and filled with despair. The reason being that in the early 20th century it was converted into a zoo and a botanical park, named the Changgyeongwon Park. Later on, in 1983, the name was reinstated and the zoo was relocated. In the current times, the Palace offers peace and grounds for the visitors to explore and experience the historical significance of the place within a modernized society and have a good time. The stature of the Palace is simple yet beautiful, detailed, and historical. It is renowned as the gem of Seoul in the city center.
Beginning from May 4 until October 13, music in the Changgyeonggung Palace is organized. After the first popular art performance in 2008, music performance in the palace has become a permanent show ever since 2009. Each autumn and spring this palace castle offers an abundance of cultural happenings to enjoy for the two local people and outsiders who visit.
Where is it located? Changgyeonggung Palace, 185, Changgyeonggung-ro, Jongno-gu, Seoul
Pil-dong Art and Culture Street
The once abandoned and forgotten places of Pil-dong and the Namsangol Hanok village in Jung-gu, Seoul. It has now been replaced by beautiful spaces filled with art and culture that represent history. These spaces have been rejuvenated into Yesultong. There are many different trends comprising food and academic qualities along with the visual and the performing arts all blended harmoniously. The Namsangol Hanok village is nearby with access to the village via subway. The Pil-dong Art and Culture street is a definite visiting place for anyone in the city.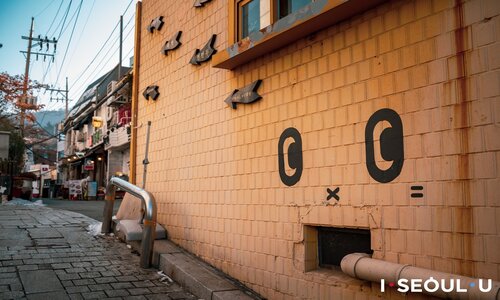 It is amongst the top tourist attractions in the city and for good reason. You will get to see the most interesting and informative works of art including amazing sculptures and many murals that make the streets of the place vibrant and lively. You will get to make many beautiful and lasting memories, and even put the moments you capture on your Instagram feed to bring vibrancy to it!
In order to reach the Pil-dong Art and Culture Street, you must take lines 3 and 4 of Chungmuro station through exit 4.
As you explore the rich art and history, you will find many popular cafes like: Beautiful Tea Museum, Café Rosso, Gaebbul Museum & Coffee and Café Hue with mouthwatering dishes. 
Where is it located? 24-11 Pil-dong, Jung-gu, Seoul
Achasan Mountain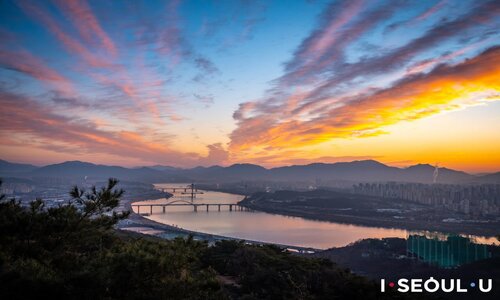 This is located between Seoul and Gyeonggi-do, giving an inviting trail on the mountains from where you can gaze down at Seoul on one side and Gyeonggi-do on the other one.
Between the Achasan station and the entrance of the mountain, you will come across a big local street market. Once you have reached your destination, it will take you almost two hours to hike up the mountain. Also, locals like to grab hot beverages and snacks. Especially hot coffee to bring along. After the hike, people like to treat themselves in nearby restaurants like Pizza Hil, Myongwolgwan, Del Vino, and Re:Bar
Where is it located? Gwangjin-gu, Seoul / Guri-si, Gyeonggi-do
Namdaemun Market and Piknic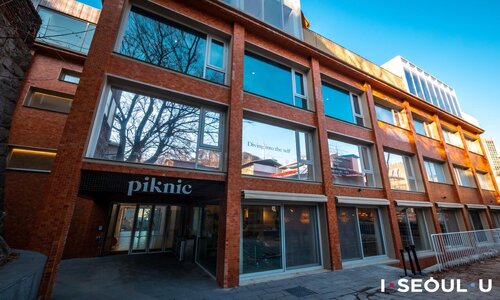 This is the place in Seoul, South Korea which has a daily visitor count of 400,000 people including locals and tourists alike. You will love to visit this place.
Where is it located? 21, Namdaemunsijang 4-gil, Jung-gu, Seoul
The market can be reached by subway; the area is inside a 10-minute stroll from Seoul metropolitan station and is significantly nearer to the metro Hoehyeon Station, Line 4. Namdaemun Market, situated in the actual focus of Seoul, is one of Korea's most notable business sectors where up to 400,000 guests every day. Foreign travelers, come to buy an assortment of merchandise and food.
 Clients travel from distant spots, even from abroad, to visit Namdaemun Market to shop from wholesalers' and retailers' contribution of in excess of 1,700 sorts of items. You will find loads of traditional foods like hotteok, mandu, odeng, kalguksu, and much more. Check out this post about everything you need to know about Namdaemun Market.
Peace Culture Bunker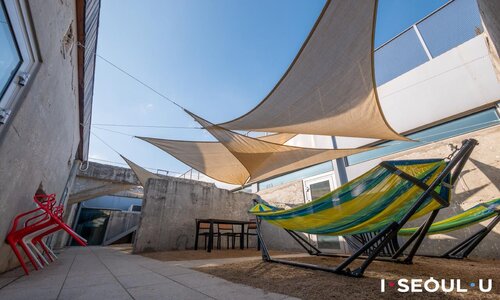 This is a cultural and artistic space that was created as a part of an urban regeneration project. It offers residential programs and exhibitions as well.
Contact number: +82 2-3494-1970
Where is it located? 932, Madeul-ro, Dobong-gu, Seoul
Hoehyeon Simin Apartment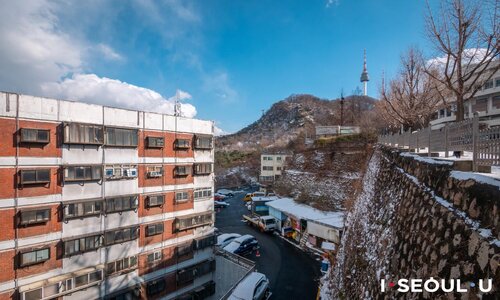 Located near Namdaemun Market, this is a popular destination of the fans of variety shows featuring this place as the filming location as well as the Netflix drama series Sweet Home.
Where is it located? 101, Toegye-ro 8-gil, Jung-gu, Seoul
Winterscape of Olympic Park
This is an ecological park that is located in the heart of the city of Seoul providing the visitors with cultural, sporty and leisure activities.
Filled with the beauty of nature, it provides its visitors numerous attractions like sports matches, music concerts, and events. Not to mention, this park has also been a popular spot for shooting television commercials and films. For me, every season is nice but I love to visit when it is all covered with snow. Here are some other beautiful parks in Seoul to check out.
Where is it located? 424, Olympic-ro, Songpa-gu, Seoul
Gangseo Trail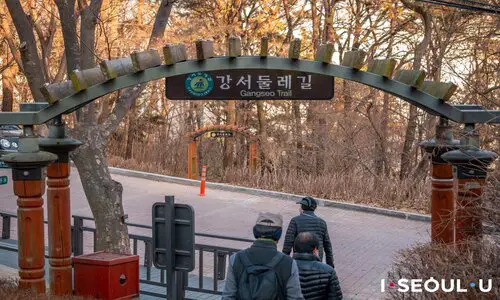 Gangseo Trail is about 11.33 km long and it serves as a connection for Gaehwasan and Chiyeonsan Mountains, as well as the Seonam Environmental Park and Gangseo Hangang Park.
It takes one hour to hike up the trail. To reach your destination you can take a stroll to Banghwa station or Gaehwa station. Children and adults can easily take a hike on this trail. Along this trail, you will come across Ara waterway observatory, Forest book café, and yaksa temple.
Where is it located? San 83-3, Gaehwa-dong, Gangseo-gu, Seoul
Times Square Mall in Yeongdeungpo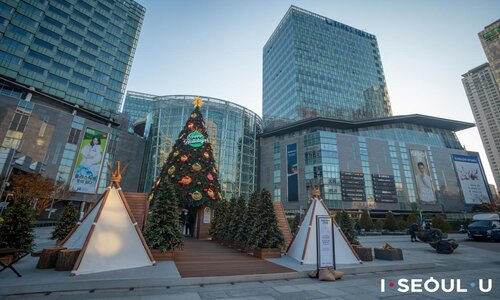 This is one of the largest malls in South Korea and you will love the leisurely activities of the place.
It is a Shinsegae Retail chain and includes various extravagance brands and top-of-the-line items. It has a CGV theatre, which houses 12 cinemas, a Kyobo Book Center, an E-Store, and Yard by Marriott. Now to mention, Kolon Sporex Extravagance Wellness Center, an Amoris Feast, and a Conference hall. It is a family-friendly mall with a Kids' Amusement Park and different eating places. If you are near Seoul and are looking for outlets, check out this post on the Best Premium Outlets near Seoul.
Where is it located? 15, Yeongjung-ro, Yeongdeungpo-gu, Seoul
Songpa Trail
This is a 21km circular walking path along the four rivers of Songpa gu encompassing views of riversides and nature.
Here is a walking course you can take: Jamsil Quay (1.2 km) – Jamsil Hangang Park (1.7 km) – Jamsil Campground (2.2 km) – Jamsil Fish Passage (2.4 km) – Ecological Park (2.8 km)
Songpa Book Museum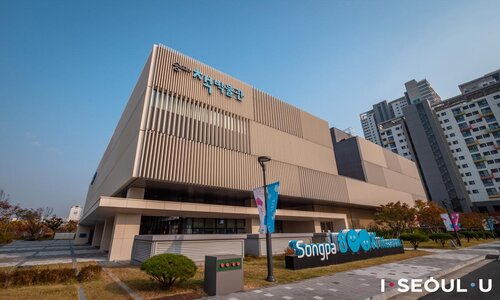 The Songpa Book Museum is amongst the first of its kind to be an open public place for sharing and reading in Seoul just the way it is.
Where is it located? 77, Songpa-daero 37-gil, Songpa-gu, Seoul
Gungsan Park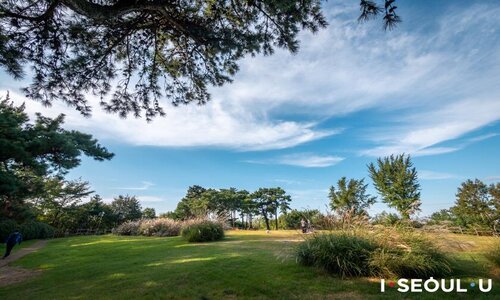 This is a beautiful park in Seoul and it has got historical value significantly to the Three Kingdoms Period.
Where is it located? Gayang-dong, Gangseo-gu, Seoul
Yongmasan Mountain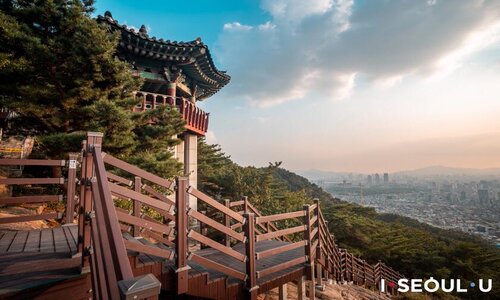 To enjoy a serene and peaceful sunset, you must visit this place.
It takes 2-3 hours to hike up whereas it can be challenging for young kids and people above 70.
Where is it located? Myeonmok-dong, Jungnang-gu, Seoul
Yeouido Park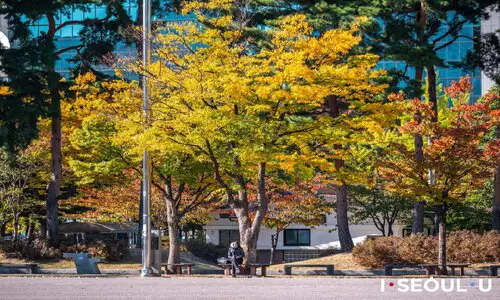 This park is a result of a land reclamation project and is absolutely beautiful.
You can get to Yeouido park by alight at Yeouinaru station, line 5 exit 1 or you can also take exit 3. You can also check out Things to do in Hangang Park to make your stay the best.
Where is it located? Yeouido Park Management Office, 68, Yeouigongwon-ro, Yeongdeungpo-gu, Seoul
Seokchon Lake Fall Foliage Festival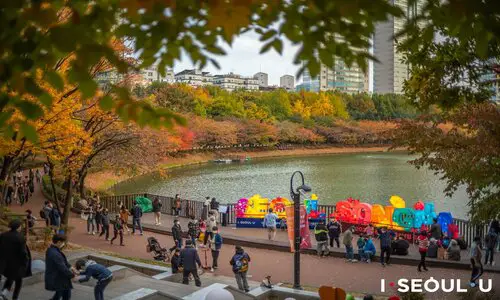 The Seokchon Lake Foliage is a beautiful place to relax and take a moment to enjoy your time in Seoul. People took picturesque memoirs of this autumn event in 2020. The site can be visited and the best moment to take an Instagram picture in Seoul is in August.
Where is it located? Seokchon East Lake, 206, Songpanaru-gil, Songpa-gu, Seoul
Ikseon-dong Village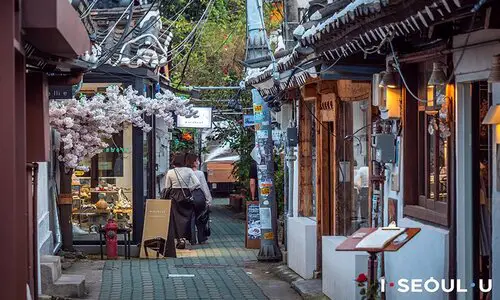 This is the oldest Hanok Village in Seoul.
You will find many restaurants like Midamheon, Salladaeng Bangkok, Seoul Coffee and Art Monster. You will find some amazing jewellery, antique decoration and vintage clothes from popular stores like My Poetry, Assibabgagan, Ikeson Boutique, Ssamziegil and many more.
Where is it located? Ikseon-dong, Jongno-gu, Seoul
Insa-dong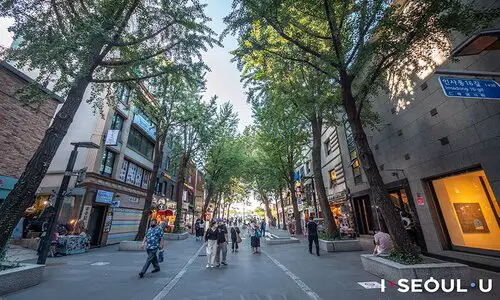 To experience true Korean traditional culture and heritage, you must visit this place.
You come across many parks, shopping stores, rent a book services, bronze ware, and old tea houses. Find amazing restaurants like Sanchon, Imun Seolnongtang, and Insadong Hangari Sujebi. Interestingly, you will find many unique things to buy like carved figures, Buddha statues, adorned crafts, and traditional paper.  Not only things, but also check out the Things to do in Insadong here.
Where is it located? Insa-dong, Jongno-gu, Seoul
Sounds Hannam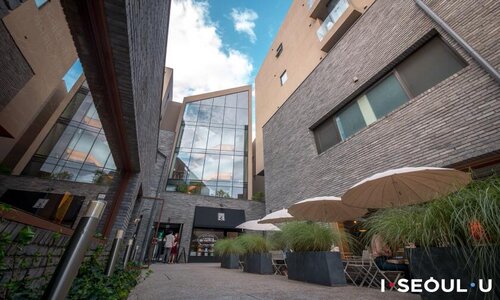 You can spend a whole day at Sounds and enjoy visiting the various boutiques, restaurants, art galleries and more.
Open 7 days in a week from 9 am to 10 pm.
Where is it located? 35, Daesagwan-ro, Yongsan-gu, Seoul
Taereung Royal Tomb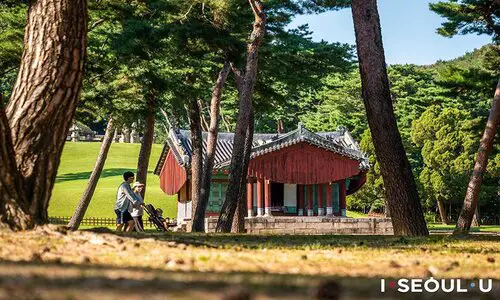 The preservation of nearly 500 years makes it historically significant.
Taereung and Gangneung Illustrious Burial chambers are the burial places of sovereignty from the Joseon dynasty. Situated in Hwarang-dong, Taereung and Gangneung sit close to one another.
Fee: adults (age 19-64) 1000 KRW
Kids and teenagers (age 7-19) 500 KRW
Timings: Feb-May and Sep and Oct: 9 am- 6pm
June-Aug: 9 am- 6:30 pm
Nov-Jan: 9am- 5:30 pm
Where is it located? 681, Hwarang-ro, Nowon-gu, Seoul
Cheongdam Reservoir Park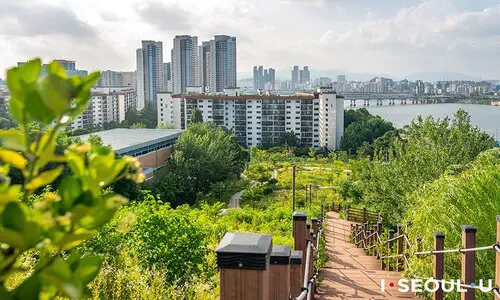 This is the best place to get the most beautiful views of Gangnam.
Where is it located? 79-1, Samseong-dong, Gangnam-gu, Seoul
Mangwon Market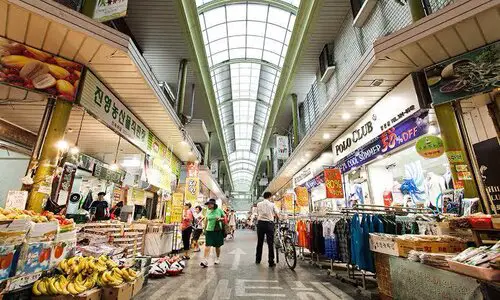 This is a highly popular place in Seoul because of the scrumptious foods and delicacies along with the trendy shops.
Reach the mangwon market by subway through mangwon station exit 2.
Open seven days in week from 10 am- 9 pm
Where is it located? 14, Poeun-ro 8-gil, Mapo-gu, Seoul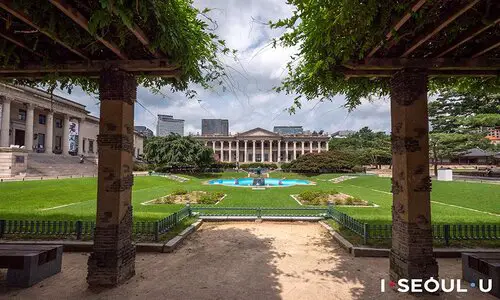 Once the residence of Prince Wolsan, this palace has historical significance.
It is considered as one of the five grand palaces constructed by rulers of Joseon dynasty.
Opening days and hours: Tue-Sun 9 am-9pm
Where is it located? Deoksugung Palace, 99, Sejong-daero, Jung-gu, Seoul
Seokchon Lake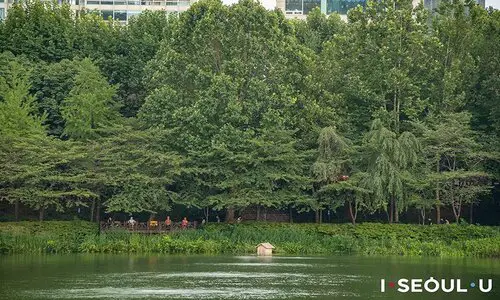 This was built as a result of the Hangang reclamation project.
Where is it located? Jamsil-dong, Songpa-gu, Seoul
Seonyudo Park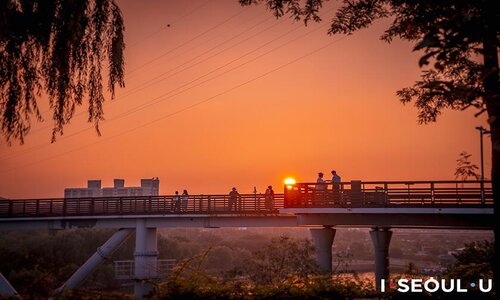 This was the first repurposed ecological park site in Korea built in around 2002.
Where is it located?  343, Seonyu-ro, Yeongdeungpo-gu, Seoul
Garosu-gil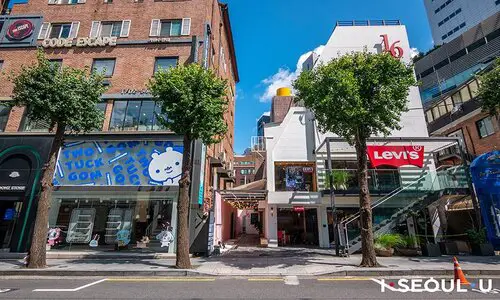 A street lined with art and trendy cafes and shops, a must visit for aesthetic Instagram shots.
You can buy amazing clothing and jewellery from different stores like MCM Mazit flagship store, Hats On, Victoria Bay, and Farmer. Not only is Garusogil street famous, but here are also the top 15 Famous Streets in Seoul you must visit for instagrammable spots in Seoul.
Where is it located? Sinsa-dong, Gangnam-gu, Seoul
Here are the top 25 Instagram spots in Seoul. Some places you might have known already and some places that are new. But wherever you go we are sure you will make a lasting memory.
You may also like:
IVK's Top Picks – Day Tours, Tickets, and Travel Activities
Seasonal Picks!😍