Namdaemun market is the oldest and largest Korean traditional market in Seoul. It's famed for its wide variety of shops and a bustling marketplace. Try Korean street foods and go shopping here!
Before we go further, if you have to carry your luggage or bags during the sightseeing, take a look at our post, "Luggage Storage Services in Seoul" to travel light. And you can check all the detailed information about the subway storage near you HERE.
What to Eat and Buy in Namdaemun Market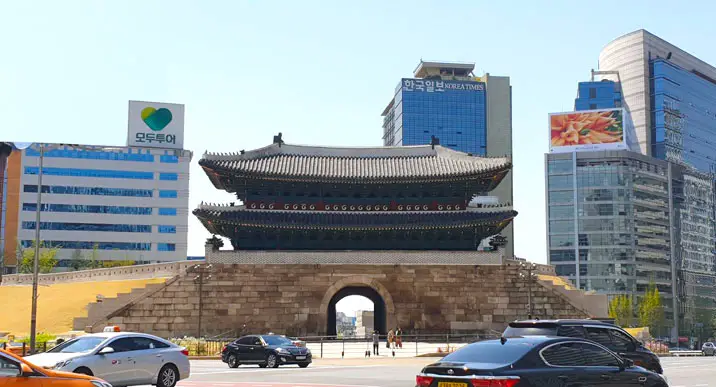 What is Namdaemun?
Namdaemun means the "Great South Gate" which was once one of the major gates to the old city. It was first built in the Joseon dynasty, the last year of King Taejo in 1398. But unfortunately, it was severely damaged in an arson accident in 2008 and restoration work was completed on April 2013. Namdaemun market is next to Namdaemun. The address is 21 Namdaemunsijang 4-gil, Hoehyeon-dong, Jung-gu, Seoul. 
How to get to Namdaemun Market
The closest subway station is Hoehyeon. Simply take Line 4 (blue line) to Hoehyeon Station and get out at Gate 5.
Please check our blog for useful apps for Korea travel. For instance, we recommend downloading the Naver map as it is Google in Korea. Naver will tell you how to get there and more. It is a must! If you are coming from Incheon International Airport(ICN), check this post, Best Way To Myeongdong and Chungmuro from Incheon Airport.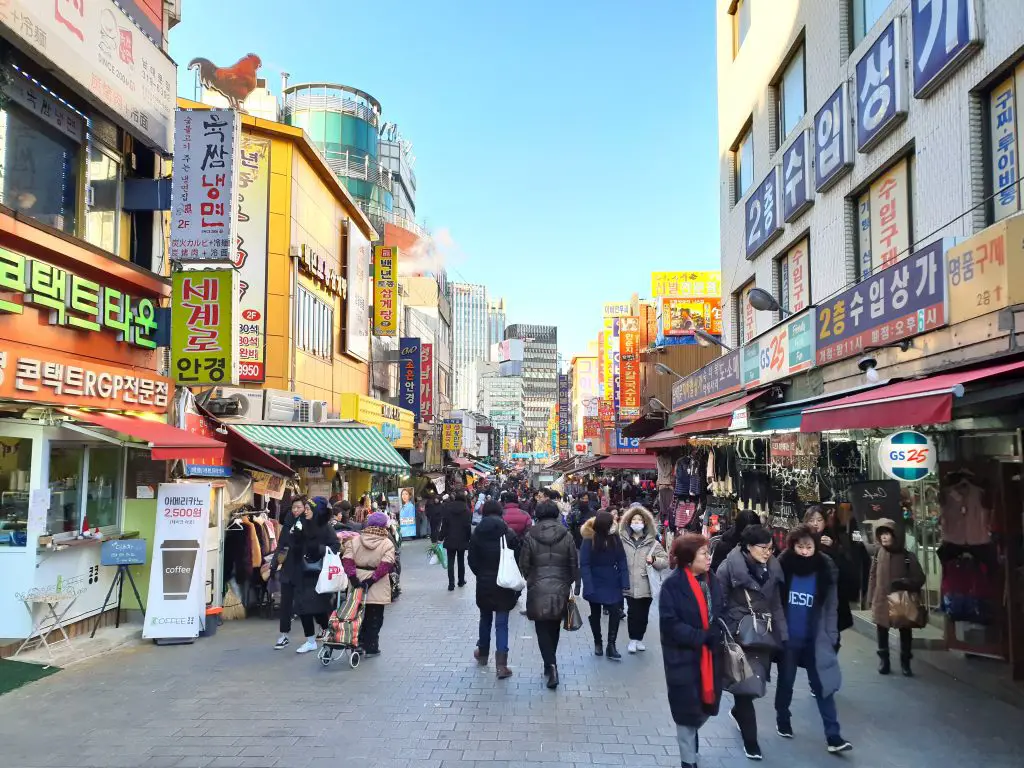 Namdaemun Market Hours
Open: Shops in the alleys and walkways are open from 10 am to 5 pm. * Only wholesalers operate from midnight to 6 am.
Close: Every Sunday
Must-try Korean Street Foods in Namdaemun Market
Hotteok
First, you must try Hotteok (꿀호떡). It is the most popular Korean street food, especially during the winter season. Fermented flour dough shaped into balls, filled with a spoonful of brown sugar. Then pan-fried in hot oil. Brown sugar mixed with cinnamon powder is a common filling, but seeds and nuts are also popular these days. You'll know if you arrived at the Namdaemun market if you smell Hotteok.
Tteokbokki
Secondly, we recommend trying Tteokbokki here. A Tteokbokki booth is easy to find and usually near a subway station exit. It's thin rice cake sticks in spicy chili pepper sauce with vegetables and fish cakes. Many people eat Tteokbokki with deep-fried vegetables, dumplings, and shrimp. It also comes with a hot broth that's not spicy.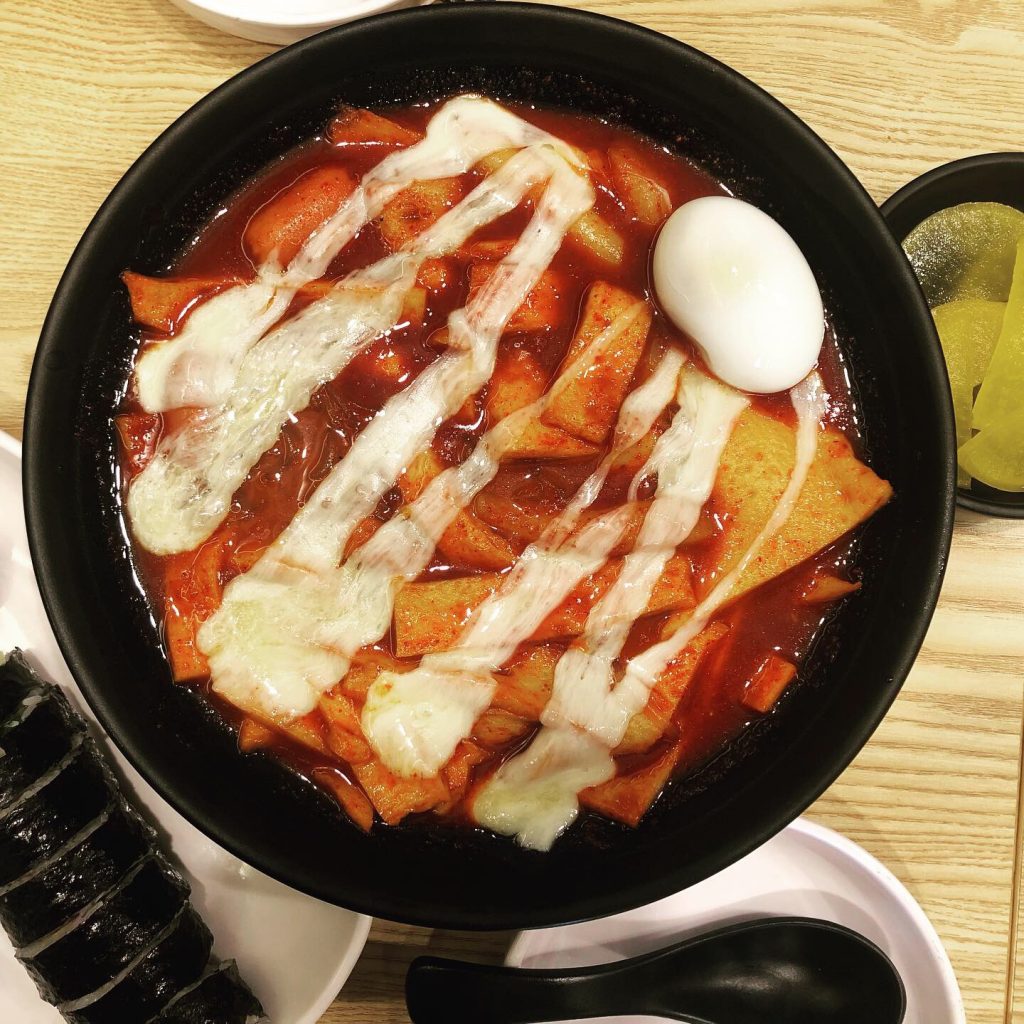 Gimbap & Eomuk
They are the foods Koreans have commonly with Tteokbokki. Gimbap is rice seasoned with salt and sesame oil and rolled up in a sheet of roasted seaweed with spinach, carrots, ham, egg, and pickled white radish. It's a healthy traditional Korean food and quite common in picnics and outdoor gatherings.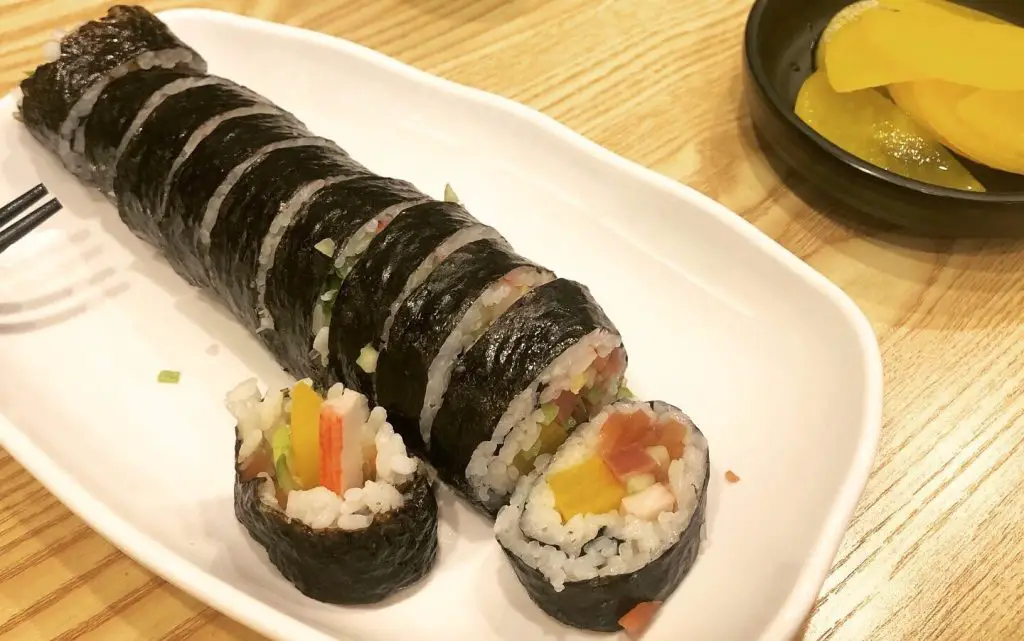 Bindaetteok
Thirdly, you can try Bindaetteok. This is a mandatory dish during the traditional holidays or any special festive occasion. This crispy pancake is made by peeling and soaking mung beans, grinding them, and then pan-frying them with various vegetables. Soon-hee's Bindaetteok is also the most authentic Bindaetteok you can try in the Gwangjang market in Seoul.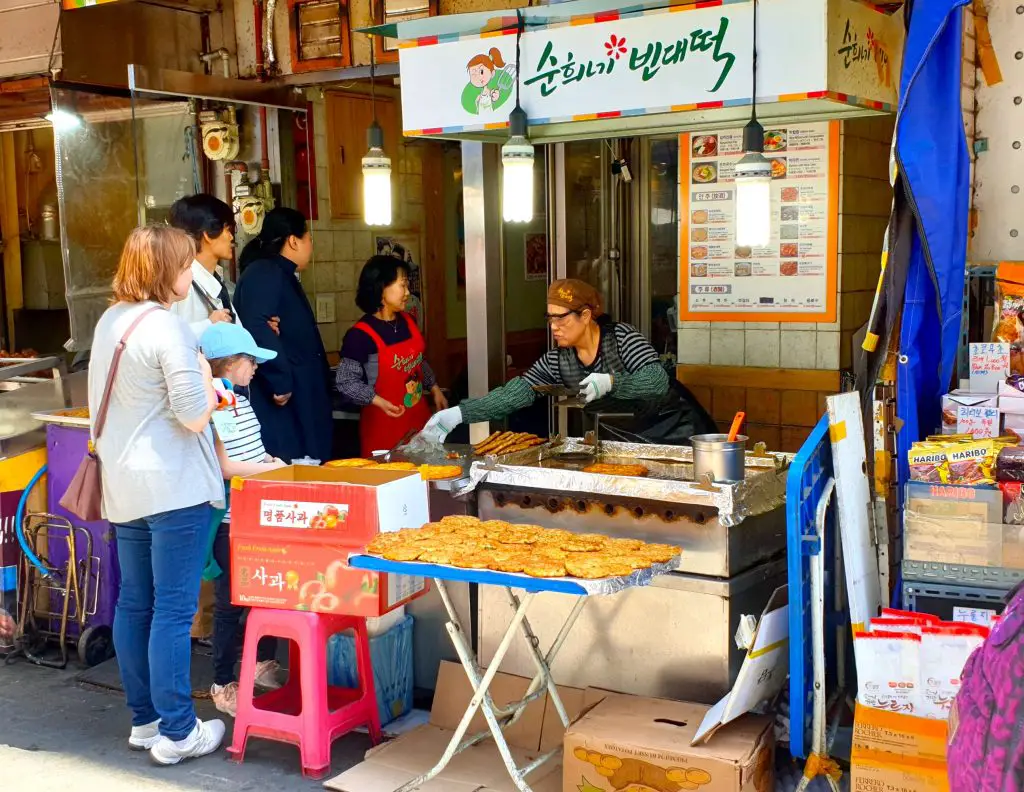 Mandu (Dumpling)
Lastly, try Mandu(dumplings) in the Namdaemun market! They're ground meats and vegetables which are wrapped around thinly kneaded flour dough. It's good to dip it with soy sauce and vinegar.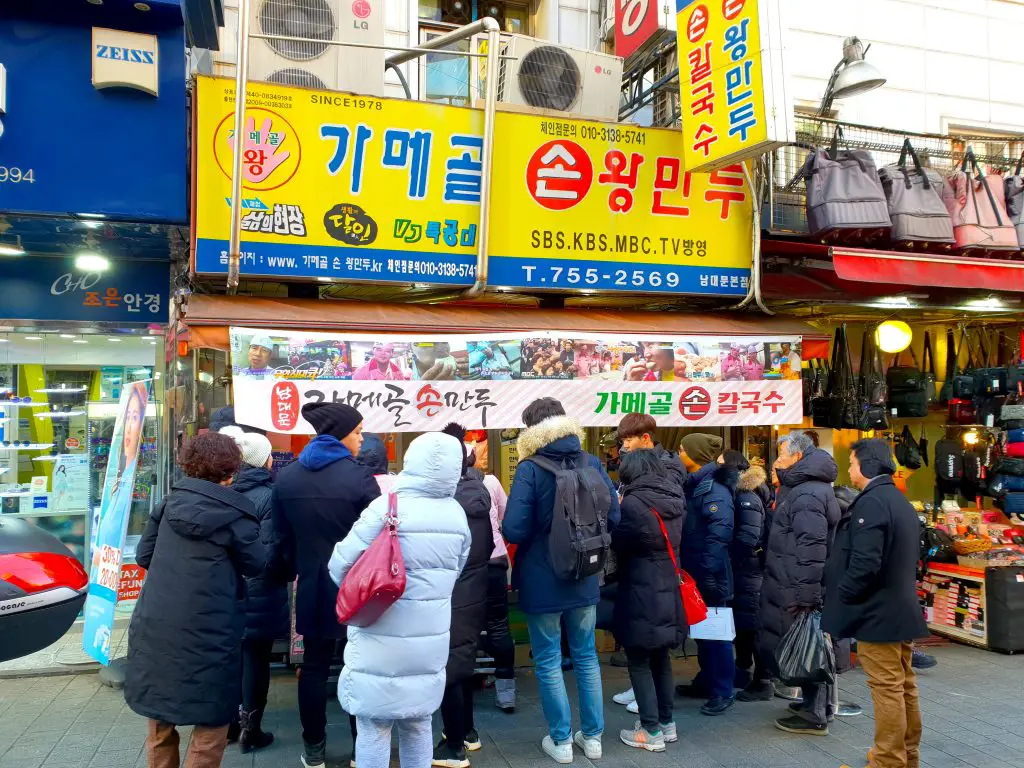 Galchi-jorim
If you want to try authentic Korean lunch, I recommend visiting the Galchi Alley in Namdaemun market. In this small alley, there are lots of restaurants along the side serving Galchi-jorim and Saengseon-gui(grilled fish). Galchi-jorim is a braised cutlassfish with a spicy soy sauce mixture with white radish and green chili peppers. Potato can be used instead of radish as well.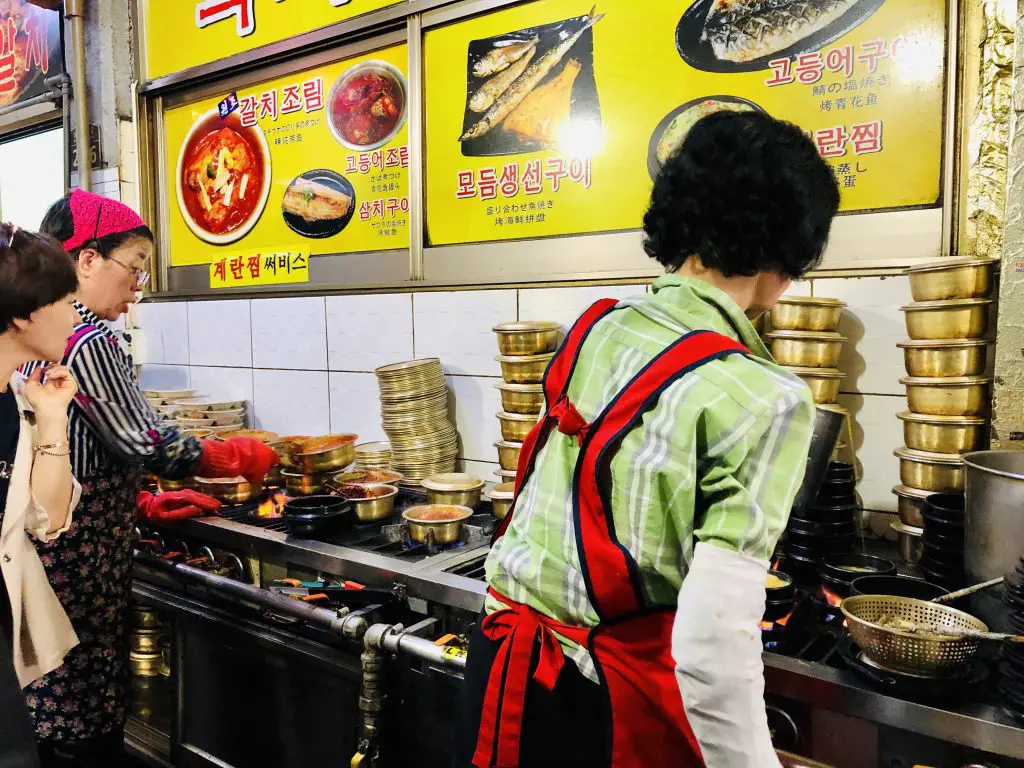 Things to Buy in Namdaemun Market Seoul
Namdaemun Market is the largest traditional market in South Korea with over 10,000 stores. Surprisingly, the shops lining the streets around Namdaemun sell almost everything you can think of and more. From clothing, Hanbok(traditional Korean dress), accessories, living essentials, healthy foods like ginseng and seaweed to imported goods, you can get all products at an affordable price.
Why don't you buy souvenirs or gifts for your family here in Namdaemun Market Seoul :-)? Before you head here, please check this page for things to buy in Korea first.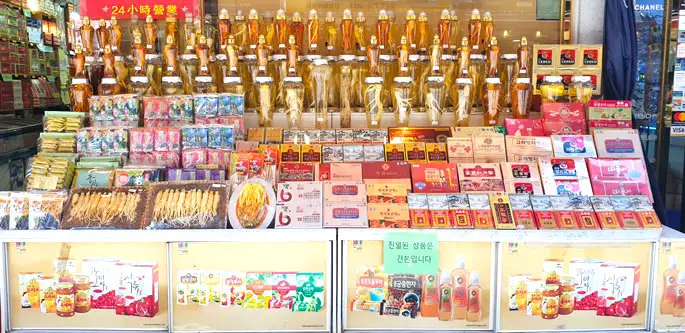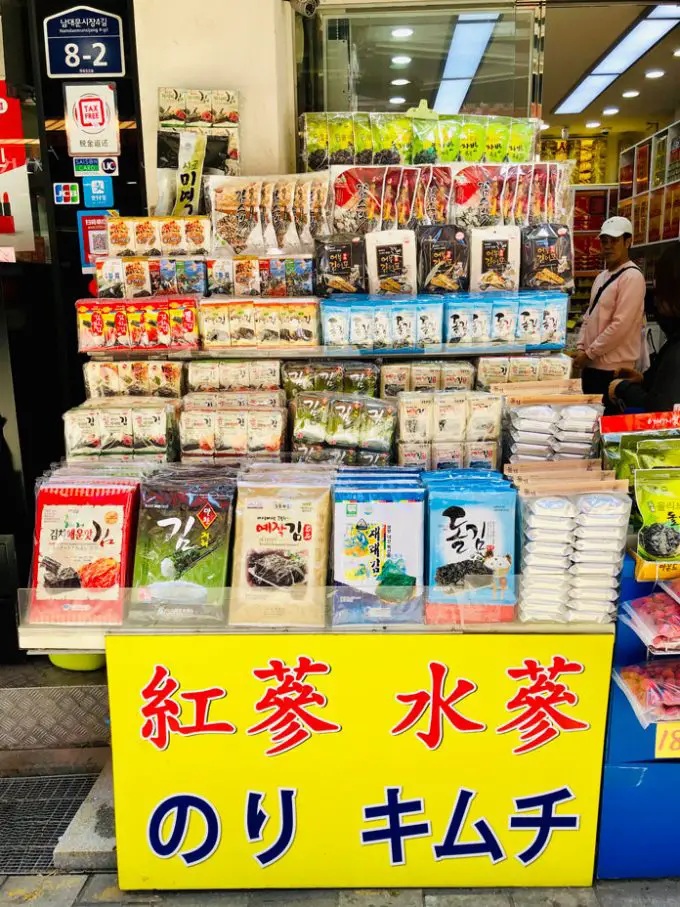 Seoullo 7017
Seoullo 7017 also known as the Seoul Sky garden or Skypark is an elevated public park for pedestrians. It was once a highway connecting the eastern and western parts of Seoul. Seoullo 7017's name comes from the year 1970 when the Seoul Station overpass was created and the number 17 of the year, 2017, of when the overpass was reconstructed. 17 is also the number of pedestrian paths that make up Seoullo 7017. Visit their facebook page for more information.
Things to do in Seoullo 7017
Seoullo 7017 is the perfect place to have a relaxing walk, enjoy the cafe, gift shop, and delight in Korean meals and snacks. There is also a tourist information center to learn about the history of Seoullo 7017. The start of the Seoullo is at Toegye-ro Road, where the information center and Seoullo gift shop is. It's very easy to find after Namdaemun shopping as it's located nearby. At the Upper-level section of Seoullo 7017, there are 3 different cafe's, Magnolia Cafe, Hydrangea Bread, and Rose Bingsu, all three places where you can enjoy Korean traditional desserts and light refreshments. Moreover, in the lower section at Malli-dong plaza, try the signature Seoullo acorn sweets and buns, as well as Korean traditional food like Bibimbap. Lastly, at the Toegye-ro Traffic Island, get all the information you need at the tourist information and cafe.
Seoul City Walking Tours
Seoul City Walking Tours offers 3 courses that include the Seoullo 7017 pedestrian park. We recommend the night tour of Seoullo 7017, Seoul at Night: Special City Night Tour to experience the best of Seoul. You can make reservations using this site.
During the day, there are also 2 courses that start from the Culture Station Seoul 284.
Course 1 starts from the Culture Station Seoul 284 → Seoullo 7017 → Severance Building → Sungnyemun Gate → Hanyangdoseong, the Seoul City Wall → Baekbeom Square → Ahn Jung Geun Memorial Museum  → Namsan Samsoon Stairs → Hoehyeon Sibeom Apartments → Namsan Pedestrian Overpass
Course 2 starts from the Culture Station Seoul 284 → Seoullo 7017 → Son Kee Chung Memorial Hall → Yakhyeon Catholic Church → St. Joseph Apartments → Chungjeonggak → Chungjeongno Station
We hope as you explore Namdaemun Market that you'll be able to make the best of your experience in Seoul by checking out Seoullo 7017 as well!
You may also like