With a rich cultural heritage and amazing mountainous topography, Korea is a must-go on the travel list. But what good is a travel destination if it doesn't provide a great shopping experience? Korea ranks high on just that element too. Let's see the things you can buy in Korea such as crafty souvenirs, mouth-watering cuisines, or beauty products. There are many items of interest for everyone.
Not sure of what to buy in Korea? Let us help you!
Ramyeon (Korean Instant Noodles)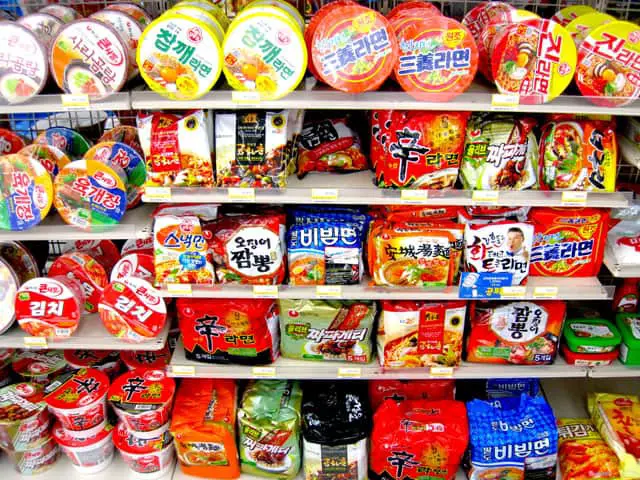 The variety of ramyeon in Korea is countless. Every year new and upgraded versions of ramyeon are being sold at your nearest mart or convenience store. The eye-catching labels make your mouth water and the easy to make recipes allows your instant midnight craving to be satisfied. The noodles come in a variety of flavors, sizes, spices, and textures. Some noodles might have a broth while others may not. We can guarantee that taking some ramyeon back home will make you regret not buying more :).
Dried Seaweed (Gim)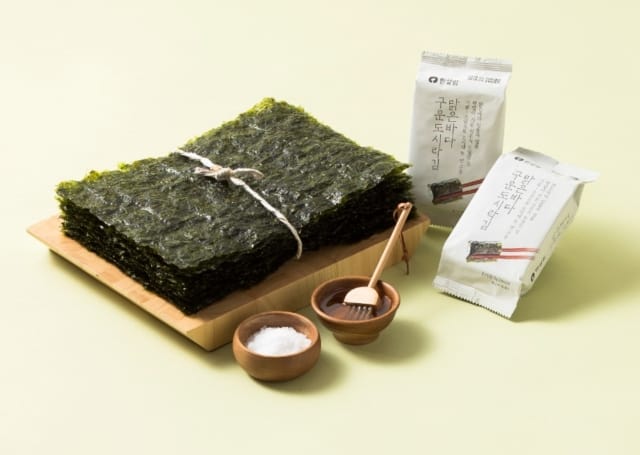 Gim is paper-like seaweed, which brings two of the most unlikely combinations together – healthy and tasty. Containing Calcium, Carotene, and other Vitamins, this healthy snack can be eaten in any manner of choice. Make a Korean rice roll (Gimbap) with it, or simply sprinkle some salt and have it in its glory. With the plus point of being inexpensive, as well as lightweight, it is the perfect good to buy and bring home.
Ginseng – The Must-Buy Korean Superfood
When talking about food in Korea, how can the ever-healthy Ginseng be missed? Renowned worldwide for its medicinal properties, it helps strengthen the immune system, preventing stress and weakness. Whether you opt to consume it in its original one or take renditions of it as tea or food, Ginseng is a must-buy item in Korea. There are even spas offering massage therapies featuring Ginseng – a true Korean delight. 
Korean snacks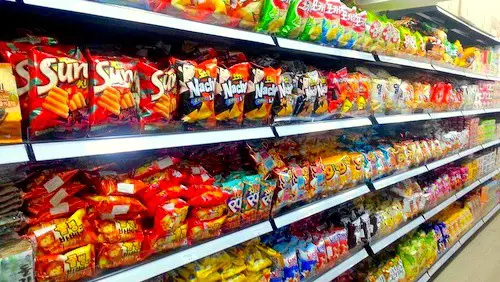 Many tourists buy and bring Korean snacks to their home country. Probably you've heard about Choco-pie (초코파이) which is one of the most beloved Korean snacks. Above this, Market-O Brownie, Homerun Ball, Pepero, and Cham Bungeoppang are popular as well. Among those, I would like to tell you about Ttekbokki snacks which might be new to you.
Tteokbokki snacks: There is nothing Koreans love more than rice snacks. Tteokbokki is a popular and spicy street food made with rice cakes paired with a hot spicy sauce. If you visited Korea and didn't try tteokbokki, then you haven't really visited Korea yet :).
For all those tourists who fell in love with this local delicacy (hint: everyone), the Tteokbokki snacks, with a similar flavor and chips-like packaging, are the products to buy, to bring home a little taste of Seoul. You can find them at the local convenience store or market.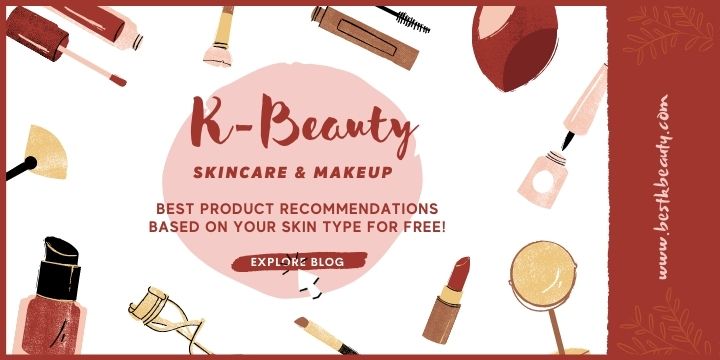 Hanji
Specially made from the bark of the Mulberry tree, the Hanji paper is a Korean innovation. With surreal powers of flexibility, it is used to make a variety of things – lamps, wallpaper, stationery, you name it. We recommend purchasing a Hanji doll, available in the Insadong district of Seoul. This doll comes in various shapes and it's the perfect gift for children because it displays Korean heritage in a nutshell. 
If you are an arts and crafts person, perhaps learning how to make things from Hanji, could be just the experience you're looking for. 
Hanbok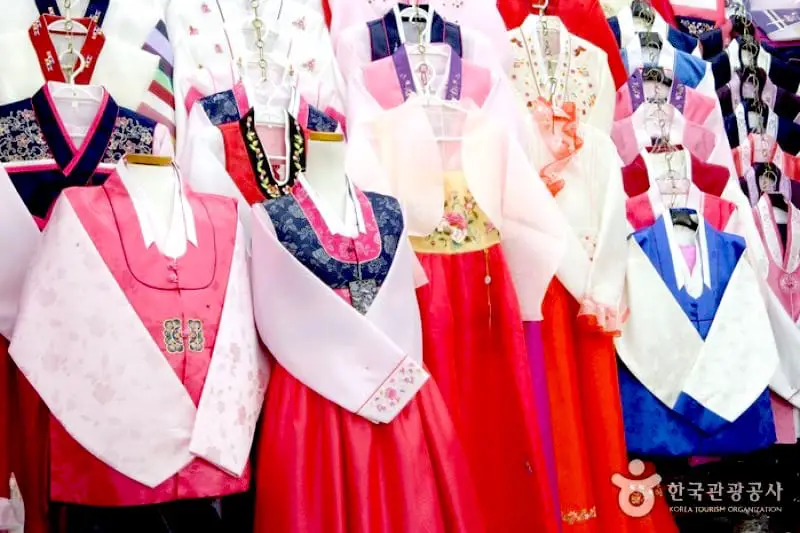 The traditional attire of Koreans, the Hanbok displays beauty and culture, all in one cloth. Consisting of the Jeogori (jacket) and a Chima (long skirt), this clothing exhibits traditional designs and motifs, emitting a vintage yet chic vibe. An absolute vision to be donned at costume parties, cultural days, or even formal events. In many cases, the Hanbok takes fashion up a notch. Its' designs have also been incorporated in many Fashion labels across the globe, giving it the international reach it deserves – making it a major element of your shopping list when visiting Korea. Available in a variety of local markets, as well as on various Korean online shopping websites, this is an easy-to-get, but must-buy product for all the fashion-lovers out there.
Dojang (Korean Stamp)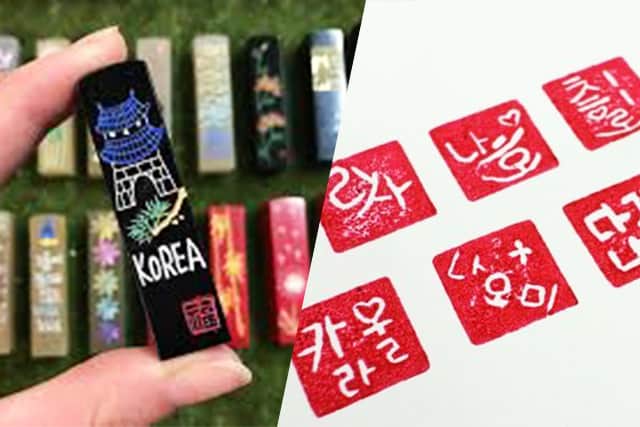 A truly amazing souvenir, the Korean stamp, called Dojang in Korean is a durable, engraved seal, which can feature up to 6 words of your choice. Wish to sign your name in a much cooler manner? This is the must-buy item from Seoul to fulfill your desire. Usually made of wood or jade, these stamps are available in a variety of colors, shapes and sizes, to fulfill your wants, and give to you, a personalized, truly yours, Korean reminder.
Korean Beauty Products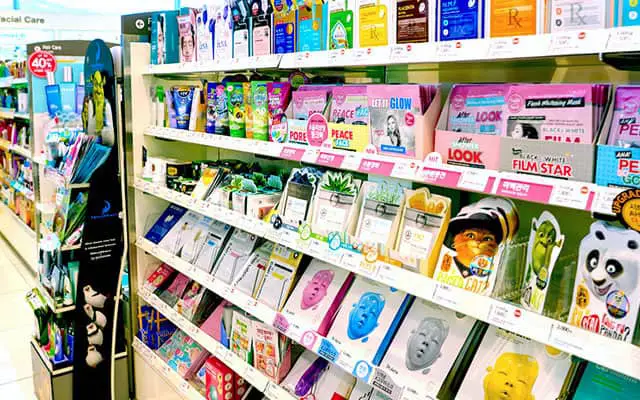 In a time obsessed with makeup tutorials, and online beauty tips, Korean products come as the solution to all your beauty needs. Having made quite a name for themselves in recent times. These beauty products serve as perfect gifts for your loved ones. Be it any person, there are none who wouldn't love a BB cream or a glossy lip balm, especially your girlfriends. With Innisfree, 3CE, Etude House as some of the many prevailing famous brands, buying beauty products has been made easier with the availability of Korean beauty products online. Go to any Korean fashion online store like YesStyle, and get the beauty products of your desire in OLIVE YOUNG that is like Sephora in Korea. Or if you prefer to visit, and are confused about what to buy in Seoul, Myeongdong district is the beauty product heaven.
Must Buy Item: Korean Face Masks
These Korean skincare products have an entirely separate fan base worldwide and are a must-buy in Korea. As sheets of paper or fabric, they contain nourishment for the skin, to give you glowing, radiant post-mask skin. Widely available in beauty stores, as well as online Korean shops, they make as loving gifts for the special person in your life. Discover the best sheet masks in Korea here.
K-pop and K-drama Items
Jumping on the K-Pop bandwagon, K-pop and K-drama(Hallyu) goods enter to take the Korean fever to another level. Consisting of items with images of Korean celebrities, there is a long list of options to choose from mugs, posters, t-shirts, you name it. Visit any nearby store, or shop on Korean online shopping sites, for the item you desire.
Shopping sprees in Korea are worth it, with an array of options tending to people of all likes and backgrounds. Another attractive aspect is the tax refund. Many outlets have a 'Tax-Free Shopping' sign, meaning you can get vouchers for tax refunds. Upon exiting Korea from your vacation, the tax counters would be willing to refund taxes that you've paid during your stay, making the vacation to Korea a largely economical one. For more detail, please check this post about Tax Refund in Korea. 
In addition, you can order them on Online shopping malls like Coupang, 11th street, Interpark. For more details about Korean Online Shopping Malls, head HERE.
When in Korea, do as the Koreans do. Have Ramyeon, buy Hanji goods, and have the time of your lives.
Happy shopping!
You may also like
IVK's Top Picks – Day Tours, Tickets, and Travel Activities
Seasonal Picks!😍