I guess you've already heard about Korean fried chicken and beer. Eventually, Korean's love for chicken and beer made the word "ChiMaek" to be registered on the official Korean dictionary. It stands for Chicken and Maekju(Beer). Now, let's review the Best Korean Fried Chicken and Beer Restaurants in Seoul. Personally, I love eating Chimaek at Hangang Riverside Park.
The best Korean fried chicken restaurants in Hongdae, Myeongdong and Gangnam area

Hongdae Area
Chicken-ui-minjog (치킨의 민족)

If you plan to visit Hongdae, this place would be the best choice to taste Chimaek. First, this Chimaek restaurant is at the hippest spot in Seoul, Hongdae. Because it's on the main shopping street in Hongdae, it will be easy to find. Secondly, they have a variety of fried chicken menus with different flavors like sweet-spicy, soy sauce, etc. They serve nice local craft beer, and the interesting thing is that you can also taste other famous Korean street foods like Ramyeon(spicy noodle) and Tteokbokki (spicy Korean rice cakes). Lastly, after or before you eat, you can enjoy shopping for cosmetics, beauty items, clothes, and fashion accessories at Hongdae as well.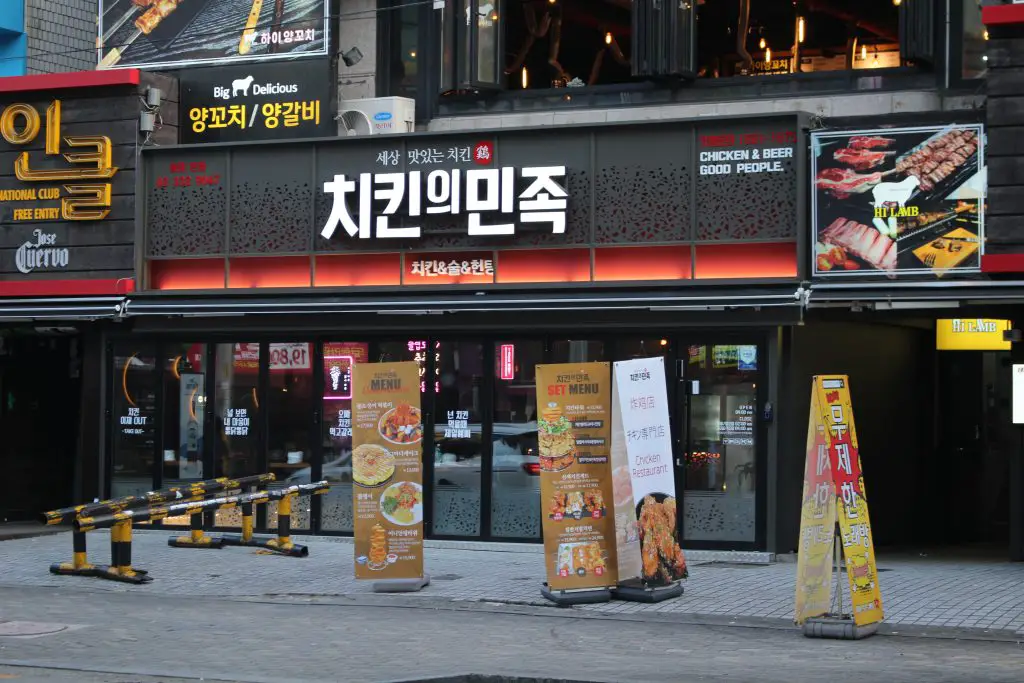 Address: 22, Yangwha-ro 23-gil, Mapogu, Seoul
Open: 2 PM
Close: 2 AM
If you are looking for Korean craft beer, CRAFT HANS would be a good choice. Most of all, I'd like to recommend you try a variety of locally named Korean craft beers, for instance, Yeonnamdong Pale Ale, Gangnamyeok Weisen, and Itaewon IPA.
We'd like to recommend 'Hans Crispy Chicken' as the best menu of this restaurant because it perfectly goes well with their craft beer. Additionally, Hans Homemade Sausage will be a good choice as well. After that, you can walk along the 'Gyeongui Line Forest Park', right next to CRAFT HANS. While you are walking down the park, you may be able to see the Korean youths enjoy their free time with their friends.
Noona-holdak Hongdae (누나홀닭-누구나 홀딱 반한 닭)
Address: 129 Eoulmadangro Mapo-gu, Seoul ( Located near Hongik University station between the back alleyways of exit 8 or 9)
Telephone: 02) 332-6663
Open: 1 PM
Close: 4 AM
If you are looking to stay out all night, we recommend Noonda-hol-dak chicken restaurant. The ambiance of the restaurant is perfect for chimaek and the menu is in English, Chinese, and Japanese. Not only do they have chicken, they also serve tteokbokki (spicy Korean rice cakes), french fries, and fried side dishes to go with the chimaek. The chicken is oven-baked and comes in a variety of sauces.
Address: 4-42, Wausan-ro 29-gil, Mapo-gu Seoul (Nearest station: Hongik University Station, Exit 8)
Opening hours: 4pm-12pm
If you are looking for high-quality chicken, we recommend Chicken in the Kitchen in Hongdae. This is the first store opened in Hongdae and through word of mouth, has become a global franchise. TV shows like the 'Food X file' and 'Channel A' have featured shows here gaining more popularity. They pride in using healthy recipes, herbs, and natural foods to bring out the best in chickens. Also, they serve spaghetti, pizza, tteokbokki, ades, and really big onion rings too!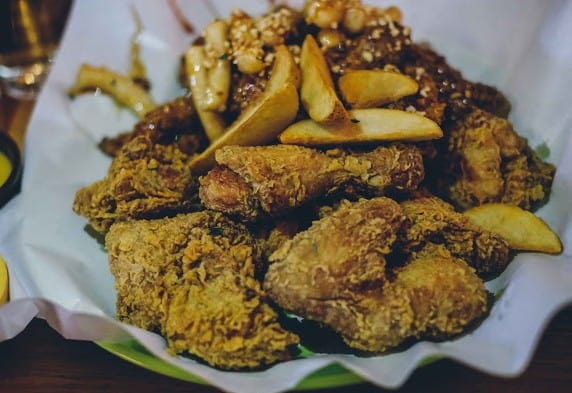 Myeongdong Area
BHC Beerzone (Myeongdong branch)
Address: 21, Myeongdong 7-gil, Junggu, Seoul
Open: 1PM
Close: 1AM
BHC is one of the most popular Korean Fried Chicken chains. The No.1 menu of BHC is Chihao, a crispy spicy Chinese style fried chicken and Bburingkle(a crunchy cheesy fried chicken with dipping sauce). They have a menu list in English, Chinese, and Japanese because Myeongdong is a hot spot for foreign tourists. Moreover, you know that Myeongdong is the right place for Chimaek because they have Korean Fried Chicken Restaurants Street.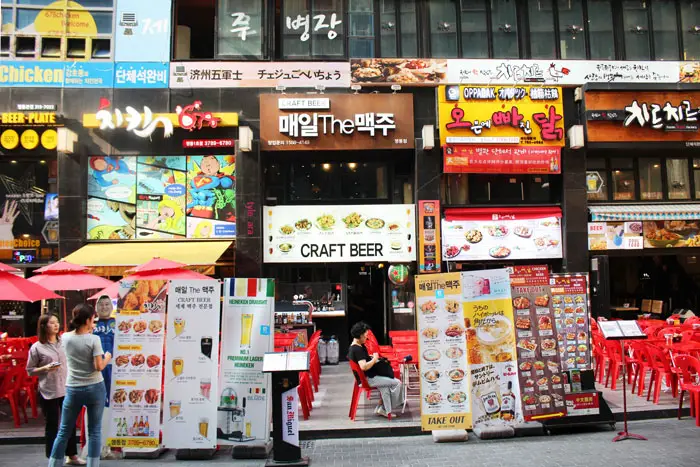 Mexx Chicken (Myeongdong branch)
Address: 17, Myeongdong 3-gil, Junggu, Seoul
Open: 3PM
Close: 2AM
Mexx Chicken serves the Chicken from around the world like Seoul Teriyaki Chicken, Thai Chili Chicken, Italian Garlic Chicken, Fried Tandoori Chicken, and Onion Salad Chicken. Also, many kinds of ale and lager beer are served in Mexx Chicken.
Chicken 678
Owned by the famous Korean celebrity Kang-ho Dong, Chicken 678 is one of the most popular chicken restaurants in Korea. They have various menus like Chili Fried Chicken, Crispy Fried Chicken, Hot Bomb Sauce Chicken, Bulgogi Garlic Sauce Chicken, Sweet Honey Sauce Chicken, Spice & Cheese Chicken, Soy Sauce Chicken, and Savory Butter Chicken. All priced around 20,000 won and serves about 3 to 4 people. The chicken batter is light and the chicken meat is tender and juicy. 
Oppa Dak (오븐에 빠진 닭)
Address: 21 Myeongdong 7-gil, Euljiro 2(i)-ga, Jung-gu, Seoul (Located on line 4 Myeongdong Station Exit 8)
Open: 12:30 AM
Close: 2 AM 
Phone: +82 2 3789 5892
Oppa Dak chicken restaurant serves a healthier version of chicken as it is oven-baked at a high temperature to maintain the outside crispy and the inside juicy. We suggest getting the half & half so you can try different flavors of chicken tossed in various spices and herbs. The beer is about 5,000 won and one chicken is for about 2-3 people. The menu at the restaurant has English as well so ordering should not be too hard. 
Gangnam Area
Address: 29, Eonju-ro 172-gil, Gangnamgu, Seoul
Open: 12PM
Close: 2AM
Kyochon is well known as one of the best Korean Fried Chicken brands. It also has 5 types of fried chickens: honey, signature soy sauce, garlic, spicy, half and half, and Soonsal which is boneless fried chicken. Why don't you have Kyochon chicken after shopping in Apgujeong Rodeo, a shopping street in Gangnam? Otherwise, you can order it to your place using a food delivery app like Yogiyo. Please check our post to learn how to order delivery foods in South Korea using this app.
Mainly, Kkanbu chicken serves Garlic Soy Chicken, Hot Snow Chicken, Old School Chicken, and Boneless Chicken with Tteok-bo-kki (Korean spicy rice cakes).
If you are planning to go to Garosu-gil for shopping and cafe hopping during the daytime, afterward I highly recommend you to go to Jamwon Hangang Riverside Park with a box of Kkanbu Chicken. To enjoy the Hangang River, all that's needed is a picnic blanket, some fried chicken, beer, and a friend. The riverside is close to Garosu-gil and has been developed in such a way that it can be easily used by people. It's a good place to enjoy the nighttime views of the Hangang River and the Seoul skyline. Now you are ready to have a feast of super crispy, tender, and flavorful chicken in Seoul!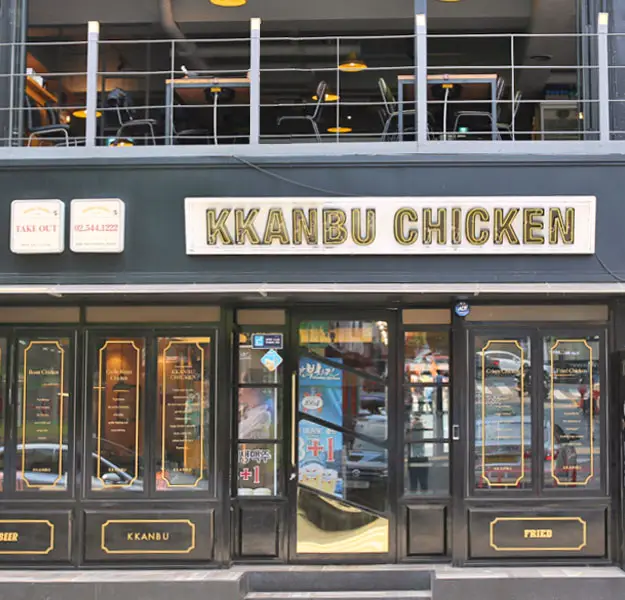 Mad Fry Chicken
Address: 148-15, Samseong-dong, Gangnam-gu, Seoul

Open: 5 PM

Close: 3 AM 
Phone: +82 2-3453-1005
Mad Fry Chicken is one of the best Korean fried chicken restaurants in Gangnam. The crispy skin with moist meat and specialty sauces are what make this chicken restaurant stand out. Opened until 3 a.m. many people come to hang out here eating Chi-maek. We recommend the Original fried chicken and if you want to try something new, we recommend the garlic soy fried chicken. The original fried chicken is marinated in garlic and soy sauce bringing a sweet and savory taste that everyone loves.
Kkoggeuldalg (꼭그닭)
Address:817-33 Yeoksamdong, Gangnam-gu, Seoul
Open: 1 PM
Close: 1 AM 
Phone: +82 2-565-5335
If you are looking for a fusion chicken restaurant, we recommend eating at Kkoggeuldalg. The name Kkoggeuldalg means "it has to be THAT chicken." They are confident in their food. Also, the most popular dish is the specialty dish pane chicken with mozzarella cream cheese bread. The chicken is coated in rice flour, and the sauce for the pane is made from Italian tomatoes and mozzarella cheese from America. It is visually pleasing as well as delicious.  Moreover, if you are looking for something light, they also have crispy, honey, and garlic chicken, as well as chili sauce chicken. It's the perfect place for chimaek in Gangnam! 
You may also like
IVK's Top Picks – Day Tours, Tickets, and Travel Activities
Seasonal Picks!😍