Last Updated on November 24, 2023
I guess you've already heard about Korean fried chicken and beer. Eventually, Korean's love for chicken and beer made the word "ChiMaek" to be registered on the official Korean dictionary. It stands for Chicken and Maekju(Beer). Now, let's review the Best Korean Fried Chicken and Beer Restaurants in Seoul. Personally, I love eating Chimaek at Hangang Riverside Park.
Read Also:
Best Korean Fried Chicken Brands & Restaurants in Seoul
What is "Chimaec"?
Chimaek (치맥) is a Korean portmanteau of the words "chicken" (치킨) and "beer" (맥주). It is a popular combination of food and drink in South Korea, and is often enjoyed as a snack or meal. Chimaek is typically made with fried chicken and a light, refreshing beer. The combination of the crispy chicken and the cold beer is said to be a perfect match.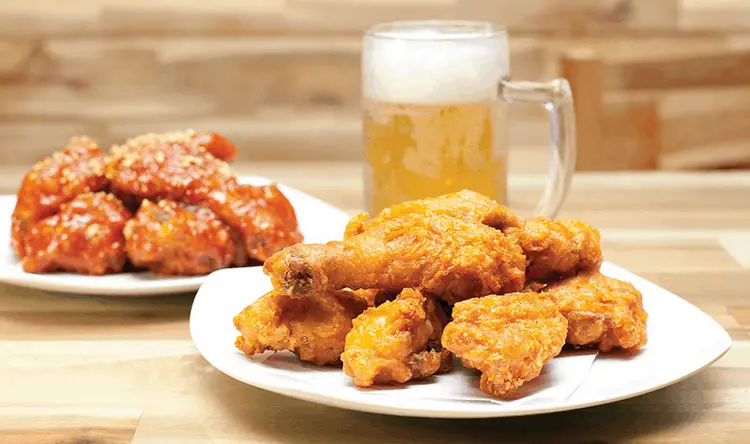 Chimaek is one of the most beloved fares by Korean and is often enjoyed at home, but it is also a popular dish at restaurants and bars. There are many chimaek restaurants in South Korea, and some of them even specialize in the dish. Chimaek is also a popular food at sporting events and festivals.
If you are ever in South Korea, be sure to try "chimaek". It is a delicious and refreshing combination of food and drink that is sure to please.
Best Korean Fried Chicken Places in Hongdae
Chicken & Curry Gun 치킨앤카레군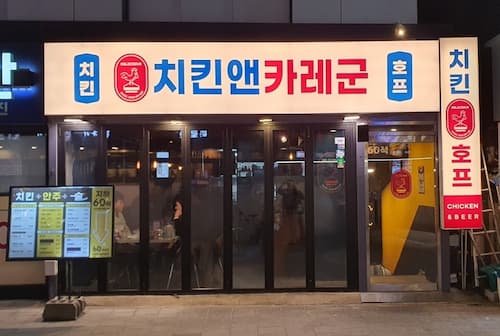 If you plan to visit Hongdae, this place would be the best choice to taste Chimaek. First of all, this Chimaek restaurant is the hippest spot in Seoul, Hongdae. It will be easy to find because it's on the main shopping street in Hongdae. 치킨앤카레군 (Chicken & Curry Gun) is a Korean fried chicken restaurant in Hongdae that specializes in Korean-style fried chicken and various side dishes.
If you want to tantalize your taste buds with a new fried chicken flavor, go to Chicken Curry Goon. First and foremost, the signature dish at this restaurant is the Rose Chicken Curry. It's the perfect blend of spicy and savory, with tender chunks of chicken in a rich and flavorful curry sauce.
In addition to their signature chicken dishes, we recommend garlic soy chicken and spicy rice cake chicken. The garlic soy chicken is a delectable treat with a perfect balance of savory garlic and sweet soy sauce flavors. Meanwhile, the spicy rice cake chicken is a unique dish that pairs juicy fried chicken with the irresistible spice of tteokbokki (spicy rice cakes).
And, of course, what's a meal without something refreshing to drink? Fortunately, this restaurant has covered you with various beers and other refreshing beverages that perfectly complement your meal. Whether you're in the mood for a crisp, cold beer or a fruity cocktail, there's something for everyone here.
The Play Chicken | Hongdae Branch 더 플레이 치킨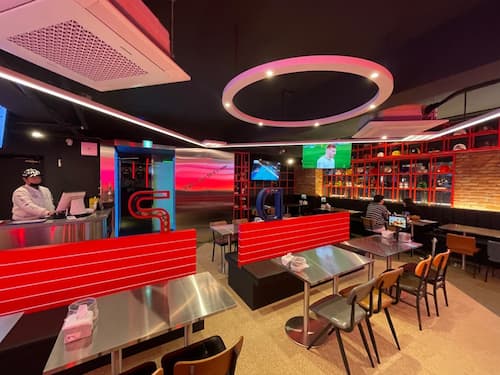 If you are a sports enthusiast, this place is definitely worth a visit in Hongdae. From the moment you step inside, you will feel energized and uplifted by the neon signs and diverse sports-themed interior. In addition to that, a perfect foundation is provided for enjoying a complete sports game with delicious chicken and beer.
The Play Chicken offers a wide variety of chicken dishes, all made with fresh, high-quality ingredients. The most popular dishes are the original fried chicken, the seasoned chicken, and the soy sauce chicken.
Apart from chicken, The Play Chicken also provides a range of accompanying dishes, including spicy seafood soup, noodles, tteokbokki, and sour cream potato. These delectable sides complement the chicken perfectly, while the tteokbokki and cheese balls offer a savory and irresistible taste.
Address: 201 Donggyo-ro, Mapo-gu, Seoul
Opening hours: 5 pm – 2 am
Chicken In The Kitchen 치킨인더키친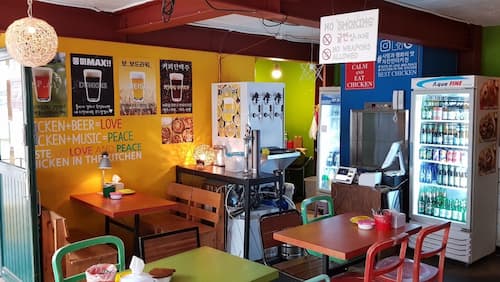 We recommend Chicken in the Kitchen in Hongdae if you want high-quality chicken. This is the first store opened in Hongdae and has become a global franchise through word of mouth. TV shows like the 'Food X file' and 'Channel A' have been featured here, gaining more popularity. They pride themselves on using healthy recipes, herbs, and natural foods to bring out the best in chickens. Also, they serve spaghetti, pizza, tteokbokki, ades, and big onion rings!
The menu at Chicken in the Kitchen is simple yet satisfying, with fried chicken as the star attraction. The chicken is crispy on the outside and juicy on the inside and comes in various flavors and sauces to suit every taste. We highly recommend trying the soy garlic chicken, which is coated in a delicious sauce made with soy sauce, garlic, and other spices. Another must-try menu item is the spicy chicken, coated in a spicy sauce made with chili peppers and other seasonings.
Apart from the delicious food, the restaurant also offers a great selection of beers that pair perfectly with the chicken. Another highlight of the restaurant is the friendly chef who speaks good English and is always willing to help you choose the best dishes and drinks to suit your preferences.
Opening hours: 5 PM – 12 AM, closed on Monday
Phone: +82 70-7526-2487
Noona-holdak Hongdae 누나홀닭-누구나 홀딱 반한 닭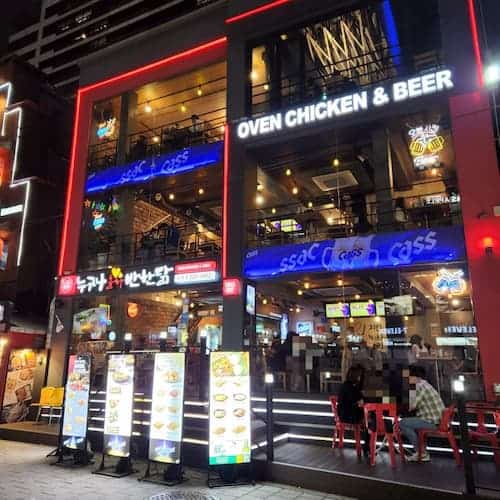 Here you will have outstanding fried chicken with a unique blend of spices that gives it a flavorful and crispy crust. The chicken is available in a variety of flavors, including original, soy garlic, and spicy, and is served with a variety of toppings, such as cheese, vegetables, and garlic.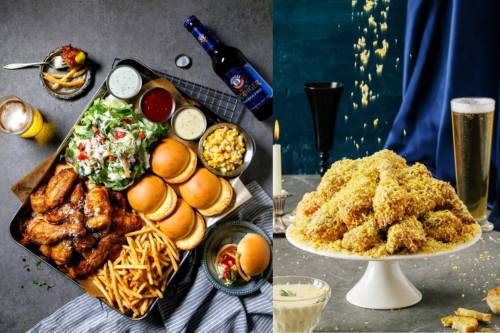 If you are looking to stay out all night, we recommend Noona-hol-dak chicken restaurant. The ambiance of the restaurant is perfect for chimaek and the menu is in English, Chinese, and Japanese. Not only do they have fried chicken, they also serve DIY Chicken burger platters, fajitas, oven-baked chicken, and various soups.
누나홀닭 is a popular destination for both locals and tourists alike. It has been praised for its delicious food, friendly service, and affordable prices. If you're looking for a taste of Korean fried chicken and beer, this is the place to go.
Address: 129 Eoulmadangro Mapo-gu, Seoul ( Located near Hongik University station between the back alleyways of exit 8 or 9)
Telephone: 02) 332-6663
Open hours: 12 PM – 3 AM
OUTDARK Hongdae Branch 아웃닥
OUTDARK Hongdae Branch offers various serving styles to cater to all tastes, and the chicken is simply amazing. It's crispy and crunchy on the outside yet soft and juicy on the inside, making for a truly satisfying meal.
If you're unsure what to order, we highly recommend trying their fried chicken with a side of fries and fried cheese sticks. It's a satisfying meal that hits all the right spots. And if you're feeling adventurous, try their spicy chicken for a bit of a kick. The portions are quite generous, ensuring that everyone at the table will leave feeling satisfied.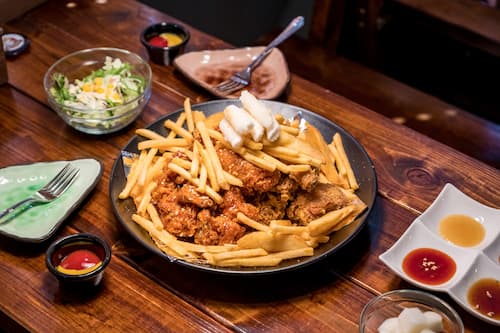 Despite its popularity, OUTDARK Hongdae Branch offers very reasonable prices, making it a great option for dining out without breaking the bank. However, be prepared for a short wait, as the restaurant is often packed with diners. Plus, the menu is in English, so you won't have any trouble ordering even if you don't speak Korean.
Best Korean Fried Chicken Places in Myeongdong
BHC Beerzone (Myeongdong branch)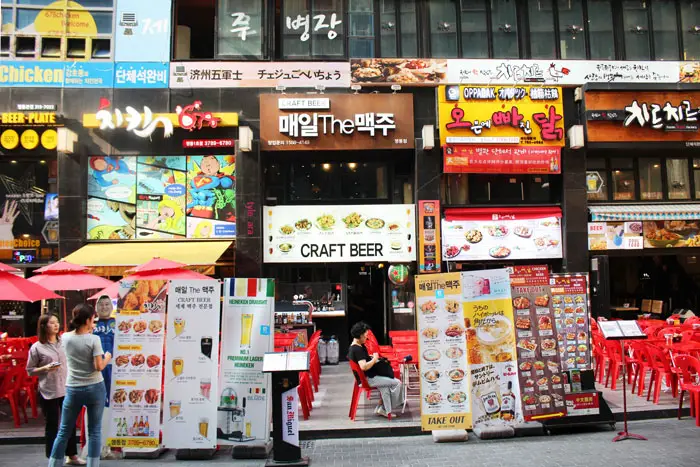 BHC is one of the most popular Korean Fried Chicken chains and BHC Myeongdong branch is a culinary gem known for its irresistible fried chicken. With a vibrant atmosphere and friendly staff, it's the perfect spot to indulge in crispy, flavorful chicken cooked to perfection. The No.1 menu of BHC is Chihao, a crispy spicy Chinese style fried chicken and Bburingkle(a crunchy cheesy fried chicken with dipping sauce).
Alongside their famous chicken, BHC offers an array of delicious side dishes like spicy seafood soup, noodles, tteokbokki, and sour cream potato, providing a complete and satisfying dining experience for food lovers in Seoul. They have a menu list in English, Chinese, and Japanese because Myeongdong is a hot spot for foreign tourists. Moreover, you know that Myeongdong is the right place for Chimaek because they have Korean Fried Chicken Restaurants Street. 
Address: 21, Myeongdong 7-gil, Junggu, Seoul
Open hours: 1 PM – 1 AM
Oppa Dak 오븐에 빠진 닭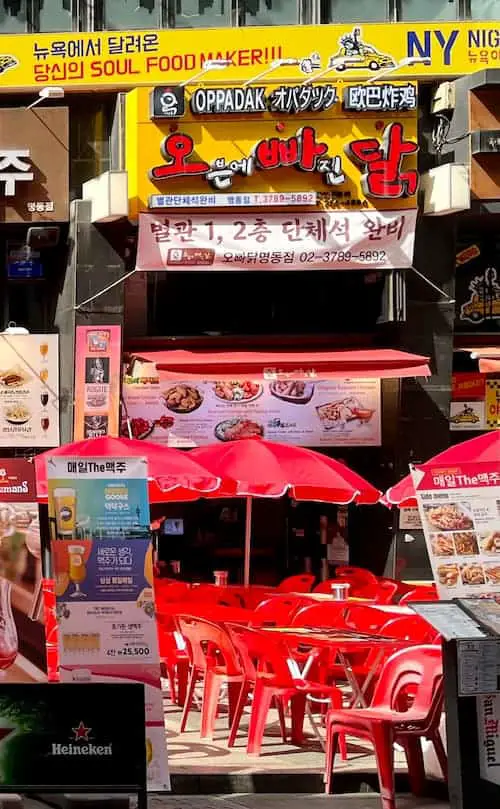 Oppa Dak chicken restaurant serves a healthier version of chicken as it is oven-baked at a high temperature to maintain the outside crispy and the inside juicy. Oppa Dak is renowned for its mouthwatering Korean-style fried chicken, prepared with a perfect balance of crispiness and tenderness. Each piece is generously coated in a flavorful sauce that will leave your taste buds dancing with delight.
We suggest getting the half & half so you can try different flavors of chicken tossed in various spices and herbs. The beer is about 5,000 won and one chicken is for about 2-3 people. The menu at the restaurant has English as well so ordering should not be too hard. 
Address: 21 Myeongdong 7-gil, Euljiro 2(i)-ga, Jung-gu, Seoul (Located on line 4 Myeongdong Station Exit 8)
Open hours: 11:30 AM – 3 AM 
Phone: +82 2 3789 5892
Puradak Chicken Myeongdong Branch 푸라닭
Puradak Chicken is often encountered in marketing as a luxury Chicken brand like "Prada" with signature black seasoning. 😆 The biggest difference of this fried chicken lies in its unique cooking method and seasoning. Unlike the traditional fried chicken, Puradak Chicken is cooked using a double frying technique. The chicken is first deep-fried at a lower temperature to cook it thoroughly and remove excess oil. Then, it undergoes a second round of frying at a higher temperature to achieve a crisp and golden exterior.
In terms of seasoning, Puradak Chicken is typically coated with a special blend of spices and herbs, giving it a distinct and flavorful taste. The seasoning mixture often includes ingredients like garlic, ginger, pepper, and other secret spices, creating a savory and aromatic profile that sets it apart from regular fried chicken.
The result is a mouthwatering dish with a crispy outer layer and tender, juicy meat inside, complemented by a tantalizing combination of flavors. Puradak Chicken has gained popularity for its unique cooking technique and flavorful seasoning, making it a must-try for fried chicken enthusiasts looking for something different and memorable.
Address: 21, Myeongdong 7-gil, Junggu, Seoul
Open hours: 12 PM- 11:20 PM
Phone: +82 2-310-9207
Chir Chir 치르치르
This popular Korean fried chicken chain has multiple locations throughout Seoul, including one in Euljiro. Their signature dish is the "Garlicky Chicken," a crispy fried chicken coated in a generous amount of garlic sauce. They also have a variety of other flavors, such as the "Spicy BBQ Roasted Chicken," "Honey Butter Chicken," and "Original Crispy Fried Chicken."
In addition to chicken, they also offer various sides and appetizers such as french fries, onion rings, and fried shrimp. The restaurant has a casual and modern atmosphere, making it a great spot for a meal with friends or family.
Open hours: 3 PM – 1 AM daily
Phone: +82 2-773-0101
Best Korean Fried Chicken Places in Gangnam
Kyochon Chicken Gangnam Branch 교촌치킨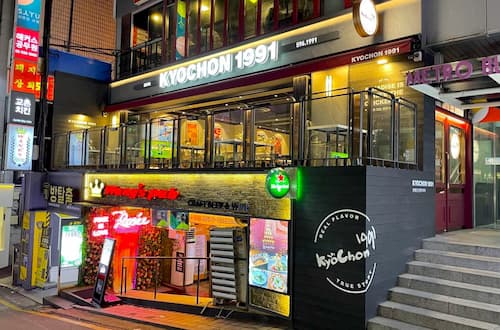 Kyochon is well known as one of the best Korean Fried Chicken brands and it is a must-visit for chicken lovers. Kyochon chicken has 5 types of fried chicken: honey, signature soy sauce, garlic, spicy, half and half, and Soonsal which is boneless fried chicken. One of the bestselling menu items is their signature original fried chicken with a soy sauce base. Known for its crispy exterior and juicy meat, the original fried chicken has become a favorite among customers.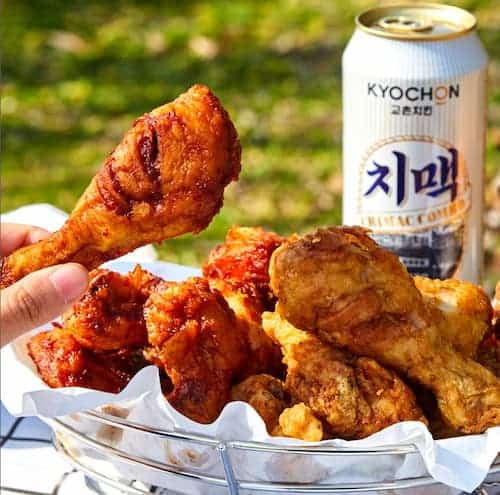 Additionally, Kyochon's spicy fried chicken is also highly popular, offering a delicious kick of heat and flavor. These two options are often the top choices for customers seeking bestseller items at Kyochon.
Address: 11, Gangnamdaero 98-gil, Gangnamgu, Seoul
Open hours: 10 AM – 04:50 AM
Phone: 02-596-0909
Kkanbu Chicken Sinsa Garosu Branch 깐부치킨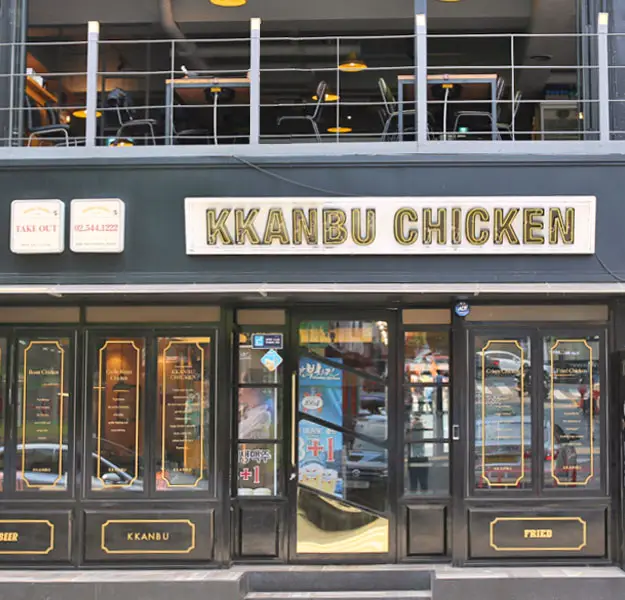 Kkanbu Chicken is known for its unique and flavorful seasoning. It typically features crispy fried chicken that is coated in a delicious sauce made from a combination of savory, sweet, and spicy ingredients. The most popular menu items of Kkanbu chicken are Garlic Soy Chicken, Hot Snow Chicken, Old School Chicken, and Boneless Chicken with Tteok-bo-kki (Korean spicy rice cakes).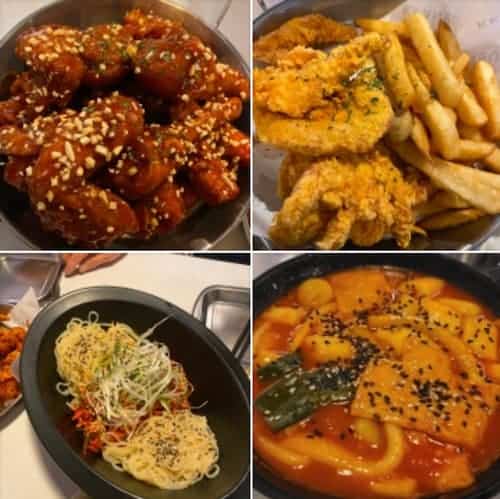 Kkanbu Chicken Sinsa branch is a spacious restaurant-style setting spanning 130 square meters. With seating for 60 guests and an outdoor terrace, it provides an optimal space for group gatherings as well.
If you are planning to go to Garosu-gil for shopping and cafe hopping during the daytime, afterward I highly recommend you to go to Jamwon Hangang Riverside Park with a box of Kkanbu Chicken. To enjoy the Hangang River, all that's needed is a picnic blanket, some fried chicken, beer, and a friend. The riverside is close to Garosu-gil and has been developed in such a way that it can be easily used by people. It's a good place to enjoy the nighttime views of the Hangang River and the Seoul skyline. Now you are ready to have a feast of super crispy, tender, and flavorful chicken in Seoul!
Address: 12, Apgujeong-ro 14-gil, Gangnamgu, Seoul
Open hours: 3 PM – 12 AM
Phone: 02-3445-3344
Mad Fry Chicken 매드후라이치킨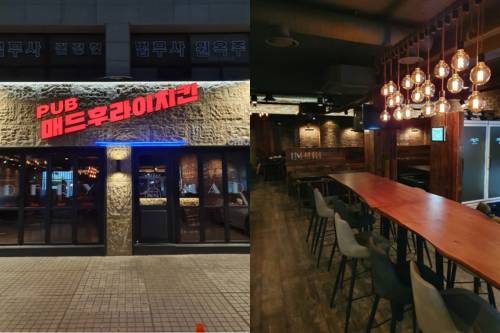 Mad Fry Chicken Restaurant is a place where you can enjoy not only chicken but also pizza, pasta, and various craft beers in a luxurious Euro-style interior. The crispy skin with moist meat and specialty sauces are what make this chicken restaurant stand out. Opened until 2 a.m. many people come to hang out here eating Chi-maek.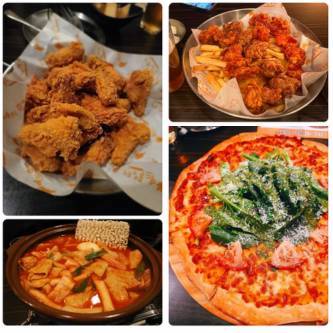 We recommend the Original fried chicken and if you want to try something new, we recommend the garlic soy fried chicken. The original fried chicken is marinated in garlic and soy sauce bringing a sweet and savory taste that everyone loves.
Address: 519 Seonneung-ro, Gangnam-gu, Seoul
Open hours: 3 PM – 2 AM
Phone: +82 2-3453-1005
Kkoggeuldalg 꼭그닭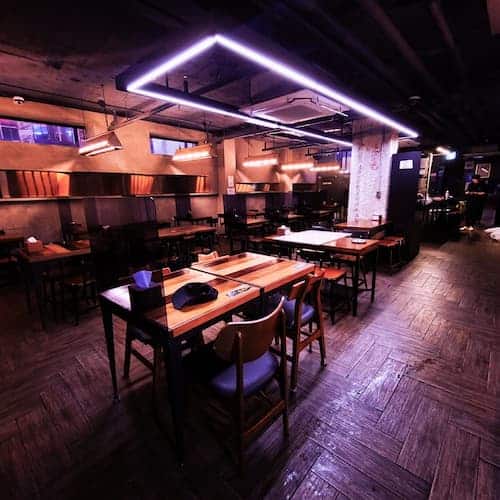 If you are looking for a fusion chicken restaurant in the Gangnam food street, we recommend eating at Kkoggeuldalg. The name Kkoggeuldalg means "It has to be THAT chicken." They are confident in their food and craft beer and specialize in chicken that is fried until it is extra crispy. The chicken is typically served with a variety of dipping sauces, such as soy sauce, garlic sauce, and spicy sauce.
Also, the most popular dish is the specialty dish pane chicken with mozzarella cream cheese bread. The chicken is coated in rice flour, and the sauce for the pane is made from Italian tomatoes and mozzarella cheese from America. It is visually pleasing as well as delicious.  Moreover, if you are looking for something light, they also have crispy, honey, garlic chicken, and chili sauce chicken.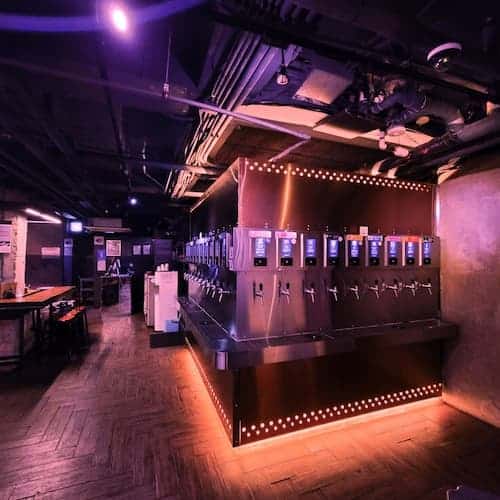 I highly recommend this place for beer lovers, as they offer a selection of 20 different craft beers. With its wide variety of craft beers, it's a perfect place to satisfy your beer cravings while enjoying its unique fusion chicken dishes!
Open: 3 PM- 11 PM
Phone: +82 2-565-5335
Hyodo Chicken 효도치킨
What sets Hyodo Chicken apart from other fried chicken restaurants is the Korean banchan, a selection of small side dishes served with rice and soup that make the dining experience truly unique
One of the standout dishes at Hyodo Chicken is the fried chicken coated in myeolchi bokkeum, a delicious stir-fried mixture of dried anchovy and green peppers. The banchan adds a unique flavor and texture to the already mouth-watering fried chicken. For those who love spicy food, Hyodo Chicken serves a spicy dish covered with fried lotus roots. The restaurant's spicy fried chicken coated with gochujang sauce, a fermented hot pepper paste, is another must-try dish for those seeking bold flavors.
Open hours: 3 PM – 12 AM daily, 3 PM – 11 PM on Sunday
Phone: +82 2-518-0628
Two Two Fried Chicken 둘둘치킨
At Two Two Chicken, also known as Dul Dul Chicken, you can indulge in some of the best chicken and beer in Gangnam, Seoul. With over a hundred branches, Two Two Chicken has been a favorite among locals and tourists for over 30 years. The restaurant offers a variety of flavors for its fried and seasoned chicken, including soy, spicy soy, and teriyaki, among others. You can even order a half-and-half portion if you want to try two different flavors of chicken. And, to accompany your delicious chicken, the restaurant also offers affordable beer options.
In addition to the delicious food, Two Two Chicken is also a great place to relax and unwind. The owners are friendly and welcoming, despite not speaking much English. However, the menu is available in English, and the staff is happy to communicate via translation. So, language is not a barrier to enjoying mouth-watering fried chicken and beer.
Best Korean Fried Chicken Places in Jongno
Gyeyeolsa 계열사
If you're a fan of fried chicken and happen to be in Jongno, Seoul, then you must try Gyeyeolsa. The standout feature of Gyeyeolsa is undoubtedly the quality of the chicken they serve. The chicken is so tender and juicy on the inside, yet still perfectly crispy and light on the outside. And the batter is just the right thickness – not too thick and doughy, but enough to give it a satisfying crunch with each bite. 
In addition to the chicken, their golbaengi (sea snail) and tteokbokki (spicy rice cakes) are also highly recommended. But be warned – the restaurant tends to get crowded quickly, so it's best to arrive early if possible. 
Address: 258-3 부암동 Jongno-gu, Seoul
Open hours: 12 PM – 11:30 PM Wednesday to Sunday | 12 PM – 9:30 PM on Tuesday | closed on Monday
Phone: +82 2-391-3566
Kkong's Chicken 꽁스치킨
Kong's Chicken & Beer is a great place to enjoy delicious Korean fried chicken and beer in Jongno, Seoul.  It's a chill and relaxed spot where you can kick back and enjoy your meal and drinks in a comfortable setting. Whether you're meeting with friends, having a casual date night, or grabbing a bite to eat solo, Kong's Chicken & Beer provides a welcoming environment.
As the name suggests, the restaurant is known for its crispy fried chicken and refreshing beer. Kong's Chicken & Beer prides itself on using high-quality, fresh ingredients in all its dishes, including its signature fried chicken, which is double-fried for extra crunchiness.
Apart from the classic fried chicken, Kong offers a variety of unique chicken dishes such as garlic chicken, soy sauce chicken, and spicy chicken. The restaurant also offers a range of Korean side dishes to accompany the chicken, including pickled radish, coleslaw, and sweet potato fries. Plus, their staffs are friendly and speak excellent English.
Barun Chicken Jonggak 바른치킨 종각역점
The Barun Chicken Jonggak is a popular fried chicken restaurant in Jongno, Seoul, well-known for its simple and delicious chicken. If you're a fan of classic fried chicken, you won't be disappointed by their signature dish, Barun Chicken. It's perfectly fried to crispy perfection, with just enough seasoning to enhance the flavor without overpowering.
Their rice cake cheese fried chicken is also a must-try for cheese lovers. The chicken is coated with gooey melted cheese that perfectly complements the crispy fried exterior. It's a decadent and delicious treat that will satisfy your cravings.
Best Korean Fried Chicken Places in Itaewon
Nekkid Wings 네키드윙즈
If you're a chicken wing enthusiast, Nekkid Wings in Itaewon is a must-visit spot. As its name suggests, the restaurant specializes in serving a wide variety of delicious chicken wings. They offer a range of delicious wing flavors, including classic buffalo, garlic parmesan, and honey mustard. For something a bit more unique, try their Asian-inspired flavors like soy garlic, Korean BBQ, or Thai chili.
In addition to wings, Nekkid Wings also offers a range of other dishes worth trying, such as their loaded fries, mac and cheese, and jalapeno poppers. They also have a great selection of craft beers and cocktails to complement your meal. Moreover, the restaurant's atmosphere is laid-back and casual, with a hip and trendy vibe popular among locals and ex-pats. The friendly staff provided excellent service and great English. 
Address: 34-8, Yongsan-gu, Seoul
Open hours: 4:30 PM – 11 PM Mon to Thurs | 11:30 AM – 3:30 PM and 4:30 PM – 11 PM Fri to Sun
Phone: +82 70-4078-7411
Yell-O! Chicken 옐로치킨
The Yell-O! Chicken, located in Itaewon, offers the first Halal Korean fried chicken in Korea. The restaurant serves a variety of chicken options, including crispy fried, sweet & spicy, honey-butter, and spicy-hot chicken. In addition to traditional fried chicken, Yell-O! Chicken also offers chicken nuggets, popcorn chicken, and more. Whether you're a crispy or spicy chicken fan, there's something for everyone at Yell-O! Chicken.
Plus, with the added benefit of being Halal, it's a great option for those looking for Halal-certified restaurants in Korea. Give Yell-O! Chicken a try, and you won't regret it!
Open hours: 11 AM – 10 PM Mon to Thurs | 11 AM – 10:30 PM Fri to Sun
Phone: +82 2-790-1193
Best Korean fried chicken brands
Kyochon Chicken 교촌치킨
Kyochon is a Korean fried chicken brand that has gained widespread popularity both in Korea and internationally. It was founded in 1991 in Gumi-si, Gyeongsangbuk-do, and has since expanded to over 1,200 locations in Korea and over 30 international locations.
The brand is known for its soy sauce chicken, which is marinated in a special soy sauce seasoning and double-fried to create a crispy texture. Another popular menu item is the Honey Original Chicken, which is coated in a honey-based soy sauce seasoning to create a sweet and salty flavor. Kyochon's chicken is also less greasy than other brands due to their unique double-frying technique, which results in a crispy texture without excessive oil.
What sets Kyochon apart is its commitment to using only fresh and natural ingredients. Their chicken is free of antibiotics and growth hormones, ensuring customers receive high-quality and healthy food. Additionally, their chicken is always hand-cut and prepared fresh upon order, ensuring the best quality and taste.
BBQ 비비큐
The BBQ is Korea's most popular Korean fried chicken brand, known for its crispy and uniquely Korean flavor. Established in 1995, BBQ has become a top choice for customers who appreciate the meticulous preparation process that results in super crispy chicken skin. Their Golden Olive Chicken, fried in olive oil, is a must-try menu item.
Thanks to their successful collaboration with K-pop boy band, BTS, BBQ has gained immense popularity among younger customers and K-pop fans. With over 1,200 locations across South Korea, BBQ is easily accessible to customers seeking an authentic and delicious Korean fried chicken experience.
BHC 비에이치씨
The BHC, formerly called Single Star Chicken or Byeol Hana Chicken, is a fried chicken brand established in South Korea in 1997. Its unique and ever-changing menu sets BHC apart from other fried chicken restaurants. They offer a range of exciting and innovative dishes, including the famous Sweet Garlic Soy Sauce Chicken and the Bburinkle Chicken – a magical seasoning powder and a sauce-infused dish that has become a customer favorite.
The brand has gained a reputation for its commitment to using high-quality ingredients and freshly prepared, hand-cut chicken. The brand frequently introduces new menu items, which are extremely popular among customers, thanks to their delicious flavors and unique twist. It is the second most popular fried chicken restaurant in Korea after BBQ.
Goobne Chicken 굽네치킨
This is a South Korean fried chicken brand that was founded in 2005. Unlike other traditional fried chicken restaurants, Goobne uses an oven-roasting method instead of deep-frying. This results in a healthier and less oily product without compromising on taste. Goobne has been known for its delicious, tender, and juicy chicken.
They specialize in grilled chicken, and their signature dish is the Goobne Original, which comes with french fries and a fried egg. Their Goobne Pepper Crunch, also known as GOCHU BASASAK, is another must-try menu item. It is so popular that one is sold every second. This dish differs from the traditional fried chicken as it is oven-baked, giving it a crispy exterior and a cookie-like texture.
Mexicana Chicken 멕시카나치킨
This popular chicken franchise began as a small family-owned business 31 years ago and now boasts over 900 locations throughout the country. Rather than offering a broad menu, Mexicana focuses on perfecting its signature items, including the Spicy-Pepper Chicken and Seasoned Chicken, to ensure consistency and quality. Additionally, the brand has introduced innovative dishes such as the Curry Woman, Pour-Spice Chicken, and Coconut Loin Tenders that have quickly gained popularity among customers of all ages.
One of Mexicana's newest additions is a fried chicken dish created using advanced technologies such as Vacuum-Tumbler and Injection, which has become a hit with customers. Mexicana prioritizes its franchisees' growth, allowing the brand to thrive and evolve.
Cheogatjib 처갓집
The Cheogajip is a popular brand specializing in yangnyeom chicken, a sweet and spicy seasoned fried chicken. With over 30 years of history, the brand name "Cheogajip," which translates to "mother-in-law's house," suggests that the restaurant serves home-cooked style dishes. The brand has become a household name among Korean fried chicken lovers thanks to its high-quality ingredients, unique recipes, and friendly service.
The brand's signature menu item is the supreme yangnyeom chicken, which features crispy fried chicken coated in a sweet and spicy, tangy, and flavorful sauce. Other popular items on the menu include the dakgangjeong sweet and sour chicken, which is made with bite-sized pieces of chicken that are fried and coated in a sweet and sour sauce, and the boneless half-half chicken, which features a mix of spicy and soy sauce flavors.
Kkanbu Chicken 깐부치킨
The Kkanbu Chicken offers delicious and well-fried chicken with a nice balance of flavors. Their soy garlic chicken is a must-try; it has just the right spice to kick it. The chicken is perfectly cooked with crispy bits and tender, juicy meat. Whether you're in the mood for a snack or a full meal, Kkanbu Chicken is a great choice. If you're looking for a new spot to satisfy your chicken cravings, try Kkanbu Chicken. You won't be disappointed by their mouthwatering chicken dishes.
Seoul is the place to be if you're looking for the ultimate combination of crispy fried chicken and ice-cold beer. With so many options, we hope this post can help you choose the right Korean fried chicken restaurant to enjoy. Whether you're in the mood for classic spicy chicken or want to try something new and innovative, Seoul has it all. So grab a group of friends, pull up a chair, and get ready to enjoy some of the best Korean fried chicken and beer the city offers.
You may also like: